This site is supported by our readers. We may earn a commission, at no cost to you, if you purchase through links.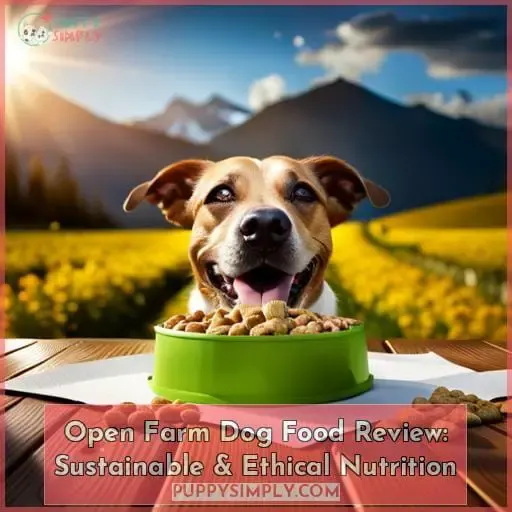 Making the decision to switch your dog's food can be difficult. With so many options out there, you want to make sure you're choosing something that is healthy and ethical.
To find out whether this brand of dog food lives up to its claims or not, read our comprehensive review below.
So if you're looking for Open Farm Dog Food reviews before making your purchase decision, then look no further!
Key Takeaways
4-star rating on review sites
No recalls as of September 2023
High-quality ingredients and nutrition
Ethical sourcing and sustainability focus
Open Farm Dog Food: Overview and Rating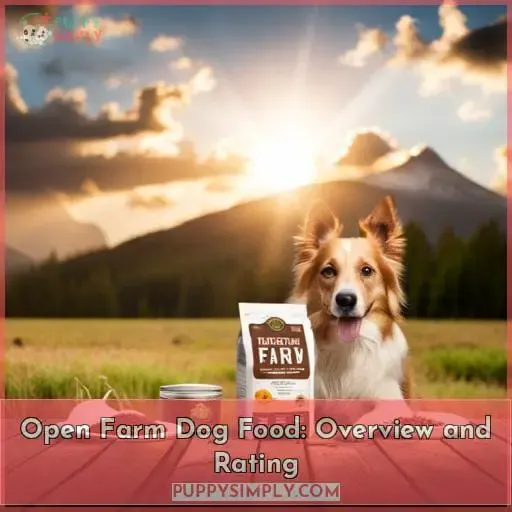 Discover the top-rated Open Farm dog food recipes, free of recalls and with ethically sourced ingredients, for your pup's health and sustainability. The Advisor gave it a 5-star rating because all its recipes meet AAFCO nutrient profiles for Growth, Maintenance, and All Life Stages.
Nutritional Analysis reveals that the protein content is 33%, fat is 16%, and the fat-to-protein ratio is 53%, which are above average. Carbs remain below average compared to other brands. Meat meals are the dominant source of animal protein.
Beneficial ingredients include MCTs and chelated minerals. Additionally, Salmon oil boosts omega 3 fatty acids, and Taurine supports heart health.
Sustainability Focus is supported through an ethical sourcing process using non-GMO locally sourced foods. Transparent ingredient sourcing practices are also followed, including rigorous third-party batch testing and recycling programs via TerraCycle for packaging materials used by Open Farm Dog Food range.
This includes wet, dry, raw, and fresh Grain Free or Grain Inclusive products. Superfoods like pumpkin or coconut oil are also added, and special diets are available.
Ethical Practices focus on reducing emissions, and company data is publicly disclosed to allow you to make informed decisions when selecting premium quality food from Open Farm.
Nutritional Analysis of Open Farm Dog Food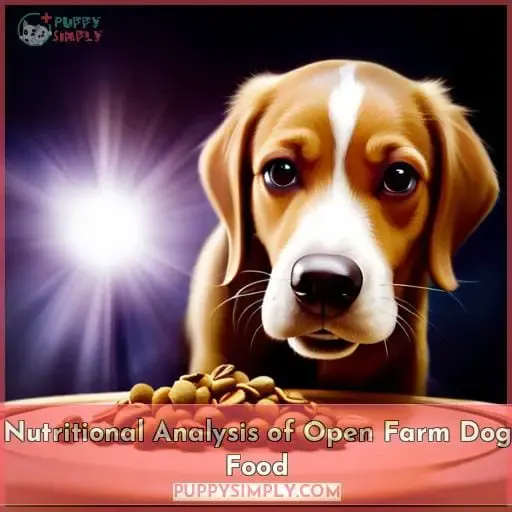 Open Farm Dog Food is renowned for its top-rated recipes that meet AAFCO nutrient profiles, such as Salmon, Lamb, Turkey/Chicken, and Pork. Its typical composition includes 33% protein, 16% fat, and 43% carbs; beneficial ingredients include MCTs (medium-chain triglycerides), chelated minerals, and Salmon oil to provide omega-3 fatty acids.
Top-Rated Recipes
You'll be barking with delight at Open Farm's top-rated recipes like Salmon and Lamb. The formulas are packed with beneficial ingredients, from MCTs to chelated minerals, plus omega-3s from salmon oil for a heart-healthy boost.
There's also the Turkey/Chicken blend, Pork formula, and Whitefish option providing nutritionally balanced meals – perfect for all life stages! Open Farm has something special to offer every pup; these top-rated recipes deliver on nutrition while being sustainably sourced.
Typical Composition
On average, Open Farm dog food recipes have a protein content of 31%, fat content of 16%, and carbohydrate content of 43%. This composition breakdown is complemented by beneficial ingredients, including MCTs, chelated minerals, and salmon oil for omega-3s.
Protein sources include meat meals as the dominant source, plus legumes, flaxseed, and alfiber to boost levels. With 5% fiber levels providing digestive support, this recipe offers balanced nutrition that meets AAFCO nutrient profiles for all life stages.
Beneficial Ingredients
You can benefit from Open Farm's inclusion of MCTs, chelated minerals, salmon oil for omega-3s, and taurine for heart health. Superfood benefits come from beef, peas, and flaxseed to increase nutrient enrichment while providing a health booster.
Ingredient advantages are found in the fish meal content, as well as adding nutritional enhancements like salmon oil and taurine.
Open Farm Dog Food: Ingredients and Sourcing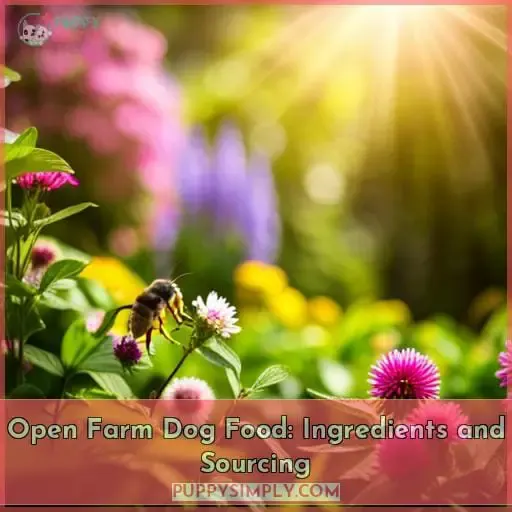 Open Farm dog food is known for its ethical sourcing and locally sourced ingredients, transparency of ingredient sourcing, rigorous food safety audits, and third-party batch testing. Through their partnership with TerraCycle, they have also been able to promote packaging recycling.
Ethical Sourcing and Locally Sourced Ingredients
With Open Farm Dog Food, you can trust that every ingredient has been ethically sourced and locally sourced:
Certified humane farms provide animals with better living conditions.
Non-GMO ingredients are used to ensure quality nutrition for your pup.
Open Farm is transparent about their sourcing practices, so customers know the origin of each ingredient.
The company works closely with sustainable farming partners who use responsible methods in order to reduce environmental impact and conserve natural resources.
Transparency and Food Safety
By implementing rigorous food safety audits and third-party batch testing, Open Farm ensures that their ingredients are of the highest quality. The company is committed to transparency in its sourcing practices, with lot code traceability for every ingredient used.
They prioritize ethical sourcing from local sources whenever possible and never use artificial preservatives or flavors.
Their dedication to responsible eco-friendly processes helps guarantee customers that they're getting only the best quality dog food products available while supporting sustainable business practices across their supply chain.
Partnership With TerraCycle
Open Farm has teamed up with TerraCycle to offer customers a dog food bag recycling program. This partnership is part of Open Farm's sustainability initiatives and helps reduce their environmental impact through packaging recycling.
The Recycling Program also supports Open Farm's commitment to creating an ethically sourced, sustainable product that meets the highest standards for safety and quality. All products are free from artificial preservatives or flavors, making them ideal for pet parents looking for natural meals with ethical sourcing practices.
Open Farm Dog Food: Product Range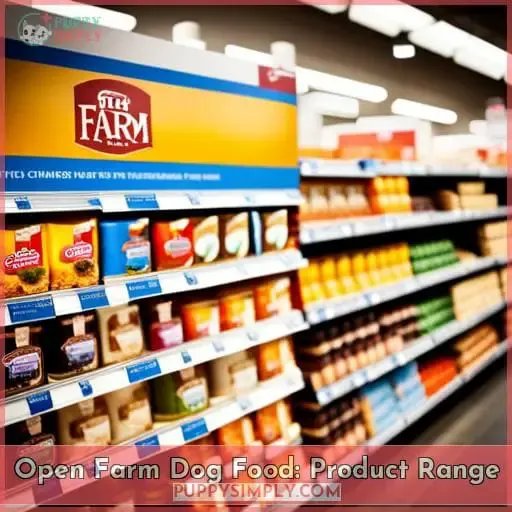 Open Farm offers a wide range of dog food options, from specialized diets to added superfoods and more. Not only that, but there are also numerous positive anecdotal experiences reported by those who have fed their pup Open Farm's products.
Types of Dog Food Available
Discover a variety of food options for your pup from Open Farm – from grain-inclusive to raw and fresh, plus special diets and delectable treats! Enjoy the benefits of raw feeding with nutrient-dense recipes that include superfoods like coconut oil or pumpkin.
Grain-inclusive varieties offer puzzle toy compatibility, while their collagen-packed bone broth is an added nutritional boost.
Specialized Diets and Added Superfoods
You can find specialized diets and added superfoods such as coconut oil, pumpkin, and collagen-packed bone broth in Open Farm's product range for an extra nutritional boost. This high-quality dog food allows dogs to reap the benefits of superfood inclusion while also providing a wide variety of options that are ethically sourced and eco-friendly packaged.
Positive Anecdotal Experiences
Many customers have reported positive anecdotal experiences with Open Farm Dog Food, from improved health to user satisfaction. For example, one customer shared a decrease in itching within the first week! Many share their pets' coats are shinier and digestion is better due to ingredient quality.
Plus, other users report fewer allergies since switching diets – all testament to Open Farm's commitment to providing healthy products. Satisfied customers attest that this product range is worth every penny for its proven health benefits and top-notch ingredients.
Open Farm Dog Food: Sustainability and Ethical Practices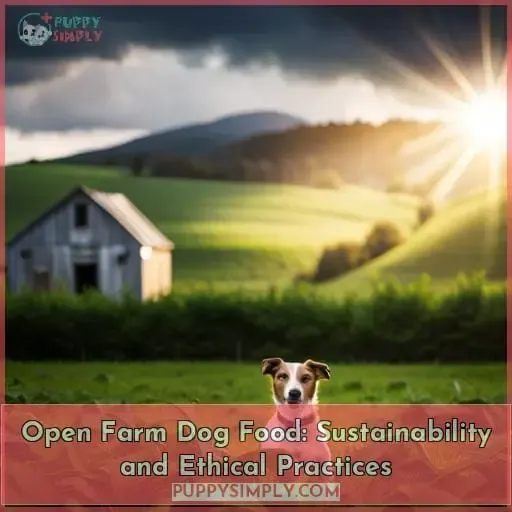 Open Farm Dog Food is committed to sustainability and ethical sourcing, reducing and offsetting emissions, as well as utilizing a lot code tracer for ingredient sourcing. This demonstrates the company's commitment to their environmental footprint while ensuring that all ingredients meet the highest standards of quality control.
Focus on Sustainability and Ethical Sourcing
Explore Open Farm's commitment to sustainability and ethical sourcing for its canine-friendly recipes! From Ocean Wise standards for fishing, a recycling program, emissions reduction initiatives, and rigorous food safety audits – Open Farm goes the extra mile when it comes to animal nutrition.
Ethically sourced ingredients are locally produced and non-GMO, with no artificial preservatives or flavors. Plus, third-party batch testing ensures you get only the best quality products in return! Its dedication to providing ethically sourced dog food is unmatched in today's market.
Commitment to Reducing and Offsetting Emissions
Open Farm Dog Food is committed to reducing and offsetting emissions, actively taking steps towards becoming a more sustainable company that puts animal welfare and ethical sourcing first. They monitor their carbon footprint through rigorous audits of third-party suppliers.
They also partner with Ocean Wise standards for fishing and use recyclable packaging materials from TerraCycle.
To further reduce environmental impact, Open Farm is investing in renewable energy sources such as wind power and solar farms.
Lot Code Tracer for Ingredient Sourcing
Discover how Open Farm ensures ingredient quality and traceability with their lot code tracer program. Their philosophy is to provide responsibly sourced ingredients, while minimizing the environmental impact of sourcing them.
Transparency in sourcing allows customers to know where each dog food product comes from and what ethical practices are involved in that process.
The lot code system also helps track any potential issues related to a particular batch or recall if necessary, providing an additional layer of safety for pet owners who feed their dogs Open Farm products.
It's these innovative solutions that help make Open Farm stand out as a leader when it comes to sustainability and ethical practices within the industry today!
Availability and Company Information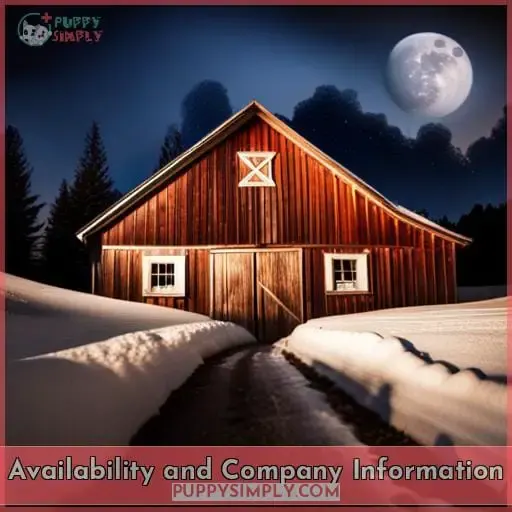 Are you looking to buy Open Farm Dog Food? A family-owned business based in Canada, this company has partnerships with farm animal welfare organizations and is available both online and in pet stores. Additionally, they have committed themselves to reducing their environmental impact by participating in a bag recycling program as well as publicly disclosing their emissions data.
Where to Buy Open Farm Dog Food
You can find Open Farm Dog Food in pet stores and online. With several subscription options, price comparison tools, and customer reviews to peruse through, finding your pup's favorite is a breeze! From local retailers to online retailers like Chewy and Amazon for convenient shopping – the nutrient content of each option is clearly laid out on the label with analysis, including meat meals as a dominant source of protein.
Whether you're looking for grain-free or added superfoods – there's something here that'll suit every dog's needs.
Company Information and Partnerships
Uncover the family-owned company behind Open Farm dog food and their partnerships with farm animal welfare organizations: 1) Humane farming practices; 2) Seafood Watch program compliance to ensure sustainability initiatives; 3) Ethical sourcing from Canadian farmers and producers for food safety practices; 4) Transparency in pricing comparison across all products; 5) Commitment to reducing emissions and offsetting carbon footprint.
This highly ethical brand is dedicated to providing optimal nutrition while supporting sustainable agriculture, protecting the environment, and promoting humane treatment of animals.
Pricing Considerations
Be prepared for your wallet to take a hit if you opt for Open Farm dog food. Compared to other brands, the cost per serving is higher, and there are fewer budget-friendly options available. However, considering the quality of ingredients and ethical sourcing practices associated with this product, it offers great value for money.
Those looking for additional savings can sign up for subscription discounts or purchase in bulk quantities when possible.
Recommendations for Open Farm Dog Food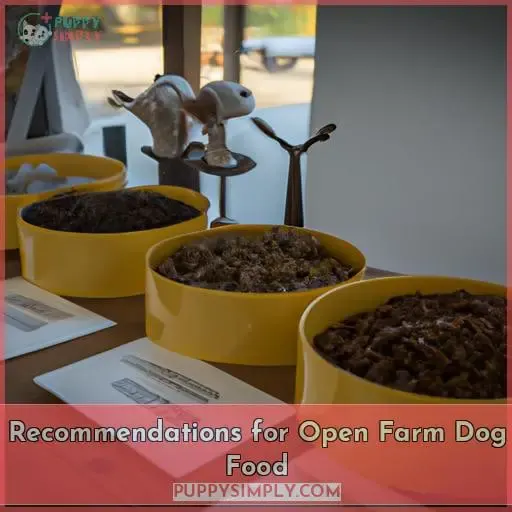 Open Farm Dog Food is an excellent choice for pet owners who prioritize ethical sourcing and sustainability. However, there may be some limitations when it comes to feeding puppies and seniors.
Suitable for Ethical Sourcing and Sustainability
Discover Open Farm's commitment to ethical sourcing and sustainability through their partnership with Ocean Wise standards for fishing, their dog food bag recycling program, and their reduction of emissions.
All natural ingredients are ethically sourced from local farms that meet rigorous safety audits. Customer experiences have been overwhelmingly positive, thanks to the all-natural food products that are free from artificial preservatives or flavors.
Sourcing transparency is a priority for Open Farm. Their lot code tracer allows consumers to trace every ingredient back to its origin.
With robust sustainability initiatives like carbon offsetting programs in place, Open Farm offers an eco-friendly solution for pet parents who are truly dedicated to sustainable practices!
Limitations for Puppies and Seniors
Unfortunately, Open Farm has limited choices for puppies and seniors. Snuggles the French Bulldog Puppy is an example; her human parents had to switch away from Open Farm's kibble due to its low-calorie content.
For canine aging, age-specific formulas are essential but not available here. Protein sources such as beef and whitefish provide nutrition for puppy development yet lack the calories needed for sustenance.
Senior dogs also suffer from restricted nutrients like taurine being missing or of insufficient quantity in their diets compared to younger canines'.
Overall, Open Farm may not be suitable when it comes to meeting the specific nutritional needs of puppies or senior dogs despite its ethical sourcing practices and sustainability commitment.
Considerations for Specialized Dietary Needs
When considering Open Farm's offerings, be mindful of specialized dietary needs that may not be met. Dietary allergies, breed considerations, and health conditions can all require tailored diets. Nutritional supplements might need to be added for certain breeds or dogs with specific health issues.
Grain-free dog food is one option; however, dry recipes should include more meat than vegetables, while wet/stewed versions often comprise a higher proportion of veggies – check the label carefully either way! If unsure about what your pup requires, consult an expert before making any diet changes.
Open Farm Dog Food: Recipe and Label Analysis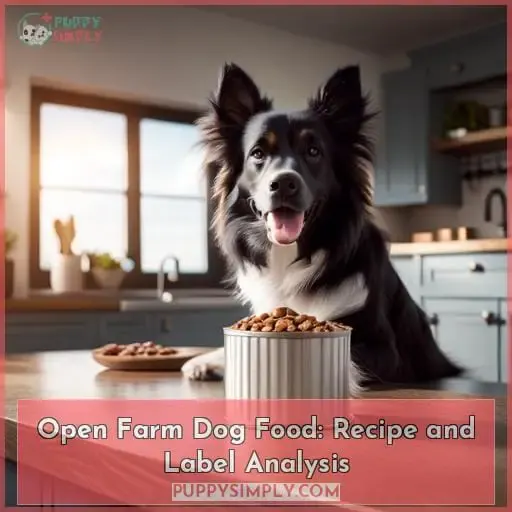 Unlock the secrets of Open Farm Dog Food's recipes and labels to keep your pup healthy and happy. All their recipes are formulated with nutrient balance in mind, using premium ingredients sourced from ethical farms.
Plus, each batch is rigorously inspected for quality control before it goes out into stores or online so you can trust that what you're getting is top-notch nutrition every time. Their label accuracy also means no guesswork on your part when it comes to knowing exactly what nutritional value your pup receives from their food.
On top of all this, freeze-dried dog food options mean meals don't have any preservatives added in either! With Open Farm Dog Food's commitment to sustainability and transparency throughout its entire production process, there's never been an easier way to ensure holistic health for four-legged family members across all life stages than now with them.
Open Farm Dog Food: Recall History and Final Word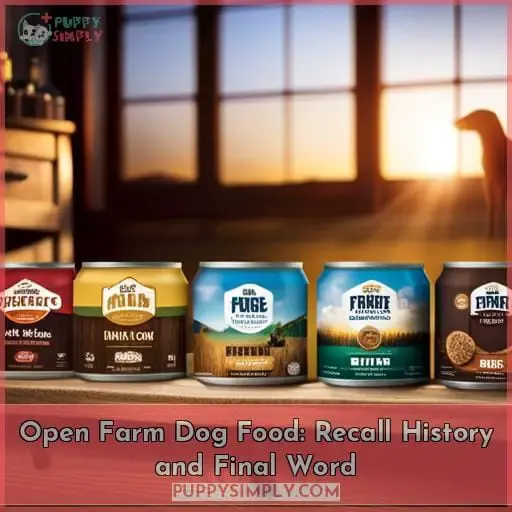 Fortunately, Open Farm has had no recalls listed on the FDA site through September 2023. A good example of their commitment to safety is their rigorous food safety audits and third-party batch testing for each recipe.
Ingredient transparency is another major point that they pride themselves on – all ingredients are ethically sourced locally or from non-GMO sources, and there are no artificial preservatives or flavors in any of the recipes.
The company also shows a strong commitment to sustainability with initiatives such as partnering with Ocean Wise standards for fishing, offsetting carbon emissions, and teaming up with TerraCycle for packaging recycling programs.
Customers have reported positive experiences when it comes to product variety options like grain-inclusive/grain-free diets, additional superfoods included in some recipes like coconut oil & pumpkin puree, and specialized formulas available too – making them suitable even if your dog has dietary needs!
In addition, they offer an array of products ranging from dry kibble (to fit puzzle toys), dehydrated treats, and bone broths packed full of collagen protein, which makes Open Farm look even more appealing!
All things considered, this review would give Open Farm Dog Food a solid 5 out of 5 stars rating due to its amazing recall history combined with ethical sourcing practices that result in sustainable impact – offering quality nutrition choices ideal for your canine companion's health journey.
Conclusion
Open Farm Dog Food is a top-notch choice for those looking to feed their pup ethically sourced and sustainable meals. It's committed to reducing and offsetting emissions, transparent ingredient sourcing, and quality food safety audits.
Open Farm promises to provide your furry companion with a nutritionally balanced meal.
From its wide selection of grain-inclusive, grain-free, and raw options, to its added superfoods like coconut oil and pumpkin, you and your pup are sure to find something that meets their nutritional needs.
Plus, with the Open Farm dog food bag recycling program, you can rest assured knowing that your pup's food is helping the environment as well.
All in all, Open Farm Dog Food is an excellent option for those looking for sustainable and ethical nutrition for their pup.