This site is supported by our readers. We may earn a commission, at no cost to you, if you purchase through links.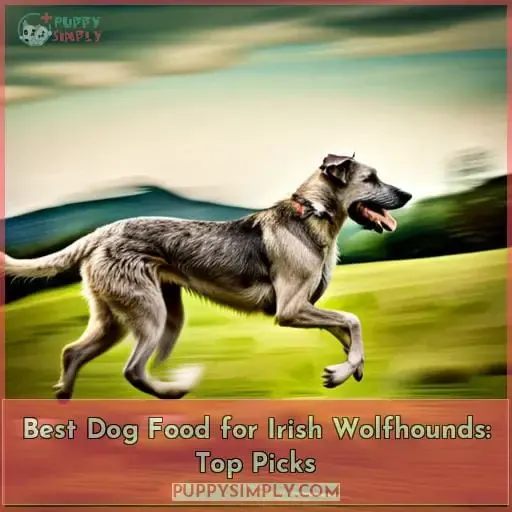 Majestic and loyal, Irish Wolfhounds are an impressive breed that requires the best of care. With their large size comes a need for more energy than other breeds, making it essential to provide them with quality nutrition in order to maintain their health and happiness.
If you're looking for the best dog food for your Irish Wolfhound, we've got you covered.
Read on as we dive into why quality food matters when it comes to caring for an Irish Wolfhound; what common health issues better dog food can help with; and which qualities make up a great meal plan specifically designed around this majestic breed's needs.
Key Takeaways
Irish Wolfhounds require high-quality nutrition due to their large size.
Portion size should be carefully monitored to prevent issues like bloat.
Blue Buffalo Freedom Large Breed Adult and Solid Gold WolfKing Bison Sweet Potatoes are recommended dog food brands for Irish Wolfhounds.
Combining high-quality commercial dog food with supplemental raw ingredients is beneficial for Irish Wolfhounds.
Best Dog Food for Irish Wolfhounds
When searching for the best dog food for Irish Wolfhounds, you can't go wrong with Blue Buffalo Freedom Large Breed Adult. This premium grain-free and gluten-free kibble is specially formulated to meet the nutritional needs of large breed dogs.
It contains real chicken as its number one ingredient, along with omega fatty acids, chondroitin, and glucosamine to support joint health. Customers have reported successful transitions for their dogs, improved skin and coat condition, and taste preferences when using this formula.
Blue Buffalo Freedom Large Breed Adult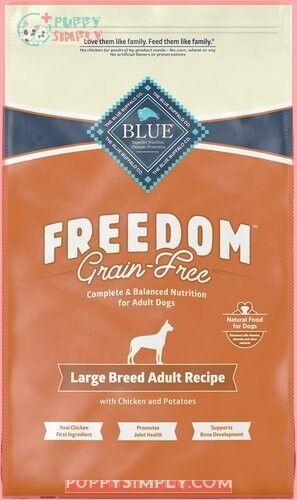 View On Chewy
When it comes to feeding your majestic Irish Wolfhound, Blue Buffalo Freedom Large Breed Adult is an unbeatable choice – packed with delicious real chicken and bursting with joint-supporting ingredients for their grand stature! This grain-free and gluten-free kibble contains omega 3 and 6 fatty acids for skin health, chondroitin & glucosamine for joint support, as well as exclusive LifeSource Bits that are full of antioxidants, minerals, and vitamins.
Customers have reported successful transitions from previous food brands to this one, along with positive feedback on the taste preference from picky eaters. Moreover, many users have noted improved skin and coat condition in their dogs due to allergies or other issues.
However, there have been some negative reviews about hair loss experienced by a Rottweiler after consuming this product, which should be taken into consideration before making a purchase decision.
Real chicken (chicken as #1 ingredient)
Grain Free & Gluten free
Contains Omega 3 & 6 fatty acids
Chondroitin/Glucosamine
Exclusive life source bits
Positive customer feedback
Hair loss may occur
Price increases associated w/ Auto Ship
Solid Gold WolfKing Bison SweetPotatoes Adult Large Breed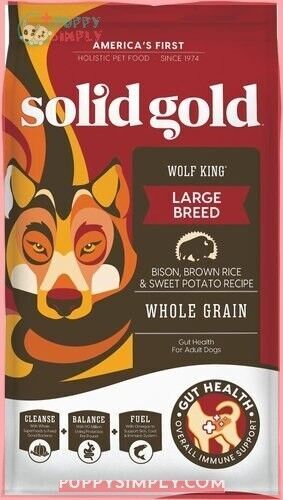 View On Chewy
You can provide your large breed Irish Wolfhound with the nutrition they need for optimal health and vitality by feeding them Solid Gold WolfKing Bison SweetPotatoes Adult Large Breed. Specifically formulated for larger breeds, this food is made with fresh deboned bison, healthy fats, whole grains, and 20 superfoods including carrots, blueberries, cranberries, and chicory root.
It's designed to help maintain muscle mass as well as aid digestion while supporting skin & coat health. Customers who have transitioned their dogs to this kibble report positive experiences such as improved muscle tone in their dog's body shape along with a shinier coat of fur due to its nutrient-rich ingredients.
However, there are some cons associated with switching foods that customers should be aware of before making any decisions. These include reports of soft stool after transitioning along with digestive issues caused by one particular ingredient in its nutrient booster blend – something worth considering when selecting a food for your pup! Additionally, there have been complaints about decreased bag size (2 pounds) accompanied by an increase in price (12-15 dollars).
Fresh deboned bison is the main ingredient
Rich source of nutrients supports overall health
Superfoods like carrots & berries promote better digestion
Dogs appear to enjoy the taste from added flavors
Decreased bag size resulting in higher cost
Transitioning may cause soft stools/digestive issues
Nutrient boost formula has caused concerns amongst users
Formula change was unexpected, so not all dogs accept it
Natural Balance Duck Potato Dog Food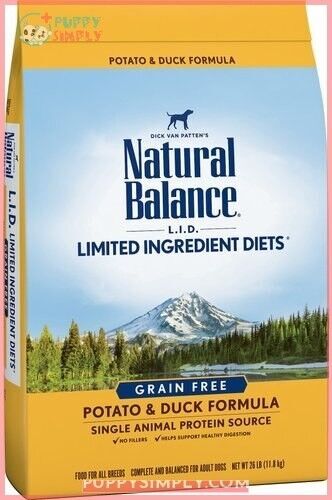 View On Chewy
Experience the extraordinary health benefits Natural Balance Duck Potato Dog Food has to offer your beloved Wolfhound! This grain-free dry food contains duck meat and potato as its main ingredients, supplemented with flaxseed for added nutrition.
It is suitable for dogs with sensitive stomachs, skin irritations, or allergies, free from grains, soy, gluten, and artificial flavors/colors.
Many customers report positive experiences of their dog's improved coat condition after switching to this food. Dogs also enjoy the taste of this product, which helps support overall good health.
On the downside, however, some customers have reported issues related to mold in the product or changes in formula. These changes have led to smaller bag sizes and increased price concerns. Customers have also requested larger bags that come with better sealing options.
Nevertheless, many are still satisfied by its overall health benefits despite finding it a bit expensive at times.
Suitable for dogs with allergies and sensitive stomachs
Contains flaxseed as an added nutritional bonus
Free from grains, soy, gluten, artificial colors, and flavors
Positive customer feedback regarding taste preference & improved coat conditions
Reports of occasional mold issues
Changes in formulas impacting bag size & pricing
Requests made by customers regarding larger bag sizes that come sealed properly
Why Quality Food Matters for Your Irish Wolfhound Dog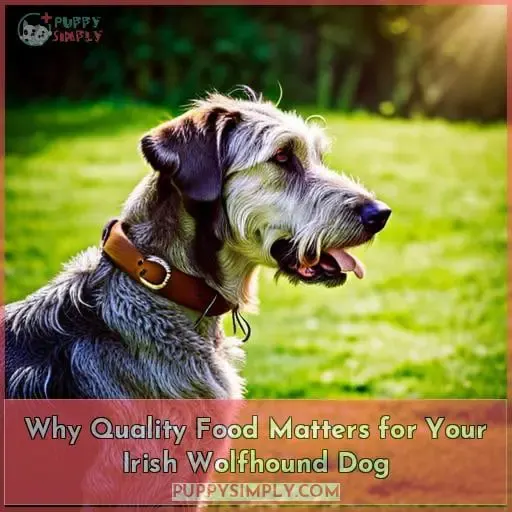 As an owner of an Irish Wolfhound, the quality of your pup's food is essential for their health and well-being. Nom Nom Fresh Pet Food Delivery provides a balanced cooked food option delivered straight to your door, making it easy to ensure that you're giving them the best nutrition available.
Nom Nom Fresh Pet Food Delivery
Try Nom Nom Fresh Pet Food Delivery for your Irish Wolfhound to get balanced cooked meals conveniently delivered right to your door. All ingredients are human-grade and include whole proteins, complex carbs, fruits, and veggies for optimal nutrition.
Their team of pet nutritionists creates personalized meal plans that meet the specific needs of large breed dogs like the Irish Wolfhound.
Enjoy the benefits of fresh food without having to worry about a strict feeding schedule or sourcing quality ingredients – try Nom Nom today!
American Journey LID Lamb & Sweet Potato Recipe
American Journey LID Lamb & Sweet Potato Recipe is an excellent option for Irish Wolfhounds, providing a rich flavor and a hypoallergenic formula. The sweet potato offers beneficial fiber, while the lamb protein helps support strong muscles.
This food also contains canola oil, which provides omega-3 fatty acids to help maintain healthy skin and coat. It's great for managing allergies without sacrificing nutrition, as it features natural ingredients with vitamins, minerals, antioxidants, and probiotics to ensure complete canine nutrition.
Taste of the Wild Pacific Stream Formula
You'll appreciate the novel proteins in Taste of the Wild Pacific Stream Formula, like real smoked salmon. This allergy-friendly option is rich in essential fatty acids and provides a unique taste your pup will love.
It also offers numerous nutritional benefits for Irish Wolfhounds. It contains glucosamine to support joint health and antioxidants to help maintain a healthy immune system.
Plus, this formula has high-quality ingredients such as sweet potatoes for energy and protein sources that provide amino acids important for muscle development and maintenance.
Keep your dog happy with Taste of the Wild Pacific Stream Formula—it's an excellent choice when it comes to finding quality food for large breeds!
Merrick Backcountry Raw Infused Big Game Recipe
Discover the Merrick Backcountry Raw Infused Big Game Recipe, packed with freeze-dried raw deboned lamb and other high-quality ingredients to help keep your pup feeling their best.
For those considering a raw diet for their Irish Wolfhound, this recipe provides balanced nutrition that's rich in essential vitamins and minerals.
The Merrick brand has been providing natural pet food since 1988.
With this product specifically formulated for large breeds such as the wolfhound, you can rest assured that it will provide complete nutritional benefits without any fillers or artificial ingredients.
Feeding wolves canned foods like Nulo Freestyle Chicken Salmon & Lentils Recipe may also be an option when looking for balanced meals with exotic proteins like salmon, lentils, and chickpeas!
The Honest Kitchen Whole Grain Chicken Recipe Dehydrated Dog Food
The Honest Kitchen Whole Grain Chicken Recipe Dehydrated Dog Food is an excellent choice for Irish Wolfhounds. It's a stew-like blend of whole grains like oats and quinoa, plus chicken for protein.
For maximum nutrition, it's best to prepare each meal fresh from the dehydrated mix. An ingredient analysis reveals other beneficial components such as flaxseed oil, which helps maintain skin health and digestion balance in large breeds like Wolfhounds.
The Honest Kitchen Whole Grain Chicken Recipe offers quality nutrition that will make mealtime something they look forward to every day!
3 Common Irish Wolfhound Health Issues Better Dog Food Can Help With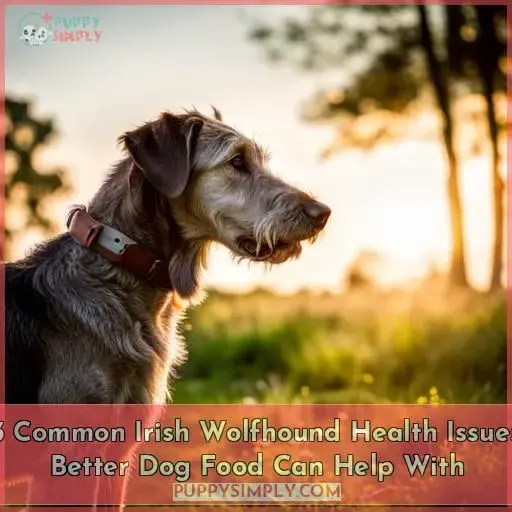 Knowing the common health issues Irish Wolfhounds face can help you make informed decisions about what food to feed them. Bloat, dysplasia, and weight gain are all preventable health conditions that require proper nutrition benefits to manage.
High-quality dog food with glucosamine and chondroitin is essential for joint support in larger breed dogs like Irish Wolfhounds as they age. Feeding your pup quality ingredients will give them the energy needed for typical activity levels while also providing dietary solutions to potential problems down the line.
Consider using a grain-free diet with low protein content along with the best dog food brands specifically formulated for large breed dogs when selecting foods suitable for an adult Wolfhound's needs. This helps ensure optimal health impacts over time while preventing unnecessary weight gain or other undesirable side effects of poor nutrition choices due to their size and energy requirements.
When it comes right down to it, preventive measures through careful dietary considerations go a long way towards keeping your furry friend happy and healthy!
What to Look for in a Quality Dog Food for Irish Wolfhounds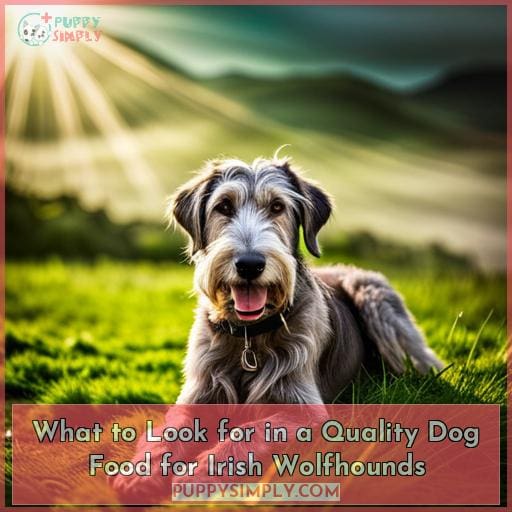 When selecting the right food for your Irish Wolfhound, look for a quality dog food that meets their specific needs. Inspect the ingredients list closely and avoid brands with anonymous meat sources, as well as artificial colors, flavors, or preservatives.
Look out for grains like corn and soy, which can cause allergies in some dogs. To ensure optimal health benefits, opt for whole foods such as lean proteins (turkey breast or chicken thigh), complex carbohydrates (brown rice), and vegetables plus fruits to provide antioxidants – all sourced from trusted suppliers.
Consider feeding a raw diet supplemented with high-quality commercial kibble if you're looking to give your pup an extra boost of nutrition without added fillers.
Lastly, consult your vet regarding any additional nutritional requirements before making changes to their feed routine. They can also advise on appropriate feeding schedules based on age/activity levels of each individual dog.
Ingredients to Avoid in Your Wolfhound's Dog Food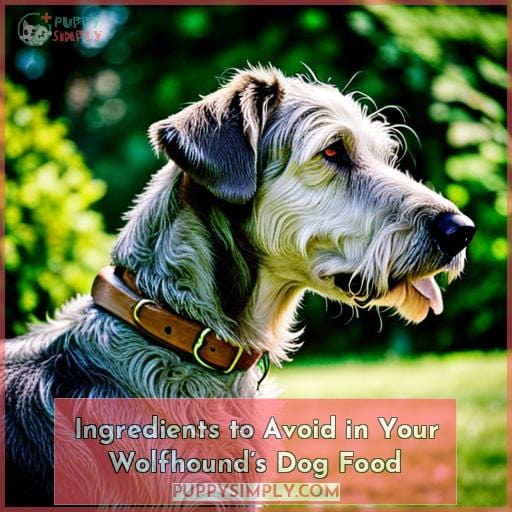 When choosing a quality dog food for your Irish Wolfhound, there are certain ingredients that you should avoid. Allergenic components such as corn and soy can cause digestive issues and skin irritation in some dogs, so it's best to stay away from them if possible.
Fillers like wheat gluten or sugar-rich carbohydrates aren't ideal either since they provide little nutrition but add bulk to the product.
Artificial colors and flavors should also be avoided due to their potential toxicity risk in large amounts.
When looking at labels, check for healthy sources of fat like fish oil or flaxseed meal; these will help keep your pup's coat glossy while providing essential fatty acids for overall health benefits.
For even better nutrition tips, consider switching up proteins by rotating between beef, poultry (turkey/chicken), and lamb.
Ultimately, when considering dietary considerations, ensure that the food is catered towards large breed characteristics with low glycemic carbs and veggies included.
Brands to Avoid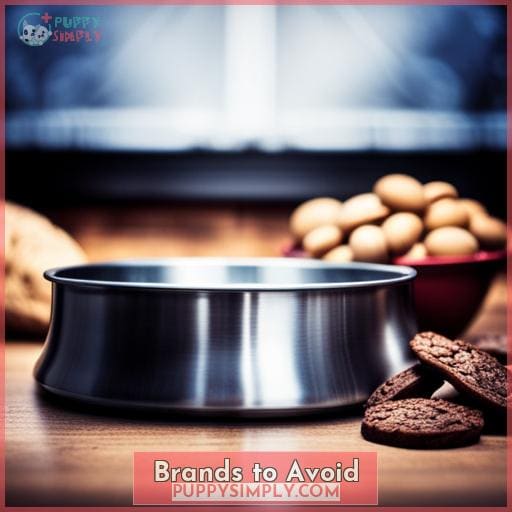 Be wary of brands like Ol Roy, Kibbles N Bits, and Alpo—they contain low-quality ingredients that are bad for your Wolfhound's health. Instead, look out for quality dog food with proper protein sources, complex carbohydrates, whole veggies, and fruits.
Avoid chicken by-product meals as they may contain a wide range of unknown animal parts or other chemicals that can be damaging to your pet's health.
In addition to avoiding certain ingredients in the diet, it is also important to watch portion size. Overfeeding can cause serious issues such as bloat in this breed due to their large body size. So make sure dietary recommendations are followed closely when creating meal plans for an Irish Wolfhound.
Consult a veterinarian if you have any concerns about nutrition tips or specific dietary requirements related to the individual needs of your pup. It is possible that specialized meals might be necessary based on age and activity level, among other factors unique to each case scenario.
Wolfhound Feeding Chart

To ensure your Wolfhound is getting the nutrition they need, use a feeding chart tailored to their age and size. Puppies require more frequent feedings of four times daily for 8-12 weeks old and three times per day until 6 months.
For adult Wolfhounds over six months old, twice daily meals are recommended for optimal health. Nutritional requirements should include high-quality commercial dog food, which can be supplemented with raw ingredients if desired, as well as some fruits or vegetables in moderation.
Smaller meals help prevent bloating while avoiding dietary allergies by rotating between different protein sources, such as duck, potato, or bison sweet potatoes.
Wellness Large Breed Complete Health Puppy Recipe is also a great choice that supports puppy growth and reduces stool odor, but always consult a vet before introducing changes to any pet's diet plan, especially when it comes to large breed dogs such as the Irish Wolfhound, who have specific needs due to their size.
Conclusion
Finding the right food for your Irish Wolfhound can make a huge difference in their overall health and well-being. High-quality dog food can help prevent common health issues like bloat, dysplasia, and weight gain, as well as provide the essential nutrition for growth or weight management.
When shopping for the best dog food for Irish Wolfhounds, look for options that include lean proteins, complex carbohydrates, whole veggies, and fruits, and avoid unnecessary fillers and artificial additives.
Blue Buffalo Freedom Large Breed Adult, Solid Gold Wolf King, and Natural Balance Duck Potato are all top-notch choices for Irish Wolfhounds.
With the right food and some love, your Irish Wolfhound will live a long and happy life.