This site is supported by our readers. We may earn a commission, at no cost to you, if you purchase through links.
Choosing the best food for your Miniature Schnauzer is like mapping out a journey – it requires careful consideration of their size, energy level, and any potential health concerns.
With this in mind, here are 10 of the healthiest dog foods for miniature schnauzers to get you started on your voyage. From protein content to allergies to skin health nutrition, we'll cover what you need to know when selecting a puppy formula as well as provide tips for keeping them fit and active throughout adult life.
We'll also discuss how much food should be given at each stage so that you can help keep your pup on track with optimal growth rates.
Key Takeaways
High meat content options are recommended for miniature schnauzers, such as those with 84-85% real meat ingredients.
Protein-rich choices are important for miniature schnauzers, with options that provide 25% more protein or have real poultry as the main ingredient.
Feeding guidelines suggest a feeding schedule with specific tips for puppies and adults, as well as guidelines for feeding frequency.
It is important to consider allergies and hypoallergenic options when selecting dog food for miniature schnauzers.
10 Best Dog Foods for Miniature Schnauzers
Are you looking for the best dog food for your Miniature Schnauzer? Look no further! We've rounded up 10 of the top-rated products on the market, from Nulo Freestyle Salmon Red Lentils Small Breed Dry Dog Food to American Natural Triple Protein Dog Food.
Each option is designed with your pup's specific needs in mind and offers a delicious blend of quality ingredients that provide superior nutrition.
1. Nulo Freestyle Salmon Red Lentils Small Breed Dry Dog Food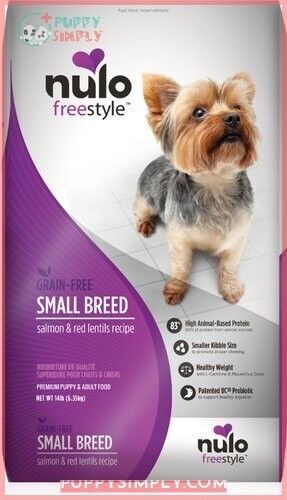 View On Chewy
Take your pup's nutrition to the next level with Nulo Freestyle Salmon Red Lentils Small Breed Dry Dog Food, a premium high-protein and low glycemic option that'll have 'em feeling their best!
Formulated for small breed dogs with higher metabolism, this dry food features 84% real meat from salmon, turkey, and lamb. L-Carnitine & Miscanthus Grass are added beneficial ingredients for a complete and balanced meal.
Though some users have reported issues such as hotspots in dogs or paw licking leading to yeast infections due to this product, there are still many more who highly recommend it due to its quality protein content at an affordable price point.
Customers love the convenience of delivery combined with positive experiences regarding energy levels in their pups, plus improved stool consistency too – making it ideal as both a primary diet or supplementing home-prepared meals!
84% real meat from salmon, turkey & lamb
Low glycemic & gluten-free formula
Extra small kibble size suitable for smaller breeds
Positive customer reviews on energy levels & stool consistency
Some reports of paw licking leading to yeast infection
Unpleasant smell mentioned by some customers
Potential digestion issues reported by others
2. Halo Turkey Duck Small Breed Dog Food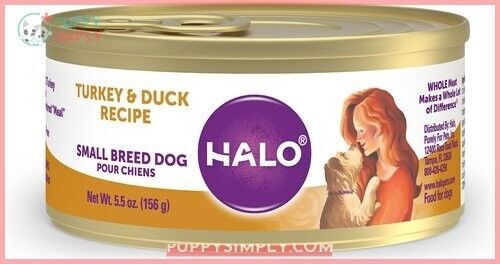 View On Chewy
Experience the deliciousness of Halo Turkey Duck Small Breed Dog Food – it's packed with up to 85% animal ingredients and is preferred by some owners to reduce tear stains in their dogs. This grain-free pate contains hearty whole meats like turkey and duck, combined with sustainably sourced non-GMO fruits and veggies, for a tasty meal that your pup will love.
Pet parents also appreciate its positive customer reviews regarding energy levels, stool quality, and preference.
Contains up to 85% animal ingredients from real poultry & fish.
Non-GMO formula free from fillers or artificial flavors/colors.
Smooth texture & savory flavor make great taste appeal for picky eaters & small breeds alike!
Pricey compared to other dog foods on the market
3. Instinct Rabbit Dog Food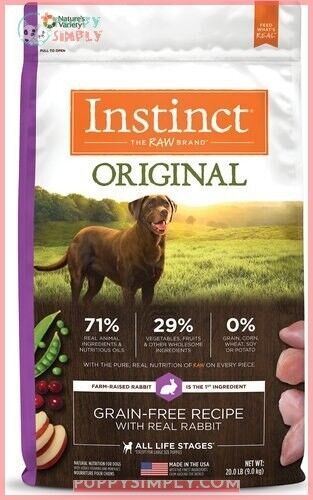 View On Chewy
Try Instinct Rabbit Dog Food, a premium formula made with farm-raised rabbit and non-GMO ingredients for complete nutrition. This grain-free option provides 71% real animal ingredients plus 29% fruits, vegetables, and wholesome ingredients.
It's coated with freeze-dried raw to provide the advantages of both kibble convenience and raw diet benefits.
Plus, it contains no artificial colors or preservatives, so you can trust that your pup is getting all the nutrients they need without any unnecessary filler! With essential vitamins, minerals, live probiotics for digestion support, as well as omega fatty acids for healthy skin & coat, this food ensures your dog gets everything he needs in one delicious mealtime package!
Contains 84% real meat from farm-raised rabbits
Coated with Freeze Dried Raw for added nutrition
No artificial flavors or colors
Contains beneficial vitamins & minerals
Strong smell reported by some customers
Mixed feedback on dogs' preferences
Potentially pricey compared to other options
Reported instances of constipation
4. Pedigree Small Dog Food Grilled Steak Vegetable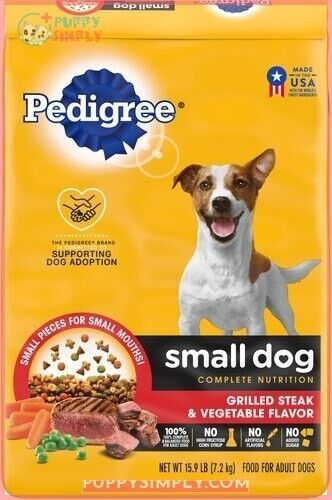 View On Chewy
You'll love Pedigree Small Dog Food Grilled Steak & Vegetable, which contains up to 25% more protein than other brands and is specifically made for small breed adult dogs. It is formulated with antioxidants, vitamins, minerals, and omega-6 fatty acids to support your pup's skin and coat health.
Additionally, it includes whole grains for a special fiber blend that supports healthy digestion.
Thanks to its crunchy pieces, this dog food helps promote oral health. It does not contain artificial flavors or sugar, making it an excellent choice for small breeds.
Dogs enjoy the taste when mixed with wet food
Suitable for use in treat balls
Contains essential nutrients promoting healthy skin and coat
Some dogs may not like the taste
Unpleasant smell from opened bag
Cockroach infestation issues reported
5. Cesar Poultry Variety Dog Food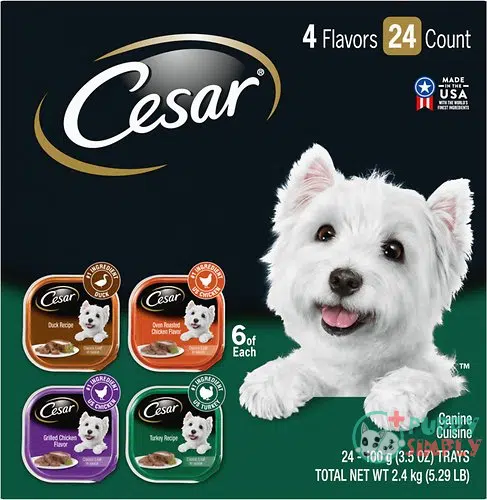 View On Chewy
Indulge your pup with the Cesar Poultry Variety Dog Food, featuring real poultry as the main ingredient and four delicious recipes in convenient trays that can be peeled away. This complete and balanced meal for dogs is formulated without grains (although trace amounts may be possible due to cross-contact) and contains no fillers or artificial flavors.
Customers appreciate its easy delivery, reasonable pricing, and Chewy's great service – including discounts for first-time users! Many pet parents use this product to administer medication too.
It's suitable for all breeds from extra small to large sizes so everyone can enjoy it equally.
Real poultry as the main ingredient
No fillers or artificial flavors
Suitable for all breeds & sizes
Easy delivery & reasonable pricing
Can also be used to medicate pups
Issues reported with the current batch quality
Some experienced stomach issues
Received the wrong product variation
6. Iams Proactive Health Puppy Chicken DHA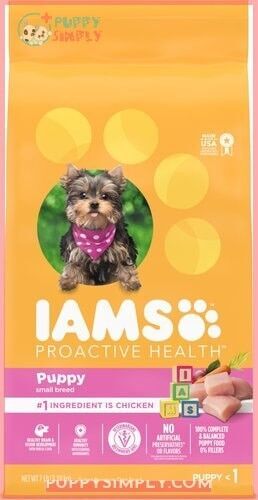 View On Chewy
Experience extra energy and improved cognition with Iams Proactive Health Puppy Chicken DHA. This premium-sourced protein food is formulated for small-breed puppies, containing real farm-raised chicken as the first ingredient plus 22 key nutrients found in mother's milk, including omega-3 DHA.
Quick delivery and reasonable pricing make it a hit among pet parents looking to feed their pups something special. Many have reported positive effects on energy levels and coat quality in their dogs, while others had issues with vomiting and diarrhea after switching to this brand of dog food.
Suitable for toy breed puppies
Trusted brand, Iams readily available on Chewy with quick delivery
Well liked by previous litters of puppies
Used successfully by some customers contributing to long healthy lives
New Papillon pup enjoys the food
Some dogs experienced adverse effects like vomiting & diarrhea
One puppy refused eating, prompting switch back
A bag caused one pup sleeping excessively & weakened larger dog
7. Farmina Ancestral Grain Lamb Blueberry Mini Breed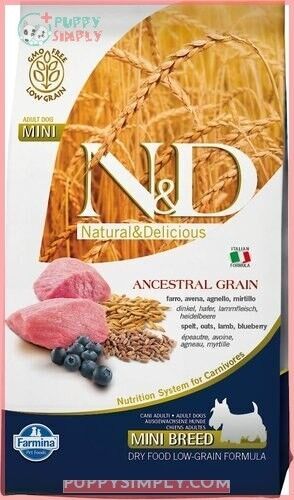 View On Chewy
Farmina's Ancestral Grain Lamb Blueberry Mini Breed is formulated for small dogs, featuring 90% of protein from quality animal sources and fresh ingredients. This grain-free formula boasts low ash content due to the absence of bone in its protein sources.
It also contains pomegranate and berries for antioxidants and Omega fatty acids to promote healthy skin and coat.
It comes in a 5.5 pound bag that is easy on your pup's stomach with no legumes or peas added, making it ideal for pets who need to avoid blood sugar spikes as well as those with digestive issues such as allergies or sensitivities.
This food has been received positively by pet owners. Both old dogs over 14 years old have enjoyed this formula without any problems reported regarding energy levels or digestion. Foster cats have even requested seconds! Its unique shape also makes it easier on smaller teeth than other kibble sizes, allowing for more efficient absorption of nutrients during mealtime.
However, some picky eaters may not take kindly to its taste, which might require adding toppings like broth or fats into their diets at times if needed.
Low Ash Content
Contains Pomegranate & Berries For Antioxidants
Omega Fatty Acids To Promote Healthy Skin & Coat
No Legumes Or Peas Added
Easier On Smaller Teeth Than Other Kibble Sizes
Could Be Too Expensive For Some People
Not Suitable For Dogs Allergic To Lamb
May Not Suit Picky Eaters
8. Royal Canin Miniature Schnauzer Adult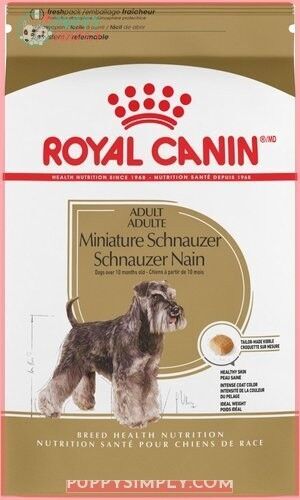 View On Chewy
Treat your Miniature Schnauzer to Royal Canin's Adult formula, a tailored meal designed for their needs. This specialized kibble is designed to aid in picking up and chewing, while the balanced formula helps maintain an ideal weight.
It also contains essential nutrients that promote healthy skin and coat for sensitive Schnauzers' skin.
With its 10-pound bag size, this food is suitable for all breeds and sizes of small dogs.
Customer reviews praise the quality of this product as well as its availability online with great delivery options from Chewy's services being mentioned often too! Some users express a desire for smaller kibble size due to dental issues, but overall, it seems most dogs enjoy the taste and remain healthy on this diet when recommended by their veterinarian or other trusted pet professional.
However, there was one negative comment about some ingredients included in the mix, but those seem minor compared to how many customers are satisfied with it overall.
Designed specifically tailored nutrition & kibble shape/size
Balanced Formula promotes Ideal Weight
Positive customer reviews regarding energy levels & coat quality
One negative comment about certain ingredients used
Smaller Kibbles could be desired by some owners
9. Orijen Small Breed Dog Food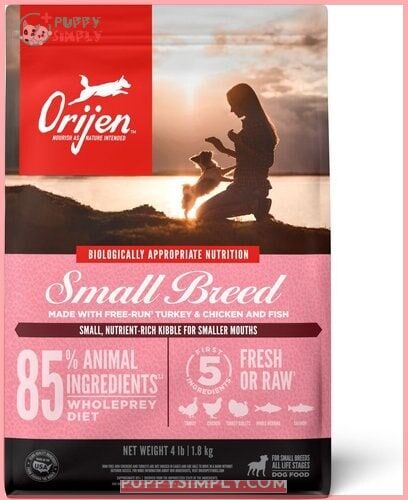 View On Chewy
Orijen Small Breed Dog Food offers a grain-free, high-protein formula made with fresh or raw poultry and fish as the top five ingredients for your pup. This premium kibble is formulated to meet the nutritional requirements of small breed adult dogs while providing them with all their essential nutrients.
The unique shape and size are designed to be easy for smaller mouths to pick up and chew, making it an ideal choice for those looking for a grain-free option.
Contains 85% animal protein from quality sources
No soy, corn, wheat, or tapioca included
Unique shape & size designed specifically for small breeds
Prebiotics & probiotics support digestion
Rich in omega fatty acids promoting healthy skin/coat maintenance
Strong smell noted by some users
Mixed reactions from dogs regarding flavor preferences
10. American Natural Triple Protein Dog Food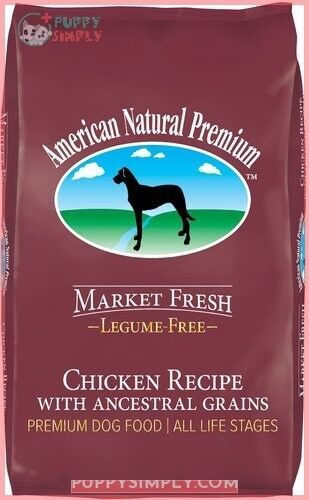 View On Chewy
American Natural Triple Protein Dog Food is the perfect choice for pup parents concerned about their furry friend's heart health, as it contains no soy, legumes, or white potatoes. Packed with quality protein sources like deboned chicken and turkey, plus prebiotics and probiotics for immune support, this 12-pound bag of kibble will keep your doggo going strong all day long – just like the saying goes, A healthy pet is a happy pet.
The Omega-3 fatty acids from menhaden fish oil promote a healthy skin and coat while offering an ancestral grain balanced diet without peas or potatoes that can contribute to weight gain in some dogs. Customers appreciate that there are no artificial colors, flavors, or preservatives added, making this food suitable even for those with allergies and sensitivities.
Dogs enjoy the taste and readily eat it.
Good ingredients compared to other brands.
No recalls and made in the US.
Good alternative to flaxseed allergies.
High protein content with no legumes or potatoes.
Suitable even for sensitive pups.
Some reported digestive issues (vomiting/diarrhea) after consuming.
Complaints on kibble falling apart quickly.
Not suitable for scratching cats.
Some dogs didn't finish meals due to feeling full.
How Much to Feed a Miniature Schnauzer Puppy

It's essential to feed your miniature schnauzer pup the right amount of food each day to ensure their healthy growth and development.
Create an age-appropriate feeding schedule. Puppies need more frequent, smaller meals throughout the day than adult dogs, so plan on three or four daily feedings until they reach 12 weeks old.
Make sure you meet their nutritional needs with high-quality dog foods designed specifically for growing puppies like Nulo Freestyle Salmon Red Lentils Small Breed Dry Dog Food or Halo Turkey Duck Small Breed Dog Food.
Monitor portion sizes carefully as puppies can easily overeat if given too much food at once; start off small and increase portion size gradually over time according to your vet's recommendations based on your pup's individual growth stages.
Plan ahead by preparing all of their meals in advance so you can ensure consistency when it comes to nutrition intake from mealtime to mealtime – this is especially helpful if you have multiple pets who require different diets!
With these tips in mind, setting up a nutritious diet plan tailored towards meeting all of your pet's dietary needs won't be hard at all – just make sure that whatever product(s) you choose meets the best dog food standards for miniature schnauzers such as grain-free options featuring omega-3 fatty acids and probiotics while avoiding artificial colors/flavors & preservatives whenever possible.
Choosing the Right Food for Miniature Schnauzer Puppies

When it comes to choosing the right food for your miniature schnauzer puppy, it's important to consider protein content and allergies, as well as skin health and nutrition. Protein is essential for puppies' growth and development, while allergies can cause discomfort or even illness if not addressed correctly.
Skin health is also important because a healthy diet helps keep their coats in top condition.
Protein content and allergies.
When selecting the right food for your Miniature Schnauzer puppy, it's important to consider protein content and any potential allergies. Pay close attention to food labeling and ingredients, as some dogs can be sensitive or allergic to certain proteins such as beef or poultry.
A balanced diet with high-quality proteins is essential for the long-term health of your pup.
When transitioning from one diet to another, gradually introduce new meals over a few days rather than all at once too quickly. This will help reduce gastrointestinal issues associated with sudden dietary changes in puppies.
Ensuring that your pet has the best dog food while considering both their nutritional needs and sensitivity towards certain ingredients is key!
Skin health and nutrition.
Maintaining your Miniature Schnauzer's skin health is essential for their long-term wellness, and proper nutrition plays an important role—it's like giving them a coat of armor. Look for foods that are rich in omega-6 fatty acids, antioxidants, vitamins, and minerals to promote healthy skin and shiny coats.
If your pup has dietary allergies or sensitivities, consider transitioning to grain-free or limited ingredient diets with hypoallergenic ingredients. Supplementing the diet with fish oil can also help prevent dryness and itching due to dietary deficiencies.
Be sure to monitor any changes closely as some dogs may have adverse reactions when switching food abruptly; transition slowly over several weeks if needed.
Grain-free diet considerations
Considering a grain-free diet for your Miniature Schnauzer? Grain-free options can offer many benefits, such as allergy management and improved digestion. High-protein sources like real meat, fish, or eggs should be the primary ingredients in any small breed food.
Look for foods low in fat content with added omega fatty acids to support dental health and a sensitive digestive system. Weight management is also an important consideration; opt for formulas specifically designed for Miniature Schnauzers to ensure balanced nutrition throughout their life stages.
How Much to Feed a Miniature Schnauzer Adult Dog

It's important to feed your miniature schnauzer adult dog the right amount of food. A feeding schedule and portion sizes should be tailored to their specific dietary needs, as well as their nutritional balance and weight management goals.
An ideal diet for a miniature schnauzer should include high-quality protein, low fat content, whole grains or vegetables such as sweet potato or carrot; plus small kibble size for easy chewing.
Dietary adjustments may need to be made if your pup is underweight or overweight – speak with a vet about these concerns before making any drastic changes in meal plans.
To maintain good health, it's necessary to take into account the age of your pet when deciding what kind of food they will eat on an ongoing basis. Puppies have different requirements than adults, with smaller portions being more suitable for senior dogs who tend not to move around quite as much anymore but still require all the important nutrients associated with maintaining optimum health and wellbeing.
Tips for Keeping Your Miniature Schnauzer Healthy and Fit

To keep your Miniature Schnauzer healthy and fit, it's important to provide them with quality nutrition that fits their individual needs – like a puzzle piece snapping into place. Exercise routines, grooming tips, and weight management are all necessary components of caring for the dog breed.
Additionally, incorporating dietary supplements or specific miniature schnauzer food can result in improved health overall.
A balanced mix of exercise, dental care maintenance, and proper diet is key when looking after a Miniature Schnauzer's wellbeing. Incorporate daily walks into your routine – longer distances if they have higher energy levels – as well as other activities such as agility training for mental stimulation.
Regularly groom their coat to prevent matting or skin issues caused by dirt build-up; pay particular attention to inspecting their ears which may be prone to infection. Provide ample amounts of high-quality food while monitoring calorie intake closely; avoid table scraps at all costs.
Brush teeth regularly using specialized toothpaste aimed at reducing any potential dental issues. Finally, consult with your veterinarian if you experience difficulty managing medical conditions related to the breed such as obesity or joint pain.
Feeding Frequency for Miniature Schnauzers

Feeding your Miniature Schnauzer the right amount of food is an important part of keeping them healthy and fit. The recommended feeding frequency for a Miniature Schnauzer depends on their age, size, activity level, and nutritional needs.
Small breed puppies should be fed multiple times per day while larger breeds can go up to twice daily feedings. For adult dogs under 30 pounds in weight, it's best to feed them twice a day with smaller meals spread out throughout the day; this will help keep their energy levels steady and can also prevent weight gain or obesity issues.
When it comes to choosing dog food for your pup, look for small breed puppy foods that are specifically formulated with appropriate calorie content based on the size of your pet – these formulas often contain more nutrients than regular sized adult foods as well as omega-3 fatty acids which are essential for skin health in miniature schnauzers!
Additionally, special dietary considerations such as allergies or medical conditions may require additional monitoring when creating meal plans.
Treat Guidelines for Miniature Schnauzers

When it comes to treating your Miniature Schnauzer, you'll want to keep these guidelines in mind – ironic that giving treats could be so tricky!
Treats should only make up about 10% of their daily caloric intake. Make sure the snacks are nutritionally balanced and contain all essential vitamins and minerals for optimal health.
Avoid human food as much as possible, including table scraps – they can lead to digestive issues or even obesity if fed too often.
Training rewards should also be given sparingly; use healthy rewards such as frozen carrots or apples instead of processed dog treats whenever possible.
Above all else, find a treat that matches your pup's age: puppy-specific snacks for young pups and adult formulations for older dogs are best when considering nutritional guidelines.
Lastly, always check labels before buying any type of snack – ingredients may vary greatly between brands!
With these tips in mind finding the healthiest reward options will become second nature when shopping for mini schnauzer treats.
Why Trust Us

As pet parents, you want to make sure that your Miniature Schnauzers are getting the best nutrition possible. To do this, it's important to be able to trust the dog food labels and manufacturers.
That's where we come in! We've done extensive research and analysis of pet food labeling practices as well as ingredient sourcing methods used by popular brands. Our team has also looked at customer reviews and conducted nutritional analyses on different types of dry foods for miniature schnauzers based on their activity level before making our recommendations.
Plus, we consulted with veterinarians about specific health concerns related to diet for these unique dogs! All this information was taken into consideration when choosing the best dog food for Miniature Schnauzers in 2023 – giving you peace of mind that your pup will get all his dietary needs met safely and efficiently.
How to Switch Miniature Schnauzer Dog Food

Switching your Miniature Schnauzer's dog food can seem like a daunting task, but with the right guidance, it can be as easy as pie – even if you're pushing through an Everest of paperwork! Here are some tips to make the process easier:
Always read and understand your dog food label before switching diets. Look for small breed recipes that include animal-based proteins, such as chicken or fish, and healthy fats from Omega-3 fatty acids like salmon oil.
Make dietary adjustments slowly by transitioning to new food gradually over 7 days. Mix 25% of the old diet with 75% new recipe each day until all is switched out after one week's time frame has passed.
Consider allergies when choosing a formula. Look for hypoallergenic options free from wheat, corn, soy, or dairy ingredients, which may trigger inflammation in sensitive dogs.
Lastly, ensure adequate protein sources are present to meet daily nutritional requirements while accounting for smaller kibble sizes suitable for smaller breeds.
Conclusion
It's important to choose the best dog food for your miniature schnauzer to keep them healthy and fit. With so many options available, the challenge is to find the right one for your pup.
After carefully considering the ingredients, texture, and price, the 10 best dog foods for miniature schnauzers can provide your pup with a balanced diet tailored to their size, energy level, and health needs.
Feeding frequency and the right diet for puppies, adults, and seniors are all important considerations.
All in all, with the right nutrition, your miniature schnauzer can stay healthy and active for years to come.