This site is supported by our readers. We may earn a commission, at no cost to you, if you purchase through links.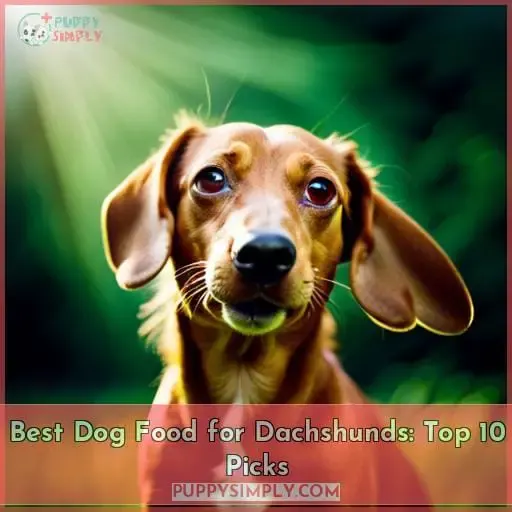 Are you the proud owner of a dachshund? You'll want to make sure your canine companion is getting all the nutrition they need, and that includes finding the best dog food for dachshunds. Luckily, we've put together this list of top ten picks from leading pet food brands so you can find something suitable for your pup.
From Blue Buffalo Small Breed Adult Dog Food to Diamond Naturals Puppy Dog Food, each product on this list has been carefully selected with consideration given to life stage nutrition and quality ingredients.
We also talk about switching over foods without making your pup sick as well as hip & joint supplements that may be beneficial for them in their later years.
Read on and discover what makes these products a great choice when it comes to feeding time!
Key Takeaways
Blue Buffalo Small Breed Adult Dog Food is a top pick for muscle, joint, and coat health.
Slow transition and consultation with veterinary nutritionists are important when transitioning to a new food.
Quality ingredients in dog food contribute to optimal health for Dachshunds.
Omega-3's play a vital role in maintaining healthy skin and coat for Dachshunds.
Top 10 Best Dog Food for Dachshunds
Finding the right food for your Dachshund can be tricky, but luckily, there are a few great options to choose from. From Blue Buffalo Small Breed Adult Dog Food and Dr. Tim's Kinesis Dog Food to Organix Organic Small Breed Recipe and Diamond Naturals Puppy Dog Food, you'll have plenty of tasty choices for keeping your pup healthy and happy.
1. Blue Buffalo Small Breed Adult Dog Food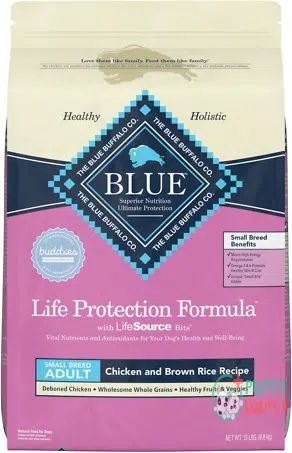 View On Chewy
You'll love how Blue Buffalo Small Breed Adult Dog Food helps promote healthy muscles, energy, joint health, and a lovely coat for your Dachshund – without any of the fillers! This food is packed with essential proteins to build strong muscles, carbohydrates for energy production, and glucosamine to support joint mobility.
Plus, it contains omega fatty acids that help keep their skin and coat looking shiny while providing vitamins, chelated minerals, and antioxidants.
Since there are no corn, wheat, soy, or chicken by-product meals, you can be sure your pup is getting high-quality nutrition without artificial colors or flavors.
Essential proteins for muscle building and strength.
Carbohydrates provide plenty of energy, and glucosamine helps joints stay mobile.
Omega 3/6 fatty acids give a lustrous shine on fur coats, plus added vitamins, minerals, and antioxidants help boost immunity levels.
No corn, wheat, soy, or chicken by-product meals – just premium ingredients free from artificial additives and preservatives.
Mixed reviews with some dogs refusing to eat it, reports of vomiting after consumption, as well as becoming picky over time.
Price may be quite steep compared to other small breed dog foods in the market.
May require patience if transitioning from another kibble type.
2. Dr Tims Kinesis Dog Food
View On Chewy
Enjoy the benefits of 88% animal protein in Dr. Tim's Kinesis Dog Food, which contains premium ingredients like salmon meal and probiotics. This food supports healthy skin, coat, heart, cognitive function, and digestion.
It is suitable for adult dogs of all sizes, from extra small breeds to large breeds.
Reviews indicate that many owners have seen improvements in their pet's energy levels and coats, as well as increased enjoyment due to its delicious taste. However, there are also some concerns raised about the significant price increase in recent years, making it less affordable for some owners.
Additionally, customers report sometimes receiving incomplete or delayed responses when they contact customer service with questions concerning their orders or product features.
Contains high-quality proteins & premium ingredients such as salmon meal & probiotics
Suitable for all size dogs from extra small breeds up to large breeds
Dogs enjoy taste & improved energy levels reported by many users
Price has significantly increased over the past year (40 lbs can cost ~$100)
Incomplete/delayed responses when contacting customer service
3. Small Breed Complete Health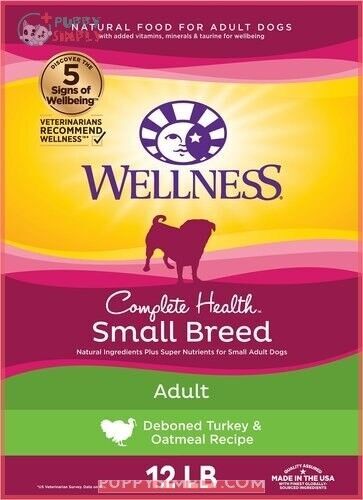 View On Chewy
Wellness Complete Health Turkey & Oatmeal dry dog food is a great choice for small breeds, providing essential nutrients like omega fatty acids and antioxidants to keep your pup healthy while avoiding ingredients like corn, wheat, soy, and chickpeas.
This premium recipe is made with wholesome grains as well as natural proteins that help support muscle health. It also contains prebiotic fiber for better digestion, plus vitamins and minerals that promote overall wellbeing in adult dogs of all sizes.
GMO-free formula
Premium ingredients such as salmon meal, fish oil, and probiotics
Healthy skin, coat, heart, cognitive function, energy levels, and digestion support
Omega fatty acids, antioxidants, and glucosamine
Made in the USA with globally sourced ingredients
Price increase has been reported, making it less affordable
Mixed reviews – some dogs refusing or not enjoying the taste
Quality issues have been mentioned by customers
4. Merrick Lil Plates Wet Dog Food
View On Chewy
Merrick Lil Plates Wet Dog Food is a great option for pampering your pup with delicious, grain-free recipes.
With real deboned beef or chicken as the first ingredient, this dog food can be served as complete meals or meal toppers. It is suitable for adult dogs of all sizes. It's also free from artificial colors, flavors, and preservatives, meaning it's safe even for those with food sensitivities and allergies.
Customers have reported mixed reviews on Merrick Lil Plates. Some dogs seem to enjoy its taste while others are less enthusiastic about it – especially picky eaters that may prefer something like a pate-style recipe instead.
Despite this feedback, there are many loyal customers who have been using Merrick products over the last decade due to their trust in its quality ingredients and nutritional value. So you know you're giving your pet only the best when choosing Merrick wet dog food.
Real deboned beef/chicken as the #1 ingredient
Grain-free & gluten-free formula
Suitable for adults & small breeds
No artificial colors/flavors/preservatives
Easy-to-open single-serve trays
Reports of mixed reviews
Not suitable for picky eaters or dental issues
5. Organix Organic Small Breed Recipe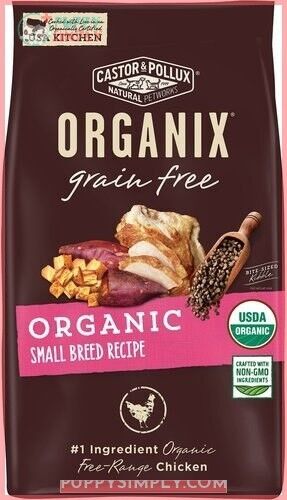 View On Chewy
Organix Organic Small Breed Recipe is an USDA certified organic and grain-free food made with responsibly raised, free-range chicken and superfoods like blueberries, flaxseed, and sweet potatoes for a balanced diet.
This complete meal contains prebiotic fiber to support digestion along with guaranteed levels of probiotics. Furthermore, it's free from corn, wheat, soy, chickpeas, or lentils, so even dogs sensitive to grains can enjoy this delicious food.
Customers have reported mixed reviews, but many praise its high-quality ingredients that provide their pup with the necessary nutrition they need without any artificial colors, flavors, or preservatives added in!
Free from grain (corn, wheat, soy, chickpeas, & lentils)
Contains prebiotic fibers for healthy digestion
Guaranteed levels of probiotics
No artificial colors, flavors, or preservatives
Quality ingredients providing all the required nutrition needed by your pup
Some dogs may not like it
Not suitable as a replacement for all previous dog foods
6. Whole Earth Farms Grain-Free Chicken Turkey Dog Food
View On Chewy
Whole Earth Farms Grain-Free Chicken Turkey Dog Food is designed to provide balanced nutrition for adult dogs of all sizes, with high-quality protein as the #1 ingredient and a Wholesome Harvest Blend for added omega fatty acids and antioxidants.
The food also contains wholesome field-grown veggies to support healthy digestion, plus glucosamine and chondroitin for joint health. Developed by vets and nutrition experts in the USA, it is free from artificial flavors, colors, preservatives, or fillers.
High-quality ingredients
Contains essential nutrients such as Omega fatty acids & antioxidants
Glucosamine & Chondroitin help maintain joint health
Free from harmful additives like corn, wheat, soy, etc.
Made in the USA following veterinary standards
Mixed reviews from customers regarding dog preference
Some have reported issues about kibble size making it less appealing to some dogs
Complaints about discontinuation of certain product variants (green bags/healthy grain)
Not suitable if your pup is a picky eater as they may reject it altogether
7. Nutro Natural Choice Senior Chicken Rice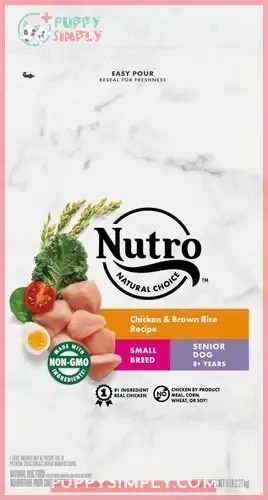 View On Chewy
Next up is Nutro's Natural Choice Senior Chicken Rice, a nutritious and delicious meal made with quality ingredients to support senior dogs' immune systems, bones, joints, and dental health. Formulated without chicken by-product meal or artificial flavors or colors, this 5-pound bag of dry food contains essential antioxidants for improved immunity, as well as calcium for strong bones and joints.
The crunchy texture also helps control plaque buildup in their teeth—a key factor in overall canine health.
This human-grade food has been carefully sourced from trusted suppliers around the globe, making it an ideal choice for owners who want to feed their dogs only the best nutrition possible.
The small kibble size makes it perfect not just for smaller breeds but also older canines whose jaws may be weaker than before due to age-related factors.
On top of all these benefits, many customers have reported positive feedback, such as picky eaters enjoying this food more than other brands they've tried, along with a marked improvement in coat condition too, which makes Nutro's Natural Choice Senior Chicken Rice even more appealing!
Essential antioxidants help boost immunity
Calcium supports healthy bones & joints
Crunchy texture helps reduce plaque buildup
Human grade; non-GMO; free from corn, wheat, soy
Small kibble suitable even for older canines
Kibble size may be too small/harder to chew
Price slightly higher than some competitor brands
One user experienced a decline in the dog's coat quality
8. Natures Logic Canine Beef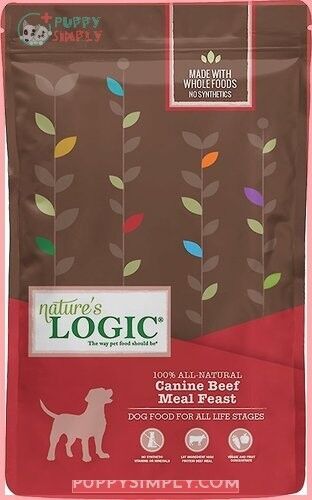 View On Chewy
Natures Logic Canine Beef is a grain-inclusive formula made with minimally processed ingredients like dried kelp, blueberries, spinach, and cranberries to support healthy digestion in all breeds. This gluten-free recipe contains probiotics and digestive enzymes for optimal gut health while also being MSG-free and hydrolyzed protein-free, so your pup can get the nutrition they need without any added nasties.
It has been well received amongst users who have reported improved energy levels in their puppy as well as a healthier coat. However, some dogs may experience itching or digestive issues when transitioning to this food.
This can be addressed by switching flavors or consulting with your vet if necessary.
Gluten-free, MSG-Free & Hydrolysed Protein Free
Contains Probiotics & Digestive Enzymes
Certified USDA Organic
Some Dogs May Experience Itching Or Digestive Issues When Transitioning To This Food
Price Comparisons And Convenient AutoShip Options Available For Regular Deliveries
9. ORIJEN Puppy Dog Food
View On Chewy
Feel the power of natural nutrition with ORIJEN Puppy Dog Food, crafted to support peak development in growing puppies. This premium grain-free and gluten-free meal is made with up to 85% fresh or raw poultry and fish ingredients, including ORIJEN WholePrey ingredients and nourishing organs.
The first five ingredients are real cage-free chicken, turkey, turkey giblets, flounder, and whole mackerel; no soy, corn, tapioca, or wheat added! Rich in protein from animal sources as well as fat for energy levels, this food has been positively received by customers for improving puppy health.
Dogs may drink more water when on this diet, but nevertheless enjoy the raw flavor that comes naturally from these high-quality meats.
Available in a larger kibble size, though it can be ground down for smaller puppies, transitioning to it should go smoothly if you take your time introducing them slowly into their new diet.
Contains up to 85% fresh or raw poultry & fish meals
Includes ORIJEN WholePrey ingredients & nourishing organs
No corn, wheat, soy, tapioca, artificial colors, flavors, or preservatives
Supports peak development in growing puppies
Price considered expensive compared to other brands
May not be suitable for dogs with sensitivities/intolerance
10. Diamond Naturals Puppy Dog Food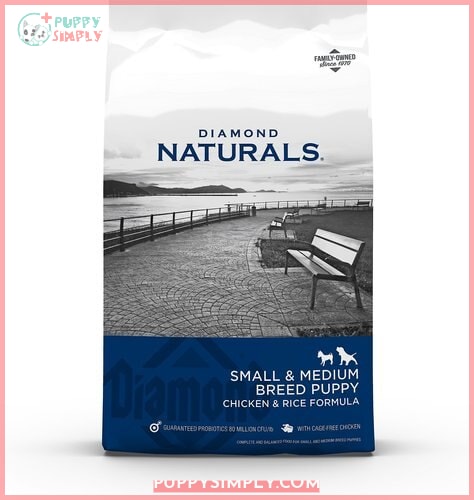 View On Chewy
Diamond Naturals Puppy Dog Food provides a nutrient-rich diet with cage-free chicken as the #1 ingredient and omega fatty acids for skin and coat health, so your pup can look their best. It also contains vitamins and minerals from superfoods like blueberries and oranges, DHA for brain development, proprietary probiotics to aid digestion, plus no corn, wheat, or artificial colors.
Customers have reported great results in terms of puppy health improvement with many dogs enjoying the food without any issues. However, some puppies experienced digestive issues, while others may prefer larger kibble size pieces over this small pellet size formula.
The delivery was praised by some customers, while others complained it took up to a week before arrival at their doorstep.
English Shepherd puppy thriving on this food
Shiny & healthy coat
Improved overall health & digestion
Recommended by an adoption company
Dogs love it & improved skin condition
Good selection on Chewy
Healthy & balanced nutrition
Some puppies experienced digestive issues
Small pellet size not suitable for older dogs
Quality control concerning chunks in the food
Delivery time taking up to one week
Preference towards larger kibble sizes
Mixed opinions about small pellet sizes
Switching to a New Food Without Making Your Dachshund Sick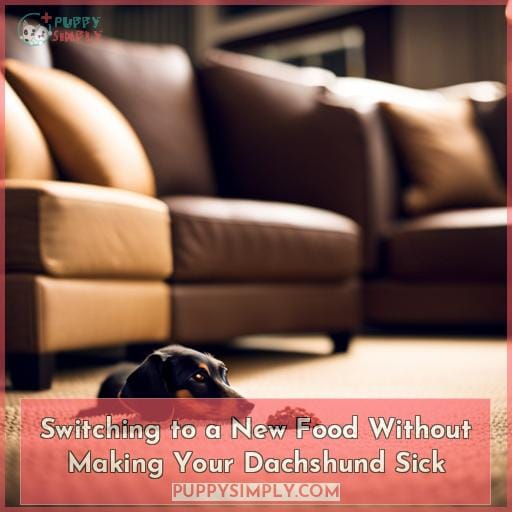 Switching to a new food can be stressful for your Dachshund, so why take the risk of making them sick? When transitioning your pup to a different diet, it's important to consider their health and nutritional needs.
To make sure they don't experience digestive upset or other dietary issues, slowly introduce the new food over several weeks. Start by adding 25% of the new food into their current meals each day and gradually increase that amount for them to adjust without any adverse reactions.
During this transition period, you should also monitor how they respond on an individual basis as some pups may need more time than others before fully switching diets.
Additionally, be mindful of any potential sensitivities when selecting a dog food specifically formulated with dachshunds in mind.
Hip & Joint Supplements for Dachshunds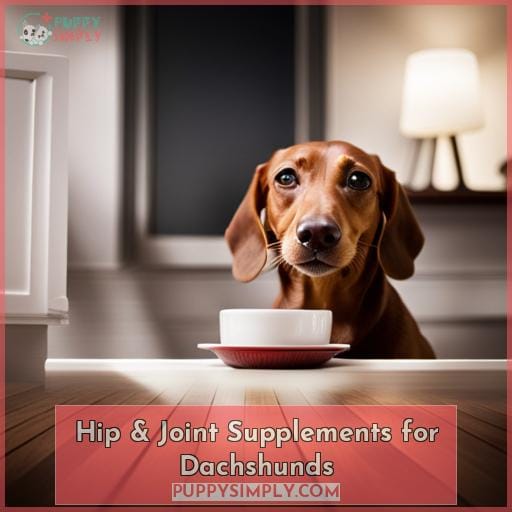 Help keep your pup's hips and joints in peak condition with hip & joint supplements tailored to Dachshunds. Choosing the right supplement for a dachshund is important, as their small size puts them at greater risk of skeletal conditions.
Here are four things to consider when selecting hip & joint supplements for Dachshunds:
Consider your dachshund's dietary needs – if they have any allergies or sensitivities that need addressing, look out for specially formulated hypoallergenic options with natural ingredients like glucosamine and chondroitin sulfate.
Check the dosage – this should be specifically tailored towards smaller breeds like Doxies.
Look into specific active ingredients – these will vary depending on what you want from the supplement, i.
Choose an option designed specifically for dental care – many contain probiotics which can help protect against oral diseases common among dogs generally, but especially in smaller breeds like Dachshunds due to their shallow mouth cavity and long noses making it harder to access food particles stuck between teeth.
To ensure optimal wellness for your Dachshund, make sure you choose a high-quality product that meets all of these criteria!
What Does Your Dachshund Really Need?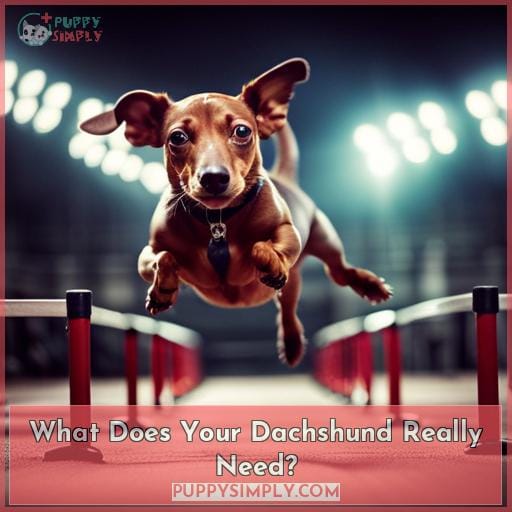 When it comes to feeding your beloved Dachshund, you need to make sure they get the right nutrition for their specific needs. To do this, you'll want to consider dietary preferences and health considerations as well as nutrient requirements based on age and activity level.
Quality ingredients are also important when selecting a food for your pup. Look for high-quality proteins like chicken or fish meal, along with vitamins and minerals that support digestive health. It's also recommended that senior dogs receive higher levels of protein in their diet than younger pups.
With all these factors in mind, there is no one-size-fits-all approach when it comes to choosing the best dog food for Dachshunds.
When transitioning between foods or introducing new items into their diet, such as treats or supplements, be sure to follow a slow introduction process. This will prevent overwhelming them with too much change at once, which could cause tummy troubles down the line.
Tips for Choosing the Best Dog Food for Dachshunds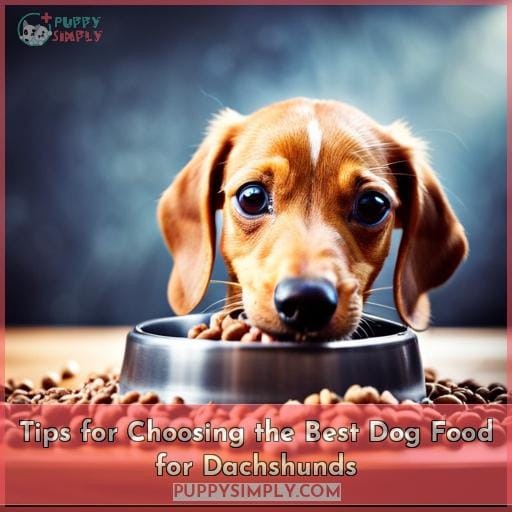 Choosing the right food for your Dachshund is essential to their health and well-being, as different life stages require different nutritional needs. Quality ingredients also matter, as some dog foods can contain artificial additives or low-grade proteins that can be damaging to a canine's overall wellness.
With these points in mind, let us examine tips for selecting the best dog food for Dachshunds.
Life stage nutrition
Fuel your Dachshund's life stage with the nutrition it needs! Puppies require more calories and higher protein to support their growth. Adult dogs need a balanced diet for optimal health, while seniors can benefit from nutrient-rich foods that promote joint health and mobility.
Specialized diets are also available to manage allergies or dietary preferences. Make sure you consider your Dachshund's individual nutritional needs when selecting food – look for well-rounded recipes with plenty of proteins, omega fatty acids, probiotics, vitamins, and minerals for optimum balance in every meal.
Quality ingredients matter
When selecting food for your Dachshund, quality ingredients are essential. So, be sure to choose formulas with real animal proteins and minimal processing. Look for high-quality protein sources like chicken or fish meal. Also, look for fiber-rich carbs such as brown rice or oatmeal.
Omega-3 supplementation is essential for healthy skin and coat. Therefore, look out for foods that contain flaxseed oil or fish oil. Additionally, check the label to ensure there are added minerals and vitamins in the formula.
Quality assurance measures should also be taken into account when choosing an ingredient source.
Considering dietary concerns
When it comes to your Dachshund's diet, it's important to be mindful of any dietary concerns. Over 70% of Dachshunds suffer from food sensitivities or allergies that can cause digestive issues if not taken into consideration when choosing a dog food.
If your pup has sensitive stomachs or allergies, you should look for limited ingredient diets with lean proteins and whole foods ingredients. Consulting veterinary nutritionists is also recommended for individualized advice on the best dog food option for your pet.
When transitioning to new foods, do so slowly over 7-10 days and monitor portions carefully as well as weight gain/loss in order to ensure optimal health benefits from the diet changeover.
Conclusion
When it comes to finding the best dog food for your dachshund, it's important to consider their individual needs. From life stage nutrition to quality ingredients, all of these factors play an important role in ensuring your pup is getting the best nutrition for their breed.
As owners, it's up to us to find the right balance of nutritional needs and flavor preferences to make sure our dachshunds are thriving. With the top 10 picks for the best dog food for dachshunds, you can be sure you're giving your pup the very best.
With the right combination of nutrition and flavor, you can be sure your pup is getting the best nutrition for their breed.