This site is supported by our readers. We may earn a commission, at no cost to you, if you purchase through links.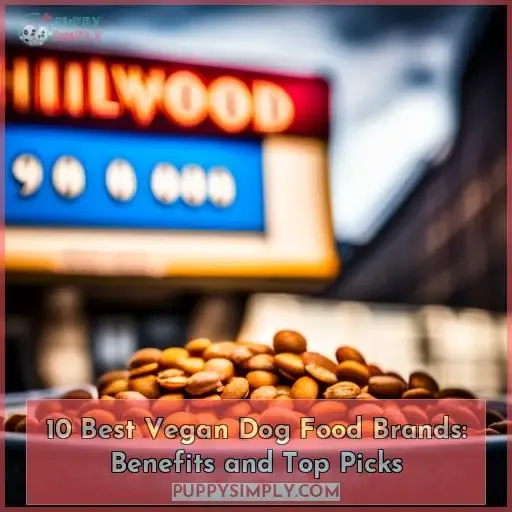 Are you looking for the best vegan dog food brands? With so many options out there, it can be hard to know which are suitable for your pup.
From studies finding that "vegan diets are healthier and safer for dogs than conventional meat-based diets" to my own experience with Cookie girl, I'll provide everything you need to know about this growing trend in pet nutrition.
So if you're curious about animal-free eating plans or just want some recommendations on what vegan products work best – grab a snack and get comfortable; let's explore 10 of the top rated vegan dog food brands available today!
Key Takeaways
Vegan dog food brands offer a variety of high-quality ingredients, including human-grade options and organic plant-based formulas.
These brands prioritize the health of dogs by providing essential nutrients, vitamins, and minerals, while also supporting digestion and skin and coat health.
Transitioning to vegan dog food may offer benefits such as improved digestion, relief from allergies, and a more eco-friendly approach to feeding pets.
Before making the switch, it is important to consult with a veterinarian, ensure AAFCO approval, and consider nutrient supplements to maintain a balanced diet for dogs.
Best Vegan Dog Food Benefits Top Brands Everything About It
Picking the right vegan dog food for your pup can be a challenge. With so many brands, ingredients, and formulas to choose from, it's important to select the best one that will provide optimal health benefits for your furry friend.
JustFoodForDogs Tofu Quinoa Vegan Dog Food, Halo Holistic Vegan Dog Food, Walk About Vegan Dog Food, Gather Endless Valley Vegan Dog Food, Natural Balance Vegetarian Dogs Foods, Royal Canin Vegetarian Dogs Foods, Purina Pro Plan HA Hydrolyzed Vegetarians Dogs Foods, Health Extension Vegans foods, Sams Yams Treats, and Old Mother Hubbard treats are some of the most popular options available on today's market!
JustFoodForDogs Tofu Quinoa Vegan Dog Food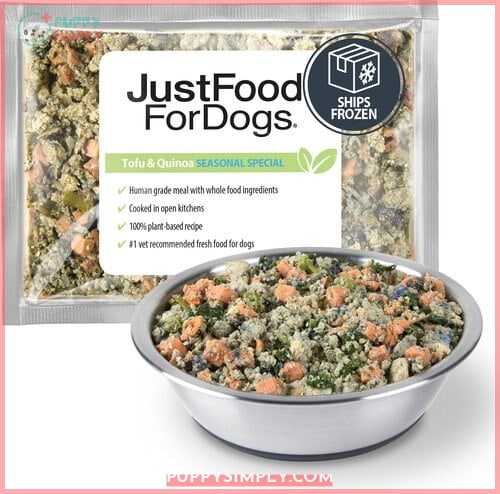 View On Chewy
You can provide your pup with a nutritious, human-grade vegan diet with JustFoodForDogs Tofu Quinoa Vegan Dog Food that's packed full of protein and antioxidants. This frozen food is made in the USA for adult dogs of all sizes, free from fillers, preservatives, and growth hormones.
The ingredients include tofu, sweet potatoes, quinoa, kale, white mushrooms, and blueberries. These ingredients have been formulated by vets and nutritionists to support overall health. Many dogs enjoy the taste of this food, and some find it helpful for allergies or skin conditions.
However, there are some concerns about the cost of this premium food compared to other options. Additionally, the large pieces of tofu may be unsuitable for small breeds with dental issues.
Human-grade vegan ingredients
High in protein & antioxidants
Free from fillers & preservatives
Costly compared to other foods
Large pieces not suitable for small breeds
Halo Holistic Vegan Dog Food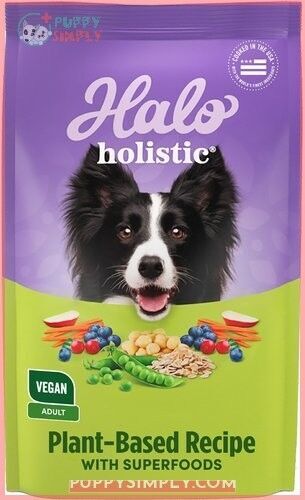 View On Chewy
Experience the extraordinary health benefits of Halo Holistic Vegan Dog Food, a complete plant-based formula that supports skin and fur health with omega fatty acids. This vegan blend is fortified with vitamins and minerals, along with pro, pre, and postbiotics for digestive support.
It is free from GMOs, soy, corn, wheat, artificial colors, flavors, or preservatives, making it suitable for all breeds and sizes of adult dogs.
This 10-pound bag has been used successfully in combination with Canidae vegan plant-based food to receive positive reviews regarding improved digestion, as well as taste. The small kibble size makes it easier to chew while still providing your pup the nutrition they need.
It includes flaxseed meal omega 3 & 6 fatty acids, along with an array of fruits, vegetables, added vitamins, and Yucca Schidigera extract, which helps support gastrointestinal health.
The Halo Holistic Vegan Dog Food is available in convenient pull-tab cans, making it easy to travel with, feed, or add water if needed. Some customers have found that this creates a softer consistency that is more palatable for their pooch.
With limited options on the market, this dog food not only tastes great but is also cost-effective, allowing you to provide your furry friend with quality without breaking the bank.
Fortified with vitamins & minerals pro/pre/postbiotics for digestive support
Omega fatty acid supplementation promotes skin & fur health
Small kibble size facilitates chewing
Variety available: pull-tab cans dry food toppings
Cost-effective option
Limited availability outside the US
Mixed experiences transitioning from other brands
Recent formula change causing tear stains
Walk About Vegan Dog Food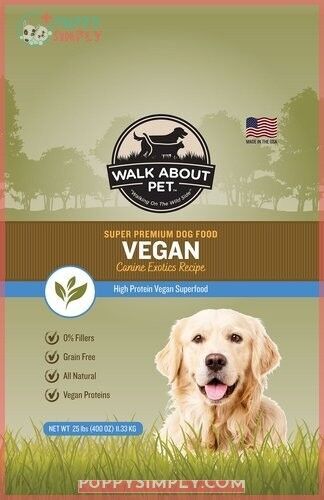 View On Chewy
Discover Walk About's nourishing vegan kibble, crafted with real ingredients like peas, sweet potatoes, and lentils to help your pup thrive. This alkaline kibble is designed for adult dogs with special dietary needs, such as a vegan or vegetarian diet.
The nutrition packed into this food includes flaxseed meal, omega-3 and omega-6 fatty acids for digestion and joint health, as well as skin & coat health.
Plus, it's suitable for all breeds of adult dogs, making it an ideal choice if you have multiple pups at home!
Walk About Vegan Dog Food contains fruits and vegetables that are essential sources of vitamins & minerals to keep their bodies healthy. Added vitamins provide extra support, while Yucca Schidigera extract helps maintain proper urinary tract health.
Reviews from pet owners suggest improved energy levels after switching over to this formula, which makes sense since complex carbohydrates like brown rice, potatoes, and green peas give energy without spiking blood sugar levels, unlike simple carbs do! User feedback also reports firmer stools, which may be due to the lack of fillers found in some conventional dry foods on the market today.
Contains real ingredients such as Flaxseed Meal Omega 3/6 Fatty Acids
Free from Artificial Colors/Preservatives
Suitable For All Breeds Of Adult Dogs
Complex Carbohydrates Provide Long Lasting Energy Without Spiking Blood Sugar Levels
Reports Of Firmer Stools After Switching To This Formula
Small Hard Kibbles May Require Softening For Sensitive Dogs
Some Vomiting Reported After Consuming The Product
Concerns Over Lack Of Taurine In The Product
Possible Association With Dilated Cardiomyopathy (DCM) In One Case
Gather Endless Valley Vegan Dog Food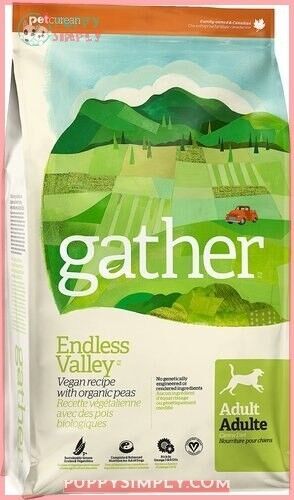 View On Chewy
Gather Endless Valley's vegan dog food contains 20% plant-based material, making it an eco-friendly option that your pup can feel good about! This certified organic formula is made with organic peas, flaxseed oil, blueberries, and cranberries for antioxidants.
It also contains quinoa and nutritional yeast to provide essential nutrients while giving a delicious flavor. Taurine helps support vision and heart health in adult dogs of all sizes. Plus, this food is free from animal ingredients, wheat, corn, soy, or dairy, so it's suitable for those sensitive to these proteins as well as those following vegan diets.
The user feedback has been positive; many pet owners have noticed improved energy levels in their pups and firmer stools after switching them over to Gather Endless Valley Vegan Dog Food.
Certified organic plant-based ingredients
Suitable for adult dogs sensitive to proteins
Contains antioxidant-rich fruits & vegetables
Free from artificial colors, flavors & preservatives
Made with taurine & nutritional yeast
100% plant-based protein
Eco-friendly packaging
Higher cost compared to other brands
Contains added yeast, which may cause allergies in sensitive dogs
Natural Balance Vegetarian Dog Food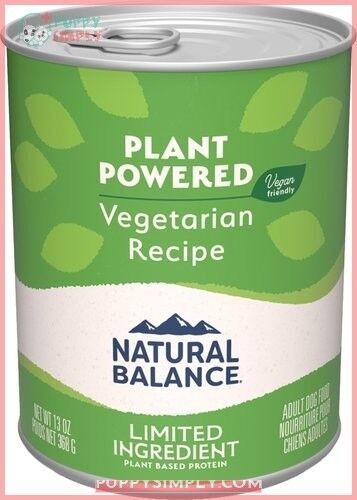 View On Chewy
Try Natural Balance Vegetarian Dog Food for a complete, balanced vegan formula designed to support the health and wellbeing of your pup. This plant-based option is made with brown rice, potatoes, green peas, and other nutritious ingredients like spinach, cranberries, and added vitamins A & B12.
For maximum nutrient absorption, it's highly digestible and includes Yucca Schidigera extract to aid in gastrointestinal health while reducing stool odor. It can be used as an everyday food or as a dry food topping for extra nutrition benefits.
Completely vegan formula
Highly digestible for optimal nutrient absorption
Contains fruits & vegetables like spinach & cranberries
Includes vitamins A & B12 plus Yucca Schidigera extract
Free from gluten, rendered animal fats, and by-products
Some customers reported inconsistency in product quality and consistency over time
Occasional complaints about difficulty getting the food out of the can and messiness
Royal Canin Vegetarian Dog Food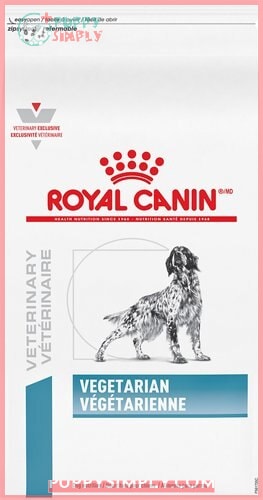 View On Chewy
Unlock the power of Royal Canin Vegetarian Dog Food to support your pup's digestive health and reduce purine excretion with its specially formulated vegetarian diet. This dry dog food is designed for adult dogs of all sizes and breeds who have sensitivities to animal proteins.
It contains essential nutrients, such as linoleic acid, zinc, biotin, and a specific nutrient blend that promotes skin and coat health while supporting urinary tract function too.
With no added sugars or preservatives, this 17.6-pound bag can help keep your pet feeling their best day after day! Supplementation with Fortiflora probiotic can soften it up even more for easy digestion – perfect for those sensitive stomachs out there!
Formulated specifically for food sensitivities in adult dogs
Contains beneficial vitamins & minerals
Supports healthy skin & coat
No added sugar or preservatives
More expensive than traditional hepatic formula
Not suitable for dogs with dental issues (large kibble)
Some dogs refuse to eat it
Purina Pro Plan HA Hydrolyzed Vegetarian Dog Food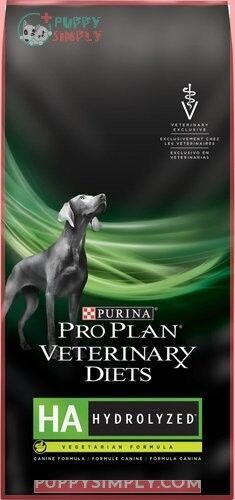 View On Chewy
Experience the power of Purina Pro Plan HA Hydrolyzed Vegetarian Dog Food's hydrolyzed protein and single-source carbohydrate to help your pup with sensitive digestion. Specially formulated for food-sensitive dogs, this 25-pound bag is free from gluten, rendered animal fats, by-products, added sugar, carrageenan, corn, wheat, or soy.
It contains vitamins and minerals as well as Yucca Schidigera extract for gastrointestinal health support. Many pet owners have reported improved stool quality in their dogs after switching to this diet, plus reduced scratching and allergies associated with sensitivity issues! Supplementation with Fortiflora or adding water can further soften up the consistency for easier consumption and absorption.
One user even credits it for saving her dog who was suffering from PLE (protein losing enteropathy) and severe IBD! With its positive reviews amongst allergic pets experiencing relief in coat condition, skin health, and overall wellbeing, why not give it a try?
Specially formulated dry dog food designed to support sensitive digestion
High-quality proteins and carbohydrates
Vitamins/minerals Yucca Schidigera extract supporting GI health
Grain-, gluten-, GMO-, artificial colorings/flavors/preservatives-free formulation
Chunk issue reported once per customer
Can cause vomiting, lethargy, or other adverse effects if not supplemented correctly
Not suitable when transitioning between different formulas
Health Extension Vegetarian Dog Food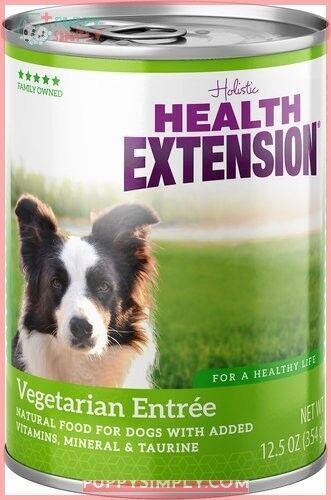 View On Chewy
Health Extension Vegetarian Dog Food is a nutritious, complete, and balanced meal for adult dogs and puppies. It's free from gluten, rendered animal fats, by-products, added sugar, carrageenan, corn, wheat, or soy – so it can be an ideal solution for those with chicken allergies or sensitive stomachs.
The key ingredients like sweet potatoes, butternut squash, carrots, peas, blueberries, cranberries, and kale all work together to support urinary tract health in your pup too! Plus, this convenient pull-tab can makes mealtimes easy peasy!
Good alternative for dogs with chicken allergies
Highly digestible for dogs with sensitive stomachs
Suitable for older dogs with dental issues
Dogs enjoy the taste and texture
Some dogs experienced diarrhea after consumption
Not suitable for all dog breeds/sizes
A preference for variety in brands
Sams Yams Dog Treats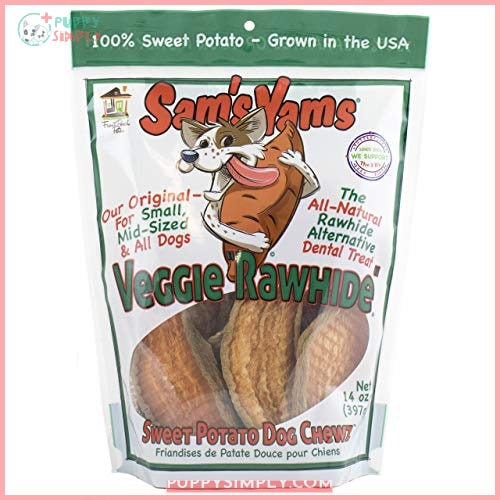 View On Amazon
Treat your pup to Sam's Yams Dog Treats, made with 100% natural sweet potatoes and free from artificial preservatives for a flavorful crunch they'll love.
High in fiber for digestive health and rich in beta carotene (a vitamin A precursor) for healthy eyes, Sam's Yams Dog Treats also help promote oral health by removing plaque and tartar. The unique texture is perfect even for those aggressive chewers or picky eaters.
Plus, their easy digestion makes them suitable for even sensitive stomachs – so you don't have to worry about any mess or odors either! Dogs absolutely adore Sam's Yams Dog Treats as an everyday reward that will keep them coming back begging for more every day.
Made with 100% natural sweet potatoes
Slow roasted in the USA
Grain Free & Gluten Free
Rich In Beta Carotene For Healthy Eyes
Easy Digestion Suitable Even For Sensitive Stomachs
Doesn't Stain Carpets Or Leave Foul Odors
Not available outside of US/Canada
Only Available In Smaller Bags
Some dogs may not like the taste
Old Mother Hubbard Dog Treats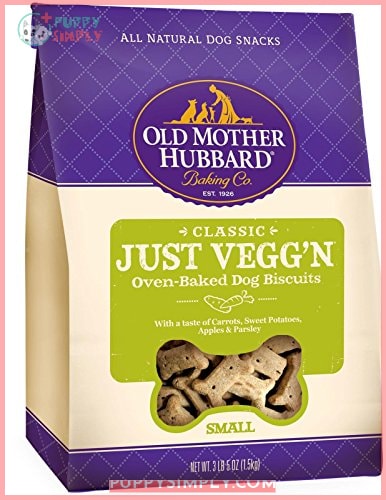 View On Amazon
Enjoy the classic taste of Old Mother Hubbard Dog Treats, slow oven-baked for natural flavors and a crunchy texture that your pup will love! These small, crunchy dog biscuits are made with carrots, sweet potatoes, and apples to help clean teeth while dogs chew.
They're free from artificial preservatives and are a great way to provide an enjoyable, low-fat snack for your furry companion.
Plus, they come in convenient travel-size packs so you can always have treats ready when out on walks or visiting friends.
These delicious treats aren't just enjoyed by pups who prefer peanut butter flavor; many pooches without any experience eating meat enjoy them too.
The only downside is that these larger 2-inch long, 1-inch wide biscuits may not be ideal as training rewards unless broken into smaller pieces first – but this isn't necessarily a concern if you're using them more as snacks rather than during formal lessons anyway!
Healthy option that dogs actually eat
No artificial preservatives
Contains parsley, which may improve dog breath
Travel-friendly size suitable for treat pouches
Suitable for low-fat diets
Dogs love the unique texture
Not suitable as training rewards due to large size (2×1 inches), though this can be mitigated by breaking down into smaller pieces
Some variability in preference among individual dogs
Does not contain meat
Can Dogs Be Vegan?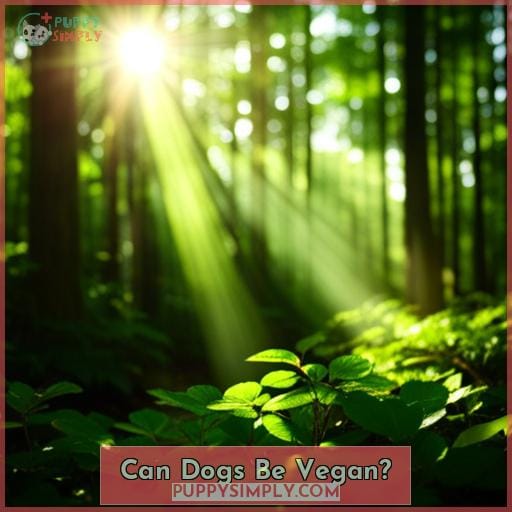 You may be wondering if your pup can benefit from a vegan diet. The short answer is yes – dogs can thrive on a plant-based diet, and there are now several companies offering vegan dog food options. Key brands making an impact in the market include Benevo, Hownd, Omni, Petaluma, The Pack V-Dog, and Wild Earth.
Each brand has its own unique selling points. Whether it's high ethical ratings or celebrity backing, these brands make them great choices for conscientious pet parents looking to switch their canine companion over to a more sustainable form of nutrition.
Vegan dog food offers numerous benefits, including improved digestion and allergy relief. This is due to the hypoallergenic nature of plant proteins compared with animal sources usually found in commercial pet foods.
Giving Vegan Dog Food a Try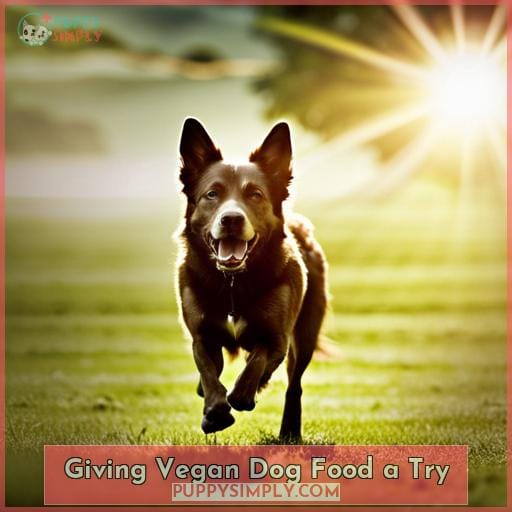 Exploring a vegan diet for your pup can open up the possibility of improved health and wellbeing, with plenty of delicious, nutritious options available from reputable brands.
But it's important to research carefully before making changes; consult a vet if needed. They may be able to provide advice on transitioning or recommend specific products. Consider key elements like AAFCO approval, protein sources tailored to life stage nutrition when choosing food types.
Look for popular brands like Wild Earth Kibble or V-Dog Kind Kibble, which offer balanced vegan formulas with Taurine & L-Carnitine content, plus various nutrient supplements suitable for all breeds & sizes, including puppies.
Some concerns exist around commercial pet food ingredients, so check labels closely. Also, consider plant-based treats & dental bones, as well as omega 3-rich Marine Phytoplankton powder for essential nutrients when making dietary decisions.
With careful consideration, you can ensure a healthy transition!
Skepticism Turns to Confidence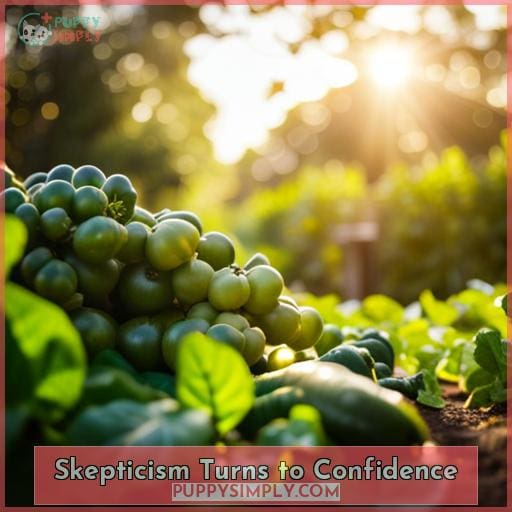 As you consider transitioning your pup to a plant-based diet, skepticism can easily be replaced with confidence as vegan dog food brands have made great strides in providing quality nutrition. Research shows that dogs can thrive on these diets and there are several companies offering complete vegan options for all life stages.
To ensure health benefits, compare popular brands such as Benevo, Hownd, Omni, and V-Dog. Look at reviews from pet parents who have experienced success when transitioning their pups to ethical diets, and also consult your vet prior to making the switch.
Furthermore, consider factors like protein sources used in the products before deciding which one is best suited for your pup's needs.
With so many high-quality formulas available now, it is easy to find one that not only meets nutritional requirements but tastes good too! Ethical considerations should also be taken into account when looking at different vegan dog food options – invest in those companies whose values reflect yours while helping protect our planet's resources.
Thriving on a Vegan Diet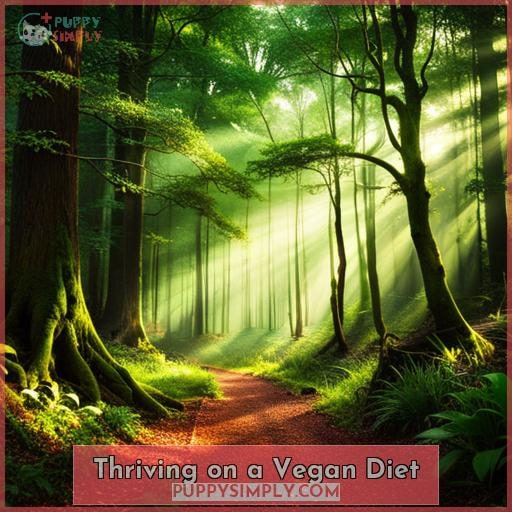 With a balanced vegan diet, your pup can enjoy the same health benefits as their meat-eating friends. Plant-based nutrition provides essential vitamins and minerals to keep them strong and healthy.
Eco-friendly pet diets are becoming more popular with owners wanting to reduce their environmental impact while providing quality food for their canine companions.
When considering dietary changes or transitioning to a plant-based diet, it's important to consult with your veterinarian first so they can help determine what's best for your pup's individual needs. It is also important to carefully read labels on all vegan dog food ingredients before purchasing to make sure it meets AAFCO standards for complete nutrition.
Additionally, there are many pros and cons associated with feeding an exclusively vegan diet, such as potential nutrient deficiencies or excessive weight gain due to high carbohydrate content. Both issues require careful monitoring by an experienced vet familiar with this type of nutritional plan.
To ensure optimal health when feeding a plant-based meal plan, supplementation may be necessary depending on the choice of ingredients used during preparation. Look into brands offering tailored supplements specifically designed for dogs living off plant proteins, like Dog Greens Organic & Wild Harvested Supplement or Omega 3 Marine Phytoplankton Powder from The Missing Link Original Superfood Supplement Powder range.
With proper knowledge about switching over, including finding ethical pet food choices and getting advice from experts along the way, you can rest assured knowing that going vegan doesn't mean compromising on canine care!
Vegan Dog Food Brands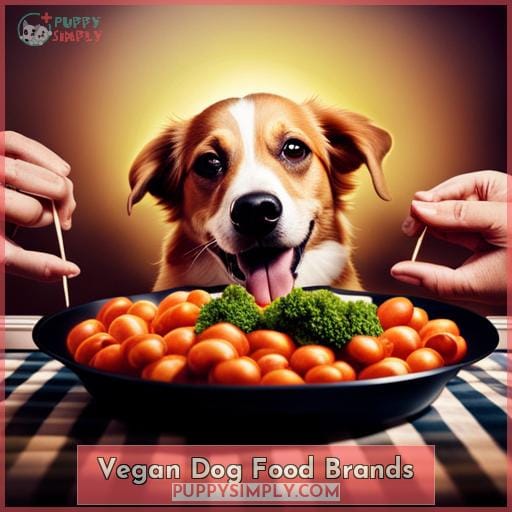 Are you searching for the best vegan dog food brands? PawCo Foods, V-Dog, Wild Earth, and Bramble Pets are some of the top names in plant-based canine nutrition.
PawCo Foods
Discover how PawCo Foods' GreenMeat vegan dog food is leading the way in providing plant-based nutrition to pups. With alternative formulas, ingredient analysis, customer reviews, and sustainability practices that compare favorably with other brands, this highly nutritious option offers plenty of benefits for your canine companion.
Nutritional comparison reveals a complete balance of proteins and carbohydrates, while Omega fatty acids improve skin health as well as boost energy levels.
V-Dog
Experience the decades of experience and reputation behind V-Dog's balanced vegan formula, packed with Taurine and L-carnitine. This 100% vegan food is formulated to provide adult dogs with all their essential nutritional needs.
It is made from plant proteins like quinoa, peas, chickpeas, and lentils. Not only does it satisfy canine cravings for flavor, but it also provides them with a plethora of health benefits.
One of these benefits is improved digestion, thanks to its prebiotic blend. This blend helps support gut flora balance, resulting in better digestion for your furry friend. Many pet owners have reported positive testimonials about their dog's transition onto V-Dog nutrition.
They have noticed increased energy levels in their dogs while providing ethical pet nutrition that aligns perfectly with compassionate values.
V-Dog does not compromise on quality or taste, ensuring that your dog gets the best of both worlds.
Wild Earth
Unlock the potential of Wild Earth, a pioneering vegan dog food brand with cultivated meat options and an eye towards ecological biodiversity. From innovations in sustainability to celebrity endorsements, Wild Earth is transforming pet food for the better.
Customers rave about their hypoallergenic ingredients and plant-based protein content, while pet owners appreciate their commitment to animal welfare and eco-friendly production practices. Plus, they offer free shipping over $50! With so much going for it—including affordable prices—Wild Earth's vegan dog food may just be what your pup needs for optimal health.
Bramble Pets
Bramble Pets offers high-quality, fresh vegan dog food with various recipes to keep your pup healthy and happy. All their ingredients are ethically sourced from local farms, making it some of the most sustainable pet nutrition available on the market.
Their plant-based recipes use only natural ingredients that provide all essential nutrients for a balanced diet without any added fillers or chemicals. Their ethical practices also extend beyond just producing good quality vegan food.
They believe in creating better conditions for animals in the pet industry and minimizing their environmental impact through thoughtful packaging choices.
Bramble Pets is committed to providing only top-notch products, so you can trust them when selecting a safe and delicious meal option for your furry friend!
Vegan-Friendly and Vegetarian Dog Food Brands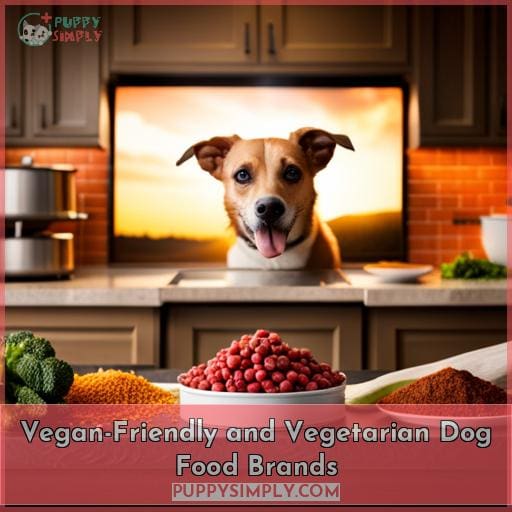 If you're looking for the best vegan and vegetarian dog food brands, Gather Endless Valley Vegan Dog Food, Natural Balance Vegetarian Dog Food, and Halo Holistic Vegan Dog Food are some great options to consider.
All of these products provide balanced nutrition with ingredients that are free from animal proteins, GMOs, or artificial colors. Each brand offers something unique, such as organic certification for Gather's recipe or a specialized nutrient blend in Royal Canin's formula, which can help improve your pup's overall health.
Gather
Discover the certified organic goodness of Gather Endless Valley Vegan Dog Food – a meal that will nourish your pup like a warm hug! Packed with nutritional yeast benefits, this vegan dog food contains no animal proteins and is made from certified organic ingredients.
Many testimonials report improved energy levels in dogs after switching to this vegan diet. Plus, it's free from GMOs, artificial colors, and flavors so you know you're giving your pet only the best nutrition.
Not just for adult dogs but puppies too; Gather Endless Valley Vegan Dog Food has all essential nutrients covered plus plant protein sources for balanced meals every time!
Natural Balance
Experience the plant-based power of Natural Balance's Vegetarian Dog Food, packed with vitamins and minerals to help your pup thrive. Its ingredient analysis ensures a nutritional balance that meets dietary considerations for vegan pups.
With careful consideration given to every aspect of their diet, you can rest assured that your pet is getting everything they need from this top brand.
Halo
Treat your pup to Halo's organic vegan dog food for ecological biodiversity and a hypoallergenic formula that supports overall health. Halo's formulas are crafted from high-quality ingredients like brown rice, flaxseed meal, sweet potatoes, and omega fatty acids.
Their nutritional content is developed with vets' guidance to meet the needs of all breeds and sizes.
Customers have praised its delicious taste as well as the improved skin condition in their dogs after switching over to this brand. They source their ingredients ethically while minimizing environmental impact by using sustainable packaging solutions like recycled materials and water-based ink printing on boxes instead of plastic wrap or shrink film coating inside them.
With vet-approved vegan dog food benefits such as allergy relief, improved digestion, and eco-friendliness, it'll be hard not to make the switch!
Vegan Rawhide and Dental Bones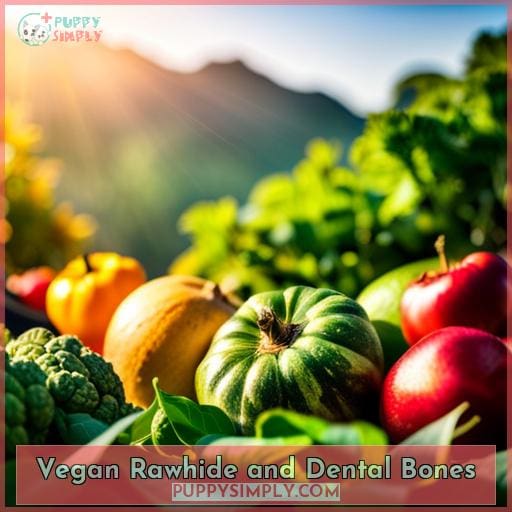 Indulge your pup with vegan rawhide and dental bones for a delicious and nutritious treat!
Rawhide alternatives like Benevo's Cheezie Twists are made from potato starch, tapioca flour, vegetable glycerin, olive oil, and other natural ingredients. These chews provide hours of enjoyment while promoting healthy teeth, gums, and overall oral hygiene.
For an even healthier option, try Dentalife Vegan Bones which contain green tea extract to help reduce plaque buildup in dogs' mouths.
If you're looking for sustainable chew toys, then consider V-Dog Breathbones. They are made with plant-based proteins such as peas and potatoes, plus added vitamins and minerals that help keep their breath fresh too.
There is no shortage of vegan bone options out there, but make sure you read the labels carefully before buying any treats for your pup.
With these tasty treats available, it's easy to show our four-legged friends how much we care by providing them with the best vegan dog food benefits top brands have to offer. Everything about it should be kept in mind when selecting one that's right for them.
Plant-Based Dog Supplements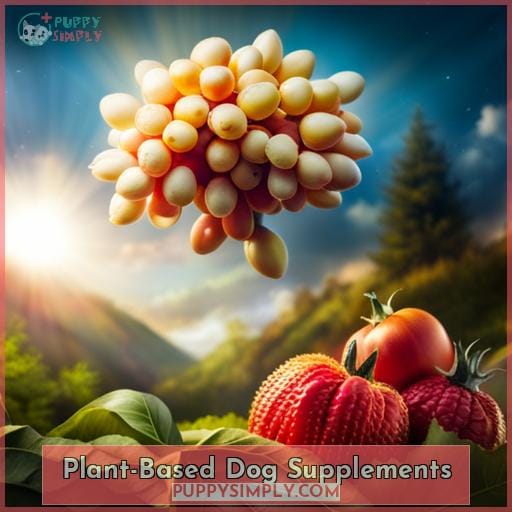 When it comes to providing your pup with the best vegan diet, plant-based dog supplements can make all the difference. These dietary additions offer a range of benefits, including nutrient support and health enhancement.
From omega 3 fatty acids for skin and fur health to flaxseed meal for improved digestion, these wellness boosters provide essential vitamins and minerals that may be lacking in some vegan diets.
When selecting a supplement brand, look out for one with no artificial colors or flavors, as well as those without added sugar or carrageenan. These two common ingredients found in pet food products have been linked to poor digestive issues such as indigestion and diarrhea.
There is an array of top brands offering quality vegetarian supplements designed specifically for dogs.
Whether you're looking to improve your pup's overall wellbeing or just need something extra nutrition-wise, consider adding plant-based dog supplements into their daily routine!
Conclusion
It's clear that vegan dog food is gaining traction as more pet owners switch to plant-based diets for their four-legged companions. When it comes to finding the best vegan dog food, there are plenty of brands and products to choose from, each with its own unique benefits.
With the right combination of nutrition, taste, and sustainability, these top picks provide the perfect balance of nutrition, taste, and sustainability for vegan pup parents. From JustFoodForDogs to Walk About and Wild Earth, these vegan dog food brands offer a variety of options to suit every pup and their nutritional needs.
With this ultimate guide, vegan pet owners can easily find the best vegan dog food for their beloved canine companion.