This site is supported by our readers. We may earn a commission, at no cost to you, if you purchase through links.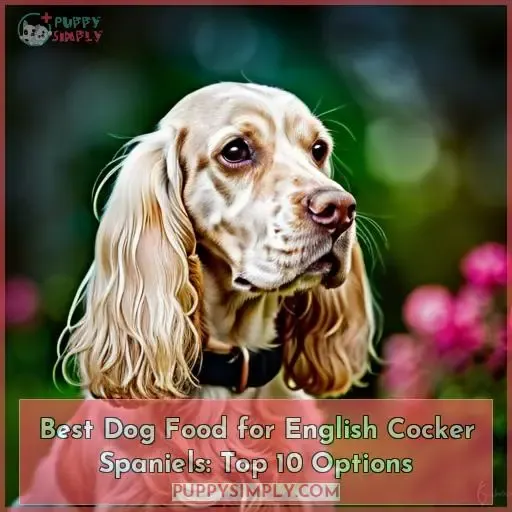 Are you looking for the perfect diet to keep your English Cocker Spaniel healthy and happy? You're not alone. With all the doggy diets out there, it can be hard to pick one that ticks all of your pup's boxes – especially if they have particular health concerns or dietary needs.
Luckily, we've done some digging into what food is best for this breed specifically.
Key Takeaways
Taste of the Wild Appalachian Small Breed Dog Food is a top option for English Cocker Spaniels.
High-quality protein, antioxidants, omega fatty acids, and probiotics are important for their health.
AAFCO approval ensures nutritional balance and accurate labeling.
Reading labels carefully is crucial for choosing the right dog food for English Cocker Spaniels.
Top 10 Best Dog Foods for English Cocker Spaniels
If you have an English Cocker Spaniel, it's important to find the best dog food for them. Consider Taste of the Wild Appalachian Small Breed Dog Food, Instinct Rabbit Dog Food, Blue Buffalo Dog Food Adult Lamb Rice, and more; these top 10 options are specially formulated to meet your pup's unique nutritional needs.
1. Taste Wild Appalachian Small Breed Dog Food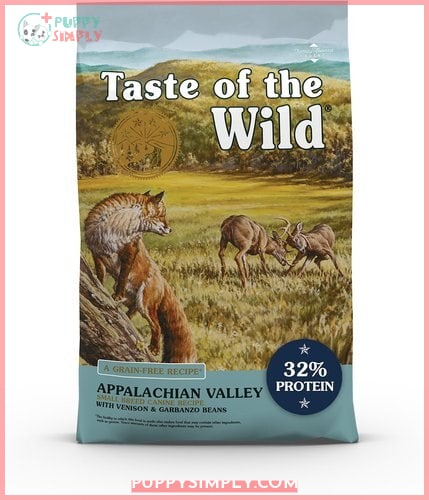 View On Chewy
You'll find that Taste of the Wild Appalachian Small Breed Dog Food is packed with high-quality proteins, essential vitamins, and minerals, plus omega fatty acids to keep your pup's skin and coat looking great.
Crafted from real meat as the primary ingredient, it also includes species-specific K9 Strain Proprietary Probiotics for digestion support. Antioxidants and prebiotic fibers aid a healthy immune system while grain-free ingredients provide an ideal diet for small breed dogs.
Plus, this food has been made in the USA by a family-owned brand using trusted sources of quality nutrition.
A number of customers have reported positive feedback regarding taste and quality when feeding their pups Taste of the Wild Appalachian Small Breed Dog Food – some even reporting improved health or energy levels in their pup! Picky eaters seem to enjoy it well too – which can be hard to come by!
On top of all that good stuff, there's no need to worry about product quality either; with reports stating wetter than expected dry food being few and far between – if at all.
High protein content (32%) for bone, joint & muscle support
Contains vitamins & minerals from real fruits and superfoods
Omega fatty acids for skin & coat health
Species-specific K9 Strain Proprietary Probiotics
Antioxidants Prebiotics aiding digestive immune systems
Grain-free recipe may not suit every dog
Some concerns over past lawsuits/ingredient lead levels
Switching products may cause sensitivity issues
2. Instinct Rabbit Dog Food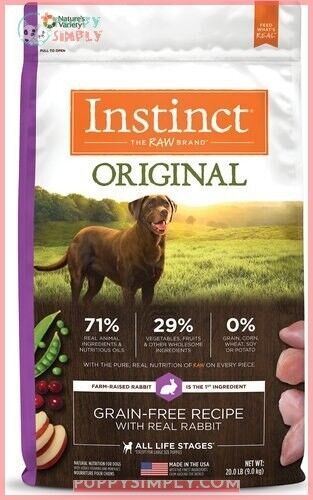 View On Chewy
Instinct Rabbit Dog Food is packed with protein-rich farm-raised rabbit, omega fatty acids, and antioxidants for an out-of-this-world experience in every bite! This grain-free and gluten-free food is made with 71% real animal ingredients, plus 29% fruits, vegetables, and other wholesome ingredients.
It also features live probiotics to support a healthy digestive system, as well as natural omegas for skin health. Customers have generally been satisfied with the product. Many have noticed improved energy levels in their dogs, along with shinier coats.
However, there are some mixed reviews regarding the smell and price of the food, which may be deterrents for some people when considering it for their pup's diet.
Made using premium ingredients from around the world
Contains proteins that promote strong muscles
Features live probiotics & natural omegas
Mixed reviews regarding smell & price
Potential issues related to availability
3. Blue Buffalo Dog Food Adult Lamb Rice
View On Chewy
Blue Buffalo Dog Food Adult Lamb Rice is packed with essential nutrients, including proteins for muscle development and vitamins and minerals for strong bones, that help your pup stay active and healthy.
It contains no corn, wheat, or soy by-product meals but does include LifeSource Bits—a blend of enhanced nutrients with antioxidant-rich ingredients.
Customers have reported improved digestion in their dogs as well as an increase in energy levels, plus healthier skin and coat health after transitioning to this food.
Essential protein for muscle development
Carbs provide energy
Calcium, phosphorus, and vitamins promote bone health
Glucosamine aids joint mobility
Omega 3 & 6 fatty acids keep skin & coat healthy
Vitamins/minerals support the immune system
No corn, wheat, or soy by-products
Features LifeSource Bits
Home delivery available
Some customers experienced digestive issues prior
Mixed opinions about LifeSource bits
Transitioning caused itching/dry fur issues
Some questioned changes in formula
Reported diarrhea
4. Merrick Grain Free Salmon Sweet Potato Dog Food
View On Chewy
Merrick's Grain-Free Salmon & Sweet Potato Dog Food is packed with proteins to support muscle development, omegas for skin and coat health, and glucosamine and chondroitin for joint care. It's a limited ingredient diet that contains real deboned salmon as the first ingredient along with sweet potatoes, omega fatty acids, vitamins, minerals, and other wholesome ingredients.
This food is suitable for dogs of all breed sizes while being free from chicken by-products or meat meals, as well as corn, wheat, soy, gluten additives, artificial colors, flavors, or preservatives.
Customer feedback has been generally positive regarding this dog food; many users have reported improvements in energy levels, improved digestion, firm stools, less itching, and better coat quality due to the omega fatty acids contained within this dry kibble formula.
However, some people did experience issues such as diarrhea after transitioning over, which could be attributed to individual intolerance.
Contains real deboned salmon & sweet potato as the 1st ingredient
Packed with proteins, Omega Fatty Acids, glucosamine chondroitin
Suitable for all breeds/sizes
No corn, wheat, soy, gluten additives, artificial colors, etc.
Not suitable for highly energetic dogs
Some customers reported diarrhea after transitioning
5. Royal Canin HP Dog Food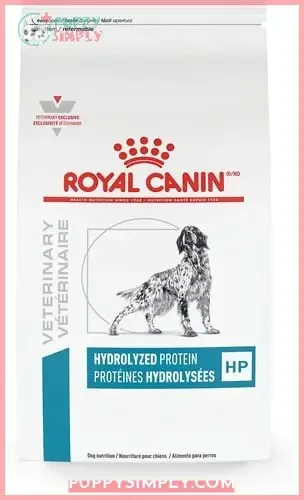 View On Chewy
With Royal Canin HP Dog Food, you can give your pup the nutrition they deserve to support optimal gastrointestinal and dermatological health. This veterinarian-recommended food is made in the USA with hydrolyzed soy protein (low molecular weight peptides) as its key ingredient.
It also contains EPA and DHA fatty acids for healthy skin and digestion while maintaining a natural protective barrier on their skin.
Plus, it regulates intestinal transit by supporting balanced digestive flora for better long-term health outcomes.
Customers have seen significant improvements in their dogs' energy levels, coat condition, immune system function, reduction of itching or other signs of discomfort due to allergies or sensitivities – all without any artificial preservatives or colors added!
However, some customers have reported occasional vomiting or greasy feeling kibble after switching over, which may be an issue if your dog is picky about texture changes.
Supports gastrointestinal & dermatological health
Enriched with EPA & DHA fatty acids for healthy skin & digestion
Maintains natural protective barrier on skin
Occasional vomiting/digestion issues reported by some customers
Greasy feeling kibble occasionally experienced by picky eaters
Some concerns about high carb/low protein content
6. Orijen Senior Dog Food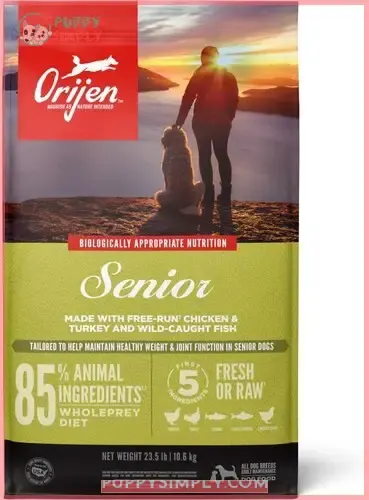 View On Chewy
Discover how Orijen Senior Dog Food provides a limited ingredient diet for senior dogs to help maintain a healthy weight and joint function. This vet-approved food is made in the USA with global ingredients, including up to 85% animal protein.
It mimics an ancestral diet with fresh/raw chicken, turkey, salmon, whole herring, and chicken liver as the first five ingredients.
It's grain-free, so it contains no soy or wheat, making it ideal for those pups who have sensitivities or allergies.
Plus, there are added benefits like prebiotic fiber that helps support digestive health, and EPA & DHA fatty acids from fish oil that can make the skin stronger too! User feedback has been positive regarding improved appetite, energy levels, as well as changes in waste output.
However, do be aware that some customers have reported negative reactions after recent formula changes since Orijen was acquired by Mars Petcare.
Contains up to 85% animal proteins
Mimics an ancestral diet with real meat as its primary ingredient
Grain-free without soy or wheat, making it suitable for sensitive stomachs and allergies
Includes chondroitin & glucosamine, promoting joint health
Prebiotic fiber supports digestion
Formula change led pet owners raising concerns about their pets' health
Heavy metal may be present due to high fish content
Adjustment period needed depending on the individual pup
7. Hills Science Diet Dog Food Sensitive Stomach Skin
View On Chewy
Try Hill's Science Diet Dog Food Sensitive Stomach Skin for your Cocker Spaniel—it's the bee's knees! This veterinarian-recommended food is designed to help adult dogs of all breeds maintain healthy digestion and skin.
It contains real chicken as the primary ingredient, along with prebiotic fiber, vitamins, minerals, and amino acids.
Customer reviews show improvements in energy levels and overall coat condition after switching to this product. Some have even reported relief from sensitive stomachs or bowel issues when feeding their pup Hill's Science Diet dog food.
Contains real chicken as the primary ingredient
Rich in prebiotic fiber for digestive health
Added vitamins & minerals plus omega 6 fatty acid support skin & coat health
Recent formula changes not well received by customers
Dogs may be picky eaters requiring extra incentives
Alternative formulas similar to the previous version unavailable
8. Royal Canin Cocker Spaniel Adult Dog Food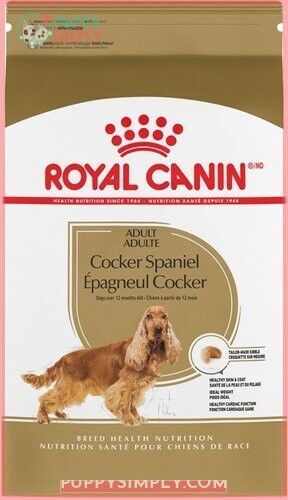 View On Chewy
Experience the power of Royal Canin Cocker Spaniel Adult Dog Food, with specialized kibble and essential nutrients to help keep your pup looking and feeling their best. This 25-pound bag is designed specifically for adult dogs 12 months and older that are medium breeds, such as English Cocker Spaniels.
The unique shape encourages chewing, which prevents swallowing whole pieces while providing necessary energy levels from a balanced formula for maintaining an ideal weight. Taurine and EPA/DHA from fish oil support cardiac health, while essential nutrients promote skin barrier integrity and coat care.
Customer reviews generally praise the quality of this food. They have reported improved energy levels in their pups along with healthy coats due to its nutrient content. However, there have been some reports of stomach discomfort after feeding it to their dog or occasional issues regarding out-of-stock availability at stores or online retailers like Amazon Prime Pantry.
Deliverable items may be affected by supply chain disruptions during the COVID-19 pandemic.
One user indicated that his pup refused eating it, so consider other options if you're having similar problems before using Royal Canin products in your pet's diet!
Dogs enjoy it without needing additional ingredients
Shape encourages chewing rather than swallowing whole pieces
Provides necessary nutrients and energy
Healthy coat and improved energy level observed
Recommended by others for Cockers
Occasional issue with availability
Stomach discomfort in some dogs
One dog refused eating
9. Zignature Trout Salmon Meal Dog Food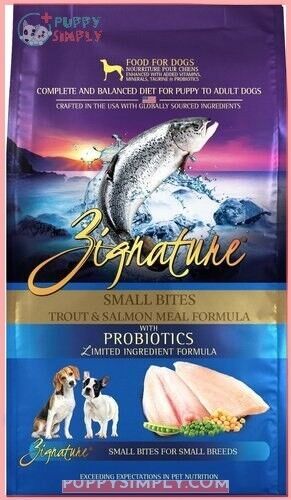 View On Chewy
Enjoy the health benefits of Zignature Trout Salmon Meal Dog Food, which is rich in omega-3 fatty acids and vitamin B12. This 12.5-pound bag contains high-quality trout and salmon meal as top ingredients, making it suitable for extra small to small breed adults with a limited ingredient diet or gluten intolerance.
It's designed with paw-sized kibble for easy chewing and pick up by smaller breeds, fortified with probiotics to support gut health in rotational diets.
Reviews from customers are generally positive. Some noted improvements on skin condition due to dryness, while others experienced issues such as swelling after eating this food. Despite switching their dog's size from regular kibble bites to smaller ones that solved their problem eventually.
However, be aware that it contains flaxseed, which may be an allergen for certain dogs. So consult your vet before introducing this product into his/her diet routine if necessary.
Rich in omega-3 fatty acids & Vitamin B12
Paw-sized kibble makes it easier for small breeds
Fortified with probiotics & supports rotational diets
Contains Flaxseed (potential allergen)
May cause digestive issues such as swelling
10. Natural Balance Salmon Sweet Potato Dog Food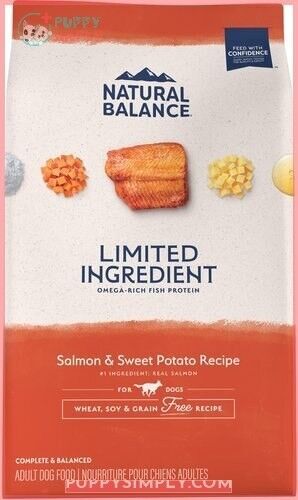 View On Chewy
Discover the nutritional benefits of Natural Balance Salmon Sweet Potato Dog Food – a limited-ingredient kibble with real salmon and sweet potatoes to support strong muscles and healthy digestion. This grain-free formula contains no grains, soy, gluten, artificial colors, or flavors.
Instead of fillers like corn or wheat, this recipe uses nutritious ingredients like sweet potatoes and flaxseed for fiber, as well as omega fatty acids for skin health.
It's complete and balanced to provide essential vitamins and minerals your pup needs for a healthy immune system while also being suitable for dogs with sensitive stomachs or allergies.
Limited ingredient kibble with the first ingredient being salmon
Sweet potato provides grain-free fiber
Complete & balanced diet nourishes the immune system
– Mixed reviews from customers regarding acceptance by some dogs & digestive issues
– May need to switch up flavors (lamb option available)
− Store in an airtight container due to fishy smell
Ingredients and Dietary Factors That May Help Common Cocker Spaniel Health Problems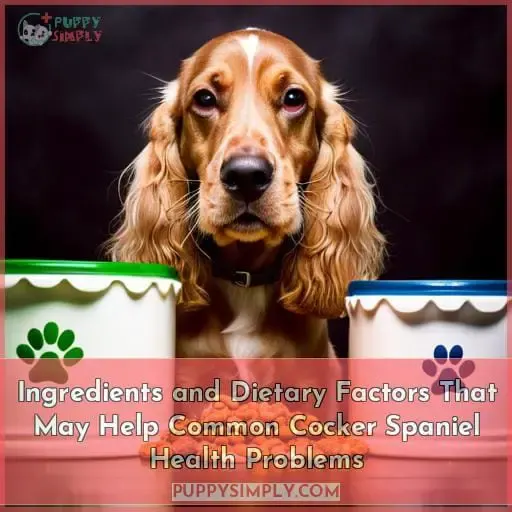 When it comes to selecting the best dog food for English Cocker Spaniels, there are many things that you should keep in mind. One of the most important factors is ensuring your pup receives a high-quality protein source as part of their diet; this can help maintain health and muscle mass while also providing essential amino acids.
Importance of high-quality protein
When choosing the right dog food for your Cocker Spaniel, prioritizing high-quality protein is key to providing them with essential nutrients and energy. Protein should be one of the main ingredients in any diet, as it helps build strong muscles and supports overall health.
Look for natural sources such as fish meal or fresh poultry that are easily digestible by dogs. Avoid meat meals or by-products that may contain fillers or artificial additives; instead, opt for whole meats like deboned chicken and lamb.
Additionally, ensure a balanced nutritional profile with omega-3 fatty acids from flaxseed oil, plus antioxidants from fruits and vegetables to support digestive health while meeting dietary considerations specific to English Cocker Spaniels.
Role of antioxidants
Unlock the power of antioxidants to help keep your Cocker Spaniel healthy and happy. Antioxidants are essential for eye health, as well as overall wellbeing. Dietary considerations, such as Omega-3 fatty acids, can help with aging gracefully by providing additional nutritional support and reducing chronic ear infections, which are a common problem in this breed.
Consider adding antioxidant-rich foods like blueberries to their diet to boost their immune system and protect them from free radical damage associated with many of the breed's common health problems.
A balanced approach is key. Make sure you provide enough food, but not too much, so they stay fit throughout their lives!
Benefits of probiotics
Adding probiotics to your Cocker Spaniel's diet can help maintain a healthy gut, providing them with a gleaming coat and boundless energy! Probiotic supplements contain beneficial bacteria that support the microbiome in dogs.
The best dog food for English Cocker Spaniels should have an ingredient list that includes high-quality proteins such as fish or chicken, as well as carbohydrates from fruits and vegetables. Additionally, look for foods rich in omega fatty acids, which are essential for skin health, while avoiding common allergens like corn or wheat.
With these considerations, along with the addition of probiotics, you'll ensure your pup has optimal digestive health!
Factors to Look for in Any Quality Dog Food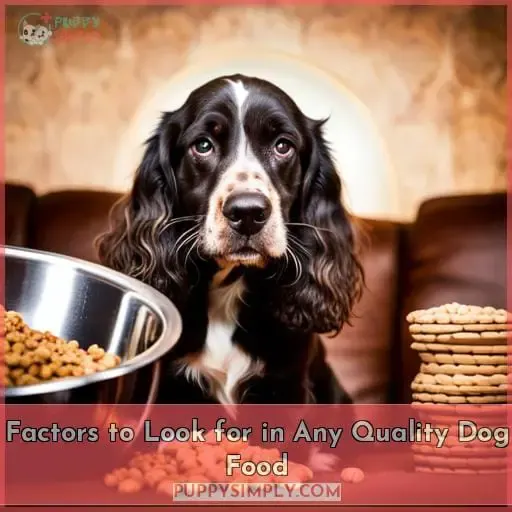 Choosing the right dog food for your English Cocker Spaniel can be a daunting task. When selecting the best food for them, it is important to look out for certain factors, such as AAFCO approval. This ensures that you are feeding your pup a safe and nutritionally balanced diet.
Importance of AAFCO approval
It's essential to choose a dog food that has the stamp of approval from the Association of American Feed Control Officials (AAFCO) to ensure your Cocker Spaniel gets proper nutrition. AAFCO sets nutritional guidelines and safety standards for pet foods, ensuring labels reflect accurate information about ingredients, nutrient content analysis, and feeding instructions.
Ingredient analysis involves determining whether all necessary nutrients are present in sufficient amounts for a balanced diet when fed as directed on label claims. When choosing an optimal diet for English Cocker Spaniels, look out for AAFCO-approved products with appropriate ingredient levels according to their specific needs.
For a healthy lifestyle and long lifespan, it is important that you provide quality nutrition with the proper balance of protein, fats, and carbohydrates following recommended daily allowances by breed size and age group.
Avoiding fillers and by-products
To ensure your Cocker Spaniel gets the best nutrition, you should avoid dog foods containing fillers and by-products – as these offer little to no nutritional value – but how can you know which ones are safe?
When looking at ingredient labels, be sure to check for filler ingredients like corn or wheat that add bulk without providing any real nutrition. By-product risks include animal parts not suitable for human consumption such as feathers, bone meal, or hooves.
Meat meals and meat by-products are also potential issues since they may contain lower quality proteins of unknown origin. Furthermore, it's important to consider dietary implications associated with certain brands such as Fromm Dog Food versus NutriSource Dog Food versus Merrick Grain Free Dry Dog Food versus Orijen Senior Dry Dog food.
Avoiding fillers and by-products is key in finding a high-quality dog food specifically tailored towards English Cocker Spaniels' needs!
Filler ingredients (corn/wheat) provide bulk without nutrients
By-products (feathers/bone meal/hooves) not suitable for humans
Meat meals & meat by-products of unknown origin
Consider dietary implications e.g., Fromm vs NutriSource
Brands like Merrick Grain Free & Orijen Senior have better options
Benefits of probiotics
Including probiotics in your pup's diet can help support healthy digestion and nutrient absorption. Probiotics are beneficial bacteria that assist with the breakdown of food, improve gut health, and may even reduce inflammation associated with certain allergies.
For Cocker Spaniels especially, probiotic supplementation is important for maintaining optimal digestive function as they have a sensitive digestive system. Properly formulating dog foods to include prebiotics also helps foster good microbiome balance in dogs.
This, in turn, leads to improved overall wellness and better absorption of nutrients from their diets.
Probiotic-rich supplements, such as those containing K9 Strain Proprietary Probiotics or Live probiotics, should be considered when planning a Cocker Spaniel's specific diet needs for joint-supporting supplements or food allergies relief purposes.
Cocker Spaniel-Specific Dog Food Qualities to Look For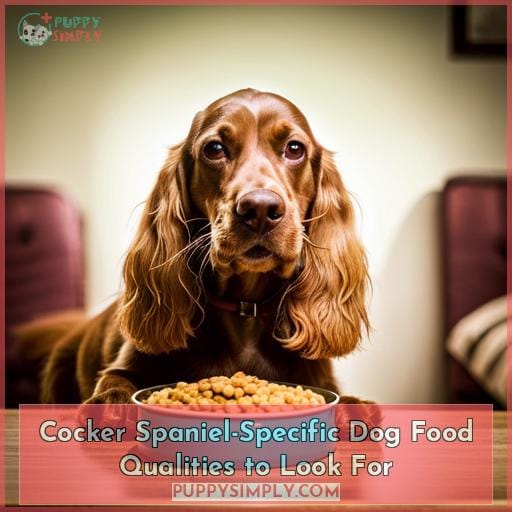 When choosing a dog food for your Cocker Spaniel, look for high-quality proteins as the primary ingredient. Also, look for whole fruits and vegetables, probiotics to aid digestion, and omega fatty acids for healthy skin and coat.
Consider age-specific foods or specially formulated diets tailored to address health concerns such as obesity or allergies.
For adult diets, look for ones that are rich in antioxidants from natural sources like apples, sweet potatoes, or carrots. These ingredients deliver essential vitamins that help maintain strong eyesight.
Quality brands also offer grain-free options with added benefits of glucosamine & chondroitin sulfate.
When transitioning your pup's diet, it should be done gradually over the course of several weeks. Monitor their response closely before settling on a new formula permanently. This helps avoid digestive upset caused by sudden dietary changes.
How to Switch Cocker Spaniel Dog Food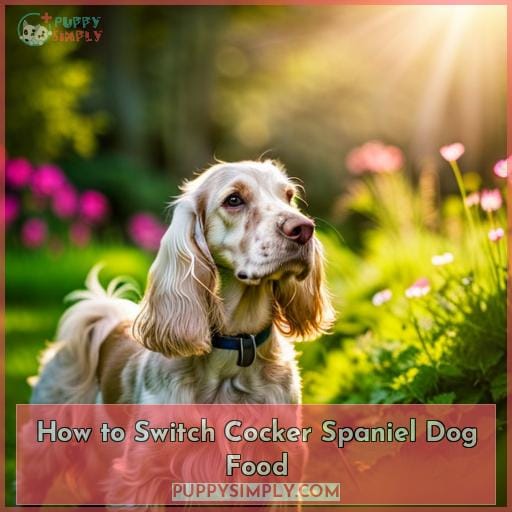 Switching your Cocker Spaniel's food can be an intimidating task, but with the right guidance and preparation, it doesn't have to be. When switching diets, there are a few key factors you need to take into consideration.
Transitioning food for age: Puppies require more calories than adults or seniors, so their nutritional requirements will differ.
Appropriate Calories: You'll want to make sure that your pup is getting enough of the right kind of calories in his diet by calculating how much he should eat each day according to his weight and activity level using a dog calorie calculator.
Homemade vs Store-Bought Food Options: Consider homemade meals as well as store-bought options when changing nutrition plans – some dogs may prefer one over another!
Finally, always transition dog foods gradually over four weeks in order not to upset stomachs and monitor closely during this time period for any changes in behavior or health issues that might arise due to different ingredients used between brands/types of food selected.
Buyer's Guide: Choosing the Best Dog Foods for Cocker Spaniels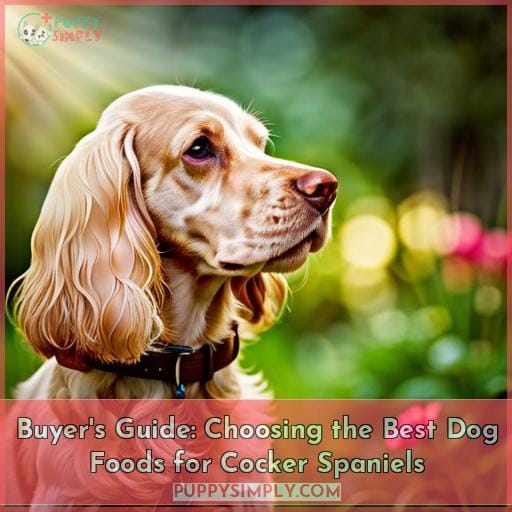 When selecting the best dog food for your English Cocker Spaniel, it is important to take into account their specific age-related nutritional needs. Factors such as activity level and health should also be considered when determining what type of food will provide optimal nutrition for your pup.
Age-specific nutritional needs
Understanding age-specific nutritional needs for your Cocker Spaniel can help you choose the best food to keep them healthy.
Puppies need high-quality protein as their primary ingredient, along with vitamins and minerals. Senior dogs may require special diets to manage weight and promote joint health. Those prone to allergies will benefit from avoiding common allergens like wheat or corn.
Dry eye (keratoconjunctivitis sicca) is also more prevalent in senior dogs, so adding omega fatty acids can be beneficial in promoting eye health.
Regular exercise is just as important when it comes to maintaining a healthy lifestyle.
Avoiding common allergens
You'll want to avoid common allergens like corn, wheat, chicken, and beef when selecting dog food for your Cocker Spaniel. Consider hypoallergenic options with whole meat as the primary ingredient. Scrutinize ingredient lists to identify potential allergic triggers and manage allergy symptoms accordingly.
Dietary adjustments may be necessary if your pet is exhibiting signs of allergies or digestive issues due to certain foods or additives. Look for AAFCO-approved labels on products that have been tested for quality assurance as well as optimal nutrition requirements best suited for Cocker Spaniels at any age stage in their life cycle.
Importance of AAFCO approval
It's essential to check that a dog food has AAFCO approval because it ensures the manufacturer followed nutritional guidelines and quality standards for your pup. Labels must be accurate and meet regulatory requirements set by the Association of American Feed Control Officials.
The AAFCO standard not only ensures pet nutrition needs are met but also provides peace of mind in knowing you're feeding your Cocker Spaniel safe, healthy food. It's important to read labels carefully so you can choose foods with appropriate nutrients for their age, size, or activity level, ensuring they get all they need from their diet.
Conclusion
Choosing the right dog food for your English Cocker Spaniel can be a challenge. It can be hard to know what to look for with so many options available. To ensure your pup is getting the best nutrition, look for whole meat as the first ingredient and avoid meat by-products.
You'll also want to consider specific dietary needs for health conditions such as obesity, ear infections, allergies, hip dysplasia, and hypothyroidism.
The top 10 best dog food options for English Cocker Spaniels can provide a good starting point. However, always consult your veterinarian for personalized advice. With the right diet, your English Cocker Spaniel can live a long and active life.