This site is supported by our readers. We may earn a commission, at no cost to you, if you purchase through links.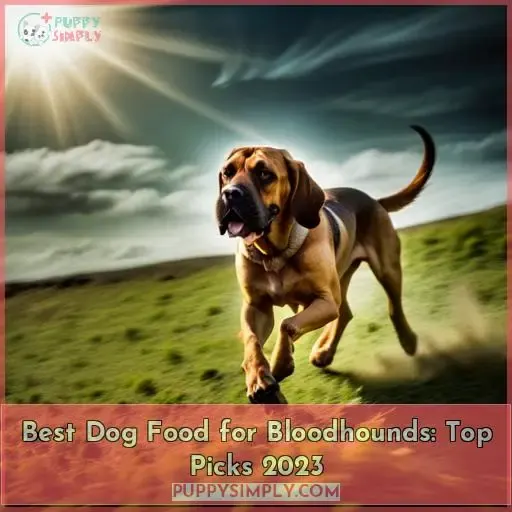 Are you looking for the best dog food for your Bloodhound? With so many options available, it can be hard to find one specifically tailored to the needs of this breed. We've done some research and come up with our top picks from 2023 that will help keep your Bloodhound healthy and happy.
From Royal Canin Veterinary HP Dry Dog Food to JustFoodForDogs Chicken Rice, these high-quality foods meet all of a Bloodhound's unique dietary requirements while still being delicious enough they won't turn their nose up at mealtime!
Keep reading for more information on what makes each option special as well as tips on how to choose the right food for your pup.
Key Takeaways
Top dog food picks for Bloodhounds in 2023 include Instinct Raw Bites Beef Dog Food, Royal Canin Veterinary HP Dry Dog Food, Blue Buffalo Dog Food, and Hill's Science Diet Dog Food.
Dietary considerations for Bloodhounds include allergen avoidance, probiotics, and digestibility, tailoring food based on age and activity level, and monitoring caloric intake based on weight.
Choosing high-quality proteins and grains, addressing health concerns, and promoting skin and coat health are important factors to consider in Bloodhound nutrition.
Consultation with a vet or nutritionist, providing breed-specific formulas, and choosing AAFCO-approved foods are recommended for optimal nutrition and health for Bloodhounds.
Best Dog Food for Bloodhounds — at a Glance
When it comes to finding the best dog food for Bloodhounds, there are a variety of options available.
Instinct Raw Bites Beef Dog Food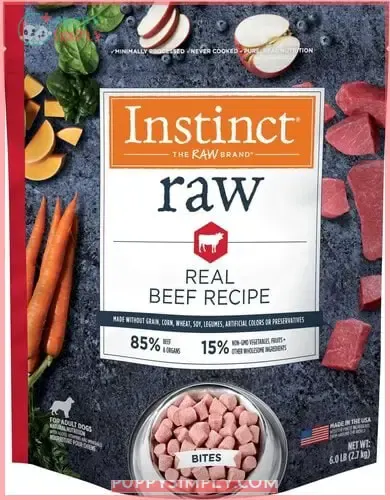 View On Chewy
You can provide your Bloodhound with the protein-packed, minimally processed nutrition they need with Instinct Raw Bites Beef Dog Food. This freeze-dried food contains natural beef as its first ingredient, plus non-GMO vegetables, fruits, and wholesome ingredients – all free of grain or fillers.
It's made in the USA without artificial colors or preservatives for a balanced diet that supports lean muscle mass while providing essential vitamins and minerals.
Fussy toy poodle approved
Variety of flavors (beef, lamb, chicken)
Free from grain, corn, wheat, soy
Suitable for dogs with allergies
Quick thawing time
Excites dogs at meal times
Not suitable for every dog's digestion
Some may not like the taste
Can be difficult to serve when frozen
Royal Canin Veterinary HP Dry Dog Food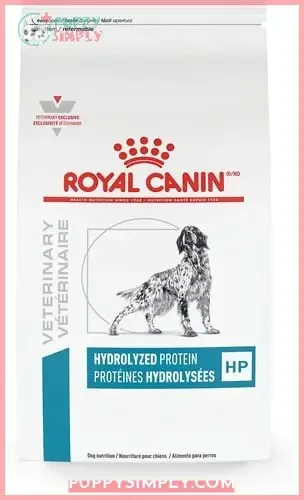 View On Chewy
Discover the power of veterinary nutrition to support gastrointestinal and dermatological health in adult Bloodhounds with Royal Canin Veterinary HP Dry Dog Food. Formulated for dogs with food sensitivities, this veterinarian-recommended formula is enriched with EPA and DHA fatty acids to regulate intestinal transit while also promoting balanced digestive flora.
With chicken as its primary ingredient, it provides complete and balanced nutrition free from artificial preservatives, flavors, or colors. High-quality ingredients are sourced from trusted farmers and suppliers; plus rigorous quality testing ensures safety for your pup's consumption.
Reviews have been mostly positive thanks to improved skin condition in some dogs as well as those who suffer allergies finding relief through this product's formulation—plus picky eaters don't hesitate when presented with a meal made using Royal Canin Veterinary HP Dry Dog Food!
Enriched with EPA & DHA fatty acids for healthy skin & digestion
Free of artificial preservatives/flavors/colors
Made using high-quality ingredients sourced from trusted suppliers
Vet recommended & backed by decades of research
Slightly preferred over other hydrolyzed options by picky eaters
Considered expensive compared to similar products
Worsened allergies/vomiting experienced by some users
Blue Buffalo Dog Food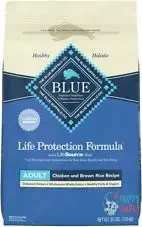 View On Chewy
You'll love Blue Buffalo Dog Food, which is packed with essential proteins for muscle development and complex carbs to fuel your Bloodhound's active life. The recipe includes real meat, whole grains, garden veggies, and fruit along with LifeSource Bits that are rich in antioxidants.
It also contains no corn, wheat, or soy plus chicken (or poultry) by-product meals, so you can trust its quality ingredients.
With a choice of Chicken & Brown Rice Recipe specifically tailored for large breeds like Bloodhounds, it offers all the nutrition they need to stay healthy and energetic without any artificial preservatives or flavors added in.
The high-quality protein sources help build strong muscles, while calcium strengthens bones and teeth. Vitamins add extra protection against disease-causing agents too! This food is suitable for small as well as larger breeds, but some customers have mentioned accidentally buying the wrong formula (adult instead of puppy).
Glucosamine helps maintain joint health and mobility, while omega 3s support skin and coat health – perfect if your Bloodhound has allergies or sensitivities! Some owners report their picky eaters eating this food without hesitation thanks to its great taste.
High-quality protein from chicken meal supports lean muscle mass
Whole grain carbohydrates provide energy needed for an active lifestyle
Calcium strengthens bones and phosphorous builds strong teeth
Prebiotics promote digestive health and probiotics boost immunity
No corn, wheat, or soy plus no poultry by-product meals ensures top safety standards
Dogs may not eat dry kibble straight away, requiring additives such as canned food or powdered milk
Quality control issues reported regarding unusual batch smell
Hills Science Diet Dog Food
View On Chewy
Experience balanced nutrition for your Bloodhounds with Hill's Science Diet Dog Food, a complete and balanced diet made with real chicken as the primary ingredient. This food is enriched with prebiotic fiber to aid digestion and contains added vitamins, minerals, and amino acids for improved skin and coat health, energy levels, and digestive health.
It's also fortified with Vitamin E and omega-6 fatty acids to support healthy immunity.
Backed by decades of research from veterinarians around the world, it's suitable for all breeds of adult dogs.
Customers report positive reviews on this product, noting increased energy levels in their pups as well as its benefits in managing weight issues or allergies some may have had before switching foods. Others praise its palatability; however, there are mixed opinions on taste, making incentivizing meals an important factor when introducing new food.
Additionally, some customers reported larger kibble pieces that can be difficult even for larger breed adults, while others noted improvement in regular bowel movements upon transitioning onto Hill's Science Diet Dog Food.
Contains prebiotic fiber to aid digestion
Enriched vitamins and minerals promote healthy skin and coat
Fortified with Vitamin E and Omega-6 fatty acids – supports good immunity
Suitable for all breeds of adult dogs
Recommended by vets and backed up by decades worth of research
Mixed opinions about palatability – some may need additional incentives
Larger sized kibbles can be challenging even for large breed adults
Open Farm Wagyu Dog Food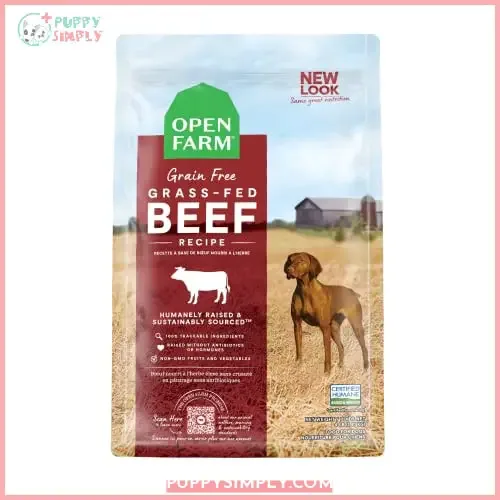 View On Amazon
Try Open Farm Wagyu Dog Food, made with humanely raised American Wagyu beef and a science-based formula for your pup's balanced diet. This grain, corn, and soy-free product is 100% GAP certified. It includes superfoods like non-GMO pumpkin, carrot, and coconut oil, making it ideal as an alternative to homemade dog food or as a topper for your picky eater.
It offers 100% transparency with ingredient traceability using lot numbers, so you know exactly what goes into the bowl each time! The smaller kibble size compared to other dry foods means easy digestion too.
Plus, there are no artificial colors or preservatives added in the process of making this nutritious treat.
With fast shipping available from many online retailers, this could be just the meal plan you've been looking for!
Highly recommended by pet nutritionists
Suitable for building balanced doggie diets
Good alternative to homemade dog food
Some dogs refused to eat it
Served mixed with raw food
JustFoodForDogs Chicken Rice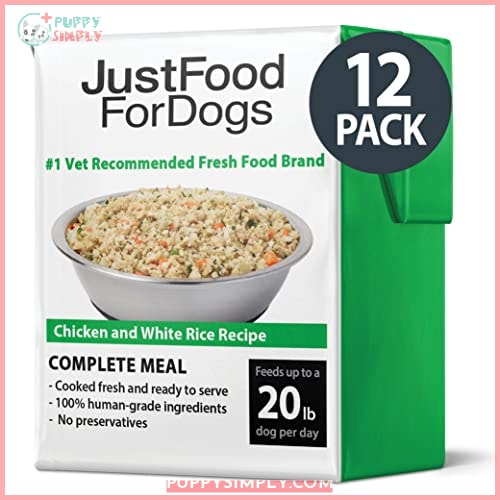 View On Amazon
For a nutritious meal that your pup will adore, give JustFoodForDogs Chicken Rice a try – it's sure to hit the spot! This 100% human-grade and preservative-free food is made with fresh whole foods and gently cooked for optimal nutrient absorption.
It contains 11 or fewer ingredients, no artificial colors, flavors, or preservatives, so you can trust in its quality.
Plus, it's shelf-stable with an unopened shelf life of up to two years, which makes storage easy – great for those who love traveling with their furry friends.
100% Human Grade Dog Food
Made With Fresh Whole Foods & Gently Cooked For Optimal Nutrient Absorption
Contains 11 Or Fewer Ingredients & No Artificial Colors/Flavors/Preservatives (Trustworthy Quality)
Shelf Stable With An Unopened Shelf Life Of Up To Two Years (Easy Storage)
5% Of Net Profits Donated To Local Non-Profit Animal Shelters And Programs (Win-Win Situation All Round!)
Not Affordable For Larger Dogs
Mention Of Pasta In The Food
Nutro Ultra Adult Dog Food
View On Amazon
Discover Nutro Ultra Adult Dog Food, a high-quality formula that provides complete and balanced nutrition for adult dogs with no artificial preservatives, flavors, or colors. This food is specially formulated to contain a trio of proteins from chicken, lamb, and salmon, with chicken as the #1 ingredient.
High-quality ingredients are sourced from trusted farmers and suppliers, and all products go through rigorous testing for quality assurance.
With added vitamins, minerals, amino acids, plus EPA & DHA fatty acids, your pet will thrive on this nutritious formula! This product may also be beneficial for pups with skin issues or sensitivities since it's free of corn, wheat, soy, or by-product meals.
Nutro Ultra Adult Dry Dog Food helps support healthy muscle development, strong bones, and teeth while providing energy levels to keep your pup active throughout the day – making them feel their best! Plus, it's grain-free, so you can trust that there won't be any fillers in their diet either!
Reviews have been generally positive, noting improved energy levels along with better digestion when transitioning slowly to this new food option over time. However, some dogs experienced digestive upset initially during the transition, which resolved after the adjustment period was extended further onto individual needs basis per dog consumption habits were taken into account respectively.
This allowed a gradual introduction process to be used instead of abrupt dietary changes occurring all at once, thereby avoiding creating additional stress factors directly linked to correlated outcomes and possible consequences that would have appeared otherwise as a direct result occurring due to the effect of consequent causes triggering reactions made manifest in the physical form of the body, resulting in symptoms observed, displayed, noticed, seen, and indicated clearly and present in a visible, outrightly obvious manner.
No artificial preservatives/flavors/colors
Contains a trio of proteins—chicken, lamb, salmon—with chicken as the first ingredient
Free from corn, wheat, soy, by-product meal fillers
Some digestive issues reported during the initial transition period
Not eligible for international shipping outside the U.S.
ACANA Lamb Pumpkin Dog Food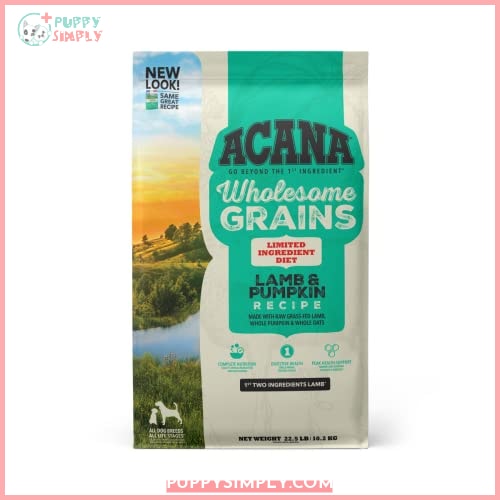 View On Amazon
ACANA Lamb Pumpkin Dog Food is packed with 60% high-quality animal ingredients for balanced nutrition and flavor enhancement, so your Bloodhound can enjoy a delicious meal. This food contains grains such as oats and sorghum to help manage weight better, plus prebiotic fibers for digestive support.
The freeze dried coating helps retain natural flavors while adding an extra layer of flavor that dogs love. With no artificial colors or preservatives, it's suitable even for those with sensitive stomachs or food allergies.
Contains 60% high-quality animal ingredients & 40% wholesome grains/fruits/vegetables
Freeze dried coating adds enhanced flavor without artificial colorings or preservatives
Prebiotic fiber blend aids digestion & supports immune system health
Free from gluten, wheat, and grain which are ideal for dogs with allergies
Not all picky eaters may prefer this formula due to recent changes in the recipe
Some owners had mixed experiences depending on their dog's individual preferences
Portland Pet Food Wet Dog Food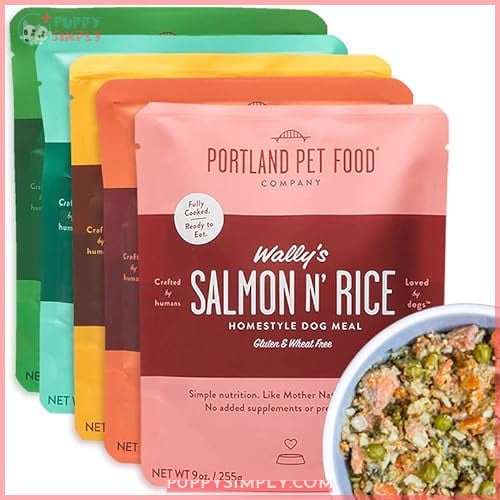 View On Amazon
Portland Pet Food Wet Dog Food offers a convenient and ready-to-eat option with no thawing needed. It contains 11 or fewer whole ingredients for all life stages. It is certified human grade, gluten-free, wheat-free, and grain-free, with no animal byproducts or supplements added.
This food can be used as a standalone meal mixed with dry dog food or as toppers for picky eaters. Dogs seem to enjoy the food readily. The convenient individual 9-ounce pouches are easy to store and serve.
Dogs seem to enjoy the food readily
Convenient individual 9-ounce pouches are easy to store & serve
No need for thawing or adding water
Whole ingredients only – 11 max!
Certified Human Grade Ingredients
Gluten Free/Wheat Free/Grain Free options available
Relatively small portion size
Some dogs may have specific flavor preferences
Natural Balance Fat Dogs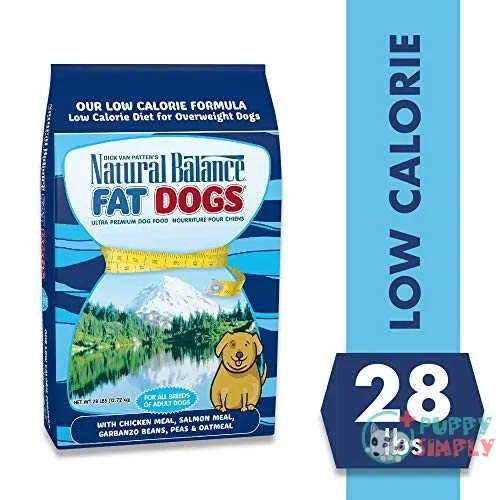 View On Amazon
Natural Balance Fat Dogs is an ultra-reduced calorie dry food that can help your pup reach and maintain a healthy body weight, with chicken meal as the first ingredient and a special fiber & protein blend for added nutrition.
For example, one customer reported their overweight dachshund losing 19 lbs to 15 lbs after switching to this product.
This formula also contains wholesome grains such as peas, oat groats, and barley, which promote digestive health while providing essential vitamins for overall wellbeing.
Targeted nutrition ensures quality protein levels plus additional nutrients like omega-3 fatty acids are included in every serving too!
The reviews of this food have been overwhelmingly positive, with many customers praising its effectiveness at helping dogs lose weight without sacrificing flavor or taste – something they love!
Additionally, it has been found to be beneficial for pets suffering from allergies or skin conditions due to its natural ingredients list free of artificial colors or flavors.
Plus, there's no need to worry about safety standards since Natural Balance runs a Feed With Confidence program, guaranteeing transparency throughout the production process.
Contains high-quality proteins & wholesome grains
25% fewer calories than the Original Ultra Whole Body Health formula
Suitable for all types of dogs, including those with sensitive stomachs/skin issues
Rigorous testing through Natural Balance's 'Feed With Confidence' Program
Complaints about size/odor may not suit smaller breeds
Occasional inconvenience due to availability varying by region
Bloodhound-Specific Dog Food Qualities to Look For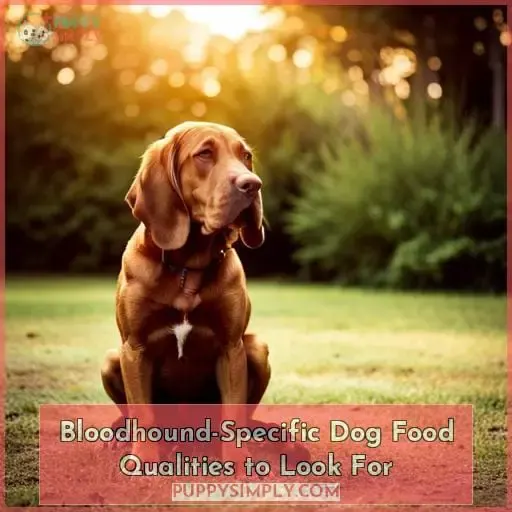 When considering the best dog food for Bloodhounds, there are several qualities to look out for. These include allergen avoidance, probiotics, digestibility, joint support, skin and coat health maintenance with balanced fiber content and controlled sodium levels; an AAFCO approval is also recommended.
Additionally, aim to find a high-quality protein source that is USA made and free of fillers or artificial additives.
Age and Dietary Considerations
When it comes to age and dietary considerations, you need to ensure that your Bloodhound is getting the right nutrition for their specific life stage. Puppy nutrition requires a higher calorie and protein intake. Adult food should be transitioned at one year old.
Allergen management can help avoid common health issues like skin fold infections or ear infections. Weight management formulas provide controlled sodium levels with low-calorie options. Dietary transitions should be done gradually over time so as not to upset stomachs or cause vomiting.
Proper Bloodhound nutrition throughout each of its stages of life helps support a healthier and happier lifestyle!
Activity Level and Caloric Needs
To ensure your Bloodhound is getting the necessary calories to sustain their activity level, you should consider selecting a food with specific calorie requirements based on their weight. Exercise and other activities are important for large breeds like Bloodhounds. Look for large breed dog foods that provide an optimal balance of energy-rich ingredients such as meat meals or animal fats.
Consider the dietary needs of both puppies and seniors, which may vary from adult dogs depending on age and lifestyle. Additionally, keeping track of your pet's weight can help manage caloric intake according to exercise requirements.
Look out for grain-free options enriched with Omega fatty acids too. These options provide essential nutrition while helping maintain skin & coat health all year round!
Health Conditions and Dietary Requirements
Amazingly, various health conditions can influence your Bloodhound's dietary needs. Food allergies are common in these dogs and must be addressed with an allergen-avoidance diet. For GI issues like bloat, tryptamine and histamine should be avoided in food selection.
Vitamin E, B vitamins, zinc, and fatty acids support skin protection for chronic itching or dermatitis, while a combination of EPA/DHA is beneficial for dull coat or scaling issues.
Bloodhound Food Calorie Requirements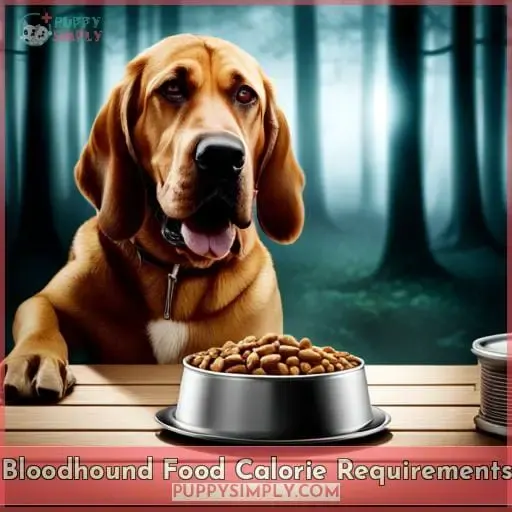 Understanding your Bloodhound's calorie needs is key to ensuring a healthy and happy life. To calculate the amount of food needed for your pup, consider their age, size, activity level, and any health issues they may have.
Work with your vet or canine nutritionist to determine a feeding plan that fits their individual requirements.
Generally speaking, adult Bloodhounds should consume 1-2 cups of food per day, depending on weight. Puppies need more calories than adults, so feed them accordingly. When selecting the best dog food for Bloodhounds, it's important to look at protein sources such as fish meal or deboned chicken, as well as fats like salmon oil, which are essential for energy, skin, and coat health.
Additionally, carbohydrates from wholesome grains like brown rice provide dietary fiber and minerals necessary for maintaining nutritional balance.
Follow specific feeding guidelines provided by the manufacturer, but adjust portion sizes according to your Bloodhound's caloric needs while monitoring body condition score regularly when managing weight.
By taking into account these recommendations, you can ensure optimal dietary intake tailored specifically for your loyal companion.
How to Switch Bloodhound Dog Food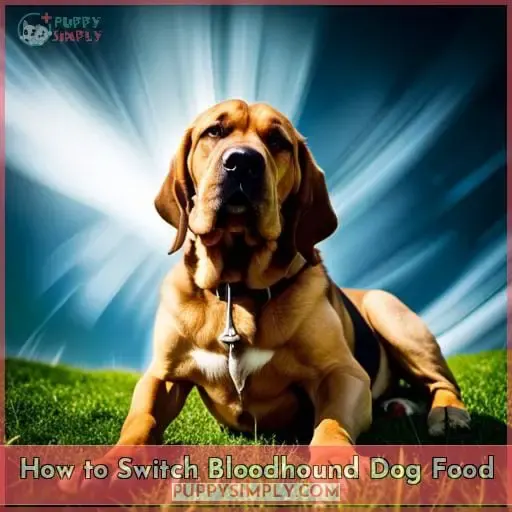 Switching your Bloodhound's food can be a daunting task, but with careful consideration and alliterative caution, you can ensure your pup gets the balanced nutrition they deserve.
Start by researching top recommended dog foods for Bloodhounds that meet their special considerations. Consider switching brands gradually to avoid allergic reactions or upset stomachs. Begin by mixing in small amounts of the new food into their existing diet and slowly increase each day until fully transitioned over a period of one week.
Dietary adjustments may also offer health benefits if managing specific conditions like allergies, skin issues, or digestive problems. Consult with an experienced veterinarian for personalized advice on how best to adjust diets accordingly.
To make sure you're getting quality ingredients without any fillers or artificial additives, look out for AAFCO approval labels and high-protein sources from named meats such as chicken meal or deboned beef.
With patience and research, you'll find what works best for your beloved hound so they stay happy and healthy throughout their lifespan.
Health Dietary Changes in Bloodhounds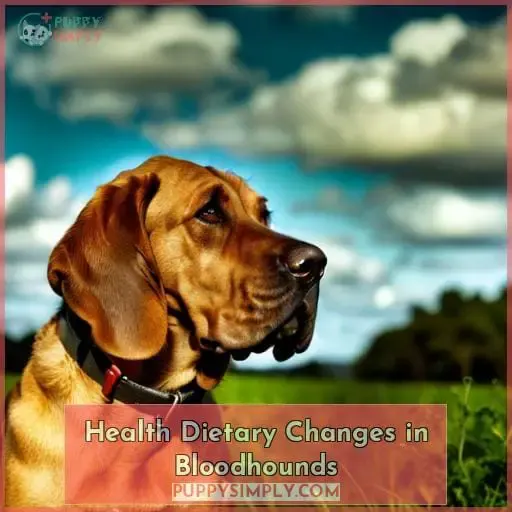 Making dietary changes for your Bloodhound can be beneficial for their health and wellbeing. Dietary supplements, allergen management, weight management, skin health, and digestive health are all important considerations when selecting the right dog food.
A high-quality diet that is balanced in nutrients with added vitamins and minerals can help protect against gastric dilation volvulus (bloat) in dogs as well as support joint function. Omega-3 fatty acids found in fish oil are essential to maintain a healthy skin coat, while Vitamin E helps fight inflammation caused by allergens or environmental triggers.
Additionally, adding probiotics to their diet may aid digestion, while fiber sources such as pumpkin or coconut oil provide extra energy without excess calories or fat gain – ideal if you want a slim canine companion!
With so many options available on the market, it's best to consult with a vet or nutritionist before making any drastic changes that could negatively impact your pet's overall health.
Nutritional Needs for Bloodhounds
Providing your Bloodhound with the right nutrients is key to keeping them healthy and happy! To ensure optimal nutrition for your beloved pet, consider their age, activity level, health condition, and weight.
Puppies need higher calories and protein than adults, while seniors require dietary considerations like low-calorie formulas. Health issues like food allergies may be addressed through allergen avoidance in foods or probiotic supplements for digestive support.
Vitamins such as E, B complexes, zinc, and fatty acids are also essential to maintain skin and coat health.
Quality dog food should have AAFCO approval with high-protein sources from named meats, plus balanced fiber content. Avoid fillers or artificial additives too! Consider breed-specific formulas tailored to large breeds that offer joint support along with omega-3s and 6s.
Ultimately, it's important to consult a vet or canine nutritionist before making any changes so you can provide the best nourishment possible for your Bloodhound companion – they'll thank you later!
Conclusion
With their distinctive look, easygoing temperament, and strong sense of smell, Bloodhounds are truly one-of-a-kind. But to keep them healthy and happy, they need a diet that meets their unique nutritional needs.
Fortunately, there are plenty of high-quality dog foods available that are best for Bloodhounds. While looks and taste are important, it's critical to choose a food that is rich in protein, complex carbs, vitamins, minerals, and fatty acids.
Additionally, it is important to opt for a breed-specific formula and adjust the diet to meet any health concerns.
By providing the right diet, you can give your Bloodhound the best chance at a long and fulfilling life.