This site is supported by our readers. We may earn a commission, at no cost to you, if you purchase through links.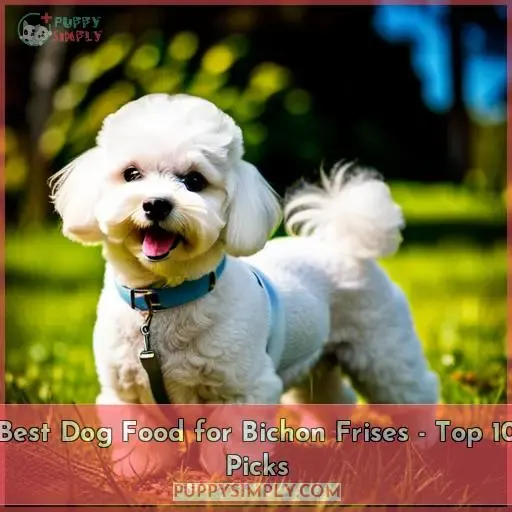 Are you searching for the best dog food to nourish your Bichon Frise? With so many options on the market, it can be difficult to determine which one is right for them. That's why we have compiled a list of the top 10 picks that are specifically tailored to meet the needs of this breed.
Our team has dedicated years to researching and analyzing various diets, and we have created an article that provides all the necessary information about Bichon nutrition to help you make an informed decision about their diet.
Key Takeaways
Prioritize nutrient content, quality ingredients, and breed-specific formulas.
Avoid harmful additives, fillers, preservatives, and artificial ingredients.
Gradually transition to new food over two weeks.
Select food tailored to your Bichon Frise's age, size, and specific dietary needs.
Top 10 Best Dog Foods for Bichon Frises
Choosing the right food for your Bichon Frise is essential to its health and well-being. Instinct Raw Bites Beef Dog Food, Royal Canin HP Protein Diet, Blue Buffalo Dog Food Adult, Hill's Science Diet Dog Food, Nutro Natural Choice Dog Food, Iams Proactive Health Puppy Toy Breed Chicken Formula Dog Food, Nature's Recipe Small Breed Grain-Free Chicken Sweet Potato Pumpkin Dog Food, and Royal Canin Bichon Frise Adult Dog Food are all some of the best dog foods available specifically tailored to meet a Bichon Frise's needs.
1. Instinct Raw Bites Beef Dog Food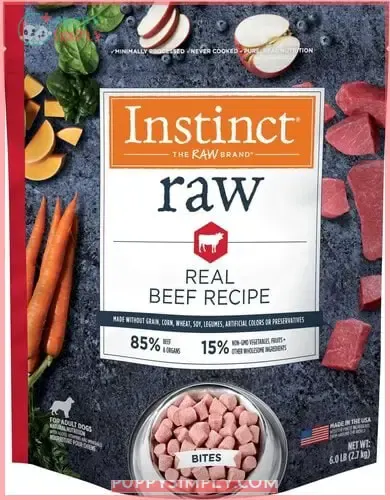 View On Chewy
For a protein-packed, natural diet that promotes lean muscles and dental health, try Instinct Raw Bites Beef Dog Food. This raw dog food is minimally processed and never cooked to maintain nutrient levels.
It contains 85% natural beef, along with non-GMO fruits and vegetables, vitamins, and minerals for complete nutrition.
Cold pressured for safety, this frozen food offers your pup ultimate freshness in every bite, as well as easy portioning convenience, making meal times simpler than ever before.
Protein-packed with natural beef
Contains non-GMO vegetables & fruit
Grain-free/No fillers/No preservatives
Frozen to maintain nutrients
Supports strong muscles & dental health
Some dogs may have difficulty with digestion
Recommended for dogs that prefer frozen food
Available in various flavors (beef, lamb, chicken)
Requires freezer space for storage
2. Royal Canin HP Protein Diet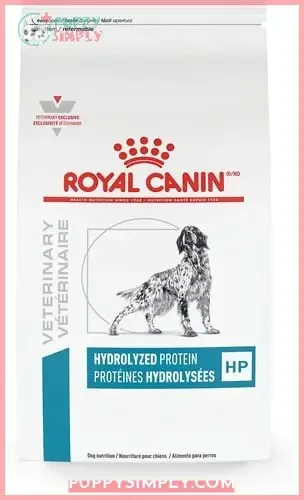 View On Chewy
You'll find Royal Canin HP Protein Diet to be a paw-some choice for pups with food sensitivities, as it soothes their skin and digestion while providing essential nutrients. This veterinary diet is made in the USA and contains hydrolyzed soy protein as its primary ingredient, along with EPA and DHA fatty acids for enhanced skin protection.
It helps support gastrointestinal health, regulates intestinal transit, promotes balanced digestive flora, and encourages healthy weight maintenance in adult dogs of all sizes.
Reviews are mixed, but many customers have praised this product's effectiveness when treating allergies or digestive issues in their pup.
Supports gastrointestinal & dermatological health
Enhances skin's protective barrier
Regulates intestinal transit & balances digestive flora
Encourages healthy weight maintenance
Allergies worsened after transition for some dogs
Occasional vomiting observed by some customers
Greasy feel on kibble granules
Price considered high by some
3. Blue Buffalo Dog Food Adult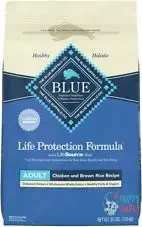 View On Chewy
Discover the perfect balance of protein, carbs, and essential vitamins that Blue Buffalo Dog Food Adult provides for your adult Bichon Frise to help them thrive. This food is free from corn, wheat, and soy, with real meat as its first ingredient plus added LifeSource Bits providing antioxidants.
It supports muscle growth while promoting healthy digestion through natural fiber content. Balanced nutrition for strong bones and teeth is achieved via essential vitamins and minerals along with calcium & phosphorus in their correct ratios.
Glucosamine helps joint health too! Plus, omega-3s & 6s aid skin & coat health as well as cognitive development.
Unfortunately, some dogs may have a strong smell or digestive issues after eating this food. Quality control can also be an issue, but many owners report positive experiences such as increased energy levels in their pup's overall performance.
Picky eaters will often find it palatable. However, if they don't seem to take to it, then mixing with other foods might be necessary or switching brands altogether considered depending on individual needs, tastes, etcetera.
High-quality ingredients – Real meat plus added antioxidant bits
Carbohydrates for energy – Essential vitamins minerals promote stronger bones teeth
Glucosamine aids joint health
Omega fatty acids support brain development skin/coat health
Strong smell possible from kibble
Digestive issues reported upon switchover
Quality control questionable at times
Not suitable for all picky eaters
4. Hills Science Diet Dog Food
View On Chewy
Hills Science Diet Dog Food is tailored for adult dogs of all sizes and breeds, featuring natural ingredients to promote healthy digestion, strong bones and joints, plus vitamin E and omega-6 fatty acids for skin & coat health.
Beet pulp provides a nourishing prebiotic fiber that helps support your pup's digestive system while the vitamins and minerals help with overall development.
Highly digestible so your pup can get the most out of their meal, this food is recommended by veterinarians as part of an optimal diet plan.
Though reviews are mixed on Hills Science Diet Dog Food – some owners noting recent batch changes may have negatively affected their pet – there are still plenty of positives worth considering if you're looking for a complete meal solution:
Prebiotic fiber supports healthy digestion
Contains vitamin E & omega-6 fatty acids
Highly digestible
Recommended by vets
Recent formula change caused issues in some dogs
Some pets didn't like the taste
5. Nutro Natural Choice Dog Food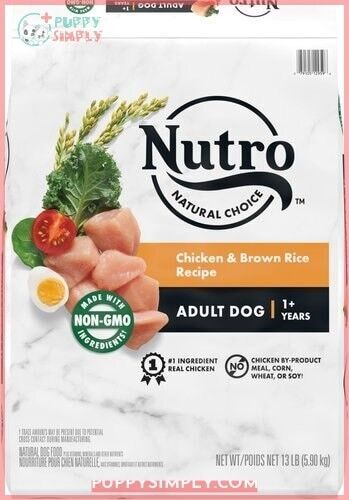 View On Chewy
Experience the difference with Nutro Natural Choice Dog Food, formulated specifically to provide nourishment for adult dogs. Made in the USA from quality ingredients sourced globally, this food is packed with real chicken as its first ingredient and includes natural fiber to support healthy digestion.
First ingredient is real chicken
Contains omega-3 & 6 fatty acids
Supports healthy digestion
Promotes strong bones & joints
Some dogs may not like the taste
Reports of digestive issues
Cost increases over time
6. Iams Proactive Health Puppy Toy Breed Chicken Formula Dog Food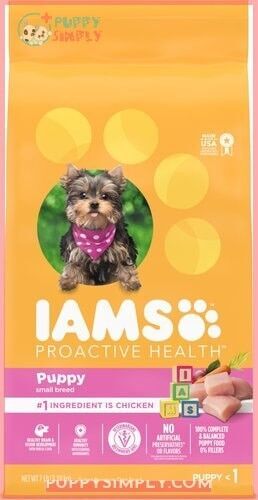 View On Chewy
With Iams Proactive Health Puppy Toy Breed Chicken Formula Dog Food, you can give your pup all the nutrients they need to grow big and strong. Specially designed for small-breed puppies, this formula is packed with real farm-raised chicken as its primary ingredient, providing a premium protein source for muscle development.
It also contains 22 key nutrients found in mother's milk, plus omega-3 DHA, which helps support cognitive development. Customers have had positive experiences using it, and quick delivery from Chewy has been reported too.
However, some customers experienced negative side effects such as vomiting and diarrhea, or their puppy refusing to eat it altogether.
Despite these issues, long-time users of Iams products have seen success in keeping their Chihuahua healthy, while a Papillion puppy enjoys the food just fine.
Suitable For Toy Breed Puppies
Contains 22 Essential Nutrients Found In Mother's Milk Plus Omega 3 DHA For Cognitive Development
Positive Experiences With The Product Reported By Customers And Quick Delivery From Amazon
Can Cause Vomiting & Diarrhea Or Pup Refusal To Eat It Altogether
Reports Of Sleepiness & Weakness In Larger Dogs After Consumption
7. Natures Recipe Small Breed Grain Free Chicken Sweet Potato Pumpkin Dog Food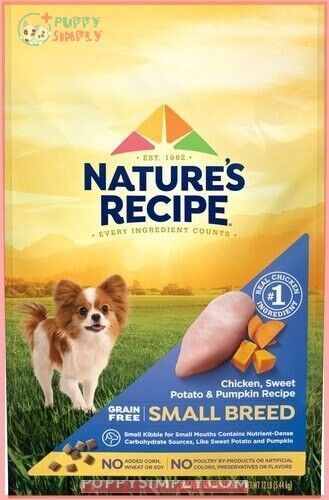 View On Chewy
Natures Recipe Small Breed Grain Free Chicken Sweet Potato Pumpkin Dog Food is a complete and balanced diet formulated to provide essential nutrients for extra small, small, and adult breeds. It contains real chicken as the primary ingredient, plus sweet potatoes and pumpkin fiber sources.
Other beneficial ingredients include omega 3 & 6 fatty acids for skin health, zinc & vitamin E antioxidants for immunity support, and taurine to promote heart health. This food does not contain corn, wheat, soy, poultry by-products, or artificial colors, preservatives, or flavors.
This food has earned mixed reviews from customers. Some report that their dogs love it, while others have experienced negative side effects such as vomiting, diarrhea, bad breath, and picky eaters avoiding the food altogether due to its smell after recent changes in packaging or recipe formula.
However, many have praised its affordability, as well as the added benefits of improved skin and coat health, increased energy, and better digestion. This makes it an ideal option when transitioning puppies from wet puppy foods to dry puppy kibble, etc.
Contains real chicken as the primary ingredient, plus fiber sources (sweet potatoes pumpkins), Omega 3/6 fatty acids, zinc, Vitamin E, and Taurine
No Corn, Wheat, Soy, Poultry By-Products, Artificial Colors, Preservatives, or Flavors
Affordable price with added benefits of improved skin and coat, healthier digestion, and higher energy levels
Unpleasant smell after recent changes in packaging/recipe formula that results in picky eaters avoiding this food altogether
Negative reports about bad breath, vomiting, diarrhea, and cross-contamination issues
Quality control may be an issue
8. Royal Canin Bichon Frise Adult Dog Food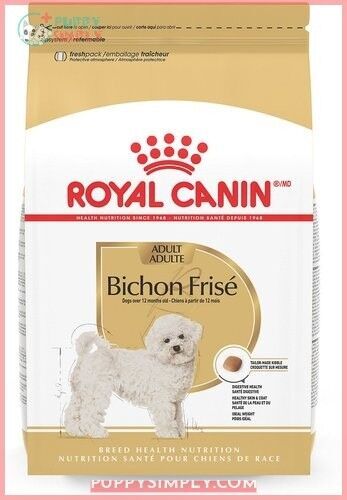 View On Chewy
Royal Canin's Bichon Frise Adult Dog Food is tailored to these small breeds' needs, boasting specialized kibble designed for easy picking and chewing that helps with weight control and digestion. The food comes in a 10-pound bag containing essential nutrients to support healthy skin and coat, plus vitamins E and omega-6 fatty acids for joint health.
Customers have reported positive experiences with the product, including dogs enjoying the food as well as quick delivery from Chewy. However, not all customers had an ideal experience. Some mentioned difficulty finding it in stock or complained of availability issues, while others noted their pup could have negative side effects like vomiting or diarrhea after eating this dog food.
Specialized kibble design for Bichon's jaw and bite
Contains essential vitamins and minerals for strong bones and teeth
Contains B Vitamins, EPA, and DHA from fish oil for skin and coat care
Availability issues reported by some customers
Negative side effects such as vomiting and diarrhea experienced by some pups
9. Solid Gold MightyMini GutHealth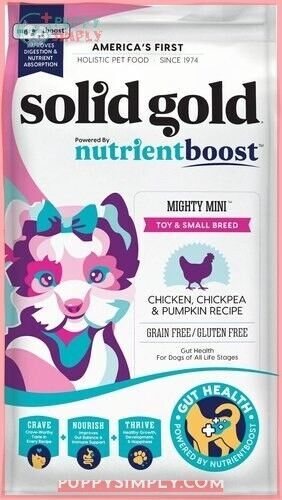 View On Chewy
Solid Gold MightyMini GutHealth is the perfect choice for toy and small breed dogs, with 20 nutrient-rich superfoods that contain omega fatty acids to promote digestive health.
The single meat protein source supports sensitive stomachs, while the variety of superfood ingredients provides essential vitamins and minerals to meet your pup's nutritional needs. Plus, this balanced diet helps maintain healthy skin and coat due to its omega-3 and 6 fatty acid content.
All these benefits come without grains or gluten, so you can rest assured knowing your furry best friend is getting only the best nutrition available!
Single Meat Protein Source: Supports digestive health and suitable for sensitive stomachs
Variety of Superfood Ingredients: Provides essential vitamins and minerals
Omega Fatty Acids Content: Helps maintain healthy skin and coat
Unchanged Formula Complaints: Some customers unhappy with formula changes
Large Black Pieces: Dog disliked larger dark pieces resulting in half of the bag being uneaten
10. Merrick Classic Healthy Grains Small Breed Dog Food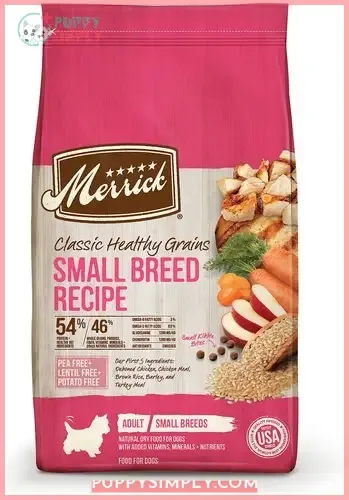 View On Chewy
Merrick's Classic Healthy Grains Small Breed Dog Food is packed with hearty ancient grains like quinoa and brown rice, plus real deboned chicken to provide a complete and balanced meal for your pup. This dry food has the perfect kibble size for small dogs, making it easy to chew while still supplying all the essential nutrients they need.
It's potato-free, pea-free, and lentil-free, making it suitable even for those with sensitive stomachs – something picky eaters appreciate as well! Long-time Merrick users have reported positive experiences transitioning their pups from other brands without any issues.
The tasty kibble encourages immediate eating, which might be ideal if you're trying to get them used to a new food quickly.
However, some pet owners report increased bowel movements in their small breeds after switching over, so keep an eye out for that! All in all, this grain-inclusive formula is a great option if your pup prefers whole grains or just loves the classic flavors of poultry-based recipes!
Complete & Balanced Nutrition
Perfect Kibble Size For Small Dogs
Potato-Free Diet Suitable For Sensitive Stomachs
Tasty Kibble Encourages Immediate Eating
Great Option If Your Pup Prefers Whole Grains
Some Dogs Have Experienced Increased Bowel Movements After Switching To This Formula
Not Ideal For 10 To 20 Pound Breeds
Why You Should Trust Us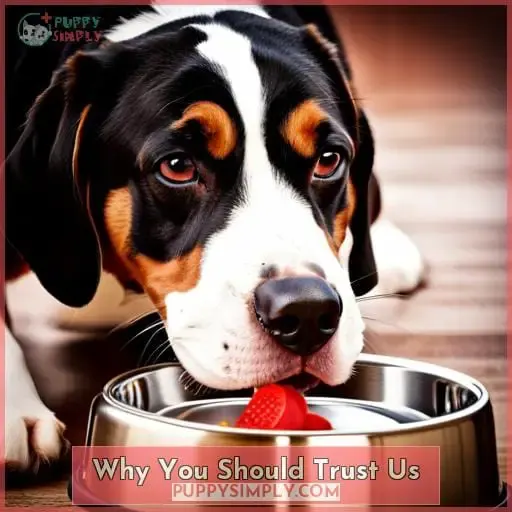 Choosing the right food for your Bichon Frise can be a daunting task. With so many dog food options on the market, it's hard to know which is best for them. That's why you should trust us when we provide our top 10 picks of the best puppy and adult dog foods specifically formulated for Bichon Frises.
Expert Recommendations: Our team of experts has done extensive research into what makes a quality dog food and is confident that each product listed meets high standards related to nutrition, safety, palatability, sourcing practices, and more.
Credibility Factors: We take pride in providing honest reviews from real customers who have tried these products with their own pup(s). Additionally, all sources cited in this article adhere to strict editorial guidelines, ensuring accuracy while remaining unbiased towards any particular brand or product line.
Trustworthy Sources: All links provided within this article will lead you directly back to reliable sites such as Chewy or Amazon, where you can buy these brands confidently, knowing they come from reputable sellers both online and offline.
Editorial Integrity: At DogFoodAdvisor, we strive towards maintaining an ethical approach when it comes to researching and recommending products based on data collected through comprehensive testing protocols overseen by knowledgeable professionals with years of experience working in the canine healthcare industry.
Research Process: Each item included has undergone rigorous tests geared toward measuring key indicators such as nutrient levels, digestibility, texture/flavor profile, etc. By taking into consideration various factors including breed size, age group, and other important aspects pertinent to small breed health maintenance, we were able to make sure our list contains only those items worthy enough to be named the Best Puppy Dog Foods For Bichons Frises.
Choosing the Best Food for Bichon Frises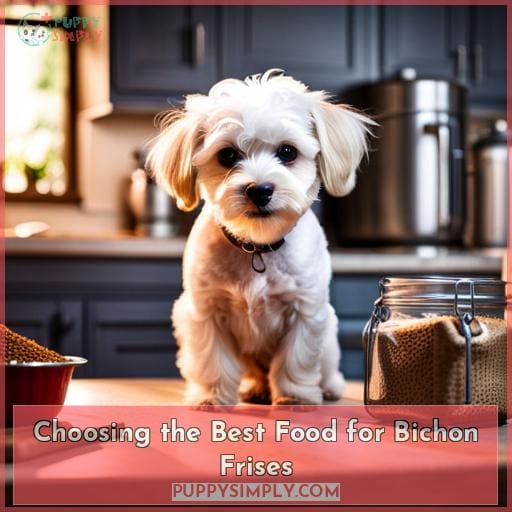 When it comes to selecting the best food for your Bichon Frise, quality ingredients should be at the top of your list. Not all dog foods are created equal, and some may contain unnecessary fillers, by-products, or artificial additives that can have a negative impact on your pup's health.
Understanding what makes up a high-quality diet will help you make an informed decision when choosing the best food for your Bichon Frise.
Quality ingredients for Bichon Frises
When selecting puppy dog food for your Bichon Frise, opt for options that prioritize quality ingredients like real meat and avoid additives or artificial flavors.
Careful ingredient analysis is key to ensure the best nutritional balance and protein sources are present while avoiding any dietary sensitivities.
Look at feeding recommendations based on weight as well as breed-specific foods like Royal Canin's Bichon Frise Adult Dog Food to meet your pup's needs.
Nutrient deficiencies can occur if you feed an inadequate diet, so it's important to select a high-quality option with the right blend of nutrition tailored specifically towards this breed of dog. This will provide them with their optimal daily intake requirements for long-term health benefits.
Avoiding additives and artificial ingredients
It's important to look for puppy food without artificial ingredients or additives, ensuring that your pup gets the nutrition they need. Ingredient scrutiny is key when selecting a quality dog food. Look out for non-GMO ingredients and check ingredient lists carefully.
Artificial additives are often used as preservatives in cheaper foods but can be detrimental to your Bichon Frise's health if consumed long term. Nutritional transparency on labels should also be considered when choosing healthier options, with additive-free options being preferable.
Investing time into researching nutritional values of each product will ensure you select the best diet for your pet.
Tailoring food to breed
Tailor your pup's meal plan to their breed for peak nutrition. Bichon Frises have specific dietary needs, so feeding them food tailored to their size and breed is important for optimal health. Look into puppy food recommendations that are designed with small dogs in mind, as the nutrient requirements of these breeds can differ from larger ones.
Make sure the ingredients are high quality and meet AAFCO standards. For example, deboned meats or real meat should be listed first on the label. Also, consider if grain-free options would be best suited for your pet's digestive system.
Adjust fat levels according to activity level while avoiding excessive calcium intake, which may stunt growth due to its impact on bones and joints of rapidly growing puppies.
With a little research about canine dietary needs, you'll find it easy enough to make appropriate adjustments when selecting puppy dog food!
Bichon Frise-Specific Dog Food Qualities to Look For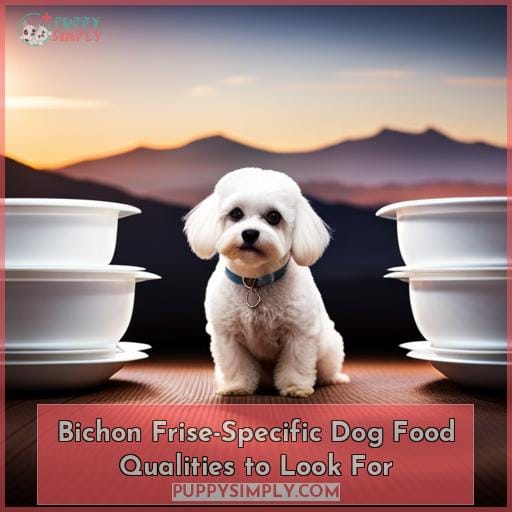 Look for puppy dog food specifically tailored to Bichon Frises' rapid growth and brain development, with quality ingredients, proper nutrient balance, and the AAFCO Standards Statement on labels.
When selecting a food for your Bichon Frise pup, it's important to consider their dietary needs compared to an adult. Puppy formulas are higher in protein content than adult formulas as puppies need more nutrients at this stage of life while also avoiding common allergies that can affect certain breeds like Bichon Frises.
You should look for real meat as the first ingredient along with wholesome fruits and vegetables plus added vitamins and minerals for optimal nutrition. Additionally, avoid artificial preservatives or additives, which could be harmful if ingested by your pup over time.
Quality ingredient sourcing is essential when choosing a suitable pet food – always check where each component is coming from before you buy!
With these considerations in mind, you're sure to find the perfect puppy dog food fit, especially for Bichon Frise pups!
How to Switch Bichon Frise Dog Food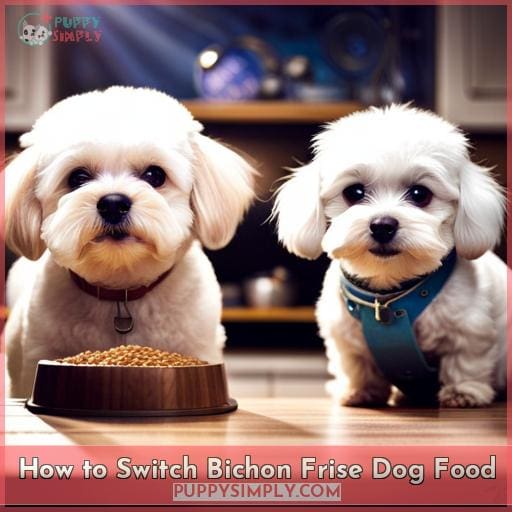 When switching Bichon Frise dog food, be sure to make the transition gradual and monitor your pup's reaction.
During this time, it is important to slowly introduce new food while gradually reducing the amount of old food in order for your pup's digestive system to adjust to the dietary change. You should also keep an eye out for any signs that may indicate a potential challenge such as vomiting or diarrhea during this period of adjustment.
Additionally, always read feeding instructions on puppy dog foods carefully and adhere strictly according to their age-specific diet guidelines when selecting the best puppy dog food for Bichon Frise puppies as they grow into adults so you can provide them with all essential nutrients needed at each stage.
Here is a step-by-step guide to switching your Bichon Frise's dog food:
Start by mixing 25% of new kibble with 75% old kibble over a few days.
Increase proportionally until you have a 50/50 mix after several days.
Then switch entirely over the next few days.
Finally, feed only 100% new formula after two weeks have passed.
With careful monitoring and patience throughout the transitioning process, you can ensure that your Bichon Frise will begin enjoying its delicious meals soon enough!
Buyer's Guide: How to Select the Best Dog Food for Bichon Frises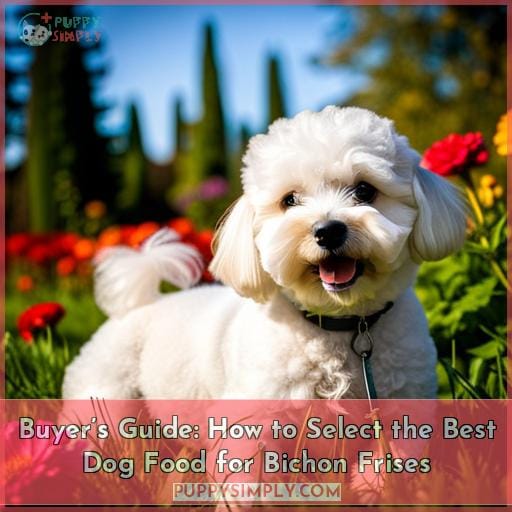 As a pet owner, it is important to provide your Bichon Frise with the best possible dog food. Knowing their key nutritional requirements and understanding breed-specific formulas is essential steps in selecting the right food for your pup.
When choosing between different options, consider factors like the ingredients list, nutrient content, quality of sources, and customer reviews before making an informed decision.
Key Nutritional Requirements
Consider carefully the unique nutritional requirements of Bichon Frises, like a puzzle that needs to be solved. Quality ingredients and dietary guidelines should be followed for optimal health benefits.
Puppy growth is dependent on nutrient-dense food sources. Look for ingredient selection with a focus on protein, omega fatty acids, and wholesome carbohydrates such as brown rice or quinoa.
Nutro Wholesome Essentials Dry Dog Food provides all these essentials plus added vitamins and minerals to promote strong bones in small dog breeds. Skin and coat health can also benefit from omega fatty acids found in certain dry foods specifically designed for this purpose.
Breed-Specific Formulas
For breed-specific nutrition, select a dog food that is specially formulated for Bichon Frises to ensure optimal growth and development. To meet the specific dietary needs of this breed, look for puppy food ingredients such as deboned meats and omega-3 fatty acids.
Puppy foods should also be nutrient-dense with added vitamins and minerals tailored to their age group.
Look for puppy food formulations designed specifically for Bichons or choose from popular brands like Ollie, Nom Nom, Honest Kitchen, Farmer's Dog, Merrick Puppy Dry Dog Food, Blue Buffalo Homestyle Recipe Natural Puppy Wet Dog Food, or ORIJEN Puppy.
All these can provide balanced meals that are tailored to your pup's size and stage in life while meeting their nutritional requirements.
Avoiding Harmful Ingredients
Look out for fillers, preservatives, artificial ingredients, and colors when selecting the perfect dog food for your Bichon Frise – it's like shopping in a candy store! Make sure you're aware of what goes into the food.
Scrutinize every ingredient to ensure optimal nutrient balance. Read labels thoroughly to make sure there are no harmful additives or hidden components that could cause health consequences down the road.
It's also important to consider if your Bichon Frise has any allergies, a sensitive stomach, or needs grain-free/senior diet food.
Conclusion
You deserve only the best for your beloved Bichon Frise, and the right food can make a world of difference. With so many options out there, it can be overwhelming to figure out the best dog food for your pup.
That's why we've done the research for you and chosen the top 10 dog foods for Bichon Frises.
From Royal Canin to Instinct Raw Bites, these dog food brands are packed with high-quality ingredients, omega fatty acids, vitamins, minerals, and more to provide your pup with the nutrition they need for a healthy and happy life.
When selecting a food, look for products specifically for Bichon Frises, as well as those made with quality ingredients and tailored to your pup's size and breed. With the right dog food, you can rest assured that your pup will be living their best life.