This site is supported by our readers. We may earn a commission, at no cost to you, if you purchase through links.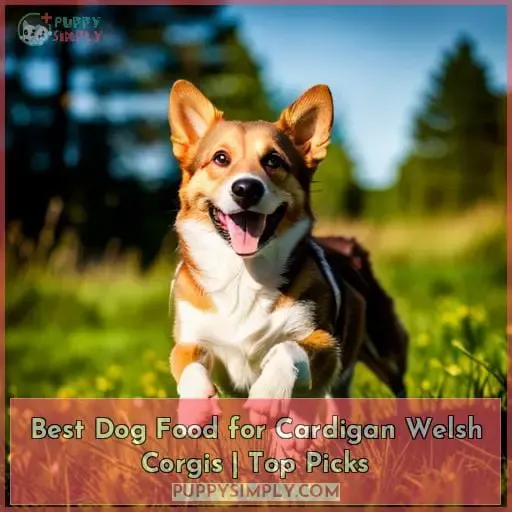 Corgis are a bundle of energy – and smarts! These low-set herding dogs require the right kind of nutrition to keep up with their active lifestyle. But what is the best dog food for Cardigan Welsh Corgis? To answer this question, we must take into account not only your budget but also your pup's age, weight, health condition, and activity level.
As such, it pays to have an eagle eye when shopping around for canine nutrition products. Like looking through a kaleidoscope; you need high-quality ingredients that come together in harmony to create something truly special – just like The Farmer's Dog does with its fresh human-grade recipes tailored specifically for Cardigan Welsh Corgis.
So let us delve deep into finding out which foods will make them bark at mealtimes!
Key Takeaways
Corgis need specific nutrition based on age, weight, health, and activity level.
Protein sources like chicken, beef, fish, or lamb are essential for Corgis.
Joint health should be considered with glucosamine and chondroitin.
Fresh food options can provide lower calorie intake.
6 Best Dog Foods for Cardigan Welsh Corgis
Cardigan Welsh Corgis are an ancient British breed known for their compact bodies, short legs, and large ears. To keep them healthy and ensure they get the nutrients they need, it is important to choose a dog food that meets their specific needs.
1. CANIDAE Duck Sweet Potato Dog Food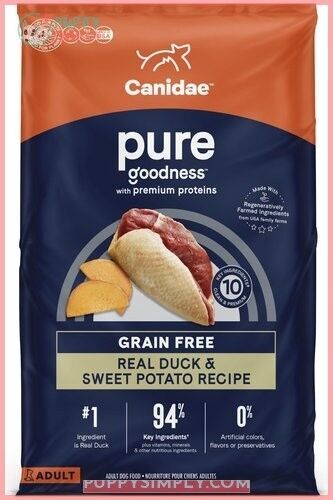 View On Chewy
CANIDAE Duck Sweet Potato Dog Food offers real animal-based protein, HealthPLUS blend of probiotics and fatty acids for joint health, small kibble size to aid digestion, plus no artificial flavors or preservatives – perfect for Cardis' sensitive stomachs.
This grain-free food contains only 8 ingredients that are thoughtfully sourced from US farms and processed in the USA at Canidae's Texas facility.
The added vitamins and minerals make it a complete meal for your pup while providing all essential nutrients they need to stay healthy. Reviews suggest this dog food is effective even in cases of digestive challenges, with picky eaters enjoying its taste too! Plus, the kibble size makes it easy on their small mouths as well as aiding digestion compared to larger pieces, which can be hard on their tummies.
All-natural ingredients without any fillers or by-products
Limited ingredient recipe suitable for sensitive stomachs
Fortified with Canidae's HealthPLUS blend of antioxidants & omega 3/6 fatty acids
Small kibble size aids digestion
Some discrepancies in calorie information
Price increase has caused concern over perceived decline in ingredient quality
Contains legumes (peas & lentils)
2. Orijen Grain Free Dog Food
View On Chewy
Orijen Grain Free Dog Food is a nutrient-dense, grain-free formula made with 85% animal protein and fresh, regional ingredients that can provide your pup with the essential nutrients they need. The food is suitable for all life stages and breeds, and contains antioxidant-rich ingredients like prebiotics, probiotics, and fatty acids to promote digestive health as well as immune system support.
This product is free from corn, wheat, soy, or poultry by-product meals, so you can feel confident in feeding it to your Cardigan Welsh Corgi without worry of allergies or other sensitivities.
Reviews suggest that this food has improved comfort levels among dogs while helping them maintain a healthy weight due to its high protein content. Additionally, many owners have reported improvements in coat quality due to the Omega 3 fatty acids found within it, which helps keep their pet's fur glossy and smooth-looking even after long runs on cold winter days! Some users, however, have experienced skin issues such as itching associated with this particular brand, although most seemed pleased overall with the results when used properly according to instructions given on the packaging.
High Protein Content & Nutrient Density
Suitable For All Life Stages & Breeds
Antioxidant Rich Ingredients/Prebiotics/Probiotics/Fatty Acids
Free From Corn, Wheat, Soy, Poultry By-Product Meals
Rapid Weight Gain (Especially With Smaller Dogs)
Allergic Reactions / Itching / Skin Issues
Unpleasant Smell And Taste For Some Dogs
Pricey Compared To Other Brands
3. Stella Chewys Chicken Patties Freeze Dried Dog Food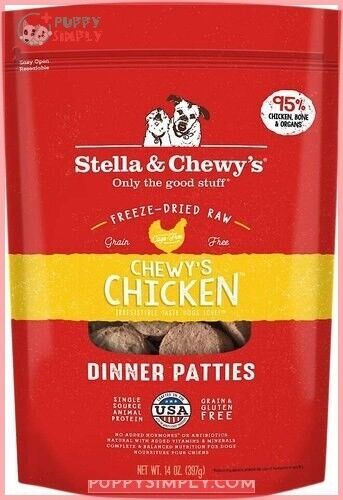 View On Chewy
Stella Chewy's Chicken Patties Freeze Dried Dog Food provides a grain-free, gluten-free diet with organic fruits and veggies for Cardigan Welsh Corgis. This food is made with cage-free chicken raised without hormones or antibiotics, plus 100% certified organic produce to mimic the natural diet of these dogs.
It includes probiotics for healthy digestion and is suitable for dogs with sensitive stomachs.
Furthermore, this freeze-dried food comes in convenient patties that can be served as they are or rehydrated if desired, making it perfect for quick meals on the go!
The taste seems to be hit or miss. Some users report their dogs love it, while others find their pup isn't so keen on the flavor profile compared to other products from Stella & Chewy's range.
Additionally, there has been concern over packaging issues, such as patties turning into dust during shipping due to lack of moisture protection, despite being vacuum-sealed when sent out by retailers.
Finally, price increases and perceived decline in quality have caused dissatisfaction among some long-time customers who used this brand before its reformulation back in 2019.
Made with cage-free chicken raised without hormones/antibiotics
Contains 100% organic certified vegetables/fruits
Formulated specifically to mimic natural dog diets
Includes probiotics aiding digestive health
Comes in convenient preportioned freeze-dried patties
Mixed user opinions on flavor profile
Variations noted regarding patty texture
Packaging concerns reported affecting product upon delivery
4. American Journey Salmon Sweet Potato Dog Food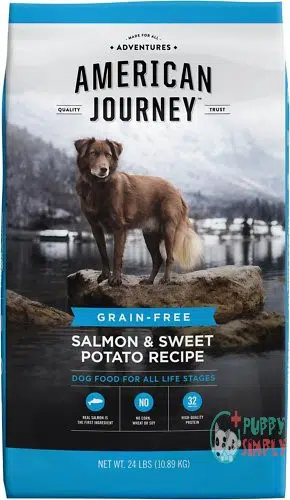 View On Chewy
American Journey Salmon Sweet Potato Dog Food can provide your pup with essential nutrients, fatty acids for skin and coat health, plus energy from lean muscles. This grain-free and high-protein formula is suitable for adult dogs of all breed sizes.
It contains nutrient-dense ingredients such as vitamins, minerals, and antioxidants to support a healthy immune system.
The number one ingredient in this food is salmon, which provides amino acids that are beneficial for lean muscle mass and overall health. Plus, omega 3 & 6 fatty acids aid in maintaining good skin and coat condition while supporting brain development and eye health.
Free from corn, wheat, soy, or poultry byproduct meals, this product comes packaged in a facility that processes grains.
Nutrient-dense ingredients provide optimal nutrition for pups of all breed sizes.
High protein content helps maintain strong muscles.
Omega 3 & 6 fatty acid levels promote better coat and skin conditions, as well as aiding cognitive function.
New packaging does not mention kibble size, which could make it unsuitable for certain dog breeds like Chihuahuas who require smaller-sized kibbles.
Some reviews suggest dogs no longer enjoy eating after the new packaging changed the flavor profile.
Some users reported adverse reactions such as skin issues due to the negative smell coming off the food once opened.
5. Primal Chicken Nuggets Dog Food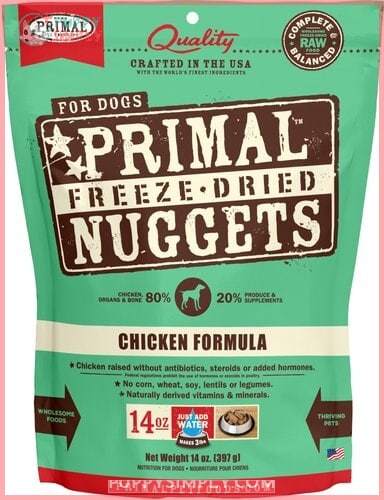 View On Chewy
Primal Chicken Nuggets Dog Food is a freeze-dried food made with hormone-free chicken and certified organic produce, perfect for rotational diets and providing relief from stomach issues. This high protein formula mimics the primal diet of wild dogs, aiding in weight management.
It contains fresh ground bone for calcium supplementation with optimum levels of amino acids, essential fatty acids, enzymes, vitamins, and minerals to keep your pup healthy throughout their life stages.
Crafted in the USA with sustainably sourced ingredients, it's free from grain, gluten, corn, wheat, or soy – making it suitable even for those pups prone to allergies or sensitivities!
High protein content aids weight management
Formulated for all life stages
Contains fresh ground bone & organic produce
Some users experienced diarrhea initially when introducing Primal Chicken Nuggets Dog Food into their pup's diet
Dogs may prefer dry nuggets rather than mixed with water
Occasional issues reported due to crushed packaging during delivery
6. Zignature Trout Salmon Meal Dog Food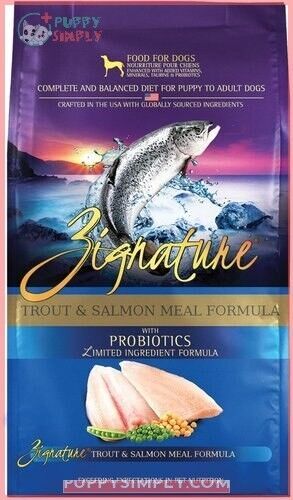 View On Chewy
Zignature's Trout Salmon Meal Dog Food is designed with limited ingredients, probiotics for gut health, and omega-3 fatty acids to provide optimal nutrition for your pup. It contains high-quality trout and salmon meal as top ingredients, which are rich in vitamins B12 and selenium that support healthy growth.
This 25-pound bag of kibble is suitable for rotational diets due to its low glycemic content. It also features a grain-free, gluten-free, corn, wheat, or soy-free formula, perfect even if your dog has food allergies or sensitivities.
Reviews suggest this food can help improve coat quality by reducing itching, as well as providing relief from stomach issues such as gas and hives. However, some users have reported a strong unpleasant odor coming from the product itself, so they need to monitor their pet's reactions closely when trying out something new like this one.
Suitable for dogs with grain allergies & sensitive skin
Rich in omega-3 fatty acids & vitamin B12
Fortified with probiotics
Strong unpleasant odor coming off the product
Caused severe diarrhea in some dogs
Potent fish smell left around the house
How to Choose Dog Food for Cardigan Welsh Corgis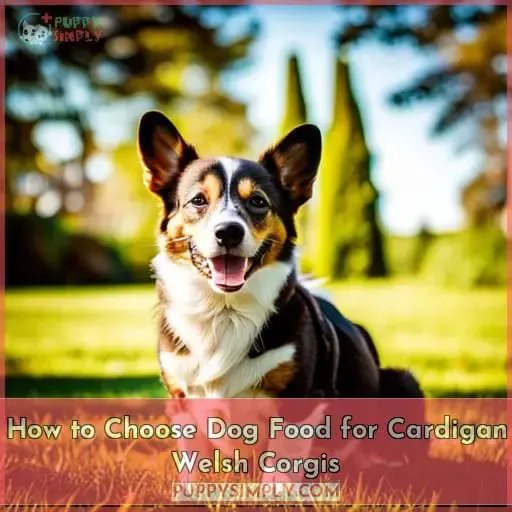 When choosing the best dog food for your Cardigan Welsh Corgi, it's important to consider protein sources and kibble size. Protein should be sourced from real animal-based ingredients such as chicken, beef, fish, or lamb, while the kibble should be small enough for their small to medium mouths in order to aid digestion.
Protein sources for Corgis
When searching for the appropriate food for your Cardigan Welsh Corgi, look for genuine animal-based protein sources such as chicken, beef, fish, or lamb. Protein sources should provide sufficient nutrition and digestibility factors that meet your pet's dietary preferences.
It is important to consider nutritional balance when selecting their meals, as well as health considerations such as joint health and calorie monitoring.
Kibble size and digestion
Given your Corgi's small to medium mouth, selecting an appropriately-sized kibble is essential for aiding digestion. Properly sized kibbles also help ensure a balanced nutritional intake. They provide better dental care through chewing and make it easier for your pup to process food.
Opt for smaller kibbles when transitioning from one type of diet to another to avoid upsetting their stomachs. You can gradually mix in the smaller kibbles over time while still providing complete nutrition.
Joint health considerations
Look for dog food with glucosamine and chondroitin to help support joint health in your Cardigan Welsh Corgi. Joint supplements can provide additional nutritional requirements, while weight management is important to prevent strain on the joints.
Exercise routines should be tailored based on age and veterinary advice should be consulted if needed.
Omega-3 fatty acids are beneficial too, as they reduce inflammation associated with arthritis pain or other corgi health concerns like hip dysplasia or eye disorders.
What's the Best Dog Food for Cardigan Welsh Corgis?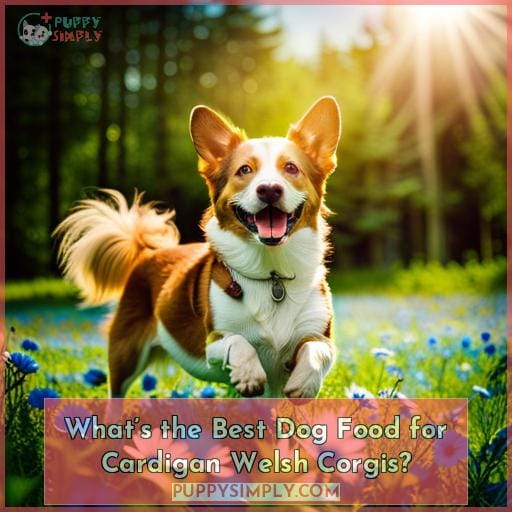 With so many options available, it can be difficult to determine which food is the right fit for your Cardigan Corgi. It's important to look for dog foods that meet all of their nutritional needs, as well as those with a dietary adequacy statement from AAFCO (Association of American Feed Control Officials).
Premium brands should also be free from common allergens and offer health benefits such as joint support, digestive health, and skin/coat maintenance.
The Farmer's Dog offers fresh food tailored specifically for each pup according to age, weight, and activity level. They have recipes full of antioxidants found in real fruits & vegetables, which helps reduce cancer risk while providing essential vitamins & minerals needed by growing puppies or adult dogs alike.
Omega-3 fatty acids are also included in the meals, ensuring proper heart functioning plus joint lubrication leading to improved mobility over time!
For those looking into kibble options, CANIDAE Duck Sweet Potato Dog Food is a great choice due to its limited ingredient recipe made with duck being the primary source of protein, suitable even if your corgi has sensitivities.
It does not contain any artificial flavors or preservatives, yet it is fortified after cooking with Canidae's HealthPLUS blend, including probiotics and antioxidants.
Build a Plan for Your Cardigan Welsh Corgis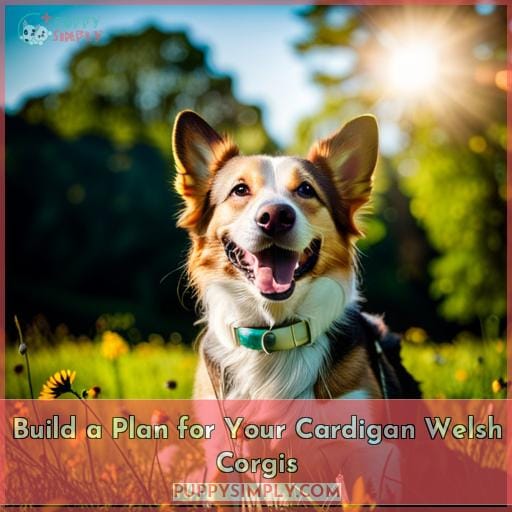 Creating a tailored meal plan for your Cardigan Welsh Corgi is crucial to ensure their health and happiness. To build an appropriate diet, start by considering puppy nutrition needs. Puppies have higher protein requirements than adults.
Weight management should be monitored throughout the pup's life. Fresh food can help maintain a healthy weight with fewer calories compared to kibble. Additionally, fresh food contains dietary antioxidants that reduce cancer risk in corgis.
Sensitivity considerations are important as well. Monitor reactions and consult with a veterinarian if allergies or sensitivities arise from specific ingredients, such as grains or proteins found in kibble diets.
Conclusion
You want to give your Cardigan Welsh Corgi the best nutrition possible, and choosing the right dog food is essential. Finding the best dog food for Cardigan Welsh Corgis means looking for the right combination of protein sources, kibble size, calorie intake, and joint health.
To make the perfect meal plan for your Corgi, consider fresh food from The Farmer's Dog that is tailored to your pup's needs and provides all of the important nutrients they need. Additionally, look for AAFCO compliant food, higher protein content, and a trial box to start.
With the right nutrition, your Cardigan Welsh Corgi will have plenty of energy and stay healthy and happy for years to come.