This site is supported by our readers. We may earn a commission, at no cost to you, if you purchase through links.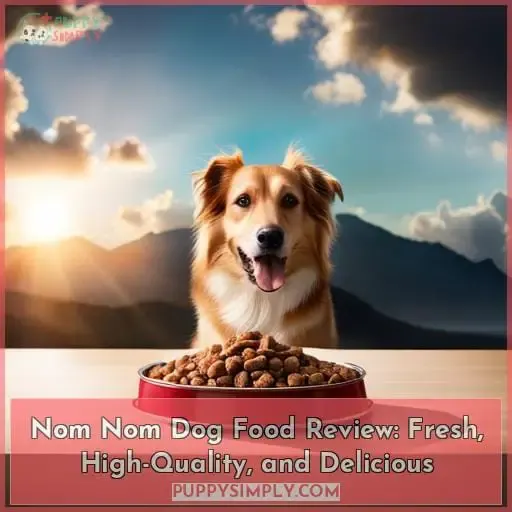 Are you looking for a fresh and high-quality dog food option that is both delicious and nutritious? If so, Nom Nom has got your pup covered. Like a breath of fresh air amongst the stale kibble options on the market, this premium pet food promises to deliver only top-quality ingredients in each bite.
In this review, we'll dive deep into what makes Nom Nom stand out from other brands. We'll also look at its pros and cons so you can decide if it's right for your furry friend.
So grab some treats and let's start digging into our Nom Nom dog food review!
Key Takeaways
Nom Nom offers fresh, high-quality dog food.
Recipes are crafted with fresh ingredients and produced in small batches.
All options meet AAFCO standards for pet nutrition and are veterinarian-approved.
Nom Nom provides health benefits such as improved digestion and nutrient absorption.
What is Nom Nom?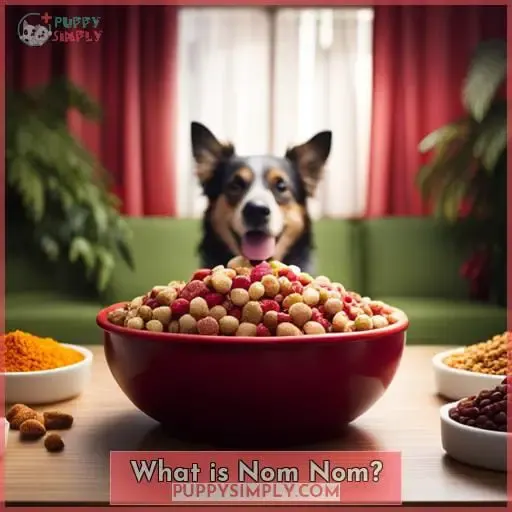 Discover the nutritious power of Nom Nom, a fresh dog food subscription service delivering freshly made meals right to your doorstep. Their recipes are crafted with fresh ingredients and produced in small batches in Tennessee and California for superior quality control.
While premium pricing makes it slightly more expensive than regular dry kibble, it's still competitively priced when compared to other pet food brands. Limited variety means picky eaters may be out of luck, but all options meet AAFCO standards for pet nutrition and have been veterinarian approved for nutrient balance and digestibility.
Fresh dieting can lead to better absorption rates while supporting a healthy microbiome, which is ideal for those looking to switch their pup over from traditional kibble diets.
What Kind of Dog Food Does Nom Nom Sell?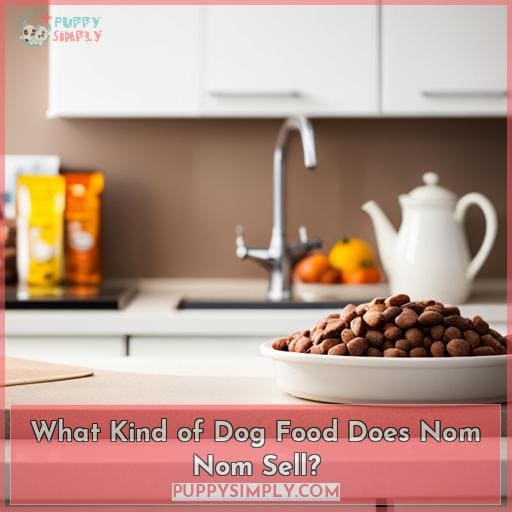 You can choose from four recipes of freshly-made meals that range from Beef Mash to Pork Potluck when you subscribe to Nom Nom's dog food subscription service. Their ingredients are carefully sourced and quality controlled, and their packaging is well insulated and environmentally conscious.
Prices may be higher than regular dog food but comparable to competitors, though there are limited protein options available with no fish-based option.
All products meet AAFCO standards for pet food nutrition, recommended by veterinarians for nutrient balance and digestibility. They also support a diverse microbiome which can result in less stool production as well as better nutrient absorption overall health benefits.
Additionally, customers have the ability to customize portion sizes or mix up recipe combinations through customer support – plus free shipping! With its convenient delivery approach combined with nutritionally balanced meals formulated by an expert veterinarian nutritionist, it's easy to see why this fresh wet dog food has earned 5 stars on its reviews!
Pros of Nom Nom Dog Food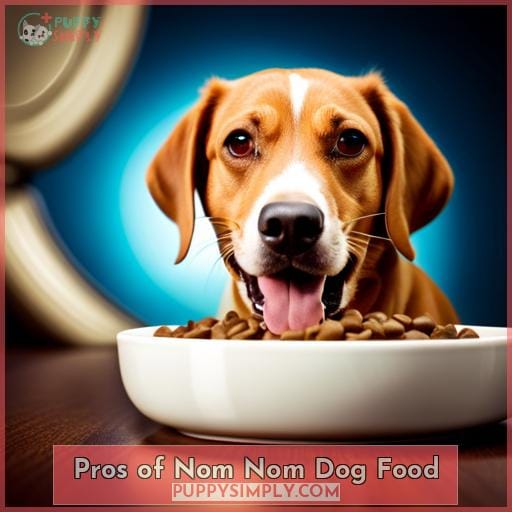 Nom Nom Dog Food is the ideal choice for dog owners looking to provide their pup with fresh and high-quality ingredients, small-batch production, great taste, and packaging. Using only the freshest ingredients sourced from trusted suppliers in Tennessee and California, Nom Nom offers four recipe options that have been carefully crafted by a board-certified veterinary nutritionist.
Fresh and High-Quality Ingredients
Nom Nom provides fresh and high-quality ingredients in its recipes, so your pup can enjoy their meal without worry. All of the recipes are made with all-natural ingredients that have been carefully chosen for their nutrient analysis, ingredient quality, and recipe varieties.
The meals also come highly customizable – you can choose from four different protein options plus adjust portion sizes depending on your pup's needs.
Small Batch Production
Experience the difference of Nom Nom – made fresh, in small batches every week with high-quality ingredients. Small batch production ensures that each meal is carefully crafted and quality control is maintained throughout the process.
This guarantees a consistent level of freshness for your pet's food while also ensuring ingredient sourcing from reputable suppliers.
The production process enables strict monitoring to ensure all meals meet AAFCO standards and are nutritionally balanced for optimal health benefits.
Great Taste and Packaging
You'll love the great taste and packaging of Nom Nom's fresh meals – they're perfect for your pup! Customers rave about the delicious, well-balanced recipes. The meals are made in small batches to ensure quality control before shipping; plus, their environmentally conscious packaging is insulated to keep food fresh.
With customization options like portion sizes and recipe combinations, you can find something that works best for your pet. Prices are competitive too – compare them with other services available on their website.
Cons of Nom Nom Dog Food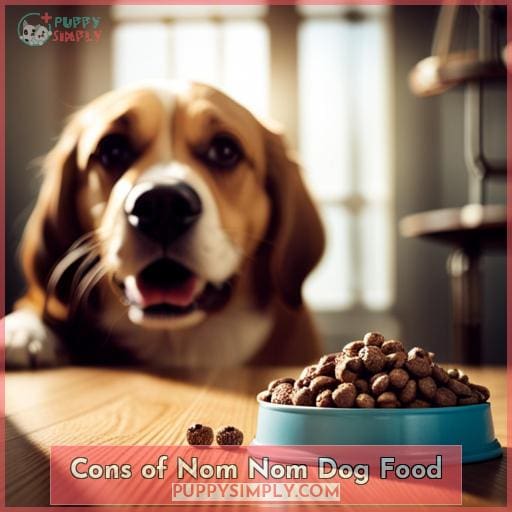 When considering Nom Nom Dog Food, it is important to be aware of a few potential downsides. Prices are higher than regular dog food but comparable to competitors. There are limited protein options and no fish-based option; furthermore, you cannot exclude specific ingredients from the meals.
Higher Prices
You may find that Nom Nom's prices are higher than regular dog food, but they're comparable to competitors. It's important to consider the cost comparison between fresh and traditional pet foods before making a purchase decision.
A value analysis of premium pricing should also be done in order to get an accurate picture of price considerations. Nutrient analysis reveals that the quality ingredients used by Nom Nom have greater nutritional benefits for your pup, making them more valuable in terms of nutrition per dollar spent on each meal.
All things considered, it is worth noting that even with its slightly elevated prices compared to other brands, customers can rest assured they're getting great quality food delivered right at their doorstep from one of the best subscription services available today!
Limited Options
With only four recipes to choose from, you may find yourself limited when it comes to providing your pup with varied and nutritious meals. While the ingredients in each recipe meet AAFCO standards for pet food, there is limited variety available.
Recipe selection is also inflexible since you can't exclude specific ingredients or customize portion sizes without customer support assistance.
Moreover, their pricing comparison can be higher than other dog food subscription services but still comparable depending on individual dietary constraints. So if you're looking for an alternative dog food delivery service that offers more flexibility and affordability options, then Nom Nom might not be the best choice for your pup's needs.
Inability to Exclude Ingredients
Unfortunately, you can't exclude specific ingredients from the meals offered by Nom Nom. This means that if your pet has any dietary restrictions or allergies, it can be difficult to tailor their meal plan appropriately.
However, all of the recipes meet AAFCO nutrient profiles and are formulated by pet nutritionists for balanced diets with optimal digestibility. Additionally, there is no history of recalls associated with any Nom Nom products, providing peace of mind when selecting a fresh food diet for your pup.
While ingredient selection may not be as customizable as some other food services, this trusted brand offers quality assurance and nutritionally sound options for most dogs' needs.
Certifications of Nom Nom Dog Food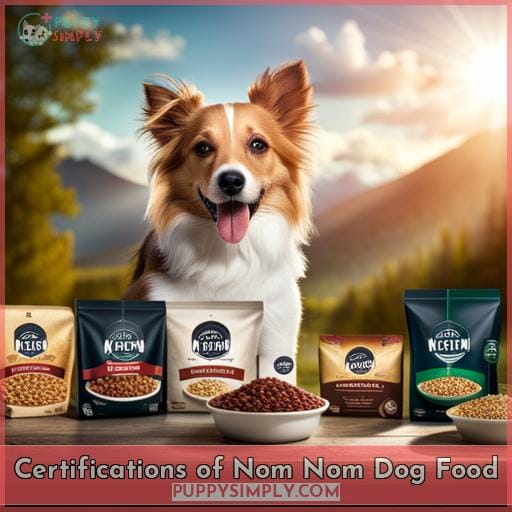 Certified by AAFCO and approved by veterinarians, Nom Nom dog food is an ideal choice for those looking to give their furry friends the best nutrition possible – after all, you get what you pay for.
The quality standards set forth in the AAFCO certification process are rigorous; this ensures that your pup's meals meet necessary nutrient requirements as well as other safety measures. All ingredients are carefully analyzed and tested before being included in any of their recipes.
This includes detailed information about each ingredient's nutrient content such as protein, fat-to-protein ratio, carbohydrates estimated at 38%, vitamins & minerals, etc.
Nutrient balance and digestibility have been recommended by a veterinarian due to its high-quality ingredients, which makes it a nutritionally balanced meal option compared to regular dry kibble diets.
With freshness assured through weekly preparation in small batches, recyclable packaging materials used along with free shipping on orders over $50 or more make it a viable alternative when considering switching from traditional store-bought kibbles to fresh wet food diet suitable for even the most finicky eaters.
Vet Opinion on Nom Nom Dog Food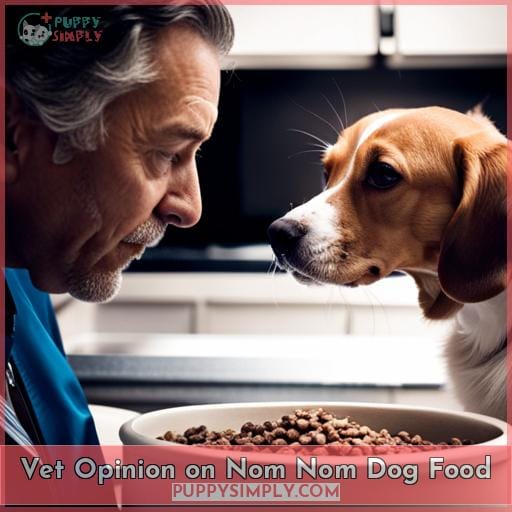 Veterinarians highly recommend Nom Nom's nutrient-balanced meals for your pup! This fresh dog food subscription service is formulated by Dr. Justin Shmalberg, a board-certified veterinary nutritionist who understands the importance of pet health and nutritional balance.
With ingredients like turkey as the first ingredient, brown rice as a complex carbohydrate, eggs with high biological value, carrots and spinach for nutrients, fish oil for omega-3 fatty acids, and taurine for heart health, it meets AAFCO standards.
The meals are carefully crafted into small batches in Tennessee & California to ensure quality control before shipping. Not only do these meals provide an excellent source of digestibility, but they also support overall well-being due to their diversity in microbiome.
Is Nom Nom a Good Dog Food?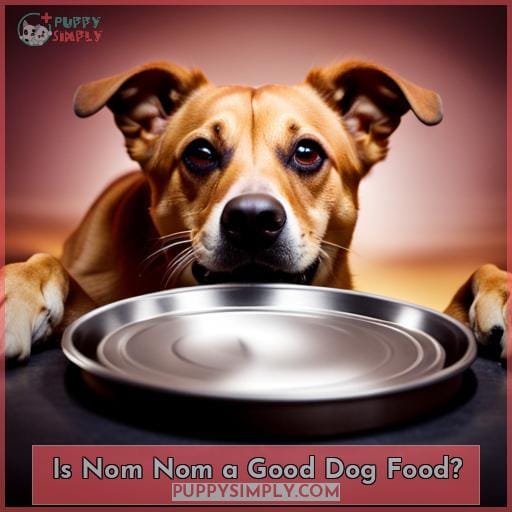 With its quality ingredients, AAFCO certification, and veterinarian-developed recipes, Nom Nom is an excellent option for pet parents looking to switch their pup to a fresh food diet. It's made with natural meats like turkey or beef, along with complex carbohydrates such as brown rice and eggs.
Chelated minerals are included for better absorption of nutrients, while fish oil adds omega-3 fatty acids that support heart health.
Prices are higher than regular dog food but comparable to competitors, making it affordable yet luxurious enough for the most discerning doggos out there—especially when you customize portion sizes according to your pup's needs! Plus, all packaging is environmentally friendly, so you can feel good about feeding your fur baby this delicious kibble without worrying about waste production.
Overall, Nom Nom provides a top-quality product backed by science and trusted reviews from customers around the country who swear by its grain-free, gluten-free goodness – just what your four-legged friend deserves!
Who Designed Nom Nom Dog Food?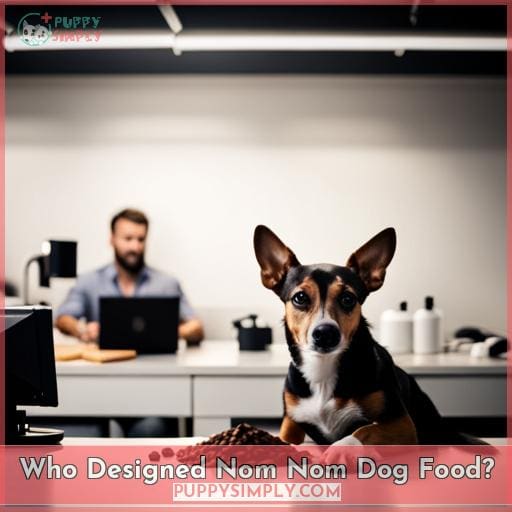 Nom Nom Dog Food was designed by a board-certified veterinary nutritionist, Dr. Justin Shmalberg, to provide your pup with nutritionally balanced meals. The food is made in small batches and carefully quality controlled before shipping across the US for convenient delivery right to your doorstep.
With four recipes – Beef Mash, Turkey Fare, Chicken Cuisine, and Pork Potluck – there's something for every dog's palate! Each recipe meets AAFCO guidelines for complete dietary requirements and has been recommended by veterinarians as highly digestible and nutrient-rich options that can support the overall health of dogs everywhere.
The ingredients are all-natural sourced from trusted suppliers, which makes it safe even for picky eaters who may still have some preferences when it comes to certain flavors or textures.
Benefits of Feeding a Fresh Dog Food Diet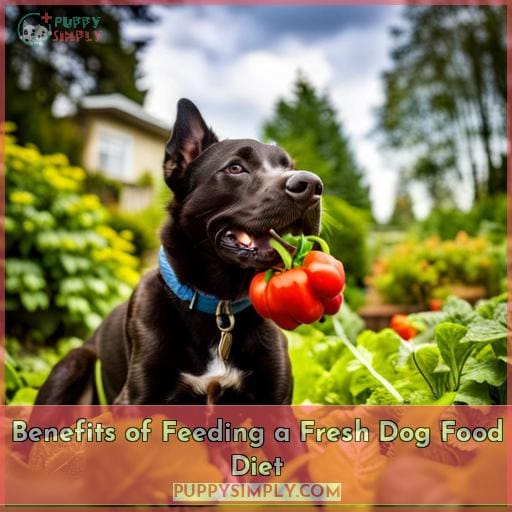 Switching to a fresh food diet for your dog can have numerous benefits, including improved digestion and absorption, support of overall health, and an ideal nutrient balance. Fresh foods are high in moisture content, providing essential hydration and energy while also promoting the growth of healthy bacteria within the gut.
Improved digestion and absorption.
By switching to Nom Nom's fresh food diet, you can help improve your dog's digestion and nutrient absorption. Nutrient-rich ingredients, such as fish oil, probiotic support, and a gut microbiome test, provide an abundance of benefits.
Digestive Health: Increased digestive enzymes reduce indigestion in dogs.
Nutrient Absorption: Improved digestive health leads to better absorption of essential nutrients.
Microbiome Benefits: A diverse microbiome supports overall pet health by providing beneficial bacteria for the body's immune system response.
Fresh Food Benefits: High-quality ingredients are free from synthetic preservatives, which helps promote long-term wellness among pets.
An improved diet will bring more energy and vitality into their lives!
Supports overall health.
Feeding your pup fresh food not only aids in digestion and absorption, but it also helps support their overall health. The diverse microbiome created by a fresh diet offers multiple advantages such as improved nutrient absorption, enhanced immunity, and better gut health.
Fresh foods are made using small batches with careful quality control for optimal nutrition. Plus, the Nom Nom Dog Food Review 2023 rated their recipes 5 stars! Their probiotics and microbiome test kit can help identify missing beneficial bacteria in your dog's gut while supporting pet wellness through probiotic supplementation.
With top-notch ingredients like turkey as the first ingredient, plus chelated minerals for better nutrient bioavailability and taurine to promote heart health, feeding your pup fresh food is worth every penny!
Ideal for fresh food diet
Switching your pup to a fresh food diet with Nom Nom can be an ideal way to support their overall health. Nutrient Analysis of the Turkey Fare recipe shows high protein, fat, and estimated carb levels.
Get free recall alerts for extra peace of mind when feeding your pet this fresh food option.
Feeding them quality ingredients that meet AAFCO standards is easy with Nom Nom's convenient delivery service, making it an ideal choice for those looking to switch up their pup's diet today!
Recall History and Free Recall Alerts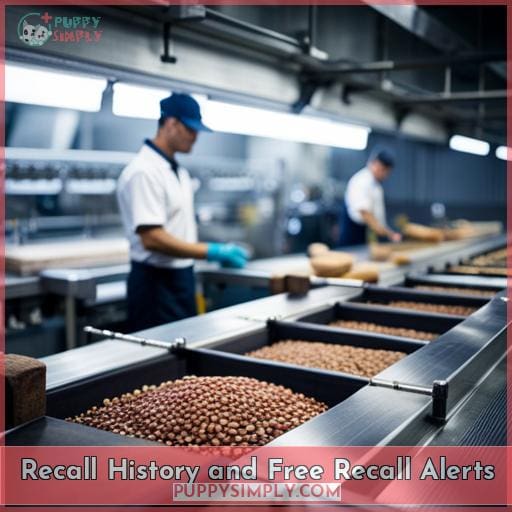 Enjoy peace of mind with Nom Nom's free recall alerts, so you can stay up-to-date on any changes to their high-quality recipes. With an excellent safety record and no recalls since 2009, the alert service allows pet parents to rest assured that their dog is receiving only the freshest food possible.
Through a comprehensive review process and stringent quality control measures, Nom Nom is able to keep track of all past issues related to pet food safety.
In addition to the recall alert service, customers also have access to a dedicated customer support team. This team is available to answer any questions or concerns about products or ordering processes.
They are committed to providing excellent service and ensuring customer satisfaction.
All in all, Nom Nom's system is designed to prioritize the health and well-being of your pup. With their commitment to quality and safety, you can trust that your dog is getting nothing but the very best meals every time.
Conclusion
Nom Nom Dog Food is the perfect choice for pet parents looking for a fresh food diet for their pup. It is made with high-quality, carefully sourced ingredients and created in small batches in Tennessee and California.
The food is held to the highest quality standards and its nutrient-rich recipes are formulated by Dr. Justin Shmalberg, a board-certified veterinary nutritionist. These recipes meet AAFCO standards for pet food.
Although the prices may be higher than regular dog food, the quality and convenience of the delivery more than make up for it. Plus, with the 30-day money-back guarantee and free shipping, Nom Nom is a no-brainer for those looking for a fresh and delicious dog food.