This site is supported by our readers. We may earn a commission, at no cost to you, if you purchase through links.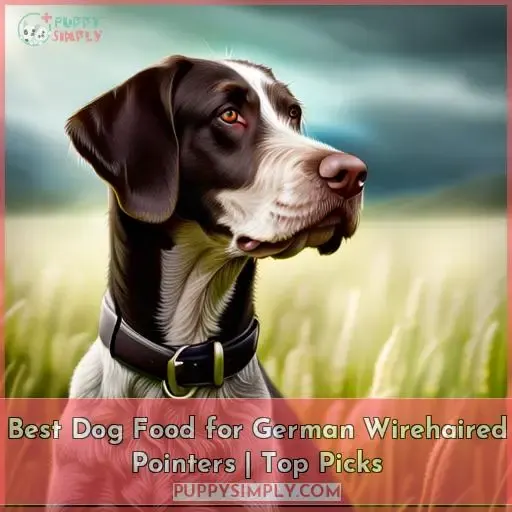 Are you looking for the best dog food for your precious German Wirehaired Pointer? This special breed demands a unique combination of nutrition and quality ingredients. To help make sure your pup gets all they need, we've researched 10 of the top-rated products on the market today.
From Orijen Dry Dog Food to Hills Science Diet Dog Food, our list has something suitable for every budget and dietary requirement.
Key Takeaways
High-protein options are recommended for German Wirehaired Pointers, such as Orijen Dry Dog Food and Stella Chewy's Chicken Patties.
Real meat ingredients are important in dog food for German Wirehaired Pointers, like American Journey Salmon Sweet Potato and Jinx Beef Brown Rice Sweet Potato.
Specialized diets, such as Royal Canin HP Diet, can be beneficial for German Wirehaired Pointers with sensitive stomachs.
Raw and freeze-dried options, like Primal Chicken Nuggets and Zignature Trout Salmon Meal, provide additional nutritional benefits for German Wirehaired Pointers.
Top 10 Best Dog Foods for German Wirehaired Pointers
If you own a German Wirehaired Pointer, you know that proper nutrition is essential for their health and well-being. Here are the top 10 best dog foods to provide your pup with complete and balanced nutrition: Orijen Dry Dog Food, Stella Chewy's Chicken Patties Freeze Dried Dog Food, American Journey Salmon Sweet Potato Dog Food, Primal Chicken Nuggets Dog Food, Zignature Trout Salmon Meal Dog Food.
1. Orijen Dry Dog Food
View On Chewy
If you're looking for a nutritious, grain-free formula tailored to the needs of your German Wirehaired Pointer, try Orijen Dry Dog Food – it's bursting with natural sources of protein and vitamins like a potluck! This biologically appropriate diet contains the first five ingredients made up of free-run chicken, turkey, flounder, whole mackerel, and chicken liver.
It also has fiber prebiotics and probiotics to support digestive health, as well as rich antioxidant ingredients that help boost immunity.
High in protein content
Grain-free formula
Taurine-containing formula
Supports immune health & digestion
Rich in antioxidant ingredients & fatty acids
Contains fiber prebiotics & probiotics
Expensive but may require smaller portions
Recent changes reported by some users
Transition period advised when switching
2. Stella Chewys Chicken Patties Freeze Dried Dog Food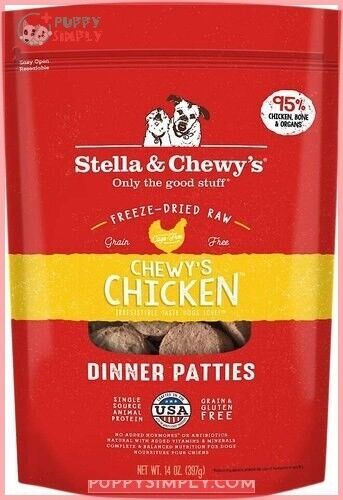 View On Chewy
Try Stella & Chewy's Chicken Patties Freeze Dried Dog Food to give your German Wirehaired Pointer a blast of protein and probiotics for digestion. Made in the USA with responsibly sourced ingredients, this premium food contains cage-free chicken as its main ingredient, plus organs, bone, certified-organic fruits, and vegetables.
It is perfect for adult dogs of all breed sizes due to its grain-free formula that also omits peas from the mix – making it suitable even for pug and bully breeds! Probiotics help facilitate healthy digestion, while vitamins support skin health so your pup can look their best.
Though customers have had positive experiences with Stella & Chewy's Chicken Patties Freeze Dried Dog Food overall, there have been some complaints about consistency issues such as hard or crumbly patties; inadequate packaging leading to dust formation; mixed feedback on flavor preference (some prefer other flavors); and quality decline over time (bags ripped open/patties rock hard).
Rehydration may improve texture, but be sure not to try out other flavors from this trusted brand if you find that your pup prefers them more than chicken.
Mimics the canine's natural diet
Suitable for all breed sizes, including small/medium/large
Formulated without fillers or artificial preservatives
Contains probiotics for better digestive health
Fortified with vitamins supporting skin health
Inconsistent patty texture
Quality has gone down over the years
3. American Journey Salmon Sweet Potato Dog Food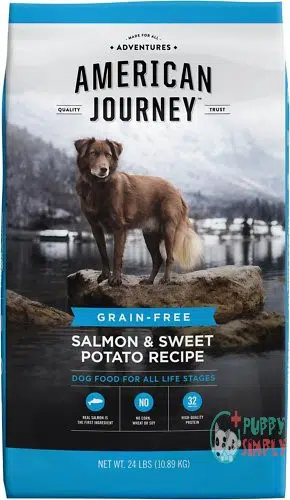 View On Chewy
American Journey Salmon Sweet Potato Dog Food is packed with essential vitamins, minerals, and antioxidants to promote skin health and energy in all breeds of dogs. Real salmon is the number one ingredient, providing high-quality protein for lean muscle development.
The grain-free formula also contains healthy carbs from sources like sweet potatoes, as well as omega fatty acids for a glossy coat.
This complete meal can be fed long term to adult dogs of small, medium, or large breed sizes without any fillers such as corn, wheat, soy, or poultry byproducts that could trigger allergies. Prebiotics are included for digestion, while probiotics support the immune system, making this an ideal diet choice for German Wirehaired Pointers who may have sensitivities due to their sensitive stomachs and often dry skin conditions caused by allergies.
Contains real salmon (#1 ingredient)
Grain-free recipe (no unnecessary ingredients)
Supports lean muscles & energy levels (high protein content)
Rich in Omega 3 & 6 fatty acids (for coat health)
May contain trace amounts of grains from processing facility
Produced in a facility that also processes grains
4. Primal Chicken Nuggets Dog Food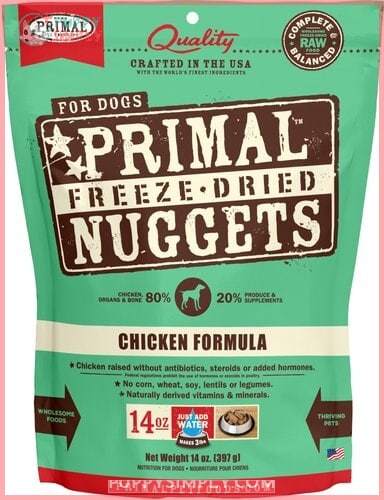 View On Chewy
You can give your German Wirehaired Pointer a nutrient-packed meal with Primal Chicken Nuggets Dog Food, made of antibiotic and hormone-free chicken meat and organs. This freeze-dried raw diet also contains certified organic produce, minerals, and unrefined vitamins for complete nutrition.
Customers have reported improved skin condition in their furry friends after switching to this food. Plus, its natural formula has been known to resolve grain allergies while improving coat health too.
Dogs enjoy the taste and eagerly eat it
Beneficial for dogs with grain allergies
Improved skin conditions in some cases
Can be used as a topping for other dog food
One user experienced severe diarrhea in their dog
Some occasional hard nuggets in the package
Mixed reactions when mixing with water
5. Zignature Trout Salmon Meal Dog Food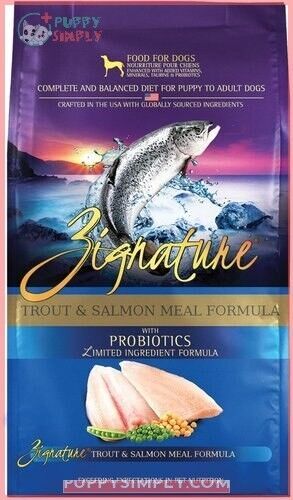 View On Chewy
This protein-packed meal from Zignature contains top-notch trout and salmon to give your pup the Omega 3s they need! The recipe is grain-free, gluten-free, and pea-free – perfect for dogs with food sensitivities.
A Small Bite version is available too – ideal if you have a smaller breed German Wirehaired Pointer at home. Rotational diets are also accommodated thanks to this trusted brand's offering.
Picky eaters may not take kindly to it, though; some customers report strong fish odors that can put off their beloved pet pooch! Plus, there have been reports of worsened allergies or occasional vomiting in some cases as well – so be sure to keep an eye out after introducing it into your dog's diet routine just in case any unwanted reactions occur.
Rich in omega-3 fatty acids & vitamin B12
Suitable for all breeds including pug & bully breeds
Fortified with probiotics for gut health
Available in Small Bite version suitable for smaller dogs
Trusted brand – great rotational diets
May be rejected by picky eaters
Strong fish odor could put off pets
Can worsen allergies or cause vomiting
6. Instinct Frozen Raw Beef Dog Food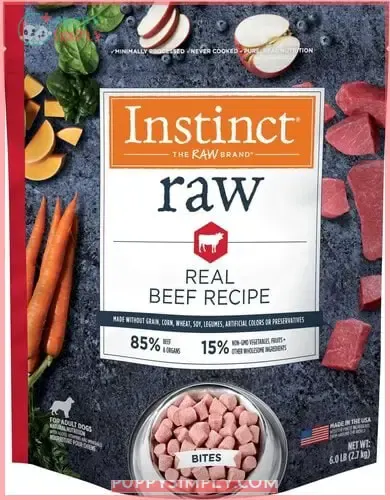 View On Chewy
Next on the list of top dog foods is Instinct Frozen Raw Beef Dog Food, which offers 85% meat and organs plus a blend of non-GMO fruits, veggies, vitamins, and minerals for complete nutrition. It is formulated to support lean muscle development as well as dental health and digestion in adult dogs of all breeds.
This natural raw food contains no fillers or artificial additives. It is frozen to maintain nutrients while being cold-pressured processed for safety, making it ideal for pups transitioning from a raw diet.
Plus, it comes in multiple flavors such as beef, lamb, or chicken, so there's something to please even picky eaters!
Fussy toy poodles love it
Good option if your pup prefers frozen food
Easy to serve when thawed
Variety bundle available
Helps with skin allergies & digestive issues
Exciting mealtime experience
Not suitable for all dogs' digestion
Some may be picky about taste & texture
Difficult to serve when still frozen
Quality issues with packaging/shipping
7. Royal Canin HP Diet Dog Food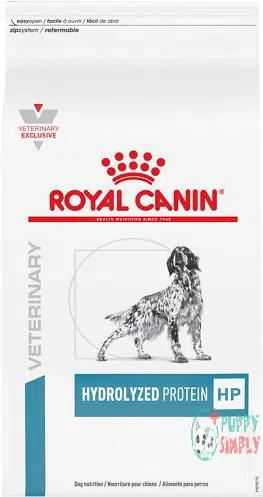 View On Chewy
With its hydrolyzed proteins and EPA/DHA fatty acids, Royal Canin HP Diet Dog Food provides a nutritious solution to digestive-related issues and skin sensitivities in adult dogs. Crafted with natural ingredients, vitamins, minerals, and amino acids for complete nutrition support, this veterinarian diet dry food is formulated with real chicken as the first ingredient.
It contains prebiotic fiber for healthy digestion plus rich sources of vitamin E and omega-6 fatty acids to promote skin health.
Highly palatable diet specifically designed for adult dogs
Formulated with hydrolyzed proteins to reduce immune reactions
Contains optimal B vitamins & amino acid blend supporting healthy skin barrier
Rich sources of Vitamin E & Omega 6 promoting coat & muscle development
Exclusive blend of fibers supports digestive systems
Worsened allergies reported by some customers
Occasional vomiting after switching foods
Some may not prefer the taste
Considered overpriced by some customers
8. Jinx Beef Brown Rice Sweet Potato Dog Food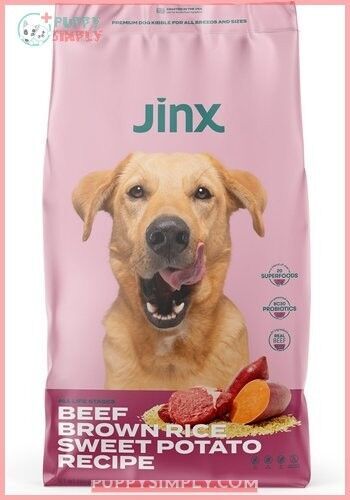 View On Chewy
Jinx Beef Brown Rice Sweet Potato Dog Food is a premium meal that packs in protein, vitamins, and minerals to support overall health and coat shine. It's made with real beef as the first ingredient, and it also contains whole-grain brown rice for balanced carbs and digestion.
Vitamin-rich sweet potatoes, pumpkin, and blueberries provide essential nutrients, while biotin and fish oil nourish skin health and muscle development.
Unlike other dog foods on the market today, Jinx does not contain any fillers like corn, wheat, or soy – just wholesome ingredients your pup will love! Dog owners who have switched their furry friends to this food report significantly improved energy levels in their pets, along with shinier coats from within! Stool consistency has been observed to be much better than before switching too – making this an ideal choice for pups suffering from digestive issues or sensitive stomachs alike.
And since dogs go crazy over its delicious taste, even picky eaters are known to happily chow down without hesitation when presented with Jinx's complete nutrition formula!
Real beef as the first ingredient provides high-quality proteins
Whole grains & sweet potatoes offer balanced carbs & vitamins
Biotin & Fish Oil boost skin health & muscle development
No fillers such as corn, wheat, or soy used in the recipe
Not suitable for puppies under one year old
Price may be an issue for some customers
May cause runny stools if transitioned too quickly
9. Blue Buffalo Adult Chicken Rice Dog Food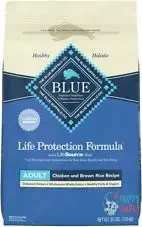 View On Chewy
You may want to try Blue Buffalo Adult Chicken Rice Dog Food, a nutritious blend of real meat and whole grains blended with essential vitamins for your pup's well-being. This high-protein formula is great for muscle development, while glucosamine helps keep their joints healthy.
It contains calcium and phosphorus for teeth and bones, as well as chelated minerals and antioxidants to support the immune system.
Some customers have had mixed experiences, however. Some dogs won't eat it due to its smell or texture changing after a few times of being served. Others claim there were issues with quality control in terms of consistency that led them not to purchase again.
Yet, other pooches experienced runny poop when they first started eating this food, but all seemed fine afterwards.
High Protein Formula – Great For Muscle Development
Contains Glucosamine To Keep Joints Healthy
Calcium And Phosphorus For Teeth & Bones
Chelated Minerals & Antioxidants Support The Immune System
Free From Corn, Wheat, Soy, Or Poultry By-Products
Mixed Reviews On Smell
Quality Control Issues Mentioned
Dogs Experienced Runny Poop After Switching
10. Hills Science Diet Dog Food
View On Chewy
Try Hills Science Diet Dog Food to provide your pup with complete and balanced nutrition, rich in vitamins, minerals, and amino acids. This adult formula is crafted with natural ingredients, plus real chicken as the first ingredient for protein-packed energy.
Prebiotic fiber supports healthy digestion, while Vitamin E and Omega-6 fatty acids promote skin health from the inside out.
Recommended by veterinarians, this nutrient-dense food comes in a variety of lifestage, breed size, or special diet options to fit every pup's needs.
User reviews are mostly positive. Some have seen improvements in their dog's energy levels, while others noted reduced vomiting due to sensitive stomach issues after switching over from other brands of food.
However, there have been reports that recent changes made to the product can cause weight loss, hair loss, or allergies. So, it may be best to keep an eye on your pet when introducing them to new foods, just in case they don't take kindly to it.
Crafted with natural ingredients
Contains prebiotic fiber for healthy digestion
Rich sources of vitamin E & omega-6 fatty acids
Variety of life stage/breed sizes/special diets available
Real chicken as the first ingredient
Recent changes caused negative reactions such as weight loss & hair loss
Not suitable for all dogs – some need additional supplements (e.g., canned chicken)
Can cause digestive upset if introduced too quickly
How to Choose Dog Food for German Wirehaired Pointers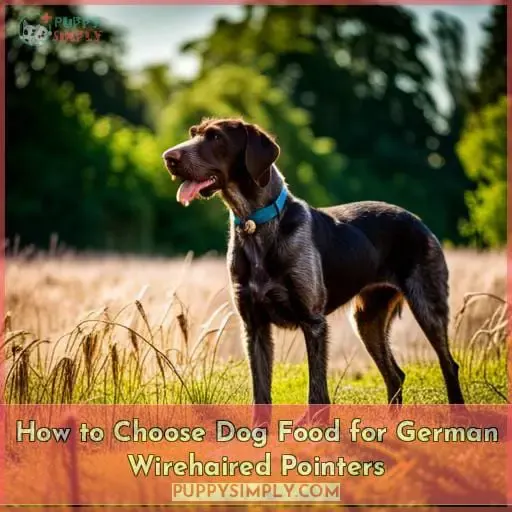 Choosing the right dog food for your German Wirehaired Pointer is an important decision. As a responsible pet owner, you should ensure that any food you choose has been evaluated and approved by the Association of American Feed Control Officials (AAFCO).
AAFCO-compliant foods are formulated to meet or exceed specific nutrient profiles based on age, size, and breed type. With this in mind, let's explore how to find the best dog food for your faithful companion.
Importance of AAFCO-compliant food
For the best health of your German Wirehaired Pointer, make sure to choose an AAFCO-compliant food that's tailored to their individual needs. This means looking for foods with AAFCO nutritional guidelines and high-quality ingredients.
Ensure pet food safety by following label accuracy standards and avoiding artificial preservatives or fillers like corn, wheat, soy. Select a product approved for all life stages. Trustworthy dog foods have proper levels of protein and fat, necessary vitamins and minerals in adequate amounts, a balanced calcium/phosphorus ratio, an appropriate amount of fiber, and adequate moisture content.
Consider age and activity
When considering a diet for your German Wirehaired Pointer, it is important to take into account their age and activity level. This will ensure that they receive the necessary nutrition. For GWP puppies, it is crucial to provide them with food that has higher protein levels compared to adults.
Feeding them an adult formula could be harmful. Adjust the meals accordingly if your pup is young and active. On the other hand, if they are older or less active, reduce the portions to maintain their weight.
Dietary adjustments can also be made to support health issues such as allergies or seizures while still meeting the nutritional needs of dogs of any age. The feeding guidelines may vary depending on the breed size. However, they generally consist of high-protein meats, fruits, and vegetables.
It is important to provide fresh water at all times, especially when your dog is exercising.
If you are looking for specific foods that are suitable for GWPs, you can read up online and consult with a vet before making any changes to your beloved pooch's diet plan.
Transitioning dog food gradually
Slowly transitioning your German Wirehaired Pointer's food over a period of four weeks can be like steering a ship in the right direction, ensuring optimal nutrition and digestion. Gradual transitions allow for nutritional considerations such as age-appropriate diets for puppies or allergy management.
Consider consulting with your veterinarian to determine the best diet for your pup's individual needs and health factors.
When making dietary changes, it's important to make sure that all nutrients are present in their new food source. This will help avoid any potential stomach upset caused by abrupt switches between brands or types of dog foods.
A gradual transition process should take place over 4 weeks so that both puppy diet and adult diets have ample time to adjust accordingly while still providing adequate nourishment during each stage of development.
German Wirehaired Pointer-Specific Dog Food Qualities to Look For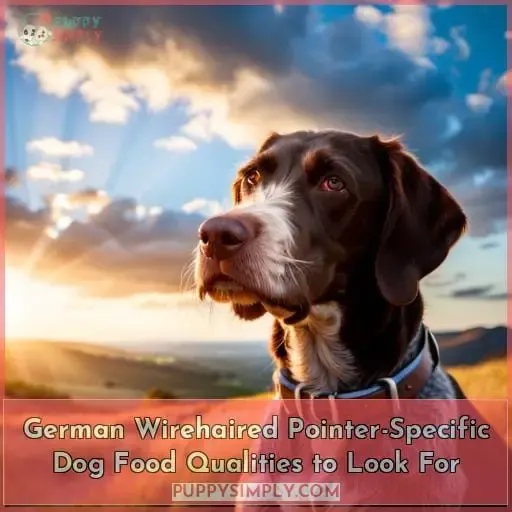 Considering your German Wirehaired Pointer's dietary needs? Look for dog food that contains quality sources of protein, healthy fats, vitamins, and minerals to keep them strong and active.
Nutritional Considerations: Make sure the product is formulated with specific proteins tailored to meet the nutritional requirements of your GWP. Also, consider their age. Puppies require higher levels of protein than adult dogs do.
Protein Requirements: Look for foods that contain high-quality animal proteins like chicken or salmon as the first ingredient. These should be followed by other nutrient-dense ingredients like fruits and vegetables, which provide essential antioxidants such as vitamin A & C along with fiber.
Allergy Management: If you have a pup prone to allergies, opt for formulas free from potential allergens such as grains or soy. This way, they won't risk having an adverse reaction due to consuming those ingredients in smaller amounts over time.
To properly nourish your German Wirehaired Pointers, choose high-quality foods made from premium meats rich in omega fatty acids, providing joint health support, plus natural whole foods offering antioxidant benefits! Keep calorie intake balanced relative to weight management goals when supplementing treats into meals.
Additionally, look into hypoallergenic options catering towards sensitive stomachs if needed, avoiding common allergens found within certain brands. Overall, ensure proper nutrition through AAFCO compliant formulas meeting all life stages, including puppies transitioning onto solid diets gradually without upsetting tummies.
German Wirehaired Pointer Food Calorie Requirements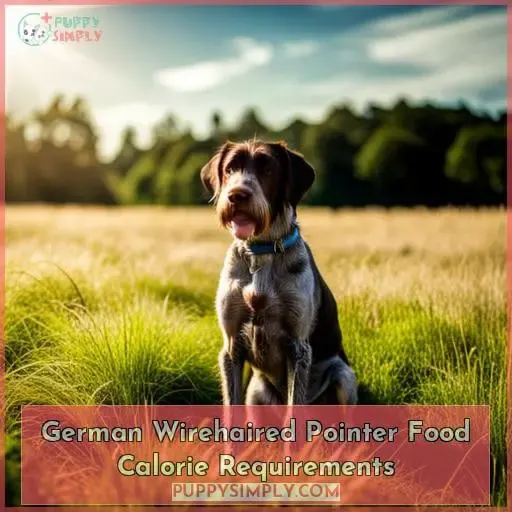 To keep your energetic German Wirehaired Pointer in top form, you'll need to ensure they get the right amount of calories for their lifestyle – like pouring fuel into a race car. The ideal calorie requirement will depend on factors such as age, weight, exercise regimen, and overall health.
A good rule of thumb is that puppies should consume 22% protein while adult food should range from 18-26%. So, look out for these guidelines when choosing food brands. If you're unsure about how much your pup needs daily, it's best to consult with a veterinarian or do some research online using tools such as Dog Food Finder, which can help calculate calorie requirements based on individual breed sizes and activity levels.
Beyond just providing enough energy through calories, there also needs to be an appropriate balance between proteins, fats, and carbohydrates depending on the age group. Too little or too much can lead to issues ranging from obesity and diabetes all the way up to malnutrition and stunted growth rates in pups if not fed properly over time.
Weight management is essential, especially if your pet has any pre-existing medical conditions, since even small amounts of excess fat could worsen them significantly.
With proper nutrition combined with regular physical activity, you'll have a happy, healthy hound ready for whatever life throws at it!
How to Switch German Wirehaired Pointer Dog Food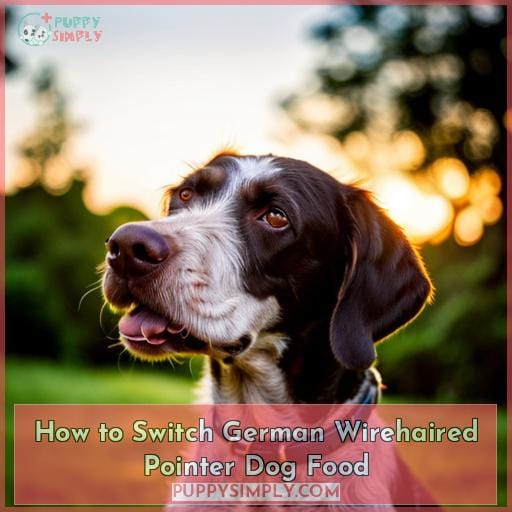 When switching your German Wirehaired Pointer's food, transition gradually over four weeks to help avoid stomach upset. Start by researching the best dog foods for German Wirehaired Pointers and evaluating their ingredients.
Consider excellent ingredient sourcing and nutrient-rich formulas tailored to meet the needs of this active breed. Also, look out for any health conditions or food sensitivities that may require specific dietary changes from a nutritional consultation with your veterinarian.
Slowly introduce small amounts of new food into their daily meals while still offering some of the old diet as well. This will help them adjust without experiencing digestive discomfort or other adverse reactions due to changing diets too quickly.
Monitor them closely during this time period for any signs such as vomiting or diarrhea, which could indicate an intolerance towards certain ingredients in a particular formula you've chosen and may require adjustments.
Be sure to use fresh drinking water when transitioning between diets, especially if increasing exercise levels. Hydration is essential when supplying these energetic dogs with enough energy throughout each day! To ensure proper nutrition is provided at all times, consider factors like age, weight/size, and activity level before purchasing any type of brand name dog food.
Health Dietary Changes in German Wirehaired Pointers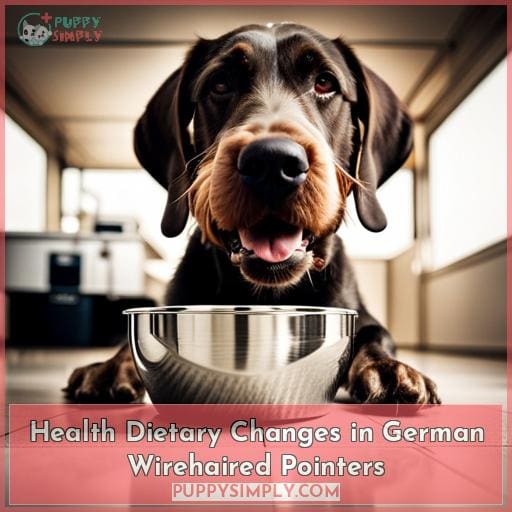 It's important to consider health dietary changes for your German Wirehaired Pointer, such as introducing high-protein and vegetable-based foods, to keep them fit as a fiddle. If your GWP has dietary allergies or sensitivities, you should focus on finding limited ingredient dog food that is specifically designed for their needs.
For weight management purposes, you may want to opt for a lower calorie diet with added fiber or nutritional supplements like omega acids and probiotics.
In addition to the proper nutrition plan tailored just right for GWP's diet needs, exercise routines must also be kept in mind when considering the overall health of these dogs.
As long as regular meals are supplemented properly with sufficient exercise routines plus any additional vitamins prescribed by veterinarians, rest assured knowing that this breed can stay happy and active all year round through various stages of life.
This is thanks in part to having solidified an appropriate health dietary change plan over time.
Conclusion
It's amazing how a German Wirehaired Pointer can go from hunting and retrieving a duck from the lake to snuggling up with you on the couch in a matter of minutes. To ensure your lovable, active pup stays healthy and happy, it's important to provide the proper nutrition.
With so many different dog food brands on the market, it can be tough to decide which food is best for your German Wirehaired Pointer. The top 10 best dog foods for German Wirehaired Pointers offer the proper nutrition for all life stages, with high-quality ingredients tailored to meet their needs.
From Orijen Dry Dog Food to Hills Science Diet Dog Food, these brands are AAFCO-compliant and provide the necessary protein sources, calorie requirements, and health dietary changes.
By selecting the right food, you can help your German Wirehaired Pointer achieve optimal health and happiness.