This site is supported by our readers. We may earn a commission, at no cost to you, if you purchase through links.
Oatmeal is one of the most efficient ways to nourish your dog's skin. Dog Oatmeal Shampoo nourishes, soothes, moisturizes, and keeps your dog's coat and skin healthy.
Bathing your dog is part of every good grooming routine. It helps eliminate that pesky dog ​​odor and removes excess oil and dirt from the dog's coat.
Looking for the best oatmeal shampoo for dogs but couldn't find the right one. Do you have a lot of shampoos from seen the oatmeal type but not sure if they work?
Animal hair comes in many types, lengths, and thicknesses. Your pet's skin texture is as varied as ours and is equally sensitive to dryness, detergents, and allergies.
Like humans, dogs can be very itchy. Persistent allergies – and associated scratching – can lead to atopic dermatitis, chronic inflammation of the skin that is very common in dogs.
In fact, you and your dog can be allergic to the same things: pollen, animal dander, plants, and insects are some of the most common irritants in dogs, according to PetMD.
Oatmeal shampoos for dogs are an excellent choice for pets with sensitive skin, but they are often lumped in with all the other shampoos, and it isn't easy to compare different brands to find the best one.
Fortunately, we've taken the hard work off our hands in choosing one. I have put together this comprehensive guide to the best oatmeal shampoos for dogs.
We've also included a buyer's guide to oatmeal shampoo for dogs outlining what these shampoos should do and what ingredients they should contain – we'll see how to tell the difference between a high-quality dog ​​shampoo and a scam.
Benefits of Oatmeal Shampoo for Dogs
The oatmeal shampoo has several health benefits for a dog's skin: it relieves itchy and dry conditions by nourishing, calming, moisturizing, moisturizing, softening, and thoroughly cleansing the skin.
Here are some additional benefits of using oatmeal shampoo for dogs:
Relieves itchy and dry skin: Oatmeal has anti-inflammatory and antioxidant properties that soothe skin irritation and itching.
Soothes skin sensitivity: It soothes flaky, dry, and itchy skin. It also relieves skin redness and soothes inflammation.
Hydrates and moisturizes your pet's skin: Colloidal Oatmeal moisturizes through a slow release of nutrients that provide long-lasting hydration to the skin.
Soothes and cleans the dog's coat: The completely natural and nutrient-rich ingredient restores the coat's shiny and healthy appearance.
How to find a Good Oatmeal Shampoo for Dogs
let's take a look at oatmeal shampoo and see if we can figure out the perfect shampoo.
Ingredients
The first thing to know about dog shampoos is that they are not all made equal. Ideally, you want to choose an all-natural or hypoallergenic shampoo that is 100% natural. It should be specially formulated for use on dogs. These products are mild and gentle. For your dog's skin and are also great for grooming your pet's coat.
Oatmeal has been proven to relieve itchy skin, but it has many other benefits, but it is not the same form of oatmeal found in your cereal. We are talking about "colloidal" oatmeal.
Oftentimes, the other ingredients are just as needed as the oatmeal. Ingredients such as aloe vera, vitamin E, shea butter, chamomile, tea tree oil, and many other natural ingredients can improve your shampoo's effectiveness.
Unfortunately, there are also many. Harmful ingredients such as parabens, synthetic dyes, alcohol, sulfates, and petroleum. These ingredients are harmful to your pet and can also be difficult to clean.
Colloidal Vs. Regular Oatmeal
Since we are talking about oatmeal-based dog shampoos, it makes sense to start with the difference between regular and colloidal oatmeal.
Colloidal Oatmeal: Colloidal Oatmeal is a whole grain of oatmeal that is ground into a fine powder. This fine powder contains many nutrients beneficial to the skin, including lipids that replenish oils and prevent further dehydration. Beta-glucan is another nutrient that acts as a moisturizer. Cream works. There are also many antioxidants in ground whole oat grains.
Plain oatmeal: Regular oatmeal may or may not be a whole grain of oat. It is common in many foods to remove the bran from the oats. The bran is almost always removed. The bran part of the oats contains many important skin-healing nutrients, so it is vital to use the whole oats.
Best Oatmeal Shampoo for Dogs Reviews of 2023
Let's take a look at the ten brands of oatmeal shampoos for dogs that we have reviewed for you.
1. John Paul Oatmeal Dog Shampoo
View On AmazonJohn Paul Pet Sensitive Skin Formula Oatmeal Shampoo for Dogs is made from vegetable and plant extracts, it not only cleanses your dog and leaves his coat feeling soft, but it can also help reduce itching and flaking.
Despite coming out of the well-known human hair product manufacturer John Paul, its low cost and great results make John Paul Pet Sensitive Skin Formula Oatmeal Dog Shampoo the best oatmeal shampoo for dogs for the money and wash out quickly. It is sure to make your dog's coat looks and feels good.
However, if you use almond oil as a natural scent, you will not get the fresh, clean dog scent that many people are looking for. The lack of harsh chemicals makes this shampoo suitable for sensitive skin and for dogs who otherwise suffer from itching after washing and washing.
Natural ingredients
Good for sensitive skin
Prevents itching and soothes itchy skin
Inexpensive
Lathers well
2. Zesty Paws Oatmeal Shampoo
View On AmazonZesty paws a wide variety of dog products and supplements. This anti-itch oatmeal formula is great for dogs with sensitive skin. Many puppies with skin issues get skin irritation, so they can't stop scratching. Zesty Paws helps solve that with oatmeal, aloe vera, and vitamin E to keep your dog's coat and skin nice and smooth. It also contains almond extract, which is used to keep the skin in condition.
The aloe vera contains antifungal and antibacterial properties that can help eliminate hot spots. It has a soft vanilla scent, which will be pleasant for both your dog and householders. That your puppy has a glossy coat while shedding is reduced and your dog's coat health is improved.
We love that the product is made in US laboratories. The formula is designed to clean and condition the coat, detangle long hair and moisturize your pet's skin. The shampoo is very easy to remove. Rinse after your dog's bath is complete.

Budget-friendly.
Aloe vera soothes the skin.
Anti-itch formula.
Light vanilla scent.
Helps neutralize hotspots.
Anti-fungal and antibacterial properties.
Great for dogs of all ages.
3. Pet Pleasant Lavender Oatmeal Pet Shampoo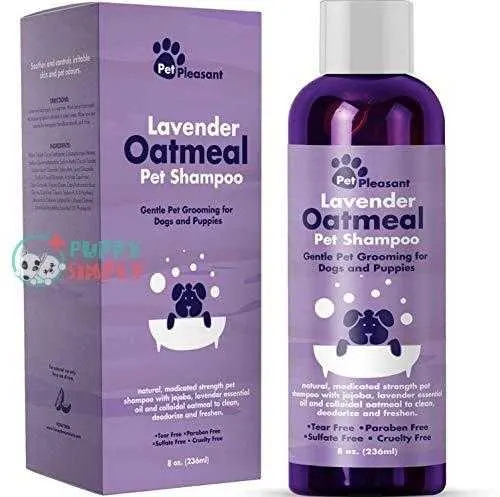 View On AmazonThis lavender-scented shampoo smells great and can also help your dog relax while bathing. Ground oatmeal gives relief to your dog's dry, itchy skin. It's clinical potency, sulfate, parabens, cruelty, and tears, and the vet recommended. I am thrilled with how clean their dogs smell and the quality of the ingredients.
Helpful Review: "I love the lavender scent of this puppy shampoo. It's soft, and it makes her coat soft and helps her itch less. I also like that it's not super perfume-like and that she smells like a clean puppy instead of a drugstore perfume when she comes out of the bath!"

Budget-friendly.
Lavender oil to soothe the skin.
Jojoba helps with dry skin irritation.
It softens the skin and softens the coat.
Cruelty-Free.
Without parabens and sulfates.
Not a tear formula.
4. Burts Bees Oatmeal Shampoo for Dogs
View On Amazon
No one likes to get a drop of shampoo in their eyes, and puppies are no exception. Luckily, Burt's Bees Tearless Puppy Shampoo with Buttermilk has a mild formula that won't irritate your dog's eyes while bathing, so they smell great too. It's free of sulfates and dyes and contains buttermilk to soften the skin. Balanced formula helps to prevent your puppy's skin from drying out, while the addition of honey, "this is a Burt's Bees product after all," helps hair follicles retain moisture for healthy growth.
Customers write that their puppies don't have experienced some irritation when using Burt's Bees Tearless Puppy Shampoo with Buttermilk, even if it gets in their eyes. The fragrance is on the subtle side, which some owners appreciate but still deodorize effectively, lathering well leaves coat soft and shiny after use.
Colloidal oatmeal
pH balanced
No fragrances
Veterinarian recommended
Natural formula
Light lather
5. Prkt Oatmeal Dog Shampoo
View On AmazonPets Are Kids Too was created as a natural alternative to the harsh chemicals in some shampoos and uses all-natural ingredients to soothe your dog's skin. The itch-relieving ingredients of shampoo contain organic oatmeal, baking soda, and aloe vera. Some have said their pets smell a bit like oatmeal cookies after a bath.
Helpful Review: "Our dog is suffering from allergies and lately has the excessive itching that comes with it., We exfoliate and wash him with this shampoo/conditioner. We notice a significant change in his itchy spots and his coat as a whole. He comes out of the bath really soft and smells GREAT even better!"
Anti-itch formula
Anti-bacterial and anti-fungal
Tearless
FAQs About Oatmeal Shampoo
In this section of our guide, we'll answer some of the questions most commonly asked by people who buy dog ​​shampoos. If you can't find the information you're looking for, ask your question in the comments box below.
Is oatmeal shampoo bad for dogs?
In general, oatmeal shampoos are good for dogs, but if the dog is particularly allergic to the shampoo ingredients, it is best to check if they are present before purchase.
Oatmeal is a natural skincare ingredient, too. Although a dog's pH level is different from that of humans, their shampoos should take the pH into account and be extra gentle to relieve their hot spots and allergies.
The benefit of oats is used successfully for many current applications. Here are oatmeal shampoos that meet your dog's needs, leaving their coat restored and their skin feeling itch-free.
What happens if you don't bathe your dog enough?
If you don't bathe your dog often enough, the natural oils produced by your pet's skin can build up, leaving the coat feeling greasy and causing that nasty doggy odor that all dog owners know all too well about themselves. It can help prevent skin problems that a build-up of dirt can cause.
What does oatmeal shampoo do for dogs?
Oatmeal Shampoo softens and cleans your dog's coat and skin. Since oatmeal can reduce itching, soothe irritation, reduce inflammation, and moisturize the skin, it is a great ingredient to add to dog shampoo.
Colloidal Oatmeal Contains saponins and lipids that act as natural cleansers. The avenanthramides have anti-inflammatory and antioxidant properties that act as a shield to protect their skin.
How often should I bathe my dog?
How often you bathe your dog will depend on your skin's age, coat type, and health. As a general rule of thumb, most dogs will benefit from taking a bath at least every three months. Skin conditions will benefit from more frequent washing with an appropriate dog shampoo.
Can you wash a dog with baby shampoo?
Dr. Cary Waterhouse of Lake Union Veterinary Clinic recommends that it is safe to use a gentle, clear, unscented baby shampoo to wash most dogs. Baby shampoo is suitable for dogs because it is formulated to be very mild and gentle on a baby's sensitive, delicate skin. However, it is better to use a dog shampoo for your dog rather than anything else.
Final Thoughts
Always use a dog-specific shampoo when it comes to bathing your dog. Human shampoo is not suitable for dogs as it is too harsh on a puppy's sensitive skin. In no time, you'll be able to use super mild baby shampoo to wash your dog, but a good dog shampoo is the best option.
We hope you liked our list of the best oatmeal shampoo for dogs. Hopefully, our buyer's guide will provide you with the knowledge you need to be confident with your next oatmeal shampoo.
If these reviews have helped you, share them with your friends.
References
doggiedesigner.com
simplyoatmeal.com
loveyourdog.com