This site is supported by our readers. We may earn a commission, at no cost to you, if you purchase through links.
Are you overwhelmed by the persistent stench of your pet's odors in your home? You're not alone. Our furry friends bring us joy, but their smell can be a real headache – like trying to put out a forest fire with a water pistol! Don't despair; there is hope yet.
With the right air freshener for dog smells, you can turn that smelly mess into sweet-smelling success.
Key Takeaways
Use natural solutions such as baking soda, enzymatic cleaners, essential oils, and air purifiers to combat dog odors caused by bacteria.
Choose natural air fresheners like charcoal bags, fragrance-free sprays, and products without harsh chemicals to eliminate dog smells.
Replace air fresheners regularly according to the instructions provided, with gels lasting a few weeks and diffusers lasting months to a year.
Consider top-rated products like NonScents, Moso Natural Purifier, Arm & Hammer Powder, and Simple Solution Stain Remover for effective odor removal.
Top 10 Best Air Fresheners for Dog Smell
Finding the best air freshener for dog smell can be a challenge, but luckily there are several great options available. Whether you're looking to absorb odors with baking soda or deep clean with steam cleaners, NonScents Cat Litter Deodorizer, Moso Natural Air Purifier, and Arm & Hammer Pet Fresh Carpet Powder are just some of the top choices that will help eliminate pet odors in your home.
Renuzit Pure Breeze Air Freshener and Angry Orange Pet Odor Eliminator offer pleasant scents without harsh chemicals, while MOOKA's HEPA filter purifies air from pet dander and dust. Rocco Roxie Stain & Odor eliminator spray is perfect for spot cleaning accidents, as well as Hamilton Beach TrueAir Purifier, which offers three powerful filtration stages.
For added freshness, One Fur All Candle Vanilla is made from non-toxic materials, while Simple Solution Cat Stain odor remover tackles tough stains on carpets and upholstery, leaving behind a pleasant scent afterwards.
Simple Solution Cat Stain Odor Remover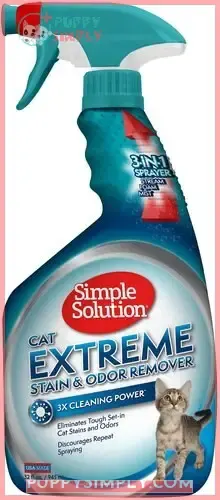 View On Chewy
Experience powerful odor elimination and stain removal with Simple Solution Cat Stain Odor Remover, a professional-strength cleaning solution that breaks down, neutralizes, and permanently removes cat messes.
Designed for carpets, upholstery, bedding fabric, and other water-safe surfaces, this 3-in-1 nozzle sprayer has foam, mist, and stream settings to provide maximum cleaning power. It is also certified gentle enough to use on cats or kittens, as well as being effective against pet vomit, urine, or blood stains, leaving a pleasant odor afterwards.
Whether you're dealing with set-in stains from old accidents or just need something quickly after an unexpected surprise, there's no question that Simple Solution does the job better than any enzyme cleaner out there, making it the preferred choice for those dealing with IBD issues in cats too! The small brush included helps scrub out tough spots without damaging fabrics, while not adding any strong perfume smells either, meaning your home will smell fresh but natural after each use.
Extremely effective at eliminating odors & removing tough stains
Safe to use around pets when following directions
Small brush included helps clean without damaging materials
Some find the spray scent unpleasant
Takes multiple applications over time for tougher problems
Not recommended if used near birds due to fumes
Moso Natural Air Purifier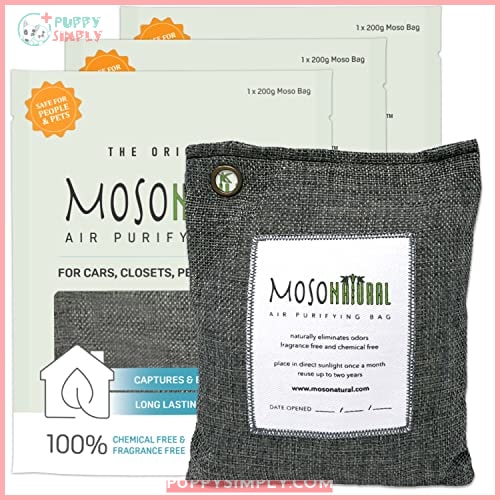 View On Amazon
Try the Moso Natural Air Purifier Bag – it's bamboo charcoal freshens your home like a breath of fresh air! Made with the highest quality moso bamboo charcoal, this air purifying bag covers 90 sq ft and lasts up to two years when regularly rejuvenated in sunlight.
It's an effective and natural way to remove odors, moisture, and pollutants from the air without using any chemicals or fragrances. The non-toxic alternative can be hung anywhere around your house for maximum effectiveness.
After it has served as an efficient odor remover for two years, you can even use it as plant fertilizer! Not only is this product useful, but it is also decorative, which makes it perfect for any home décor.
Non-toxic & chemical-free
Covers 90 sq ft & lasts 2 years with regular rejuvenation
Efficient odor remover decorative object
Must be regularly rejuvenated in sunlight
Not effective on strong odors
NonScents Cat Litter Deodorizer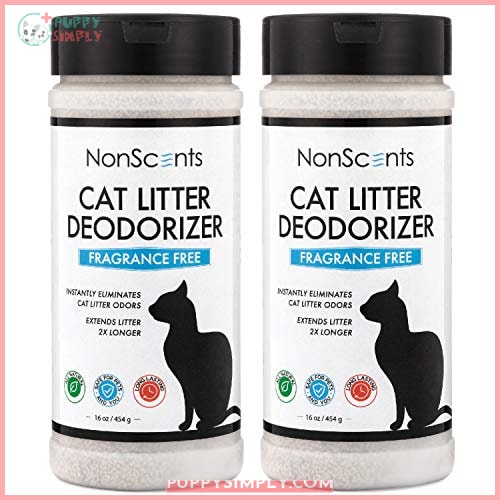 View On Amazon
NonScents Cat Litter Deodorizer is a great option for odor elimination in multi-cat households. It works well on wood pellet litter and helps extend the life of the litter. This fragrance-free, odor-eliminating product comes in a 2 count package with dimensions 5.
It does not contain any harsh chemicals or fragrances that can irritate cats' sensitive noses. However, it still manages to effectively eliminate odors while leaving behind no residue after use.
Eliminates odors, fragrance-free
Easy sprinkle application
Extends the life of cat litter
Initial chemical smell dissipates quickly
May need more than one bag
MOOKA Air Purifier Bedroom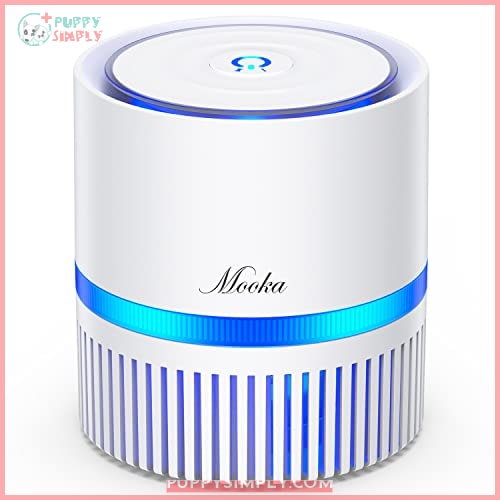 View On Amazon
The MOOKA Air Purifier Bedroom is a top-notch option for purifying the air of odors and pollutants, leaving your home smelling as fresh as a daisy. It comes equipped with a three-stage filtration system, complete with a True HEPA filter to capture dust, pollen, and pet dander.
Its 360-degree air intake and discharge ensure full room circulation, while its 50 cubic meters per hour on normal mode make it efficient in removing bad smells like cigarette smoke or cooking smells from any living space.
With its modern design that fits into any décor and easy single-button control operation, this product is one of the best choices for anyone looking to keep their homes odor-free without harsh chemicals or aerosols.
3-stage filtration system including True HEPA filter
360-degree air intake & discharge ensure full circulation
50 cubic meters/hr on normal mode removes odors effectively
Sleek design that fits all decor styles
Easy single-button control operation
Can be expensive compared to other options available
Not suitable for larger spaces such as warehouses
Renuzit Pure Breeze Air Freshener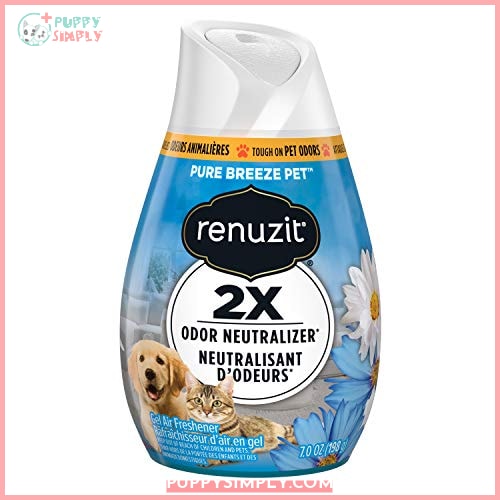 View On Amazon
Renuzit Pure Breeze Air Freshener is a battery-powered air freshener with adjustable fragrance levels and notes of apple, jasmine, lily of the valley, cucumber, and pear. It's a 98% biodegradable gel that works well in small spaces like bathrooms, closets, or near kitchen sinks without requiring batteries or outlets.
Its scent isn't overpowering but still strong enough to effectively mask pet odors. It is preferred by those sensitive to strong scents. The product lasts long when used infrequently, making it an ideal choice for areas prone to odors.
It also provides good value for its price point, despite not lasting very long with regular use.
Adjustable fragrance levels
Non-toxic & eco-friendly materials
Not suitable for large rooms
Doesn't last very long with regular use
Scent may be too light
Rocco Roxie Pet Odor Eliminator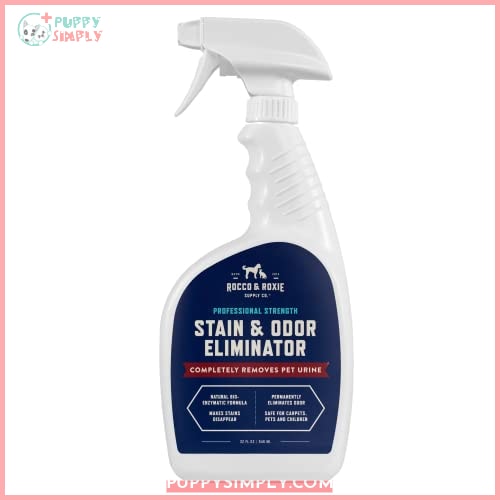 View On Amazon
Rocco Roxie's Pet Odor Eliminator is a godsend for pet owners, conquering odors with its insanely powerful enzyme-based formula that will leave your home smelling like never before! Certified gentle and safe by the Carpet and Rug Institute (CRI), this chlorine-free product contains no hazardous propellants or residue.
Whether you're dealing with cat urine stains on carpeting or dog vomit on furniture, Rocco Roxie can help eliminate the mess as well as associated odors without any harsh chemicals. Reviewers have reported success in eliminating both cat and dog smells while also discouraging re-soiling of areas by their furry friends.
Though many are pleased with results from this odor eliminator, there are still some who find the smell too strong lingering after application, which may bother sensitive noses. But overall, customers agree this is one of the best solutions out there when battling pet-related smells.
Conquers tough pet odours effectively
Safe to use around cats/dogs & children
Chlorine-free & certified gentle/safe
May require extra time for full activation
Smell may be too strong afterwards
More expensive than some other options
One Fur All Candle Vanilla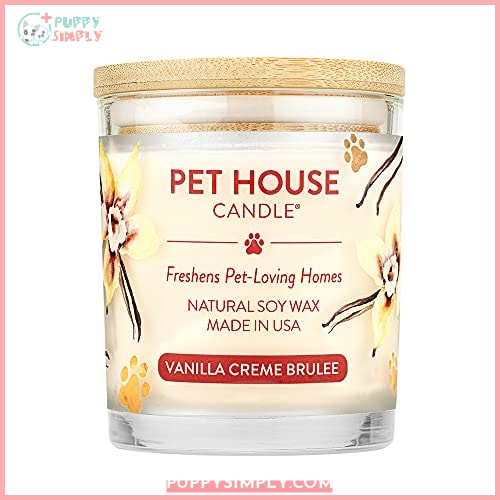 View On Amazon
Try One Fur All Candle Vanilla for a pet-friendly, non-toxic scent that'll last you up to 60 hours. This 3.5W x 4.5H jar candle is made of eco-friendly and non-toxic materials like soy wax and lead-free cotton wicks – no paraffin, dyes, phthalates, or formaldehyde here! The vanilla crème brûlée scent adds a nice touch to any room without being overpowering or too strong, like some other candles on the market can be.
Pet-friendly & Non-Toxic Materials
Variety of Scents Available
Reusable Jar After Finished
Long Burn Time
Satisfaction Guarantee
Cracked Jars due to Amazon Packaging
Strong Scent Like Men's Cologne
Black smoke/soot when low
Arm Hammer Pet Fresh Carpet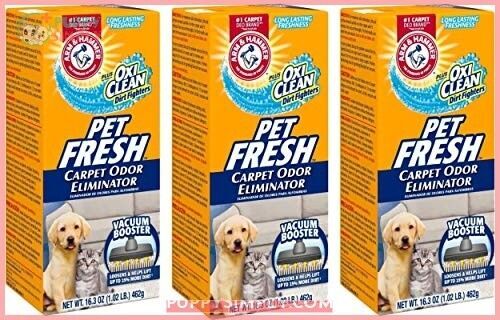 View On Amazon
Arm & Hammer Pet Fresh Carpet quickly and effectively eliminates odors from pets, smoke, mold, and mildew while leaving your home smelling fresh. It comes in a pack of three 48.9 oz boxes that help to lift pet hair, dirt, and debris when vacuuming.
Reviews confirm it is a trusted brand with over 30 years of use. Many customers report improved sleep quality as well as reduced dust buildup after using the product regularly for carpet cleaning purposes.
This powerful odor eliminator has several advantages. It's easy to use with a permanent pre-filter for maximum efficiency. It leaves behind a pleasant scent. Low maintenance costs make it an economical choice.
However, there are some cons worth considering. The overwhelming baby powder scent at first can be bothersome, but it fades away eventually. There are also concerns about half-empty or resealed boxes, which may put off potential buyers.
Overall, Arm & Hammer Pet Fresh Carpet is an effective odor eliminator that helps keep carpets clean while providing freshness without strong scents or harsh chemicals.
Easy to use with a permanent pre-filter for maximum efficiency
Leaves behind a pleasant scent
Low maintenance costs make it economical
Certified gentle safe by CRI
Overwhelming baby powder smell at first
Concerns about half-empty/resealed boxes
Hamilton Beach TrueAir Purifier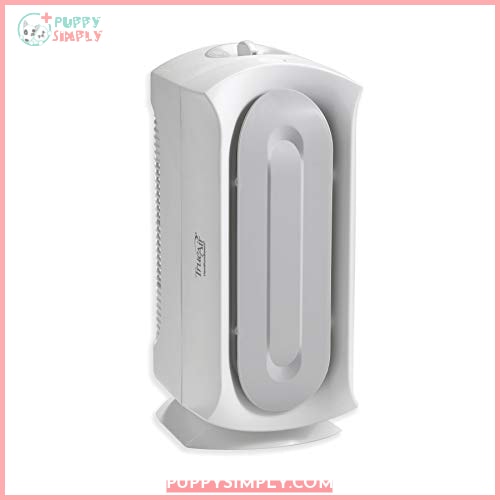 View On Amazon
The Hamilton Beach TrueAir Purifier works quickly and efficiently to reduce pet dander, odors, dust, and other airborne particles from your home. It offers three powerful filtration stages with a permanent pre-filter for capturing pet hair and large particles.
It also has replaceable carbon zeolite filters for reducing odors. Additionally, it has a permanent HEPA-grade filter capable of capturing 99% of 3 micron or larger particles.
This air purifier is whisper quiet yet powerful enough to clean rooms up to 160 sq ft in size. The unit can be used vertically or horizontally depending on the available space, making it perfect for small areas like bedrooms, offices, or nurseries.
Customers report noticing an immediate reduction in dust buildup as well as improved sleep quality due to its Whisper Clean setting.
Reduces pet dander & odor
Captures 99% of 3 microns airborne particles
Quiet operation – Whisper Clean setting
Low maintenance & operating cost
Fits easily into small spaces
Must vacuum out pre-filter regularly
Replace carbon zeolite filters every 3 months
Not suitable if room size >160sq ft
Angry Orange Pet Odor Eliminator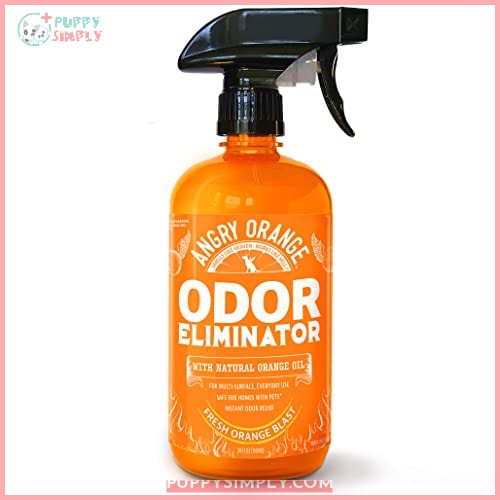 View On Amazon
You'll love the citrus scent and powerful odor elimination of Angry Orange Pet Odor Eliminator. It's perfect for getting rid of pet odors in tile, upholstery, garbage cans, and cars. This multi-purpose spray is ready to use straight from the bottle with no mixing required.
Just shake and spray liberally on affected areas. The orange peels provide a strong yet pleasant smell that will last long after it's been applied.
With its concentrated formula, a little goes a long way. One bottle can make an entire large room smell fresh again! For best results, you should let it dry completely before vacuuming or using other products nearby.
This ensures your home stays smelling great without any harsh chemical smells lingering around pets or children.
Powerful pet odor eliminator – little goes a long way
Citrus scent from orange peels
Ready to use – no mixing required
Cats/birds sensitive to ingredients
Spray bottle issues (drips instead of mists)
Porous surfaces like slate less effective
How Pet Odors Cause a Big Stink

It's time to take back control of your home from pet odors. Not only are they unpleasant, but they're also a sign that something is wrong with your pet-proofing efforts. Knowing how and why odors form can help you fight them more effectively and keep the air in your home fresh and odor-free.
Here's what you need to know about pet odors:
Odor-causing bacteria grow quickly when exposed to warm temperatures, moisture, proteins (like urine), or organic matter (like feces).
To combat these smells, use odor-neutralizing products like baking soda on furniture or carpets before cleaning; enzymatic cleaners for spot treatments; essential oils for light scenting; air purifying bags or diffusers near litter boxes; NonScents Cat Litter Deodorizer for litter boxes; MOOKA Air Purifier Bedroom; Rocco Roxie Pet Odor Eliminator spray; One Fur All Candle Vanilla, etc.
Before using any product around pets, make sure it's non-toxic because some fragrances can be harmful if inhaled by animals.
Vacuum regularly, keep windows open for fresh airflow, and brush the teeth of pets as bad breath spreads easily.
With an understanding of where odors come from—and a few simple tricks—you can battle those pesky dog smells without harsh chemicals.
Types of Pet Odor Eliminators

Discover the perfect pet odor eliminators to keep your home smelling fresh and clean! Pet odors can come from a variety of sources, such as urine, feces, food spills, and other accidents. With an odor guide in hand, you can identify the sources of these smells quickly so that you know what type of product works best.
An air freshener is one solution, but for more powerful pet odor elimination, there are many different options available. Odor eliminators like Simple Solution Cat Stain Odor Remover break down stains while leaving a pleasant scent behind.
The Moso Natural Air Purifier Bag uses activated bamboo charcoal to remove odors. NonScents Cat Litter Deodorizer is fragrance-free and helps extend litter life. The MOOKA Air Purifier Bedroom has efficient HEPA filters for removing dust and dander without ozone emission.
Renuzit Pure Breeze Air Freshener provides adjustable scents with no outlets required—all safe around pets! Rocco Roxie Pet Odor Eliminator tackles tough stains plus odors with its enzyme-based formula, while One Fur All Candle Vanilla leaves a sweet vanilla crème brûlée aroma in any room safely (without toxic chemicals!).
Unexpectedly discover how easy it is to find exactly what you need today!
Pet Odor Eliminator Buying Guide

Choosing the right pet odor eliminator for your home can be tricky, but with a little knowledge and some trial and error, you can easily find one that works best for you – it's like 'a needle in a haystack'!
Natural solutions are great because they don't contain harsh chemicals. Look out for fragrance-free room sprays, air purifiers to remove pet dander and dust from the air, carpet cleaners or shampoo specifically formulated to tackle dog odors, or stain removers.
NonScents Cat Litter Deodorizer is ideal because its natural zeolite formula neutralizes litter box odors safely without any scent. Rocco & Roxie Stain & Odor Eliminator Spray uses enzymatic bacteria to fight tough stains and smells.
Finally, Arm & Hammer Pet Fresh Carpet Powder helps absorb odors and stains simply by sprinkling it on furniture and carpets, then vacuuming up – easy peasy cleaning routine!
Frequently Asked Questions (FAQs)
How often should I replace my air freshener?
It depends on the type of air freshener you use. Gel-based ones should be replaced every few weeks, while diffusers and purifiers may last several months to a year depending on usage.
Are there any health risks associated with using pet odor eliminators?
Generally speaking, pet odor eliminators are safe to use. However, it's important to read the instructions carefully and follow all directions for your safety. Be aware of any allergic reactions you may have due to certain ingredients in the product.
Always wear appropriate protective gear as suggested by the manufacturer when using these products.
Are air fresheners safe to use around cats and birds?
Air fresheners are generally safe to use around cats and birds, as long as they are non-toxic. Look for natural products that avoid harsh chemicals and aerosols – such as Moso Natural air purifying bags or NonScents Cat Litter Deodorizer – for a refreshing scent while still keeping your pets safe.
What are the best ways to prevent pet odors from occurring in the first place?
To prevent pet odors, vacuum carpets and floors often to remove fur, brush pets daily for dander control, bathe them regularly as recommended by a vet. Use odor absorbers like baking soda overnight; air purifiers with HEPA filters can reduce allergens and dust.
Avoid aerosol fresheners; choose natural non-toxic options safe around cats and birds.
Are there any pet odor eliminators that are safe for use on carpets and upholstery?
Yes, there are! The Simple Solution Cat Stain and Odor Remover and the NonScents Cat Litter Deodorizer are both safe for carpets and upholstery. The Moso Natural Air Purifier Bag is a natural, chemical-free option that works well too.
MOOKA's air purifier is great for bedrooms, while the Renuzit Pure Breeze freshener can be used in small spaces like closets or bathrooms.
Conclusion
With the many options for eliminating pet odors, it can be difficult to determine which one is best for your home. Fortunately, the top 10 air fresheners for dog smell can help provide the perfect solution.
From the Moso Natural Air Purifier to the NonScents Cat Litter Deodorizer, all of these odor eliminators offer a safe and non-toxic way to keep your home smelling fresh without the use of harsh chemicals.
With a few simple steps, you can easily find the perfect air freshener to keep your home smelling pleasant, even with pets in the house. Don't let pet odors cause a stink in your home, get the best air freshener for dog smell today.