This site is supported by our readers. We may earn a commission, at no cost to you, if you purchase through links.
As you and your pup take on the challenge of paddling together, it's imperative to find an SUP that will accommodate both your needs.
But never fear, we've got just what you need as we present our 2023 list of Best Dog-Friendly SUPs.
So if it's time for boarding bliss between man's best friend and yourself then let's get started by exploring what makes a great stand up paddleboard perfect for fur friends everywhere.
Key Takeaways
Stability is key when choosing a dog-friendly SUP.
Inflatable SUPs provide more grip and stability than solid boards.
Durability is important for withstanding outdoor adventures.
Train your dog on land before taking them on the water.
What Makes a Great Dog-Friendly Stand-Up Paddleboard (SUP)?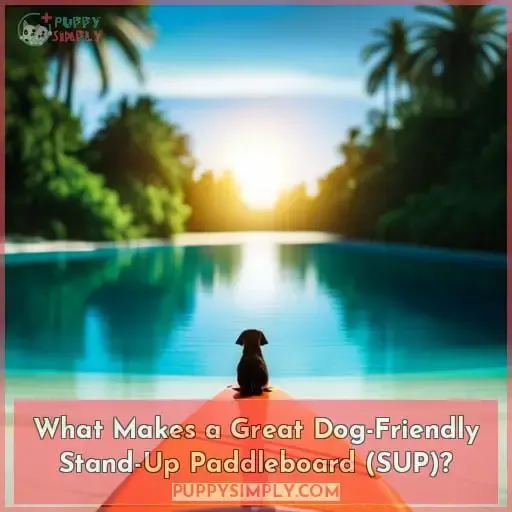 When choosing a dog-friendly stand-up paddleboard, or SUP, stability, deck pad space, and durability are key. With the right board, you can ensure your pup has a safe and enjoyable ride; one that is stable enough to stay upright in choppy water while providing ample room for your furry friend to move around on.
Stability
When paddling with your pup, stability is key – look for boards with a wider base and rounder shape to ensure balance. Accessories like dog PFDs and dry bags are essential, along with land training before taking them on the water.
Inflatable SUPs also provide more grip and stability than solid boards due to their larger weight capacity. Bungee cords can be in the way for dogs but can be removed if necessary. Consider size when choosing a board; small pups don't need much space whereas medium-large breeds may require an 11′ or longer board plus traction pad.
Deck Pad Space
You need plenty of deck pad space when paddleboarding with your pup, so choose wisely. Look for boards that are wide and have a full-length traction pad to ensure stability and balance. Make sure the board has enough weight capacity to support both you and your pooch, as well as any accessories needed during the bonding time on the water.
Consider factors such as size, shape, and style of the board – all important considerations when selecting a SUP for dogs! Be sure to also look into training tips before taking out onto open waters.
Durability
Durability is key when looking for a SUP to bring your pup on the water, so make sure it can withstand any outdoor adventures. Look for sturdy boards that won't dent or break easily with their weight capacity and board shape.
A rounder shape and wider base provide more stability, as does having a long traction pad that helps dogs grip the board in choppy waters. Bungee cords are great storage solutions, but they can be in the way of your pup's movement, so remove them if necessary.
What Do You Need Before Paddling With a Dog?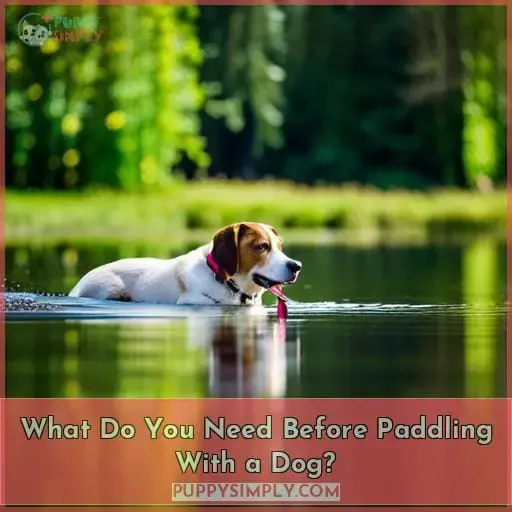 When planning to take your pup out on the water paddleboarding, it's important to make sure you have all the necessary items before hitting the waves. A dog PFD (Personal Flotation Device) is essential for safety should your pup end up in deep water, as well as a dry bag for keeping things like treats and toys safe from getting wet.
Dog PFD (Personal Flotation Device)
Outfitting your pup with a personal flotation device (PFD) is an absolute must when it comes to paddleboarding with them, so you can rest easy knowing they're safe and sound. Look for PFDs made of military-grade material that provide buoyancy in the water and adjustable straps to fit any size dog comfortably.
A weight capacity should also be considered depending on the combined weight of the owner plus pet.
Don't forget other safety items such as a waterproof leash and collar, or even dog-friendly sunscreen! All of these things will help make sure paddling with your pup is worry-free – just remember to practice proper training techniques before heading out onto the water!
Dry-bag
A dry-bag is a great way to keep your belongings safe and secure while paddling with your pup. Choose one that's waterproof, lightweight, and durable enough for the water activity you plan to do.
It should include items like:
Waterproof leash – an essential item when taking Fido out on the board.
Training tips – important for teaching commands before getting into open waters.
Weight capacity of bungee cords – so they can hold all necessary supplies without adding extra weight or pressure on the board.
Heat signs from the dog need to be monitored closely, as well as bringing along towels after each paddle session, which will come in handy if either you or the pup gets wet!
Investing in a quality dry bag, such as MyBote Breeze Board or iRocker Cruiser Inflatable Stand Up Paddle Board, is wise since it's designed specifically for SUP pups! Others like Hala Rado Inflatable Stand Up Paddle Board are also ideal due to its features such as high-quality material, easy inflation process, and soft traction pad perfect for keeping them comfortable during long rides.
Dog-friendly Sunscreen
Protecting your pup from the sun is essential when paddling, so using a pet-friendly sunscreen like Epi-Pet K-9 Sunscreen SPF 30 with its FDA-compliant formula will provide up to 8 hours of protection.
My Dog Nose Sun Balm is also great for beach trips; it's water-resistant and formulated with natural ingredients.
Don't forget SUP accessories such as waterproof leashes and collars for safety on the water!
A dry bag can be used to store towels, snacks, treats, or other items you may need while paddleboarding with your dog.
With training and practice in SUP commands plus proper equipment, you'll have an enjoyable time out on the water!
How to Stand Up Paddle Board With Large Dogs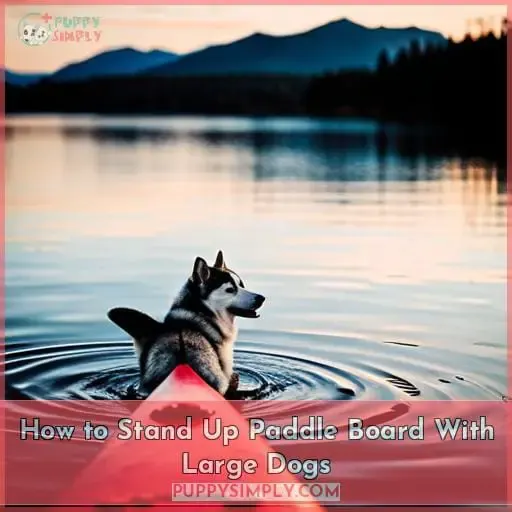 When SUPing with large dogs, stability and weight capacity are key to ensure a safe experience for both you and your pup. Training is also essential; use rewards-based methods to teach basic commands like sit or stay.
For added grip, look for boards with long traction pads or cover the area of the board where your dog will stand with an extra layer of protective material.
Be sure to consider heat safety too—keep plenty of water on hand and watch out for signs of overheating in your pup!
The Nixy Monterey offers supreme stability along with double-chamber construction that can handle up to 400lbs combined weight, making it perfect even when paddling multiple dogs together! Plus, its repair kit ensures no worries about potential puncture issues from claws going wild on board.
This inflatable option easily stores away into a bag when not in use – which makes transporting just as easy as using it!
When choosing any paddleboard for larger breeds, make sure that they have enough room to move comfortably while still being able to stay balanced – especially during choppy waters such as ocean waves and windy days at the lakefronts – all without sacrificing storage space either!
Overall, training plus performance features like these guarantee happy times spent outdoors on one's own terms!.
How to Choose an Inflatable SUP for Your Pup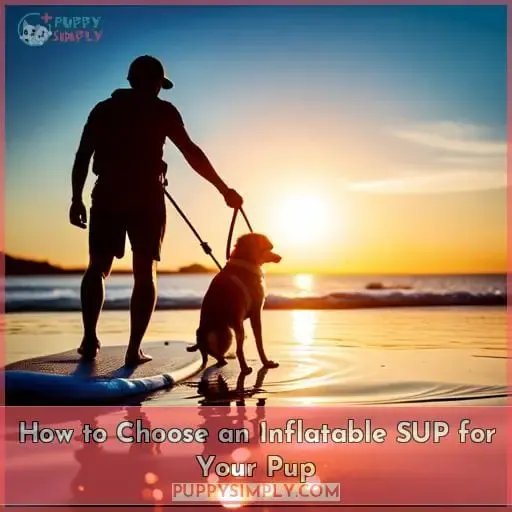 Choosing an inflatable SUP for your pup can be a daunting task. When considering the board's shape and design, size, deck pad, and deck considerations all play into achieving the best experience with your dog.
Not only does it need to provide enough stability for both of you but also have features that make paddling comfortable for them too! From surface grip to bungee cord storage options, there are many factors to consider when selecting the perfect SUP board for both of you.
The Board's Shape and Design
It's important to consider the shape and design of the board when choosing an inflatable SUP for your pup. Is a rounded shape with more width best? A rounder shape offers more stability, while slits or diamond grooves in the traction pad provide grip.
PVC material gives it durability, and bungee cords can be removed if needed. Weight capacity should also be considered as some boards only support up to 250 lbs.
Land training is key for safety. Treats help reinforce commands on water too! Different shapes and sizes offer varying levels of both stability and maneuverability. Shorter length doesn't necessarily mean less stable! Inflatable SUPs are great options due to their portability, affordability, and dependable quality.
Size
You'll want to consider the size of your pup when choosing an inflatable SUP for them. Small dogs don't require much space, but medium-sized pups may need more stability with a wider and longer board. To make sure they stay safe on the board, look into Dog PFDs and Dry Bags as well as dog-friendly Sunscreen to protect their fur from UV rays while paddling.
Training is also important when paddleboarding with your pet. Start by teaching commands on dry land before heading out onto open water! When looking at boards, check if there are bungee cords that can get in the way or be removed if necessary.
Note shape and size too. Try Gili Komodo 10'6 for smaller breeds or 11'2 Hero Sup Crusader for bigger dogs depending on skill level.
Deck Pad and Deck Considerations
When choosing an inflatable SUP for your pup, consider the deck pad and other deck features to provide a comfortable experience. The right board should have enough traction for both you and your dog's safety on choppy water.
Your pup will need room to move around, so look out for a full-length deck pad that matches their size.
Deck accessories like bungee cords can be removed if they interfere with movement, while waterproof leashes and collars are essential items when it comes to sun protection or repair kits in case of damage during transport.
Consider Isle Pioneer's Inflatable SUP, which utilizes Fusion Layered technology that is lightweight yet durable; perfect for any adventures with your furry friend!
What Are the Best Paddle Boards for Dogs?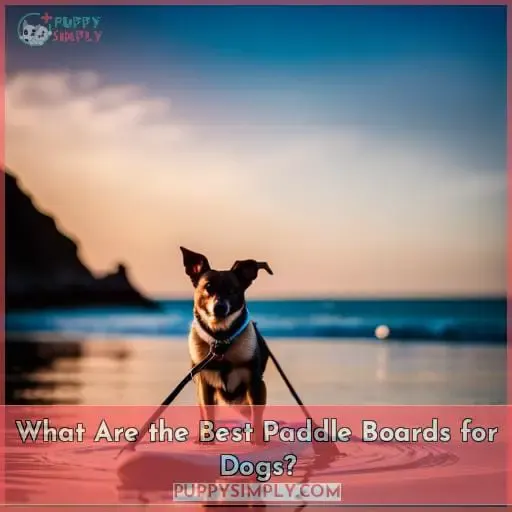 When looking for the best paddleboard for your pup, there are a few key factors to consider: stability, weight capacity, size, and price. These should all be taken into account when selecting the right SUP. Recommended boards include the Bote Breeze Aero Inflatable Stand-Up Paddleboard with Paddle, iRocker Cruiser Ultra 2.
0, and Gili Komodo 10'6 – offering stability and comfort while providing ample space on deck pads for dogs of all sizes.
Factors to Consider
You need to consider factors such as size, weight capacity, stability, and price when selecting the perfect paddleboard for your pup. After all, a good set-up can make or break your experience! Training is key; get them used to commands both on land and in water.
Look for boards with adequate widths of 31+ that provide the balance and stability needed by larger breeds. Bungee cords may be inconvenient, but they can easily be removed if necessary. Soft traction pads help prevent slipping, while an air pump ensures it's always ready quickly.
The Bote Aero 11'6 Full Trax has grooved deck padding plus enough room for multiple pups.
Recommended Paddle Board Options
Discover the perfect paddleboard for you and your pup – one that's sure to bring a smile of joy to both your faces! Consider essential safety tips such as dog life jackets, waterproof leashes, and collars, and PFDs.
Ensure proper training with positive reinforcement techniques on land before taking them out into open water.
Board shape matters; wider boards are more stable, while rounder shapes provide better balance when paddling with large dogs.
Look at board options like Bote Breese Aero Inflatable Stand Up Paddle Board With Paddle or ROC Inflatable Stand Up Paddleboard – they offer stability, portability, and affordability all in one package!
Low-impact activity provides fresh air and exercise for both the human and canine companion – what could be better?
Frequently Asked Questions (FAQs)
Are there any dogs that should not paddleboard?
No, all dogs can paddleboard with the right board and safety precautions. However, small breeds may be better suited for a smaller board, while larger breeds require more stability and space to ensure they don't fall into the water.
What kind of leash should I use for paddleboarding with my dog?
When paddleboarding with your pup, a waterproof leash and collar are essential. Look for one made of durable materials that will withstand water and heavy use. Make sure the length is adjustable so you can adjust it accordingly depending on conditions or how much room your dog needs.
Are inflatable paddle boards safe for dogs?
Inflatable paddleboards are generally safe for dogs, providing stability and grip that solid boards can't match.
Are there any special safety precautions I should take when paddleboarding with my dog?
Paddleboarding with your dog requires special safety precautions. Make sure you have a personal flotation device, a waterproof leash and collar, and a dog life jacket for each of you. Land training is also important to ensure commands are understood before hitting the water.
Are there any other accessories I should consider buying for paddleboarding with my dog?
When paddleboarding with your pup, consider getting a dog life jacket, waterproof leash and collar, PFD for yourself, and towels to dry off.
Conclusion
If you're looking for a great way to bond with your pup while enjoying the outdoors, then SUPing with them is the perfect way to do it. With the right board, you can have a safe and fun experience. When choosing the best paddle board for your dog, try to consider factors such as size, weight capacity, stability, and price.
An inflatable SUP is a great option for dogs due to their portability, stability, and affordability. If you want a stable and comfortable board with plenty of deck pad space, then the Gili Komodo 10'6 is a great choice.
For larger dogs, the HERO SUP Crusader 11'2 and Thurso Surf Max Multi-Purpose are good options.
Don't forget to bring a dog life jacket, waterproof leash and collar, and a PFD for yourself. With the right board, training, and safety items, you and your pup can have a great time paddling together.