This site is supported by our readers. We may earn a commission, at no cost to you, if you purchase through links.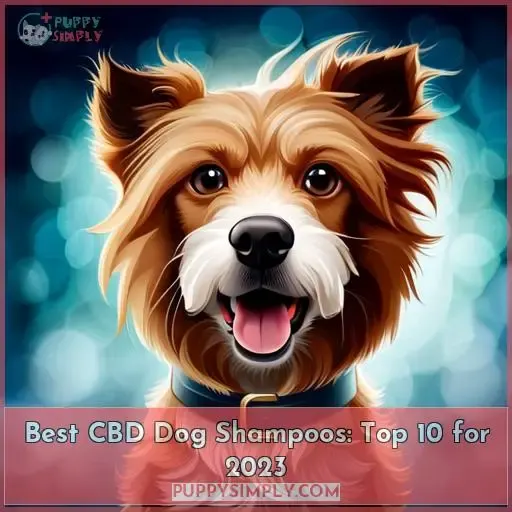 Are you looking for the best CBD dog shampoos to keep your pup's skin and coat healthy? You've come to the right place. We've compiled a list of 10 top-rated products that will keep your pup's fur soft, soothed, and moisturized.
From NaturVet Hemp Dog Shampoo Conditioner Argan Coconut, Burt's Bees Dog Shampoo Hemp Calming to Organic Hemp Oil Dog Shampoo – we have reviewed them all!
Not sure how CBD shampoo works in dogs? Don't worry; we'll explain everything from what it is and why you should trust us when it comes to finding the right product for your pooch.
Key Takeaways
CBD dog shampoos provide relief from skin issues and itching while promoting a healthier, shinier coat.
When choosing a CBD dog shampoo, it is important to check for third-party lab testing and ensure it contains CBD and not just hemp seed oil.
Hemp-based shampoos are allergy-friendly, eco-friendly options that can nurture sensitive skin and leave a fresh, pleasant scent.
It is advised to avoid using human CBD shampoo on dogs as they may contain ingredients harmful to pets.
10 Best CBD Dog Shampoos
CBD dog shampoos are becoming increasingly popular due to their natural benefits. NaturVet Hemp Dog Shampoo Conditioner Argan Coconut, Burt's Bees Dog Shampoo Hemp Calming, Particular Paws Hemp Shampoo, OleyHemp Dog Shampoo, Puppy Allergies Itching shampoo, and more provide an array of options for pet owners looking to give their fur babies the best in grooming care.
1. NaturVet Hemp Dog Shampoo Conditioner Argan Coconut

View On Chewy
You can give your pup a luxurious spa experience with NaturVet's Hemp Dog Shampoo Conditioner Argan Coconut, which combines the soothing benefits of hemp seed oil and coconut oil for a clean coat that will have them feeling like royalty.
This 2-in-1 shampoo and conditioner is formulated by veterinarians in an FDA audited, cGMP compliant facility in the USA.
It features a pleasant lemon verbena scent to delight their senses while providing relief from skin conditions or allergies. The hemp seed oil helps soothe irritated skin and reduce itching, while argan oil adds moisture and shine to the coat without weighing it down.
Users report positive feedback on its effectiveness at moisturizing dry skin as well as reducing odors such as fish smell after using this product regularly – all without harsh chemicals or added fragrances!
Suitable for dogs with various coat types including curly or no undercoat
Mild & effective
Adds moisture & shine to coat
Reduces itching & irritation
Long-lasting pleasant scent
Mixed opinions on smell
A few users had issues with spillage during shipping
2. Burt's Bees Dog Shampoo Hemp Calming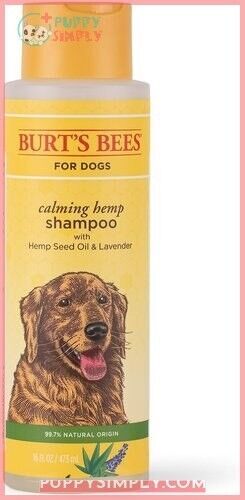 View On Chewy
Experience relaxation with Burt's Bees Dog Shampoo Hemp Calming, featuring a soothing lavender scent and enriched with hemp seed oil to strengthen your pup's skin and coat. This pH-balanced shampoo is specifically designed for dogs, containing no sulfates or colorants while offering natural ingredients like hemp seed oil.
The vegan-friendly shampoo also comes accompanied by a paw cream to help soothe rough paws as well. Customers have reported pleasant smells from the lemon verbena scent of this product along with its natural ingredients.
However, there have been mixed reviews on the effectiveness of Burt's Bees Dog Shampoo Hemp Calming regarding improvement in their furry friend's fur/skin condition. Some customers found that their pups' coats were left softer than before after using this product, while others did not notice any difference at all.
Natural plant-based & cruelty-free
No harmful chemicals & Zero sulfates or colorant
Soothing lavender scent
Accompanied by paw cream
Mixed feedback on effectiveness
Not ideal if you're looking for something heavily fragrant
3. Particular Paws Hemp Shampoo

View On Chewy
Discover the rejuvenating power of Particular Paws Hemp Shampoo, a synergistic blend of hemp seed oil, oat oil, and aloe vera that leaves your pup's coat soft, hydrated, and happy. This natural formula is free from fragrance, sulfates, and parabens, making it ideal for adult pets with sensitive skin.
It's designed to replenish the moisture balance in their fur as well as alleviate various fur and skin conditions like allergies or dryness.
Not only will this shampoo make your pet look great, but they'll also benefit from its properties due to being cruelty-free too! Soap up your furry friend with this nourishing product while feeling reassured knowing you're using an organic solution made right here in the USA.
Natural ingredients
Free from fragrances/sulfates/parabens
Cruelty-Free Solution
Made In The USA
May not be suitable for all breeds/ages of dog
Can be expensive compared to other brands
4. OleyHemp Dog Shampoo

View On Chewy
Feel the power of organic ingredients with OleyHemp Dog Shampoo, designed to nourish and hydrate your pup's sensitive skin. This paraben-free, anti-microbial shampoo is hypoallergenic and crafted with vegan and cruelty-free ingredients for a safe bath experience.
The 100% biodegradable formula contains certified organic oils to soothe dry or itchy skin while enhancing shine, making it suitable for all canine companions regardless of their coat type.
Paraben-free & Anti-Microbial
Hypoallergenic & Cruelty-Free Ingredients
Enhances Shine & Moisturizes Skin
Long-Lasting Minty Eucalyptus Scent
Not Suitable For Puppies Under 12 Weeks Old
May Cause Irritation For Dogs With Very Sensitive Skin
5. Puppy Shampoo Allergies Itching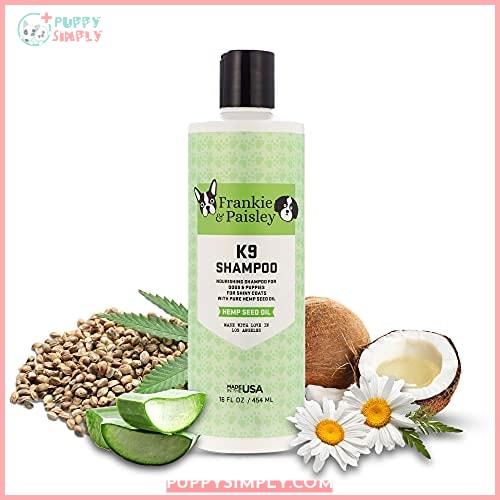 View On Amazon
Treat your pup to the refreshing minty-eucalyptus scent of Frankie's Puppy Shampoo Allergies Itching and enjoy its calming effects as it soothes any irritated skin or itching. This shampoo is made with natural ingredients like hemp seed oil, coconut oil, chamomile, and aloe vera.
It deodorizes while hydrating for a smooth coat. Perfect for all breeds of pups, this product is free from sulfates and parabens, making it gentle on sensitive skin.
Customers have praised the pleasant smell and natural ingredients in their reviews, but there is mixed feedback on how well it works.
Gentle formula suitable for sensitive skin
Natural ingredients including hemp seed oil
Pleasant minty eucalyptus scent that lasts
Free from sulfates & parabens
Mixed reviews regarding effectiveness
6. Burt's Bees Hemp Shampoo Dogs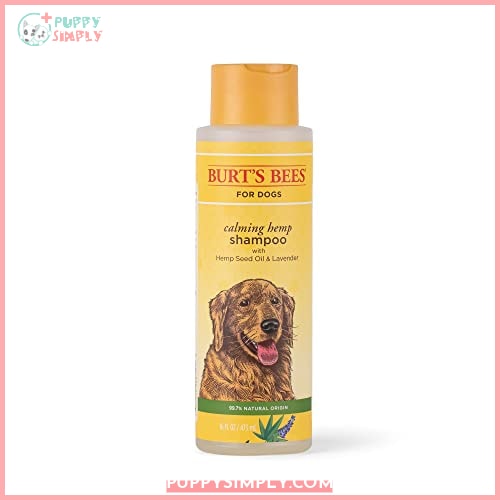 View On Amazon
Try Burt's Bees Hemp Shampoo Dogs for a calming bath experience that soothes your pup's skin without using harsh chemicals. This natural and cruelty-free shampoo is specifically formulated with hemp seed oil and lavender to provide relief from itchy skin, leaving your pup smelling great while nourishing their coat.
It contains no sulfates, colorants, or added fragrances, making it gentle on sensitive skin yet still effective in cleaning dirt and odors.
Plus, the included paw cream helps further soothe rough paws! With glowing reviews praising its pleasant smell and effectiveness on various fur issues such as shedding or allergies, this one-of-a-kind product might be just what you're looking for!
Natural & cruelty-free formula
No sulfates, colorants, or added fragrances
Includes paw cream to help soothe rough paws
Mixed feedback regarding effectiveness
Spray bottle mentioned as challenging to use due to thickness
7. Organic Hemp Oil Dog Shampoo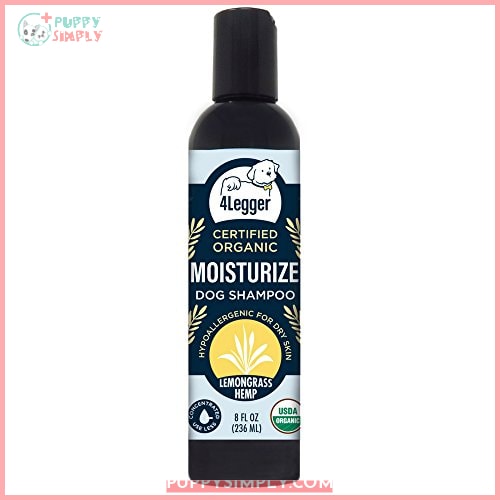 View On Amazon
Organic Hemp Oil Dog Shampoo nourishes and deodorizes your pup's coat with its natural blend of hemp oil, shea butter, lemongrass, sunflower seed oil, and coconut oil. The certified USDA organic shampoo is free from detergents, sulfates, and toxic preservatives, soothing the skin without causing irritation.
This concentrated formula improves dry or itchy skin while restoring moisture balance in the fur for a glossy shine. Customers have reported positive results, such as improved skin condition after one use, even when dealing with allergies or hot spots on their pet's coat.
The long-lasting oatmeal scent keeps odors away for up to two weeks, perfect for those smelly pups! It's easy to use too – just apply liberally onto wet fur before lathering into a foam, then rinse off thoroughly afterward!
Natural ingredients that improve dry/itchy skin conditions
Calms irritation from allergies & hot spots
Long-lasting fragrance that eliminates odors for up to 2 weeks
Easy application process
Overpriced compared to other brands
Some customers find the product ineffective
8. ProjectPet Hemp Shampoo Dogs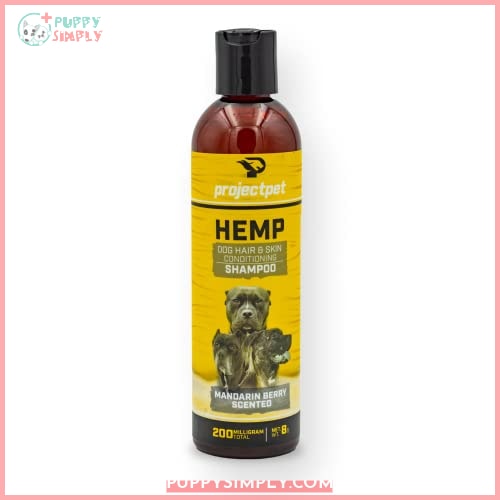 View On Amazon
ProjectPet Hemp Shampoo will pamper your pup while nourishing its skin and coat, leaving them feeling soft and smelling great. It is formulated with organic ingredients to reduce shedding and improve skin conditions.
This shampoo is suitable for all dog breeds and puppies. It features a Mandarin Berry scent that helps provide long-lasting odor resistance without irritating sensitive skin. It is hypoallergenic and paraben-free, and its sulfate-free formula soothes the fur from root to tip.
Formulated with organic ingredients to reduce shedding and improve skin conditions
Suitable for all dog breeds and puppies
Hypoallergenic and paraben-free
However, there are a couple of cons to consider. This shampoo may not be effective in curing severe allergic reactions or hot spots.
9. MOD Hemp Oatmeal Dog Shampoo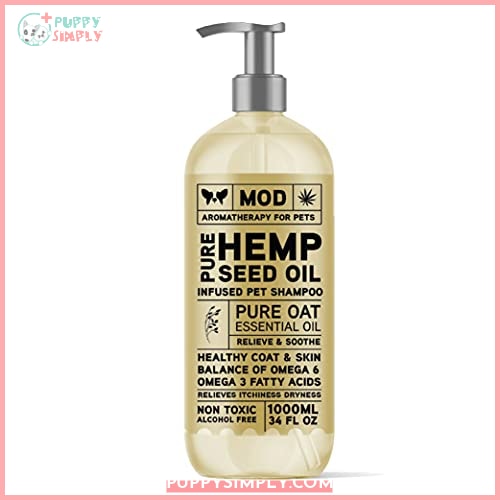 View On Amazon
MOD's Hemp Oatmeal Dog Shampoo is perfect for calming itchy skin and giving your pup a luxurious spa experience. Crafted with pure hemp seed oil, oatmeal, and other natural ingredients, it provides long-lasting odor resistance while moisturizing the fur and skin.
It's pH balanced, paraben-free, and gentle on sensitive skin, yet effective in relieving allergies or hot spots.
This hypoallergenic shampoo from MOD (Modern Objects for Dogs) will leave your pet smelling fresh with a glossy coat that is sure to turn heads!
Contains Pure Hemp Seed Oil & Oatmeal, which helps relieve symptoms of allergies & hot spots
No harsh chemicals; Sulfate-free; Paraben-free
Hypoallergenic shampoo suitable for all breeds
Some customers experienced leaking bottles during shipping
Loose lids reported, which could indicate packaging issues
Mixed feedback on effectiveness
10. Organic Hemp Dog Shampoo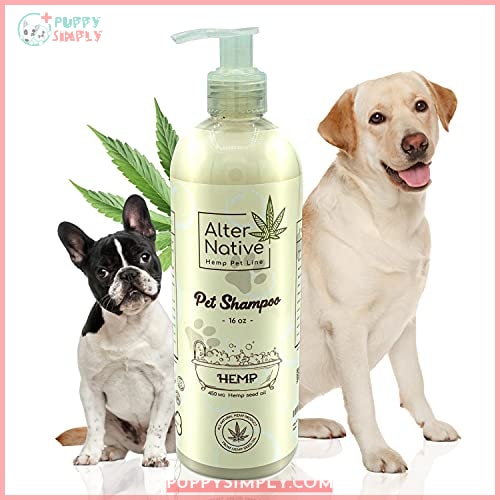 View On Amazon
Experience the calming effects of hemp oil and oatmeal with Alter Native's Organic Hemp Dog Shampoo – sure to leave your pup smelling fresh and feeling pampered. Made in the USA, this shampoo is formulated with organic nutrients, essential botanical oils, and hemp seed oil for skin nourishment.
Its hypoallergenic formula is free from sulfates and parabens, making it suitable for all canine companions, including puppies.
The long-lasting oatmeal scent will keep your pet odor-free for up to two weeks while leaving a glossy coat at the same time! Customers have reported positive results, such as improved skin condition, after using it on their pets.
Pamper your furry friend today with this gentle yet effective shampoo that provides lasting relief from itching, allergies, or dryness!
100% natural ingredients & USDA certified
Hypoallergenic formula & safe for puppies
Long-lasting fresh scent & glossier coats
Effective moisturizing properties
Mixed feedback on the effectiveness of the product
Price may be higher compared to other brands
Why You Should Trust Us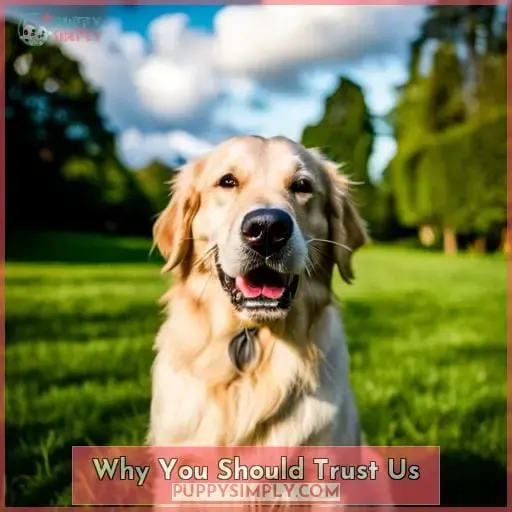 You can trust the knowledge and recommendations of our team when it comes to selecting your pup's top-notch shampoo. We look at all aspects of CBD dog shampoos, from expert opinions on ingredients to customer reviews for effectiveness.
Our safety standards are strict as we ensure every product is tested thoroughly for quality assurance and ingredient analysis.
Every product is carefully curated based on rigorous research into company history, reputation of ingredients used in production, customer feedback pertaining to overall satisfaction levels after use, and more.
What is a CBD Dog Shampoo?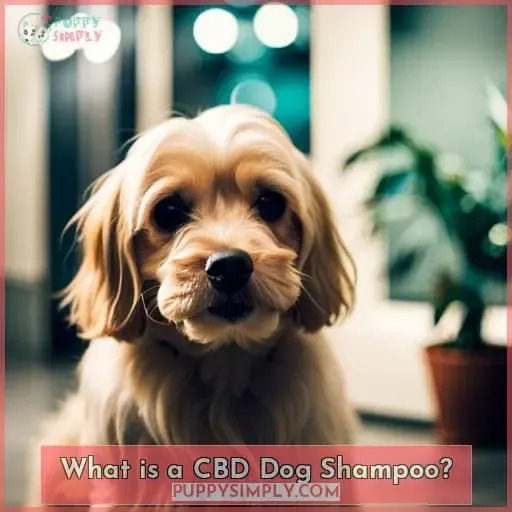 Curious about what a CBD dog shampoo is? A CBD Dog Shampoo is a shampoo that contains cannabidiol, or CBD. Unlike THC, the psychoactive component in marijuana, it doesn't produce any intoxicating effects and has been shown to have numerous benefits for dogs' skin and coat health.
When used as part of your pet's grooming routine, these shampoos can help relieve itching from allergies or dry skin conditions while also providing protection against UVA rays. Research supports the use of CBD products to address various canine skin disorders such as dandruff and dermatitis due to its ability to interact with our pets' endocannabinoid system (ECS) which helps regulate their overall health.
To ensure your pup gets all the benefits without any risks associated with human-grade products containing THC, make sure you look for reputable sellers who offer third-party testing on their pet care items like CBD dog shampoos!
How Does CBD Shampoo Work in Dogs?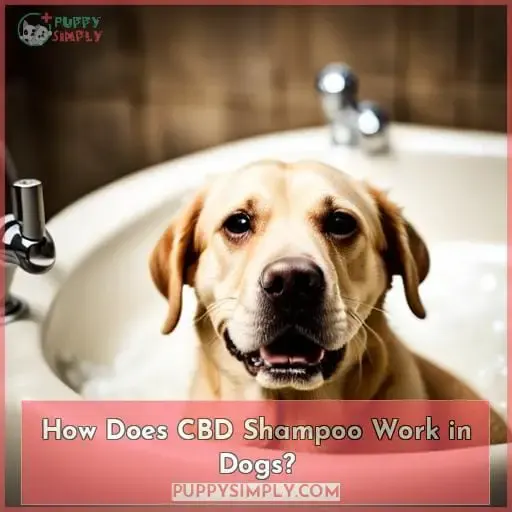 CBD dog shampoos are a great way to care for your pet's skin and coat. How does CBD shampoo work? It contains the same phytocannabinoids found in hemp, which interact with the endocannabinoid system (ECS) in your pup's body for relief from skin irritations, allergies, and dryness.
Common ingredients include CBD oil, oils like argan or coconut oil, aloe vera, oatmeal, and lavender.
Look for reputable sellers that offer third-party testing so you know exactly what quality product you're getting.
Here are 3 steps on how to use it:
Wet fur thoroughly.
Apply shampoo lather.
Rinse off completely!
This will leave them feeling fresh while promoting balance within their ECS system.
A Buyer's Guide: Selecting the Best CBD Dog Shampoo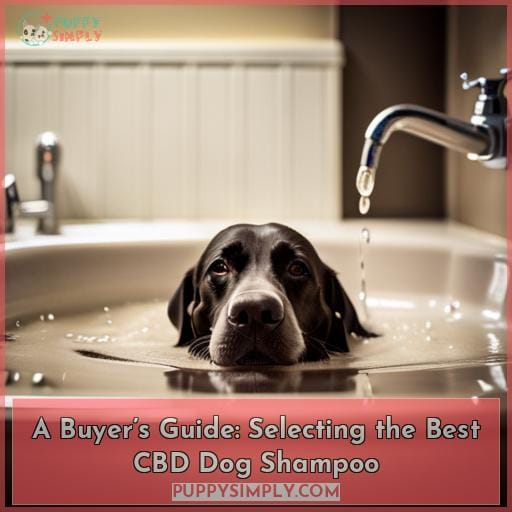 Shampooing your dog can be a daunting task, but selecting the right shampoo is key. CBD and hemp-based shampoos both offer benefits for dogs, such as improved skin health and hydration, as well as relief from skin disorders or allergies.
It's important to understand the advantages of each before deciding which type is best suited for your pup's needs.
CBD vs. hemp-based shampoos
Comparing CBD and hemp-based shampoos, you'll note that while both provide the skin and coat benefits of natural oils, only CBD has been shown to interact with a dog's endocannabinoid system for additional support.
Hemp-derived CBD is included in some products so as not to interfere with THC regulations but may still offer similar benefits without the full potential.
When selecting a shampoo for your pet, be sure to research organic ingredients, product safety considerations, and usage recommendations. Compare different brands before making an informed decision. Ultimately, it comes down to understanding what will work best for your dog or puppy.
Benefits of CBD for dogs
Your pup's skin and coat health can benefit from the balance that CBD promotes when interacting with their endocannabinoid system. It's important to use only pet-safe products, such as those containing hemp seed oil, for anxiety in dogs or relief of other ailments.
For best results, try a shampoo specifically formulated with cannabinoids like Pet Releaf Skin & Coat Relief Shampoo or HolistaPet's calming formula featuring full-spectrum hemp extract and Mandarin Berry scent.
With proper bathing practices, pups can reap the rewards of an improved coat while eliminating allergies and itchy skin problems without harsh chemicals.
Choosing the right shampoo
When selecting the perfect shampoo for your pup, it's like finding a diamond in the rough. Take time to evaluate all of its features for optimal results. Consider skin health, coat care, and pet grooming needs when choosing CBD-infused dog shampoo versus regular options.
Ensure safety by looking at third-party testing data from reputable brands who offer quality assurance on their products. Always consult with a vet before introducing any new pet CBD products into your routine.
How to Use CBD Dog Shampoos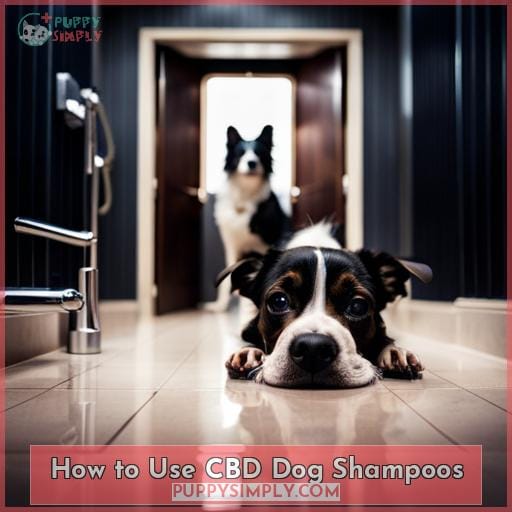 When it comes to pet grooming, CBD dog shampoos offer natural benefits. These products are designed for specific skin conditions and can help with allergies, dryness, and itchiness.
When selecting the best shampoo for your pup, it's important to consider safety first. Look for reputable sellers that provide third-party testing results or certifications of quality assurance so you know what is in the product before applying it to your pooch.
Additionally, check if there are any active ingredients such as hemp seed oil or aloe vera that could improve skin health further. Avoid toxic chemicals like sulfates, which strip away essential oils from a pup's fur.
Consider how often you will need to bathe them – some dogs may require more frequent baths than others!
With all these factors taken into consideration when choosing a CBD dog shampoo, you'll be sure to find one that works perfectly well with your furry friend's needs while providing maximum benefit potential!
Can I Use Human CBD Shampoo on My Dog?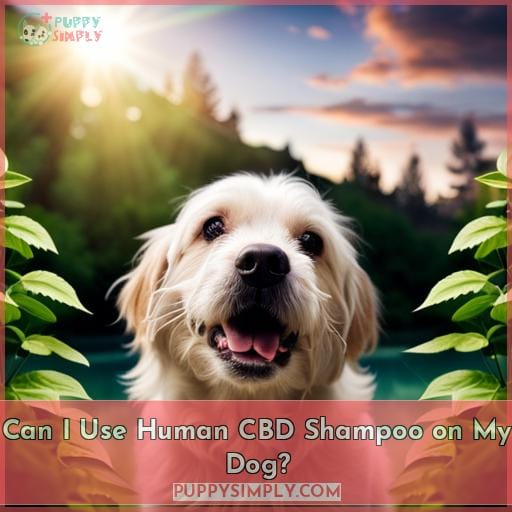 No, it's not a good idea to use human CBD shampoo on your pup. Human CBD shampoo is formulated differently than pet-specific shampoos and may contain ingredients that can be toxic or irritating for dogs.
Pet CBD safety should always be taken into consideration when using any type of grooming product.
CBD for pet skin health has become increasingly popular in recent years due to its anti-inflammatory properties and other benefits such as promoting balance within the endocannabinoid system (ECS). However, it is important to choose a reputable seller with third-party testing so you know what you're putting on your dog's coat and skin.
Benefits of CBD grooming products include repair, hydration, UVA protection, hair growth promotion, and relief from allergies, dandruff, or dryness; all without containing THC, which makes them nonintoxicating unlike some other cannabis derivatives used in animal care products today.
Hemp-based shampoos are an excellent alternative if you prefer not to use pure CBD oil-based options. These still offer natural benefits while being free from harsh chemicals often found in traditional store-bought brands.
Whatever option you choose, make sure instructions on bathing frequency and pH balance are followed closely.
Hemp-Based Shampoos as Alternatives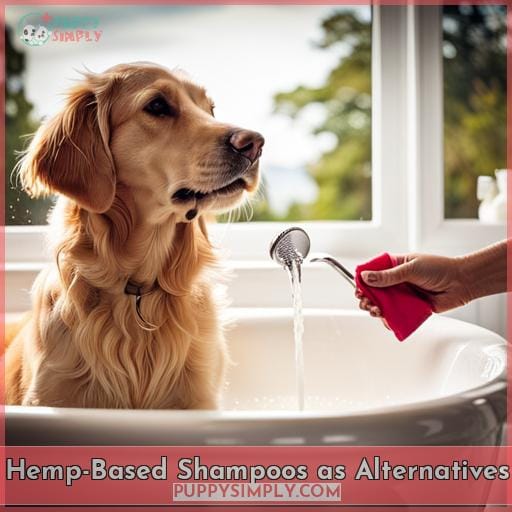 Hemp-based shampoos are an excellent alternative to CBD dog shampoos, offering similar benefits without the worry of using human products.
Hemp vs. CBD Benefits Comparison: While both have skin and coat benefits, hemp is non-intoxicating while still providing nourishing fatty acids and other vitamins for pet coats.
Choosing Safe Ingredients: Hemp oil is gentle enough for sensitive skin while containing no harsh chemicals or sulfates that may irritate your pup's fur.
Allergy Friendly Formulas: Many hemp oils are hypoallergenic, which makes them ideal if your pup has allergies or sensitivities to certain ingredients in traditional grooming products.
Eco Friendly Pet Grooming: Some brands offer organic formulas that contain fewer artificial fragrances, dyes, preservatives, and other synthetic ingredients than conventional pet care products – making them more eco friendly too!
Finally, using a reliable hemp product can help nurture sensitive skin while producing long-lasting moisturizing effects. It will also leave behind an aromatic scent with natural deodorizers such as lemongrass, sunflower oil, chamomile extract, aloe vera juice, etc.
Conclusion
Wrapping up, CBD dog shampoos have the potential to give your pup's coat and skin a much-needed boost. These top 10 shampoos can help calm skin, reduce allergies, provide relief for itchy skin, and leave a glossy, shiny coat.
CBD interacts with the endocannabinoid system (ECS) to promote balance and regulate skin health in your furry friend. All of these shampoos are formulated without harsh chemicals and are free of sulfates, parabens, and added fragrances.