This site is supported by our readers. We may earn a commission, at no cost to you, if you purchase through links.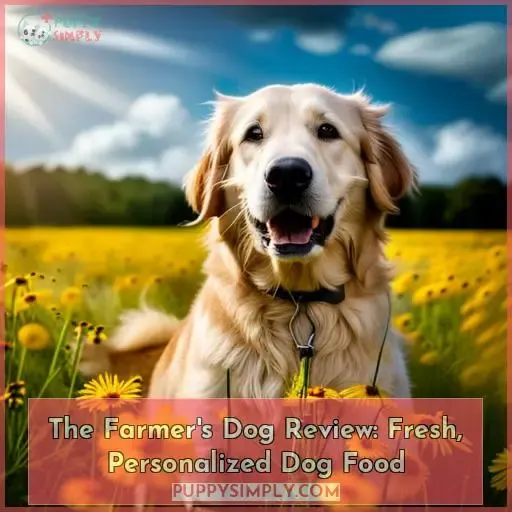 Searching for a meal option to keep your furry friend happy and healthy? Look no further than The Farmer's Dog. This review will give you an in-depth look at this popular pet food delivery service, from the personalized meal plans to customer reviews of the product.
We'll discuss how it works, its ingredients and nutrition information, compare it with traditional dry dog food options, and help you decide if The Farmer's Dog is worth investing in for your four-legged family member.
Key Takeaways
Personalized meal plans with human-grade ingredients
Eco-friendly packaging and ingredients sourced from trusted suppliers
Positive customer reviews highlight improved pet health and energy levels
Flexible delivery schedules and customizable meal plans
The Farmer's Dog Review: an Overview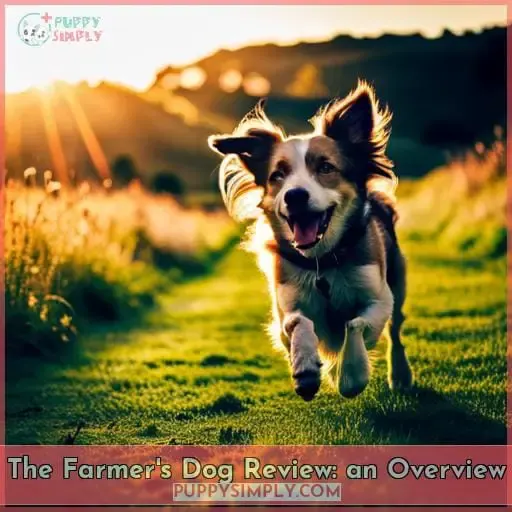 You can trust that The Farmer's Dog is delivering delicious, human-grade meals for your pup, backed by a team of veterinary specialists and never recalled. Its meal plans boast fresh meat recipes full of ingredients like fish oil, taurine, chelated minerals, and vitamins to ensure optimal pet nutrition.
Plus, its pricing structure is comparable to traditional dry dog food with free shipping included in the cost range from $2 – $12 per day. Transitioning dogs over should be gradual as they often experience regular bowel movements while feeling fuller than before eating this fresh-made pet food.
Customers appreciate the delivery schedule options which are flexible enough to meet their needs, whether it's weekly or every two months, plus notifications when deliveries arrive at their doorsteps accompanied by friendly customer service representatives if needed.
How Does the Farmer's Dog Work?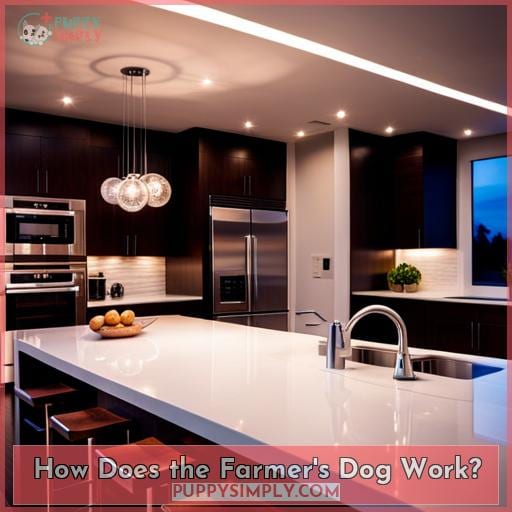 The Farmer's Dog is a fresh dog food brand that offers personalized meal plans with human-grade ingredients. Their recipes are formulated by a team of veterinary specialists, and the food claims to be human-grade and adheres to USDA regulations, containing about 33% protein and 19% fat on a dry matter basis.
It arrives in recyclable cardboard boxes with biodegradable insulation, containing pre-portioned plastic packages for easy storage.
Personalized Meal Plans
Experience the miracle of a personalized meal plan that transforms your pup's nutrition! With The Farmer's Dog, you can select from four recipes – turkey, beef, pork, and chicken – with whole food ingredients like meats, vegetables, and fish oil.
Perfectly portioned to meet your dog's nutritional needs while providing variety in their diet. Not only will this bring health benefits but also cost comparison savings compared to traditional dry kibble foods.
Customers are highly satisfied with ingredient quality and pet food delivery service for an effortless experience.
Ingredients and Nutrition
Discover the delicious meal plans The Farmer's Dog offers, with quality ingredients and nutrition that help keep your pup healthy. Their recipes are crafted from human-grade meats like beef, pork, turkey, and chicken, along with fresh vegetables for a nutrient balance.
For added health benefits, fish oil is included, as well as taurine and chelated minerals.
Protein content averages 33%, while fat content is 19%. Plus, their food is grain-free! Organic zinc helps promote strong bones, while antioxidants protect cells, resulting in better overall health for your pet.
Delivery and Packaging
Enjoy the convenience of door-to-door delivery, with packaging that's eco-friendly and keeps your pet's food fresh! The Farmer's Dog delivers its human-grade ingredients in recyclable cardboard boxes, complete with dry ice and biodegradable insulation.
Inside is a storage container housing preportioned plastic packages for optimal efficiency. Delivery speed is quick – within days – while customer feedback praises how easy it is to pause shipments when needed.
Storage space may be an issue if ordering multiple packages; however, this does not detract from the environmental impact minimized by using these materials.
Customer Reviews of the Farmer's Dog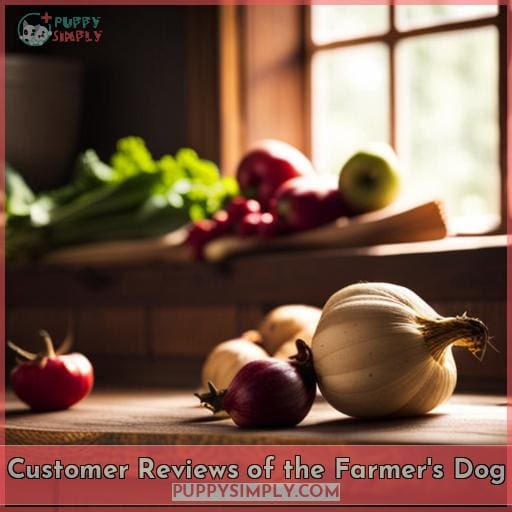 The Farmer's Dog has earned both positive and negative reviews from its customers. Many have praised the quality of ingredients, convenience of delivery, and overall improvement in their dog's health; however, some have complained about portion size, messiness after defrosting, and expensive cost.
Positive Reviews
Unlock the health and happiness benefits of The Farmer's Dog – from improved skin issues to more energy for your pup. Customers rave about their pet's wellness, thanks to fresh meals made with human-grade ingredients at competitive prices.
The meal plans are tailored according to breed, age, weight, and activity level for optimal nutrition.
Plus, they offer flexible delivery options so you can get your pup's food right when they need it! With reviews praising customer satisfaction and visible improvements in pet health due to this fresh dog food brand, it's clear that the Farmer's Dog is an excellent choice for those looking out for their furry friends' well-being.
Negative Reviews
While some customers have had positive experiences with The Farmer's Dog, others have noted certain drawbacks to the product. Managing expectations is important as it may be pricey for some and not suitable for smaller dogs due to portion size.
Quality assessment should also be done when considering alternative options like freshly made pet food. Addressing customer concerns regarding cost and storage space can help ensure satisfaction with the purchase of The Farmer's Dog food products.
Lastly, owners must consider if their pup will enjoy this meal over other options before investing in a subscription service or large order of pre-portioned meals from the brand.
Comparing the Farmer's Dog to Traditional Dry Dog Food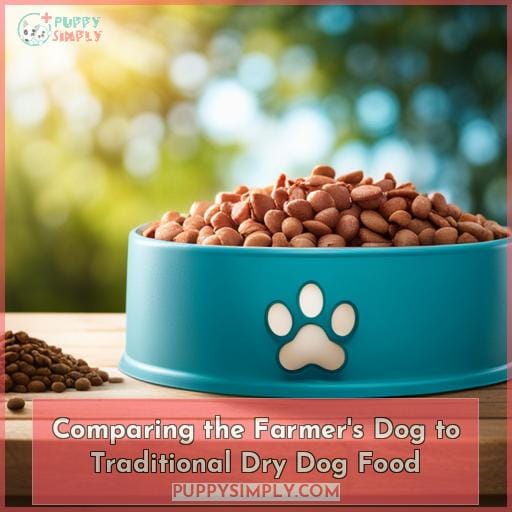 Discover how The Farmer's Dog stacks up against traditional dry kibble in terms of nutrition, convenience, and cost.
Nutritionally speaking, The Farmer's Dog offers a high-protein diet with natural ingredients like meats, vegetables, and fish oil. This is great for dogs as it provides balanced meals that are easy to digest while also providing essential vitamins and minerals needed for good health.
Many customers have noted improved skin issues or vision in their aging pets due to the quality of food provided by this brand.
On top of all these nutritional benefits, there is also an added convenience factor: customizable meal plans tailored specifically to your pet's needs delivered right to your doorstep without hassle!
Lastly, when comparing costs between both options, it's clear that although The Farmer's Dog may be more expensive per serving size than other brands, they still come out on top since they offer free shipping within the USA along with discounts for first-time buyers, balancing out any potential cost differences consumers might face initially.
Is the Farmer's Dog Worth It?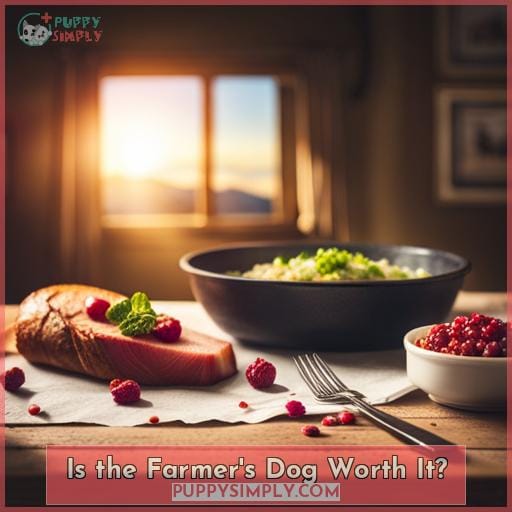 Considering the cost and convenience of The Farmer's Dog, it may be worth investing in to give your pup a delicious, balanced meal plan tailored specifically for them. Many customers report improved health benefits, ranging from healthier skin and coat quality to increased energy levels.
In addition to these health benefits, customers are also satisfied with the quality of ingredients used by The Farmer's Dog. Its delivery system is extremely convenient, making feeding multiple dogs on a regular basis much more affordable than traditional dry dog food options.
Plus, the customer service provided is excellent, with flexible shipment options as well as compassionate care when needed.
All in all, if pet nutrition and fresh dog food delivery are important factors when looking for a new option, then The Farmer's Dog might just be worth it after all!
Conclusion
The Farmer's Dog is a fresh, personalized dog food that is becoming increasingly popular among pet owners. With human-grade ingredients, vet-designed recipes, and convenient delivery, it's no wonder why customers are giving it rave reviews.
The cost may be slightly higher than traditional dry dog food, but the quality is worth it for those who want to provide their pet with safe and balanced meals. With The Farmer's Dog, pet owners can rest assured knowing that their furry friends are getting the nutrition they need and deserve.