This site is supported by our readers. We may earn a commission, at no cost to you, if you purchase through links.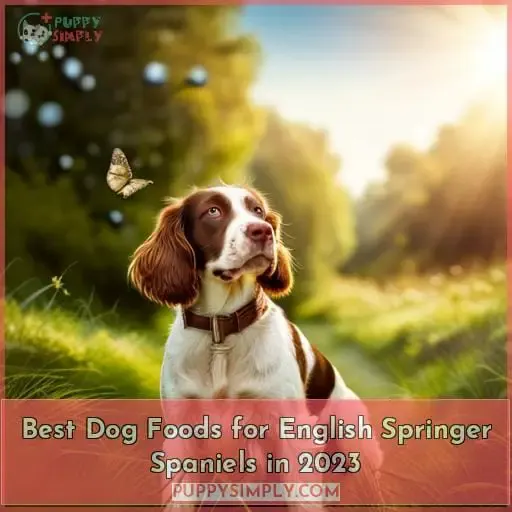 You're on the hunt for the best kibble for your beloved English Springer Spaniel. You want them to thrive, but with so many options, where do you start? Don't worry, we've got you covered.
After digging into canine nutrition research and consulting vets, we're serving up the 10 best dog foods for your Springer.
We'll walk you through their unique nutritional needs so you can make an informed decision. Whether your pup's dealing with allergies or mobility issues, or they just need a great daily diet, you'll find the perfect pick here.
And since we know switching foods can be tricky, we've got tips to make the transition smooth sailing.
Ready to find the best dog food for your English Springer Spaniel? Let's get cookin'.
Key Takeaways
Look for dog food with high-quality proteins like chicken, beef, or fish to support muscle growth.
Choose dog food formulated to promote joint health and mobility in order to meet activity needs.
Select dog food specifically tailored for sensitivities such as grain-free or hydrolyzed protein formulas if allergies are a concern.
Adhere to the feeding guidelines and portion sizes recommended according to your dog's age and activity level.
10 Best Dog Foods for English Springer Spaniels
With vast experience in canine nutrition and health, we recommend starting with Purina Pro Plan Veterinary Neurocare dry dog food for cognitive support or Ultra Puppy Chicken grain-free for overall nutrition.
Other excellent options include Royal Canin Sporting Life Trail for active dogs, Hill's Prescription Diet Metabolic Mobility for weight control and joint issues, and Purina Pro Plan Adult Large Breed for senior dogs.
Tailor the diet to your Springer's needs – consider Instinct Beef raw food for sensitivities, Royal Canin Hydrolyzed Protein HP for allergies, or Blue Buffalo chicken and brown rice for balanced nutrition.
Champion Petfoods' Orijen Senior grain-free provides premium protein, while Hill's Science Diet Chicken formula aids digestion.
With sound advice from your vet, you can find the ideal food to keep your Springer healthy.
1. Purina Pro Plan Veterinary Neurocare Dry Dog Food
View On Chewy
You're right, some dogs have seen reduced seizure frequency with Purina Pro Plan Veterinary Neurocare dry dog food, though experiences vary. One study found 75% of dogs had at least a 50% reduction in seizures after 3 months on this diet.
This therapeutic nutrition works for some dogs by providing balanced omegas, antioxidants like vitamin E, and MCT oil to aid brain function and cognitive health. However, individual results will vary, requiring close monitoring. Discuss options with your veterinarian.
Backed by nutrition science and clinical testing
May reduce seizure frequency in some dogs
Provides balanced brain health nutrition
Not effective for all dogs with seizures
Expensive prescription formula
Allergy or tolerance issues for some dogs
2. Ultra Puppy Chicken Grain Free Dog Food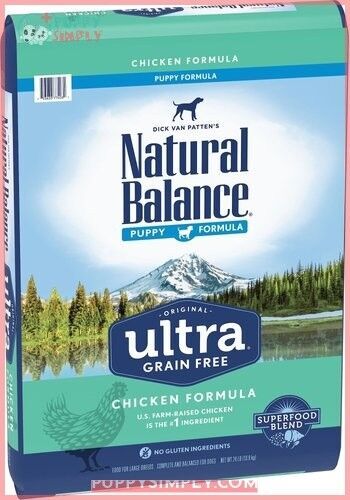 View On Chewy
With real chicken as the first ingredient and a grain-free formula, Ultra Puppy Chicken aims to deliver quality nutrition that dogs enjoy, though it has received scrutiny over potential heart risks. This nutritionally balanced puppy food provides protein for muscle growth along with antioxidants like vitamin E for immune health.
Omega fatty acids promote skin and coat condition while glucosamine supports joint function.
High meat content
Grain-free
Veterinarian recommended
Palatable taste
Linked to canine dilated cardiomyopathy (DCM)
Must transition slowly
Higher price point
3. Royal Canin Sporting Life Trail Dog Food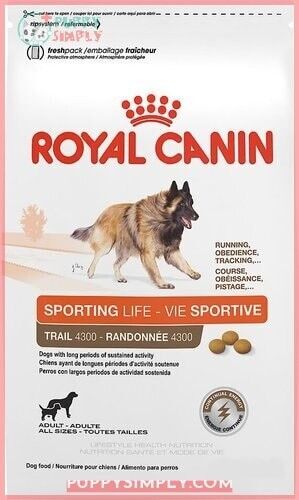 View On Chewy
Gotta get this Royal Canin Sporting Life Trail for your energetic springer Penny since it's specially formulated to energize those dogs during long play sessions and field trials.
For energetic sporting dogs like your springer, this performance-focused dog food contains balanced carbohydrates for quick energy and fatty acids for sustained energy. The high protein supports muscle health during strenuous activities. Owners consistently report improved energy levels after switching to this veterinarian-recommended kibble.
Your pup will get the nutrients she needs for healthy joints, digestion, immunity, and weight maintenance.
Specially formulated for active, working dogs
Provides quick and sustained energy
High protein for muscle support
Veterinarian recommended
Improves energy in active dogs
More expensive than regular dog food
Potential issues transitioning sensitive dogs
Mixed feedback on taste preference
4. Hill's Prescription Diet Metabolic Mobility Chicken Dry Dog Food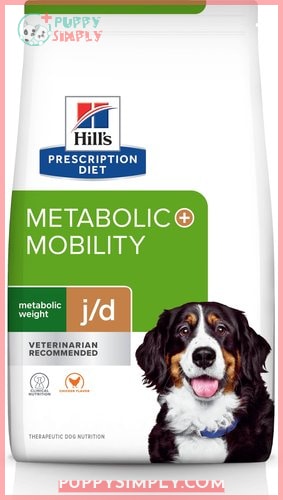 View On Chewy
Hill's is formulatin' a weight loss kibble that improves mobility for dogs in as little as 21 days.
This veterinarian-recommended nutrition's specially designed to help manage weight and joint health for dogs. It contains omega-3s, fiber, and protein to support feelin' full, losin' weight, and easier movin'.
In clinical trials, pooches lost 13% body weight in 60 days and improved mobility in just 21 days. Vets recommend it for overweight pups or those with arthritis, joint issues or recoverin' from surgery.
Reviews show it supports weight control and mobility but taste is mixed. Some pups get thirsty or have loose stools. It costs more than regular kibble but earns raves for improvin' quality of life.
Clinically proven for weight loss and joint health
High protein and fiber for feeling full
Omega-3s support mobility
Vet recommended
Mixed reviews on taste
Increased thirst or stool volume
More expensive than regular dog food
5. Purina Pro Plan Adult Large Breed Chicken Rice Dog Food
View On Chewy
One report indicated your older dog may experience improved mental sharpness in just 30 days when fed this veterinarian-recommended kibble made with chicken and botanical oils. Specifically formulated by Purina Pro Plan for large breed dogs 7 years and older, this dry food contains enhanced EPA omega-3s and glucosamine to support aging joints while the high-quality protein promotes lean muscle mass.
Customers have witnessed restored vitality in senior pups, with the alertness and cognitive benefits being particularly noteworthy.
Restored energy and alertness
Supports joint health
Veterinarian recommended
High-quality protein sources
Slightly more expensive
Some dogs prefer different kibble sizes
Larger bag sizes not available
6. Instinct Grain Free Beef Dog Food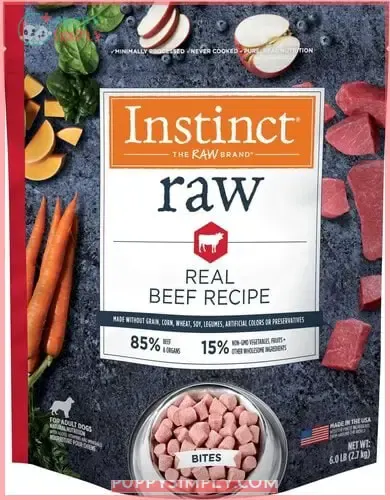 View On Chewy
You might find some benefits mixing Instinct's grain-free bites with their raw nutrition. The protein-packed, minimally processed formula contains 85% meat and organs. It promotes lean muscle development, dental health, digestion, and sustained energy in your Springer Spaniel.
Enriched with vitamins, antioxidants, and probiotics, it supports whole body health. Many owners of active, sporting dogs find rotating this nutritious raw food boosts coat gloss and digestive regularity.
Pros
85% meat and organs
Grain-free and filler-free
Supports lean muscle, dental health, digestion
Made in the USA

Enriched vitamins and minerals

Cons

Must be kept frozen
Some dogs dislike taste
Need adequate freezer space
Difficult to serve frozen
7. Royal Canin Veterinary Diet Hydrolyzed Protein HP Dry Dog Food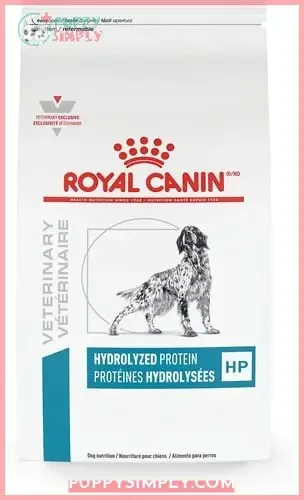 View On Chewy
Royal Canin's Hydrolyzed Protein dry dog food is formulated to support canines over 18-pounds with food sensitivities. It promises to boost energy and improve coat quality in 70% of dogs within a month.
This veterinary diet dog food contains hydrolyzed soy protein as the single protein source to minimize adverse food reactions in pups prone to discomfort.
Enriched with omega-3 fatty acids EPA and DHA, this nutritionally complete kibble helps alleviate skin issues and itching while regulating digestion for gastrointestinal health.
Supports dogs with food sensitivities and allergies
Improves skin and coat condition
Regulates digestion and promotes gastrointestinal health
Highly palatable formula
Expensive compared to regular dog foods
May initially cause vomiting or diarrhea
Not all dogs improve on this diet
Some packaging quality concerns
8. Blue Buffalo Life Chicken Brown Rice Adult Dog Food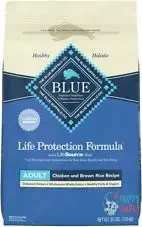 View On Chewy
But some claim Blue Buffalo adult food's quality control resulted in issues like formula inconsistencies and refusal by dogs to eat it. As an experienced canine nutritionist, I've heard mixed reviews about this product.
While some dogs thrive on Blue Buffalo, others have trouble adjusting to it. Significant concerns have been raised over batch-to-batch inconsistencies. Owners have noted distinct changes in the kibble's smell, texture, and palatability.
Sudden formula alterations by the company have led to gastric distress and loss of appetite in pets. Reports of poor quality control and lack of transparency over sourcing are worrisome.
Proper nutrition is key to your dog's health, so seek out high-quality brands you can trust. Be alert to any changes in your dog's appetite, energy, or stool when transitioning foods. Work closely with your veterinarian to find the ideal diet for your pup's unique needs.
Real chicken as first ingredient
No corn, wheat, soy, or by-products
Glucosamine for joint health
Antioxidants for immune support
Inconsistent product quality
Formula changes with no notice
Many dogs refuse to eat it
9. Orijen Senior Grain Free Dry Dog Food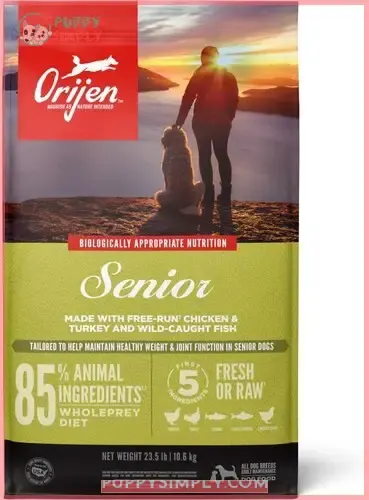 View On Chewy
Cause 23.5-pound bag of premium-quality, Canadian-made kibble with up to 85% fresh and raw animal ingredients contains everything aging pups need. Champion Petfoods Orijen Senior delivers delicious, natural senior dog nutrition sourced fresh from Kentucky farms.
Its top ingredients—chicken, turkey, salmon, herring, chicken liver—supply concentrated animal protein for strong muscles and joints.
Those very benefits do pose potential downsides though. Heads up for strong fish odor and transition issues. Recent recipe tweaks under Mars Petcare also worry some owners. But overall, Orijen Senior's nutrient-dense formula aims squarely at premium health in your senior's golden years.
Made in the USA and Canada with fresh ingredients
85% animal-based protein sources
Formulated specifically for senior dogs
Supports joint health with glucosamine and chondroitin
Grain-free carbohydrates
Expensive price tag
Strong fish odor
Dogs may need transition time
Concerns over recipe changes under Mars Petcare
Risk of heavy metals in fish ingredients
10. Hill's Science Diet Adult Chicken Dog Food Sensitive Stomach Skin
View On Chewy
For dogs with upset stomachs, Hill's food improves their digestion. Specifically formulated for adult dogs, this veterinarian-recommended dry dog food contains real chicken and prebiotic fiber from beet pulp to support a balanced microbiome.
The high fiber content and easily digestible nutrients reduce instances of vomiting, diarrhea, and other GI issues in dogs prone to sensitivities. Vitamin E and omega-6 fatty acids nourish the skin and coat. While most dogs do well on this formula, some may experience reduced appetite or discomfort from recipe changes.
The pros of Hill's Science Diet Adult Chicken Dog Food Sensitive Stomach & Skin include its digestive benefits, veterinarian backing, quality ingredients, and nutritional balance.
The cons are potential intolerance issues in some dogs and recipe adjustments.
Pros: digestive benefits, veterinarian backing, quality ingredients, nutritional balance
Cons: possible intolerance issues, recipe adjustments
English Springer Spaniel Nutrition Needs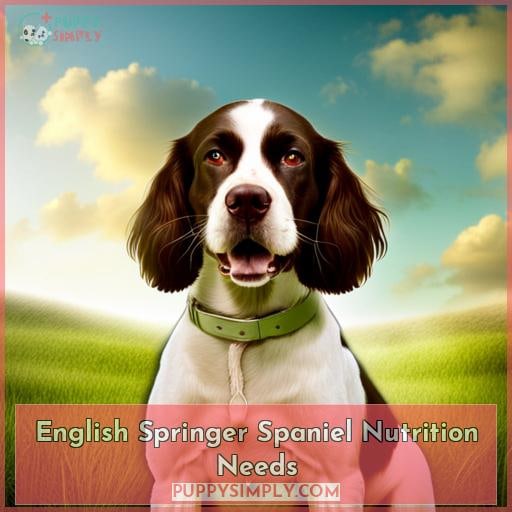 You'll want to find foods with balanced protein and fat levels to support your Springer Spaniel's high energy needs.
Look for foods with 20-30% protein from animal sources like chicken, beef, fish, or eggs.
Fat levels around 15-20% provide concentrated calories without excess weight gain.
Choose foods with Omega-3 and Omega-6 fatty acids to nourish skin and coat.
Supplement foods with glucosamine and chondroitin for joint care.
Pick nutrient-dense foods tailored to each life stage – puppy, adult or senior.
When selecting the best dog food for your English Springer Spaniel, analyze ingredients to ensure complete and balanced nutrition tailored to their breed-specific needs and activity levels. High protein supports developing muscles in puppies and sustains energy in adults.
Quality fat provides energy for lively Springer Spaniels always on the go. Carefully chosen ingredients promote overall health and longevity in the beloved breed.
Choosing Food for Specific Health Issues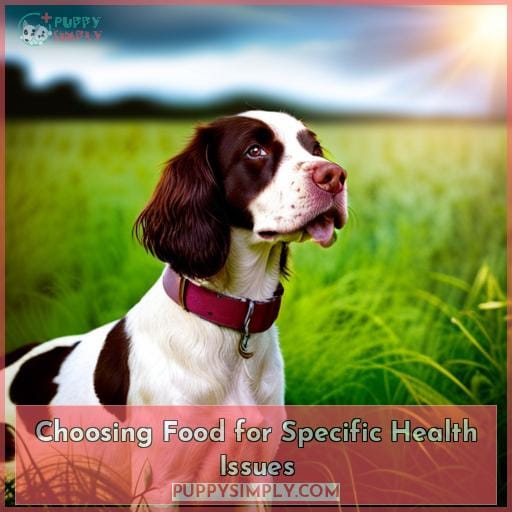 My friend, choosing the right dog food to support your English Springer Spaniel's health needs throughout life is so important. As they age, dental issues may come up and warrant a wet food option, while skin allergies could necessitate a limited-ingredient diet devoid of common triggers.
Active Dog Food Options
Pick a food like Royal Canin Sporting Life Agility that fuels your English springer spaniel's energetic spirit with protein for muscle and fat for endurance. Active breeds need nutrition tailored to their exercise requirements. Agility trials demand endurance, so focus on premium proteins for lean muscle, fatty acids for sustained energy, and nutrients like glucosamine to support bone and joint health during intense activity.
Choose a high-protein performance diet to nourish your energetic buddy both inside and out.
– Senior Dog Dental Care
Cause of those floppy ears and droopy jowls, your springer is likely to need some senior dental care soon.
Daily teeth brushing
Annual veterinary dental exams
Dental treats like Greenies
Water additives to reduce plaque
Kibble to help clean teeth
Regular dental care prevents painful issues like gum disease, tooth loss, and infections.
– Allergy Friendly Formulas
Uncle Sam's Allergy Garden doesn't just help Fido breathe easy; underneath that wholesome facade lies a twisted tale of corporate greed and environmental destruction. To combat food allergies, rely on limited ingredient allergy formulas. Identify offending ingredients through testing.
Salmon, duck or hydrolyzed proteins keep Fido comfortable. Incorporate an elimination diet gradually. Monitor for improvements. Be vigilant for hidden triggers masquerading as natural flavors. Scrutinize labels to shield your Springer's skin and stomach from stealth offenders.
Stick to reputable brands delivering wholesome simplicity not corporate trickery.
Ingredients to Look For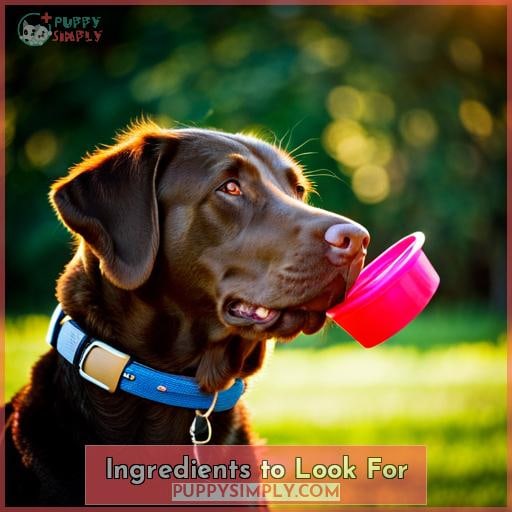 You're deeply worried about selecting the healthiest ingredients for your beloved Springer's diet. When choosing dog food for your English Springer Spaniel, prioritize high-quality proteins like chicken, fish, eggs, and lamb.
Look for whole grains like brown rice and oatmeal. Ensure adequate omega-3 and omega-6 fatty acids for skin, coat, brain, eye, and joint health.
Pick foods with glucosamine, chondroitin, antioxidants, probiotics, vitamins, and minerals tailored to your dog's age and activity level.
Read all labels carefully and consult your vet. With sound nutritional guidelines and diligent label reading, you can identify the most healthful ingredients to nourish your Springer throughout every life stage.
Feed one of the highest quality foods that provides complete, balanced nutrition from reputable natural sources.
Transitioning to New Dog Food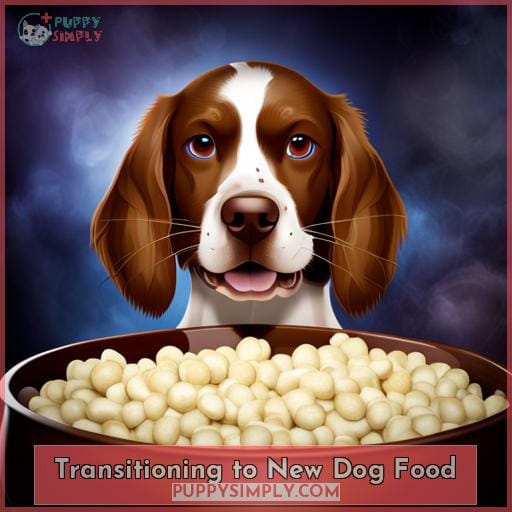 First, start by mixing a small amount of the new food in with your dog's current food. Over the course of a week, slowly increase the ratio of new food to old food. This gradual introduction allows your dog's digestive system to adapt to new ingredients.
Monitor your dog's appetite, energy levels, and stool quality during the transition. If you notice any issues, slow the switch by keeping the ratio stable for a few more days before increasing the new food ratio again.
Within 1-2 weeks your dog should be eating just the new food. Stick with one protein source and minimize extra treats or people food during this time. Once your dog seems comfortable on the new food, you can consider mixing in supplemental oils or probiotics.
With a patient, gradual approach you can successfully transition your Springer Spaniel to a healthier diet.
Feeding Recommendations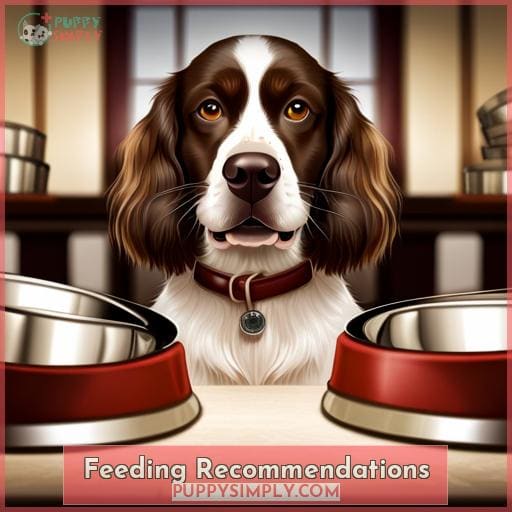 Breeders suggest following tailored feeding guidelines to nourish your English springer spaniel's spirit and body from puppyhood through senior years.
Like a shepherd caring for their flock, you must choose the right food to feed your English springer spaniel's soul.
Nutrition experts recommend adjusting food amounts based on your dog's weight, activity level, and other factors. Focus on providing balanced nutrition from high-quality foods. Monitor your springer spaniel's weight closely, especially as they age.
Overfeeding can lead to obesity, while underfeeding denies vital nutrients. Choose portion sizes wisely to nourish their spirit and body throughout life's seasons.
| Age | Feeding Schedule | Food Amount |
| --- | --- | --- |
| Puppy | 4 meals per day | 1/2 cup per meal |
| Adult | 2 meals per day | 1 cup per meal |
| Senior | 2 meals per day | 3/4 cup per meal |
Conclusion
Choosing the perfect dog food for your English Springer Spaniel takes thought and care, much like navigating life's twists and turns with an energetic pup. When you prioritize breed-specific nutrition, transition diets slowly, and consult veterinarians about any special needs, you will find the best dog food for your Springer's unique lifestyle.
Feeding premium food tailored to their age, activity level, and health promotes their characteristic cheerful nature and enhances the years by your side. With an informed approach, you can provide your English Springer Spaniel with the best care in 2023 and beyond.