This site is supported by our readers. We may earn a commission, at no cost to you, if you purchase through links.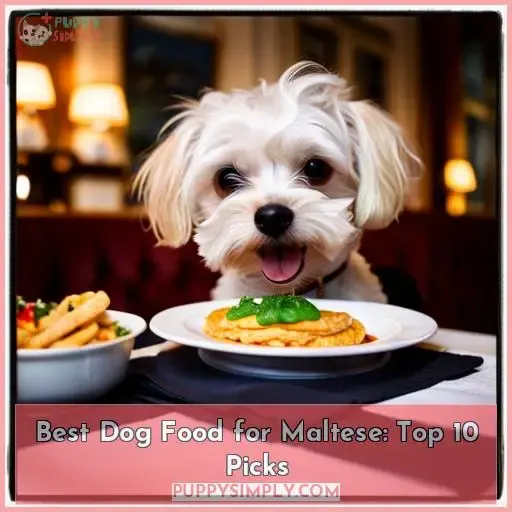 Ah, the Maltese. That majestic little pup with a look of royalty and an appetite to match! But if you're going to keep your tiny pooch healthy and happy for years to come, it's important to provide them with proper nutrition in the form of quality dog food specifically designed for their breed.
To make sure you get the best choice possible, we've compiled this list of the top 10 picks when it comes to finding the best dog food for Maltese.
Key Takeaways
Consider the nutritional needs and balanced diet for your Maltese.
Look for high-quality protein sources in the dog food.
Monitor caloric intake and avoid overfeeding to prevent obesity.
Be aware of potential allergens and consider grain-free diets carefully.
Best Dog Food for Maltese: Top 10 Options
Are you searching for the best dog food for your Maltese? Look no further than Blue Buffalo Small Breed Adult Dry Dog Food, Wellness CORE Small Breed Turkey Chicken, and Merrick Lil Plates Beef Sweet Potato Dog Food.
These top-notch options provide all the nutrition that a small breed like a Maltese needs to stay healthy and active while also being tasty enough to please their palate.
1. Blue Buffalo Small Breed Adult Dry Dog Food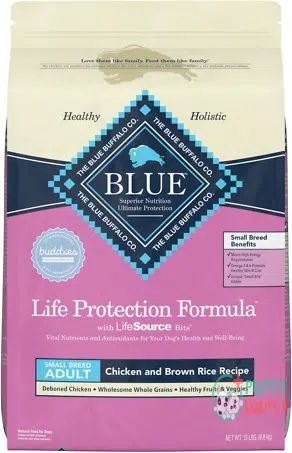 View On Chewy
If you're looking for a high-quality, protein-rich food option to meet the needs of extra small and small breed adult dogs, then Blue Buffalo Small Breed Adult Dry Dog Food is worth considering. This recipe features real meat as the first ingredient along with whole grains, veggies, and fruit – all packed into unique kibble sizes designed specifically for smaller jaws.
It also contains LifeSource Bits that are packed with antioxidant-rich ingredients to support your pup's immune system health, plus glucosamine and omega fatty acids to help keep their skin healthy, joints mobile, and coat shiny.
Customers have reported mixed reviews on this product; some pups love it while others reject it altogether or experience digestive issues after consuming it.
Essential proteins for muscle development
Carbs for energy
Unique small breed kibble size
Glucosamine & Omega 3/6 fatty acids
Mixed reviews from customers
Potential digestive issues
2. Wellness CORE Small Breed Turkey Chicken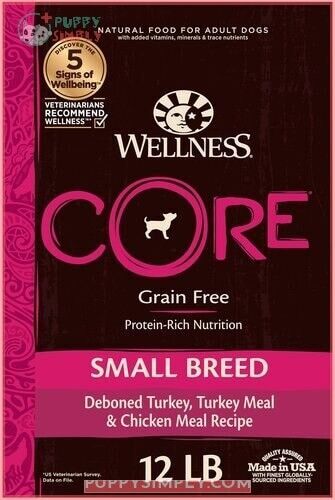 View On Chewy
You'll love Wellness CORE Small Breed Turkey Chicken, packed with protein and wholesome grains for energy, plus antioxidants and probiotics to promote optimal health. This grain-free dry food is tailored to the individual needs of small breed dogs.
It features turkey, chicken, salmon oil, fruits, and vegetables as its primary ingredients.
With 47% high-quality proteins providing plenty of muscle support, omega fatty acids promoting healthy skin & coat, glucosamine & chondroitin aiding joint mobility, and probiotics for a strong digestive system, this all-natural dog food packs in all the necessary nutrition your pup needs.
Customers have reported that their little ones absolutely love it, whether mixed with wet food or served as treats! They have also noticed improved teeth & gums quality after long-term use.
High-quality ingredients that are ideal for small breeds
Packed with nutrients such as Omega 3s and Glucosamine/Chondroitin
Grain-free, which can be great if your pup has sensitivities
No artificial preservatives, flavors, colors, nor any wheat gluten
Not suitable for picky eaters – some doggies may refuse it
Tiny star-shaped kibble might not appeal to every canine
Can be an expensive choice compared to other brands
3. Merrick Lil Plates Beef Sweet Potato Dog Food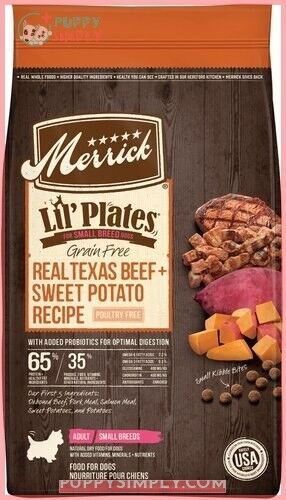 View On Chewy
Merrick Lil Plates Beef Sweet Potato Dog Food offers a grain-free recipe tailored to the needs of small breed dogs, featuring real deboned Texas beef and sweet potatoes as the primary ingredients. This kibble contains probiotics and omega-3 fatty acids for digestion, skin, and coat health, plus glucosamine and chondroitin for joint support.
The small size makes it easier on tiny mouths while promoting healthy teeth & gums.
Plus, this product is free from corn, wheat, soy, or gluten, making it ideal for those with sensitivities or allergies.
Contains real deboned Texas beef as the main ingredient
Rich in glucosamine & chondroitin with added probiotics and omega 3s for improved digestion
Small crunchy kibble perfect size for smaller breeds
Free of grains like corn, wheat, soy, or gluten, a great option if your pup has sensitivities/allergies
Some picky eaters may refuse this food due to recent formula changes affecting palatability
Vet advice against grain-free due to nutrient concerns
Worries about choking given its small kibble size
4. CANIDAE Lamb Rice Dog Food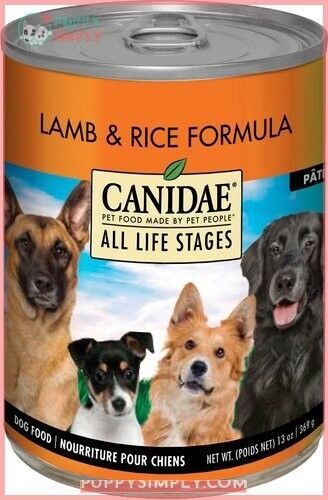 View On Chewy
CANIDAE Lamb Rice Dog Food is a delicious treat for your pup, simmered with savory broth and bursting with flavor like an explosion of taste buds in their mouth.
Real lamb provides the protein boost to help keep muscles strong, while wholesome grains provide energy throughout the day. This meal is free from corn, wheat, or soy fillers, so you can rest assured that your fur baby is getting only the best nutrition available.
The 9.75-pound can also makes it convenient to buy in bulk through Chewy without having to worry about running out soon!
Formulated by veterinarians
Suitable for all dog breeds across sizes & ages
Contains real lamb & wholesome grains
Free from corn, wheat, or soy fillers
Comes in a 9.75 lb package size
Easy purchase via bulk on Chewy
Some puppies found the food soupy and hard to scoop
Not preferred by some picky eaters
Sticks to sides of can; somewhat gummy
5. Purina ONE Plus Puppy Food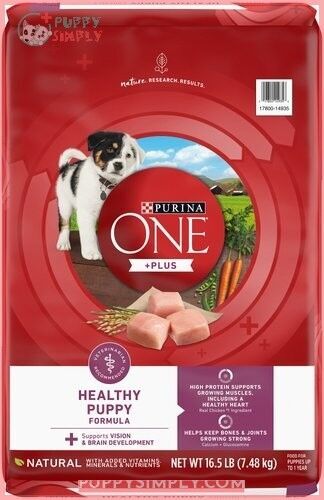 View On Chewy
Purina ONE Plus Puppy Food is packed with high-quality ingredients like real chicken, DHA for vision and brain development, calcium for strong teeth, and four antioxidant sources to support a healthy immune system.
It also contains omega-6 fatty acids, vitamins, and minerals to help maintain skin and coat health, as well as being free from artificial flavors or preservatives.
This premium dog food is suitable for all breeds of pups, but some vets recommend it specifically for puppies due to its nutritional content.
Though the product has generally positive reviews, with customers noting their dogs' improved appetite since switching over from other puppy foods, there are occasional reports of inconsistencies in quality, such as miniature pieces of chicken in the mix, which can be an issue if your pup won't eat them! However, this doesn't seem widespread enough that it's causing too much concern, so Purina One Plus remains a great choice overall when picking out dog food tailored towards your Maltese pup's needs.
High-quality ingredients
Contains DHA & Calcium
Suitable For All Breeds
No Artificial Flavors/Preservatives
Occasional Quality Issues
Not Recommended For Senior Dogs
6. Royal Canin Maltese Adult Dog Food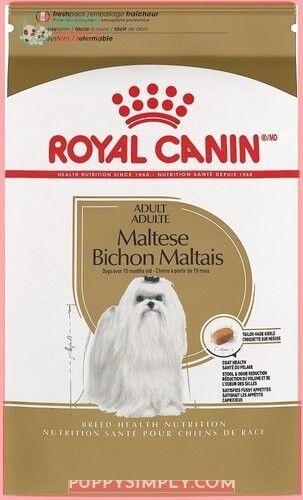 View On Chewy
Royal Canin's Maltese Adult Dog Food offers a tailored blend of biotin and omega-3 and -6 fatty acids to keep your pup healthy as a daisy! Specially designed kibble makes it easy for small dogs to pick up, chew, and digest.
With its optimal nutrition profile, you can be sure that your Maltese is getting all the essential nutrients needed for an active life while keeping their weight in check.
The product has received positive reviews from customers, with many praising its suitability for their pups' dietary needs. They also appreciate Chewy's availability of delivery service, making it convenient for them to order online without having to go out looking around different stores or pet shops.
Contains biotin & omega-3/6 fatty acids
Easy digestion & high palatability
Convenient ordering process through Chewy
Some customer concerns about pricing
Not suitable if dog is allergic
7. Taste Wild Appalachian Valley Small Dog Food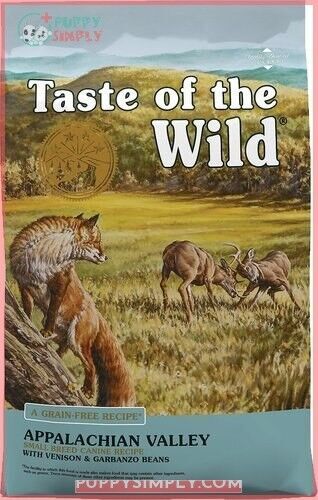 View On Chewy
Taste of the Wild Appalachian Valley Small Dog Food is a grain-free dry dog food that packs real meat as its main ingredient, providing your Maltese with plenty of protein for healthy bones and muscles.
With vitamins and minerals from real fruits and superfoods, omega fatty acids to support skin health, plus species-specific K9 Strain Propriotics for digestion, this meal is perfect nutrition for extra small or small breed dogs.
Real meat as the number one ingredient provides optimal protein content.
Vitamins and minerals from whole fruits and superfoods provide additional nutrients.
Omega fatty acids promote skin and coat health.
Species-specific probiotic blend aids digestion.
Antioxidants help protect against disease.
Prebiotics assist in overall wellness.
Some customers reported wetness at the bottom of the bag.
Past lawsuits regarding ingredients.
Possible presence of lead.
8. Nutro Ultra Small Breed Dog Food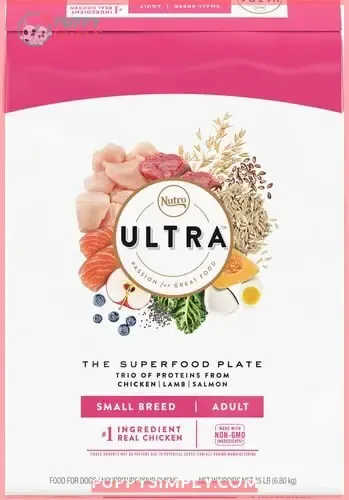 View On Chewy
Boasting real ingredients such as chicken, lamb, and salmon plus a blend of 15 superfoods like coconut, chia, kale, and blueberries, Nutro Ultra Small Breed Dog Food is perfect for an active lifestyle.
Crafted to meet the nutritional needs of small breed adult dogs aged one year or more, this protein-rich formula contains no artificial preservatives, flavors, or colors. It's also free from corn, wheat, soy protein, and chicken by-product meal, making it a great choice for picky eaters.
With its rigorous quality and food safety testing, many users have reported positive results with their dog's health, including improved coat health after switching to Nutro Ultra Small Breed Dry Dog Food.
Chewy offers convenient delivery on these 15-pound bags, so you can rest assured your pup will be getting optimum nutrition in every bite!
High-quality real ingredients sourced from trusted farmers
Rigorous quality & food safety testing
Free from artificial preservatives, flavors, and colors & chicken by-product meal
Suitable for picky eaters
Convenient delivery option available at Chewy
Some dogs may find kibble size bigger than expected upon opening a new bag
Not suitable for puppies under 12 months old
9. Diamond Naturals Small Breed Chicken Rice
View On Amazon
Diamond Naturals Small Breed Chicken Rice offers a protein-rich formula that's perfect for small breed dogs. It features real chicken, superfoods, and live microorganisms. This 18-pound package is formulated with 27% protein and 16% fat to meet the needs of active pups while providing optimal nutrition.
Superfoods such as coconut, chia, kale, and blueberries support overall health, while omega fatty acids aid in maintaining healthy skin and coat.
With no corn or wheat included in the recipe, it makes an ideal choice for those looking to avoid allergens while still ensuring their pup gets all they need nutritionally.
Contains real chicken as the primary ingredient
Formulated with 27% Protein/16% Fat
Includes Superfood ingredients and Omega Fatty Acids
Contains Probiotics promoting Digestion Health
Not suitable if you are avoiding grains altogether
Some users have mentioned unpleasant odors associated with this product
10. Wellness CORE Small Breed Dog Food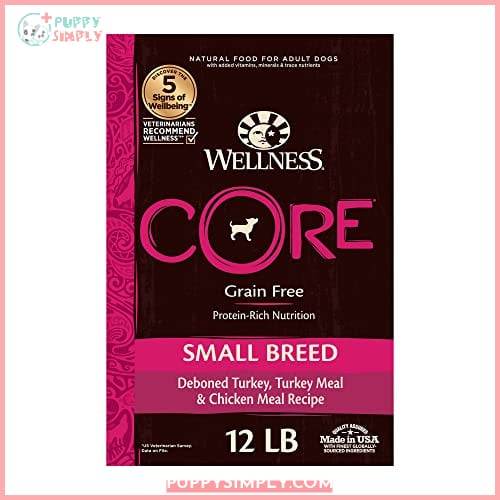 View On Amazon
Finally, Wellness CORE Small Breed Dog Food is a grain-free option boasting high-quality protein ingredients to help keep your pup's muscles strong and healthy. This adult dry dog food contains 47% protein from responsibly sourced turkey as the primary source of nutrition, with omega fatty acids for skin and coat health and glucosamine for joint support.
What to Look for When Choosing Dog Food for Maltese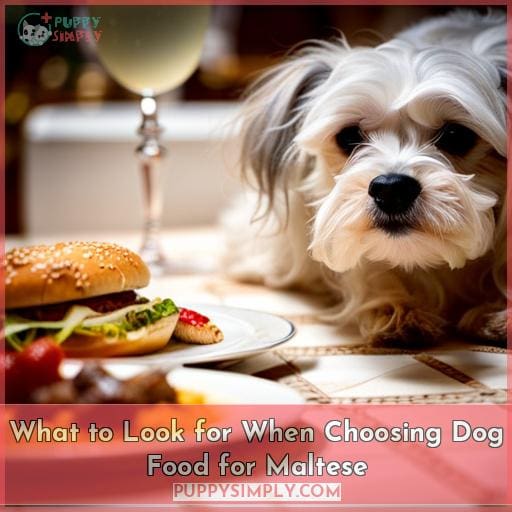 When it comes to selecting the right dog food for a Maltese, nutrition is key. Knowing what nutritional needs are specific to this breed will help you make an informed decision and ensure your pup stays healthy and happy.
Nutritional requirements for Maltese
It's important to consider your Maltese's nutritional needs when selecting a dog food for them. A balanced diet should include protein sources such as fish, meat, eggs, and dairy. It should also include fat from nuts and oils, carbohydrates from grains or vegetables, and vitamins and minerals found in fruits and veggies.
Meal planning for an active Maltese requires consideration of their age, lifestyle, activity level, and breed-specific needs. These needs can include dental health or coat shine. Scheduled dietary considerations also help keep healthy weight levels while providing essential nutrients that are beneficial to their overall well-being.
Protein foods can come from animal products like beef or poultry, but they should be low in fat content to avoid adding too many extra calories into the mix. Carbohydrates provide energy, but it is important not to overfeed these due to the risk of obesity with this breed type.
Ingredients to avoid
When shopping for your Maltese's meal, watch out for unnecessary fillers and artificial nasties – they'll only make them sicker! Avoid grain-free dog food as it may be linked to DCM. Steer clear of meat by-products and artificial additives in dog food that can cause health concerns.
Investigate the ingredient list on any product you're considering buying to ensure its nutritional value. Look for high-quality protein sources like real meat, whole grains, fresh fruits, and vegetables.
These will provide all the nutrients your pup needs without compromising their health or well-being.
Keep an eye out for fatty acids like Omega 3s & 6s, which are essential dietary tips if you want a healthy pooch! Make sure whatever choice you go with is best suited to meet their individual needs so they can enjoy every mouthful guilt-free!
Considerations for picky eaters
If your Maltese is a picky eater, you may need to take extra steps to ensure they're getting the nutrition they need. To help manage mealtime strategies and food variety, consider caloric control and flavor preferences.
Transitioning from one type of dog food to another can be challenging, so try introducing new foods slowly or mixing them with familiar favorites in small portions at first. Make sure your pup's meals are appropriate for their age—adult dogs should eat adult-formulated food while puppies require puppy formulas for optimum growth and development.
Additionally, be mindful of ingredients that could cause health issues like grain-free diets linked with Dilated Cardiomyopathy (DCM).
Feeding Guidelines for Maltese Dogs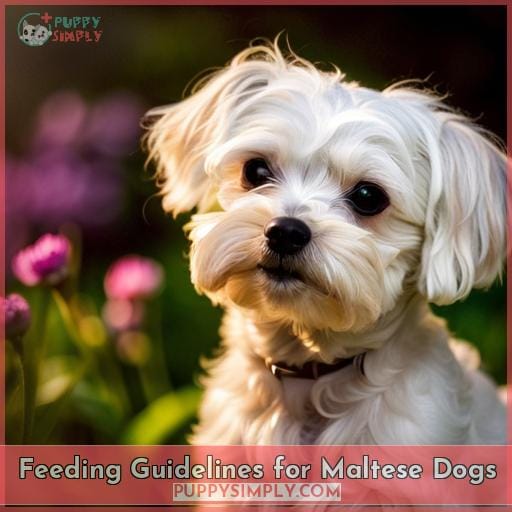 Feeding your Maltese the right food is an important part of keeping them healthy and active.
Caloric Management: As with any small breed, monitoring caloric intake is essential due to their susceptibility to obesity. Choose a high-quality protein source that will provide adequate energy without overfeeding calories.
Protein Sources: Look for foods with at least 22% crude protein, preferably from meat sources like chicken or beef as these are more easily absorbed by dogs than plant proteins like legumes or grains.
Feeding Schedules & Ages: Puppies should be fed smaller meals up to three times daily until 12 months old while adults can usually do well on two feedings per day depending on activity levels and sensitivities towards certain ingredients such as wheat gluten/soybean meal etc.
Buyer's Guide: Considerations for Choosing the Best Dog Food for Maltese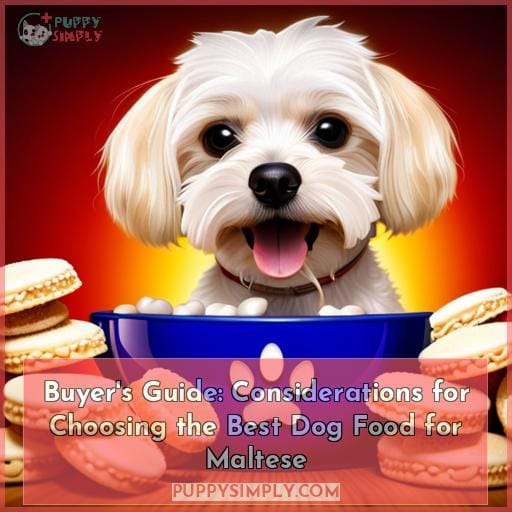 Finding the best dog food for Maltese requires careful consideration of their nutritional needs. With a breed that is predisposed to obesity, it's important to select a diet designed specifically for small dogs with adequate amounts of protein and fat while still monitoring caloric intake carefully.
Nutritional needs for Maltese.
To keep your Maltese healthy and energetic, it's important to provide him with the right balance of nutrients in his diet. Look for a high-quality dog food that includes meat as its main ingredient, supplemented by carbohydrates such as whole grains or potatoes.
It should also have essential fatty acids like omega 3 and 6, plus vitamins and minerals for optimal health.
Control portions according to your dog's age, weight, energy level, and activity schedule. Avoid overfeeding while providing enough calories for growth or maintenance needs. Consider homemade recipes including cooked meats with vegetables/fruits mashed together.
The best quality dry foods are an excellent choice due to their nutrient content. Be sure they're appropriate for the breed size – smaller kibbles are easier on tiny mouths.
Ingredient considerations for Maltese.
When choosing a dry food for your Maltese, it's important to look at the ingredients and ensure they meet their nutritional needs.
Look for high-quality protein sources like chicken, turkey, fish, or lamb. Also, consider other nutrient-rich whole grains such as dietary fiber and essential vitamins.
Avoid grain-free diets with potato or pea proteins, as they may be linked to DCM in some breeds of dogs.
Allergen awareness is also key. Check labels carefully for foods that might contain common allergens like dairy products or artificial flavors, as these can cause food allergies in dogs.
By following these dietary guidelines, you'll find the best dog food option for your Maltese!
Avoiding potential health risks
With a breed like Maltese, it's important to be aware of potential health risks when choosing their food – so you don't end up with an unhealthy pup!
When selecting the best dog food for Maltese, consider dietary guidelines and ingredient scrutiny. Make sure to portion control meals accordingly and look for breed-specific considerations such as grain-free foods, which may help reduce issues like dental problems or joint inflammation.
Additionally, keep an eye out for VTN nutrition labels, which can provide valuable information about a product's ingredients and nutritional value.
Consider the following:
Dietary guidelines & ingredient scrutiny
Portion control meals according to size & activity level
Look out for breed-specific considerations e.g., grain-free options
Check VTN nutrition labels
Stay informed on topics related to finding the perfect dry food option
Conclusion
Choosing the best dog food for your Maltese can seem like a daunting task, but with some knowledge of their nutritional requirements and the right products, you can find the perfect food for your pup.
With so many options available, it can be hard to decide. That's why we've compiled this list of top 10 dog food options for Maltese. From Blue Buffalo Small Breed Adult Dry Dog Food to Wellness CORE Small Breed Turkey Chicken, all of these recipes are packed with the vitamins and minerals that your Maltese needs to stay healthy and happy.
Whether you're looking for a kibble, wet food, or treats, these top 10 picks are sure to have something to suit your pup's needs.