This site is supported by our readers. We may earn a commission, at no cost to you, if you purchase through links.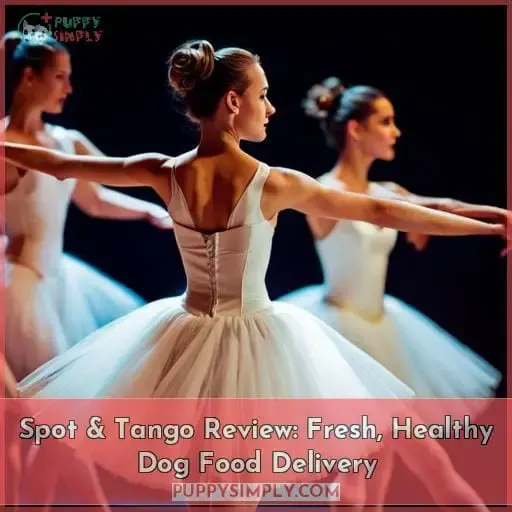 Do you want to ensure your pup is getting the best nutrition available? Spot & Tango offers an innovative solution for pet parents looking for a fresh, healthy dog food delivery service. Through their personalized meal plans and quality ingredients, Spot & Tango provides all-natural meals tailored to each pet's individual needs.
In this review, we discuss what makes Spot & Tango unique and why it stands out from other dog food brands on the market today. From their human-grade recipes with premium proteins down to their comprehensive vet consultation program – there's something here that every canine will enjoy! We'll take a look at how they craft nutrient-dense recipes suitable for any size or breed of pup as well as explain exactly what vets think about this brand's products.
Plus, discover some of our favorite features like weight loss benefits and increased enjoyment for dogs when eating these meals crafted by professionals in the field of animal nutrition!
Key Takeaways
Spot & Tango offers personalized dog food meal plans with fresh ingredients.
They provide UnKibble (fresh dried) and frozen recipes.
Ingredients include fish oil, sunflower seeds, powdered cellulose, and chelated minerals.
Customers report improved energy levels and health benefits.
What is Spot & Tango?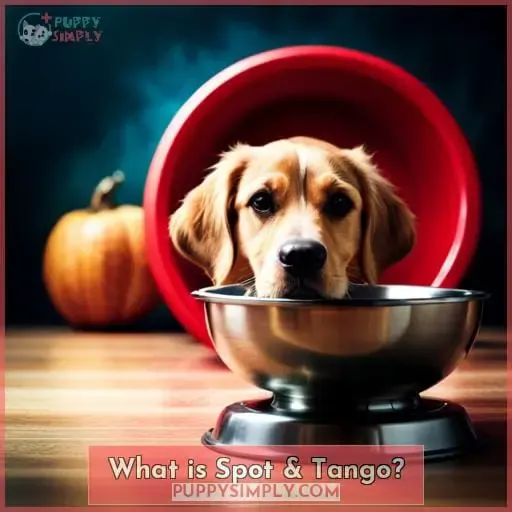 You can trust Spot & Tango to provide personalized, high-quality dog food meal plans crafted with fresh ingredients and approved by veterinary nutritionists.
Overview: Spot & Tango offers a range of options for all ages – UnKibble (fresh dried) or frozen recipes, both starting at $1.54 per meal. They also include feeding guidelines and nutritional information in each order.
Their recipes meet AAFCO standards, while their kitchens are USDA certified, giving you peace of mind that your pup is eating the best quality food available.
Ingredients: All meals are made with simple whole foods like fish oil (rich in omega-3 fatty acids), sunflower seeds, powdered cellulose (fiber), and chelated minerals for easier absorption.
Pricing & Personalization: Starting at just $7/week for personalized meal plans tailored to your pup's needs gives you great value too – save 20% on your first order when trying it out! Delivery is door-to-door within 48 contiguous US states, making this convenience an added bonus compared to other brands offering similar services.
Transparency throughout ensures that you know exactly what's going into every bite – so give Spot & Tango a try today!
How Does Spot & Tango Work?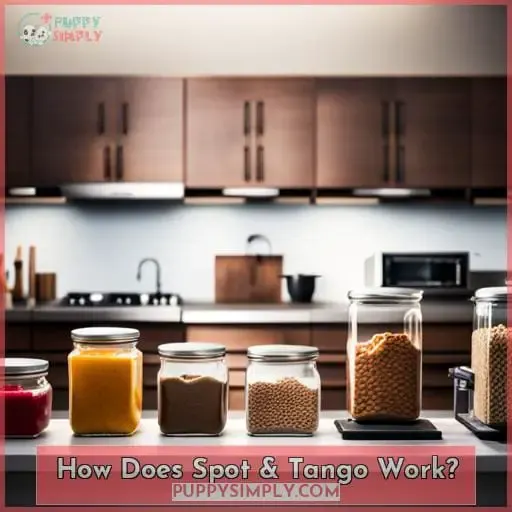 Using the personalized quiz, you can quickly get started on creating a meal plan tailored to your pup's needs. Spot & Tango makes it easy. Select a dog profile from Bella, Luna, or Sunny and answer a few simple questions about breed, age, and activity level.
Ingredient transparency is a top priority. All recipes contain twelve simple ingredients with farm-fresh US suppliers for nutritional value.
Get delivery convenience for 48 contiguous states plus nutrition breakdowns with each order.
The personalization process takes just minutes. Then enjoy the benefits of Spot & Tango's fresh meals delivered right to your door – no mess or fuss! Their customer reviews are overwhelmingly positive, so why not try UnKibble today?
What's in Spot & Tango Dog Food?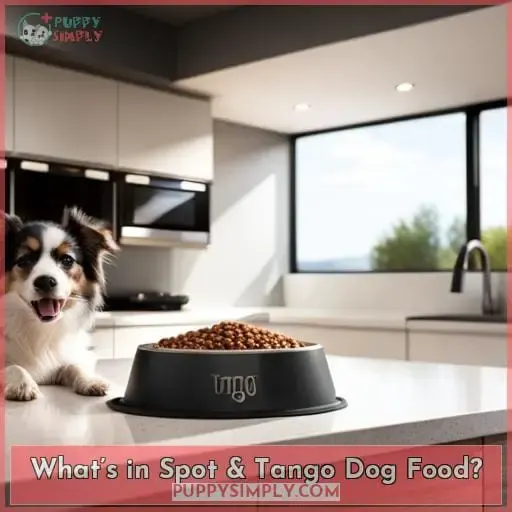 Discover what's inside Spot & Tango dog food, with recipes made from fresh ingredients and nutritional guidance to keep your pup healthy! Spot & Tango offers three UnKibble dry dog food recipes: Cod and Salmon, Beef and Barley, Chicken and Brown Rice.
All of these are packed with protein-rich whole ingredients like fish oil (omega-3 fatty acids), sunflower seeds for vitamins A&E as well as chelated minerals for easier absorption. With more than 28% protein on a dry matter basis, the fat content is an impressive 17%, while carbs come in at 47%.
The brand also includes powdered cellulose for fiber which helps promote digestion health—all approved by AAFCO guidelines.
Additionally, they source their quality ingredients from U.S.-based farms so you can trust that only the best goes into every recipe! Whether it's digestive support or weight management needs you have covered; dietary customization is available through their personalized meal plans tailored to breed type age level activity levels even allergies making sure each bite counts towards optimal canine nutrition no matter who's eating it!
What Do Vets Think About Spot & Tango?

Vets are impressed with Spot & Tango's commitment to nutrition and high-quality ingredients. Their recipes are formulated by veterinary nutritionists, meet AAFCO standards, and use simple but nourishing whole food ingredients from US suppliers.
Here is a 5 point summary of what vets think about the brand:
They appreciate the ingredient transparency as it allows for expert evaluation of health benefits.
Vets commend the nutritional analysis that meets or exceeds established guidelines.
The quality of ingredients used in UnKibble Recipes is highly praised.
Many vet clinics recommend this dog food due to its freshness and quality control procedures.
The lack of any known recalls since October 2023 speaks positively about safety protocols.
From personal experience, many pet owners claim their dogs have improved energy levels after switching to Spot & Tango along with positive changes in certain health conditions such as weight loss or allergy relief.
What We Liked About Spot & Tango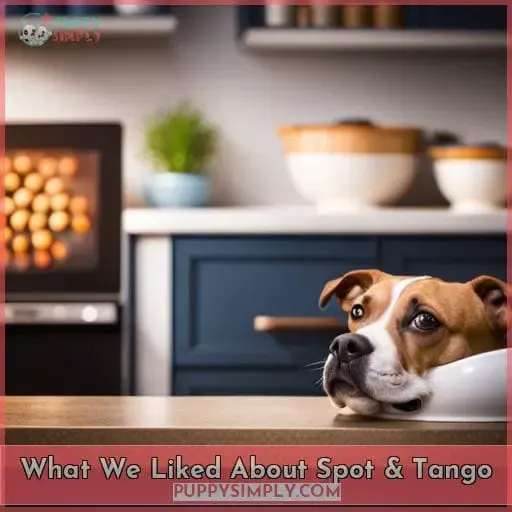 If you're looking for a fresh, high-quality meal plan for your pup, Spot & Tango can help. Weight loss benefits and dogs enjoying the food are two key points that make this brand stand out from others.
Weight Loss Benefits
Weight loss is one of the notable benefits you can expect from Spot & Tango, with many customers seeing a decrease in their pup's weight by 1 pound in a month. The nutritional analysis and ingredient transparency promote better meal plan customization for optimum health and well-being.
Spot & Tango provides an easy way to maintain your dog's ideal weight through customized meals that meet their individual needs.
| Ingredient Transparency | Nutritional Analysis | Customer Testimonials | Meal Plan Customization | Weight Loss Benefits |
| --- | --- | --- | --- | --- |
| Excellent | Excellent | Good | Very Good | Outstanding |
Dog Enjoyment
Some dogs really seem to love the taste of Spot & Tango's food. With human-grade ingredients and flavor satisfaction, mealtime joy is a treat for your canine companion. Whether their palate preference leans towards Cod and Salmon or Beef and Barley UnKibble, they're sure to experience delight with every bite.
The pricing might be considered expensive, but that doesn't stop pups from enjoying the flavors in each serving of dry dog food.
What We Didn't Like About Spot & Tango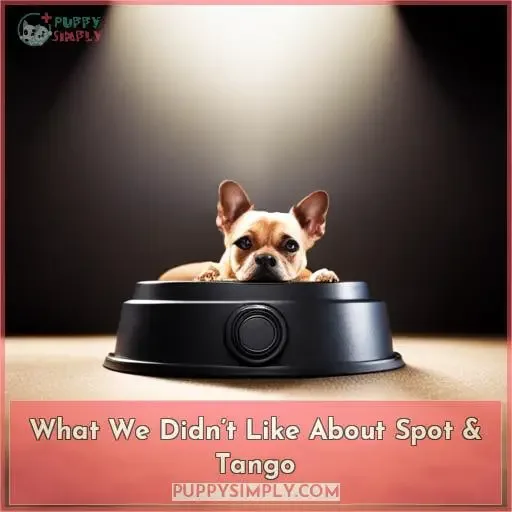 When considering Spot & Tango as a food option for your pet, there are both pros and cons to consider. One potential downside is that some dogs experience increased gas after eating the UnKibble product, while pricing could be considered expensive at $64.
Increased Gas in Some Dogs
Be aware that your pup may experience increased gas when consuming Spot & Tango UnKibble. Many owners have reported their pets exhibiting smelly poo and flatulence after starting a customized meal plan with subscription pricing.
The cause of these issues is unknown, but it could be due to the fresh ingredients or cooking process used to make UnKibble recipes for dogs of all ages.
Thankfully, there are remedies available. Switching up treats and adding probiotics can help reduce these issues over time. Additionally, making sure your dog gets enough exercise each day can aid in digestion.
Expensive Pricing
It'll drain your wallet: UnKibble costs a hefty $64.80 each week.
At $1.54 per meal, it is higher priced than many competitors.
The cost may deter budget-conscious owners.
UnKibble's premium ingredients come at a premium price.
Consider doing an affordability analysis before committing.
Though pricey, this fresh, personalized dog food may be worth it for many. Trial sample packs allow budget-friendly testing. With tailored meal plans and quality ingredients, Spot & Tango aims to optimize nutrition.
But for some, the ongoing expense could be prohibitive. Weigh the pros, cons, and your wallet before diving in.
Is Spot & Tango Worth It?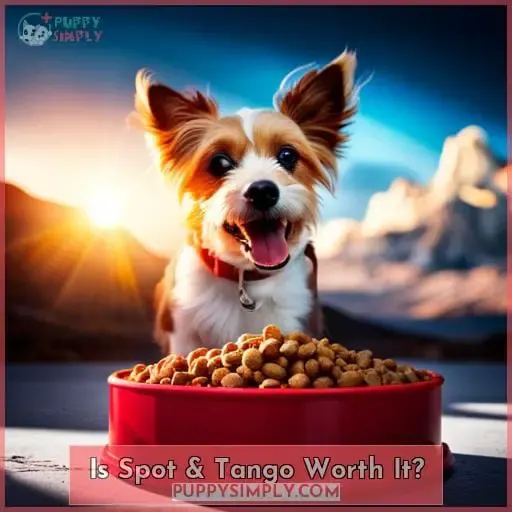 Considering the quality ingredients, personalized meal plans, and overall customer feedback, you have to decide if Spot & Tango's fresh food is worth its price tag. Whether or not Spot & Tango is worth the cost depends on your budget and priorities.
The ingredients like kale, brown rice, fish oil and selenium yeast are high quality, but at over $1.
Spot & Tango
| Pros | Cons |
| --- | --- |
| Benefits like allergy relief and longer lifespan | Higher cost per meal |
| Ingredient transparency | May not fit all budgets |
| Customized meal plans | |
| Positive customer reviews | |
| Fresh, high-quality ingredients | |
You'll have to weigh the benefits of fresh, customized meals against the higher prices. If your budget allows, Spot & Tango's transparency and personalization make it a compelling option. Look at customer feedback and free trial offers when deciding if it's worth it for your pup.
Which Spot and Tango UnKibble Dry Recipes Get Our Best Ratings?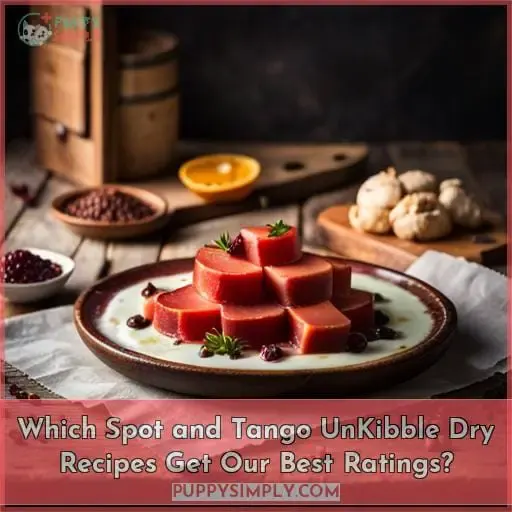 You'd like the chicken and brown rice recipe best for its protein and fiber content.
High in protein at 32% dry matter basis
Moderate 17% fat keeps dogs feeling full
Contains probiotics for digestive health
Among Spot & Tango's UnKibble recipes, the chicken and brown rice formulation receives top ratings for its optimal balance of quality protein and digestible carbs. Real deboned chicken provides ample protein for strong muscles, and organ meats like chicken liver supply bioavailable nutrients.
The addition of prebiotic fiber from sweet potatoes helps maintain healthy digestion. With quality ingredients like chicken meal, brown rice, and chelated minerals, this recipe offers complete and balanced nutrition.
While more costly than kibble, customers say it's worth it for the fresh whole-food ingredients. According to reviews, dogs love the taste and have more energy and less stool volume.
Recipe and Label Analysis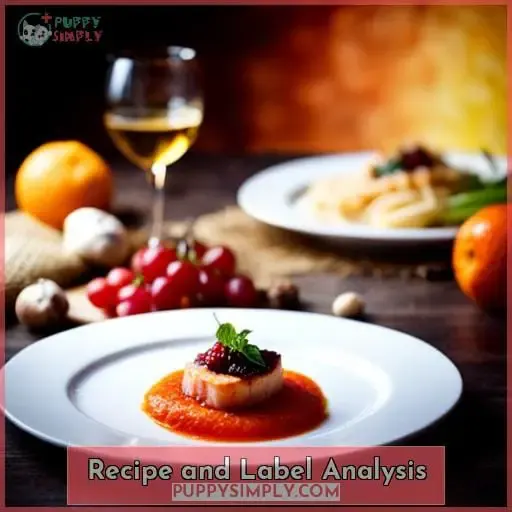 Take a closer look at Spot & Tango's UnKibble recipes and label analysis to ensure they meet your pup's needs. All of their ingredients are sourced from US suppliers, come with AAFCO approval, and have no known recalls since October 2023.
The nutritional analysis is impressive – the chicken and brown rice recipe contains 28% protein, 17% fat, and 47% carbs on a dry matter basis – while 12 simple ingredients ensure transparency in the recipe evaluation process.
Their ingredient breakdown also includes notable elements like fish oil (high in omega-3s) and powdered cellulose (fiber).
| Ingredient | Origin |
| --- | --- |
| Cod/Salmon/Beef/Chicken | USA Suppliers |
Ingredient and Nutrient Analysis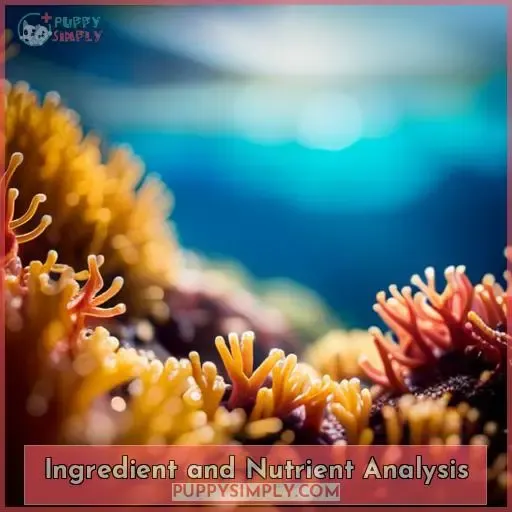 Spot & Tango's UnKibble offers an impressive ingredient transparency, with twelve simple ingredients used in their recipes. Farm-fresh ingredients are sourced from US suppliers as well, making them shelf-stable and easy to digest.
The chicken gizzard recipe contains 28% protein and 17% fat on a dry matter basis, plus chelated minerals for easy absorption. Omega 3s come from fish oil, while fiber comes from powdered cellulose—all of which can help support hypoallergenic diets when needed.
Additionally, Spot & Tango also has freeze-dried snacks that offer variety without sacrificing nutritional value or flavor – perfect for any Beagle Poodle mix!
When it comes to pricing comparison against other brands' products like kibbles and canned food options, Spot & Tango is often the more expensive option. However, customers have found it worth the price due to the quality nutrition provided in each meal plan order they make.
With these features combined
Conclusion
Spot & Tango is a great option for pet owners looking for fresh, healthy dog food delivery. With over 4 million meals served and an average weight loss of 1 pound per month, Spot & Tango has already become a favorite among dog owners.
The fresh dry UnKibble is packed with protein, fiber, and vitamins and minerals, making it a great choice for a variety of dog breeds and ages. Plus, Spot & Tango is supported by vets and pet nutritionists, and all of their recipes are AAFCO-approved.
The farm-fresh ingredients, personalized meal plans, and money-back guarantee make Spot & Tango a great choice for pet owners who want to feed their pets the best.