This site is supported by our readers. We may earn a commission, at no cost to you, if you purchase through links.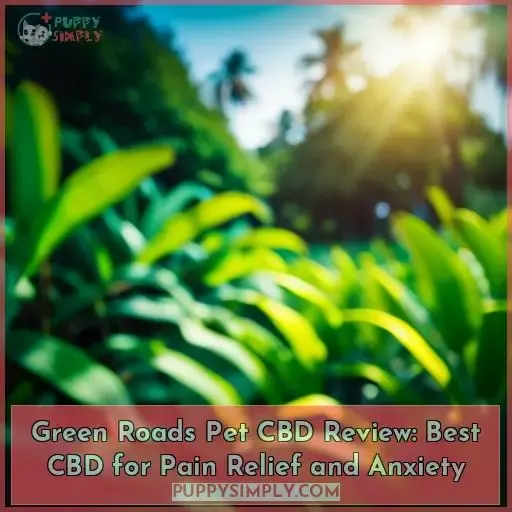 Are you concerned about your pet's health and wellbeing? If so, Green Roads Pet CBD may be just the solution you're looking for.
In this comprehensive review of Green Roads' pet CBD products, we'll look at some of the best high potency options on offer as well as their range of broad spectrum CBDs designed to provide pain relief and help reduce anxiety in pets.
Whether it's full spectrum gold hemp oil or a specially formulated pain relief cream, there's something here that can benefit both cats and dogs alike – all backed up by independent lab testing to ensure quality control throughout production.
So if you're ready to explore what Green Roads has to offer for your beloved furry friend(s), read on!
Key Takeaways
Green Roads offers a range of high-potency CBD products for pets, including drops, oils, capsules, and creams.
All products are independently tested for quality assurance and are free from THC and artificial ingredients.
These products provide various benefits such as stress relief, joint discomfort relief, anxiety management, and potential sleep support for pets.
The labeling and dosing instructions on Green Roads' pet CBD products are precise and based on pet size, ensuring safety and effectiveness.
Best High Potency CBD for Pets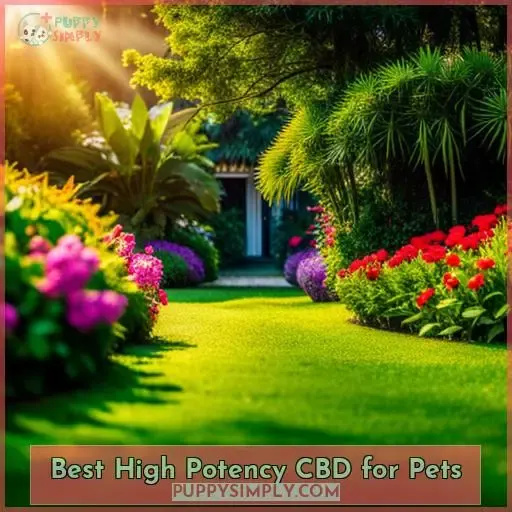 If you're looking for a high potency CBD to help support your pet's wellness, Green Roads offers great options. Their Small Dog & Cat CBD Pet Drops (30ml) contain 60mg of broad-spectrum hemp extract.
This product is specifically designed for pets up to 15lbs and contains 2mg of CBD per 1ml. It uses MCT oil and hemp seed oil as carrier oils, which are known for their health benefits.
The dosage can be adjusted according to the size of the pet, with larger dogs needing more drops than smaller ones or cats. Furthermore, this product has been independently tested for quality assurance. Customers can rest assured they are getting a safe and effective product that will benefit their furry friends in numerous ways.
It can help reduce stress levels, promote emotional balance, and improve general wellbeing.
The best part is that this CBD product has no THC content and does not contain any artificial ingredients or chemicals. It is a natural and reliable choice for your pet's needs. So, if you want something that is both natural and effective, Green Roads' Small Dog & Cat CBD Pet Drops are an ideal choice.
Full Spectrum Gold Hemp Oil for Pets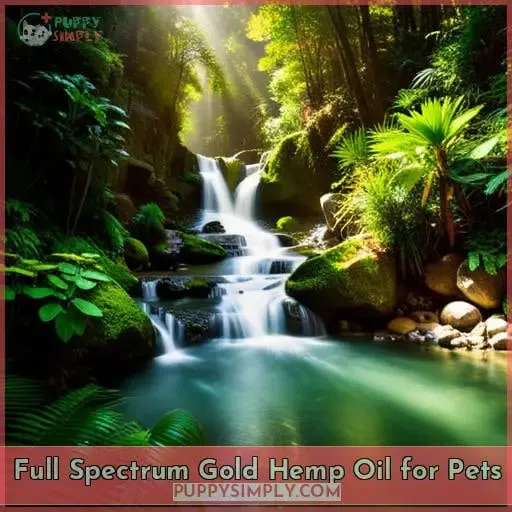 Try Green Roads' Full Spectrum Gold Hemp Oil for your pet to experience the potential benefits of CBD. It contains hemp-derived cannabinoid extract and is designed specifically for small dogs and cats.
Benefits may include stress relief, focus, emotional balance, and active aging support in pets, as well as relaxation from joint discomfort without causing extreme hunger or munchies.
Plus, it's made with MCT oil and hemp seed oil carrier oils, which are sourced from trusted US farms for quality assurance.
Each batch is also third-party lab tested, so you can ensure its purity before giving it to your furry friend:
2mg of CBD per 1ml
Broad spectrum containing no THC
Recommended dosage – one portion daily
No artificial ingredients/chemicals
Best Broad Spectrum CBD for Pets

For your pet's optimal wellbeing, opt for a high-quality broad spectrum CBD from Green Roads. Their line of Broad Spectrum Pet Drops is specially formulated with hemp-derived cannabinoids and terpenes to provide the best support for your furry family member.
The drops come in three sizes: Large (20mg/1ml), Medium (7mg/1ml), and Small (2mg/1ML). With precise dosing instructions based on weight, you can easily find the right dosage for your pet's needs.
With third-party testing of each batch to ensure quality control, customer testimonials that are positive across various conditions, as well as trusted sources used in production including MCT oil and Hemp seed oil – this product provides safe comfort without any psychoactive effects or side effects from additional chemicals or artificial ingredients.
Be sure to consult a physician if taking other medications alongside CBD products like these ones from Green Roads!
Broad Spectrum Hemp Oil for Pets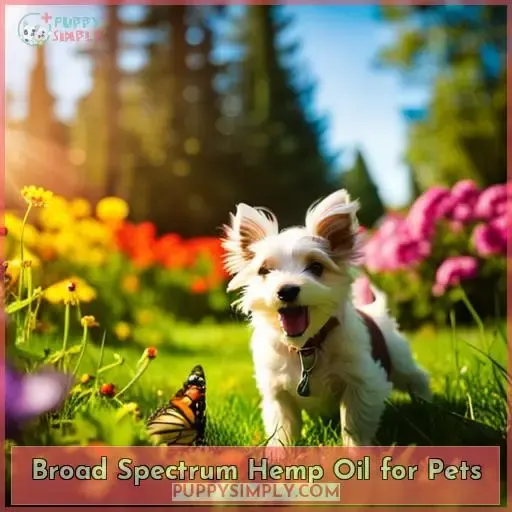 Take your pet's health to the next level with Green Roads' Broad Spectrum Hemp Oil; it'll hit a home run! Specifically formulated for pets, this hemp oil contains no THC and is produced using MCT oil and hemp seed oil as carrier oils.
The recommended dosage for small dogs (up to 15lbs) or cats is 2mg of CBD per 1ml, while larger dogs are given 20mg. Customers have reported positive results after giving their pets this product, praising its ability to reduce stress in animals along with other benefits such as improved focus and emotional balance.
It also undergoes third-party lab testing so you can rest assured that what you're getting is pure quality without any artificial ingredients or harmful chemicals.
So why not give the gift of optimum wellness by investing in Green Roads' Broad Spectrum Hemp Oil? Your furry friend will thank you for it!
Best CBD for Pain Relief in Pets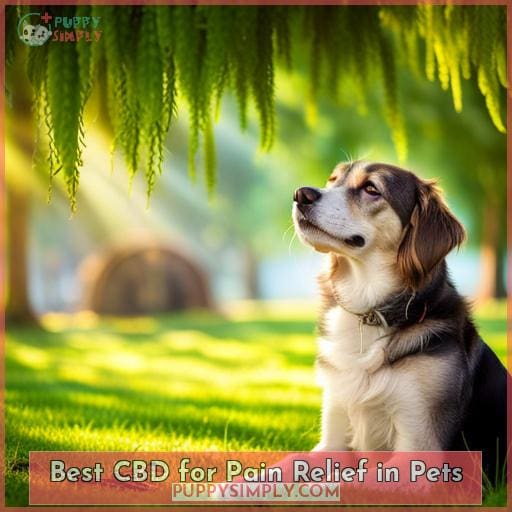 Experience the amazing pain relief benefits that CBD has to offer your beloved pet! Pet owners have increasingly been turning towards CBD as an effective method for managing their pets' pain. Green Roads offers a variety of options tailored for pet wellness, including Broad Spectrum Hemp Oil and Extra Strength Hemp Relax Bears.
Both are lab tested for quality and safety, ensuring your furry friend is getting the best possible product.
Dosage recommendations vary depending on size and weight. However, it's important to start with small amounts until you find what works best for your individual pet's needs. Be sure to consult with a veterinarian before use if other medications are being taken simultaneously or if there is any concern about potential side effects or interactions between medications/CBD products.
Customers report positive experiences in aiding anxiety-related issues such as separation anxiety, along with reducing inflammation from joint discomfort thanks to the natural properties of hemp extract found within these products.
Research studies continue showing promise when it comes to utilizing cannabinoids like CBD in treating chronic pains associated with arthritis in animals, making them powerful alternatives alongside traditional treatments prescribed by veterinarians.
With so many options available today, finding relief can be just around the corner – so get started exploring all that Green Roads has available now!
Pain Relief Hemp Cream for Pets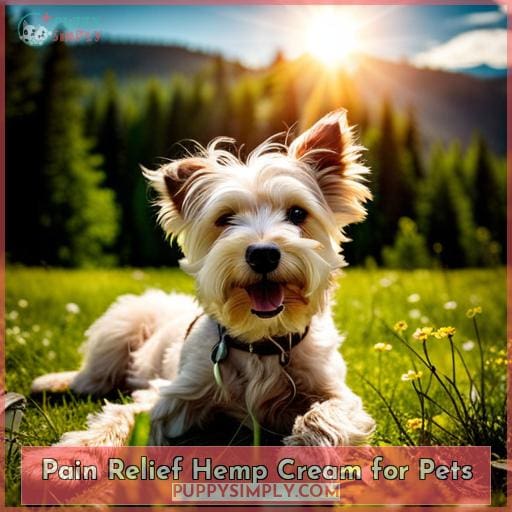 Try out Green Roads' Pain Relief Hemp Cream, designed to help your furry friend find relief from soreness and discomfort with its soothing blend of CBD extract and natural ingredients.
Its broad-spectrum formula contains no THC, making it safe for pets of all ages—perfect for aging animals or those suffering from pet anxiety. It also includes MCT oil as a carrier oil, which helps the active compounds absorb more quickly into the skin.
The hemp used in this product has been independently tested by third parties to ensure quality control in every batch, so you can trust that what you're giving your beloved pet is top-notch! Whether they need help winding down at night or easing joint pain during playtime, give them some extra comfort with Pain Relief Hemp Cream from Green Roads!
Best CBD Capsules for Pets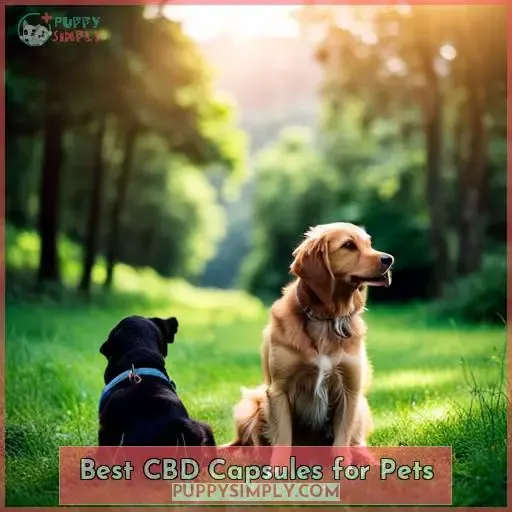 Now slip 'em some softgels to soothe stress. Green Roads CBD capsules provide a convenient way to give your furry friends their daily dose. Their pet capsules contain full-spectrum CBD, coming in doses optimized for the size of your pet.
Customers report giving them to dogs, cats, and horses suffering from anxiety, mobility issues, and pain. The softgels make dosing easy – just pop one into a treat or their food. Lab testing ensures quality and safety.
As with any supplement, start with the lowest dosage and increase slowly while monitoring your pet's response. Reviews show the capsules help many pets feel more relaxed and energetic. Choose CBD softgels designed specifically for pets and adjust the dosage for your pet's needs.
Third-party testing brings confidence in the quality. Overall, Green Roads CBD capsules present a simple option to potentially aid your pet's well-being.
Full Spectrum Hemp Softgels for Pets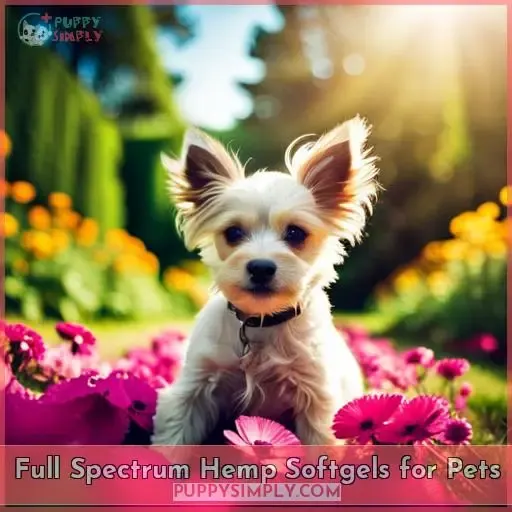 You'll find your furry friend feeling more at ease after giving Green Roads' full spectrum hemp softgels for pets. The hemp-derived cannabinoids in these softgels provide whole-plant benefits that support pets' endocannabinoid systems for calmness and balance.
Dosage tips vary based on pets' size and needs – start low with one softgel, observe the effects, and adjust as necessary.
Trusted CBD sources like Green Roads ensure quality ingredients pet parents can feel good about. With hemp extracted from U.S. farms, these softgels undergo independent lab testing for purity and potency.
Reviews show relieved pet anxiety, improved mobility, and more restful sleep. The full spectrum of cannabinoids and terpenes mirror nature's design.
As CBD research continues unfolding, pets benefit from hemp's rich wellness potential.
CBD for Pet Sleep and Anxiety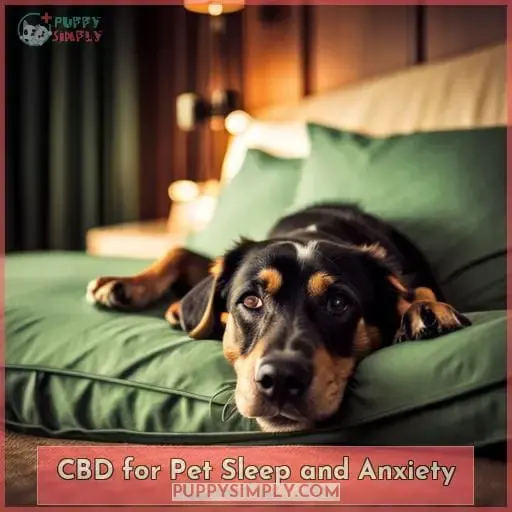 If your dog often struggles to fall asleep at night or gets easily worked up over people coming to the door, Green Roads' CBD pet drops could provide some much-needed calm. The company's products are formulated with broad-spectrum hemp extract containing no THC and feature a combination of MCT oil and hemp seed oil as carrier oils.
They offer three sizes for pets: Large (20mg of CBD per 1ml), Medium (7mg of CBD per 1ml), and Small (2mg of CBD per 1ml). Their Small Dog & Cat Drops contain 2 mg/1 ml, making them suitable for small dogs under 15 lbs or cats.
Ingredients include MCT Oil, Hemp Seed Oil plus Hemp Derived Cannabinoid Extract which may help with stress, focus, and emotional balance while supporting active aging in pets without any artificial ingredients or harsh chemicals that can trigger extreme hunger (the munchies).
Additionally, CBN is a nonintoxicating cannabinoid found within cannabis plants known for its calming effects while 5HTP & GABA have been used in relaxation techniques, both providing potential benefits towards sleep support along with anxiety relief when combined correctly into formulations like those offered by Green Roads.
CBD for Pet Pain Relief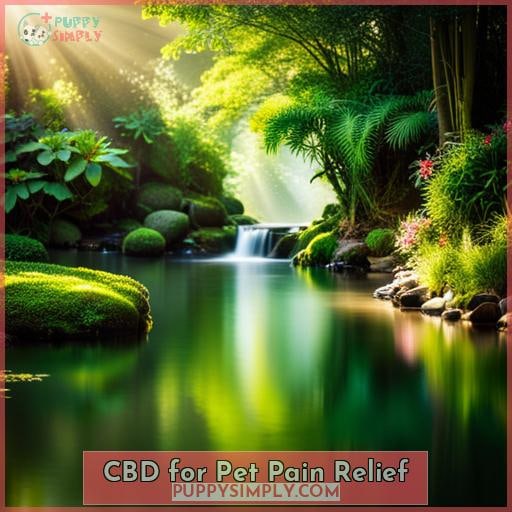 You can trust Green Roads to provide relief with their CBD products for pets, particularly when it comes to pain. Their broad-spectrum pet drops come in three sizes: Large (20mg/1ml), Medium (7mg/1ml), and Small (2mg/1ml).
The Small Dog & Cat CBD Pet Drops contain 2 mg of CBD per 1 ml, suitable for small dogs up to 15 lbs as well as cats. It is made from MCT oil and hemp seed oil carrier oils, along with hemp-derived cannabinoid extract that helps support a sense of calm and active aging in pets.
Customer testimonials have been positive regarding the effects on various conditions such as arthritis or joint pain, while safety concerns are addressed by independent lab tests. These tests also verify quality control standards set by Green Roads themselves.
For both health benefits and peace of mind, you can rest assured that your pet will be getting the best care possible with this product from Green Roads!
Conclusion
So, if you're looking for a CBD product to help your furry friend manage pain, anxiety, and sleep issues, Green Roads has you covered. From their potent Hemp Oil Drops to their Full Spectrum Hemp Softgels, their products are designed to provide relief and comfort for your pet.
All of their products are third-party tested for quality and are free from artificial ingredients and harmful chemicals. Plus, with their rewards program and subscription options, you can save even more on your furry friend's CBD.