This site is supported by our readers. We may earn a commission, at no cost to you, if you purchase through links.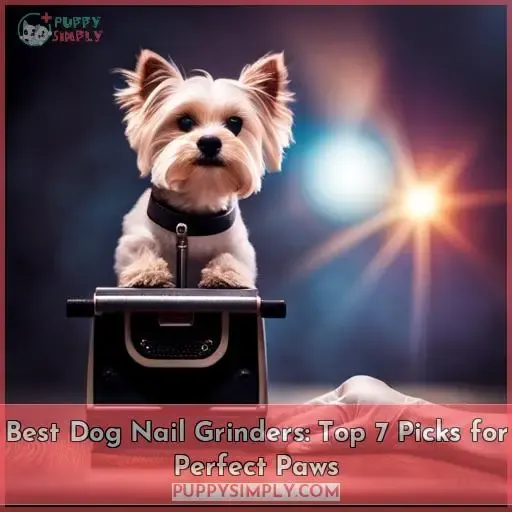 It's no secret that most pet owners hate the task of trimming their dog's nails. On average, it takes anywhere from 5-8 minutes to properly groom a single paw – and multiply that up by 4 paws! That's why investing in one of the best dog nail grinders is an absolute must.
With these powerful tools, you can effortlessly shape and file down your pup's claws without having to worry about cutting too short or causing any pain or discomfort.
From Dremel PawControl Dog Trimmer to Petural Electric Dog Nail Grinder, we've rounded up 7 picks for perfect paws: so check out our top recommendations today!
Key Takeaways
Dog nail grinders provide precise control and smoother edges compared to traditional clippers.
Casifor, Dremel PawControl, Casfuy, Furminator, Petural, Hertzko, and Oster Gentle Paws are the top dog nail grinder options.
Properly maintaining your dog's nails is crucial for their safety and health.
Tips for using dog nail grinders include operating the grinder carefully, introducing pets slowly to the grinder's noise, choosing a grinder based on breed and features, and considering professional assistance for safe trimming.
7 Best Dog Nail Grinders
When it comes to safely and comfortably trimming your pet's nails, dog nail grinders are a great option. There are several reliable models available on the market today, including the Casifor Dog Nail Grinder, Dremel PawControl Dog Trimmer, Casfuy Dog Nail Grinder, Furminator Nail Grinder Pet Grooming Tool, Petural Electric Dog Nail Grinder, Hertzko Electric Pet Nail Grinders, and Oster Gentle Paws Nail Trimmer.
Each of these has unique features that make them suitable for different types of pets.
1. Casifor Dog Nail Grinder
View On Amazon
You can trust the Casifor Dog Nail Grinder to provide a gentle and efficient trimming experience, with its powerful yet quiet motor, advanced Diamond Bit Grinder for comfortable grinding, and two built-in LED lights that help you locate your pet's quick.
The Cordless design is ideal for pet owners on the go as it has up to 10 hours of working time thanks to its Lithium Polymer battery.
Reviews praise this grinder's low noise levels, making it suitable even for sensitive pets who usually resist nail trimming.
Additionally, the protective cover prevents long-haired pets from getting their fur cut off or stuck in moving parts during use.
With all these features combined into one tool, users have found that they are able to get reliable results out of their manicure sessions quickly and easily without having any issue whatsoever when using this device on small or large breeds alike, depending on what speed setting is chosen.
However, some users did report difficulty in trying different speeds, as well as occasional problems with defective products arriving at their doorsteps, making them return them back immediately after purchase due to lack of performance quality standards otherwise expected by customers upon buying such products online.
Powerful yet quiet motor
Advanced diamond bit grinder provides a comfortable grinding process
Two built-in LED lights help locate quick accurately
Protective cover keeps long hair away from moving parts
Long-lasting battery life (10 hours)
Difficulty using higher speed settings
Occasional reports about defective product arrivals
2. Dremel PawControl Dog Trimmer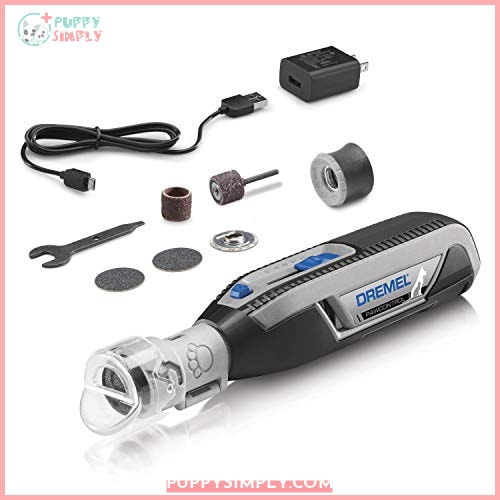 View On Amazon
The Dremel PawControl Dog Trimmer is a great choice for pet owners looking to provide their pets with a safe and gentle alternative to traditional clippers or files. This lightweight, cordless design features an impressive 45-degree paw guide that prevents harm to the pet's quick while trimming nails.
The tool includes nine accessories for versatile nail grinding options and comes with a rechargeable 4-volt Lithium-Ion battery that lasts up to 2.5 hours of usage time per charge. Additionally, its easy grip handle helps keep your hands steady during operation and minimizes microbial growth thanks to its plastic finish surface material.
Nail guard with 45° degree paw guide prevents accidental harm on the pet's quick when trimming nails
Lightweight & portable cordless design allows for ease of use anywhere in the home or outdoors
9 piece grooming accessory set provides multiple grinding options
Some dogs may need time getting used to it due to customer feedback reporting mixed experiences
Claimed 3 speeds but only two are usable according to the user manual
Overall, this product offers exceptional value by providing quality performance at an affordable price point. It is backed up by useful features like variable speed settings, convenient portability via USB charging cable, and long-lasting battery life.
This makes it ideal for anyone seeking precision groomers for their canine companions without breaking the bank.
3. Casfuy Dog Nail Grinder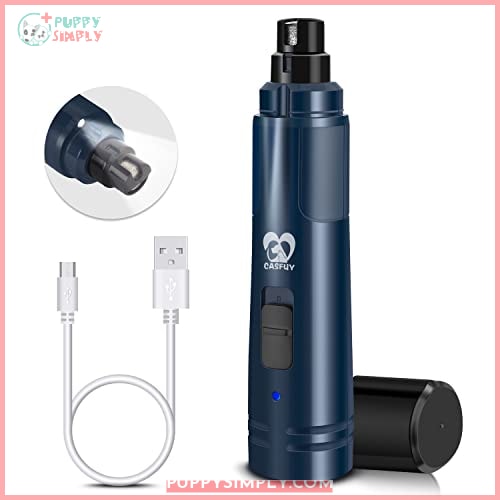 View On Amazon
Feel your pet's contentment as you use the Casfuy Dog Nail Grinder for a safe and comfortable nail trimming experience. This professional-grade, rechargeable grinder features innovative motor technology for fast and efficient grinding.
It has two speeds to suit different pets' sizes and nail hardness. The upgraded LED light provides superior visibility, essential for accurate trimming.
The Casfuy Dog Nail Grinder includes three grinding ports suitable for small, medium, or large nails. It also comes with replaceable bands for hassle-free regular maintenance. The tool is lightweight yet sturdy, making it ideal for homes with multiple dogs.
With all these features combined into one powerful device, it's no wonder it's veterinarian recommended. Whether you're looking after just one pup or many furry friends, this product is an ideal choice.
Quiet operation compared to other grinders
Bright light ensures visibility during grooming
Long battery life makes it convenient for everyday use
Suitable size enables effective usage even on tiny claws
Sturdy design prevents breakage from frequent handling
May take some time before animals get used to the device
Users have reported defective products occasionally
Not suitable if high-speed grinding is required
4. Furminator Nail Grinder Pet Grooming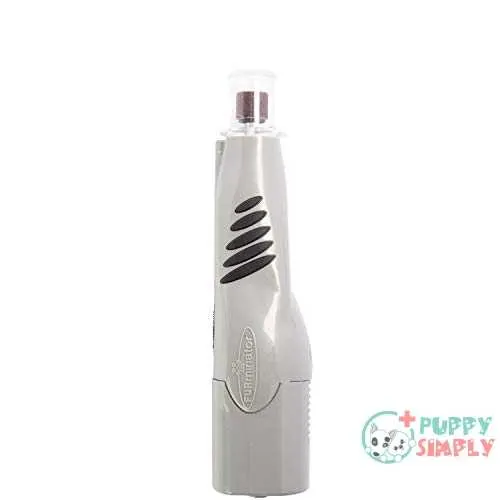 View On Amazon
Experience the power of Furminator's Nail Grinder Pet Grooming Tool and marvel at its lightning-fast grinding capabilities! This high-performance, lightweight design offers a safe, efficient, and painless nail trimming experience.
It features two speed settings for customized results on different-sized pets. The easy grip handle with an LED light ensures safety and control. The plastic finish helps protect against microbial growth. The two replaceable grinding bands are perfect for regular maintenance.
The grinder is suitable for both cats and dogs, as well as larger breeds with thick nails that require more effort from traditional clippers or files. Customers have praised this tool for its low noise level, which keeps pets calm during trims.
However, battery life can be a concern if you're doing large jobs in one go, so make sure you always keep spares handy! Some reviews mentioned that their pet was initially scared by it, but after a few uses, they were completely comfortable around this device.
High performance & lightweight design
Safe & efficient nail trimming experience
Automatic LED light for safety & control
Battery life may not last long enough
Limited speed options
May produce a slight odor during use
5. Petural Electric Dog Nail Grinder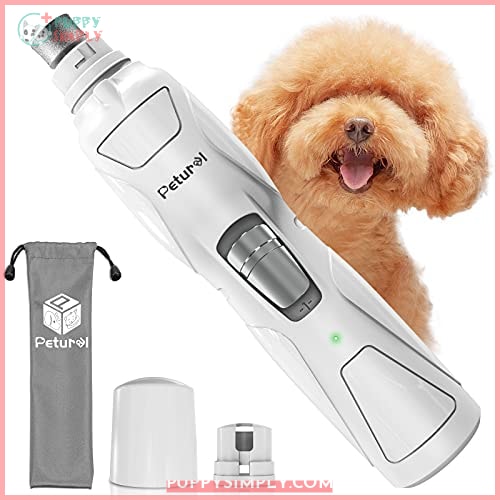 View On Amazon
Petural's Electric Dog Nail Grinder is a powerful and easy-to-use device that helps trim your pet's nails with precision and safety. It features a quiet motor, an LED light for visibility, and three grinding ports suitable for all sizes of pets.
The rechargeable battery provides up to 10 hours of working time, making it perfect for on-the-go pet owners who need help trimming their pet's nails.
Despite its many advantages in terms of convenience and efficiency, some customers have reported mixed experiences with their pets getting used to the device. Additionally, there have been issues concerning odor during use and complaints about defective products upon delivery.
Quiet motor
Three grinding ports suitable for all sizes of pets
Rechargeable lithium-ion battery with 10 hours usage time
Upgraded LED light provides superior visibility
Issues concerning odor during use
Complaints about defective products upon delivery
Dogs may be afraid due to humming noise from grinder
6. Hertzko Electric Pet Nail Grinder
View On Amazon
The Hertzko Electric Pet Nail Grinder offers a safe and stress-free way to trim your pet's nails, with its quiet motor, low noise, and vibration. It has a rechargeable battery life of up to 2.5 hours and multiple ports for all sizes of pets.
The grinder is suitable for dogs and cats alike, providing an efficient alternative to traditional nail clippers or files.
Its LED light provides superior visibility for accurate trimming, while its plastic finish helps prevent microbial growth on the device itself.
With two speed settings plus a 45-degree paw guide included in the package set, it is perfect for anyone looking to provide gentle grooming alternatives at home without fear of injuring their pet's quick during nail maintenance routines.
Quiet motor with low noise & vibration
Rechargeable battery up to 2 hrs usage time
Multiple ports suitable for all sizes pets
LED light provides visibility & accuracy
Includes 45-degree paw guide
Difficulties getting pet used to device
Can't find spare wheels
7. Oster Gentle Paws Nail Grinder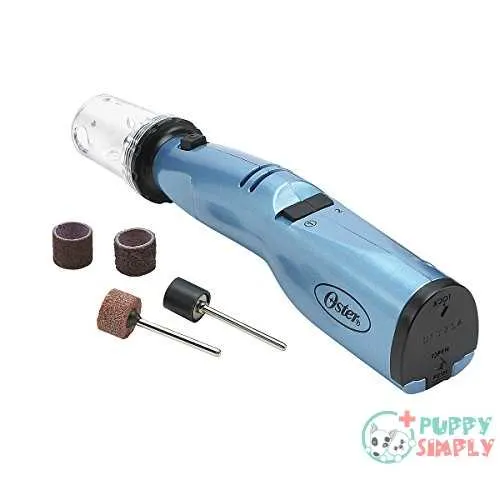 View On Amazon
Finally, the Oster Gentle Paws Nail Grinder is a powerful and cordless tool designed to provide cats and dogs with precise control over trimming their nails. The grinder features a 2-speed design and an adjustable safety guard for accurate filing.
It also has a capture system to minimize mess and runs on 4 AA batteries (not included). Additionally, it comes with a coarse stone for regular maintenance of your pet's nails, as well as two separate coarse bands that offer more flexibility in nail grinding intensity.
Users have praised this grinder for its quiet operation, which helps keep pets calm during the grooming process. They have found it easier to use than other models due to its lightweight design, which allows for greater accuracy while trimming your pet's nails, even at slower speeds if needed.
Some users have reported difficulty using the on/off switch, but those with hand issues can easily adjust by pressing down further until it clicks into place.
Quiet motor keeps pets relaxed during grooming sessions
Lightweight design offers better control while filing
Two speed settings allow user flexibility when grinding
Capture system minimizes mess from filings
Coarse stone provides regular maintenance
On/Off switch can be difficult, especially for those with hand issues
Not suitable for larger breeds due to the hardness of their claws
Overheating may occur if held too long onto one area
What is a Dog Nail Grinder?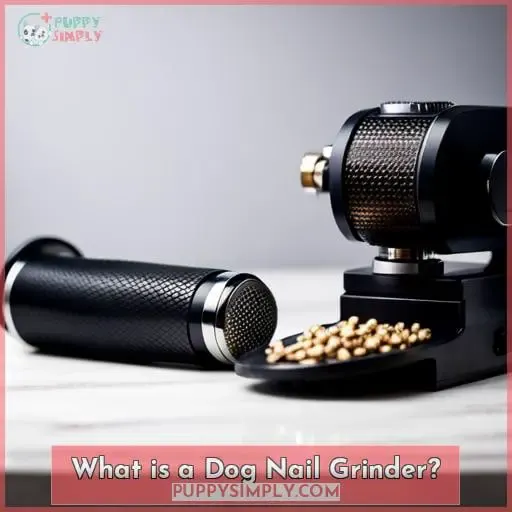 A dog nail grinder is a tool used to trim and shape the nails of your pet. It is an alternative to traditional nail clippers that use a rotary grinding action. This can be particularly beneficial for those with unsteady hands or dogs that are afraid of traditional clippers, as it provides smoother edges than clipping, reduces cracking and pinching, and helps to prevent hitting the quick during grooming sessions.
Here are five reasons why you should consider using one:
Dog nail grinders provide all the benefits listed above in addition to offering precise control over how much material you want removed from your pup's nails.
When operating a grinder for your pet, make sure only small amounts at a time are ground off their claws.
Some pets may find them intimidating due to their humming noise, but this can easily be countered by introducing them slowly.
Knowing when it's best applicable will depend on factors such as breed type and size, along with individual temperament and behavior, making dremel pawcontrol 7760-pgk and petural electric Pet Nail Grinders good options.
Selecting oster gentle paws Nail Grinders based on features like variable speeds, lights, rechargeability, battery life, etc.
How to Grind Your Dog's Nails: Step by Step Process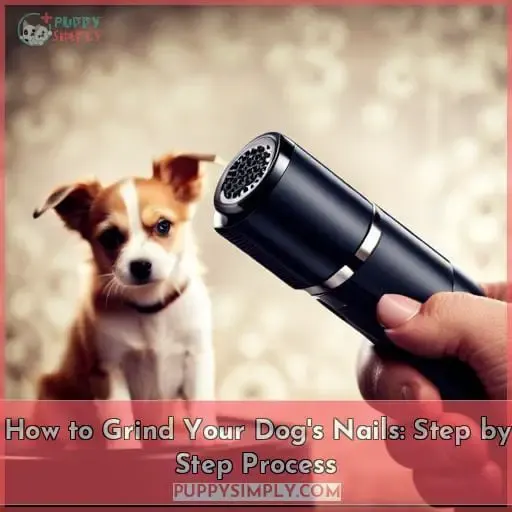 Grinding your pup's nails can feel like a daunting task, but it doesn't have to be – just think of the process as giving them a manicure!
To start off on the right paw, make sure you select an appropriate nail grinder. Benefits include smoother edges and reduced cracking or pinching. Be sure to consider variables such as speed and light when choosing one that's best for your pet.
Safety precautions should also be taken into account. Grinders shouldn't get too hot or cause excessive noise while grinding nails down evenly in small batches.
For those who don't feel confident with doing this themselves, professional groomers are available for assistance with trimming black nails safely without causing any harm.
Don't forget about using clippers or polishes after grinding if needed! With proper preparation and knowledge of how to use dog nail grinders correctly, you'll both find the experience much more enjoyable than before – good luck!
Conclusion
With over 40 million pet dogs in the US, there is no doubt that owning a pup is a great responsibility. When it comes to nail care, a good dog nail grinder is essential for keeping your pup's paws safe and healthy.
From the Casifor Dog Nail Grinder to the Oster Gentle Paws Nail Grinder, these top 7 picks offer a safe, efficient, and comfortable alternative to traditional nail clippers. With variable speeds, LED lights for visibility, and quiet motors, these best dog nail grinders are an ideal choice for keeping your pup's paws in perfect condition.