This site is supported by our readers. We may earn a commission, at no cost to you, if you purchase through links.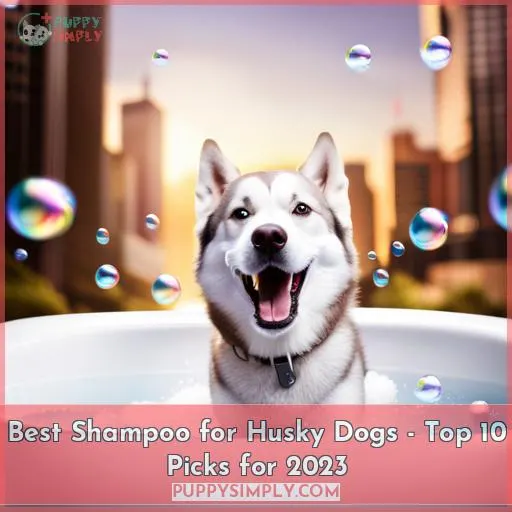 Do you have a Husky? If so, you know how much joy they bring to your home! But their double-coat can also be challenging to maintain. That's why finding the best shampoo for huskies is essential – it helps keep their coat healthy and beautiful.
Here we'll cover the top 10 shampoos for huskies in 2023, as well as considerations when choosing and different types of shampoos available.
Keep reading our guide on the best shampoo for huskies to learn more about what will work best for your beloved pup this year.
Key Takeaways
TropiClean is a highly effective shampoo that penetrates deeply, reduces shedding, and strengthens the hair of Huskies.
Rocco & Roxie shampoo contains soothing ingredients like oatmeal, aloe vera, and shea butter to leave the Husky's coat soft and shiny.
Earthbath is a moisturizing shampoo that heals dry skin, deodorizes, and leaves the fur of Huskies smooth and shiny.
It is important to look for hypoallergenic, natural botanical extracts and avoid harsh chemicals like sulfates and alcohols in Husky shampoos.
Top 10 Best Shampoos for Huskies
Finding the perfect shampoo for your Husky can be difficult. To help you out, here are the top 10 best shampoos for Huskies: TropiClean Double Coat Dog Shampoo, FURminator DeShedding Shampoo, Rocco & Roxie Dog Shampoo, Earthbath Oatmeal & Aloe Shampoo, Healthy Breeds Husky Shampoo.
TropiClean Double Coat Dog Shampoo

View On Chewy
You'll be amazed at how fast your pup's fur transforms with TropiClean Double Coat Dog Shampoo, leaving it cleaner and softer than ever before. This specially-formulated shampoo is designed to penetrate deep into thick double coats, loosening dirt and debris that other shampoos can't reach.
It exfoliates the skin while also strengthening hair follicles to reduce shedding without harsh chemicals or dyes.
Penetrates deeply into thick double coats
Loosens dirt & debris
Exfoliates dog's skin
Strengthens hair follicles
Reduces unnecessary shedding
Leaves coat great smelling
May require using a large amount of product
Can cause dryness in some dogs
Reported as having minimal effect on reducing shedding
FURminator DeShedding Shampoo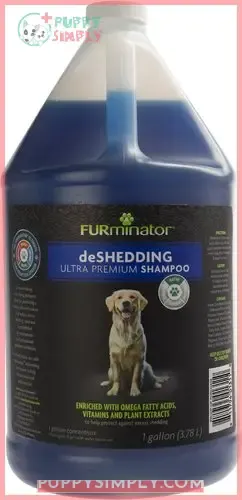 View On Chewy
FURminator DeShedding Shampoo will make your husky's coat softer than ever while reducing shedding and eliminating odors – get ready for those show-stopping cuddles!
Made in the USA specifically for adult dogs of small, medium, and large breeds, this 9.75 lbs shampoo is paraben & dye free and should be used weekly to manage shedding (not eliminate it).
Customers report a noticeable reduction in their pup's loose fur after using FURminator with good results on double coated doggos like boxers.
With its refreshing scent that lasts weeks post-bathtime plus added essential fatty acids to keep skin hydrated & healthy – what more could you ask from a shampoo?
Paraben/dye free
Manages shedding instead of eliminates it
Noticeable reduction in shed fur reported by customers
Not as effective as previous formula according to some reviews
Lost interest due to formula change
Rocco Roxie Dog Shampoo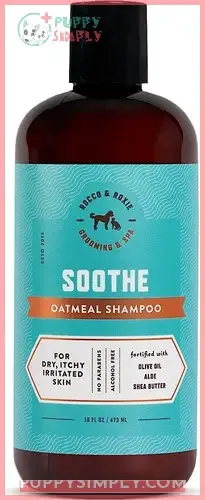 View On Chewy
Rocco Roxie's Dog Shampoo is an ideal choice for huskies, as its hydrating formula is enriched with oatmeal, aloe vera, and shea butter. This combination can help soothe itchy skin and restore a healthy shine to their coat.
The shampoo contains natural ingredients that are free of formaldehyde, parabens, mineral oil, or phthalates. Additionally, it does not contain any artificial colors or dyes. Customers love the results.
They report that their dog's skin feels relieved from itching after use, while leaving the fur soft and shiny.
Smells great
Helps relieve dog's itchy skin
Leaves coat soft & shiny
Calms irritation & restores flaky skin
Easy to use
Formula is very thick
Need to spread carefully before applying
Smells weird in the bottle
Earthbath Oatmeal Aloe Shampoo

View On Chewy
Earthbath Oatmeal Aloe Shampoo is perfect for pampering your pup's skin and coat, leaving them feeling oh so soft and smelling amazing! This soap-free shampoo contains oatmeal and organic aloe vera to moisturize, heal, and deodorize without irritating the skin.
It helps reduce scratching and itching while providing a mild vanilla bean extract scent that won't overwhelm sensitive noses. Natural ingredients like botanical extracts are gentle enough for dogs with allergies or sensitivities too.
Plus, it rinses out thoroughly yet leaves fur smooth and shiny – no more tangled mess after bath time! The subtle Mango Tango scent has been known to have some owners running in the other direction, but if you're looking for something fresh, then this could be a great choice of shampoo.
Earthbath Oatmeal Aloe Shampoo is worth considering when shopping around for huskies' hygiene needs as it truly does leave coats silky soft while helping relieve dandruff symptoms too!
Moisturizes & heals dry & irritated skin
Deodorizes without irritation
Gentle on allergies/sensitivities
Rinses out completely
Leaves fur smooth & shiny
Subtle mango tango scent
Not suitable if you don't like strong fragrances
Some may find the product overly drying
Healthy Breeds Husky Shampoo


View On Chewy
Healthy Breeds Husky Shampoo helps keep your pup's coat soft and shiny, while also deodorizing and controlling shedding naturally – without irritating their sensitive skin. This soap-free formula is enriched with an all-natural sweet pea infusion deodorizer and essential fatty acids to help manage flaking and scaling.
Natural moisturizers promote hydration in the coat, while its pH balanced formula won't strip away natural oils.
Plus, it can be used as often as needed, even when using topical flea control products! Customers report that this shampoo smells great and leaves their dogs' coats looking vibrant and healthy after use – making them eager to repurchase for future baths!
Soap-Free Hypoallergenic Formula
All Natural Sweet Pea Infusion Deodorizer
Essential Fatty Acids Help Control Flaking and Scaling
Strong Perfumy Fragrance May Be Too Much For Some Dogs
Buddy Wash Dog Conditioner


View On Chewy
Buddy Wash Dog Conditioner is perfect for thick, oily coats like Newfoundlands, leaving your husky's coat silky and smooth with a wonderful smell. This deep conditioner is formulated to moisturize and revitalize your pup's fur using pure botanical extracts and natural conditioners.
It helps reduce shedding and tangling while also being pH balanced for dogs, so you don't have to worry about irritating their sensitive skin or stripping away essential oils from their fur.
Plus, this cruelty-free shampoo + conditioner won't irritate eyes or skin either!
The gentle formula of Buddy Wash Dog Conditioner leaves the coat soft, shiny, tangle-free with a mild calming scent that both you and your pooch will love. Not only that, but it's also made in the USA without any formaldehyde, parabens, mineral oil, phthalates, nor isopropyl alcohols.
Reduces shedding & tangling
Leaves coat soft & shiny
Mild calming scent
Cruelty-free shampoo conditioner
Hard to squeeze out of the bottle
May cause dry skin/hair loss in some dogs
CHI Gentle Dog Shampoo Conditioner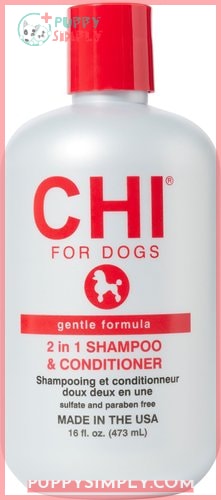 View On Chewy
CHI Gentle Dog Shampoo Conditioner is a fantastic way to keep your husky's coat clean, soft, and shiny. For example, one customer reported that their pup's fur was noticeably softer after just one bath with this shampoo conditioner.
This mild surfactant-based formula contains moisturizers to help prevent tangles from forming in the hair and won't irritate eyes or skin like harsher shampoos can. It also helps control flakes while leaving behind a strong perfumy fragrance for weeks afterwards.
CHI 2-in-1 Shampoo + Conditioner makes bathing your dog easier than ever before – no need for separate products here!
Mild surfactants won't irritate eyes/skin
PH balanced formula prevents tangles
Strong fragrant scent lasts weeks
Not suitable for dogs with allergies
Cruelty-free but not all-natural ingredients
Doesn't reduce shedding
Zesty Paws Dog Shampoo

View On Chewy
Zesty Paws Dog Shampoo is the perfect blend of oatmeal, aloe vera, and Vitamin E to soothe your pup's skin while leaving their coat soft, shiny, and smelling great for weeks. It lathers well with minimal product needed and works on all types of coats – from short-haired to long-haired breeds.
Formulated with a gentle vanilla bean extract that provides a clean scent without irritation, this shampoo helps reduce dandruff as it hydrates the skin. Dogs love its mild scent, which lingers after bath time is over! Plus, it can be used frequently without stripping away natural oils or drying out the fur – making Zesty Paws an ideal choice for huskies who need some extra TLC in their grooming routine.
Moisturizes skin
Reduces dandruff/dryness
Works on all coat types (short/long/curly)
Not suitable for dogs with sensitive skin
Can leak during shipping
Vetnique Labs Dermabliss Shampoo


View On Chewy
Vetnique Labs Dermabliss Shampoo is a great choice for huskies with skin issues. It offers relief from bacterial, yeast, and fungal infections while deodorizing the coat without drying out their delicate skin.
It's made with Chlorhexidine and Ketoconazole to treat minor irritations of all kinds, as well as more serious issues like hot spots or ringworm.
This cruelty-free shampoo also helps alleviate itching and restore fur condition, so your pup can look their best in no time! Plus, it lathers easily, so you don't have to use too much product during bathtime – perfect for busy pet owners who want quick results.
Treats various types of skin infections
Helps reduce itching sensation
Restores fur condition quickly
Deodorizes effectively without harsh chemicals
Not suitable for puppies under 8 weeks old
May not work on severe cases of infection
Can be costly
Hempz Petz Deshedding Shampoo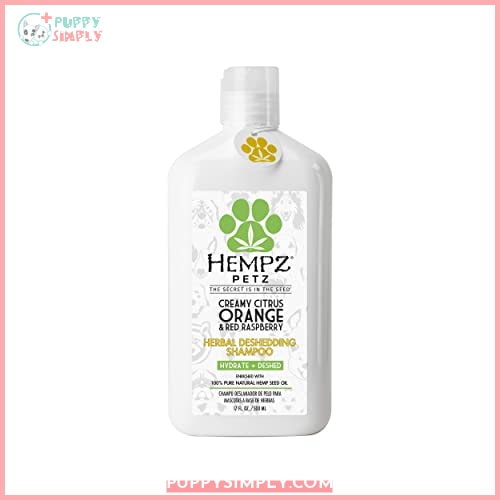 View On Amazon
HempZ Petz Deshedding Shampoo provides nourishment and hydration to your husky's coat while helping reduce shedding, leaving their fur soft and silky with a pleasant citrus scent.
Enriched with hemp seed oil, pineapple extract, honey melon extract, and shea butter, this vegan-friendly shampoo is paraben-free, so it won't irritate the skin or eyes.
It lathers well, so you get great coverage for an effective cleanse that will leave your pup smelling fresh.
Not only does it help take care of the unwanted hair, but it also leaves behind a beautiful shine that lasts long after bath time has ended – making grooming easier in between baths too!
Nourishes skin & hydrates coat
Leaves behind a pleasant citrus scent
Reduces shedding more than brushing alone
Vegan & paraben-free formula won't irritate eyes or skin
Recommend using conditioner for best results
Considerations When Choosing a Shampoo for Huskies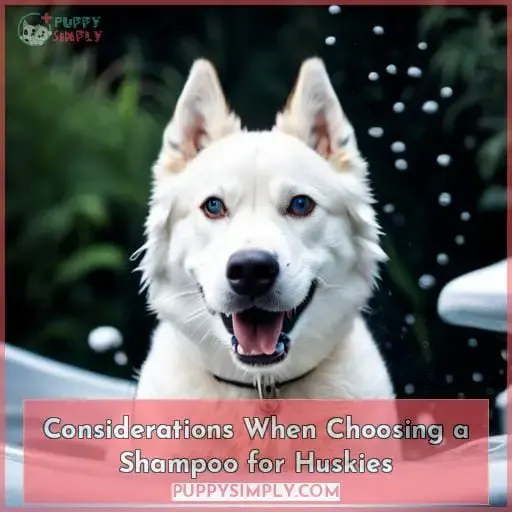 When shopping for a shampoo suitable for Huskies, it's important to keep in mind the needs of your pup. Knowing what ingredients are best and which considerations should be taken into account can help you find the perfect product for your canine companion.
With these tips, you'll be able to make an informed decision on which Husky shampoo is right for them.
Important Things to Know About Husky Shampoo
When it comes to keeping your Husky's coat looking and feeling its best, you'll want to make sure you choose the right shampoo! It should be a deshedding shampoo for huskies with allergies, as this will help reduce shedding.
Natural ingredients like botanical extracts are gentle and hypoallergenic options that can also be beneficial. Look for a gentle formula that is pH balanced, free of harsh chemicals such as alcohol or sulfates, soap-free, and all-natural.
Avoid frequent baths, which may dry out the skin and fur. Use small amounts of soap and massage gently when needed.
Deshedding shampoos reduce shedding (FURminator, TropiClean Gentle DeShed)
Avoid harsh chemicals like alcohol, sulfates, and dyes
Shopping Tips
Before investing in a shampoo for your husky, think about the needs of their coat and skin. Consider the different types of shampoos available, such as those that deodorize, soothe dry/irritated skin, or reduce shedding.
Choose formulas with natural ingredients like botanical extracts to be gentle on fur. Look for pH balance to support healthy coats. Essential oils provide a pleasant scent, while 2-in-1 options can save time during baths.
Different Types of Shampoos for Huskies

Looking for the best shampoo to keep your husky clean and smelling fresh? Consider deodorizing shampoos that eliminate the wet dog smell, soothing shampoos for dry or irritated skin, 2-in-1 varieties that combine shampoo and conditioner in one step, deshedding options to reduce shedding, as well as flea & tick control shampoos.
Deodorizing Shampoo
Deodorizing your husky's fur has never been easier with a shampoo that works wonders and smells amazing! Natural ingredients like botanical extracts are gentle and pH balanced, while essential oils provide a pleasant lingering scent.
Look for deodorizing shampoos that fight odors without the use of toxic chemicals or dyes. These natural formulas can also reduce shedding by nourishing their coat with omega fatty acids – perfect for double-coated huskies.
Even medicated shampoos designed to treat infections don't contain harsh chemicals, so you know your pup is getting the best care possible without stripping away natural oils from their coat!
Soothing Shampoo
Soothing shampoos, like those with oatmeal, aloe vera, and oils, can help hydrate your pup's skin and coat. They're a great option for dogs with allergies or sensitivities to fleas or ticks. They also work well as part of the regular petting habits to maintain good coat health.
To get maximum benefit from these shampoos, use colloidal oatmeal. Look for formulas that are pH balanced. Opt for shampoo-conditioner combos. Include essential oils like tea tree oil to reduce itching caused by dryness.
Select natural ingredients such as botanical extracts instead of harsh chemicals like alcohols, sulfates, dyes, etc.
With proper bathing tips incorporated into your routine, you'll ensure a healthy furry friend who smells great!
2. in-1 Varieties
For your busy pup, 2-in-1 shampoo + conditioners are an easy way to keep their coat healthy and looking great. Look for pH-balanced formulas with hypoallergenic options for dogs with sensitivities. Natural ingredients like botanical extracts are gentle on fur while providing effective shed control.
Gentle formulas that include essential oils provide a pleasant lingering scent without harsh chemicals such as alcohol or sulfates, making them the best shampoo for huskies who need extra care in grooming needs.
Deshedding Shampoo
FURminator DeShedding Shampoo helps reduce shedding in your pup's coat, leaving it soft and shiny. It exfoliates the skin with natural ingredients like oatmeal and aloe vera. It nourishes the fur for a healthy shine and provides natural fragrances that linger pleasantly all day long.
The shampoo is pH balanced to maintain the health of the skin and coat, and its gentle formula won't irritate sensitive huskies.
Benefits of using this shampoo include reduced shedding, improved texture, hydration through essential fatty acids, exfoliating benefits from botanical extracts, and deodorizing without harsh chemicals or dyes.
This shampoo is perfect for double-coated dogs. Get ready for compliments on how beautiful they look after using this shampoo!
Flea & Tick Control Shampoo
Flea and tick control shampoos can be a lifesaver for huskies, providing you with peace of mind that your furry friend is safe – as the saying goes, prevention is better than cure. Look for natural ingredients like essential oils to help repel fleas and ticks while also hydrating skin and nourishing coats.
Omega fatty acids are beneficial to reduce shedding too! Check labels for all-natural formulas free from harsh chemicals such as alcohol or sulfates. Shampooing regularly will ensure maximum protection without drying out the coat; use hypoallergenic options if your pup has sensitive skin.
Frequently Asked Questions (FAQs)
What is the best shampoo for a husky with sensitive skin?
For huskies with sensitive skin, try a natural shampoo such as Earthbath Oatmeal Aloe or Vetnique Labs Dermabliss. Both contain soothing ingredients to hydrate and nourish your pup's coat while reducing irritation.
Is it better to use a medicated shampoo or an all-natural shampoo for a husky?
It depends on the husky's skin sensitivity. If it is minor, an all-natural shampoo can help nourish and hydrate their coat while reducing shedding. For severe sensitivities, medicated shampoos offer relief from infections and itching – though always check with your vet first! With joyous liberation in mind, find a shampoo that fits your pup's needs to keep them healthy and happy.
How often should I bathe my husky?
Bathe your husky every 2-3 months, or whenever they start to smell. Use a small amount of soap and massage gently. Rinse thoroughly and dry the coat fully; tilt the head up to avoid getting water in the eyes, if needed use a washcloth on the face.
Are there any shampoos specifically made for puppies?
Yes, there are special shampoos made specifically for puppies. Look for gentle formulas that won't irritate their delicate skin and contain natural ingredients like oatmeal, aloe vera, or oils. Avoid harsh chemicals and check labels to ensure they're all-natural and soap-free.
What are some tips for bathing a husky?
Bathing a husky should be done every 2-3 months or when they become smelly. Use just enough soap and massage gently, then rinse thoroughly and dry them fully. Tilt their head up to avoid getting water in their eyes; use a washcloth on their face if they're not fond of it! For best results, choose shampoos that are pH balanced and hypoallergenic with natural ingredients free from harsh chemicals.
Conclusion
All things considered, finding the best shampoo for huskies can be a daunting task. With so many options out there, it can be like finding a needle in a haystack. But don't let that stop you from giving your pup the pampering they deserve.
For a surefire hit, take a look at our top 10 picks for 2023. Ranging from all-natural shampoos like the Earthbath Oatmeal Aloe Shampoo to medicated shampoos like the Vetnique Labs Dermabliss Shampoo. Whether you're looking for a deodorizing option or a deshedding formula, you'll be sure to find the perfect fit for your furry friend.
So, don't sweat the small stuff and get shampooing!