This site is supported by our readers. We may earn a commission, at no cost to you, if you purchase through links.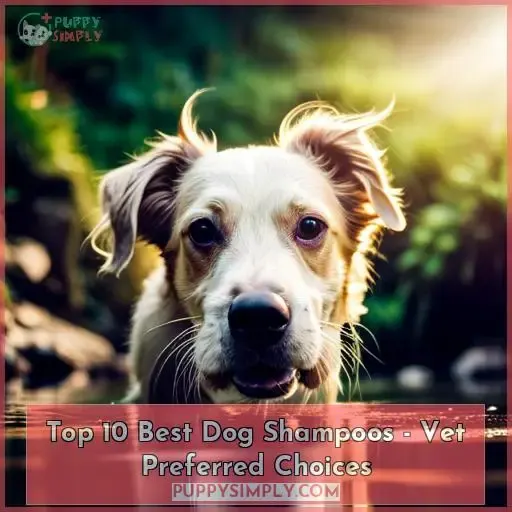 Bathing your pup doesn't have to be a dreaded experience. In fact, with the right shampoo, it can become an enjoyable part of maintaining their health and wellness.
To make things easier on you, we've compiled our top 10 vet-preferred choices in this article; designed to help narrow down which one is best suited for your pup's coat type and skin concerns.
So let's dive into our list of the top 10 best dog shampoos available today!
Key Takeaways
Earthbath Oatmeal Aloe Shampoo is the top vet-preferred dog shampoo of 2023, offering soothing and nourishing properties.
Consider factors such as coat type and skin concerns when choosing a shampoo for your dog.
Use pet-specific shampoos to maintain the right pH balance and avoid using human shampoos.
Alternative options like baby shampoo, cornstarch, or baking soda can be considered for specific needs.
Top 10 Best Dog Shampoos
Are you searching for the best dog shampoos? From Earthbath Oatmeal Aloe Shampoo to Pure Natural Puppy Shampoo Lavender, this guide provides a comprehensive list of the top 10 shampoos. Each one is tailored to your pup's specific needs and offers effective results that will leave them feeling refreshed and clean.
1. Earthbath Oatmeal Aloe Shampoo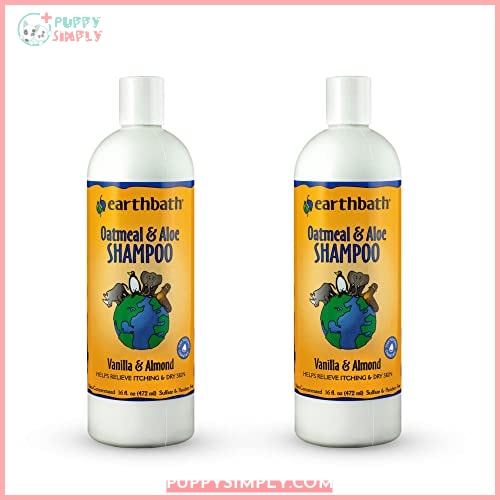 View On Amazon
For a natural, gentle pet care solution that soothes and re-moisturizes dry skin while providing a heavenly scent, try Earthbath Oatmeal Aloe Shampoo – trusted by vets and guaranteed to leave your pup's coat soft and clean.
Formulated with oatmeal extract for its anti-inflammatory properties as well as aloe vera to help moisturize the skin, this shampoo is completely free of any artificial fragrances or dyes. It also contains vanilla and almond oils, which give it an extra boost of soothing power.
Customers report that their pets' coats feel softer after use, without tangles or residue left behind from harsh chemicals found in other shampoos on the market today.
Natural ingredients like oatmeal & aloe vera provide soothing relief
Free from artificial fragrances & dyes
Vanilla & almond oils add additional benefits
Not suitable for flea/tick control
Strong initial smell during washing may fade away after rinsing
2. Burt's Bees Dog Shampoo Oatmeal
View On Amazon
You can pamper your pup with Burt's Bees Dog Shampoo Oatmeal, a mild tearless formula crafted to soothe and soften their dry skin and coat like a warm hug.
This all-natural shampoo is perfect for sensitive fur babies, as it's free of fragrances, sulfates, colorants, or harsh chemicals. Its nourishing blend of colloidal oatmeal extract from oats grown in the USA combined with honey helps to cleanse without stripping away essential oils while restoring natural luster and shine to their coat.
The pH-balanced formula keeps paws safe during bath time, making it suitable for all breeds! Plus, its lightweight lather won't leave behind any residue, ensuring an easy rinse every time!
No artificial fragrances or harsh chemicals
Nourishes skin & coats naturally
Suitable for all dog breeds & ages
Thinner consistency may require using more product than other shampoos
Not ideal if you're looking for strong scents
3. TropiClean Lavish Dog Shampoo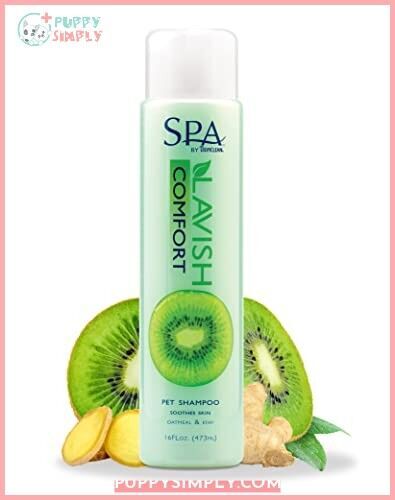 View On Amazon
Indulge your pup in a luxurious bathing experience with TropiClean Lavish Dog Shampoo – infused with naturally derived ingredients and melon, kiwi, lavender, and jasmine notes for an unforgettable scent.
Formulated with wheat protein, oatmeal, and vitamin B5 to nourish the skin while providing lasting freshness, this shampoo is preferred by groomers everywhere.
Gentle on all dog breeds from puppies to seniors alike, it helps reduce shedding while moisturizing their coat for softness without drying out their skin.
TropiClean Lavish Dog Shampoo offers numerous benefits that will make bath time enjoyable again:
Deodorizes & cleanses effectively
Nourishes & moisturizes sensitive skin
Soothes & smooths fur coats
Developed professionally by groomers
Minor leakage upon delivery reported
With its natural ingredients free of detergents or petrochemicals, plus a long-lasting scented fragrance that won't irritate noses, Tropiclean's Luxurious formula provides everything you need for a clean pup minus the fuss!
Pamper your furry friend today – they deserve only the best!
4. Vets Best Flea Tick Dog Shampoo
View On Amazon
Vets Best Flea Tick Dog Shampoo offers 2X flea fighting power to protect against fleas, ticks, and lice with its veterinarian-formulated, certified natural ingredients like rosemary and peppermint oil.
It is made in the USA for all dog breeds and ages, gently eliminating the hassles of fleas while keeping your pup's coat soft and manageable.
The shampoo not only kills adult fleas but also their eggs, preventing their return for up to 28 days after use. Its strong initial smell during washing will fade away upon rinsing, leaving a light coconut scent that helps repel new pests until it wears off again.
In addition to killing bugs effectively, this product also reduces shedding, so you have less cleaning around the house!
Kills adult fleas & eggs; prevents return up to 28 days
Gentle on skin & coat; leaves fur soft & shiny
Reduces shedding; keeps home clean
Strong smell during washing may be overpowering for some dogs
Effectiveness can wear off quickly unless used regularly
5. Legger Organic Dog Shampoo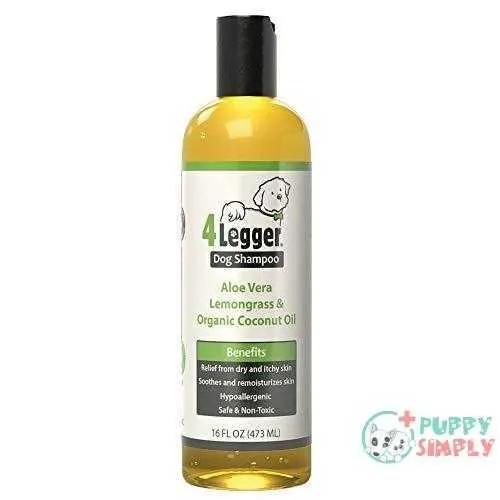 View On Amazon
Treat your pup to luxurious Legger Organic Dog Shampoo, with its USDA certified organic formula and natural ingredients like aloe vera and lemongrass essential oil. Crafted in small batches using real plants only, this concentrated dog coconut shampoo is free of detergents, petrochemicals, or any harmful ingredient that could compromise your furry friend's health.
The formula helps reduce itching due to flaky skin while nourishing the coat for a naturally soft and shiny finish – no artificial thickeners necessary! Knowing it was sustainably sourced from nature-friendly sources makes this product even more desirable; plus it has been trusted by pet parents since 2015 as well as being awarded three times for Best Grooming Product at EcoExcellence Awards.
It also does not leave behind an unpleasant scent after use; the lavender oatmeal variant offers a pleasant smell whilst the peppermint cedar option keeps fleas away without chemical intervention – perfect for puppies too!
Natural ingredients help reduce itching & nourish coat
Sustainably sourced & eco-friendly
No artificial thickeners used
Lavender oatmeal variant may be unsuitable due to allergies in some dogs
Slightly expensive compared to other shampoos
6. Vermont Soap Pet Shampoo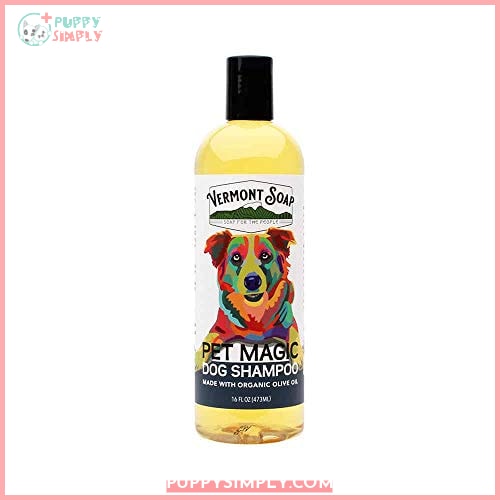 View On Amazon
Experience the power of Vermont Soap Pet Shampoo, a USDA Certified organic shampoo that uses natural and organic ingredients for moisturizing and conditioning your pup's sensitive skin. This product contains proteins to retain coat protein intake, has aloe vera for added shine, baking soda for deodorizing, and is trusted by professionals.
It also offers an all-natural scent with notes of coconut, olive oil extract, jojoba oils, as well as essential oils like rosemary extract. Users have reported that this product leaves their pet's fur soft and manageable with lasting freshness while being gentle on their sensitive skin.
Thanks to its concentrated formula, you don't need too much either, so one bottle should last quite some time.
Organic Ingredients
Natural Scent
Concentrated Formula
Coconut Smell Lingers
Not Suitable For All Fur Types
Can Be Too Slick For Some
7. Arm Hammer Dog Shampoo Kiwi Blossom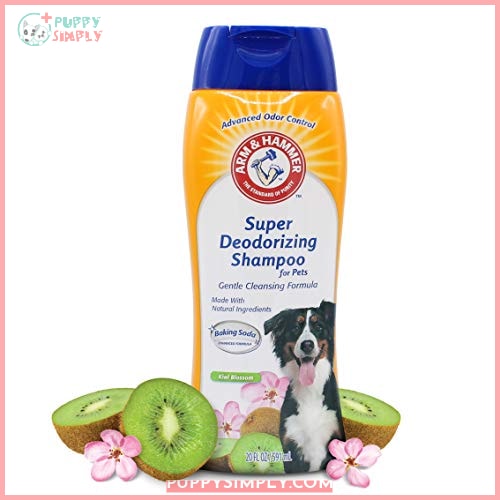 View On Amazon
Arm & Hammer Dog Shampoo Kiwi Blossom refreshes and eliminates odors with its baking soda formula, leaving your pup's coat clean, healthy, and smelling sweet. This fast-acting shampoo is infused with natural ingredients such as cucumber mint, kiwi blossom scent, coconut-based surfactants, and more to soothe dry skin while tackling odors from the source.
It works for all dog breeds and ages – even puppies 8 weeks or older – providing lasting freshness without harsh chemicals that could harm your furry friend. The pleasant kiwi blossom scent will leave them smelling delightful after each bath! Plus, the easy rinse-off formula ensures a hassle-free grooming experience every time.
Effective in neutralizing stubborn odors
Suitable for breeds with fold-prone, smelly skin
Gentle on the dog's eyes and skin
Might not suit dogs with specific sensitivities
8. FURminator Deshedding Conditioner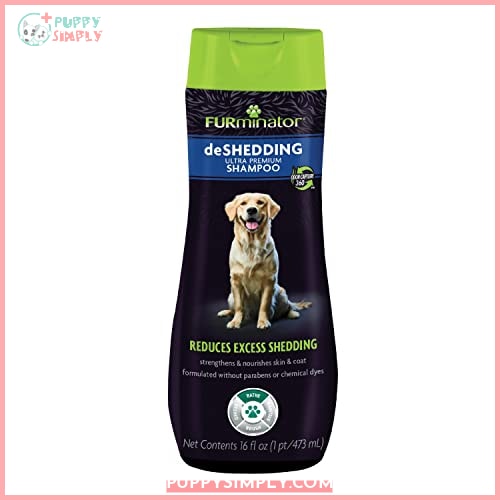 View On Amazon
FURminator's Deshedding Conditioner helps reduce shedding up to 80% with its four-step at-home grooming regimen and OdorCapture 360 Technology. The solution is formulated without parabens and chemical dyes, making it safe for sensitive skin and coats.
It is enriched with Omega three and six fatty acids, which nourish the skin and reduce shedding. The unique blend of ingredients penetrates deep into the coat, removing wet dog smell caused by bacteria buildup.
Customers have reported a significant difference in their pup's fur after using this conditioner. It leaves the fur soft, shiny, knot-free, and smelling great, all without the use of harsh chemicals.
Reduces excess shedding up to 80%.
Safe on sensitive skin and coats, formulated without parabens and chemical dyes.
Includes omega three and six fatty acids for healthy skin and coat nourishment.
OdorCapture360 Technology removes wet dog smell caused by bacteria buildup.
A bit pricier than other products on the market (but worth it).
Not recommended if your pup has allergies or sensitivities due to essential oils used in the formula.
9. Adams Plus Flea Tick Shampoo Precor
View On Amazon
Adams Plus Flea & Tick Shampoo with Precor offers exceptional flea and tick control, killing adult fleas, ticks, and lice on contact while preventing reinfestation for up to 28 days. It is formulated with aloe vera, lanolin, coconut extract, and oatmeal, making it suitable even for pets with sensitive skin.
This shampoo leaves your pet's coat soft and shiny, with a lightly scented fragrance of coconut that will keep it smelling fresh all day long.
The easy-to-use formula is also effective in reducing excess shedding, thanks to its OdorCapture 360 Technology, which helps remove wet dog smell from the coat.
Kills pests like adult fleas, ticks & lice on contact
Suitable for dogs or puppies 12 weeks or older
Reduces excess shedding & odors
Intimidating warning labels
May not be as effective on heavy infestations
10. Pure Natural Puppy Shampoo Lavender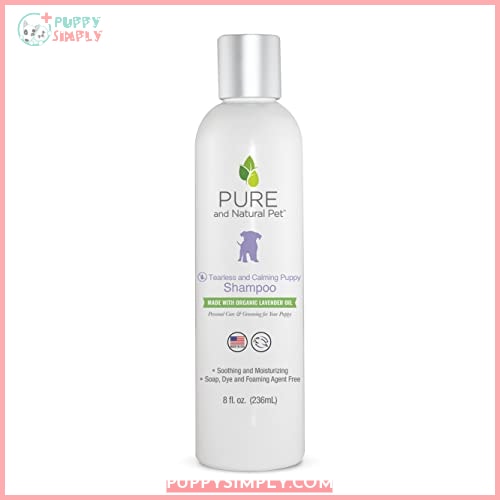 View On Amazon
Pure Natural Puppy Shampoo Lavender is a godsend for your pup's sensitive skin, offering tear-free baths and nourishing ingredients that will make them smell sweet as a rose. This shampoo contains organic lavender oil, calendula oil, and oatmeal extract to soothe their skin while also leaving it soft and smelling pleasant.
It lathers well for effective cleaning without irritation or dryness afterwards.
For those who are looking for an extra kick of fragrance after bathtime, you can pair this puppy shampoo with doggy cologne.
Recommended by users for puppies; gentle & fairly priced
Tear-free experience; prevents drying out after baths
Suitable for sensitive skin; lathers well & effective cleaning
May require more frequent baths due to lack of strong fragrance/lathering power
Some users not satisfied with scent/lathering
How We Selected Our Best Dog Shampoo Choices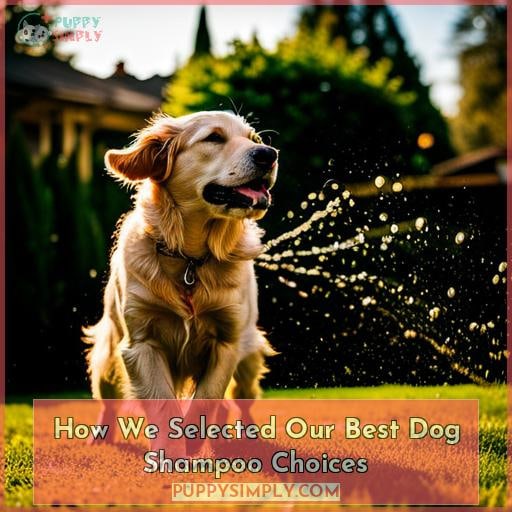 When it comes to selecting the best dog shampoo, there are a number of factors that you need to take into consideration. Expert recommendations can help guide your choice and ensure you get a product that is suited for your pup's coat type, age group, and needs.
Proper technique when bathing your pet is just as important as choosing the right shampoo; an incorrect approach can cause more harm than good.
Factors influencing shampoo choice
When choosing a shampoo for your pup, consider factors such as coat type, bathing frequency, and size of the dog. pH balance should also be considered since human shampoos are not suitable for dogs due to their difference in pH level.
Expert insights can help you choose specific shampoos based on coat types or other needs like fleas or allergies.
DIY alternatives like baby wipes and baking soda are available too! For sensitive skin solutions, look out for ingredients like aloe vera and oatmeal, which help soothe irritation while avoiding harsh chemicals and parabens.
To make sure your pup gets the best care possible, opt for USDA-certified organic products that have been recommended by veterinarians.
Expert recommendations for selection
Experts recommend selecting the right shampoo for your pup's needs, from calming lavender to flea and tick control. Analyze ingredients, compare products, and look for dog-specific formulations that best suit your pet.
Expert insights can guide you in understanding the importance of proper bathing techniques as well as choosing natural ingredients such as oatmeal to keep the skin and coat healthy.
Read reviews carefully or consult a vet before making purchase decisions. Research is key when it comes to finding the perfect shampoo for Fido!
Importance of proper technique
It's important to use the right bathing technique when using dog shampoos for optimal results. Proper shampoo application helps ensure coat texture and skin health benefits, as well as preventing allergic reactions with ingredients like aloe vera, oatmeal, avocado oil, and coconut oil.
Bathing anxiety can be managed by introducing water gradually while reassuring your pup throughout the process. Warm water is best for removing dirt from fur without causing discomfort or drying out their skin too much.
Don't forget to rinse thoroughly so that no residue remains on their coat, which could lead to irritation or dryness in the future! For best results, choose a gentle shampoo such as Earthbath Oatmeal Aloe Pet Shampoo designed specifically for dogs, along with other natural dog shampoos tailored towards the sensitive skin care needs of your pup's unique coat type.
Choosing the Right Dog Shampoo for Your Dog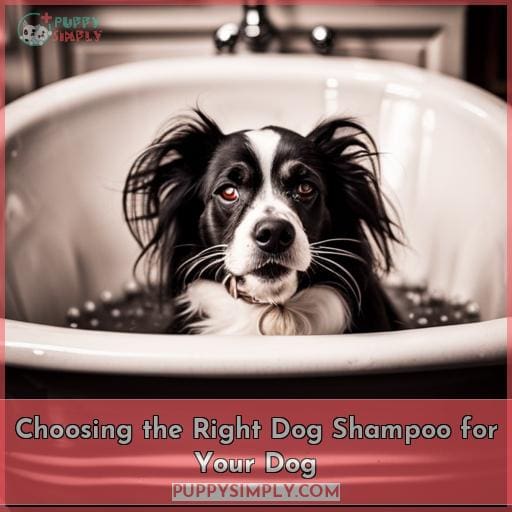 Choosing the right dog shampoo for your pup can be a daunting task. Coat type, bathing frequency, and pH balance are all important factors to consider when making an informed decision. Alternatives such as baby wipes, cornstarch, baking soda, and homemade shampoos may also provide a viable option for pet owners looking for more natural options.
Coat type and frequency.
No matter the breed or size of your pup, you know their coat needs regular love and attention to stay healthy. Choosing a shampoo for your dog should be done with care, taking into account pH balance considerations, alternative bathing solutions, coat-specific shampoos, and expert-recommended grooming techniques.
Skin-friendly cleansers, such as aloe vera or oatmeal, can help soothe sensitive skin, while flea & tick shampoos offer protection from parasites.
Regular brushing before bathing will also aid in detangling fur, making it easier to clean thoroughly using the right shampoo product that is appropriate for your pet's unique needs.
With these tips in mind, you can easily find a suitable solution that works best for both you and your four-legged friend!
pH balance difference.
Understanding the pH balance difference between human and dog shampoos is crucial for keeping your pup's coat healthy. Human shampoo can disrupt a dog's natural skin barrier, leading to dry, itchy patches and dandruff.
With dogs having different needs than humans when it comes to hair care, their products must be specifically tailored for them. This means avoiding any ingredients that could irritate or harm their delicate skin and fur.
Consider looking into product labels with accurate pH levels adapted to the type of coat your pet has.
Alternative shampoo options
You may also consider alternative shampoos, such as cornstarch, baking soda, and baby shampoo for your pup. Natural pet cleaning is becoming more popular, allowing you to create your own DIY dog shampoo at home.
For a gentle no-tears formula suitable for puppies, try an oatmeal and aloe vera recipe or one with coconut oil. When bathing outside of water access points like camping trips or beach days are involved, dry shampoos can be used alternatively.
Homemade grooming options can also provide natural remedies against fleas & ticks using essential oils like peppermint or lavender in combination with mild ingredients that won't irritate canine skin types sensitive to harsher chemicals found in commercial formulas.
What to Look for When Buying Dog Shampoo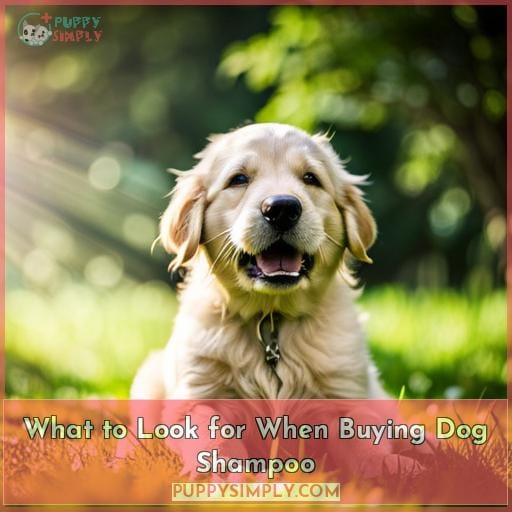 When shopping for dog shampoo, consider factors like coat type, bathing frequency, and size to find one tailored to your pup's needs. Look for shampoos that are specially formulated with ingredients that will help keep their coat healthy and nourished.
Avoid harsh chemicals or synthetic fragrances, which can be irritating to their skin. Ingredients such as aloe vera, oatmeal, and avocado oil can provide relief from itchy skin, while coconut oil helps reduce shedding.
Pay attention to the pH balance of the shampoo you choose since dogs have different pH levels than humans do when washing fur or hair. Using human products on them may cause irritation, so opt for specially-made pet care solutions instead! Additionally, alternatives such as baby wipes or homemade recipes might offer an easier alternative if traditional baths aren't possible.
Finally, remember that choosing a hypoallergenic option could be beneficial if they suffer from allergies.
What Can I Use to Wash My Dog if I Don't Have Dog Shampoo?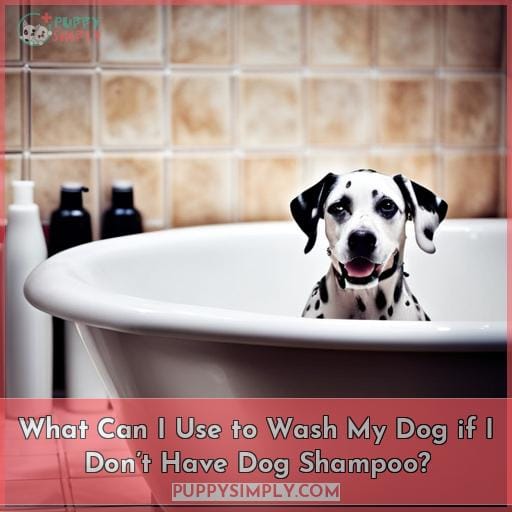 If you don't have dog shampoo on hand, don't worry. There are a few homemade alternatives that can help keep your pup clean and smelling fresh. One option is baby shampoo. It's formulated for use on sensitive skin, so it won't irritate or dry out your pet's coat like human shampoos would.
Another alternative is the cornstarch method. This works great for absorbing oil from fur while giving off a pleasant scent.
For heavier jobs such as removing mud stains or skunk smells, try using a baking soda solution with warm water instead of regular soap, which may be too harsh.
Don't forget about pet-friendly soaps specifically designed for dogs. These options typically contain ingredients such as aloe vera and oatmeal, which are beneficial in soothing skin irritation and maintaining healthy coats!
When choosing the best dog shampoo for your pet, consider factors such as age suitability and breed type, along with ease of use and purpose. Compare different brands available until you find one that meets all criteria perfectly.
What's the Best Overall Dog Shampoo?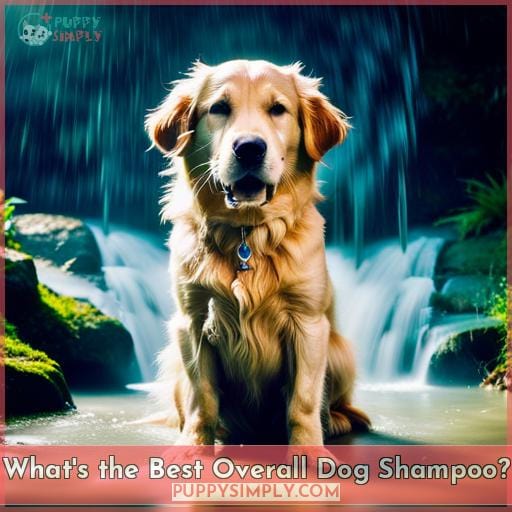 Experience your pup's fresh, clean coat with the Earthbath Oatmeal and Aloe Pet Shampoo – renowned by experts for its oatmeal-infused nourishment that soothes irritation like a calming hug.
Expert comparisons and ingredient analysis to match the exact needs of different coats.
User feedback to help you find the right product for your pet's hygiene needs.
Veterinary insights on grooming products beyond just canine shampoo.
Coat specific recommendations tailored to breed type, size, age, or sensitivity.
For those looking for something special in their fur baby's grooming routine, this top-rated formula is as perfect as it gets! Hypoallergenic ingredients provide essential moisture without harsh chemicals while aloe vera cleanses gently.
The results? A happy pooch free from itchiness and dryness – giving them more energy than before.
Conclusion
Choosing the right dog shampoo for your pup can be a challenge. To make the best choice, it's important to consider factors such as your dog's coat type, bathing frequency, and size. Additionally, it's essential to know what ingredients are safe and which to avoid, as well as proper bathing techniques.
With so much to consider, finding the right shampoo can seem like a daunting task. To make the process easier, we've narrowed down the top 10 vet-preferred dog shampoos of 2023. From Earthbath Oatmeal Aloe Shampoo to Pure Natural Puppy Shampoo Lavender, each of our selections has something special to offer.
So, to make sure your pup is squeaky clean and looking their best, take a look at our list and pick the perfect pooch shampoo. After all, when it comes to your furry friend's wellbeing, settle for nothing less than the best.