This site is supported by our readers. We may earn a commission, at no cost to you, if you purchase through links.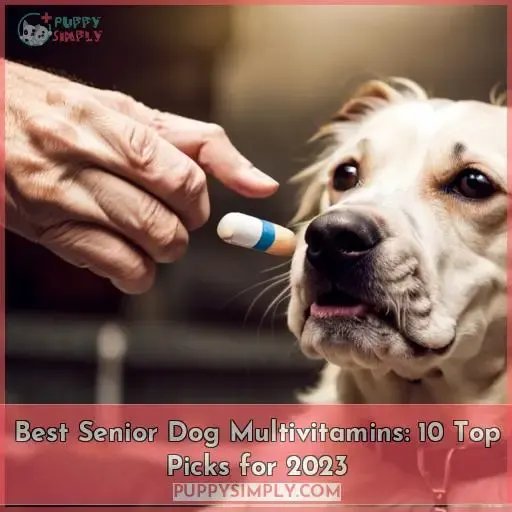 As your furry companion moves from puppy to senior dog, it's important to ensure their health and vitality. Supporting them through this transition with the right supplements can help keep them feeling young at heart.
We've put together a list of the top 10 best senior dog multivitamins so you can find something that will work for your pup and give them all the nutrients they need in their golden years – without breaking the bank!
From Zesty Paws Dog Multivitamin to Nusentia Probiotic Miracle, these picks are sure to bring some extra pep into your pup's step while keeping their diet balanced and healthy.
Plus, we'll discuss why nutrient supplements are essential for dogs as well as homemade diets so you have all the information needed before making an informed decision about what supplement is best for your canine pal!
Key Takeaways
Senior dog multivitamins provide essential vitamins, minerals, and omega-3s for joint and immune health.
The top 10 reviewed senior dog multivitamins include Zesty Paws, NaturVet, VetriScience, Nutramax Dasuquin, Nusentia, OcuGLO, NutriVet, Senior Dog Multivitamin, PetTabs Plus, and Health Extension.
Key vitamins like A, B, C, D, and E have various benefits ranging from vision and skin health to metabolism, brain health, and reducing inflammation.
Homemade diets may lack important nutrients like calcium, vitamins, and amino acids, while premium foods offer quality proteins, fatty acids, and vitamins.
Top 10 Best Senior Dog Multivitamins
Are you searching for the perfect multivitamin for your senior pup? Look no further than this list of the top 10 senior dog multivitamins, which includes Zesty Paws Dog Multivitamin, NaturVet Puppy Plus Chews, VetriScience Senior Dog Multivitamin, Nutramax Dasuquin Large Dog Joint Supplement, Nusentia Probiotic Miracle, and more.
Zesty Paws Dog Multivitamin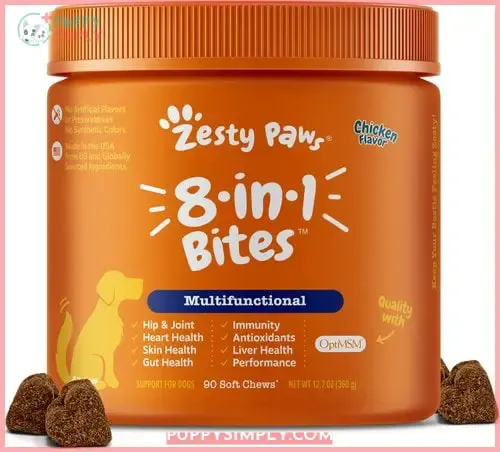 View On Chewy
For senior dogs, Zesty Paws Dog Multivitamin offers a comprehensive blend of vitamins and minerals to help maintain physical performance and support joint health. These soft chews contain glucosamine, chondroitin, omega-3s, cod liver oil, and MSM, along with other ingredients like probiotics.
This promotes healthy heart function, as well as skin and immune system health. The NASC certified product is suitable for adult or senior dogs of all breeds, making it an easy way for pet owners to keep their dog's nutrition in check without the need for multiple supplements.
Improves skin & coat health
Supports joint health
Aids digestion
May cause stomach upset in dogs with sensitivities
Expensive compared to alternatives
Effects not noticeable on some dogs
NaturVet Puppy Plus Chews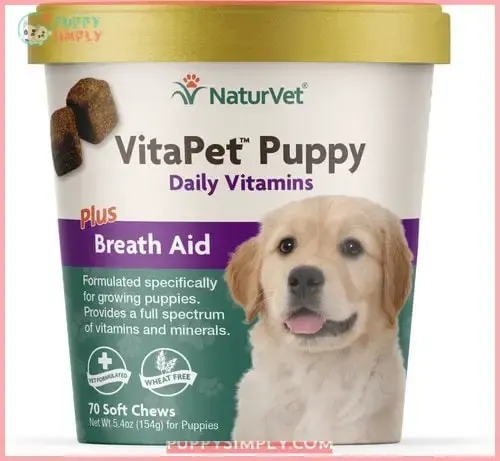 View On Chewy
Try NaturVet Puppy Plus Chews for your pup's essential vitamins, minerals, amino acids, and fatty acids needs. These chews are NASC certified and made with ingredients sourced from the USA. They come in a soft chew form, which is enjoyed by puppies and can be crumbled up into food for picky eaters.
With regular use of these chews, you may see an improvement in breath due to bad baby teeth, as well as a healthy skin & coat condition.
Customers report that their pups love the taste, but some may find it too strong or not palatable enough.
NASC certified; Made with ingredients sourced from the USA
Soft chew form – Enjoyed by puppies; Can be crumbled up into food
May help improve breath due to bad baby teeth; Promotes healthy skin & coat condition
Not suitable if the dog has sensitivity/allergies
Could have adverse effects depending on an individual dog's metabolism
Some dogs don't like the taste
VetriScience Senior Dog Multivitamin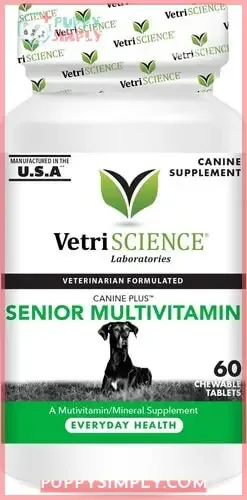 View On Chewy
Give your senior pup the physical and mental support they need with VetriScience Senior Dog Multivitamin! This veterinarian-formulated multivitamin and mineral supplement contains 55+ ingredients like arginine, selenium, and vitamin B complex to help maintain healthy cognitive function.
The duck-flavored soft chews make administration easy, while NASC certification ensures quality.
It may take a few days for owners to notice the benefits, but most report improved coat appearance as well as increased energy levels in their pups.
Contains 55 vitamins & minerals
Duck-flavored soft chew form is easy to administer
NASC certified for all breeds & life stages
Some customers see no change after use
Dogs may not enjoy the smell/taste of chews
Quality or flavor may have changed recently based on reviews
Nutramax Dasuquin Large Dog Joint Supplement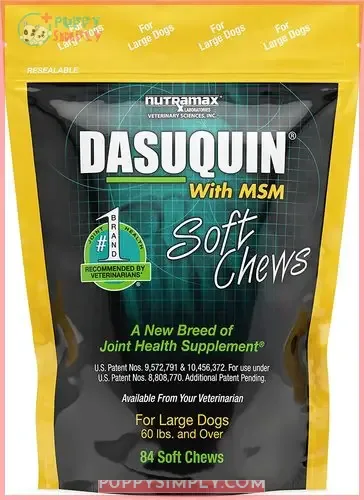 View On Chewy
Discover the joint health benefits of Nutramax Dasuquin Large Dog Joint Supplement for your pup today! It's formulated with glucosamine, chondroitin sulfate, and ASU to support joint health. This supplement also contains MSM as a source of sulfur. It's veterinarian formulated with high-quality ingredients and is recommended by vets for dogs suffering from joint issues or those at risk of arthritis.
The tasty soft chews are suitable for large breed dogs over 60lbs. Plus, you may notice improvement in mobility and stiffness within 1-2 weeks – which is great news! It's safe to give daily as maintenance too.
It works well when paired with fish oil or green-lipped mussel powder. What's not to love? Dogs seem to enjoy the taste, so they make administering even easier.
Formulated with glucosamine, chondroitin sulfate & ASU
Contains MSM as a source of sulfur
Veterinarian formulated with high-quality ingredients
Not suitable for small breed dogs
Nusentia Probiotic Miracle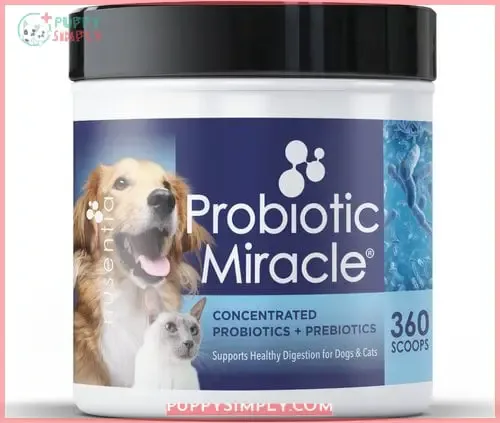 View On Chewy
Nusentia Probiotic Miracle offers a unique blend of probiotics specifically designed to help promote digestion, nutrient absorption, and skin and coat health in your pet. This premium powder is for all life stages and breed sizes, made without sugar, soy, or wheat byproducts.
It has six researched strains that work together to provide essential nutrition for your pup's intestinal flora balance.
Customers report success with eliminating waste issues like loose stools as well as reducing yeast infections and itching in their dogs.
Eliminates diarrhea & yeast infections
Improves breath & nutrient absorption
Works quickly on most dogs
Not suitable if the dog doesn't enjoy powdered taste
Small scoop can be difficult for large hands
Requires consistent administration
OcuGLO Vision Supplement Dogs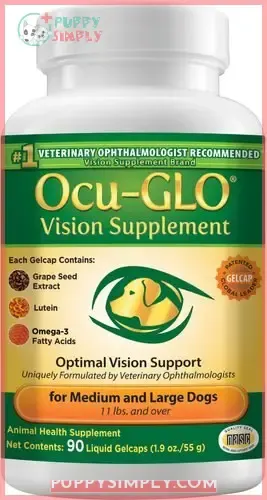 View On Chewy
OcuGLO Vision Supplement for Dogs is a veterinarian-formulated supplement designed to protect your pup's eye cells from oxidative damage and support overall eye health. It contains Grapeseed extract, Lutein, and Omega-3 fatty acids, which may help lessen the symptoms of common canine eye diseases like cataracts, glaucoma, or retinal atrophy.
This product is made in the USA to FDA Good Manufacturing Practices standards with all breeds and life stages in mind. Although expensive compared to other supplements on the market, it could be worth it if you want extra protection for your fur baby's vision long term.
Formulated by veterinary ophthalmologists
Contains grapeseed extract, lutein & omega 3 fatty acids
May help lessen symptoms of common canine eye diseases
Expensive compared to other products on the market
Takes time before seeing any results
Can be hard getting dog to take capsule
NutriVet SeniorVite Dogs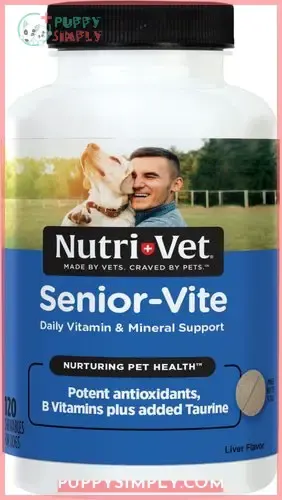 View On Chewy
Treat your pup to NutriVet SeniorVite Dogs, a vet-formulated chewable multivitamin designed for senior dogs that'll have them feeling like they're in the prime of their life. Formulated by veterinarians and backed by NASC certification, this supplement is suitable for all breeds and sizes.
Affordable yet effective; it's an easy way to keep your pup healthy as they age.
Vet formulated & NASC certified
Suitable for all breeds & sizes
Contains essential vitamins, minerals, and antioxidants
Delicious liver flavor
Some dogs had gas or diarrhea after taking
Tablets can be hard to chew
May need breaking into pieces or crushing
Not always effective
Senior Dog Multivitamin Chewable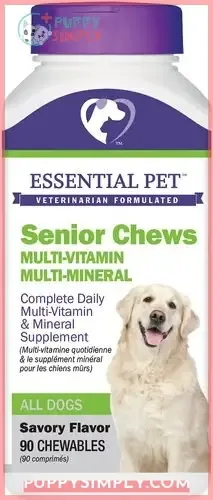 View On Chewy
Give your pup the extra boost they need to stay healthy and happy with Senior Dog Multivitamin Chewable! Formulated in the USA using human-grade ingredients, this comprehensive multivitamin contains essential vitamins, minerals, and antioxidants that support overall health.
It contains Vitamins A & E for immune health, skin, and coat; B vitamins like biotin for energy; and Vitamin C for antioxidant support. Plus, it's made in an FDA registered facility under cGMP standards, so you can be sure of quality.
With its savory flavor, dogs enjoy taking it every day – no more struggling to get them to take their vitamin! The tablets are hard, so if your pup finds them difficult, you can mix it into treats or food instead.
Give consistently each day to ensure the best results: improved coat condition as well as increased energy levels will soon be seen by giving these chewables daily!
Contains essential vitamins and minerals
Human-grade ingredients
Made in the USA with FDA certification
Savory flavor dogs enjoy
Tablets are hard, so they may be difficult for senior pups
Dogs may not like the taste unless mixed into treats
PetTabs Plus Dog Supplement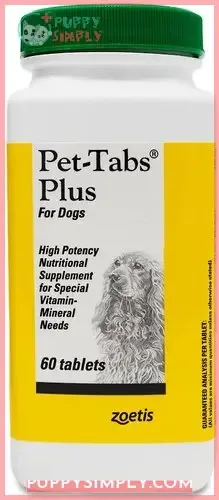 View On Chewy
Provide your pup with PetTabs Plus Dog Supplement for powerful protection and potent pet health. This 20-essential vitamin and mineral supplement is suitable for all breeds, sizes, and life stages. It's highly palatable, meat-flavored tablet form makes it easy to give daily or crumbled over food.
Enjoy the benefits of improved energy levels, fur/hair quality, appetite stimulation leading to weight gain, as well as support for senior dogs in need of vital nutrition on a budget! With over 18 years of positive use reported by users who trust its ingredients and brand name, it may be just what you have been looking for!
However, there are some reports that sensitive stomachs may experience diarrhea or vomiting from this product, so consult a vet before using if necessary.
Highly Palatable Meat Flavored Tablet Form
Suitable For All Breeds & Life Stages
Improves Energy & Fur/Hair Quality
Helps Increase Appetite & Weight Gain
Supports Senior Dogs In Need Of Vital Nutrition On A Budget
Sensitive Stomach Issues Reported
Diarrhea And Vomiting Reported
Data Breach And Credit Card Hacking Issues Reported
Health Extension Chewable Dog Vitamins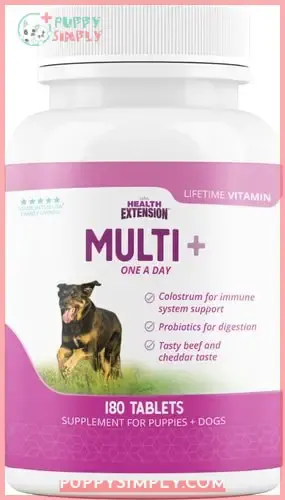 View On Chewy
Health Extension Chewable Dog Vitamins provide a comprehensive blend of vitamins, minerals, and probiotics that help to keep your pup's immune system strong, digestion smooth, and skin/coat healthy – whatever their breed or life stage.
This chewable tablet form is made in the USA with human-grade ingredients and manufactured under FDA Good Manufacturing Practices standards for all breeds and stages of life. It's cost-effective compared to other brands on the market, and dogs love its savory flavor, making it easy to administer daily.
Puppies benefit from essential nutrients needed for growth, while adults are given maintenance support for health.
Made in USA
Cost-effective
Dogs enjoy taste
Easy administration
Some tablets are large for small dogs
Must be chewed, not swallowed whole
Daily administration required
Do Dogs Need Nutrient Supplements?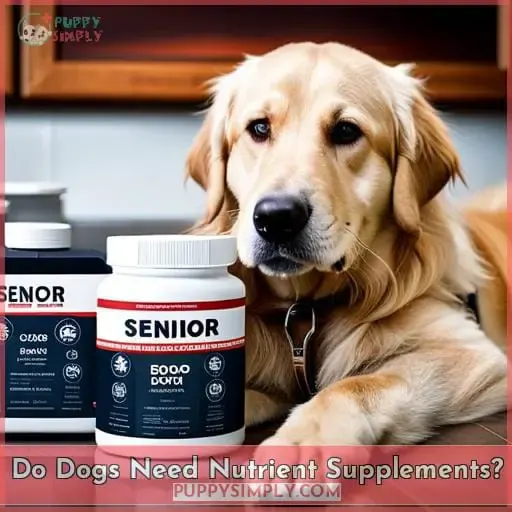 As a pet owner, you may be wondering if your dog needs additional vitamins and nutrients in their diet. Vitamins A, B, C, D, and E are essential for dogs of all ages to maintain their health. Vitamin A helps with vision; vitamin B aids metabolism; vitamin C is important for immunity; Vitamin D promotes bone growth and muscle function, while Vitamin E protects cells from damage caused by oxidative stress.
Essential Vitamins for Dogs
To support your dog's physical and mental well-being, consider adding vitamins to their daily routine. For senior dogs, a multivitamin with omega-3 fatty acids may ease joint pain and stiffness, while antioxidants like Vitamin C and E can improve cognition.
Herbs like turmeric or green-lipped mussel are known for helping anxious pups too! Make sure to pick natural ingredients with no fillers or excess sugar. Then, adjust the dosage based on the age and size of your pup. Quality manufacturing is essential – look for NASC certification, which ensures the supplement meets standards.
Vitamin A
You need to make sure your pup is getting enough Vitamin A, as it can support healthy vision and skin. Canine nutrition experts recommend that senior dogs get a minimum of 5,000 IU/kg per day from food or supplements.
Omega fatty acids help pups absorb the vitamin, while vitamin D aids in its utilization. Consider adding joint health supplements containing glucosamine and chondroitin sulfate, which may also aid in relieving joint pain associated with aging for senior dogs by lubricating joints and reducing inflammation due to arthritis or other conditions like hip dysplasia.
Vitamin B
Vitamin B is important for your pup's energy levels and cognitive functions, so ensuring they get enough through their diet or a supplement can help keep them feeling energized and sharp. Vitamin B benefits include improved brain health, increased metabolism, and a strengthened immune system.
Deficiencies in Vitamin B may lead to anemia or poor coat condition in senior dogs. Sources of Vitamin B include meats such as liver and fish, whole grains and legumes, eggs and dairy products, and fortified cereals and breads.
A complete vitamin B-complex should be taken once daily according to the dog's weight and age, as recommended by vets. Medium chain triglycerides can be added for extra support. When considering supplements, look for natural ingredients without artificial fillers.
Vitamin C
Vitamin C is like the sunshine that powers your pup's immunity, reducing inflammation and keeping them healthy. It also helps with eye health, gut health, joint care for senior dogs, and overall digestive function.
The best source of Vitamin C for your dog comes from a variety of fruits and vegetables, but it can be difficult to ensure they're getting enough in their diet.
This is why veterans recommend supplementing with canine vitamins containing vitamin C to keep your pet healthy throughout all stages of life.
Vitamin D
Providing your pup with Vitamin D can help keep their bones and muscles strong, especially as they age. This is crucial for proper dog diet and meeting dietary needs. It also aids in maintaining adequate levels of other essential vitamins like calcium, phosphorus, and magnesium to promote bone health.
Age-related changes may alter a dog's nutrient needs, including vitamins. Thus, senior dogs should have appropriate vitamin supplementation added to their diet. A quality multivitamin, specially formulated for dogs, ensures all necessary nutritional requirements are met while supporting overall health and well-being as the pet ages or experiences physical issues due to lifestyle or nutrition deficiencies.
Vitamin E
You need to supplement your dog's diet with Vitamin E, which helps improve cognitive function and reduce inflammation. Studies have shown that dogs given Vitamin E had a 27% decrease in oxidative damage compared to those not receiving it.
Here are 4 key benefits of vitamin E for senior dogs:
Reduces arthritis pain & stiffness
Improves immune system health
Supports joint health & mobility
Slows down aging signs
With proper supplementation, seniors can live healthier lives as their nutrition needs change due to age-related issues such as hearing loss or weight gain.
Why Does Homemade Dog Food Need Nutrient Supplements?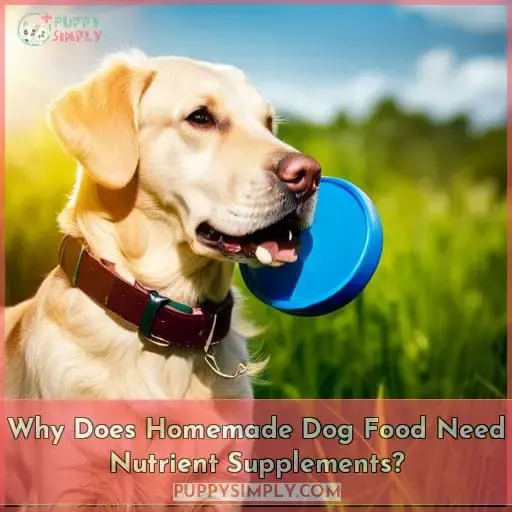 Making homemade dog food is a great way to provide your pet with the nutrition they need, but it's important to supplement their diet with essential vitamins and minerals. Homemade diets for small breeds are typically low in calcium, fat-soluble vitamins A & D, and some amino acids.
Larger breeds may require more calories than what you can provide through homemade meals alone due to their energy needs or weight management issues.
Senior dogs also have special nutritional requirements for better health as they age.
Supplement Type
Smaller Breeds
Larger Breeds
Vitamins
Yes
Yes
Minerals
Yes
Dog food delivery services often offer nutrient supplements so you don't have to worry about missing any of your pup's essential nutrients when feeding them at home! Adding a multivitamin specifically designed for senior dogs will help ensure that all their needs are being met even if dietary changes occur over time without compromising on flavor or quality of ingredients used in the recipes – giving peace of mind knowing that every meal is providing complete nourishment tailored just right for them!
Should I Consider a Premium Dog Food Delivery Service?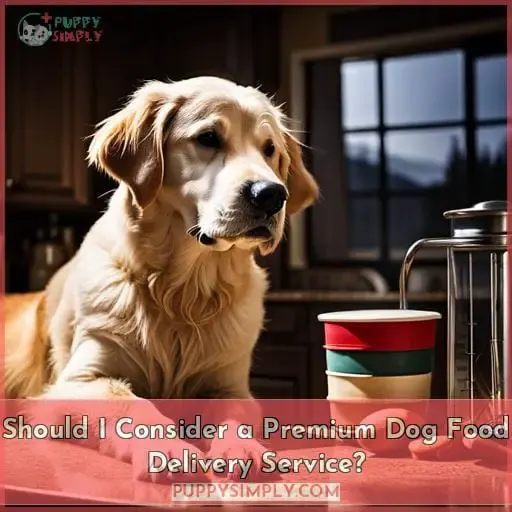 Considering a premium dog food delivery service is a great way to ensure your beloved senior pup is getting the nutrition they need for optimal health. Premium dog foods are free from artificial colors, flavors, and preservatives. They are also rich in healthy proteins, essential fatty acids, vitamins, and minerals that provide complete nutritional support for your aging canine companion.
Here's what you should look out for when choosing premium pet foods:
High-quality ingredients like real meat or fish as the first ingredient
Health supplements added, such as multivitamins, for additional benefits
Natural sources of fiber that help reduce anxiety symptoms
No artificial sweeteners or fillers used in packaging
Premium delivery services deliver fresh homemade meals made with natural ingredients right to your doorstep on a regular schedule, so you don't have to worry about running out of food supplies every month.
With this kind of convenience plus assurance on quality nutrition delivered directly at home, it's no wonder why more owners opt for choosing high-end pet meal subscription boxes nowadays!
What Makes a Good Senior Dog Supplement?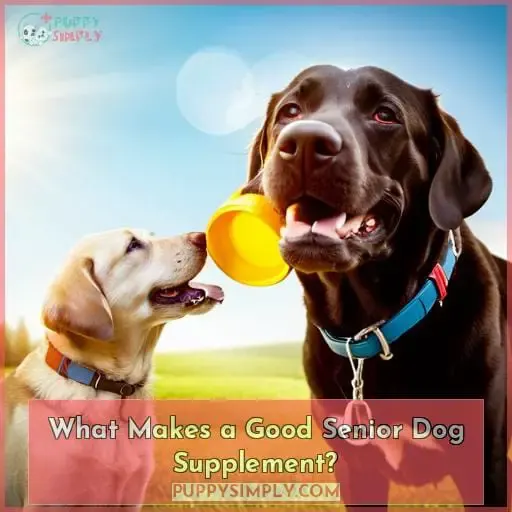 When it comes to keeping your beloved pup healthy, the right senior supplement can make a world of difference. As dogs age, they often experience signs such as slowing down, hearing loss, and white fur that are associated with aging.
Senior dog supplements provide beneficial nutrients for joint health, like glucosamine and chondroitin sulfate, which help ease pain and stiffness in joints due to arthritis or other conditions. They also contain omega-3 fatty acids that reduce inflammation, while probiotics aid digestive health.
Antioxidants like vitamins C & E offer mental clarity, while herbs such as turmeric may enhance the quality of life by slowing down the effects of aging.
Look for vet-recommended products based on specific needs with natural ingredients, avoiding fillers or excess sugar, plus NASC certification indicating the supplement meets standards – all essential when choosing a product! With proper dosage, you'll be supporting your furry friend's immune system, cardiovascular function, and more, so they can enjoy their golden years happily ever after!
Buyer's Guide: Selecting the Best Senior Dog Supplements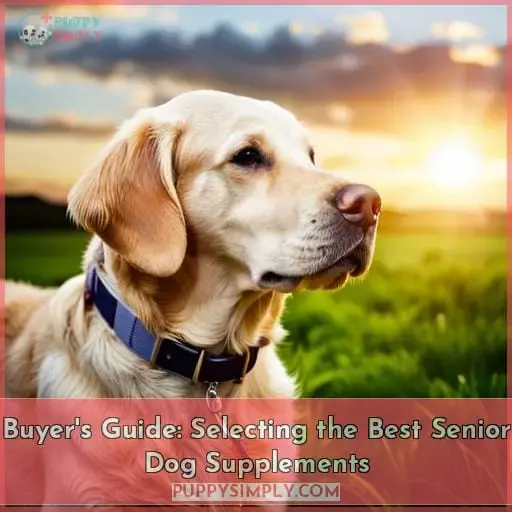 As your dog ages, it's important to ensure they receive the proper nutrients. When selecting a senior vitamin for your pup, there are several factors you should consider and strategies that can help if they refuse to take vitamins.
From determining when your pet is considered a senior to understanding what ingredients make an effective supplement, this guide will provide helpful information on choosing the best multivitamin for older dogs.
When Will My Dog Be Considered a Senior?
Determining when your pup is considered a senior depends on breed and size, with small dogs reaching that stage around 10-12 years old while larger breeds are usually considered seniors at 5-6.
Age ranges vary by breed and size.
Nutrition needs change as the dog ages.
Joint health support can help aging pups stay active longer.
Immune system support keeps them feeling great!

As they age, it's important to monitor their nutrition needs or adjust supplements accordingly to best meet their individual requirements for overall health and wellbeing of your beloved pup in his golden years!
What Should I Look for in a Senior Vitamin?
Choosing a senior dog supplement for your pup can be overwhelming. But with the right information and guidance, you can make an informed decision that's best for your furry friend.
Research the different types of supplements available to determine which will help support their age-related needs, such as joint health or nutrient absorption. Speak to your vet about any medical conditions they may have and get advice on what type of supplement is best for them at this stage in life.
Look out for ingredients like glucosamine chondroitin, omega 3 fatty acids, probiotics, and vitamins A & E, which all contribute towards improved immune health and skin/coat maintenance too!
Keep in mind that not every product works universally, so it's important to find one specifically suited to your pup's breed size/age requirements.
My Dog Refuses to Take Vitamins. What Should I Do?
If your pup won't take vitamins, try introducing them slowly and using palatable flavors like liver or peanut butter to make it more enjoyable.
Look into flavoring options.
Consider alternative products such as oils and chews.
Provide potential solutions that work best for their individual dog.
You can also mix the vitamin powder in with wet food, which may entice picky eaters. Additionally, some veterinarians suggest adding a small amount of vegetable oil or broth to increase flavor appeal while still providing essential nutrients needed by senior dogs.
Lastly, ensure you are giving your dog the right supplement based on size and age so they receive all the benefits without any adverse side effects from incorrect dosages!
Frequently Asked Questions (FAQs)
What are the potential side effects of senior dog multivitamins?
Senior dog multivitamins may cause digestive upset, stomach discomfort, or diarrhea in some dogs. However, these side effects are usually mild and can be avoided by following the recommended dosage for your pup's size and age.
It is always important to consult with a vet before giving any supplement to ensure safety.
Are there any alternatives to senior dog multivitamins?
Yes, there are other options for senior dogs. Consider exercise and training, CBD oil, Kong toys to help ease anxiety. Pheromone diffusers and crate training can also be useful tools. Talk to your vet about prescription medication if needed.
Can I give my senior dog a multivitamin every day?
Yes, it's a good idea to give your senior dog a multivitamin every day. Like adding spices to food for flavor, vitamins can enhance their health and well-being. Choose one with natural ingredients that supports joint and immune health, cognitive function, and digestion – plus, they should enjoy the taste! Consult your vet for dosage recommendations based on the age and weight of your pup.
Are there any risks to giving my senior dog a multivitamin?
As a general rule, there's no harm in giving your senior dog a multivitamin. However, it's important to consult with your vet first and make sure the product is high-quality and appropriate for their needs.
How do I know if a senior dog multivitamin is right for my pet?
Consult your vet to determine if a senior dog multivitamin is right for your pet. Ask about their specific health needs and any risks associated with the supplement. Find one that contains natural ingredients, appeals to taste buds, and has quality certifications like NASC or FDA-approved.
Conclusion
Making sure your senior pup is getting all the essential vitamins and minerals they need for good health can be difficult, but with the right supplement, you can give them the support they need.
From joint health to vision support, there is no shortage of quality senior dog multivitamins on the market – and with our list of the 10 best senior dog multivitamins of 2023, you can find the perfect one for your pup.
With the right combination of vitamins, minerals, and probiotics, you can give your pup the long and healthy life they deserve.