This site is supported by our readers. We may earn a commission, at no cost to you, if you purchase through links.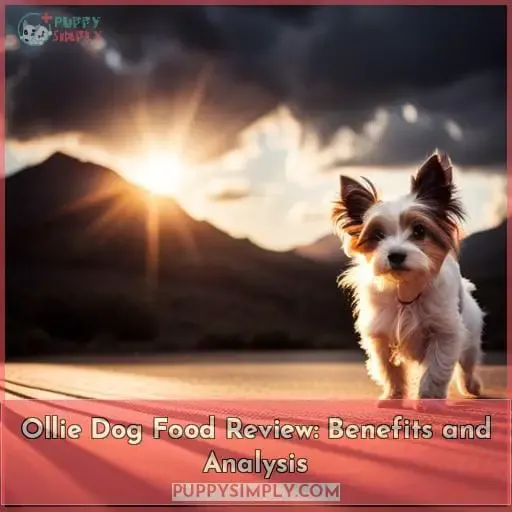 Are you considering switching to Ollie dog food for your pup? You're not alone. Many pet owners are now turning to human-grade options like Ollie in search of a healthier diet for their furry friends.
Take Lexi, an Australian Cattle Dog with allergies who was picky about eating before trying out the Lamb meal from Ollie's menu – now she loves it!
Or Charlie, our three-year old Aussie Cattle Dog who willingly tested different recipes from the food plan we ordered and found himself wagging his tail at every mealtime!
In this review of Ollie Dog Food, we're taking an in-depth look into its benefits and analyzing its ingredients, nutrient content, and recall history.
Key Takeaways
Quality ingredients sourced from reputable suppliers.
Health benefits including improved digestive health and potential allergy relief.
Customizable recipes for dogs with allergies and food intolerance testing available.
Competitive pricing compared to high-quality dog foods and convenient subscription management features.
The Benefits of Human-grade Dog Food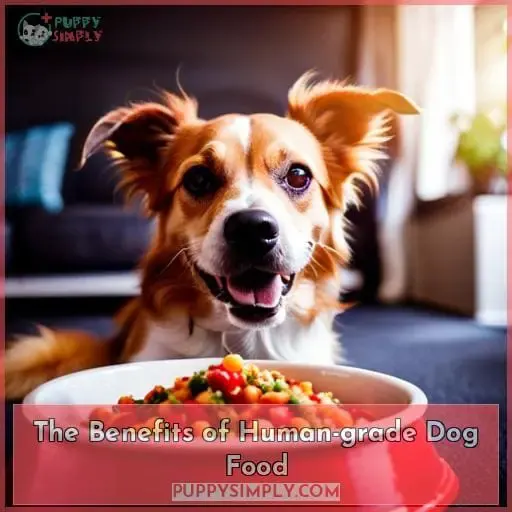 Switching to a human-grade dog food like Ollie can provide your pup with improved digestive health, enhanced nutrient absorption, and potential allergy relief.
Improved Digestive Health
You can trust Ollie to provide your pup with human-grade, nutritious food that can help improve their digestive health and keep them feeling their best. Customers have experienced better digestion for their pets – from weight gain to relief from food intolerances.
This is all thanks to the quality ingredients sourced by Ollie in collaboration with a veterinary nutritionist that meet AAFCO guidelines.
Plus, pricing comparisons show it's still more affordable than traditional high-quality dog foods! With nutritional info readily available on the app and website, plus exclusive offers for customers, there are plenty of reasons why you should choose Ollie if your pup has a sensitive tummy!
Enhanced Nutrient Absorption
With the help of chelated minerals, your pup can experience enhanced nutrient absorption from Ollie's fresh-cooked dog food recipes. Digestive enzymes and nutrients like omega 3 fatty acids are included in each recipe to improve canine health.
These nutrient-rich ingredients aid in digestion and allow for maximum benefits from all the natural vitamins and minerals found in Ollie's meals.
To ensure optimum results for your pup's health, try out a subscription today or take advantage of exclusive offers through their website!
Potential Allergy Relief
By providing high-quality ingredients, Ollie dog food may help relieve allergies in your pup. It offers hypoallergenic options for those looking for allergy relief. With customizable recipes and ingredient sensitivity analysis, dietary changes can be made to accommodate the needs of dogs with canine allergies.
Ollie dog food has a wide range of features, including food intolerance testing, a nutrient profile tailored according to age and breed, AAFCO compliance checks, and a freshness guarantee on every batch tested.
Furthermore, reviews from customers indicate that their pups have experienced positive digestive changes as well as weight gain after switching over to this brand of dog food.
Nutrient Analysis and Recall History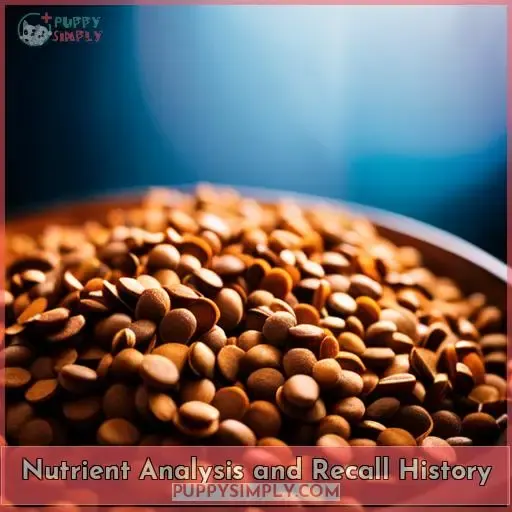 Discovering the nutrient analysis and recall history of Ollie dog food can help you make an informed decision for your pup. With 500lbs donated to shelters, it's clear that they care about pet nutrition. Ollie is highly rated for its human-grade ingredients sourced from U.
S suppliers, with honest reviews from customers and a trusted vet-nutritionist involved in recipe development. All recipes meet AAFCO guidelines while avoiding byproducts, fillers, artificial flavors, and preservatives.
An impressive safety measure includes testing each batch for foreign materials. Clear feeding instructions are provided on their app, with subscription management features included. Nutrient profiles are tailored to age, gender, breed, etc., boasting above-average protein and fat content but below-average carbs, making them ideal meals for Fido.
Conclusion
With over 500 lbs of food donated to shelters and an average pup weight of 36 lbs, Ollie is a popular choice for pup parents. Thanks to their human-grade recipes, Ollie offers potential improvements in digestive health, enhanced nutrient absorption, and relief from food allergies.
Their nutrient profiles are above-average in protein and fat, below-average in carbs, and chia seed and salmon oil add high-quality omega-3 fatty acids for additional nutrition.
There have been no recalls related to Ollie Dog Food through September 2023, and trusted sources like The Advisor have recommended Ollie as an exceptional wet food for dogs.
Ollie is an excellent choice for pet parents seeking convenience, quality, and nutrition.