This site is supported by our readers. We may earn a commission, at no cost to you, if you purchase through links.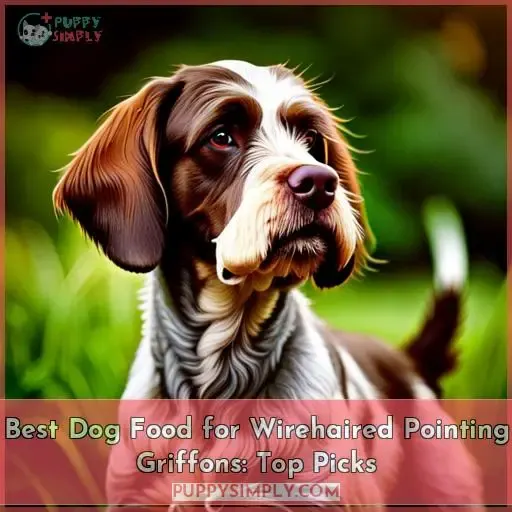 Ready to give your Wirehaired Pointing Griffon the best start in life? A balanced diet is an essential part of their health and wellbeing. But with so many dog food options on the market, it can be hard to decide which one is right for your pup.
We've done the research so you don't have to – here's our guide on finding the best dog food for wirehaired pointing griffons! From researching nutritional needs, age requirements, and activity levels through to understanding specific breed-related dietary concerns, we'll help you find a meal plan that suits all of your pup's individual needs.
Plus, we'll provide tips on how (and when) you should switch up their menu if needed – because even though they may not tell us directly – pups get bored too!
Key Takeaways
Proper nutrition is crucial for Wirehaired Pointing Griffons to maintain overall health and well-being.
Balanced nutrition is essential for preventing obesity and maintaining a healthy weight.
Conduct thorough research on dog food brands and their products.
Consider consulting with a veterinarian for personalized recommendations.
Best Dog Food for Wirehaired Pointing Griffons
Finding the best dog food for a Wirehaired Pointing Griffon can be a challenge. To ensure your pup's health and vitality, consider Orijen Grain Free Dog Food. Stella Chewys Chicken Patties Freeze-Dried Dog Food is another great option. American Journey Salmon Sweet Potato Dog Food and Primal Chicken Nuggets Dog Food are also worth considering.
Zignature Trout Salmon Meal Dog Food, Instinct Raw Beef Dog Food, Royal Canin HP Hydrolyzed Protein Dog Food, Blue Buffalo Adult Chicken Rice Dog Food, and Hills Science Diet Adult Sensitive Stomach Skin Chicken Dog Food are all premium options that offer essential nutrients to support the immune system and digestion, as well as overall skin and coat health for all life stages.
Orijen Grain Free Dog Food
View On Chewy
For your Wirehaired Pointing Griffon, the grain-free formula of Orijen provides essential nutrients to promote a healthy immune system and digestion while keeping their coat soft and shiny. This food contains up to 85% animal protein with ORIJEN WholePrey ingredients such as organs and bones for complete nutrition.
The deboned chicken, turkey, flounder, mackerel liver are sourced responsibly in the USA without hormones or antibiotics added.
Improved overall health and digestive balance
Soft coat and consistent bowel movements
Dogs eat less due to nutrient richness
Worth the price for improved health
Dogs gained excessive weight in a short time span
Not recommended for small dogs
Recent batches had a strong smell, leading to rejection by some dogs
Stella Chewys Chicken Patties Freeze-Dried Dog Food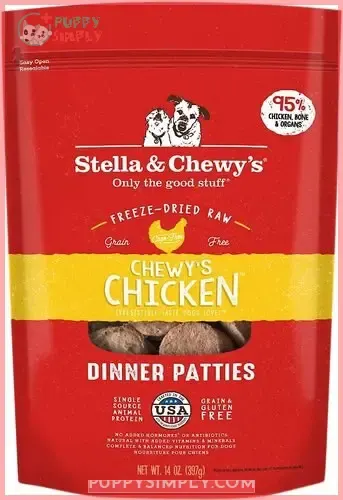 View On Chewy
Try Stella Chewy's Chicken Patties Freeze-Dried Dog Food to give your pup a delicious, protein-packed meal of real raw nutrition. This freeze-dried food is made with 95% cage-free chicken, organs, and bone, as well as organic certified fruits and vegetables that are enhanced with probiotics for healthy digestion.
Proudly crafted in the USA from responsibly sourced ingredients, this grain-free and gluten-free formula contains no artificial preservatives or colorings, making it suitable for dogs of all breeds who have allergies or sensitivities.
Some customers, however, have reported issues such as hard patties, which can be difficult to break up. Others complain about packaging issues causing some patties to turn into dust before being served.
There has also been mixed feedback on dog preferences for the Chicken flavor over time.
Quality control concerns, along with pricing complaints, have also been raised by some consumers.
Made from humanely sourced chicken meat & organ without hormones/antibiotics
Organic produce & vitamin/minerals included
Enhanced w/probiotic fiber
Suitable special diets e.g low glycemic
Some batches exceptionally hard
Mixed customer feedback
Reports of digestive issues
Quality control issue
Price increase
American Journey Salmon Sweet Potato Dog Food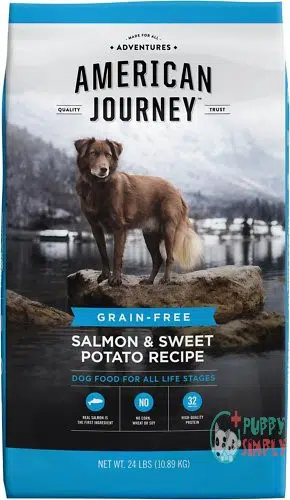 View On Chewy
Don't let your Wirehaired Pointing Griffon's palate get bored; switch it up with American Journey Salmon Sweet Potato Dog Food! This complete and balanced meal is suitable for adult dogs of all breeds and contains essential protein for muscle development, carbs for energy, calcium, phosphorus, and vitamins to support bones & teeth health.
It has a unique blend of glucosamine which helps maintain joint health, as well as antioxidants that support the immune system. Added bonus – this grain-free food also features deboned chicken along with natural ingredients plus LifeSource Bits packed full of antioxidant-rich fruits & vegetables.
The customer feedback on this product has been mixed. Some have reported their dog enjoying the food, while others have had issues such as diarrhea or skin irritation after consuming it. Quality control was another issue raised by customers who found kibble size not suitable for small breed dogs due to packaging change.
Considering these reviews carefully would be beneficial before you make a purchase decision since allergies can vary from one canine to another, even within the same breed groupings like the Wirehaired Pointing Griffons.
Essential nutrients help support overall wellness
Unique blend of glucosamine supports joint health
Features deboned chicken plus natural ingredients
Contains LifeSource Bits packed full with antioxidant-rich fruits & vegetables
Reports on quality control issues related to packaging change affecting kibble size unsuitable for smaller breeds
Some customers experienced adverse reactions in their dogs, including diarrhea or skin irritation
Primal Chicken Nuggets Dog Food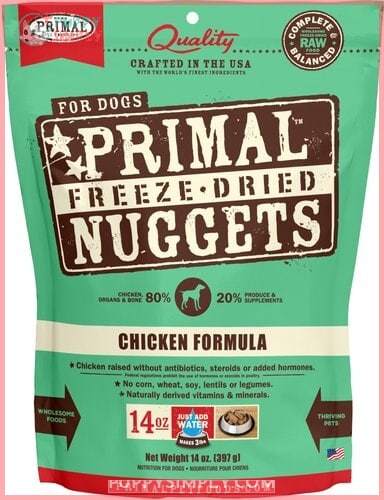 View On Chewy
If you're looking for a convenient raw-food diet solution for your Wirehaired Pointing Griffon, try Primal Chicken Nuggets Dog Food. It's full of protein, natural ingredients, and probiotic fiber. This freeze-dried food is made with antibiotic, hormone, and steroid-free chicken meat and organs, as well as fresh ground bone to ensure calcium supplementation.
The grain-, gluten-, corn-, wheat-, and soy-free recipe also incorporates certified organic produce, minerals, and vitamins to provide optimum levels of amino acids, essential fatty acids, enzymes, vitamins, and minerals.
Crafted in the USA using sustainably sourced ingredients, this dog food helps maintain a proper weight while supporting overall health.
Customer reviews are generally positive. Many have reported that their dogs love it, while others praise its high-quality nutrition, which has improved skin condition or helped alleviate hip issues in larger breeds after only one month's use! On the other hand, some customers report occasional hard nuggets, but most agree that this product helps keep picky eaters happy when used as part of a meal topping or mixed with water rather than served dry due to its strong smell.
Additionally, there have been reports from some pet owners whose packages arrive crushed during shipping, so it may be worth double-checking your order before opening just in case!
Made with human-grade ingredient sources
Grain/gluten/corn/wheat & soy-free formulation
Full of naturally preserved animal proteins
Certified organic fruits, vegetables, & herbs added
Contains prebiotics, omega 3&6 fatty acids
Zignature Trout Salmon Meal Dog Food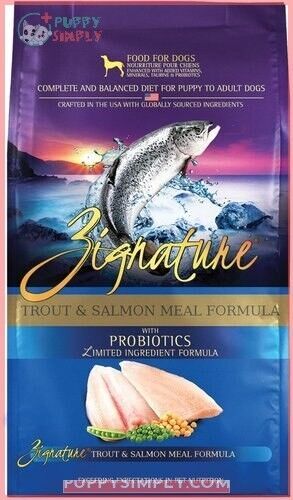 View On Chewy
Zignature Trout Salmon Meal Dog Food is a limited-ingredient formula made with trout and salmon meal as the main ingredients, providing essential nutrients to support your Griffon's muscle and bone health.
It is fortified with probiotics for gut health and comes in a 25-pound bag suitable for all breeds of dogs, including special diets such as low glycemic, grain-free, limited ingredient diet, gluten-free, no corn, no wheat, no soy, chicken-free, natural premium.
Many customers have reported that their dogs have shiny coats and are allergy/skin issue-free after switching to this food. However, some customers experienced strong smells from the product, which caused severe diarrhea in their canines.
Others complained about it being refused by their pup due to its taste or texture.
Rich in omega 3 fatty acids, vitamin B12, and selenium
Fortified with probiotics for gut health
Suitable for rotational diets and small breed pups
Resolves grain allergies and skin issues
Strong unpleasant smell
Caused severe diarrhea
Some dogs refuse it
Instinct Raw Beef Dog Food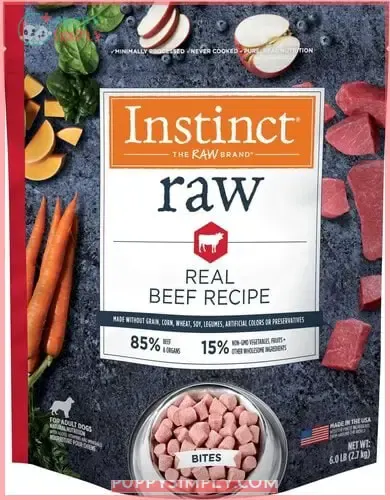 View On Chewy
Instinct Raw Beef Dog Food provides your pup with protein-packed, minimally processed nutrition. It's made with natural beef, non-GMO vegetables, and fruits, as well as wholesome ingredients free from grains or fillers.
All the ingredients are frozen in their prime and cold-pressured for nutrient retention.
This grain-free formula is rich in essential vitamins and minerals, promoting lean muscles and healthy teeth and gums. It also aids digestion and boosts energy levels. It's the perfect choice for dogs with food allergies or sensitivities, especially those allergic to chicken.
However, some users have reported issues such as packaging problems. Thawed or mushy food can lead to digestive upset if not properly handled.
Protein-packed nutrition
Rich in vitamins and minerals
Natural beef and non-GMO produce
Suitable for allergy-prone dogs
Packaging problems can arise
Not suitable for all dog breeds
Digestive upset possible
Royal Canin HP Hydrolyzed Protein Dog Food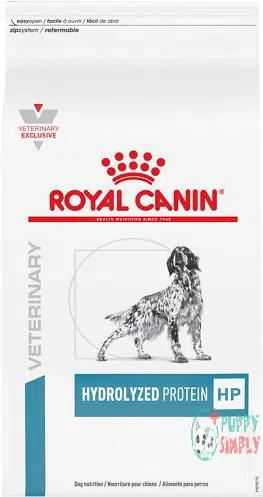 View On Chewy
Royal Canin HP Hydrolyzed Protein Dog Food is a veterinarian-recommended diet designed for adult dogs with food sensitivities. This dry dog food features low molecular weight peptides and essential fatty acids to support gastrointestinal health and enhance the skin's natural protective barrier.
With hydrolyzed soy protein as its primary source of protein, it also contains EPA and DHA fatty acids that help regulate intestinal transit, promote balanced digestive flora, reduce itching, and improve coat condition.
Customers have reported improved skin condition in their Wirehaired Pointing Griffons after switching to this food.
However, there are some reports of allergies being aggravated by the product, as well as occasional vomiting or digestion issues due to its high carb/low protein content or greasy feeling on the kibble itself.
Additionally, packaging issues with damaged boxes have been an issue during delivery for some customers.
Supports gastrointestinal & dermatological health
Enriched with EPA & DHA fatty acids for healthy skin & digestion
Regulates intestinal transit & promotes balanced digestive flora
Reduces itching & improves coat quality
High palatability – dogs love the taste!
Suitable for picky eaters
Aggravated allergies in some dogs
Occasional vomiting/digestion issues
High carb/low protein content
Greasy feeling on kibble
Packaging problems
Blue Buffalo Adult Chicken Rice Dog Food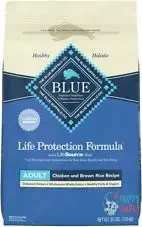 View On Chewy
Blue Buffalo Adult Chicken Rice Dog Food provides furry friends with essential protein, carbs for energy, and joint-supporting glucosamine to help keep them active and healthy.
The deboned chicken and natural ingredients are supplemented with LifeSource Bits, which have antioxidant-rich ingredients that help support the immune system of dogs of all breeds.
Customer feedback has been mixed. Some love the taste, while others report their pup's reluctance to eat it without additional additives or mixing in other foods. There have also been a few complaints about changes in smell and formula from batch to batch, along with reports of diarrhea after consumption due to quality control issues.
One customer specifically mentioned Lot 202405 01A053 as a problem and switched back to another brand because of it.
No corn, wheat, or soy included
Supports muscle development and bones/teeth health
Contains LifeSource Bits with antioxidants
Deboned chicken and natural ingredients
Mixed reviews regarding dogs' preference
Quality control issues reported
Reluctance in some dogs when eating
Reports of diarrhea after consuming
Hills Science Diet Adult Sensitive Stomach Skin Chicken Dog Food
View On Chewy
Hills Science Diet Adult Sensitive Stomach Skin Chicken Dog Food offers the nutrition your pup needs to support optimum health, with real chicken as the primary ingredient and added vitamins, minerals, and amino acids.
This food is crafted with beet pulp for a nourishing prebiotic fiber that aids digestion while providing high digestibility for optimal nutrient absorption.
It also contains essential fatty acids like vitamin E and omega-6 to promote healthy skin and coat. Recommended by veterinarians for sensitive stomachs, this formula helps maintain a balanced microbiome which supports digestive system health in adult dogs of all sizes.
Recent batch changes have caused skin irritation or constipation in some dogs, though reviews report improved energy levels after switching to Hills Science Diet dog food, along with better coat condition from increased nutrients absorbed due to its highly digestible nature.
Real chicken as the primary ingredient plus added vitamins & minerals
Highly digestible recipe aids nutrient absorption & contributes towards healthier coats
Supports digestive balance through prebiotic fibers & probiotics
Some batches may cause adverse reactions such as skin irritation/constipation
Not suitable or preferred by all picky eaters
Open Farm Wagyu Dog Food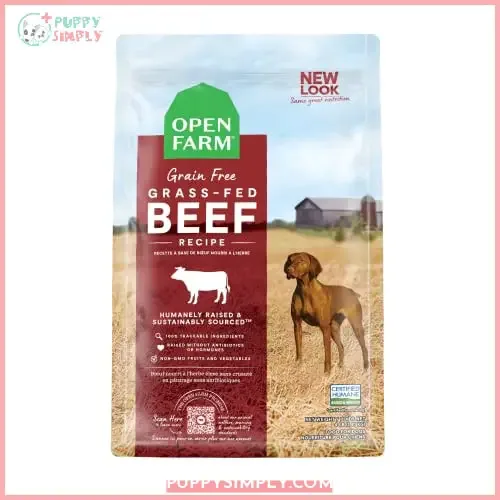 View On Amazon
Open Farm's Wagyu Dog Food offers premium cuts of humanely-sourced, American beef to provide your pup with a protein-packed meal. The grain and gluten-free formula is loaded with probiotic fiber, vitamins, and minerals for dog wellness.
It features Smart Superfoods such as non-GMO pumpkin, carrot, and coconut oil to support optimal health in all life stages.
With Open Farm's transparency program, you can trace the origin of every ingredient using the lot number on the bag – offering peace of mind that only natural ingredients are used throughout their recipes.
Humane Beef Sourcing from family farms raised without additives 100% GAP certified
Science-Based Formula packed full with essential nutrients like omega fatty acids & antioxidants
Grain-Free Recipe free from corn & soy products – plus added superfood benefits!
Transparency Program allows customers to trace each ingredient they use
Kibble size may be too small for some breeds
Quality Control issues have been reported by some customers
Some dogs don't take well to a change in diet
Complete List of Wirehaired Pointing Griffon Health Problems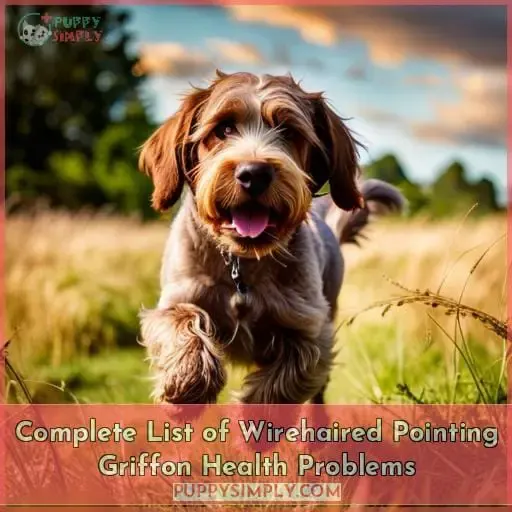 It's important to be aware of the health concerns associated with Wirehaired Pointing Griffons so you can take steps to keep them healthy and happy.
Other worries include eye diseases such as cataracts or entropion, epilepsy, heart disease, low thyroid levels, and food allergies. Prevention is key for inherited conditions like PRA, which may lead to blindness.
Proper dog raising helps avoid most problems, but vaccinations should still be checked for current guidelines on puppies and adult dogs.
An appropriate vet who understands griffon needs is also necessary when selecting a high-quality diet tailored to meet their nutritional requirements, including protein content and weight management options.
How to Choose Dog Food for Wirehaired Pointing Griffons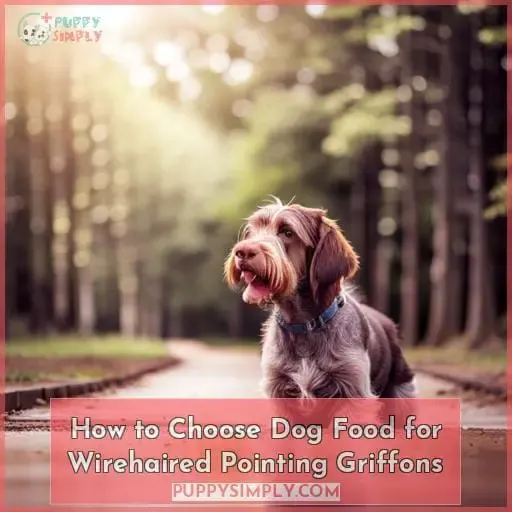 Choosing the right dog food for your Wirehaired Pointing Griffon is essential to maintain their health and vitality. With proper nutrition, you can help keep them active, healthy, and happy throughout their lifetime.
Nutritional needs vary between breeds and individuals—it's important to understand what a Griffon needs in order to make an informed decision on the best diet for your pup.
Nutritional needs for Griffons
When selecting food for your Wirehaired Pointing Griffon, prioritize products with predominantly meat-based ingredients and an animal-based protein source as the first ingredient. Consider age, weight, health needs, and other factors to choose a balanced diet that meets their nutritional requirements.
High-quality foods help prevent some of the common health issues associated with this breed, such as hip dysplasia or eye diseases.
For special dietary needs like allergies or sensitivities, consult your vet for advice on suitable options available in AAFCO compliant dog food brands, including Ollie, Spot & Tango, or Instinct Raw Beef Dog Food.
Also, consider custom diets from JustFoodForDogs, which offer tailored recipes backed by veterinary input to support the long-term wellness of your beloved pet!
Considerations for homemade food
Considering making homemade dog food for your Wirehaired Pointing Griffon? It's important to consider the nutritional balance of meals, the selection of ingredients, cooking techniques, and meal preparation.
Homemade diets can provide health-specific custom diets tailored to gain weight or address allergies if done correctly. Make sure you understand dietary needs for Griffons before starting, as improper nutrition can lead to lifelong issues in dogs.
Research nutrient sources like meat proteins and quality fats, along with vegetables that are safe for canine consumption, such as cooked sweet potatoes and broccoli florets.
Be aware that a homemade diet may require supplementation due to the lack of enrichment found in commercial pet foods.
Top recommended dog foods
Explore the recommended top choices for Wirehaired Pointing Griffons and discover how to start your pup off on the path of optimal nutrition.
Orijen Grain Free, Stella Chewy's Chicken Patties Freeze-Dried, and American Journey Salmon Sweet Potato Dog Food are some great grain-free options.
Primal Chicken Nuggets offer convenience, while Zignature Trout Salmon Meal provides limited ingredients with omega-3 fatty acids.
Instinct Raw Beef is ideal for allergies, while Royal Canin HP Hydrolyzed Protein helps support gastrointestinal health and skin/coat issues.
Blue Buffalo Adult has essential nutrients, and Hills Science Diet Sensitive Stomach Skin contains prebiotic fiber plus vitamins & minerals – perfect for digestion!
Open Farm Wagyu brings humanely sourced prime cuts of beef with probiotics – an energy booster!
Research nutritional guidelines and breed-specific considerations before deciding on a food that best suits your furry friend's needs!
Why You Should Trust Us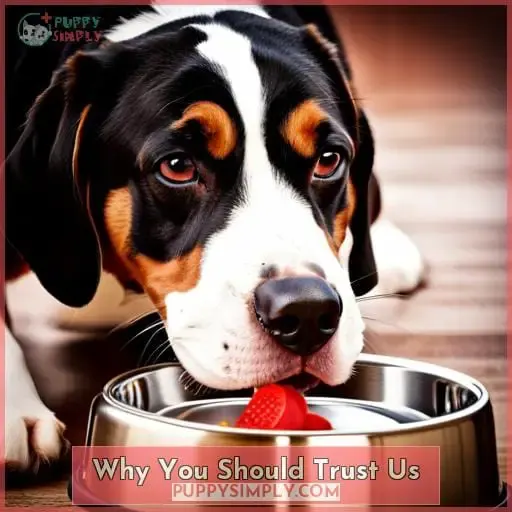 With an extensive background in dog training and breed consulting, you can trust Michele Welton's expertise on the best food for Wirehaired Pointing Griffons. She has over 40 years of experience and has published over 15 books on dogs, making her a reliable and credible source of knowledge.
Her article section provides evidence-based information with detailed nutritional guidelines for Wirehaired Pointing Griffons.
In addition to this, Michele Welton only sources from trustworthy companies. The reviews are based on expert opinion, providing valuable insights into caloric needs, dietary adjustments, and health-specific diets.
She also shares top recommendations specifically crafted for the breed's nutrition requirements.
Michele Welton considers various factors when selecting foods, such as age, weight, health status, activity level, and budget. These are all essential components that impact your pet's overall well-being throughout their life stage transitions.
Through her work, readers gain access to valuable resources while understanding why certain ingredients may or may not be suitable for their canine companion.
Food & Wirehaired Pointing Griffon Age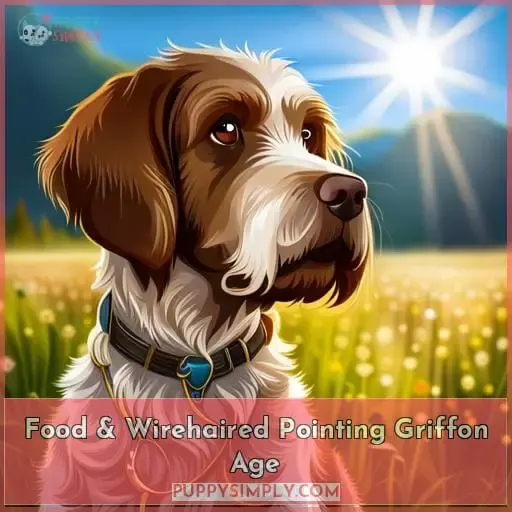 It's important to consider your Wirehaired Pointing Griffon's age when selecting the perfect food for them. Puppies should be fed a high-protein puppy food that will provide the necessary nutrients and calories for growth.
Senior Griffons may need dietary adjustments, such as lower calorie content or higher fiber levels, to maintain their weight and health. Adult dogs should have an AAFCO-approved diet suited to their activity level. Active breeds may require more protein, while less active ones might benefit from reduced fat amounts in their meals.
Nutritional needs can also vary with coat color changes or GI signs like vomiting or diarrhea.
Food & Wirehaired Pointing Griffon Activity Level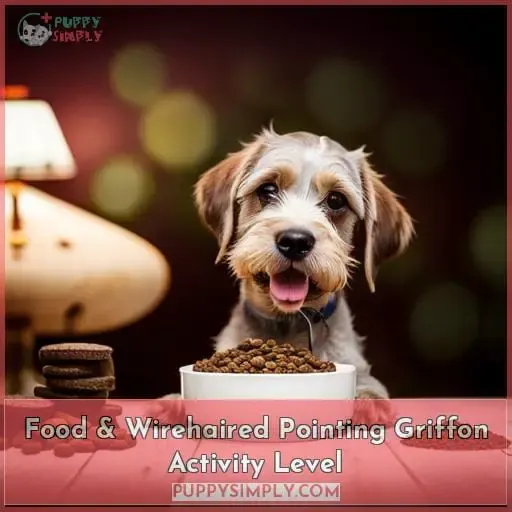 Considering your pet's activity level is key when choosing the right dog food for them. Wirehaired Pointing Griffons are active, energetic dogs that need a diet to match their energy needs. Nutritional considerations should include taking into account exercise regimen, dietary adjustments to maintain a healthy weight, and meal planning based on age and breed size.
For those with an active lifestyle or who participate in canine sports, higher calorie diets may be appropriate for meeting increased energy demands from physical activities such as swimming or running agility courses.
Conversely, overweight griffs may benefit from lower calorie options with more fiber content combined with portion control measures to achieve a healthier weight goal without sacrificing essential nutrition intake while still maintaining adequate levels of daily activity.
When selecting dog food for your wirehaired pointing griffon, take into consideration their individual health needs along with their current lifestyle needs so they can have all the necessary nutrients needed for optimal performance and overall well-being!
Food & Wirehaired Pointing Griffon Health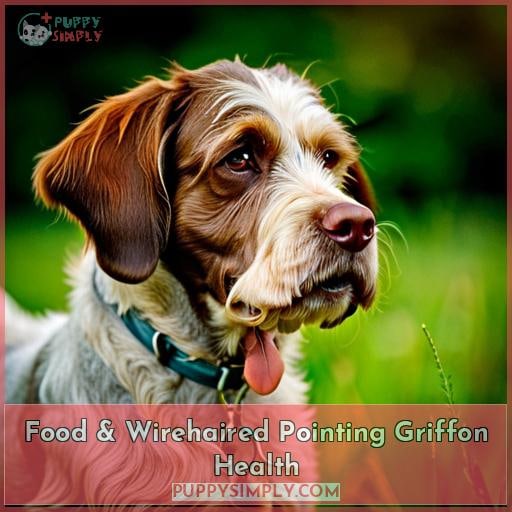 To ensure your beloved companion is living their best life, consider feeding them a diet tailored to their health needs. When selecting food for Wirehaired Pointing Griffons, look for AAFCO nutritional adequacy statements on the packaging and prioritize dog foods with predominantly meat-based ingredients.
The first ingredient should be an animal-based protein source, and puppy food should have sufficient protein for growth.
Additionally, consult veterinarian advice about dietary adjustments based on weight or health conditions like eye diseases or joint issues that may require additional nutrients such as omega fatty acids or glucosamine supplements.
An appropriate diet also helps prevent common Wirehaired Pointing Griffon health issues like hip dysplasia by providing the right nutrition while avoiding any potential intolerances from ingredients like wheat or corn.
To make sure you are giving your canine friend all the necessary vitamins and minerals they need to stay healthy without compromising taste, select quality brands designed specifically for this breed of dog!
Wirehaired Pointing Griffon-Specific Dog Food Qualities to Look For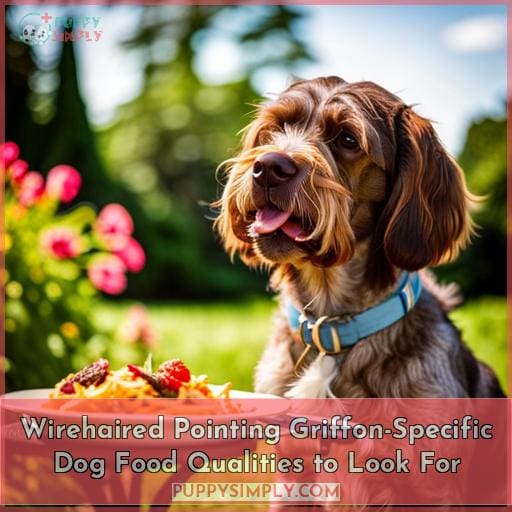 When selecting the right food for your Wirehaired Pointing Griffon, look for characteristics such as high-quality ingredients, grain-free and gluten-free recipes, human-grade meats and organs, and freeze-dried nutrition options with added probiotics to support digestion health.
Consider nutritional considerations like breed-specific formulas or homemade options tailored to individual needs. Also, take into account dietary adjustments needed due to age or special conditions such as allergies or sensitivities.
When choosing a veterinarian, make sure they are knowledgeable about canine nutrition so you can get accurate advice on feeding your Wirehaired Pointing Griffon.
Look for foods that contain meat-based proteins since animal sources provide essential nutrients like amino acids, which dogs need in their diet every day. Alongside vitamins, minerals, carbohydrates, and fats, all of which should be sourced from premium quality ingredients appropriate for the life stage of your dog's age, weight, activity level, budget, and health status.
Wirehaired Pointing Griffon Food Calorie Requirements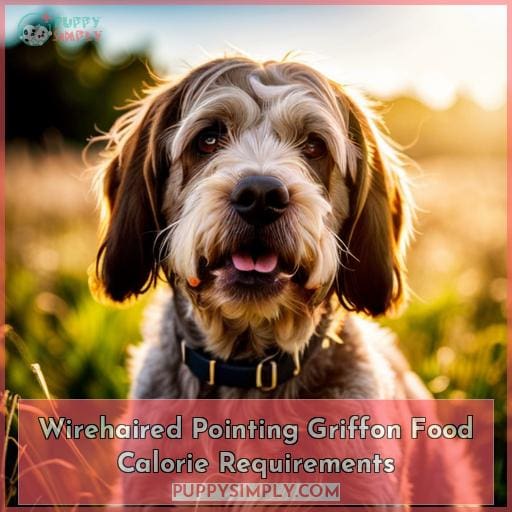 Determining your Wirehaired Pointing Griffon's caloric needs based on their weight and age is key to keeping them healthy and happy. Depending on activity levels, health concerns, or nutritional needs, a personalized approach may be necessary.
Generally speaking, it is recommended that adult dogs of this breed consume between 800-1100 kilo-calories per day, depending on size. Puppies require up to three times more calories than adults for proper growth and development.
However, puppies should not be fed food intended for adults as this can cause harm due to the different nutritional standards required at each life stage.
Being mindful of dietary adjustments, such as reduced calorie intake when trying to lose weight or increased calorie intake if gaining too much, are important considerations in maintaining optimal health for your pet companion.
Additionally, providing access to exercise opportunities regularly will help ensure they stay fit.
How to Switch Wirehaired Pointing Griffon Dog Food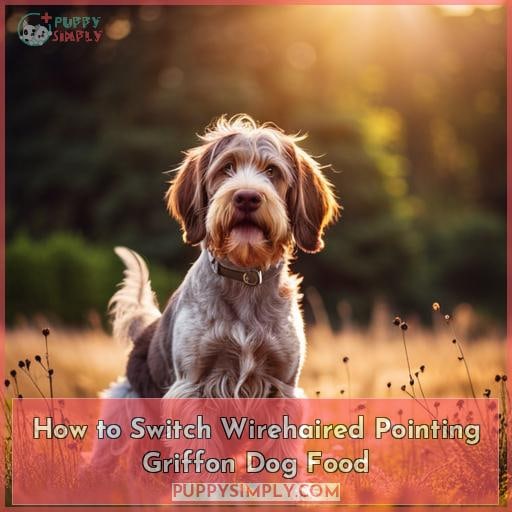 Switching your Wirehaired Pointing Griffon's dog food gradually over a four-week period can ensure it receives the nutrition needed for optimal health.
Begin by slowly introducing small amounts of the new food into their current diet, increasing it each day until you are feeding only the new food after about one week.
Monitor your pup closely during this time to watch out for any signs of an upset stomach or other issues related to changing diets.
If necessary, consult with a veterinarian who specializes in nutritional change before making any dietary adjustments.
This transition period is important because sudden changes in diet can lead to digestive problems such as vomiting and diarrhea, which could be dangerous if left untreated.
Health Dietary Changes in Wirehaired Pointing Griffons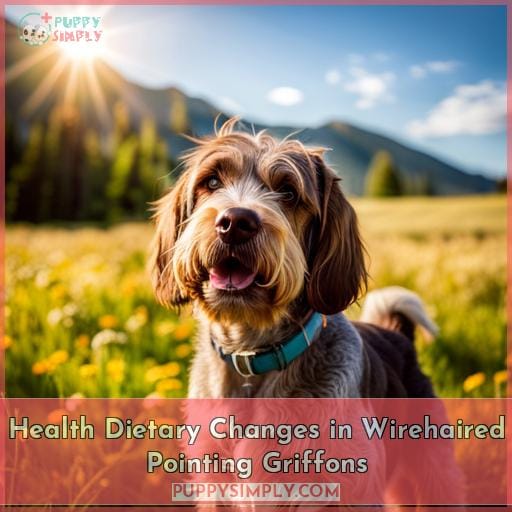 When it comes to the health of your Wirehaired Pointing Griffon, diet is one of the most important factors. Dietary adjustments are necessary for a variety of reasons, including age, weight gain or loss, food allergies, and sensitivities, as well as coat health issues such as dullness or dryness due to nutritional deficiencies.
It's also important to consider digestive health when changing up their diet. For optimal nutrition and preventative care for your Wirehaired Pointing Griffon's overall wellbeing, you should look into high-quality ingredients that have been formulated by veterinarians and canine specialists specifically designed with dogs in mind.
Look out for nutrient-dense recipes made with natural ingredients like fruits & vegetables fortified with probiotics & omega fatty acids. These ingredients help support muscle growth and healthy skin/coat condition while providing essential vitamins, minerals, enzymes, antioxidants, amino acids, and proteins.
When switching foods, make sure you do so gradually over a 4-week time frame. This way, it helps avoid any GI signs such as itching, vomiting, diarrhea, constipation, etc. Additionally, talk about dietary changes with your vet before making any drastic decisions regarding what kind of food your dog will be eating moving forward.
Conclusion
Choosing the best dog food for your Wirehaired Pointing Griffon is an important part of ensuring a long, healthy life. With the right nutrition, your pup can stay active, maintain healthy joints and skin, and boost their immune system.
Carefully consider your Griffon's age, activity level, and health when selecting a food, and look for high-quality ingredients, AAFCO nutritional adequacy statements, and a life stage specified on the packaging.
Grain-free and limited-ingredient recipes may be beneficial for Griffons with allergies or sensitivities.
Additionally, caloric needs and dietary adjustments can be made to help maintain proper weight and aid in various health conditions. With the right nutrition, your Wirehaired Pointing Griffon can live a life of vitality and health.