This site is supported by our readers. We may earn a commission, at no cost to you, if you purchase through links.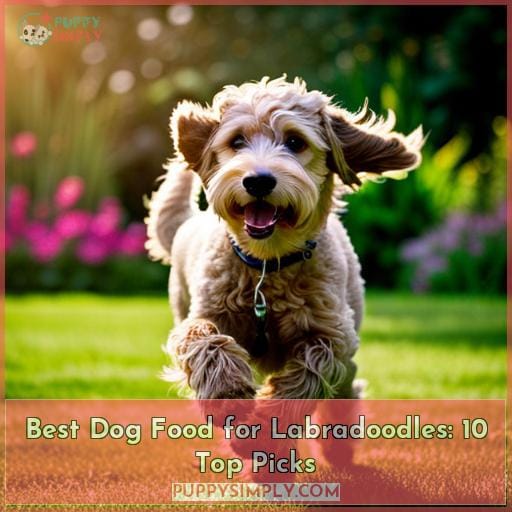 Searching for the best dog food for your Labradoodle? You've come to the right place! We'll help you find a top-notch diet that meets all of their nutritional needs, and keep them happy and healthy.
Labradoodles are an active breed, so they require a higher amount of protein than other breeds. Look for foods with high-quality sources such as chicken, beef, or fish. Avoid ones with fillers or meat by-products.
Whole food ingredients should be preferred over processed ones to make sure your pup gets optimal nutrition from their meals every day.
Furthermore, specific health issues may be taken into account when choosing what type of dog food is best suited for your furry friend – we'll cover this in more detail later on too!
So let's dive right in and explore our 10 top picks when it comes to finding the perfect meal plan fit just for Labradoodles!
Key Takeaways
Labradoodles require high-protein dog food and should look for quality protein sources like chicken, beef, or fish.
When choosing dog food for Labradoodles, it is important to consider specific health issues such as allergies and digestive problems. Foods that avoid allergens like chicken and gluten are recommended.
Whole food ingredients should be preferred over processed ones, and artificial preservatives, fillers, and synthetic additives should be avoided.
The diet should be tailored to the Labradoodle's age, size, weight, and activity level, and it is important to research different brands to find the right dietary solution.
Top 10 Best Dog Foods for Labradoodles
Finding the best dog food for your Labradoodle can be a challenging task. To make it easier, we have compiled 10 of the top-rated options that provide quality nutrition, including Instinct Raw Beef Dog Food, Royal Canin HP Hydrolyzed Protein, Blue Buffalo Dog Food, and more.
1. Instinct Raw Beef Dog Food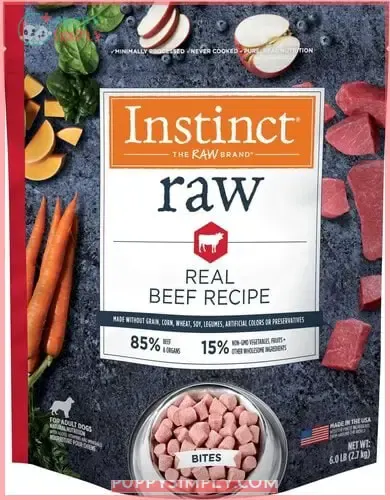 View On Chewy
If you're looking for real, natural nutrition that's packed with protein to support your Labradoodle's muscle development and help promote healthy skin and coat, Instinct Raw Beef Dog Food is the perfect choice.
Made in the USA from raw beef, as well as non-GMO vegetables, fruits, and wholesome ingredients like omega fatty acids, this frozen kibble contains no grain, corn, wheat, soy, or artificial colors. It also helps support dental health while promoting energy levels without fillers or preservatives.
Reviews of this product are generally positive. Toy poodle owners have reported improved digestion thanks to its high-quality ingredients, while Maltese owners noticed a reduction in food allergies due to its limited ingredient list.
Some customers even mentioned that their Yorkie loved it! However, there have been reports of difficulty digesting by some dogs despite being on a raw diet, so be sure to consult with your vet before making any dietary changes if necessary.
High-quality proteins from meat sources
No grains/corn/wheat/soy & no artificial colors
Supports dental health & promotes energy levels
Contains essential vitamins & minerals
Difficulties digesting for some dogs
Frozen kibble can be hard to serve
2. Royal Canin HP Hydrolyzed Protein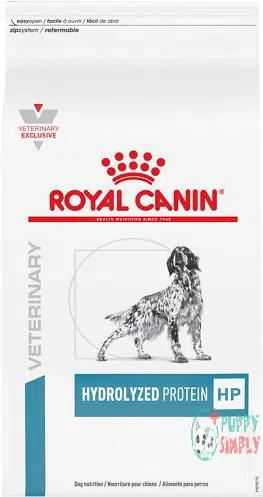 View On Chewy
Discover the power of Royal Canin HP Hydrolyzed Protein, a veterinary diet dry dog food designed to support gastrointestinal and dermatological health in adult dogs with food sensitivities. This limited ingredient diet features hydrolyzed soy protein with low molecular weight peptides that help maintain your pet's natural protective barrier.
It contains EPA and DHA fatty acids for healthy skin and digestion, while regulating intestinal transit as well as supporting digestive flora balance.
Plus, this product comes in an easy-to-carry 25.3-pound bag suitable for all breeds!
Customers have reported positive results from using Royal Canin HP Hydrolyzed Protein, including improved skin condition, reduced itching, and increased energy levels. Even picky eaters can enjoy it! However, some customers report that their pets experienced discomfort or didn't like the taste of this food.
If you find Science Diet isn't working out, consult your vet about alternative options right away.
Contains hydrolyzed soy protein & low molecular weight peptides
Rich in EPA & DHA fatty acids for healthy skin & digestion
Supports digestive flora balance
Suitable for all breeds
Expensive
Some reports of negative reactions/discomfort
3. Blue Buffalo Dog Food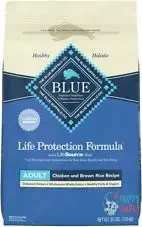 View On Chewy
Try Blue Buffalo Dog Food for your Labradoodle – packed with high-quality protein, essential vitamins and minerals, plus glucosamine to keep their joints healthy. A dry food specifically formulated for adult dogs of all sizes and breeds, it contains deboned chicken as the first ingredient along with whole grains, garden veggies, and fruit.
This product is free from corn, wheat, soy, and poultry by-products; so you can trust that your pup is getting the nutrition they need without any fillers or artificial ingredients.
High-quality protein for muscle development
Carbs for energy
Essential vitamins & minerals in every bite
Free from artificial preservatives & colors
Glucosamine supports joint health
Mixed reviews with some dogs experiencing digestive issues
Quality control concerns raised by customers
4. Hills Science Diet Dog Food
View On Chewy
Experience the power of Hill's Science Diet Dog Food, with real chicken as its main ingredient and prebiotic fiber, vitamin E, and omega-6 fatty acids to support your Labradoodle's sensitive stomachs and skin issues.
Formulated for adult dogs of all sizes and breeds, this food is designed to provide optimal nutrition while promoting healthy digestion. It helps maintain ideal body condition while supporting a strong immune system too! Plus, it contains no artificial preservatives or fillers – just highly digestible ingredients that you can trust.
With over 30 pounds in each bag, there's plenty to go around, so you don't need to worry about running out at meal times either!
Real chicken as the first ingredient
Supports digestive health & skin issues
No artificial preservatives or fillers
Contains prebiotic fiber & Omega 6 fatty acids
Suitable for all breeds & sizes
Some dogs may not like the taste
Can cause discomfort/digestive issues
Recent changes in the recipe affect some dogs negatively
5. Taste Wild High Prairie Puppy Dog Food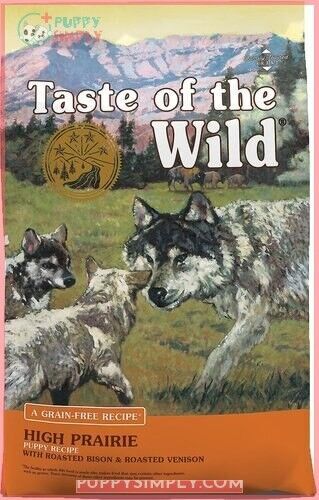 View On Chewy
Taste of the Wild High Prairie Puppy Dog Food offers your pup the perfect balance of real bison and venison, plus omega fatty acids and species-specific probiotics for optimal nutrition. It helps support bone, joint, and muscle development in puppies with its 28% protein content.
A grain-free recipe made with fresh fruits, vegetables, and superfoods ensures that there are no artificial preservatives or flavors to worry about.
You can trace the origin of every ingredient using a lot number on each bag. All ingredients are sourced globally but made right here in the USA!
Grain-free recipe for puppies
Contains prebiotic fiber & vitamin E
Real chicken as the first ingredient
Not suitable for all picky eaters
Some dogs experienced diarrhea or digestive issues
Price may be higher than local feed stores
6. Purina Pro Plan Chicken Rice Probiotics Dog Food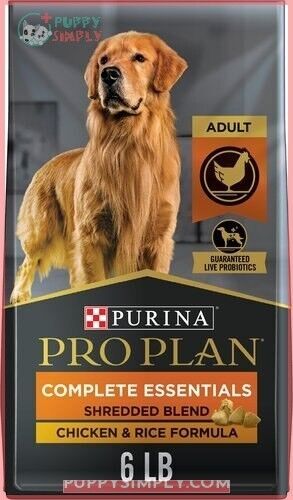 View On Chewy
Satiate your pup's cravings with Purina Pro Plan Chicken Rice Probiotics Dog Food, packed full of protein and probiotics for healthy digestion. This hard kibble is made with real chicken as the first ingredient, plus added vitamins A and omega-6 fatty acids.
The tender shredded pieces make it tasty while helping maintain ideal body condition in adult dogs of all breeds. Plus, this 6-pound bag is designed to last long enough that you won't have to worry about running out anytime soon.
For those looking for a high-quality food without artificial preservatives or colors that also helps maintain skin health and coat condition, look no further than Purina Pro Plan Chicken Rice Probiotics Dog Food! Dogs love the taste and texture, while owners appreciate its nutritional value, making it a great choice when deciding what's best for your furry friend!
However, some customers have experienced gastrointestinal issues due to recent formula changes. If you notice any problems, consider an alternative option such as Hills Science Diet Dry Adult Sensitive Stomach & Skin dog food.
High-quality ingredients including real chicken as the first ingredient
Doesn't contain artificial preservatives or colors
Maintains ideal body condition in adult dogs of all breeds
Recent formula changes caused gastrointestinal issues in some dogs
Inconsistent Quality
Some bad batches reported
7. Open Farm Dog Food Stew
You can trust Open Farm Dog Food Stew to be a complete and balanced meal with its humanely sourced ingredients that are traceable right down to the lot number. It's made from Certified Humane chicken, Ocean Wise approved fish, plus raw produce and superfoods like pumpkin, carrots, and turmeric.
The resealable box ensures freshness while providing convenience for busy pet owners. This stew is suitable for all breeds and life stages as it provides essential nutrition needed by puppies or adult dogs alike.
Made from humanely sourced ingredients
Traceability using lot numbers on bags
Suitable for all breeds & life stages
Not ideal if your dog has allergies (e.g., poultry)
Some picky eaters may not enjoy this food
8. NUTRO Ultra Adult Dry Dog Food
View On Amazon
NUTRO Ultra Adult Dry Dog Food offers your Labradoodle a nutritious meal with its trio of proteins from chicken, lamb, and salmon. This complete and balanced diet is formulated specifically for adult dogs to help maintain their ideal body condition while providing optimal nutrition.
With no artificial preservatives, flavors, or colors, as well as no chicken by-product meal, corn, wheat, or soy protein, you can be sure that your pup is getting only the best ingredients.
The food integrity is protected at every stage of the process thanks to trusted farmers who source quality ingredients combined with rigorous testing for safety and quality control assurance.
Contains one (1) 30 lb bag of NUTRO ULTRA Adult Dry Dog Food
Trio of proteins from Chicken, Lamb & Salmon
High Quality Ingredients provide Complete & Balanced Nutrition
No Artificial Preservatives, Flavors, Colors, etc.
Coated in Freeze Dried Flavoring
Trace amounts may be present due to potential cross contact during manufacturing
9. ACANA Lamb Pumpkin Dog Food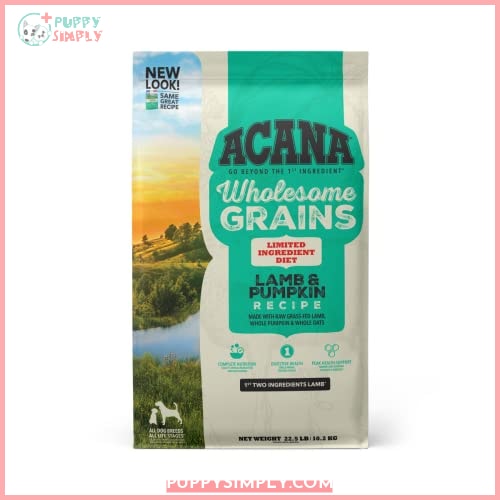 View On Amazon
ACANA Lamb Pumpkin Dog Food is a great choice for Labradoodles as it contains 60% animal ingredients and 40% grains, fruits, vegetables, and nutrients to provide balanced nutrition.
The 22.5 lb bag of kibble comes with pre- and probiotics to support digestion while also providing essential vitamins and minerals for bone and teeth health. This grain-free food helps maintain ideal body condition in adult dogs of all sizes by regulating intestinal transit time while supporting digestive flora balance with EPA & DHA fatty acids.
Contains 60% animal ingredients
Freeze-dried flavors add taste appeal
Supports healthy weight & immune system
Grain-free diet may not be suitable for all breeds
Not suitable for puppies due to high protein content
10. Portland Pet Food Human-Grade Wet Dog Food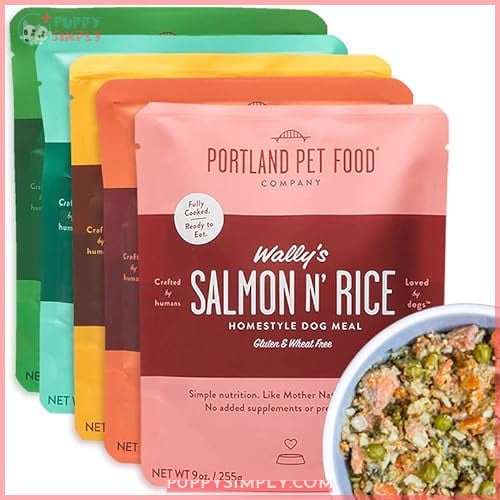 View On Amazon
Experience the convenience of Portland Pet Food's human-grade wet dog food pouches, made with certified ingredients and generous portions. It contains all-natural, fresh ingredients including USDA-certified meats for optimal nutrition that's suitable for all life stages.
The convenient individual servings are ready to eat without thawing or adding water needed – perfect for busy pet owners who want a healthy meal on the go! Plus, it's gluten-free and grain-free, so even those with sensitive stomachs can enjoy its great taste.
This product offers more than just deliciousness, though. Sourcing only from ethical farms in the USA ensures top-quality control measures have been taken at every step of production to make sure your pup gets only the best.
All-natural & ethically sourced ingredients
Ready to eat – no thawing/adding water required
Gluten & grain-free option
Generous 9 oz portion size
Donates 5% of net profits into local animal shelter/programs
More expensive compared to other products on the market
Not suitable as a full diet
Common Health Issues of Labradoodles & How Specific Foods Help Them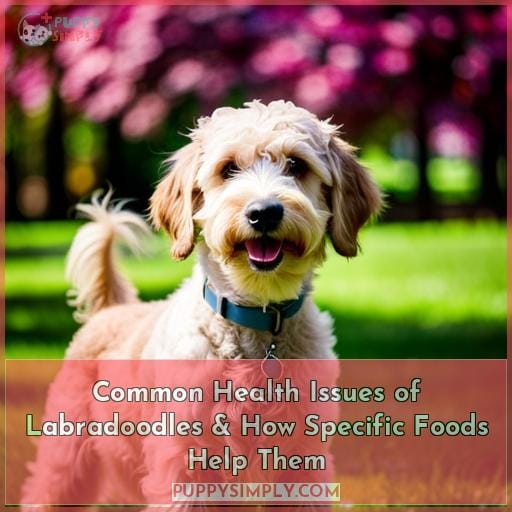 Due to their low shedding, Labradoodles are a popular breed; however, they can have health issues like allergies and joint problems. On average, more than 10% of adult Labradoodles experience digestive issues due to dietary sensitivities that require special attention.
To help with these common health concerns:
Allergies can be managed by avoiding potential allergens such as chicken and gluten in the diet.
Solutions for skin health include high-quality proteins from sources like meat or poultry for coat support. Additionally, fatty acids and vitamins E & D3 promote healthy skin development and maintenance, respectively.
A grain-free or limited ingredient diet may assist those experiencing digestive discomfort while helping reduce other symptoms associated with food sensitivities such as vomiting and diarrhea.
Supplementing the dog's meals with vitamin supplements tailored specifically towards individual needs is also beneficial in optimizing nutrition intake to improve overall well-being.
What to Look for While Choosing the Best Food for Labradoodle Puppies & Adults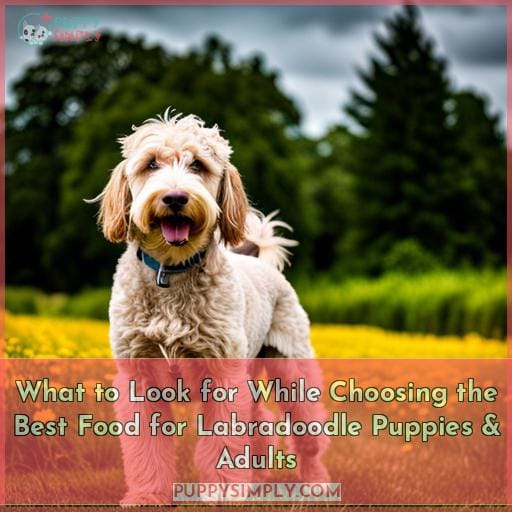 When selecting food for Labradoodle puppies and adults, it is essential to consider the importance of balanced nutrition. Offering a wholesome diet that contains all the necessary nutrients will ensure your pup's health and well-being over time.
Therefore, researching dog foods thoroughly before making a purchase is highly advised in order to make an informed decision on what best suits your pup's needs.
Importance of balanced nutrition
It's essential to ensure your Labradoodle is getting the balanced nutrition they need for a healthy, happy life. Meal planning should include high-quality protein sources and other dietary essentials like carbohydrates, fats, vitamins, minerals, and supplements.
The importance of these nutrients cannot be overstated. They can help regulate intestinal transit while providing energy for activity levels. Additionally, they support healthy skin and coat, prevent nutrient deficiencies, aid in muscle growth, and reduce allergies or sensitivities due to food intolerances.
Make sure you're giving your pup the best dog food for Labradoodles that offers a complete balance of all these important nutrients – their health depends on it!
Consideration of dietary restrictions
When making food choices for your Labradoodle, take into account any dietary restrictions they may have. Allergen avoidance and tailored nutrition are key to ensuring a healthy diet. Consider ingredient sensitivities, specialized diets such as grain-free or raw foods if needed, and always check with your vet before changing their diet.
Research the best dog food for Labradoodles that fits within these parameters to keep them in optimal health while avoiding potential Labradoodle health issues like sensitive stomachs.
Role of high-quality protein
Choosing a high-quality protein source as the main ingredient in your Labradoodle's food is key to keeping them healthy and happy. Meat proteins provide essential amino acids necessary for optimal growth. Plant proteins should also be included to ensure a complete nutritional balance.
Be sure to check the label for dietary impact, such as added fats or carbohydrates, and look out for artificial preservatives or colorings too! High-quality ingredients will help reduce allergies while providing health benefits such as improved digestion and skin/coat support.
When selecting food for Labradoodles, consider meat vs plant sources carefully when considering the best dog foods available on the market today.
What Nutrition Do Labradoodles Need?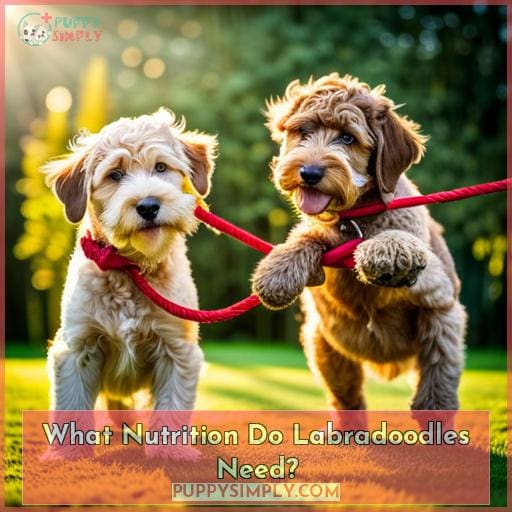 Understanding the nutrition Labradoodles need to thrive is key, like a missing puzzle piece effortlessly snapping into place. Protein sources should be high-quality and provide sufficient amounts for both puppies and adults.
Carbohydrates are also important, with whole grains being preferred over processed foods. Dietary fats play an essential role in maintaining healthy skin and coat too, while AAFCO has set requirements for fat content that must be followed as well.
Vitamins, minerals, and supplements are vital components of any diet. However, their exact needs vary according to individual health issues or breed characteristics that can impact dietary preferences or restrictions on budget considerations too.
As such, it's wise to find food tailored specifically for Labradoodles with all these aspects taken into account when choosing the best dog food suitable for your pup's needs.
What Ingredients Should You Avoid?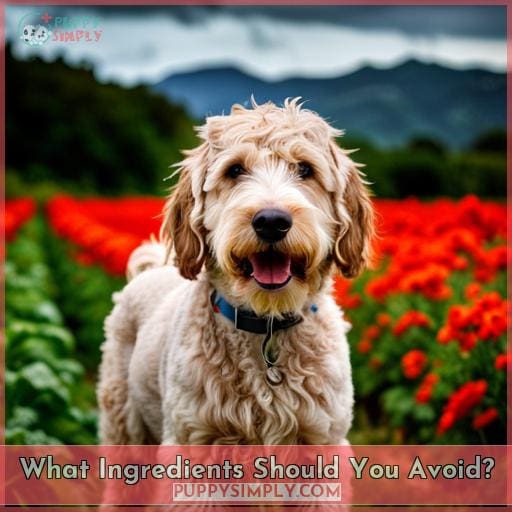 When shopping for the right food for your Labradoodle, be sure to avoid artificial preservatives and high-carb dog foods. Look out for meat by-products or fillers as these are low-quality ingredients that may contain harmful chemicals.
Avoid any food with added flavors, colors, sweeteners, and other synthetic additives, which can cause digestive issues in some dogs.
It is best to opt for a natural diet consisting of whole grains like brown rice or oats. Fresh fruits and vegetables such as apples, carrots, and spinach are also recommended. Lean meats like chicken breast or salmon are a good choice, along with healthy fats from sources such as olive oil.
Furthermore, look out for foods tailored towards sensitive stomachs. These can help ease digestion problems that are common among Labradoodles due to their long hair coats that trap allergens close to their skin surface.
Choosing safe ingredients is essential when selecting dog food, so always read labels carefully before making a purchase decision!
Can Food Help Labradoodle Health Issues?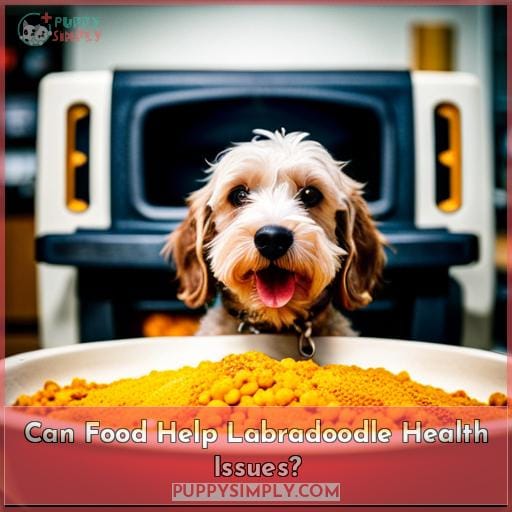 With the right diet, you could help your Labradoodle manage existing health issues and even prevent new ones. There are a range of food benefits that can come from choosing the best dog food for Labradoodles.
Many Labradoodle diets offer nutritional support to address skin problems, allergies, weight management, or joint pain. These specific dietary solutions allow owners to tailor their pet's meal plan with improved ingredient quality in mind.
For example, high-quality sources of protein like fish and poultry can be included, while potential allergens like chicken or gluten can be avoided.
By regularly feeding your Labradoodle based on their age, size, weight, and activity level, and seeking veterinary advice on any specific health concerns, you can provide them with an appropriate diet that may lead to significant improvements in overall wellness.
This can include benefits such as coat color vibrancy and allergy relief, as balanced nutrition levels are met through proper feeding habits.
Investing resources into research when selecting a suitable brand for your pup's needs can provide access to a variety of dietary options. Whether it's grain-free options or budget-friendly alternatives, there are choices available depending on what works best for your Labradoodle.
Conclusion
Choosing the best food for your Labradoodle may seem daunting, but with the right research and understanding of your pup's specific needs, you can make an informed decision that will keep them healthy and full of energy.
From Instinct Raw Beef to Portland Pet Food Human-Grade Wet Dog Food, there is a variety of top-quality food options available to suit all breeds and life stages. Consider your pup's dietary restrictions, potential allergies, and budget when selecting the best dog food for your Labradoodle.
Take into account the unique nutritional needs of these pups and how specific foods can help address any health issues.