This site is supported by our readers. We may earn a commission, at no cost to you, if you purchase through links.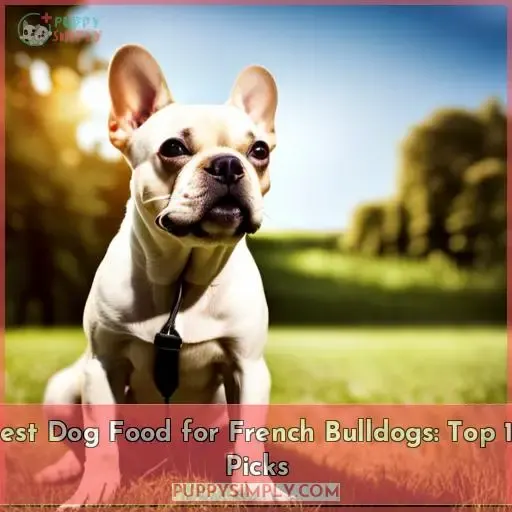 Are you looking for the best dog food for your French Bulldog? With so many different brands and types of pet food on the market, it can be difficult to determine which one is best suited to meet their unique nutritional needs.
Luckily, we've done all the hard work and come up with a list of 10 top-rated options that are tailored specifically for this breed.
Key Takeaways
French Bulldogs have different life stages, including puppy, adult, and senior.
There are top 10 dog foods recommended for French Bulldogs, including Nulo Freestyle Grain-Free Salmon Peas Dog Food and Purina ProPlan Small Breed Chicken Rice.
Key factors in selecting dog food include high-quality protein sources, healthy fats, and fresh, raw ingredients.
Grain-free dog food can provide benefits for joint health, digestion, and omega fatty acids.
Top 10 Best Dog Foods for French Bulldogs
When it comes to the best dog food for French Bulldogs, there are a few top choices available. Nulo Freestyle Grain-Free Salmon Peas Dog Food, Purina ProPlan Small Breed Chicken Rice, Merrick Classic Healthy Grains Dog Food, Eukanuba Adult Medium Dog Food, and Orijen Dry Dog Food are just some of the high-quality options that can provide your Frenchie with essential nutrients.
Rachael Ray Nutrish Chicken Veggies Dog Food, Farmina ND Prime Chicken Pomegranate Adult Dog Food, and Victor Senior Healthy Weight Dog Food offer additional benefits like prebiotic fiber support or joint health supplements.
Wellness Complete Puppy Chicken Oatmeal Salmon and Hill Science Diet Puppy make excellent puppy formulas full of vital vitamins and minerals while also promoting healthy skin and coat development in young dogs.
1. Nulo Freestyle GrainFree Salmon Peas Dog Food
View On Chewy
You and your Frenchie deserve the nourishing nutrition of Nulo Freestyle GrainFree Salmon Peas Dog Food, packed with 80% animal-based proteins to keep them happy and healthy. This grain-free adult formula is free from chicken and egg proteins, making it suitable for French Bulldogs with allergies or sensitivities.
It also contains low glycemic ingredients to help maintain a steady energy level throughout the day, as well as probiotics for digestion support.
Furthermore, this food contains Vitamin B6 from lamb, which helps in energy production, while calcium and phosphorus provide strong bones for your pup's growing body! The wholesome vegetables and fruits offer optimal immune health benefits too!
Contains 80% animal-based proteins
Suitable for Frenchies with allergies/sensitivities
Low glycemic index ingredients
Probiotics included
Vitamin B6 & niacin from lamb
Wholesome vegetables & fruits
Higher cost compared to other dog foods
Some dogs had adverse reactions
High protein content, so dogs may eat less
2. Purina ProPlan Small Breed Chicken Rice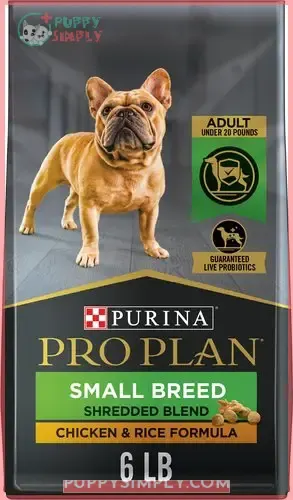 View On Chewy
Discover the power of choice with Purina ProPlan Small Breed Chicken Rice—a nutrient-dense kibble designed to fuel your pup's active lifestyle! This high-protein formula contains real chicken as the first ingredient and is fortified with guaranteed live probiotics for digestive and immune health.
It also includes vitamin A and omega-6 acid for coat and skin health, as well as natural prebiotic fiber for digestion support.
Customers report mixed experiences with this product. Some dogs are reluctant to eat it due to inconsistent kibble sizes, while others love its appeal, even picky eaters. However, it's important to watch out for potential ant infestations in recent bags, as they could cause adverse reactions in your pet.
High protein content
Fortified with vitamins & minerals
Natural prebiotic fiber
Inconsistent kibble size & shape can make feeding difficult
Recent batches reported ant infestation
Changes in recipe may lead to stomach issues
3. Merrick Classic Healthy Grains Dog Food
View On Chewy
Merrick Classic Healthy Grains Dog Food is a high-quality, nutrient-dense kibble specially formulated for adult dogs of all breeds, with real deboned beef as the first ingredient. It contains omega fatty acids, glucosamine, and chondroitin to support joint health and development.
Additionally, it provides vitamins, minerals, and essential amino acids to ensure proper growth. The inclusion of brown rice aids in digestion, while ancient grains like quinoa promote heart health. This dog food is free from corn, wheat, and soy. Dogs love its taste, especially the chicken flavor, and it helps reduce waste production while improving skin condition and energy levels.
Despite mixed reviews about changes in quality after Merrick's acquisition by Purina, as well as small pieces of kibble being too hard on some dogs' teeth or simply not appealing enough due to inconsistent size, many French Bulldog owners praise this food's positive effect on their dog's coat shine and overall well-being.
High-quality ingredients
Real Deboned Beef as First Ingredient
Supports Joint Health & Development
Contains Essential Amino Acids & Vitamins
Mixed Reviews After Acquisition By Purina
Inconsistent Kibble Sizes
Hard On Some Teeth
4. Eukanuba Adult Medium Dog Food
View On Chewy
Eukanuba Adult Medium Dog Food is a top dog in the canine nutrition world, providing optimal levels of fat and carbohydrates for an active lifestyle. It is fortified with added vitamins, minerals, and taurine to support a healthy mind, body, and energy level.
This nutrient-dense kibble contains animal protein, as well as glucosamine and chondroitin sulfate, to promote lean muscle development and joint health. DHA helps foster brain function, while the natural fiber prebiotic blend aids digestion.
This complete diet also features 3D DentaDefense technology, which promotes oral hygiene through crunchy kibbles that help reduce plaque build-up on teeth surfaces. The resealable bag offers convenience for users, while 40 lb bags are prone to damage during shipping—something customers should keep in mind when making their purchase decision.
Animal protein promotes lean muscle development
Contains glucosamine & chondroitin sulfate for joint health
Resealable bag offers convenience
Supports brain function with DHA & vitamin E
Can be difficult to find due to its popularity
Bags may arrive damaged or spoiled after shipping
Some dogs may not prefer the taste
5. Orijen Dry Dog Food
View On Chewy
Orijen Dry Dog Food is a premium, grain-free, high-protein kibble made in the USA with ingredients sourced from around the world. It contains up to 85% animal protein and ORIJEN WholePrey ingredients like organs and bones, making it suitable for adult dogs of all breeds.
This food is designed to support immune health, digestion, skin and coat health, as well as joint mobility by providing essential fatty acids such as omega 3s.
Reviews are mixed, however; some users report increased weight gain or adverse reactions, while others note their dog's preference for Orijen over other brands.
Contains up to 85% animal protein
Fortified with ORIJEN WholePrey ingredients like organs & bones
Supports immune system health & digestion
Some customers reported increased weight gain on this food
Potential adverse reactions in some dogs
Expensive compared to other dog foods
6. Rachael Ray Nutrish Chicken Veggies Dog Food
View On Chewy
Unlock the potential for your pup's health with Rachael Ray Nutrish Chicken Veggies Dog Food, a delicious and natural dry dog food formulated to provide whole-body nutritional support. Real chicken is the first ingredient, along with fiber sources like peas and brown rice that aid in digestion.
Omega-3 fatty acids from fish oil help keep your pet's mind active, while antioxidants support overall wellness.
With every purchase of this product, a portion of proceeds will benefit The Rachael Ray Foundation, which provides grants for animal welfare organizations across North America – making it an even more attractive choice!
Used by some customers without issues over 12 years
Dogs enjoy its taste – even picky eaters love it
Good nutritional value plus supports charity with each purchase
Suitable for senior dogs; all-natural without fillers
Affordable price & fresh ingredients
Some dogs experienced bloody stool & other health issues
Various lawsuits related to sick dogs consuming this food
Not suitable for all dogs; caused diarrhea in some
7. Farmina ND Prime Chicken Pomegranate Adult Dog Food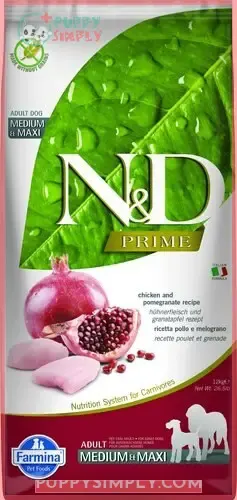 View On Chewy
Farmina ND Prime Chicken Pomegranate Adult Dog Food is a grain-free, high-protein option with beneficial antioxidants from pomegranate and berries to help keep your pup's coat healthy. This all life stage food contains no peas, legumes, meals, or by-products. Instead, it provides 98% protein from quality animal sources for optimal nutrition.
Vitamins are coated to retain freshness, while natural omega fatty acids promote skin and coat health. Dogs love the taste of this food, especially the chicken and pomegranate flavor.
High Protein content (98%) from quality animal sources
Contains No Peas, Legumes, Meals, or Byproducts
Natural Omega Fatty Acids for Skin & Coat Health
Added Antioxidants From Pomegranates & Berries
Kibble size good for large & small breeds
More expensive than some alternatives
Some bags have arrived spoiled or smelling off
May cause diarrhea or dry skin in some dogs
8. Victor Senior Healthy Weight Dog Food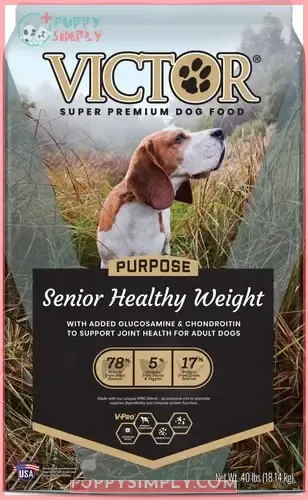 View On Chewy
Victor Senior Healthy Weight Dog Food is a nutrient-dense choice for senior Frenchies, providing essential proteins, vitamins, and minerals to help them maintain an active lifestyle. It contains premium-quality beef, chicken, and fish meals that are fortified with glucosamine and chondroitin for joint health.
The addition of l-carnitine helps convert fat into energy while maintaining lean muscle development in aging dogs.
Vitamins, minerals, protein, and amino acids offer superior digestibility while the VPRO blend boosts immune support. This food also features gluten-free grains, making it suitable even for those pups with sensitivities or allergies to certain ingredients like corn or wheat.
Many users have praised this formula's acceptance by picky eaters, but some have reported increased thirst in their dog after switching to the diet, as well as occasional bouts of diarrhea.
The inclusion of glucosamine has been particularly beneficial for arthritic dogs, helping alleviate their weight-related issues too.
Sourced & made in USA
Contains Glucosamine & Chondroitin
Vitamin & mineral enriched
Protein-rich meal
L-carnitine conversion
VPRO Blend boosts immunity
Some reports about increased thirst
Occasional diarrhea reported
Busted bag shipping issue
9. Wellness Complete Puppy Chicken Oatmeal Salmon
View On Chewy
Wellness Complete Puppy Chicken Oatmeal Salmon is a complete and balanced diet designed to provide your pup with the nutrition they need for growth and development. This food is GMO-free, contains no meat by-products or fillers, and has no artificial preservatives.
The ingredients include premium proteins, wholesome grains such as oatmeal and brown rice, omega fatty acids (DHA) for healthy brain development, essential vitamins for energy levels support, and probiotics to help maintain digestive health.
Glucosamine helps keep joints strong while antioxidants are added in to boost overall immune health.
Some customers have reported issues when transitioning their puppy from other foods onto Wellness Complete Puppy Chicken Oatmeal Salmon due to possible diarrhea or soft stool problems. Others mention that their pups experienced vomiting after eating this food – although it should be noted that some dogs may simply find it difficult adjusting if switching from one type of food abruptly rather than gradually introducing new types of kibble into their diet over time.
On the plus side, though, many customers report positive results with improved skin coat condition being observed in some puppies after consuming this product – suggesting its nutritional formula really does benefit those young canines who sample its delicious taste!
GMO free without any meat by-products or fillers
Contains essential vitamins & minerals needed during growth stages
Added DHA supports healthy brain function
Natural prebiotic fiber aids digestion
Supports joint strength through glucosamine
Antioxidants strengthen overall immunity
Some puppies experience stomach discomfort upon transition
Vomiting may occur if switched too quickly
Kibble size not suitable for all breed sizes equally
10. Hill Science Diet Puppy Dog Food
View On Chewy
Hill's Science Diet Puppy Dog Food is a tasty, nutrient-rich option that provides essential building blocks for your pup's lifelong health. It is formulated with DHA from fish oil and high-quality protein to support brain development and lean muscle growth.
Additionally, it contains balanced minerals for strong bones and teeth. Prebiotic fibers are included to help maintain gut microbiome balance, while vitamin E and omega-6 fatty acids promote healthy skin and coat.
Many customers report positive experiences with their puppies enjoying the food, as well as improved digestive issues. However, some have reported tummy problems in puppies due to the new formula change.
Convenient home delivery options
Good price with discounts available
Suitable for 8-week-old puppies
Stomach/digestion issues experienced by some dogs after switching formulas
Mixed preferences among picky eaters
Availability issues with smaller bags
Vets recommend this product, which many loyal customers have been using not only on their pups but also on older dogs such as seniors.
What Are the 3 Life Stages of a French Bulldog?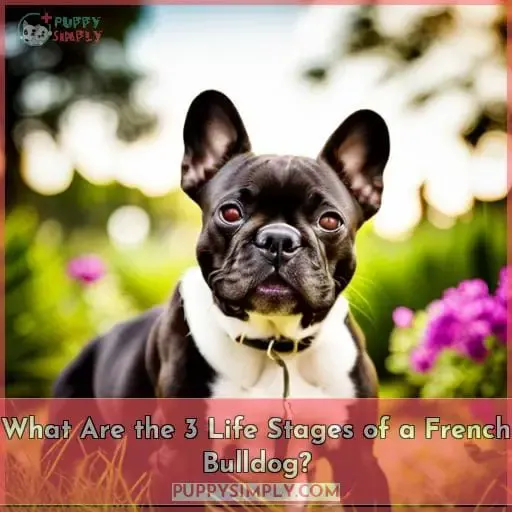 When it comes to French Bulldogs, they go through three distinct life stages: Puppy, Adult, and Senior.
Puppies will need higher levels of protein and calories than adults due to their rapid growth. Look for puppy food labeled as Growth or All Life Stages – avoid adult formulas until 9-12 months old.
During adulthood (over 12 months), activity level should be taken into account when selecting dog food; low-calorie options are best if activity is lower, while high-energy foods can be used when more active.
Finally, seniors may require additional proteins but fewer calories, so look out for products that meet these needs specifically while being mindful of dietary allergies that may occur later in life too!
With the correct diet tailored to their individual nutritional needs throughout each stage, French Bulldogs can live longer, happier lives with fewer health issues arising from poor nutrition choices down the line.
What to Look for in the Best Dog Food for French Bulldogs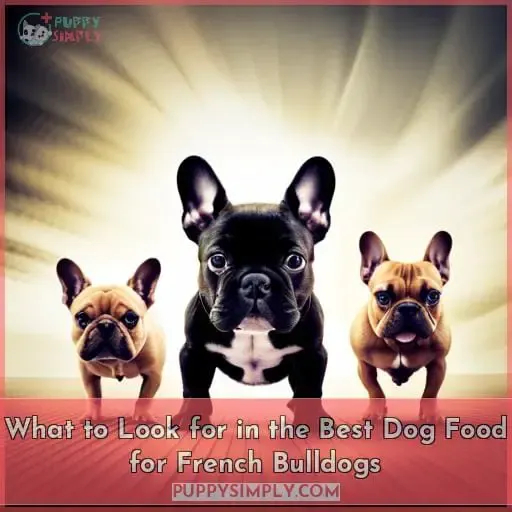 When selecting food for your French Bulldog, look for high-quality animal protein and healthy fats, fresh or raw ingredients, glucosamine and chondroitin supplements, and weight management options if necessary.
Small breed formulas with prebiotic fiber and omega-6 fatty acids are best as they provide optimal levels of nutrition. Limited ingredient diets may be beneficial for dogs with allergies. If choosing homemade food, consider real nutrients rather than fillers.
Every French Bulldog is unique, so finding the right diet can be challenging. Look for kibble size suitable for small dogs, vary flavors to keep them interested in their meals, and monitor stool quality to ensure suitability.
Watch for signs of allergies, such as itching or rashes, when changing foods suddenly. Pay attention to feeding frequency and portion size according to age. Puppies need more calories than adults. Opt for low-calorie but nutrient-dense meal plans if overweight prevention is desired.
Consider investing in pet insurance due to the potential for higher vet bills associated with this breed's sensitive health issues, like IVDD.
What About Grain-Free Dog Food?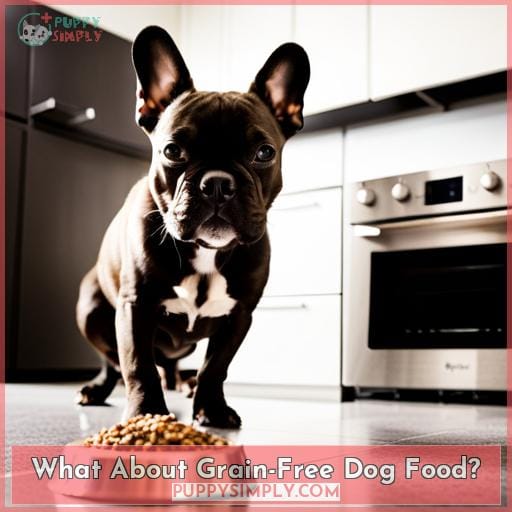 Grain-free diets are becoming increasingly popular, as they offer a range of benefits for your furry companion. They can help reduce the risk of genetic disorders commonly seen in French Bulldogs due to poor breeding practices and extend their lifespan by improving joint health and digestive system function.
Additionally, grain-free dog food is high in healthy fats like omega fatty acids, which support coat health, cognitive development, and overall wellbeing. When selecting grain-free foods for your Frenchie, it's important to look at the ingredients list carefully.
Make sure that meat or fish protein sources are prominent on the label rather than plant proteins such as peas or lentils, which may not provide adequate nutrition over time.
Also, consider adding joint supplements if needed. Glucosamine aids mobility, while chondroitin helps keep joints lubricated without causing inflammation. But be careful with dosages since too much can create discomfort for sensitive stomachs.
Lastly, track your pet's weight regularly. Overweight dogs are more prone to back problems, so maintaining a healthy bodyweight is key!
Store-bought Vs. Homemade Food: Which is Better?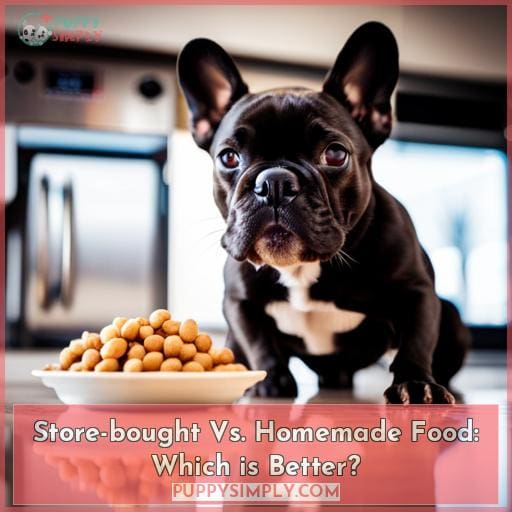 Deciding between store-bought and homemade food for your French Bulldog can be tricky. It's important to consider the nutritional balance, cooking techniques, cost analysis, and ingredient sourcing of both options before making a decision.
Homemade Food
May not provide complete nutrition; requires knowledge of canine needs and careful selection of ingredients.
Cooking techniques can be time-consuming and may require specialized equipment (e.g., grinder) for some recipes.
Store-Bought Food
Quality varies but generally provides balanced nutrition with essential vitamins/minerals & other nutrients tailored to breed size or age group.
Convenient: no time spent preparing meals at home as all work is done by the manufacturer — just scoop & serve!
Cost Analysis
Homemade food is often cheaper than purchasing commercial products in the long run due to bulk buying power & reduced wastage.
Store-bought food is generally more expensive unless on sale or using coupons; however, the convenience factor offsets this somewhat.
Ingredient Sourcing
Natural ingredients for homemade food are readily available from suppliers such as farms, local pet stores, etc., though availability depends on location.
Commercial products use carefully sourced natural ingredients with AAFCO approved standards.
Ultimately, it comes down to personal preference when deciding what type of food is best for your French Bulldog.
Why is It So Hard to Find the Right Dog Food?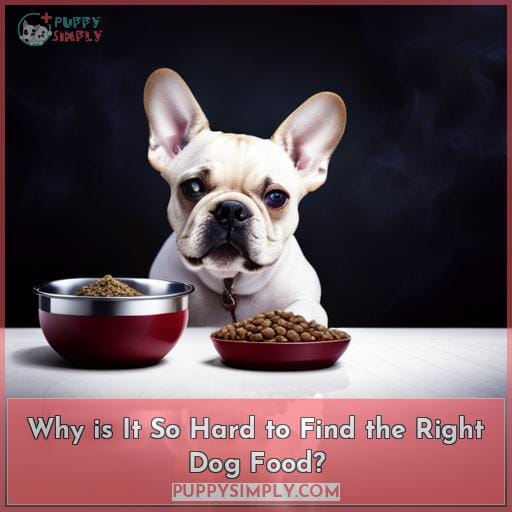 Finding the right dog food for French Bulldogs can be a challenge due to their unique nutritional needs. A Frenchie's dietary requirements vary depending on age, activity level, and neutering status, making it difficult to select the perfect diet.
Although commercial foods are available in abundance, they may not meet all of your pup's individual nutrition needs. Homemade food offers real nutrients but requires more time and effort to prepare properly, which isn't always practical or feasible.
To add further complexity, pet insurance companies typically do not cover any costs related to poor nutrition.
The good news is that there are products available designed specifically for Frenchies with healthy body weight maintenance goals in mind.
Should I Consider Pet Insurance for My Frenchie?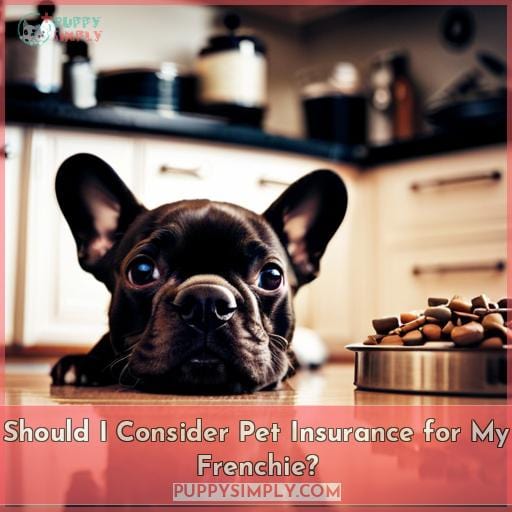 As a French Bulldog owner, you may be wondering whether pet insurance is worth it. Pet insurance can help offset the cost of medical bills for your pup and provide peace of mind when facing unexpected veterinary expenses.
It's important to compare costs and coverage before making a decision on pet insurance to ensure that you are getting the best value for your money.
Importance of Pet Insurance
Considering pet insurance is an essential part of maintaining your Frenchie's long-term health and happiness. It can provide financial protection against expensive veterinary bills, allowing you to focus on providing the best care for your pup.
When choosing coverage, consider factors like pre-existing conditions, deductibles, co-insurance rates, and annual caps. Cost considerations are important too; look for premiums that fit within your budget while still offering sufficient levels of coverage.
The claim process should also be straightforward with quick turnaround times when filing a claim.
Investing in pet insurance provides peace of mind, knowing that if something unexpected happens with their health or wellbeing down the line, you will have some help managing costs associated with vet visits or treatments needed as a result.
Cost vs. Coverage
When it comes to pet insurance, you'll want to weigh the cost against coverage before making your decision. Consider factors such as commercial vs homemade dog food and nutrient guidelines for optimal health.
Compare ingredients, brands, and nutritional benefits when selecting a food that meets your Frenchie's needs for muscle development and joint health.
Research various insurance options available in order to make an informed decision about what best fits within your budget while still providing adequate coverage for unexpected veterinary bills or medical care due to illness or injury.
Factors to Consider
When deciding on pet insurance for your French Bulldog, it's important to consider factors such as age, activity level, and neutering status.
Nutritional considerations are key. Ensure their diet is rich in lean animal protein, healthy fats like omega-6 fatty acids, and complex carbohydrates.
Glucosamine supplements may be necessary for joint support, while taurine aids in maintaining a glossy coat.
Allergies can also play a role. Look out for signs of food sensitivity or choose limited ingredient diets tailored to their needs.
Weight management should also be taken into account, with low-calorie options available if needed.
Conclusion
With their unique personalities and endearing appearance, French Bulldogs are beloved companions. When it comes to feeding your Frenchie, selecting the right food is essential for a long, healthy life.
When shopping for food for your French Bulldog, look for an option that is appropriate for their life stage, contains quality animal-based proteins, and offers balanced nutrition.
Our top 10 picks for the best dog food for French Bulldogs are:
Nulo Freestyle GrainFree Salmon Peas Dog Food
Purina ProPlan Small Breed Chicken Rice
Merrick Classic Healthy Grains Dog Food
Eukanuba Adult Medium Dog Food
Orijen Dry Dog Food
Rachael Ray Nutrish Chicken Veggies Dog Food
Farmina ND Prime Chicken Pomegranate Adult Dog Food
Victor Senior Healthy Weight Dog Food
Wellness Complete Puppy Chicken Oatmeal Salmon
Hill Science Diet Puppy Dog Food
With so many options to choose from, you can find the perfect diet for your beloved Frenchie.