This site is supported by our readers. We may earn a commission, at no cost to you, if you purchase through links.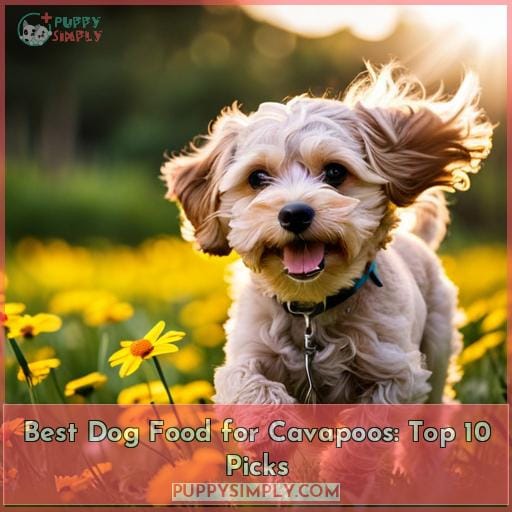 Perplexed by the perplexing range of dog food options available for your Cavapoo? You're not alone. With so many brands on offer, it can be difficult to know what will provide optimal nutrition and benefit for your beloved pup.
But fear not! To cut through the confusion, we've curated a list of our top ten picks for best dog food for Cavapoos that are guaranteed to keep them healthy and happy.
Chock-full with quality ingredients – from Halo Holistic Small Breed Chicken Rice to Orijen Senior Dog Food – you'll find something here that's sure to please even the pickiest eater in no time at all!
So let's get started on this tantalizing journey into finding out which is truly the best dog food option specifically tailored towards cavapoos!
Key Takeaways
Halo Holistic Small Breed Chicken Rice for a high-protein, grain-free diet
Hill's Science Diet Adult Perfect Weight Dog Food for lean muscle
Blue Buffalo Senior Dog Food for senior dog muscle and joint health
Purina Pro Plan Small Breed Sensitive Skin Stomach for sensitivities
10 Best Dog Foods for Cavapoos
Cavapoos are unique in their dietary needs, so it is important to choose the best food for them. Here are ten dog foods recommended for Cavapoos: Halo Holistic Small Breed Chicken Rice, Hill's Science Diet Adult Perfect Weight Dog Food, Blue Buffalo Senior Dog Food, Purina Pro Plan Small Breed Sensitive Skin Stomach, and more.
1. Halo Holistic Small Breed Chicken Rice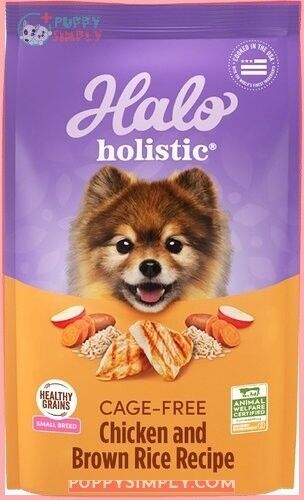 View On Chewy
For Cavapoos who need a high-protein, grain-free diet, Halo Holistic Small Breed Chicken Rice offers the perfect balance of nutrients to keep your pup healthy and happy. This made in USA food features real whole chicken as the first ingredient and GAP certified cage-free chicken raised without antibiotics.
It also contains omega fatty acids for skin and coat health, prebiotics, probiotics, and postbiotics for digestive and immune health—all free from meat meals or artificial colors, preservatives, or flavors.
The reviews on this product are glowing! Many customers have seen improvement in their dog's energy levels after switching to it.
However, there have been some dissatisfactions regarding recent formula changes which led to adverse reactions like allergic reactions or diarrhea with blood and mucus.
High protein content suitable for small breeds
Omega fatty acids support skin and coat health
Contains prebiotic fiber promoting gut bacteria growth
Free from artificial flavors, colors, preservatives
Recent formula change caused adverse reactions in some dogs
Decreased bag size may lead to customer dissatisfaction
Limited availability of specific flavors
2. Hills Science Diet Adult Perfect Weight Dog Food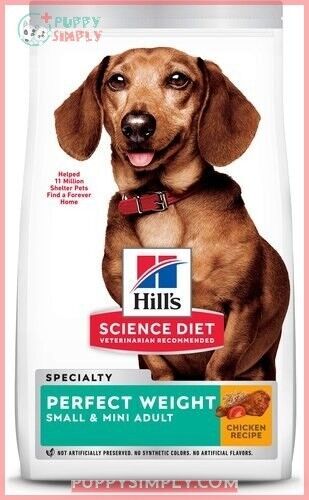 View On Chewy
Hills Science Diet Adult Perfect Weight Dog Food is designed for small and toy breeds, with real chicken as the first ingredient to help maintain lean muscle mass. This food can be fed long term to support a healthy weight in your pup without being too restrictive.
Smaller portions are recommended and shorter walks encouraged for heavier dogs due to potential joint injuries from overexertion.
The small kibble bits also provide longer eating times compared to regular-sized pieces, which helps promote dental health in smaller jaws.
Reviews from users show impressive changes in their pets' figures, and vet impressions confirm improved overall health after switching their dog's diet over time – all while maintaining a delicious taste that pups love! There have been some mixed reviews on bag size reductions and price increases, though many customers appreciate the quality ingredients used despite these downsides.
Some may notice transition issues such as lethargy, but generally, most pups easily adjust when given time without any digestive problems reported afterwards either way!
Made with real chicken for lean muscle maintenance
Recommended twice per day into smaller portions
Encourages shorter walks instead of overexerting joints
Small kibble bits offer longer eating times
Positive feedback about dogs' figures & vets' impressions
Quality ingredients even despite decreases in bag sizes
Possibility of transition issues like lethargy
Mixed reviews on reduced bags & increased prices
3. Blue Buffalo Senior Dog Food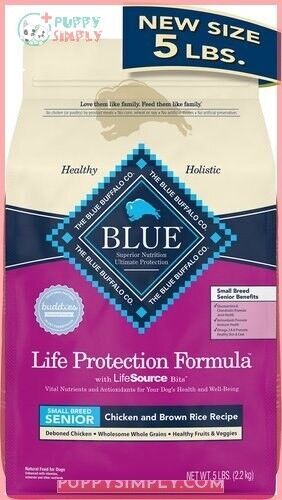 View On Chewy
Blue Buffalo Senior Dog Food offers essential nutrients for supporting senior dogs' muscle maintenance, energy levels, and joint health. This food is packed with real chicken as the first ingredient to provide high-quality protein, along with healthy whole grains like oatmeal and barley.
It also contains glucosamine and chondroitin to help support hip joint mobility. Additionally, it includes vitamins B12, D3, and E for an immune system boost. Superfoods such as blueberries are included in this recipe, along with K9 strain probiotics, which help promote digestive balance within a dog's gut microbiome.
The kibble pieces are small enough for smaller jaws but offer long chewing times that can aid in tartar removal from teeth surfaces – something seniors need more attention to! With no corn, wheat, soy, or artificial preservatives, colors, or flavors, this product goes above and beyond when it comes to providing nutritional value for your pup's needs.
Real Chicken #1 Ingredient
Glucosamine & Chondroitin Support Joint Health
Vitamins B12, D3, & E Immune System Boost
No Corn, Wheat, Soy, Artificial Preservatives, Colors, Or Flavors
Some Dogs May Dislike Darker Kibbles
Needs To Be Transitioned Gradually For Sensitive Stomachs
Expensive Compared To Other Options
4. Purina Pro Plan Small Breed Sensitive Skin Stomach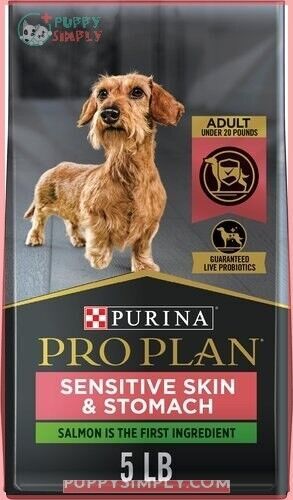 View On Chewy
If your pup has sensitive skin or stomach, Purina Pro Plan Small Breed Sensitive Skin Stomach might be the perfect fit for them. This high-protein formula contains real salmon as its first ingredient and is fortified with live probiotics to support digestive and immune health.
Sunflower oil enriched with omega-6 fatty acids helps nourish their skin and coat, while oatmeal provides gentle digestion. Natural prebiotic fiber supports digestive health, while omega-3 fatty acids from fish oil help maintain joint mobility.
Customers have praised this food's effectiveness when it comes to improving their dog's coat quality, energy levels, and overall health. Some even report success in helping alleviate allergies in dogs who had previously struggled with sensitivities.
The smaller kibble size offers a convenient mealtime experience for both pups and owners alike. Although many customers report mixed experiences regarding taste preference, most agree that this product is an excellent choice if you're looking for something specifically designed to meet the needs of adult dogs prone to dietary sensitivities.
High-protein formula containing real salmon as the first ingredient
Fortified with live probiotics for digestive and immune health
Contains sunflower oil enriched with omega-6 fatty acids and natural prebiotic fiber
Omega-3s from fish oil maintain joint mobility
Minerals including calcium and phosphorus promote strong bones and teeth
Smaller kibble size for a convenient mealtime experience
Mixed reviews about taste preferences
Some reports of picky eaters rejecting it
Packaging may need improvement
5. Merrick Small Breed Lamb Rice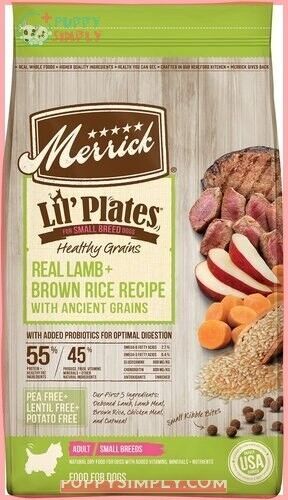 View On Chewy
Merrick's Small Breed Lamb Rice offers your Cavapoo a delicious and nutritious meal packed with muscle-building protein, prebiotic fiber for healthy digestion, omega fatty acids for skin and coat health, and glucosamine & chondroitin to keep hips & joints strong.
Made in Merrick's Texas kitchen, this food is made from real deboned lamb as the first ingredient. It also contains whole grains, including ancient grains that are free of peas, lentils, or potatoes.
The food is enhanced with probiotics and added Omega 3s to promote healthy skin while providing essential nutrients needed by growing puppies, such as calcium & phosphorus.
Customers have mixed reviews about this product quality. Some experience difficulty finding it, but their dogs love it after switching foods, leading to upset stomachs. Others praise its suitability for small breeds due to easy digestion along with the quality ingredients provided by Merrick as a brand known worldwide.
One minor issue is that the food is not available in resealable bags.
Real deboned lamb is the first ingredient
Contains probiotics and prebiotic fiber
Supports dental health
Specially formulated for extra small/small breed dogs
Mixed reviews on product quality
Difficulty finding product at times
Not available in resealable bags
6. Diamond Naturals Small Breed Dog Food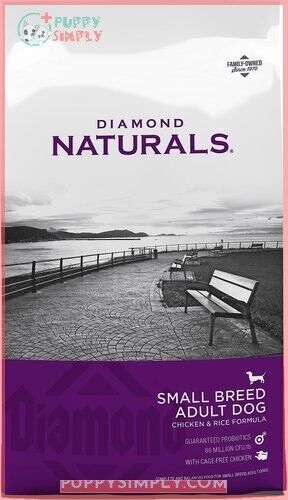 View On Chewy
Diamond Naturals Small Breed Dog Food is a nutrient-rich recipe made with real chicken as the #1 ingredient and superfoods like blueberries and oranges. This delicious food helps keep your pup's coat shiny, digestion healthy, and immune system strong – all while tantalizing their taste buds.
It contains omega fatty acids for skin and coat health, K9 strain proprietary probiotics to support digestive health, and vitamins & minerals from superfoods for overall wellness.
Improved dogs' eyes, coats, and digestion
Small kibble size suitable for senior dogs
Great when mixed with canned food
Recommended for dental health
Some dogs experienced digestive issues
High fat content not suitable for some prone to pancreatitis
Not well tolerated by all breeds
May not agree with sensitive stomachs
Some customers had to switch back to their previous brand
7. Wellness Small Breed Puppy Dry Dog Food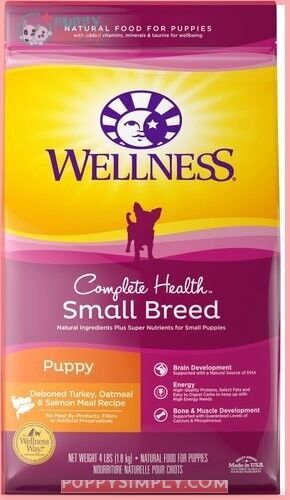 View On Chewy
Wellness Small Breed Puppy Dry Dog Food offers complete nutrition for puppies of extra small and small breeds, with premium proteins, wholesome grains, omega fatty acids, and more. It is free from meat by-products, fillers, or artificial preservatives to give your pup the healthiest start possible.
The kibble size is designed to be easy for puppies to eat while providing them with all the essential nutrients they need at this stage in their life.
For those who have had success transitioning their puppy onto this food, they report a noticeable improvement in coat condition as well as increased energy levels due to improved digestion.
However, some customers have experienced issues getting their pups used to it – either through taste preference or texture.
Nutritional value is great.
Right kibble size for small dogs.
Comparable price to other foods.
Easy transition from the previous brand for some dogs.
Some customers were disappointed with the size/thickness of kibble, especially when feeding tiny breeds.
Not all puppies liked the taste/texture.
Had mixed reviews on bag sizes & prices.
A few needed mixing with other foods.
Some refused it altogether.
8. Instinct Raw Bites Beef Dog Food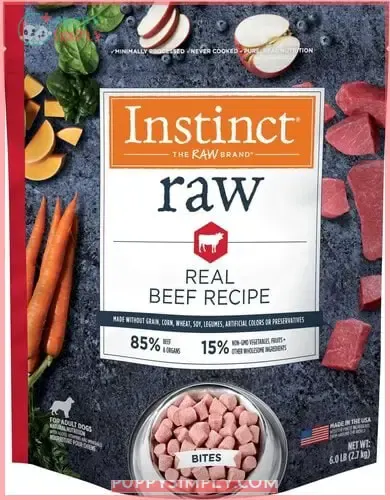 View On Chewy
Instinct Raw Bites Beef Dog Food is a frozen, grain-free option providing your Cavapoo with 85% meat and organs plus non-GMO fruits, vegetables, vitamins, and minerals. Its minimal processing ensures all the nutrients are retained from real beef to promote lean muscles, along with healthy teeth and gums.
The 15% blend of non-GMO veggies and fruit supports digestion, while omega fatty acids nourish their skin coat. Instinct also contains probiotics for immunity-boosting benefits that will keep your pup in tip-top shape.
Freezing this food maintains optimal nutrition levels as well as safety through cold pressurization, while the smaller bites make it easy for small jaws to handle comfortably without having to break them down into smaller pieces first – perfect for those lazy snack times!
Made from natural beef ingredients
Contains Omega Fatty Acids
Probiotic support
Not suitable for all dogs' preferences
Digestion issues reported by some customers
Packaging concerns
9. Royal Canin HP Hydrolyzed Protein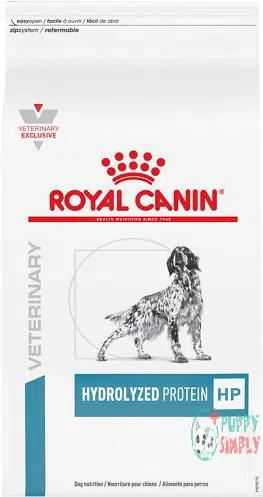 View On Chewy
Royal Canin HP Hydrolyzed Protein offers a safe bet for adult dogs with food sensitivities, providing optimal amounts of B vitamins and amino acids to support skin health, as well as EPA and DHA fatty acids for a healthy coat.
This veterinary diet dry dog food is made in the US using hydrolyzed soy protein, which helps reduce the risk of allergic reactions from dietary proteins while also helping maintain the skin's natural protective barrier.
An exclusive blend of fibers supports digestive health, while omega-3 fatty acids promote overall wellness.
Highly digestible
Supports gastrointestinal & dermatological health
Maintains the skin's natural protective barrier
Enriched with EPA & DHA fatty acids
May not be suitable for very picky eaters
Shipping boxes often arrive damaged
10. Orijen Senior Dog Food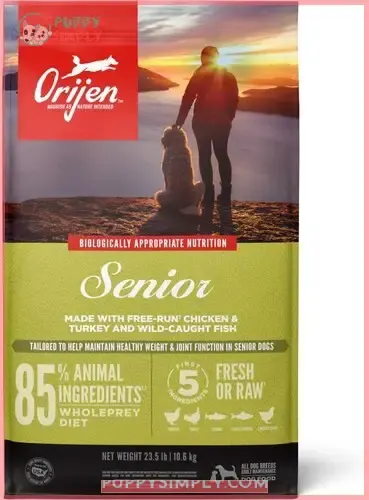 View On Chewy
Orijen Senior Dog Food is a grain-free formula designed to help your Cavapoo maintain a healthy weight and joint health as they age. This food contains up to 85% animal ingredients, like fresh/raw chicken, turkey, salmon, whole herring, and chicken liver.
It also features ORIJEN WholePrey components for balanced nutrition, plus chondroitin and glucosamine for joint support. The kibble size is suitable for all breeds, including small, medium, or large dogs, with no corn, wheat, soy, or added tapioca in the mix.
Customers have praised this food's quality of ingredients but noted that transitioning should be done gradually due to its strong fish odor when opened from packaging. There are also concerns about recipe changes after the company was acquired. Some reports mentioned dogs experiencing vomiting and diarrhea after the said change, so caution must be taken if feeding it regularly.
Made in USA with global ingredients
Up to 85% animal proteins/ingredients
Grain-free no added soy/corn/wheat/tapioca
Glucosamine & Chondroitin included (joint support)
Strong Fish Odor upon opening pack
Transition slowly
Concerns over recipe changes post-acquisition
Potential high mercury levels from fish ingredient
How Food Can Help Common Cavapoo Health Issues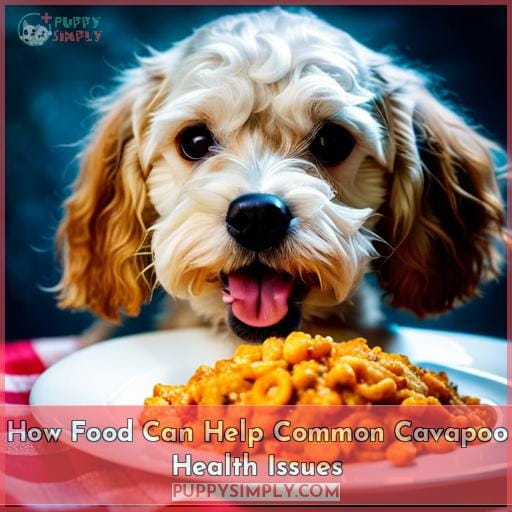 Feeding your Cavapoo the right food can help with common health issues such as allergies, weight gain, and joint pain. High-quality dog foods are specially formulated to provide nutritional support for their dietary needs.
Allergen avoidance – Look for limited ingredient diets that minimize potential allergens like grain and dairy products.
Nutritional balance – Choose a product with all necessary vitamins, minerals, fats, and proteins in balanced proportions to promote the overall wellbeing of small breed dogs like Cavapoos.
Weight management – Select low-calorie recipes specifically designed for smaller breeds prone to obesity if you need help controlling your pup's weight gain or maintaining optimal body condition scores (BCS).
Joint protection – Look out for added glucosamine chondroitin supplements, which may improve joint mobility in older pups by lubricating cartilage surrounding joints or delaying the onset of degenerative conditions affecting senior pets.
Ingredients To Avoid – Steer clear of artificial preservatives, colors, flavors, or fillers as these have been linked with various diseases, including cancer.
Feeding high-quality dog food tailored towards common Cavapoo health issues is essential when it comes to providing proper nutrition while ensuring they stay active and healthy throughout their life stages.
What to Look for in the Best Food for Cavapoos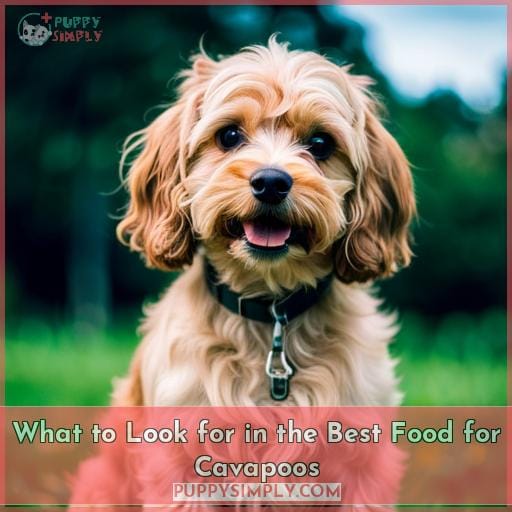 When selecting a diet for your beloved Cavapoo, be sure to consider the nutritional needs of this breed and look for quality ingredients that will help keep them healthy and happy. Look for high-quality food with adequate protein content, appropriate fat content, vitamins & minerals, and wholesome carbohydrates like sweet potatoes or brown rice.
Hydration is also important; provide fresh water at all times to ensure your pup stays well hydrated. Transitioning diets should be done gradually—consult with a vet before making any changes to avoid digestive issues.
The best dog food for Cavapoos should also take into account their sensitive stomachs. Opt for foods specifically designed for small breeds or those labeled as "sensitive skin/stomach" formulas.
How to Switch Cavapoo Dog Food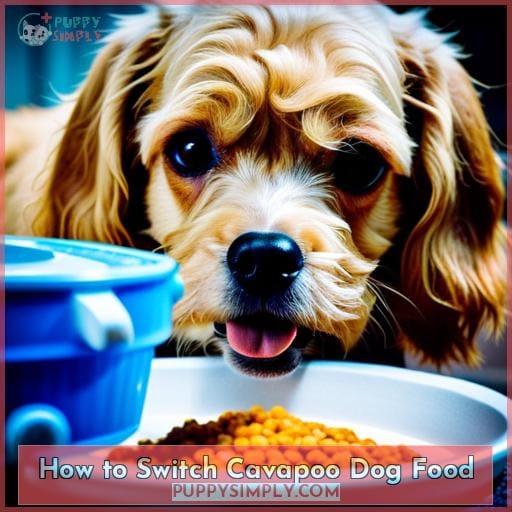 Switching your Cavapoo's food can seem like a daunting task, but with careful planning and attention to detail, you'll be able to make the process as smooth and effortless as possible! Here are some tips for switching your pup's diet:
Start with a gradual transition over several days or weeks. This will give their digestive system time to adjust while avoiding any potential discomfort or stomach upset.
Consult your vet if you suspect food allergies before making dietary changes on your own. They may recommend specific foods suitable for sensitive pups, such as hydrolyzed protein diets or grain-free formulas made from high-quality protein sources specifically designed for Cavapoos.
Choose good quality dog foods that meet all of their nutritional needs while being palatable enough that they enjoy eating it. Otherwise, there could be issues related to picky eating habits developing in the future, which can lead to other problems down the line like weight gain/loss due to a lack of proper nutrition intake from poor appetite control during meal times.
Make sure fresh water is always available. This is especially important during transitions when digestion may become an issue due to either too little fiber content (diarrhea) or too much bulk and fiber causing constipation symptoms, depending on how quickly the transitioning change was done between two different brands chosen.
Finally, address feeding problems early on by offering smaller portions more often throughout the day rather than one large mealtime serving per sitting. This will help keep them feeling full without overloading the digestive system at once, so energy levels remain consistent throughout the day's activities instead of tiring out quicker than normal afterward because they were not properly fueled up beforehand.
Understanding Dog Food Labels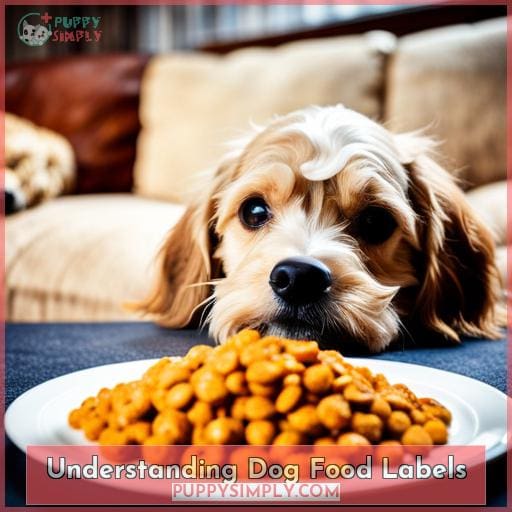 Reading the labels on dog food can provide a wealth of information about what's inside, so you'll know exactly what your Cavapoo is eating. Understanding how to analyze those labels for nutritional requirements and ingredient quality will help you make an informed decision when selecting the best dog food for your pup.
Look out for potential allergens and always be aware of feeding guidelines specified by the manufacturer. Pay close attention to calories per cup or serving size as too many could lead to weight gain in smaller breeds like Cavapoos, who require fewer calories than larger dogs due to their lower activity levels.
Always look at ingredients lists first; if any are listed that aren't beneficial nutritionally, it's probably not good quality food! Lastly, check expiration dates: freshness is key when choosing healthy meals for your pet!
Recommended Food for Cavapoo Puppies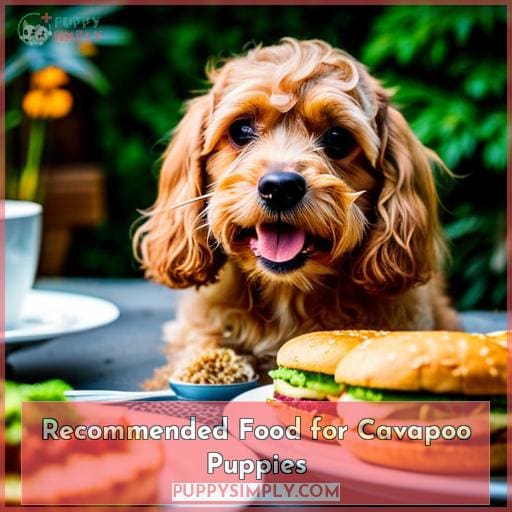 Choosing the right food for your Cavapoo puppy is essential to their health and development. Meeting a pup's nutritional requirements can be achieved by following feeding guidelines, providing proper portion sizes, transitioning between diets correctly, and ensuring adequate hydration.
Here are some recommended foods for Cavapoos:
Halo Holistic Small Breed Chicken Rice
Hills Science Diet Adult Perfect Weight Dog Food
Blue Buffalo Senior Dog Food
Purina Pro Plan Small Breed Sensitive Skin Stomach
Merrick Small Breed Lamb Rice
Diamond Naturals Small Breed Dog Food
Wellness small breed Puppy Dry dog food
Instinct Raw Bites Beef Dog Foods
Royal Canin HP Hydrolyzed Protein
Orijen Senior Dogs Foods.
A veterinarian should always be consulted before introducing human foods or supplements into a pup's diet; these could potentially interfere with nutrition or cause allergies.
Conclusion
Finding the best dog food for Cavapoos can be daunting, but with the right knowledge and a bit of research, you can be sure your pup is getting the nutrition they need. With so many options on the market, it can be difficult to choose the best food for your Cavapoo.
Our top 10 picks are sure to provide a variety of options that will please your pup and keep them healthy.
Each of these foods is designed to meet the unique needs of Cavapoos, with high-quality ingredients to promote healthy skin and coat, joint health, digestion, and more. Remember, the best food for your Cavapoo may not be the same as another's, so be sure to check with your vet before making any changes to your pup's diet.
Ultimately, providing your Cavapoo with the best nutrition possible will ensure they live a long, happy, and healthy life.