This site is supported by our readers. We may earn a commission, at no cost to you, if you purchase through links.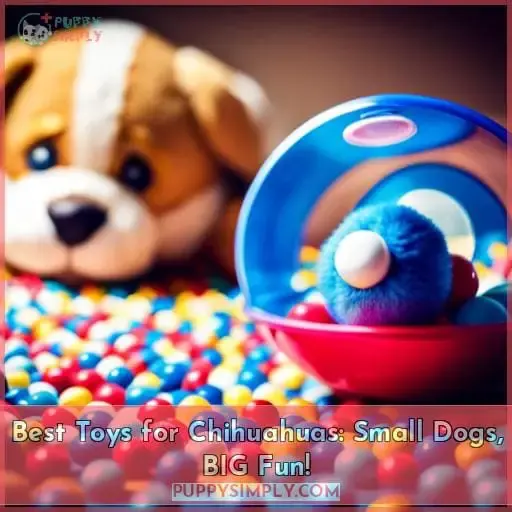 Are you looking for the perfect toy to keep your Chihuahua entertained and active? Finding toys that are small enough, durable, and engaging can be a challenge. But don't worry! We've taken the guesswork out of it by compiling our list of the best toys for Chihuahuas – so you can rest easy knowing your pup is getting nothing but the best.
Key Takeaways
Quality, type of toy, how it was made, size, and budget are important factors to consider when choosing dog toys for Chihuahuas.
Interactive toys that provide mental stimulation and physical exercise are ideal for Chihuahuas.
Look for durable materials like rubber and corduroy, and consider treats or food-filled toys for when you're away.
Toy safety is important, avoid toxic chemicals and choose toys made from non-toxic materials.
Top Factors to Consider When Purchasing Dog Toys for Chihuahuas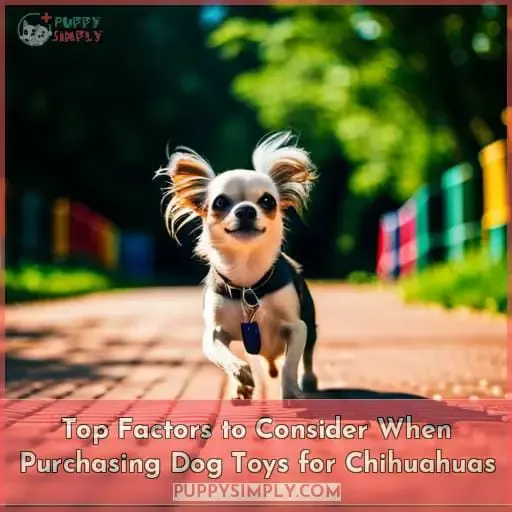 When it comes to finding the perfect toy for your Chihuahua, there are several things to consider. Quality is key: What type of toy does your pup need? How was the toy made? What size should you choose, and what is your budget? To make sure you get a great product that will last, take into account these factors when selecting dog toys for Chihuahuas.
What Type of Toy Does Your Chihuahua Need?
When considering what toys to get for your Chihuahua, look for interactive ones that provide mental stimulation and physical exercise. Durable materials like rubber and corduroy are great choices. Treats or food-filled toys keep them busy when you're away, while plushies serve as comfort companions in your absence.
Small sizes fit their tiny mouths perfectly; prioritize safety tips to avoid choking hazards.
How Was the Toy Made?
Look into the manufacturing quality of your Chihuahua's toys – toxic chemicals, dyes, and flame retardants can all be harmful. Toy safety is paramount to ensure hours of safe play for your pup. Quality construction with tough materials like corduroy and rubber will last through many rounds of fetch or tug-of-war.
Durable cotton and st■ animals add comfort while reducing separation anxiety in small dogs. Consider toy design, size, material, and budget when purchasing to get the best value for money spent on a toy that will stand up to rigorous use from tiny jaws.
Research manufacturers who specialize in small dog products, as well as reviews confirming durability, before making purchases.
What Size is the Toy?
Check the weight and size of toys for your Chihuahua before buying to make sure they can handle them. Safety risks are a major concern with small dogs, so toy materials must be able to withstand their chew strength.
Toy size is paramount—if it's too big, it can pose choking hazards or be too cumbersome for them to play with.
Look for durable but lightweight squeak toys and plush toys that won't break into pieces in case your pup decides to demolish them! Toys specifically designed for Chihuahuas should have smaller mouths since these breeds have tiny teeth.
Ensure safety by choosing quality products made from non-toxic materials and avoiding any sharp edges or items likely to cause harm.
What is Your Dog Toy Budget?
Consider your budget when choosing the perfect toys for your Chihuahua; you don't have to break the bank – quality dog toys can be found at reasonable prices. Price comparison is key, as some small breed-friendly options may cost more than similar-sized products.
Look out for toy safety and durability: avoid toxic chemicals, dyes, or flame retardants and choose materials like rubber or corduroy that withstand chewing. Size matters too – opt for smaller sizes specifically designed with tiny mouths in mind.
It'll help soothe teething needs without frustration! Interactive dog toys, such as a treat maze and hide-and-seek squirrel plushies, provide mental stimulation while chew toys keep teeth clean.
Top 4 Best Toys for Chihuahuas
Looking for the perfect toy for your Chihuahua? Check out the Outward Hound Dog Puzzle Toy, a two-level game that will keep your pup engaged and entertained. Or try the Outward Hound Hide Squirrel Toy with four different sizes to fit your pup's needs.
The Petstages Mini Dentachew Dog Toy stimulates gums while cleaning tartar, and the KONG Cozie Marvin Moose Toy has minimal stuffing, making it great for cuddles or play sessions.
Outward Hound Dog Puzzle Toy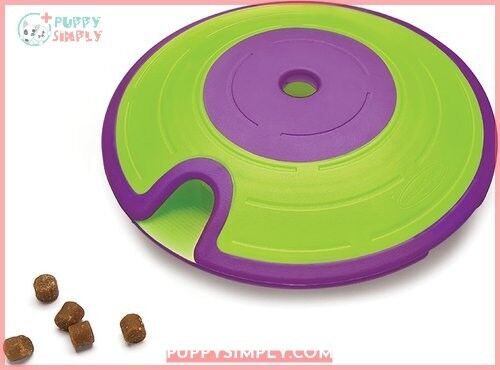 View On Chewy
Try the Outward Hound Dog Puzzle Toy for your Chihuahua's mental stimulation and slower eating habits. This toy offers a fun challenge with two difficulty levels, allowing you to adjust it appropriately to your pup's needs.
Treats can be hidden inside, and watching them paw and nose their way towards them encourages relationship building between pet parent and pup. With polypropylene construction, this puzzle is suitable for adult dogs of all sizes from small breeds up – perfect even as a beginner toy! It also comes with additional features such as white plastic blocks or sliding brown discs that can make the game more difficult if desired or used with canned food, towels, or by freezing when needed.
Keep in mind that some doors may pop off under pressure (manufacturing defect), so ensure your dog knows how to use it before increasing intensity – not recommended for bigger pups either!
Rotate this puzzle amongst other games regularly so they don't get bored easily – rest assured you'll have hours of entertainment coming through its door!
Provides mental stimulation & slows eating
Adjustable difficulty levels tailored to fit individual dogs' needs
Durable Polypropylene construction suitable from small breeds up
Additional features like white plastic blocks & sliding brown discs available
Some doors may occasionally pop off due to a manufacturing defect
Not recommended for big breeds nor aggressive chewers
Outward Hound Hide Squirrel Toy
View On Chewy
The Outward Hound Hide Squirrel Toy is a great way to keep your pup engaged and entertained for hours, with over 60% of reviewers giving it 5 stars! This interactive hide-and-seek plush toy comes in four different sizes, from ginormous (with 6 squirrels) to junior (with 3 squirrels).
It's made from polyester and synthetic fabric, so you can be sure that it won't rip easily. With its shapes, sounds, and textures, your dog will love digging around trying to find the squeaky squirrels.
Durable design with shapes, sounds, & textures
Keeps dogs engaged & entertained
Perfect for cuddles & play
Too big for small dogs
Squirrels fall out easily
Petstages Mini Dentachew Dog Toy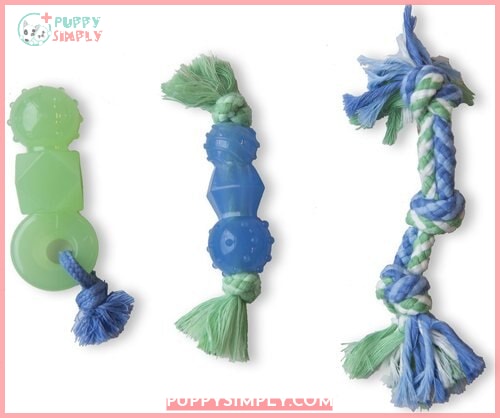 View On Chewy
Give your Chihuahua an extra boost of dental health with the Petstages Mini Dentachew Dog Toy! This pack includes three different toys made with thermoplastic rubber, rubber, and plastic for durability.
The variety of textures helps keep dogs engaged, while the unique design helps massage gums and remove tartar.
Perfect for small breeds, this toy can withstand plenty of tug-of-war play, even if your pup is a tough chewer. With its lightweight design, it's also suitable to bring along on outdoor adventures or trips to the park – just make sure you don't lose track of it! And since it comes in two sizes – Small and Medium – you'll be able to find one that fits perfectly into those tiny Chihuahua mouths without any frustration.
Variety of textures keeps dogs engaged.
Unique design massages gums & removes tartar.
Durable enough for plenty of play.
Some customers received smaller-sized toys than expected.
Toys may not be suitable for larger dog breeds.
Some customers experienced durability issues with the rope.
KONG Cozie Marvin Moose Toy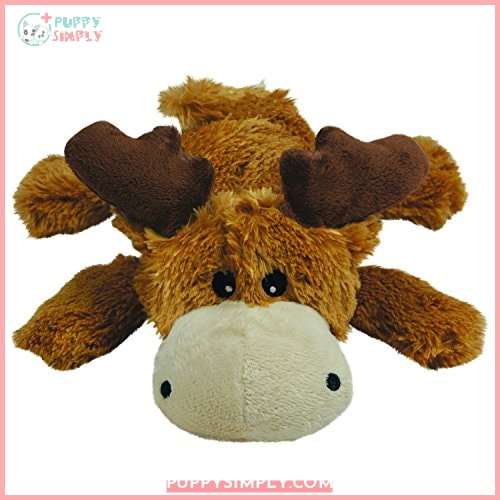 View On Amazon
For tiny Chihuahua mouths, the KONG Cozie Marvin Moose Toy is a great squeak-filled cuddle buddy that's built for durability. It's designed with minimal filling to minimize mess and has an extra layer of material to increase strength.
It comes in two sizes, small or medium, so you can pick the one that best fits your pup's needs. However, if your pup loves chewing sessions, then this isn't the ideal toy as it won't hold up well against heavy chewers.
Minimal filling and extra layer of material enhance durability
Squeaker encourages playtime
Available in two sizes (S & M)
Not meant for chewy pups
May not be stimulating enough on its own
Frequently Asked Questions (FAQs)
What types of toys are suitable for Chihuahuas?
Chihuahuas need interactive toys that are safe, durable, and small enough for their tiny mouths. Look for treat puzzles, chew toys with multiple textures, and rubber balls with squeakers. Plush toys can provide comfort, while frozen food-filled ones create a longer-lasting challenge.
Are Chihuahua toys expensive?
Quality Chihuahua toys can range from about $10, but you'll want to purchase multiple for variety.
Are there toys specifically designed for Chihuahuas?
Yes, there are toys specifically designed for Chihuahuas. They come in a variety of sizes and materials to suit their small mouths and often feature squeakers or treats for extra stimulation.
What safety considerations should be taken into account when choosing toys for Chihuahuas?
When choosing toys for Chihuahuas, prioritize safety and durability. Look for reviews confirming this and avoid toxic chemicals, dyes, or flame retardants. Ensure the toy is small enough to fit their tiny mouths; weigh it against your dog's weight.
What are the benefits of providing toys to Chihuahuas?
Toys provide Chihuahuas with mental stimulation, keeping them active and entertained, reducing separation anxiety, helping with teething and dental health, satisfying hunting instincts for training purposes.
Conclusion
Finding the right toys for your Chihuahua can be a challenge, but with the correct information, you can find the perfect toy that will provide hours of entertainment and stimulation. Remember to look for toys that are specifically designed for small breeds, are durable, and offer mental and physical stimulation.
Consider interactive toys that require your pup to work for a reward, like the Outward Hound Dog Puzzle Toy, or plush toys like the KONG Cozie Marvin Moose Toy.