This site is supported by our readers. We may earn a commission, at no cost to you, if you purchase through links.
If you're a dog owner, you will understand the struggle to find the best indestructible dog toys.
Does your dog make it his mission to destroy his toys? Do you replace mutilated dog toys every few weeks?
Is this situation too familiar? You are certainly not alone, as thousands of dog owners are currently looking for dog toys that will not immediately ruin by their dog. Whether they are hard rubber chew toys, plastic, soft rubber toys, plush dog toy, or kevlar dog toys, their durability is the most important parameter.
You want the best chew toysfor your tough chewer, but the wrong type of dog toys don't last an hour. Even worse, when tough dogs chew through some hard plastic toys, they risk seriously harming themselves.
Just as owners of rough dogs often have to buy chew-resistant dog beds, you also need chew-resistant durable dog toys!
We've done the hard work and picked 10 of the best indestructible dog toys based on factors like toughness, affordability, Amazon ratings, and quality of materials.
Things To Consider When Buying Indestructible Dog Toys
A durable dog toys must have a few important features. Here's what to consider when selecting indestructible dog chew toysfor your pup:
1. Safety first
Safety comes first when selecting indestructible dog chew toys for your precious puppy. The best rated durable dog toys on the market are made of hard rubber. This is the toy that is most resistant to the tough chewers.
The last thing you want is a cheap toy that will fall apart and get stuck in your dog's windpipe or intestines. The label (indestructible), the second attribute to look for is whether the toy is non-toxic.
The fact that a chew toy spends so long time in a dog's mouth makes the toy's toxicity much more important. And if small pieces pass through the intestinal tract, it is even more important than the pieces are non-toxic.
Another point is whether the toy contains a beeper. If the squeaker comes off the toy, it can pose a serious choking threat to your dog.
Think about your dog's chewing style. If he/she is a very aggressive chewer, you want a toy with a little (give) to it so as not to risk breaking your pup's teeth. It can happen when the wrong toy matches the wrong dog.
If a toy is damaged or chewed up to a size that can be swallowed, throw it away, and buy a new toy. Keep one in a safe place for backup.
2. Durability
Indestructible toys must be made of sturdy material that can withstand aggressive chewers. Toys made of materials such as durable natural rubber, double knotted rope, or sturdy nylon are excellent choices because they are specially designed for aggressive chewers.
3. Quality
You may experience sticker shock when shopping for indestructible chew toys for your furry friend, but there is a reason for the cost. Better quality toys cost more—a period of time. But on the other hand, better quality indestructible toys will also last longer.
You may be new to the battle – spend $ 3 on toys that last 5 minutes to an hour, and then you need to buy another one. And another. Or you could spend $ 15 on toys that last for months. What is the cheapest toy?
It makes sense to spend a little more on toys that last longer because they are also safer. We recommend toys made in the USA with known standards and quality controls.
4. Size
The toy's size is essential because toys that are too small quickly pose a choking hazard, so you always want to take this into account. Toys vary considerably in size, and often the manufacturer will describe the ideal breed or dog size that best suits the toy.
5. Type of toy
Different types of indestructible toys are available, including rubber balls, discs, treat toys, tug toys, and chew toys. Some toys also make noise or give out treats. When choosing an indestructible toy, consider your dog's personality and individual needs to keep it busy.

10 Best Indestructible Dog Toys Of 2023
Here are the ten best indestructible dog toys that will give your pup unlimited fun.
1. Chuckit! Ultra Natural Rubber Ball
View On Amazon
The Chuckit! Ultra Ball is our top choice for indestructible dog chew toys, thanks to the winning combination of durability, design, and affordability. Standout features include a lightweight, floating design, an extra-thick natural rubber core, obvious colors, and a bouncing impact.
We are looking for a virtually indestructible dog toy that your pup will love? Check out our top pick, the Chuckit! Ultra Ball. This well-designed ball has a solid natural rubber core and sturdy walls for long-lasting play. Aside from its durability, it caught our eye thanks to its colorful, obvious design, affordable price tag, and overwhelmingly positive reviews.
The Chuckit! Ultra Ball is light enough to float on water and has a powerful bounce that will encourage your dog to jump to new heights. Reviewers, it's strong enough for aggressive chewers and a lot of fun to play with.
Durable natural rubber construction
High visibility colors
Bounces high and floats in water
Easy to clean
Available in 5 sizes
2. Monster K9 Dog Toys Ultra-durable Ring
View On AmazonIt took some in-depth research, but in the end, we chose the Monster K9 Dog Toys Ultra-Durable Ring as our best pick overall. It's only made from natural rubber and FDA-approved materials, so you can be sure it's safe for your dog. Besides, it can survive with the most aggressive chewers.
Do you want a versatile and super robust toy for your dog? Consider the Monster K9 Dog Toys Ultra-Durable Ring. Your dog can use it as a general chew toy, but the ring shape is also conducive to pulling games with humans or other dogs. If you're concerned about whether or not it's heavy enough for your dog, this rubber toy has been tested and approved by a range of strong chewers, including pit bulls, mastiffs, and German Shepherds. Buyers rave about how long it takes their avid chewers, but it's worth noting that determined dogs can bite bits, so you should always supervise your four-legged friend with these toys.
This toy is made from a blend of natural rubber and synthetic material. Still, all the materials used are FDA approved, and a third-party laboratory has tested the toy itself to prove that it is safe and non-toxic. If you think your dog would like one of these toys, it will cost you just under $ 21.

Lifetime replacement warranty if your dog manages to chew on it
Bounces a lot, so it's fun for dogs to pick up or toss around
Measures about 6.5 inches in diameter
3. Monster K9 Indestructible Dog Ball
View On AmazonThis ball from the kong toys manufacturer is a solid choice for powerful chewers because of the durable construction and the well-known company of origin. The ball comes in a few different sizes, ranging from small to large, making it easy to find the right size ball for your breed.
The monster k9 indestructible dog ball contains a durable rubber for a maximum bounce, making it fun so your pup can jump and grab him in the air. It also has a hole drilled through the center so you can put treats in it, and your pup can only play when you're away or need time for yourself. The balls work well for individual hunting and playing.
We love Kong as a company, and virtually all of its products are resistant to abuse. This also allows you to put something in the toy, allowing your dog to play for hours. This ball also bounces quite easily, allowing your pup to run a bit.

Made from the strongest KONG rubber formula
Made in the USA
Extremely durable even for aggressive chewers
4. West Paw Zogoflex Air Boz
View On AmazonMore durable than a tennis ball, the West Paw Zogoflex Air Boz is softer chew toys enough for dogs to catch mid-flight and can withstand many retrievals … but not aggressive chewing sessions.
Perfect for water play, this ball bounces higher than most balls for greater play value. The small size fits into standard ball throwers.
These balls are air injected for a more satisfying (squish) and are perfect for dogs with the high game activity – that bounce will make them run!
Made in the USA
Small size fits standard ball throwers.
Recyclable
FDA Compliant
Soft and soft, easy to fit the gums and dog's teeth
Good dog fetch toys
5. West Paw Jive Zogoflex Zisc
View On AmazonThe West Paw Jive Zogoflex Zisc is incredibly difficult, nevertheless gentle on your dog's mouth. It is lightweight, floatable, and simple to throw, creating it perfect for dogs that don't perform fetch with balls.
The Zogoflex Zisc is constructed with sturdiness in thoughts. It doesn't puncture effortlessly and can even be employed for video games of tug! Many reviewers say this puppy toy is entertaining to use and hard enough to retain its form right after months of use.
Higher frisbeesdesign and style and fashion
Amazingly tough
Soft on dogs' mouths
Produced in the USA from safe, non-toxic
6. Nylabone Flavor Frenzy Power Indestructible Chew Toy
View On AmazonBelonging to Nylabone's Energy Chew selection, the Nylabone Taste Frenzy Energy Chew Canine Toy is created for canines with a severe chewing style. As lengthy as you stick to the proper bodyweight suggestions, your canine won't be in a place to bite any chunks off this toy. As an alternative, small pieces (no greater than a grain of rice) shed off as your puppy chews. Your dog can digest these without difficulty, even though you will most likely find most finish up on the floor, sofa, or wherever your dog is chewing.
Thanks to the textured style (and the reality your canine will make the bone even significantly much more textured as she chews), this Nylabone can help disrupt plaque and minimize tartar buildup. This tends to make it an exceptional addition to your dog's oral hygiene schedule, along with dental chews and tooth brushing. It comes in two flavors (beef jerky and Philly cheesesteak) to make it even more fascinating for dogs to chew. Based on the size and taste combo you select, it can value anyplace in between $seven and $twelve, which we think is amazingly sensible.

Accessible in 3 sizes
Textured locations aid to sustain teeth clean
Produced in the USA
7. Goughnuts Tug Dog Indestructible Toy
View On AmazonIf you are searching for a tug of war toy, this is a superb option for fierce electrical power chewers. The toy is produced using an indestructible rubber, and it has two loops that allow you to hold onto 1 section and your pup to latch onto the other component.
This toy comes with a total ensure that if your puppy destroys it, they will replace it or give you your money back. We really like this single style, but we do understand that continuous chewing could trigger it to chip and break more than time.
This is one factor you could want to preserve hidden someplace in which you can get it when you are prepared for a tug of war battle. You do not want to depart it lying close to the residence where your pup could chew away at it all day.
We love that this is a single of the handful of toys we can say is produced to stand up to the abuse that tug of war will provide to it, and the rubber has satisfactorily provided not injury teeth. This toy is not recommended for steady chewing, so make certain to check when used.

Soft on dogs' mouths
Measures 11 inches extended
Chunky and difficult
8. Goughnuts Original Dog Chew Ring
View On AmazonDeveloped by mechanical and polymer engineers, the Goughnuts: Distinctive Canine Chew Ring functions as a fetch and chews the toy, every in and out of water.
Created with an inner red layer to alert pet mothers and fathers of damage, the manufacturer will substitute the toy free of charge if harm happens. Some mother and father and canines object to the potent rubber smell, and the producer demands broken products to be sent back to them at the buyer's cost.
Fantastic fetch toys
Produced in the USA
Security performs – if the red inner layer is exposed, the enterprise will modify.
Very difficult and difficult
9. Hyperflite Jawz Competition Dog Disc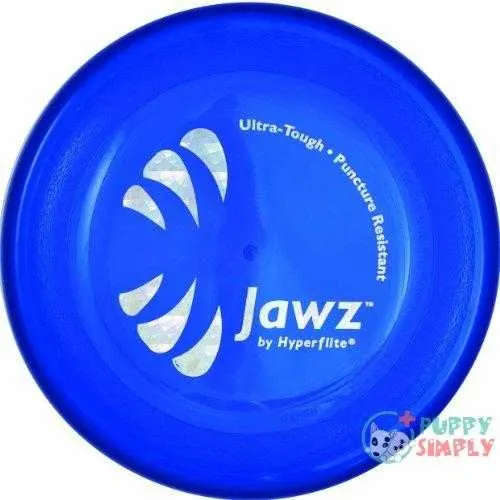 View On AmazonAnyone serious about enjoying Frisbee with their puppy should think about the Hyperflite Jawz Competitors Puppy Disc. This competition-grade disc is a good deal more than just a toy; it is ideal for aggressive canine Frisbee training and is aerodynamically produced to enable remarkable extended-distance throws.
These ultra-difficult canine Frisbees are puncture-resistant and best when playing with canines who have placed their teeth through disc toys in the past. Nonetheless, this does not suggest they ought to be utilized as chew toys.
The dual grip assists skilled Frisbee throwers release just at the proper second to get the ideal trajectory and distance. However, you actually do not want to be an expert in throwing this disc efficiently. You can pick in between 5 colors, and it will set you back anywhere between $13 and $18, based on your assortment.

Measures eight.75 inches across
Created from larger-tech polymers to allow for lengthy-distance throws
Appropriate for executing, practice or competitors use
10. Pacific Pups Xl Dog Rope Toy
View On AmazonThe name says it all on this a single canine chew rope is meant for huge, aggressive chewers who have a difficult time producing any toy final extended. This single comes with a money-back ensure that if your pup destroys it, they will change the rope or give you your income back.
Something we like about ropes is not only are they sturdy, but they serve numerous functions when it comes to taking component in with your pup. A rope can get utilized for tug play, chewing, and even throwing if you find the appropriate rope.
We also adore the organization that aids make these are referred to as Pacific Pups Rescue. They donate a huge portion of all their proceeds to the canines they rescue from larger-destroy shelter's neglectful homes. Acquiring the answer is a probability to give back through supplying your puppy with a great rope toy.
We adore that Pacific Pups donate funds to rescue dogs; on top of the reality, this rope is ideal for an electrical energy chewer (as lengthy as they are supervised). You will want to protect an eye out for strings that might come apart, but overall this XL sized rope can stand up to some abuse. It is also backed by Pacific Pup's money-back assure.

Security examined
Virtually indestructible
Produced for large dogs and aggressive chewers
Produced to support Pacific Pups Rescue, a non-revenue puppy rescue in California
Types of Indestructible Dog Toys
The variety of tough dog toys available today is truly endless, but with a few exceptions, most indestructible dog toys can be divided into several types.
Dog Balls
A dog ball is a classic and versatile toy. An unpredictable bounce allows the dog to enjoy a ball on its own, but it can also become the perfect tool for a fun fetch game. The durable construction of a dog ball ensures that your pup doesn't say goodbye to the toy.
Dog Bones
A dog bone is another classic dog toy, and for several good reasons. Dogs are instinctively attracted to bones, and if made from the right materials, a dog bone can last for centuries. The only downside to a nylon or rubber dog bone is that it's not the best option for fetch or tug games, but if your puppy likes to chew alone, then a durable bone is just what you need.
Treat Toys
Some puppies are too smart or bored too quickly to enjoy normal chew toys, no matter how heavy or expensive they are. In that case, you can provide your dog with hours of fun with a chew toy that hides treats. Your puppy will have to use all his skills to get to the treat, and in the meantime, he's guaranteed to have a lot of fun.
Interactive Toys
If you want to spend some quality time with your furry companion, but not every time you want to enjoy a tug of war or invest in a new toy, look for indestructible dog toys designed for use by both dog and owner. From frisbees to pull rings – you can easily find the best dog toysfor your next bonding session.
Durable Tug Toys Vs. Durable Dog Balls
Play with your dog a tug of war or throw a ball in the park and see how far they will run to make it.
If you had to choose between one or the other, what choice would you make?
On the one hand, tug toys are resilient, and the most powerful chews as a good challenge. Many breeds like pit bulls, terriers, and rottweilers love to pull, so it makes for some great competitive activity between you and your pup.
On the other hand, many rubber balls are indestructible and pretty much hold until you lose somewhere in the woods. Balls are great for throwing and hunting, but they don't work for pulling, and your pup won't have much fun playing the ball independently.
The verdict here is, tug toys are better for competition and solo play, but balls are better for durability and outdoor play.
FAQs About Indestructible Dog Chew Toys
Everyone has questions; we are here to supply the answers. By this point in the article, you should have a solid understanding of everything you need to know about aggressive chewer dog toys.
If you still have a few questions on your mind, here are some of the most frequently asked questions we receive.
Is There a Toy That My Dog Cannot Destroy?
It may vary depending on your dog, but there aren't really any truly indestructible dog toys. Most manufacturers do not use the term (indestructible) directly and may prefer to call their toys tough, robust, or durable.
However, if you come across a dog toy that claims to be completely indestructible, this claim is probably too good to be true. That said, some toys come with a lifetime warranty, so you can get a free replacement if your dog manages to destroy the toy in question.
What Materials Are Indestructible Dog Toys Made of?
The tough dog toys are made of sturdy, durable materials such as natural rubber, double knotted rope, or nylon.
How Can I Make My Dog Toys Last Longer?
Good question! We always believe in using toys for the intended purpose. If the manufacturer says not to leave out a particular toy because you don't want to chew constantly, you should probably follow that instruction.
The best way to make a toy last is to keep it somewhere your pup can't access all day. Take out the toys when it is playtime and store them if they are not.
Should I let my dog destroy his/her toys?
The problem with allowing dogs to destroy toys is that they can swallow parts they tear or bite off, which can cause dogs to choke or block their bowels. Therefore, it is best not to let your dog destroy her toys.
However, if you keep a close eye on her and take away all the parts she rips off her toys right away, it's relatively safe.
Conclusion
When you're ready, congratulations! You now know which indestructible dog toys lifetime guarantee is ideal for your dog.
So there you have it – 10 of the best indestructible dog toys! Do you have more toys to add to the list? Share your favorite tough and tough dog toys in the comments below!
References
petlifetoday.com
doglab.com
puplifetoday.com
loveyourdog.com