This site is supported by our readers. We may earn a commission, at no cost to you, if you purchase through links.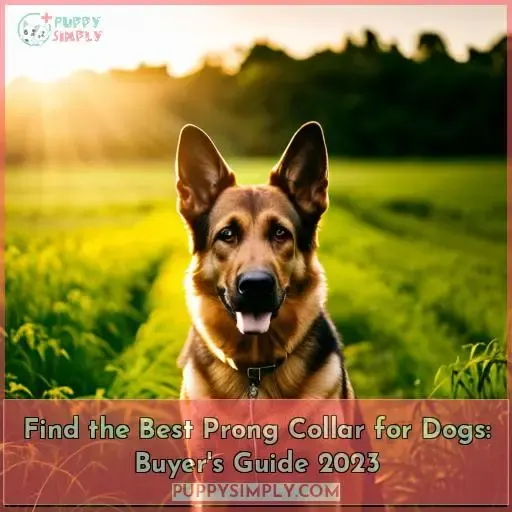 Are you looking for the perfect prong collar to help train your pup? With so many options on the market, it can be overwhelming to know which one is best.
From features and how they work, to what types are available in 2023 – including an extensive review of Herm Sprenger Dog Prong Collar, Starmark Pro Training Dog Collar, JuWow Dog Training Choke Collar etc.
Our guide has got you covered with everything there is to know about choosing the right training tool that will suit both your needs and those of your beloved canine companion.
So grab onto this golden opportunity with both hands as we dive deep into understanding why prong collars make such ideal tools for dog training – like providing corrective behavior or reducing biting urges – while also learning how best use them without causing harm or injury!
Key Takeaways
Prong collars are effective tools for controlling and shaping desired behaviors in dogs.
Factors to consider when choosing a prong collar include link size, buckle strength, and metal diameter.
Stainless steel construction is recommended for durability.
Proper fit and placement of the collar is essential for safety and effectiveness.
Should I Use a Training Collar?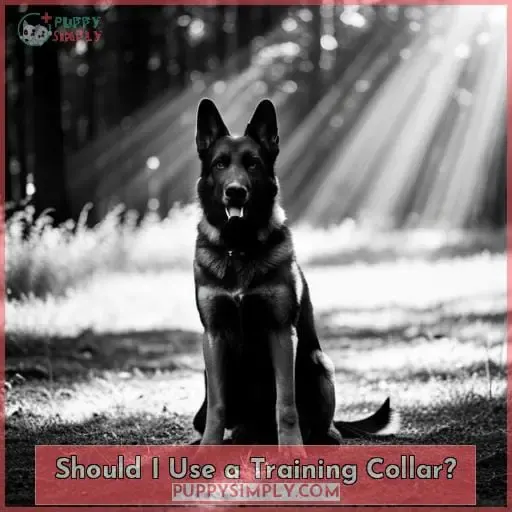 You can help your pup learn better leash walking skills and better behavior with the use of a training collar, such as a pinch or choke collar, that will provide gentle yet effective corrections. Before selecting any type of dog training collar, it's important to note safety measures and proper usage techniques.
Consulting an experienced trainer may be beneficial in determining which type is best for your canine companion's specific issues.
Prong collars are considered one of the most efficient tools for controlling and shaping desired behaviors when used correctly. However, they should not be used on puppies or small dogs with thin skin. When choosing a prong collar, you want to pay attention to its link size, dead/live rings buckle strength, as well as metal diameter.
Additionally, look out for stainless steel construction due to its durability factor, allowing you long-term use combined with positive reinforcement during each walk session towards achieving successful outcomes from your pet's obedience lessons! Herm Sprenger Dog Prong Collar is generally recognized by professional trainers who work closely with large breeds requiring more control than usual when out on their daily routine activities.
Buyer's Guide – Choosing the Best Prong Collar for Dogs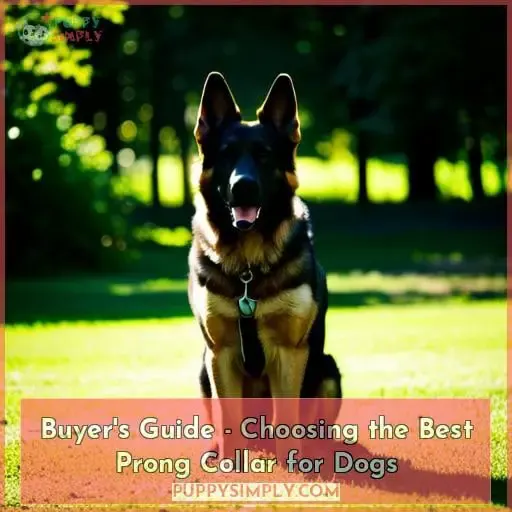 Choosing the best prong collar for your dog can be a difficult task. It's important to consider features such as construction, link size, and metal diameter to ensure that you find the right fit for your pup.
Prong collars work by providing a pinching sensation when tension is applied, teaching them not to pull or lunge while on walks. With proper use of positive reinforcement and an understanding of how they work, these collars can be effective in training dogs without causing harm or discomfort.
Features
When selecting a training collar for your pup, it's important to think about the features that will ensure you get the most out of your purchase. This includes adjustable sizing, prong type, buckle strength, and metal diameter.
Proper fit is essential for safety, so look for collars with removable links or adjustable sizes if possible.
Prong types may vary depending on desired results. For example, Herm Sprenger Dog Prongs have safety ends, while the Hamilton C3200 Training Collar offers a linked design suitable for all breeds. The Supet Dog Prong Collar has plastic-covered prongs, which are gentle but effective in stopping naughty behavior.
When considering collar options, ensure buckle strength as well as metal diameter. Starmark Pro's watch band design and JuWow Choke Chain's heavy-duty link chain with silver shine are both good choices.
They provide enough control to manage pulling and lunging on walks while reinforcing positive behaviors during training sessions.
How It Works
By understanding the way prong collars work, you can determine if they are suitable for training your pup. Prong collars are humane control devices that provide a gentle pinch as tension is applied during leash training.
These collars offer several training benefits, including improved neck safety and effective communication to shape desired behaviors and discourage unwanted ones.
The durability of prong collars depends on the type of metal used. Steel nickel-plated options, like the Herm Sprenger Prong Dog Training Collar, offer enhanced reliability over time. When properly fitted and used, these collars can be an excellent choice for controlling dogs without causing harm or discomfort.
They also provide owners with peace of mind during walks or other activities with their pets.
The collar's design features make it convenient and safe to use. It has adjustable sizing, a quick-release buckle closure, and removable links for size adjustment purposes.
What is a Pinch Collar?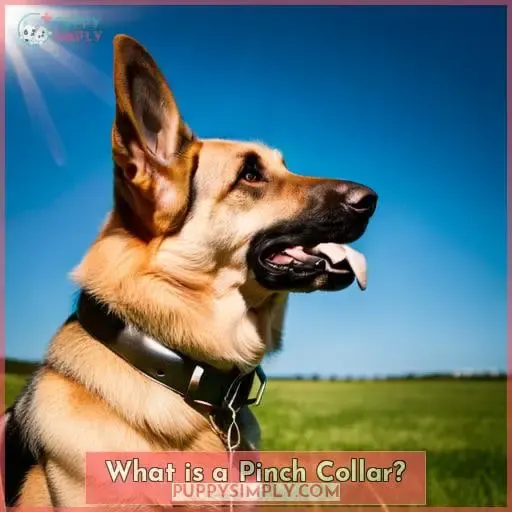 Pinch collars are not suitable for small dogs, so it is important to consider the size and breed of your pet before investing in one. Would I recommend a pinch collar to you? It depends on many factors, including the age and behavior of your dog, as well as its size.
Just Say No to Pinch Collars for Small Dogs
Pinch collars may be effective for training large dogs, but they're not recommended for smaller breeds due to the potential risk of injury. Toy dog breeds and other small-sized canines have delicate necks that can easily get injured if a pinch collar is used incorrectly.
If you own a toy breed or small dog, it's best to avoid using this type of collar altogether and opt instead for gentler correction methods like harnesses or headcollars. These tools provide gentle yet effective communication with your pet while preventing nuisance barking and leash aggression without causing any harm.
When selecting a pronged collar, make sure it has removable links so you can adjust the size according to your pup's neck circumference as well as its diameter (2.
Mother dogs use their teeth rather than pinch collars when disciplining their puppies.
Would I Recommend a Pinch Collar to You?
You may find that a pinch collar is an effective tool for controlling and training your dog. Microprong collars, also known as pinch collars, are designed with safety ends to ensure the protection of your pup's sensitive airway and neck area.
They provide gentle yet firm training pressure without any shock or harm to the animal.
Some models feature adjustable sizing so you can adjust it depending on how much control you need during a walk or session of obedience practice. This type of collar has been found by many owners to be highly beneficial in providing positive results when walking large dogs who pull fiercely against their leashes or exhibit aggressive behavior outdoors while still being suitable for smaller breeds as well.
The prongs used are rounded at the end, which makes them more comfortable but still powerful enough to teach desired behaviors like not pulling too hard on leash walks and keeping composure outside home environments better than other types of collars, such as choke chains do, while maintaining safety standards throughout its use since it does not cause choking unlike some alternatives out there!
With consistent reinforcement paired along this device, you'll soon see behavioral improvement from your pet that will eventually lead him/her towards successful leash mastery over time – all without having done any sort of physical harm nor delivering electric shocks like some conventional collars tend to do nowadays!
Buyer's Guide: How to Choose the Best Prong Collar for Your Dog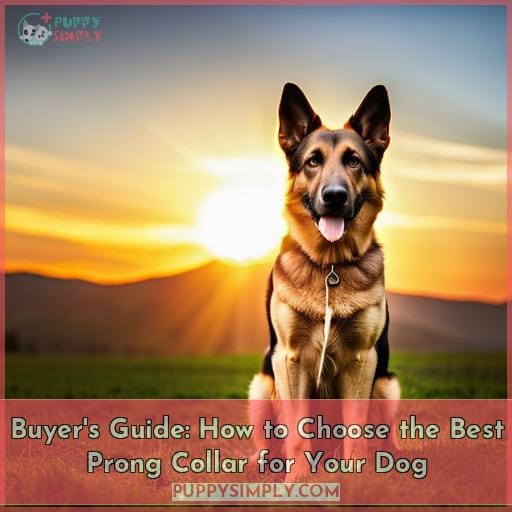 Choosing the right prong collar for your dog is an important decision. Alloy steel, stainless steel, or nickel collars can help you in training and reducing biting behaviors while providing corrective behavior cues.
Consider size, weight, finish, and adjustability to ensure that the collar fits properly and provides maximum effectiveness when using it on your pet.
Alloy Steel Dog Prong Collars
Alloy steel dog prong collars provide effective correction without discomfort. Herm Sprenger's chrome-plated, rounded design is suitable even for Chihuahuas. The strength and durability of alloy steel ensure safety, while the nickel finish ensures fit and tension control with the use of a pinch collar.
Stainless Steel Dog Prong Collars
Experience the power of a stainless steel prong collar to help train and control your pup without sacrificing their comfort. Nickel-plated for durability, they provide behavior correction while allowing weight adjustment.
Controversial but effective, these collars can even stop barking! Consider the metal diameter when choosing yours; try the Supet Dog Prong Collar or the Herm Sprenger Dog Prong.
Nickel Dog Prong Collars
Nickel dog prong collars offer safe, effective communication and humane correction. Prongs are nickel-plated for durability, with adjustable links for size. Training whistles add long-distance control, and the Curogan extra link customizes fit.
Mayerzone's lightweight collar is ideal for large dogs, while choke or martingale styles suit smaller breeds.
Helps in Training Your Dog
Using a prong collar to train your pup can be an effective and gentle way. The pinching sensation teaches dogs not to pull or lunge, while local trainers provide tips on safety, breeds, and fitment. Reinforce positive behaviors with a gentle leader or easy walk harness for the best results.
Helps to Reduce Biting
Prong collars can help reduce biting behaviors in dogs, providing gentle yet effective communication and control. Adjustable sizing ensures a proper fit to prevent pulling and leash aggression. With assistance from an online training course, find the best prong collar as a humane alternative to choke collars for correcting behavior.
Corrective Behavior
For effective behavior correction, a prong collar can provide gentle yet firm communication to your pup. Adjust the prong size and static levels for humane control. Reinforce positive behaviors with training tips and live rings.
Size
When selecting a prong collar for your pup, size is an important consideration – it should fit snugly just below the ears. For medium to large dogs, look for adjustable links and a heavy-duty leash; small breeds need special safety tips to avoid an unpleasant sensation.
Always check a collar's fit with an invisible fence collar or nylon protector before use, as dead rings increase the risk of injury on larger dogs.
Weight
When choosing a prong collar for your pup, consider the weight limit and sizing guide. The collar size should fit comfortably around their neck; fitting guides can help determine the right one. Look for collars made from lightweight stainless steel for smaller dogs, while heavier ones with more durability are ideal for larger breeds like bull-necked varieties.
Finish
When choosing a prong collar, the finish of the metal is important; chrome-plated will last longer than other finishes. Consider alloy steel, stainless steel, and nickel for corrective behavior and size adjustment.
Look for smooth edges to prevent snagging fur and skin lesions. Opt for rounded tips to avoid injury or irritation from sharp ends.
Adjustability
Check the adjustability of prong collars for proper fit, safety features, and training options. Adjustment tips may vary depending on the types available. Ensure the collar fits comfortably for successful results in behavior correction.
Consider design elements to ensure a safe and secure solution for your pup's needs.
Herm Sprenger Dog Prong Collar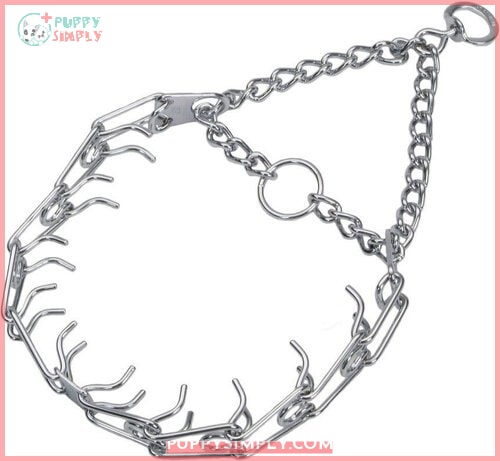 View On Chewy
The Herm Sprenger Dog Prong Collar offers a secure connection and effective communication for controlling strong pullers and large dogs, with its solid fastener plate and symmetrically placed prongs. It is suitable for obedience training, behavior correction, as well as walking strong pullers or large breeds of dogs.
The collar is adjustable by adding 4 inches to determine size. Additional links can also be purchased separately if needed.
Customers report positive results with walks becoming more manageable after using this product while reinforcing desired behaviors at the same time. Although there have been some issues reported related to attachment difficulty and adjustment size problems, overall customers are satisfied with their purchase of this practical yet safe training tool.
Safe & practical
Easy-to-use
Effective in controlling pulling & leash aggression during training
Difficult to attach/adjust
Buckle may not hold up under high pressure
Starmark Pro Training Dog Collar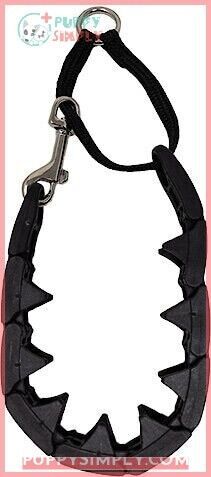 View On Chewy
You can shape desired behaviors and enjoy more manageable walks with the Starmark Pro Training Dog Collar. Developed by certified professional training and behavior specialists at Starmark Academy, this pronged, linked design provides gentle but effective enforcement of pack leadership to help prevent pulling and lunging behavior.
Made from a high-strength polymer for durability, it is suitable for all breeds regardless of size or neck circumference up to 21 inches.
Additionally, users find it easier to put on or take off compared to metal collars due to its trigger snap closure type, which eliminates any extra hassle in between sessions.
Finally, customers who used this collar have reported positive results. However, there were some mixed reviews regarding effectiveness as well as difficulty adjusting links if your pet has thick fur near their neck area.
These may not penetrate through easily without proper force applied during the assembly process ahead of time.
Gentle but effective control for obedience training
Suitable for all breed types & adjustable size feature up to 21" necks
Made out of durable high-strength polymer material
Quick release snap closure device
Soft plastic-covered prongs instead of hard metals
Ineffective against big dogs & need an additional regular collar attached alongside
Mixed reviews on overall effectiveness depending upon user preference
Difficulty adapting links when assembling onto thicker-furred pets
JuWow Dog Training Choke Collar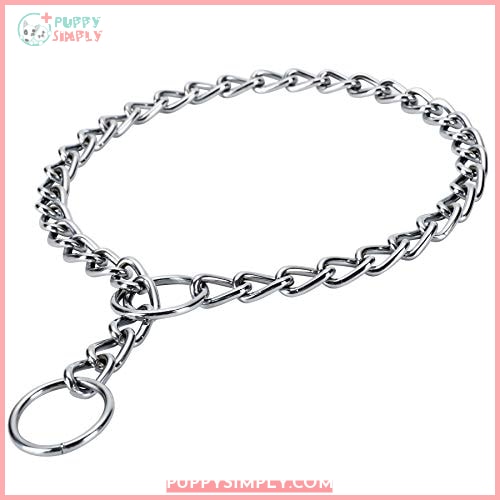 View On Amazon
Try out the JuWow Dog Training Choke Collar for a gentle and effective way to control your pup's behavior. Made of high-quality stainless steel, this chrome-plated collar is durable and rustproof. The 2.5mm diameter link x 20-inch length chain is suitable for a maximum neck girth of 18 inches, making it ideal for small dogs up to 15 pounds in weight.
Professional dog trainers recommend this collar as an excellent choice for gentle but effective correction during training sessions or on walks – perfect if you're looking to reduce pulling or leash aggression from your pet! Plus, with customer support available should any questions arise regarding usage or product issues, you can be sure that help isn't far away.
High-quality stainless steel construction
Recommended by professional dog trainers
Suitable size range makes it perfect for small dogs up to 15 lbs in weight
100% satisfaction guarantee with customer support available
Chain links may twist out of place easily, affecting cinching/release
May not be suitable for heavier-duty use, such as large breeds
Chain may turn fur black
Guardian Gear Martingale Collar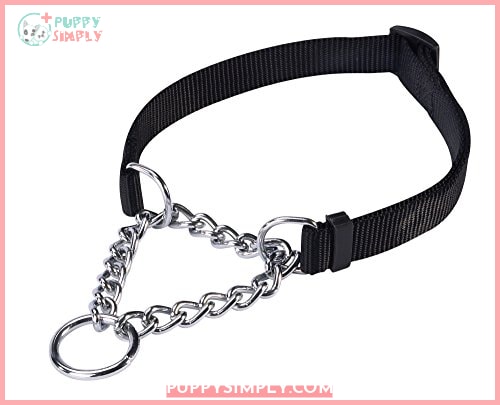 View On Amazon
Feels the secure control of Guardian Gear's Martingale Collar on walks with your pooch. This adjustable and lightweight collar provides limited closure control while preventing injury to pets, making it an ideal choice for puppies learning to walk on a leash or dogs with thick plush coats.
Its linked watch band design has rounded ends for safety, and its adjustable sizing offers added comfort.
Customers have found it to be a good quality product at a fair price, although some report issues such as the metal chain changing color quickly and the plastic buckle fitting loosely without holding the adjustment in place securely enough.
Lightweight & adjustable
Suitable for puppies & dogs with thick plush coats
Effective in controlling pulling & lunging during training
Metal chain changes color quickly
Plastic buckle/end stay fit loosely
Plastic adjusting mechanism may not hold up
Small Dog Bark Collar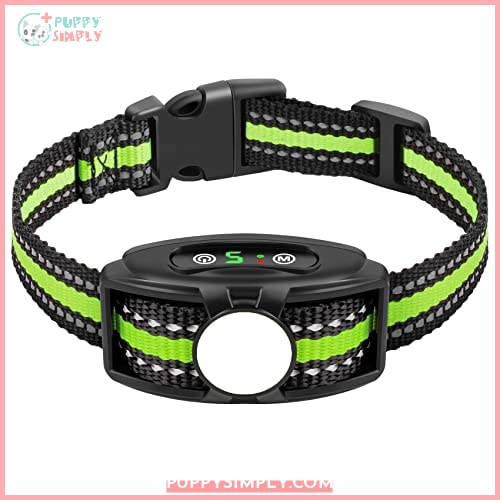 View On Amazon
The Trulrox Small Dog Bark Collar is a lightweight, waterproof collar that can help control barking in small dogs weighing up to 15 lbs. It has an impressive battery life of 50-70 hours per charge. This device features two vibration motors and five adjustable sensitivity levels.
You can customize the level of correction needed depending on your pup's size and temperament.
It also includes two reflective belts for nighttime visibility during walks or playtime in the backyard.
This bark collar has earned positive reviews from pet owners who found it effective at minimizing unnecessary barking within minutes. It has also been successful with larger dogs, providing painless corrective training without any adverse side effects.
Others appreciate its smart design, which activates only when their furry friend barks. This feature allows them peace of mind, knowing they won't be shocking their pup unnecessarily. It is especially useful for curbing bad behaviors like excessive noise making or leash aggression during walks.
Works quickly and effectively to minimize unnecessary barking
Adjustable neck sizes fit most small breeds weighing 5-15 lbs
Waterproof & rechargeable lithium-ion battery with a long battery life of 50-70 hrs
Lightweight design ideal for smaller pups
Includes 2 reflective belts for nighttime safety
Not suitable for very tiny breeds
PetSafe Wireless Fence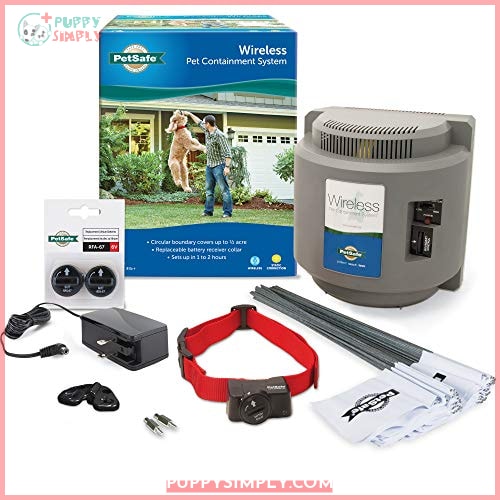 View On Amazon
Experience the peace of mind that comes with knowing your pup is secure and safe within the boundaries of PetSafe's Wireless Fence! This adjustable circular range can cover up to 1/2 acre, making it perfect for a variety of homes.
The waterproof collar fits dogs 8 pounds and up with adjustable neck sizes 6-28 inches. With sound-only training mode and 5 levels of static correction, you'll be able to train your pet in no time. Plus, an unlimited number of collars can be added so all household fur babies are safely contained.
Enjoy worry-free walks outside thanks to this dependable wireless fence system from PetSafe! It effectively keeps pets away from designated areas without having them experience any electric shocks or jolts –– just sound warnings until they retreat back into their area safely again.
Plus, its rechargeable lithium-ion battery ensures long-lasting use even during extended trips away from home like camping or vacationing at other places where traditional fences aren't accessible or available, yet still providing safety for our furry friends while we're out exploring new adventures together outdoors too.
Lastly, while there have been reports claiming difficulty in attaching additional collars after purchasing more than one unit, most customers highly recommend using this product since it has prevented their pets from escaping despite distractions present around them due to the effective containment feature offered by PetSafe Wireless Fence System.
Adjustable coverage radius up to ½ acre
Easy installation – No wires needed
Waterproof collar fits dogs 8lbs
Rechargeable lithium-ion battery
Unlimited amount of collars allowed per system
Difficulty adding additional units after purchase
SportDOG FieldTrainer 425X Dog Collar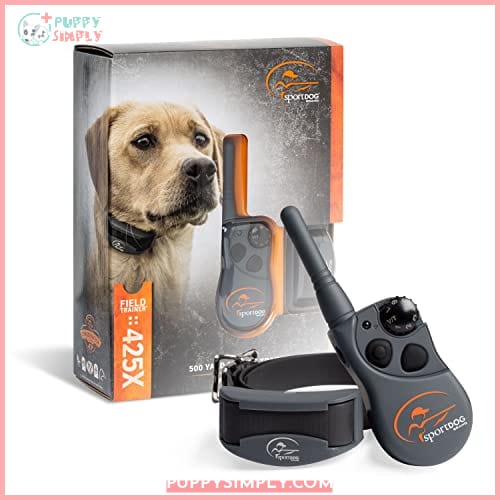 View On Amazon
Take your dog's training to the next level with the SportDOG FieldTrainer 425X Dog Collar. It offers an impressive 500-yard range and 21 levels of static stimulation for effective obedience and recall.
This collar is suitable for dogs 8 pounds or larger with neck sizes 5 – 22 inches.
The receiver is waterproof and submersible up to 25 feet using DryTek technology. Additionally, it has a rechargeable lithium-ion battery that provides 50 – 70 hours of use per charge.
This system also allows you to train three dogs at once (with the purchase of additional collars), so you can get all your pups in shape simultaneously!
The SportDOG FieldTrainer 425X Dog Collar has been praised by many users as reliable, durable, and easy to use even across long distances on hikes or walks around town. It offers gentle persuasion that encourages positive behaviors like staying within boundaries without resorting to extreme measures like shock mode, which some pet owners prefer avoiding altogether if possible.
However, some customers have reported underperformance issues, as well as difficulty obtaining consistent contact when using it on thick-coated breeds. In such cases, extensions may be necessary, but they are not included in the package itself, requiring further investment from customers looking for optimum results.
Overall, though, customer service appears good from reports, providing refunds/replacements where needed.
Reliable & Durable
Offers Static Stimulation up to 500 yards away
Waterproof & Submersible Up To 25 Feet
Train 3 Dogs At Once (Additional SDR–AXS Collars Required)
Gentle Persuasion For Obedience & Recall
Underperformance Reported By Some Users
Not Suitable For Thick Coated Breeds Without Extensions
Hamilton Prong Training Dog Collar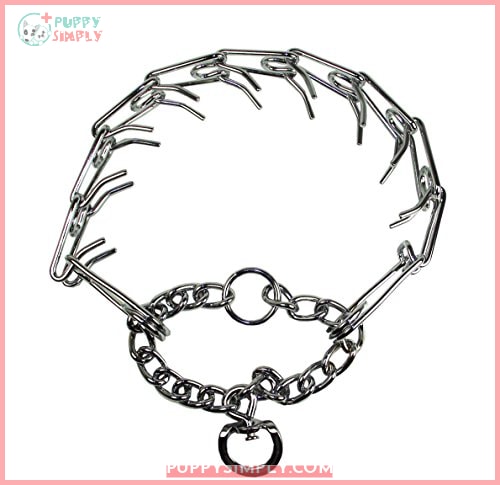 View On Amazon
Try the Hamilton Prong Training Dog Collar for a humane and effective way to control your pup on walks. This collar offers a gentle pinch from its 3.2mm chrome prongs, allowing you to better control your dog when out and about.
The size can be adjusted by adding or removing individual links, ensuring it fits just right around their neck – without being too loose or tight! With quality materials used to craft this product, the strength tested hardware provides extra reassurance that it is safe for use with any sized pooch.
Hamilton's Prong Training Dog Collar has plenty of positives going for it:
It helps reduce pulling during walks.
It has easily adjustable sizing.
It has strength tested safety-hardware.
It offers a humane approach compared to choke collars.
It is constructed with quality materials.
It can be used on dogs of various sizes and breeds.
However, there are some downsides worth considering:
It is not suitable as an everyday collar/leash option.
It may require an additional purchase if more length is required.
The plastic buckle may not hold up under high pressure.
Some users have experienced difficulty in attaching/adjusting the collar.
Proper training knowledge is needed before using this tool effectively.
Supet Dog Prong Collar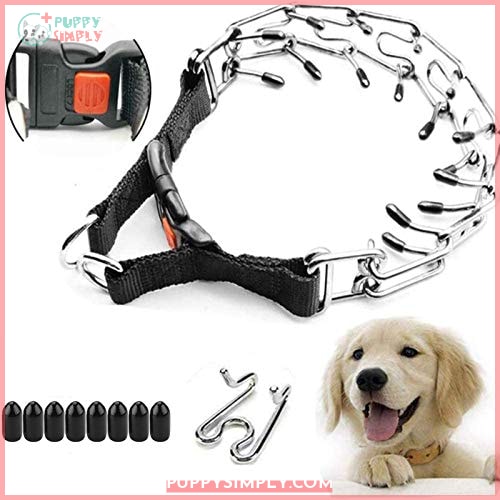 View On Amazon
The Hamilton Prong Training Dog Collar is an effective and humane way to control your pup while on the leash. But if you're looking for a gentle yet still efficient collar, consider the Supet Dog Prong Collar.
Made from stainless steel with plastic-covered prongs, this collar provides necessary training pressure without hurting your pup's sensitive airway or neck area. It also features a quick release snap and buckle closure that makes it easy to fit properly around their neck when needed.
The smooth and rounded prongs provide just enough of a pinching sensation similar to how moms correct their puppies – giving you peace of mind knowing no harm will come from using this product as part of your training routine! Plus, it's available in four different sizes so you can get one perfect for even the smallest member of the family!
With Supet's 100% satisfaction guarantee and customer support team standing by 24/7 should any issues arise – there's really nothing stopping pet parents everywhere from making sure they have all they need for successful walks with their furry friends!
Provides necessary training pressure while protecting dog's sensitive airway & neck area
Smooth & rounded prongs ensure no harm comes to pet
Quick release snap & buckle closure make fitting easy
Requires pliers add/remove links
Some users reported receiving collars w/ rust already on them
How to Properly Use a Prong Collar for Dog Training

When training your dog with a prong collar, it's important to introduce the collar gradually and use positive reinforcement. To ensure proper fit and placement, make sure that the prong collar fits snugly just below the ears when fastened.
Additionally, be mindful of not using a prong collar on puppies or small dogs as they have thin skin, which can be easily damaged by this type of tool. With these guidelines in mind, you'll help ensure safe and effective use of this invaluable tool for both yourself and your pup.
Introduce the Collar Gradually
It's important to introduce your dog gradually to the prong collar, as over 80% of pet owners report improved behavior in their pets after using one. Ensure size and fit are correct for safety and comfort – too loose won't work, too tight can harm your pup.
Consider alternative options if you're concerned about humane methods or other pros/cons. Always follow safety tips when introducing this training tool; it will lead to a successful outcome! Size matters: choose an appropriate collar based on breed type and weight range recommended by the manufacturer.
Use Positive Reinforcement
Reward your pup with treats when they obey commands given by the prong collar. This positive reinforcement will help them learn good behaviors faster and more efficiently. Prong collars are effective training tools for walking strong pullers and large dogs, providing enough control to manage pulling without causing harm or discomfort to the dog.
These pinch collars should be used as a tool in combination with other rewards like verbal praise or food treats so that your pup can understand what behavior is desired from them and practice it effectively over time.
Proper Fit and Placement
When fitting a prong collar, make sure it is snugly in place just below the dog's ears and not too loose.
Choose an appropriate size for your dog.
Position the collar correctly on their neck to stop biting and lunging.
Use corrective behavior only when needed.
Remove after use as prolonged wear can cause discomfort or injury.
With proper placement of this device, you can help your pup develop better leash-walking skills without putting them in harm's way.
Do's and Don'ts of Prong Collar Use
When using a prong collar for dog training, remember to never leave it on your pup unattended and introduce it gradually with positive reinforcement for successful results.
Avoid choke collars as they can cause injury and discomfort.
Choose a suitable size that fits comfortably around the neck of your pet; check finish quality carefully before buying.
Read instructions thoroughly to ensure proper use; adjust appropriately so you don't cause harm or fear in your pup during their training process.
Prong collars are an effective tool when used correctly, but misuse can lead to further behavioral issues down the road!
Frequently Asked Questions (FAQs)
What is the difference between a prong collar and a choke collar?
Prong collars use pressure to correct behavior, while choke collars tighten around the neck for control. The prong collar is designed to provide a gentle pinch when tension is applied, teaching the dog not to pull or lunge.
Choke collars are meant for maintaining composure outside of the home and with aggressive dogs.
How do I know if my dog needs a prong collar?
If your dog is pulling on the leash, jumping up, or displaying other behaviors that you'd like to correct, a prong collar may be necessary. Consult with an experienced trainer to determine if this type of collar would be right for your pup and how it should be used properly.
Are prong collars safe to use on puppies?
Prong collars are not generally recommended for puppies, as their thinner skin and developing bodies can be more sensitive to the pressure applied. Instead, a harness or head collar is preferable for young dogs until they are mature enough to handle the prong collar's corrective force.
How often should I adjust the size of my dog's prong collar?
Adjust your dog's prong collar as they grow, ensuring it fits snugly under their ears. Start off gradually with the collar and use positive reinforcement for training. Don't leave it on for extended periods or tie up the pup, and avoid using it on puppies or small dogs with thin skin.
Are there any risks associated with using a prong collar on my dog?
Yes, using a prong collar on your dog can carry risks. The collar should be fitted snugly below the ears and not left on for extended periods of time. It should also never be used to tie up a dog or used on puppies with thin skin. Introduce it gradually and reinforce positive behaviors for successful training.
Conclusion
To sum it up, finding the best prong collar for your dog can be a daunting task. However, with the right guidance and research, you can find the perfect collar for your pup.
Consider factors such as link size, buckle strength, and metal diameter to ensure the collar is suitable for your pup's size and breed. Additionally, make sure to introduce your pup to the collar gradually and use positive reinforcement along with it for training.
With the Herm Sprenger Dog Prong Collar, Starmark Pro Training Dog Collar, JuWow Dog Training Choke Collar, Guardian Gear Martingale Collar, Small Dog Bark Collar, PetSafe Wireless Fence, SportDOG FieldTrainer 425X Dog Collar, Hamilton Prong Training Dog Collar, and Supet Dog Prong Collar, you can find the perfect prong collar to fit your pup's needs.