This site is supported by our readers. We may earn a commission, at no cost to you, if you purchase through links.
Dog muzzles are gadgets you can use to temporarily control excessive barking, chewing, or even biting in dogs.
In addition to safety, best dog muzzles can be used for training or grooming. Not every dog that wears a muzzle is an aggressive dog with a fleeting personality. Sometimes even the softest dogs can be seen with a muzzle.
There is a lot of controversy about the use of muzzles for dogs, but in the right situation, they are both humane and effective.
These constructions are generally made of safe materials and come in various sizes.
To help you find the perfect muzzle for your dog, we've looked at dozens of different options for you. We looked at design, materials, price points, and customer reviews to make your job easier.
You want to make sure you get the best quality for your money and also the right muzzle style for your dog's comfort. That's why we limited our results to the ten best dog muzzles.
Things To Consider When Buying a Dog Muzzle
Choosing the right muzzle for your dog involves quite a few considerations.
To get the best muzzle for your dog, these are the following factors to consider:
1. Target
Different types of muzzles serve different purposes, and this is the first thing to think about. Are you getting a muzzle for your dog's aggression? Or are you just thinking of keeping your silent dog's mouth closed?
The choice of your muzzle depends on what you are going to use it for. Some muzzles are specially made to keep your dog from opening his mouth, and some give your dog plenty of room to pant, drink, and eat some treats. You also need to condition your dog to wear muzzles.
2. Type
There are different types of dog muzzles, each with their pros and cons.
Basket: This type of dog muzzle is usually made from sturdy plastic or pet-safe wire. From the name itself, it forms a basket weave pattern that allows puppies to have adequate ventilation on their muzzles. Some types provide enough movement of the dog's mouth for him to paint, but not necessarily to drink or eat. There are also types of baskets that allow for more freedom of movement, allowing your dog to drink, eat, and pant, but not necessarily bark. Wire baskets are preferred for larger dogs and dogs that tend to bite. Plastic baskets are best reserved for smaller breeds.
Nylon Sleeve or Wrap: As the name implies, this type of muzzle is more like a straitjacket wrapped around the dog's mouth to limit any kind of movement. Nylon strips are wrapped around the back of the dog's head to secure the fixation. Some products use other materials such as mesh or leather instead of nylon. The critical thing to remember is that this type of dog brace face control prevents any kind of movement on your dog's mouth. It will not be able to pant, which is technically a way to dissipate heat from its body and is equivalent to human sweating. It also cannot eat or drink. If you decide to buy this for your pet, make sure you never leave it alone and only use it for a concise period.
3. Size
Make sure to buy the correct size.
For Length: Measure by bringing a tape measure to the tip of your dog's nose and run it down to about half an inch along with their snout out of their eyes.
Circumference: Measure the BASE of the muzzle. For a comfortable fit, allow about an inch of extra space.
4. Comfort
You want to make sure that your dog is comfortable in his muzzle and that he has no skin irritation or irritation. There are many different materials that the snouts are made of, and you get what you pay for. Cheaper muzzles are often made from more inexpensive materials, while more expensive muzzles are made from higher quality materials.

10 Best Dog Muzzles Of 2023
Dog muzzles come in different shapes and sizes, so you want to get the best dog muzzle that suits you and your dog's needs. Luckily for you, we've researched to figure out the differences between different dog muzzles to bring you our top picks.
1. Baskerville Ultra Muzzle
View On AmazonThis all-round snout from The Company of Animals is not considered the world's ultimate muzzle for nothing.
This product is made from thermoplastic rubber, which means that it is not only sturdy and durable but also malleable and can be heated and molded to your dog's muzzle. Aside from the neck strap, it also comes with an optional strap over the head and a loop at the bottom for attachment to a collar.
The ergonomic design also ensures a snug and secure fit for most snout shapes, with additional neoprene lining and 1cm from the tip of the dog's nose for greater comfort. The only drawback is that it is not ideal for brachycephalic dogs.
Universal design
Comes in six different sizes and can be molded for an optimal fit
While it can be molded, a good fit is not guaranteed for dogs with a short snout
2. Photoiscool Dog Muzzle Leather Adjustable
View On AmazonDo muzzles stop canines from barking? They can! If your canine tends to bark while you're strolling it, a no-bark muzzle might assist in maintaining it calmer. Your puppy will nevertheless be capable of breathing freely and panting their heart out. The muzzle will preserve your canine from biting or consuming items it shouldn't.
The muzzle is lightweight and delicate and is obtainable in little, medium, significant, and further-huge. You can also obtain it in brown or black leather.
If you want a puppy muzzle to quit barking, this is the item for you.

Prevents canine from biting barking and consuming concerns they shouldn't
Expense effective
Sturdy
Adjustable
Easy to place on and think about off
A loop that attaches it to the collar tends to make it difficult for the canine to get off
Some canines can wriggle out of it
Sizes run as well large for some canines, often these with shorter snouts
Some consumers report getting to punch extra holes in the straps
3. CollarDirect Leather Dog Muzzle
View On AmazonAlthough the metal studs and spikes could not be for every person, this muzzle that is appropriate for canines with short snouts is produced of genuine leather, so it is comfy for the canine to dress in. The basket style and design let the puppy carry on to pant as nicely as eat and be fed treats by implies of the weave's gaps. It simple to a location on and assists avoid barking.
Leather is very sturdy
Excellent for dogs with stout snouts
Exceptional for coaching younger boisterous dogs with
Metal finishes can be a little intimidating to other canine walkers
4. Canine Friendly Short Snout Dog Muzzle
View On AmazonAs the name implies, this muzzle from Canine Pleasant is excellent for tough-to-match dogs with fast snouts. This type of muzzle covers your dog's entire face and comes with an opening at the front for your dog's nose and mouth.
The item is created of breathable mesh and tough nylon. Since it covers your dog's experience, it also covers the eyes; nevertheless, the mesh, however, offers your canine an excellent visual variety, and there are soft padded bumpers to stop the supplies from rubbing on your dog's eyes. It also boasts of two adjustable sliders that enable for a far far better match as effectively as a buckle to make muzzling faster and much handier.
This is an occlusion type muzzle, so your puppy can only consume small treats and cannot bite. It also limits your dog's panting as a result, and it is not an excellent idea to have it worn for extended intervals of time.

Perfect for canines with short snouts
Very best for grooming and veterinary visits
Ought to only be worn for a quick time and while supervised
5. Bronzedog Wire Basket Dog Muzzle
View On AmazonThe BronzeDog Wire Basket Puppy Muzzle is a well-known, larger-higher high-quality option for canine owners with medium and huge breed dogs. The muzzle has four adjustable straps to make certain an excellent match, made of real leather. It gives superb handle when walking, retaining your canine targeted, and helping to train away, undesirable biting, chewing, and barking behaviors.
The design of the muzzle keeps the canine cozy even in a scorching climate. There is no tight-fitting or restrictive material to set off extreme heat or chafing. The wire basket is breathable, enabling the puppy to pant, drink, and eat dry meals using the muzzle though however limiting barking and biting capability. The basket is extended enough for the extended to lick its nose unrestricted.

Does not set off any discomfort in the heat
Style permits for consuming and drink
Has padding for additional comfort
Metal basket casing looks truly ferocious
6. JYHY Short Snout Dog Muzzles
View On AmazonFor the Pug and Bulldog owners out there, we have your back! This muzzle is for canines with quick snouts. Sadly for them, their muscle has to envelope most of their faces. But we think it is adorable! Your puppy might search like Hannibal Lecter, but I assure you he will not have breathing problems.
The breathable mesh and sturdy nylon come collectively to create a comfy, however tough design and style and fashion. The rapid release buckle tends to make it straightforward to put on and get rid of, given that we know your dog will not be going into this willingly.
The style of the muzzle keeps the puppy cozy even in sizzling weather. There are no tight-fitting or restrictive materials to trigger extreme heat or chafing. The wire basket is breathable, allowing the puppy to pant, drink, and consume dry meals through the muzzle while nonetheless limiting barking and biting capability. The basket is lengthy sufficient for the long to lick its nose unrestricted.
There are two options, one that will make your pup look like he is wearing a mask, and one that will look like a fencing helmet. Both are safe and comfortable options.

Best for canines with quick snouts
Comes with eye holes
Extremely very best for grooming and veterinary visits
Some consumers complained that their canines have been in a position to get the muzzle off with ease
7. Ewinever Dog Muzzles Suit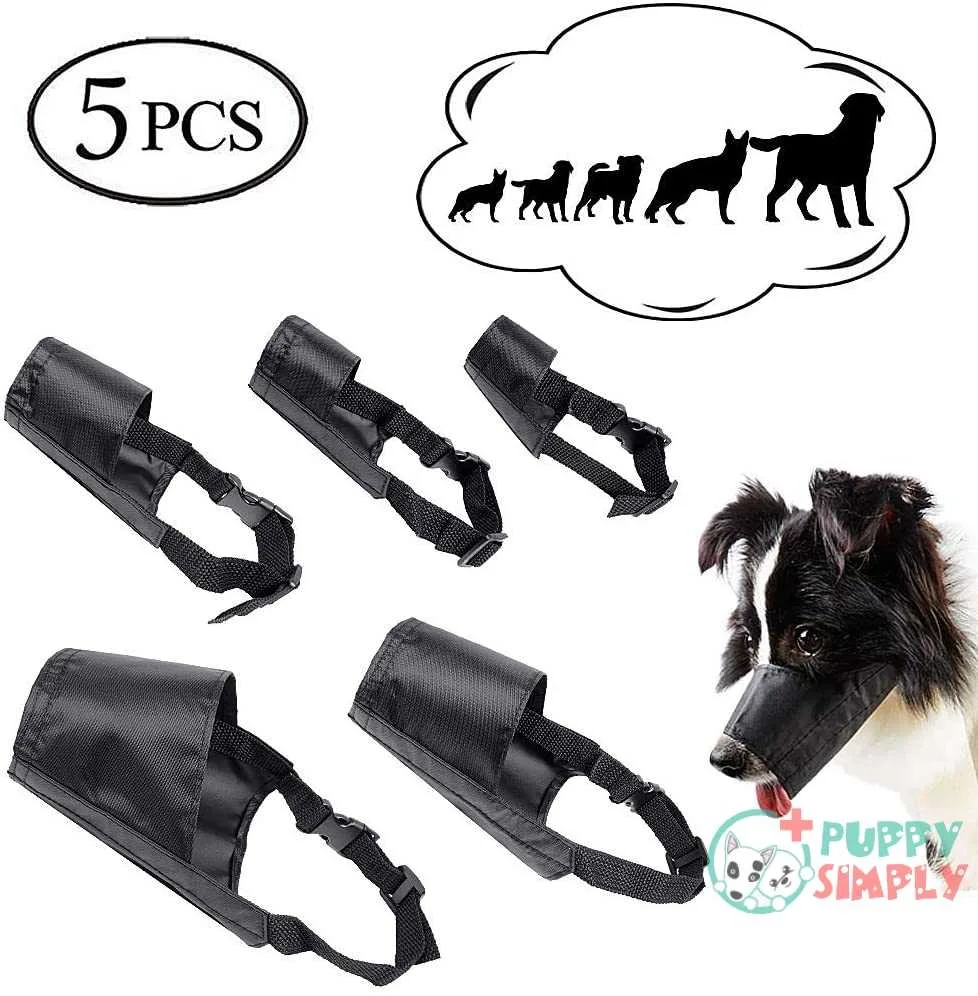 View On AmazonThis set of puppy muzzles includes five various sizes to cover puppy muzzle to small puppy muzzle to big puppy muzzle.
It is perfect for these of you with several canines or with youthful dogs that could outgrow a muzzle.
This set is also a superb selection for groomers that groom all sizes of canines. The muzzle can be employed to keep them from barking or biting, although trimming their hair. Learn much more about how to groom a puppy.
These soft dog muzzles are made of light-excess weight breathable nylon. These muzzles cease your puppy from consuming problems he shouldn't. They also quit barking and biting.

Quit biting barking chewing and wound licking
Low cost and affordable
Money back ensure
Superb for youthful huge breed canines simply since they can develop into their grownup dimension
Canines can roam the residence without chewing everything apart
Multiple sizes for groomers
Some canines can wriggle out of them
Not the best higher-top quality material
8. Four Paws Quick Fit Dog Muzzle
View On AmazonThis style fits tightly about your dog's jaws but enables panting and consuming. The little buckles on the back are adjustable to find an excellent and comfy fit for your biggest buddy. This muzzle is very best to avoid biting, barking, and chewing.
The entirely washable nylon is soft sufficient; it won't bother your pooch but potent sufficient to stay in place. Are you anxious you will not locate the proper match? Never be simply because this canine muzzle comes in 9 sizes! It is soft enough and nevertheless permits your pup to pant and breathe correctly.
We like how this muzzle does its work but is soft adequate your pet will not acknowledge it is meant to deter him from doing certain routines. He will nonetheless be capable of breathing, drinking, and pant.

Easy to use
Comes in seven sizes as nicely as a choice for short-nosed canines
It is not a basket muzzle
9. Goodboy Gentle Muzzle
View On AmazonGoodBoy's Gentle Muzzle is created specifically for stopping biting and undesirable chewing while still enabling your canine to pant, consume, and drink water. It is an occlusion type muzzle, so it wraps near to your dog's snout and limits his movements.
The organization claims that its item has neoprene padding to get rid of chafing and that its high-quality buckles and connection straps will securely preserve the muzzle in the spot. They also have a sizing chart and measuring suggestions to assist you in locating the ideal fit for your canine.

Comes with straps and Velcro for a significantly much better and custom fit
Very greatest for chewing biting and barking issues
Not for rapid-nosed canines
Must only be worn for a quick time period of time and although supervised
10. Lepark Nylon Dog Muzzle For Small Medium Large Dogs
View On AmazonLepark Nylon Puppy Muzzle is a simple style that consists of a single strap that wraps shut to your pup's snout, and one close to its head. You ought to make specific it is loose sufficient to give your puppy the freedom to pant and move its tongue. Tough and big-leading quality nylon can stand up to everyday use.
This item does not seem (scary' and lives up to its goal. What's crucial is it is very easily adjustable and actually simple to think about on and off. It really breaks your heart to force this on your canine understanding completely nicely; they won't take pleasure in it. The straightforward slip-on and buckle style reduce the struggle.
It may well look flimsy, but it is robust enough for your canine. The strap close to the mouth tends to make it challenging for your canine to wriggle out of.

Various sizes and adjustability make it suitable for most dog breed sizes.
Metal D ring increases manage while strolling.
Muzzle fashion does not impede breathing or panting.
Not appropriate for fast muzzled canines
Adjustable straps can be loosened by the canine, causing the muzzle to be really easily eliminated.
How To Put A Muzzle On A Dog?
If your dog is aggressive, it is important to know how to blow it properly. You don't want to be bitten if you try to prevent your dog from biting others.
The video below shows how a muzzle fits an aggressive dog. In the video, he uses a Baskerville muzzle, a brand we discussed above.
FAQs About Dog Muzzles
Are muzzles bad for your dog?
Not when used correctly. Muzzles are used as a means of restraint, but they should always be helped with conditioning, training, and supervision. In addition, they should not be worn for too long. You can also use them in combination with a training collar, bark collar, or an invisible dog fence.
How long can a dog wear a muzzle?
It depends. Muzzles should not be worn for more than 20 minutes, depending on the temperature and how active the dog is when wearing them. Frankly, it depends. Muzzles are often used for training and walking, both of which can last longer than 20 minutes.
We're not saying you should buy a muzzle and put it on your dog for the first time. It will take time to build trust and acceptance in your dog.
Personally, walking my dogs takes 30 to 90 minutes (depending on the weather). If we go to training classes with a muzzle, it usually takes more than two hours. If I were to limit myself to just 20 minutes, we would have to reduce our walks and training sessions.
Can I muzzle a dog leash?
Short term muzzles can definitely be made from a dog leash, but it's important to realize that they can only be used as an intermediate size as they are likely to blow. Give your dog some abrasions.
All you need to do is make a loop in the center of your dog leash and gently pull your dog's muzzle through the center. Tighten your leash so that it is firm enough to restrain your dog for any reason, but not hurt him. Then put both ends behind his ears before tying it in an arc. Knots are not suitable as you may want to disconnect the line in an emergency quickly.
Can a dog still eat and drink with a muzzle on?
Depending on the style of the muzzle, yes, your dog will still be able to eat dry food and drink water while wearing his muzzle. In general, grooming muzzles are the most restrictive and often prevent your dog from opening his mouth completely.
Can dogs sleep with a muzzle?
While this largely depends on the type of snout you use for a dog, it is not really recommended that a dog sleeps with a snout on. Not only can it give them anxiety, but they also need some time to move their jaw freely without restriction. This is especially true if you use a tighter snout, which is often made of nylon or mesh material. Muzzles are usually looser and allow dogs to pant as well as eat and drink, but that doesn't necessarily mean they are safe to wear at night.
If you are using a muzzle to stop barking or other negative behaviors, talk to your vet about alternatives that can help you at night while your dog is sleeping.
How do I know if my dog needs a muzzle?
You do it when your dog is injured. Due to their nature, dogs become aggressive when they feel threatened. If they are in severe pain or extreme fear, they will lash out. A muzzle is useful in this scenario.
If your dog has even had behavioral problems, we recommend using a muzzle. You don't want to be liable for injuries your dog causes; it will not work out for you or your best friend.
Some dogs like a day with the groomers. If you're not one of the lucky parents, your dog can get aggressive and hurt the groomer, so a muzzle is a safe bet.
As mentioned earlier, certain countries and cities may have laws that require certain breeds considered dangerous to wear muzzles in public.
Conclusion
you should have a very clear idea of the indications for the use of such types of dog braces.
Understand that under no circumstances should the face shield be used as a long-term solution to behavioral problems in dogs such as barking or chewing or even aggression
There are many reasons why this behavior occurs. Muzzles may only prevent barking, chewing, and aggression, but it doesn't solve the reason why dogs display this behavior in the first place. In the long run, dogs placed in these types of restrictions will recognize that they are being punished for something. This is not a way to treat man's best friend.
Different dog muzzles serve different purposes, and it is important to recognize what you want to do best for your dog. Hopefully, with this information, you will find the right one that suits you and your dog's needs.
References
petlifetoday.com
mypetneedsthat.com
caninejournal.com
gooddogsco.com
treehousepuppies.com