This site is supported by our readers. We may earn a commission, at no cost to you, if you purchase through links.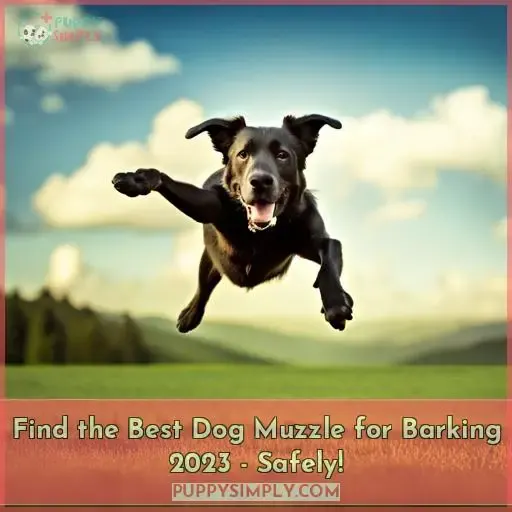 Jump right in! If you've been thinking about using a muzzle for your pup, you should know that it's not as scary or cruel as some may think. In fact, dog muzzles can be incredibly beneficial tools if used correctly and with caution.
From preventing them from picking up harmful objects to controlling aggressive behavior when training – the best dog muzzles of 2023 are an easy way to keep both your pet and those around them safe while still feeling comfortable.
So why wait any longer? Let's dive deep into all things related to finding the ultimate best dog muzzle for barking so that both you and your pup will have nothing but peace of mind this year!
Key Takeaways
Plastic, rubber, mesh, and nylon muzzles provide visibility and breathability.
Leather, rubber, nylon, and silicone muzzles vary in visibility and breathability.
Proper measuring and sizing of the muzzle is important for comfort and safety.
Conditioning and gradual introduction of the muzzle using positive reinforcement is crucial for increasing wearing time and comfort level.
Why Are Dog Muzzles So Controversial?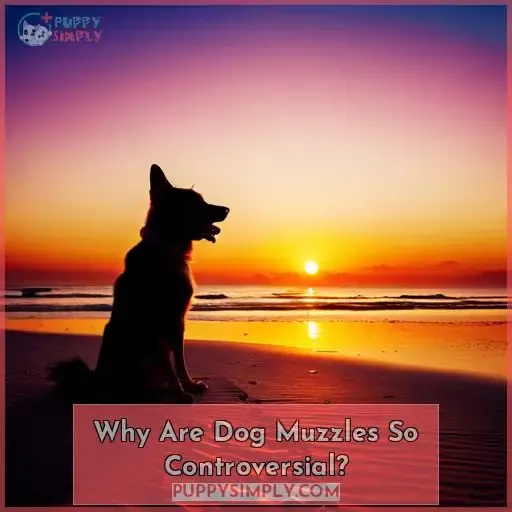 You may be wondering why muzzles are so controversial, given their usefulness for managing biting behavior and legally required use in certain public areas. Different dog breeds require different types of muzzles depending on the risk of biting or barking.
Muzzle materials can range from plastic to rubber, mesh to nylon, and leather. Each provides its own benefits, such as breathability or visibility. Sizing is also important. Measure your dog's snout length and circumference before adding 0.
5 inches allowance for a good fit that will last them through a range of head sizes if adjustable straps are involved.
Beyond selecting the right muzzle type, materials, and size, it's equally important to condition your pup. Introduce slowly with positive reinforcement like treats, followed by gentle touch until they feel comfortable wearing it over short periods.
Then, gradually increase the time while monitoring temperature levels when outdoors in warmer climates/seasons.
While there is much debate surrounding muzzles due to cultural stigma attached, just remember they're meant only as temporary solutions used primarily during training sessions or visits where behavioral issues could arise.
Never should any pet be left alone with one on for prolonged periods, regardless of perceived breed type, without supervision nearby at all times.
When and How to Use a Dog Muzzle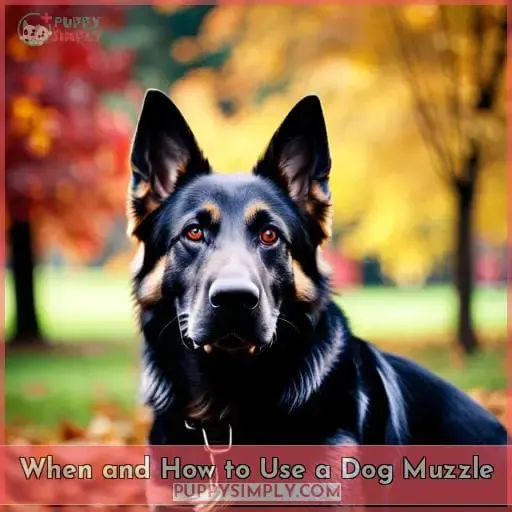 When it comes to managing problem behaviors, using a dog muzzle wisely and safely can be an important step in helping your pup. Different breeds may require different muzzles based on their size and shape of snout.
Materials range from plastic, rubber, mesh, nylon, or leather, which all offer various levels of visibility and breathability for the animal.
For proper sizing, you should measure the circumference and length of your pup's snout with an additional 0.5-inch allowance for wiggle room before fitting straps around the head securely but not too tight – adjustable straps are best! Conditioning is essential for making sure your pup feels comfortable wearing their muzzle by introducing it slowly with treats or praise while increasing time gradually over days/weeks depending on the comfort level at each step along the way.
Safety-wise, panting, drinking space must be considered, as well as supervising during use so that the skin does not become irritated from prolonged wear.
A Baskerville Ultra Dog Muzzle Tan offers adjustable neoprene padding, ideal for daily walks, vet visits, and socialization, yet still allows dogs to eat, drink, and pant freely while preventing biting!
Different Types of Dog Muzzles
You have a lot of choices when it comes to selecting the best type of dog muzzle for your pup. From CollarDirect Leather Dog Muzzle to Baskerville Ultra Dog Muzzle Tan, Nylon Dog Muzzle Grey, Soft Silicone Dog Muzzle, and even Ewinever's adjustable muzzles – there are plenty of options available that will keep your furry friend safe and secure while still allowing them to breathe freely.
Additionally, GentleMuzzles Guard Dogs provide extra protection with their neoprene padding and bonus head strap.
CollarDirect Leather Dog Muzzle
View On Chewy
The CollarDirect Leather Dog Muzzle is designed to provide a secure fit while still allowing your pup to breathe and drink water. It's made of full-grain genuine leather with metal buckles and rivets. The muzzle features an adjustable basket design for breathability and light weight.
Before ordering this muzzle, it's important to measure your dog's snout circumference and length – from the middle below the eyes to the tip of the nose.
This muzzle offers protection from biting in stressful situations like vet visits or public areas that require certain breeds to be muzzled by law. However, it also allows panting, drinking water, or taking treats without hurting the mouth or skin during use.
Secure fit prevents removal but is not too tight
Allows the dog to breathe and drink water
An important training tool for some dogs
May not fit brachycephalic (short-nosed) breeds well
Test fitting is required initially
Not suitable for extremely aggressive dogs
Baskerville Ultra Dog Muzzle Tan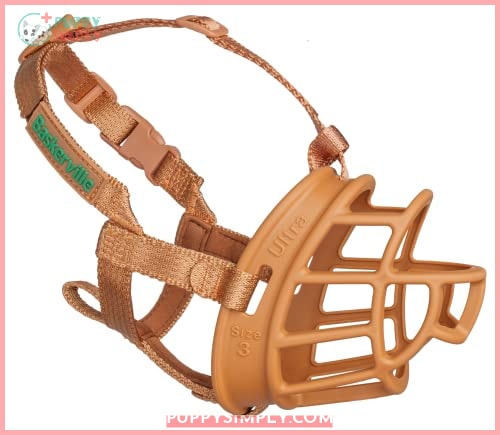 View On Amazon
You'll have your pup all decked out for walks, vet visits, and socializing with Baskerville Ultra Dog Muzzle Tan – a fashionable yet practical muzzle that'll give you peace of mind when it comes to preventing potential misbehavior.
This adjustable neoprene padded muzzle is designed specifically for medium-sized dogs. It features a soft, lightweight rubber basket design that allows them to eat, drink, and pant while keeping biting at bay.
The durable thermal plastic rubber can be heated and shaped for the perfect fit, so your pup will stay comfortable as well as secure.
With adjustable straps providing an extra snug fit around their snout, this muzzle takes care of business without compromising on comfort or style!
Lightweight & breathable material
Durable & heat-shaped construction
Allows eating/drinking/panting
Adjustable straps provide a secure fit
Ideal solution for medium-sized dogs who need muzzles
Not suitable for smart pups
May require additional sizing adjustments
Low-quality items may be available
Nylon Dog Muzzle Grey
Try the Nylon Dog Muzzle Grey for lightweight, breathable protection from unwanted behaviors like biting and chewing. Made of reinforced nylon and non-stick hair material, this muzzle is adjustable to provide a secure fit that covers half of the dog's head.
It still allows panting, drinking, and taking treats while preventing licking wounds or scavenging for food off the ground.
With an easy 10-second fitting process, you'll be ready to go on your walk quickly without any hassle – perfect if you have an aggressive pup who needs some extra help with their behavior modification training program.
Lightweight & breathable design
Adjustable straps & quick-release buckle
Allows panting & drinking while wearing
Not suitable for smart dogs
Sizing runs small; measure twice before buying
Needs gradual introduction so pup accepts
Soft Silicone Dog Muzzle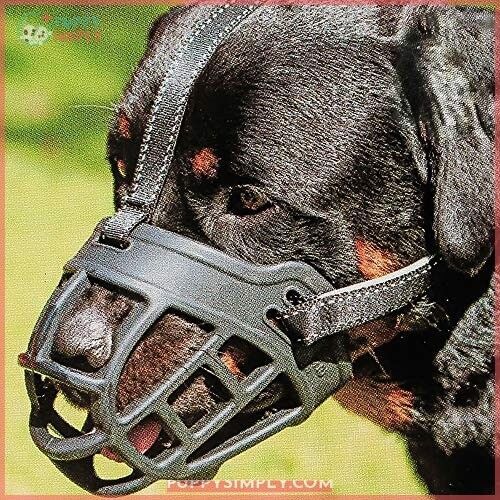 View On Amazon
Provide your pup with the perfect protection from biting and chewing with a Soft Silicone Dog Muzzle – designed to fit securely on their snout while still allowing them to pant, drink, and take treats.
Crafted out of soft silicone material, this flexible basket design keeps your pup safe without hurting its mouth or skin. Adjustable straps ensure a secure fit on any sized dog's head, and an overhead strap further secures it in place.
Lightweight & breathable
Quick fitting & adjustable straps
Allows dogs to drink and take treats while wearing
Customers report muzzle rusting causing hair loss at the nose bridge
Straps may be slightly too short for large breed dogs
Not as soft as needed if the dog has sensitive skin
Dog Muzzle Breathable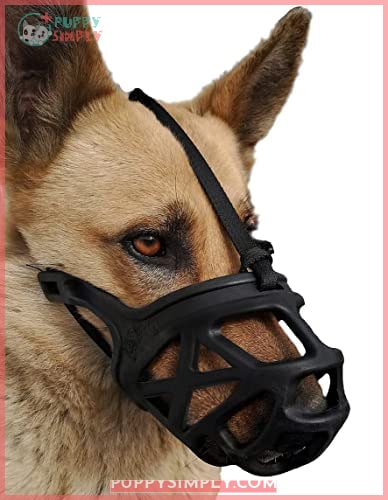 View On Amazon
Experience lasting comfort and security with Mayerzon's Dog Muzzle Breathable. This black basket muzzle is made of soft silicone material that will provide a secure fit while allowing your pup to breathe, drink water, and take treats.
The adjustable nylon neck strap ensures quick sizing for any size dog, while the breathable hollow-out design allows panting as well as access to food or rewards.
Plus, the non-toxic rubber is durable yet gentle on the skin, so you can trust it won't cause irritation or discomfort during extended use.
Made of pliable non-toxic rubber; durable yet soft
Adjustable nylon neck strap for quick sizing
Breathable hollow-out design allows panting & drinking/feeding treats
Gives all-around mouth protection without hurting mouth/skin
Must ensure the muzzle is large enough for the dog to pant & drink
May need to size down if shorter snouts
Can be tightened further to prevent removal from paws
Gentle Muzzle Guard Dogs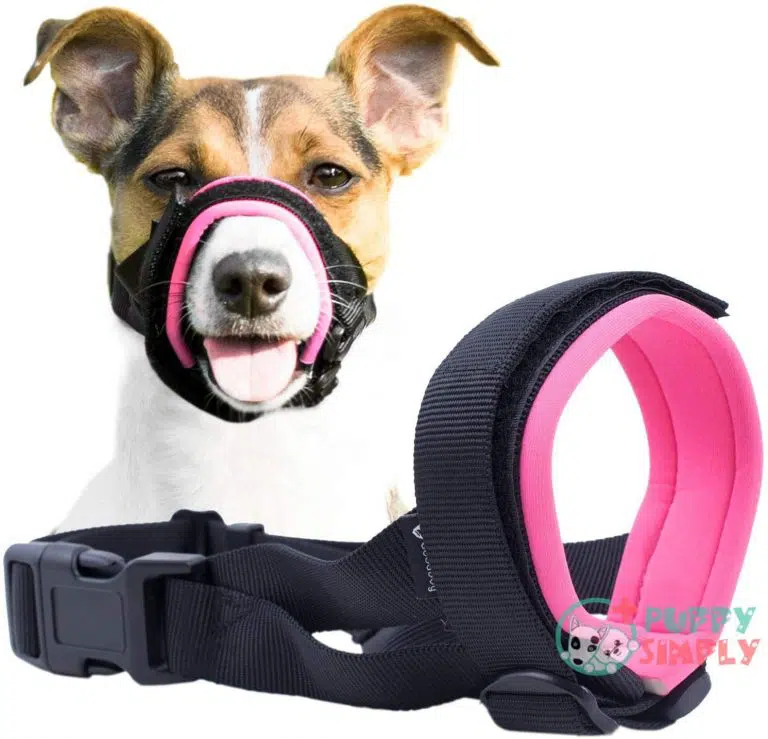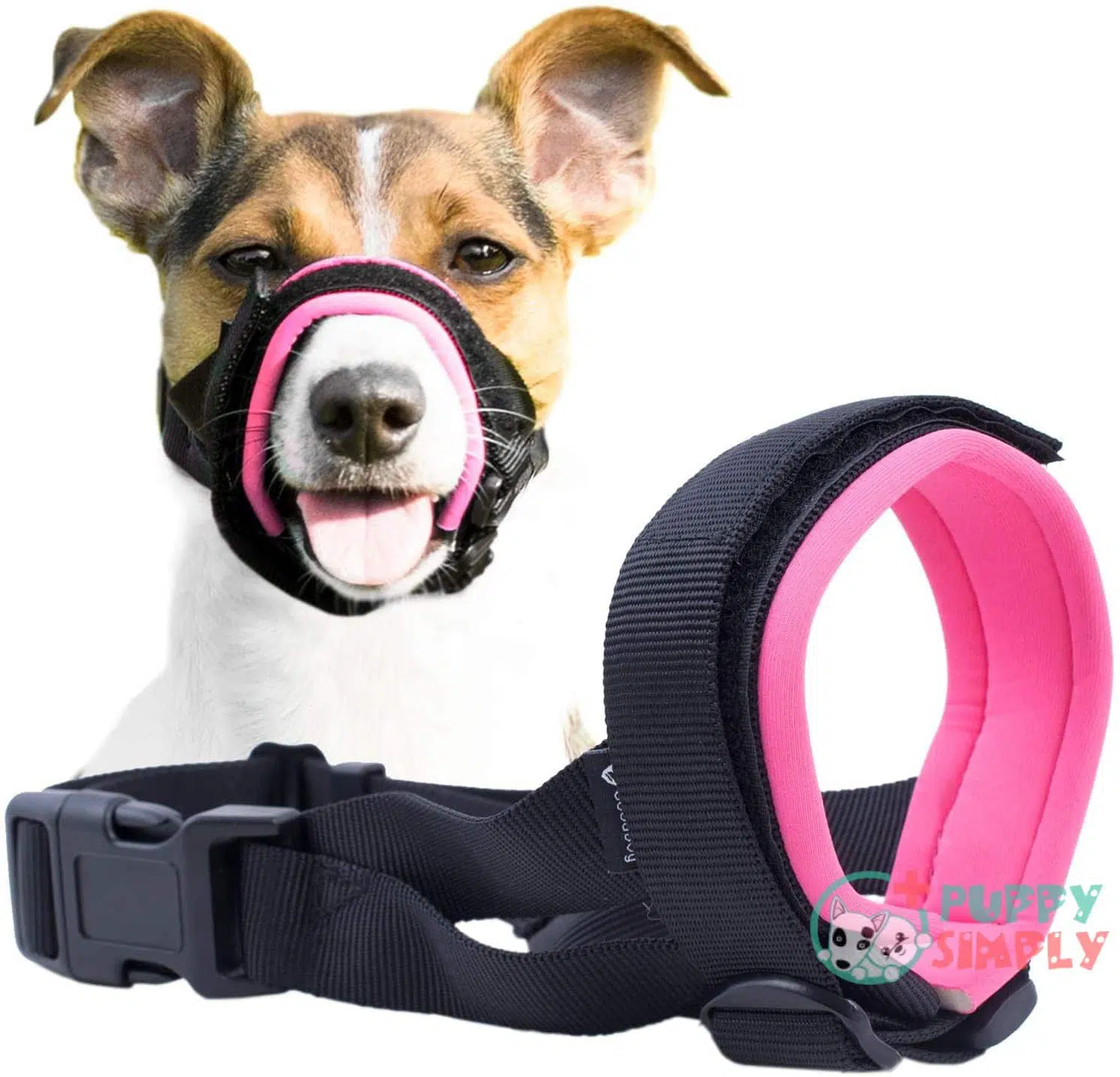 View On Amazon
Secure your pup with the GoodBoy Gentle Muzzle Guard that limits biting, chewing, and barking while still allowing panting and drinking! This updated design features adjustable straps and neoprene padding to prevent chafing.
It also includes a bonus head strap for extra protection, making it perfect for all breeds. The muzzle guard is lightweight and easy to use with high-quality sliders, so you don't have to worry about buckles.
Easy size guide and adjustable straps
Bonus head strap for a secure fit
Limits biting, chewing, and barking but allows panting and drinking
Neoprene padding prevents chafing
High-quality sliders without buckles
Head strap may irritate ears (adjust accordingly)
Dogs can scratch it off or escape from it
No nip protection
Not suitable for smart dogs
Hard to put on
Ewinever Dog Muzzles Adjustable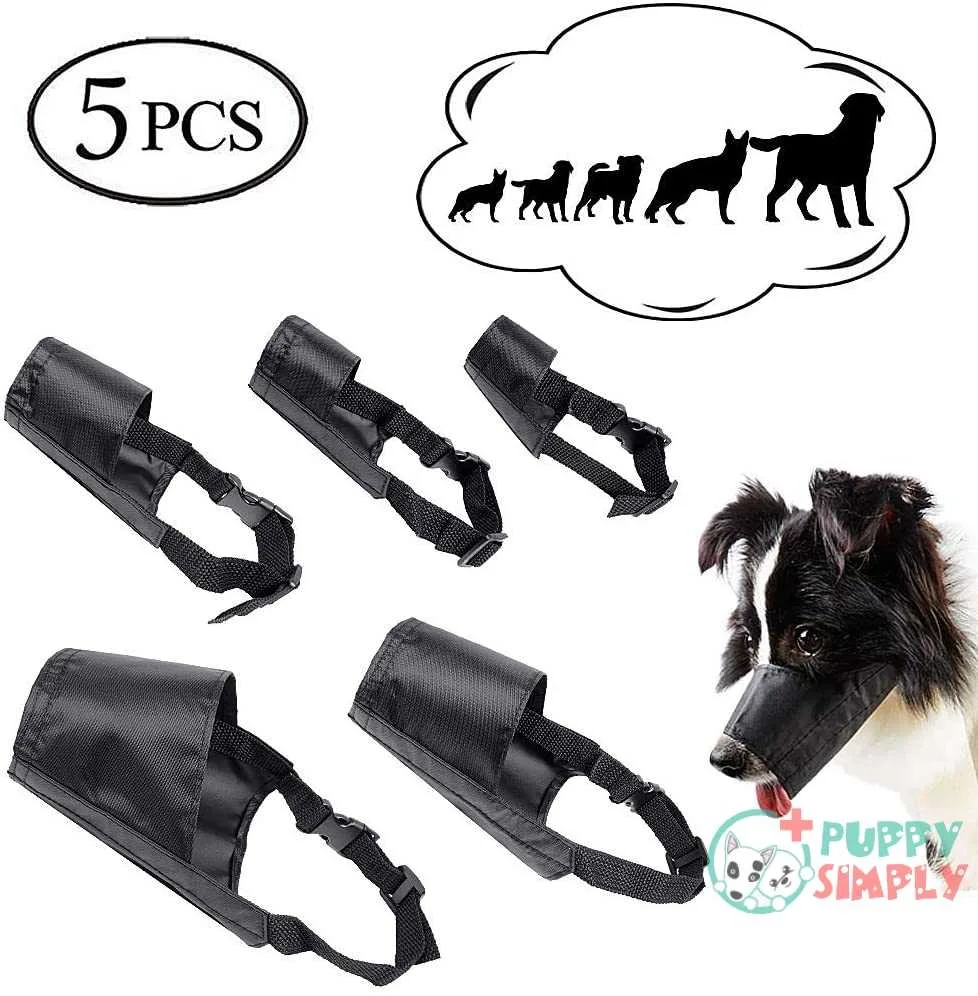 View On Amazon
The Ewinever Dog Muzzles Adjustable set offers an affordable, effective way to help your pup manage their behavioral issues while allowing them the freedom of breathability and movement. This 5-in-1 dog muzzle set is designed with adjustable straps and quick-release buckles for a secure fit that won't hurt or chafe your pet's delicate skin.
The muzzles are made from premium materials that provide comfort and breathability, so your pup can pant, drink water, eat treats, even while wearing it! Not only do these muzzles offer protection from biting, barking, chewing, or licking wounds, but they also prevent fighting amongst dogs.
Plus, they come with a money-back guarantee in case you're not satisfied – making this set an excellent value for owners looking to find solutions for their pooch's problem behaviors.
Helps nippy/aggressive dogs
Different sizes very helpful
Great value
Fit a large variety of dog sizes
Reduce fighting between dogs
Affordable & good coverage of sizes
Mostly work – some dogs may be able to remove
Comfortable only when used short term
How to Train a Dog to Accept a Muzzle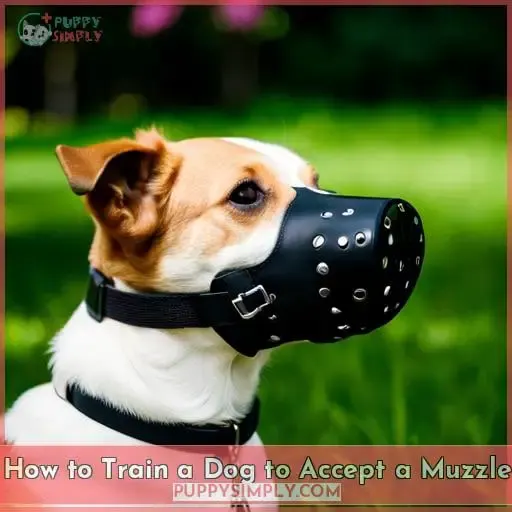 You can help your pup adjust to wearing a muzzle by introducing it gradually and positively. To ensure the right fit, measure your dog's snout length and circumference, then add a 0.
Popular brands include Baskerville rubber adjustable padded muzzles, PetSafe nylon minimal straps quick fit, Mesh breathable flat-faced breeds, Leather police training durable, and Silicone easy clean comfortable ones.
Risk assessment is important when selecting situations for using the muzzle. Vet visits, grooming appointments, or public areas legally requiring certain breeds are some examples of such cases where it should be used properly with positive reinforcement training from an experienced dog trainer or instructor to condition the pet correctly over time while monitoring comfort levels at all times for safety purposes only.
Finally, don't forget that muzzles are just temporary tools meant for behavior management and shouldn't replace proper obedience education!
Properly Fitting a Dog Muzzle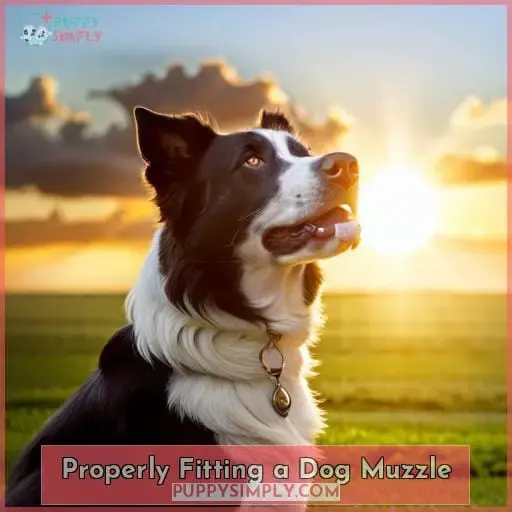 Fitting a dog muzzle properly is key to ensuring your pup's comfort and safety, so be sure to measure the snout length and circumference before selecting materials like plastic, leather, or mesh.
To ensure accuracy when measuring, use a soft tape measure around the nose at its widest part for circumference. For length, go from just above where their eyes meet down to the tip of their nose in inches.
Once you have these measurements, you can look for muzzles made with material that suits your pup's needs best, such as breathable mesh or durable leather, depending on breed type and activity level.
Make sure the muzzle provides enough space for panting and drinking freely without obstruction, which can lead to potential irritation issues with skin and coat health over time if poorly fitted.
Additionally, carefully consider how long they will need it. Some dogs may only need it temporarily, while others require more regimented training sessions that gradually increase wearing times throughout conditioning tips provided by an experienced trainer.
This should help reduce stress levels associated with wearing one during walks or vet visits.
Lastly, keep in mind any legal requirements based on breed-specific regulations governing certain public areas before taking them out into those environments safely using all necessary safety precautions required.
Health Considerations When Using a Muzzle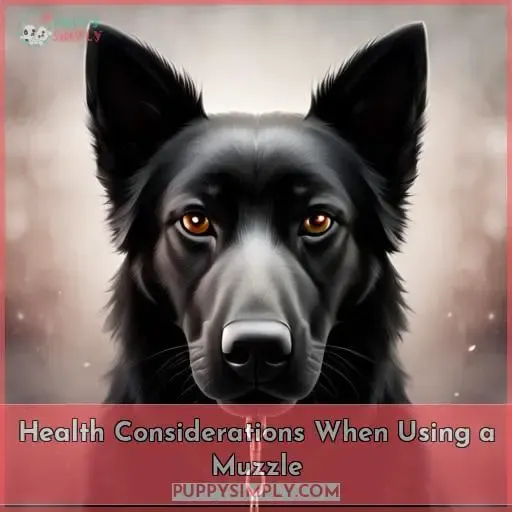 When considering the use of a muzzle for your dog, there are certain health and ethical considerations that should be taken into account. It is important to ensure that you select a type of muzzle that allows your pet to breathe comfortably and pant without restriction; this means avoiding overly restrictive muzzles such as those designed for police training or show dogs.
Aside from health considerations, it is also necessary to research the legal requirements in your area regarding appropriate uses for muzzles in public areas – different breeds may require mandatory use depending on local laws.
Breathing and Panting
When wearing a muzzle, you need to be sure your pup has plenty of air and can easily pant. It's important to carefully consider the type of materials used in the muzzle when selecting one, as well as ensuring it is properly fitted with adjustable straps for a secure fit.
This process should be done gradually through conditioning sessions using treats and rewards so it becomes an enjoyable experience for your pup! Safety precautions must also be taken into account, like allowing space between the muzzle and face while drinking or eating.
While these muzzles are useful tools in specific situations such as training classes or vet visits, they aren't meant to replace proper behavioral training, so make sure you keep that in mind too!
Legal and Ethical Considerations of Muzzle Use
It's important to consider the legal and ethical implications of muzzle use when managing your dog. Muzzle laws, comfort level, humane treatment, and pressure points should be taken into consideration.
Injured dogs may require a muzzle for safety reasons, or breed-specific legislation could mandate wearing one in certain areas. Different types of muzzles can offer varying levels of protection while still allowing panting and drinking.
Aggressive dog training tips can help owners determine the best way to condition their pet with a new device, such as a muzzle, without causing undue suffering or distress under any circumstances, so that animal rights are respected at all times.
How to Measure and Fit a Dog Muzzle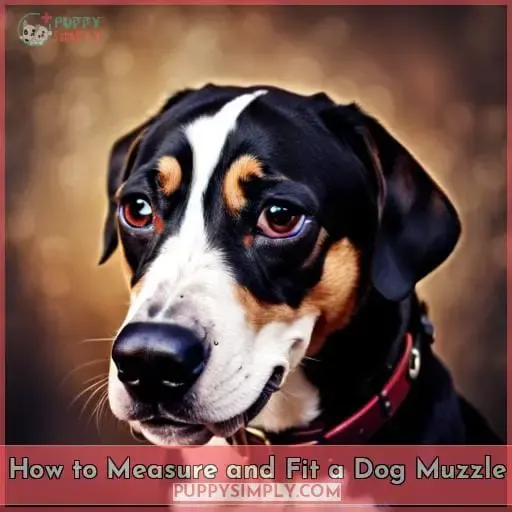 Measuring and fitting a dog muzzle correctly is essential for providing comfort and safety, so it's important to use the right size. On average, most dogs need at least an extra 0.5-inch allowance added to their snout length and circumference measurements in order to ensure a good fit.
Measure the snout length and circumference.
Add a 0.5-inch allowance when measuring.
Muzzle materials vary, such as leather, plastic, or nylon.
Conditioning tips like treats and praise are helpful.
Supervise wearing time based on temperature.
Safety precautions should be taken when using muzzles; panting and drinking space must be allowed! Popular brands include Leerburg's lightweight leather basket muzzle or PetSafe's anti-biting dog muzzle – both of which come with sizing guides that will help you measure your pup for a perfect fit! With proper conditioning techniques, you can easily teach your furry friend how to wear one without discomfort or fear.
Tips for Choosing the Right Dog Muzzle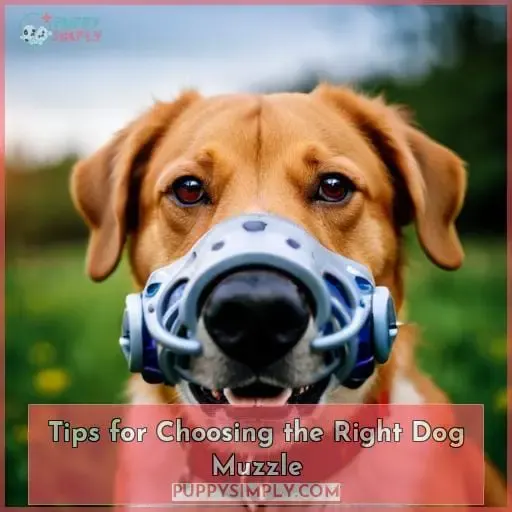 Choosing the right muzzle for your pet can be a daunting task, but with the right information and careful consideration, you can find one that works best for both of you. Seek veterinarian advice on what type of muzzle is suitable based on breed and size.
Consider materials such as plastic, rubber, mesh, or leather to ensure comfort while maintaining breathability. Measure snout length and circumference accurately to get an accurate sizing; add a 0.
Look into premier pet's dog muzzle, Jafco comfortable dog muzzle, Four Paws' quick-fit muzzle for dogs, Ram adjustable mesh muzzles, or original Ram gray leather agitation muzzles.
Adjustable straps ensuring a secure fit in a range of head sizes
Breathable material allowing panting and drinking
Comfortably padded interior minimizing skin irritation
Finally, practice proper safety measures when using a canine's restraint device by supervising use time according to temperature conditions outdoors and not leaving them alone unsupervised.
Frequently Asked Questions (FAQs)
How can I tell if a muzzle is too tight or too loose on my dog?
To check if a muzzle is the right fit, make sure it does not leave marks on your dog's fur and skin when removed. It should also be neither too tight nor too loose – adjust accordingly using the adjustable straps for a secure but comfortable fit.
What should I do if my dog is scared of muzzles?
Introduce your pup to muzzles slowly and positively. Offer treats, praise, and gentle touch when introducing the muzzle. Increase their exposure to it gradually until they feel comfortable wearing it for short periods of time.
Are there any laws or regulations regarding the use of muzzles?
Laws and regulations vary by state, but some require muzzles for certain breeds in public places. For example, in California, 1 out of every 4 dogs must wear a muzzle when on public property. Make sure to check your local laws before using a muzzle to ensure you are compliant with regulations.
Can a muzzle be used as a substitute for proper dog training?
No, a muzzle is not a substitute for proper dog training. It can help manage behavioral issues temporarily but won't address the underlying cause of the problem.
Is there a way to prevent my dog from barking without using a muzzle?
You can train your dog to stop barking by rewarding them when they're quiet and ignoring the behavior when they bark. Using positive reinforcement, you'll be able to teach them what behaviors are acceptable while giving them a sense of security and consistency.
Give it some time, but with patience and dedication, you can prevent your pup from excessive barking without needing a muzzle.
Conclusion
Dog muzzles are a controversial topic, but if used properly, they can be an effective way to protect both humans and dogs. Anecdotally, my neighbor's dog was an aggressive barker, and after trying numerous methods to train him, they eventually had to use a muzzle when he was in public.
It was a difficult decision, but in the end, their dog was able to enjoy walks and socialize with other pups, all while keeping everyone safe.
With the right dog muzzle for barking, you can do the same. There are a variety of different muzzles available, from the CollarDirect Leather Dog Muzzle to the Soft Silicone Dog Muzzle. It's important to measure and fit the muzzle to your pup properly, as well as train them to accept it.
With proper use, you can find the best dog muzzle for barking that is both safe and effective.