This site is supported by our readers. We may earn a commission, at no cost to you, if you purchase through links.
Are you fed up with your pup's penchant for escape? You're not alone. Many pet owners have been in the same situation, trying to find a harness that will keep their furry friends from slipping free and running off.
Fortunately, there are some excellent options available when it comes to escape-proof dog harnesses.
Here we detail our top ten picks – including pricing information and product specs – so you can make an informed decision about which one is best suited for both you and your pup!
To narrow down the selection even further, we've included a buyer's guide along with tips from experts on what makes an effective no-escape harness so that even Houdini hounds won't be able to wriggle out of this gear!
Key Takeaways
Traditional harnesses are not escape-proof, and dogs can easily slip out of them.
No-Pull Harnesses are designed to tighten when the dog pulls and loosen when they stop, preventing slipping out.
Escape-Proof Harnesses have adjustable straps, quality hardware, and reflective accents, making them suitable for small dogs.
Multi-Use Vest Harnesses have a padded handle that makes assisting the dog easy.
Top 10 Best Escape-Proof Dog Harnesses
Finding the right escape-proof dog harness for your pup can be a challenge. With options ranging from the OneTigris Tactical Dog Harness to the ThinkPet No-Pull Harness Medium-Large, there are plenty of great choices to keep even the most determined escape artist secure.
OneTigris Tactical Dog Harness
View On Chewy
Experience the ultimate security with the OneTigris Tactical Dog Harness, an ultra-durable vest that's unbelievably adjustable and incredibly tough – it's like a fortress for your furry friend!
This harness is made from strong nylon materials and features MOLLE webbing to attach pouches and patches. It has fully adjustable neck and chest straps for a secure fit on large breeds or boxers that pull.
However, plastic clips may not be durable enough if you have a dog who loves to chew things up.
Though this product runs large, so size down accordingly for better fitting, some owners had issues with improper sizing or straps breaking under pressure – even though it's great quality overall.
Durable nylon construction
Adjustable neck/chest straps
MOLLE webbing attachment points
Plastic D rings may break easily
Runs larger than expected
Straps can sometimes rub/break
No Pull Dog Harness
View On Chewy
Try the No Pull Dog Harness to gain instant control while keeping your large breed pup safe and secure. Crafted with tensile strength up to 3,700 lbs and adjustable rubber stops that fit any size dog, this heavy-duty leash is designed for maximum comfort and control.
The polyester/synthetic fabric construction offers waterproof wearability, while reflective strips provide visibility in low light conditions. A quick-release snap buckle allows for easy on/off access, and a padded handle assists over obstacles or into cars.
Strong nylon leash up to 3K lbs
Adjustable, fits any size dog
Waterproof & breathable fabric
Reflective accents & straps
Confusing at first without instructions
Slick material, hard if pulls
Expensive but well made
PetSafe Martingale Dog Collar
View On Chewy
The PetSafe Martingale Dog Collar provides a secure and comfortable fit for large breed dogs, making it an ideal choice. It has a quick-release snap buckle and adjustable neck size, alluringly highlighted by its bright red hue.
This collar tightens when the dog pulls and loosens when the dog stops, ensuring your pup's safety without worrying about escape. It is crafted from waterproof nylon and synthetic fabrics, making it durable. It is also easy to put on and take off compared to other martingales without buckles.
Tightens when the dog pulls; loosens when it stops
Prevents slipping out of the collar
Safer than choke chains or prong collars
Custom fit; good for growing puppies
Easier on/off than martingale without a buckle
Tab for ID tag
Measure the dog's neck carefully
Remove during rough play
Puppies may chew and destroy
The bright red color borders on neon
Ruffwear Flagline Harness Large XL
View On Amazon
You'll love the security and support of Ruffwear's Flagline Harness, with its 6 points of adjustment for a snug fit that prevents escape. Lightweight yet durable and secure, this multi-use lift-and-assist harness guides unsteady senior dogs or helps you lift them up stairs/vehicles.
It has a streamlined handle and load dispersing chest/belly panel plus 3 leash attachment points – perfect for long walks! Plus, reflective trim keeps your pup visible in low light conditions. Matching colors are available too – so stylish! This harness is an investment but worth it if you want quality and purpose above all else.
Durable shell fabric & debris-resistant liner
Six adjustable straps provide a custom fit & prevent slipping out
Versatile design – can be used as an assistive device or regular walking harness
Reflective trim allows visibility even in dark areas
Takes more effort to put on compared to other brands
Pricey due to features, materials used & brand name
Not suitable for chewers since plastic clips are not recommended
Chais Choice Dog Harness XSmall Army Green
View On Amazon
Secure your pup with the Chais Choice Dog Harness, boasting reflective material for added visibility and adjustable straps for a custom fit. This heavy-duty leash is designed to provide maximum control and comfort for large breed dogs.
Crafted from durable polyester, it features three M reflective materials that will ensure your pup stays safe even in the dark. The neoprene padding provides extra comfort, while the ergonomic design allows unrestricted movement without sacrificing security or style.
Five points of adjustment ensure you can get just the right fit each time, so every adventure is worry-free! Perfectly suited to active pups who like to pull on their leads or those more difficult escape artists; this harness has everything you need all wrapped up into one neat package!
Durable polyester construction
3M Reflective Material For Visibility & Safety
Neoprene Padding For Comfort & Ergonomic Design For Unrestricted Movement
5 Points Of Adjustment To Get Just The Right Fit Every Time
Suitable For Active Dogs Or Escape Artists
May Press On Trachea If Dog Pulls Too Hard
Last Strap Not Attached To Chest Plate So Can Move More
Some Rubbing And Bald Spot From Straps After Long Use
Rabbitgoo Escape Proof Harness Large Dogs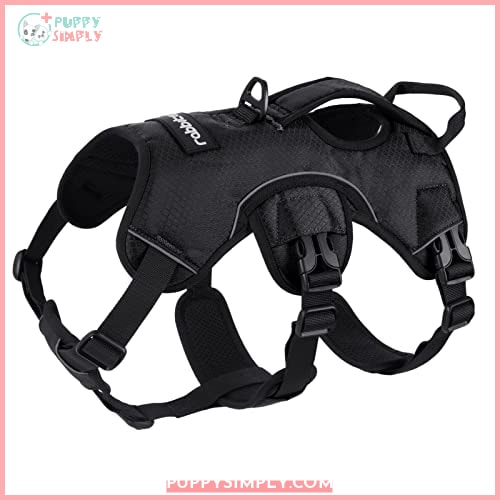 View On Amazon
Rabbitgoo's escape-proof large dog harness offers adjustable straps, quick-release buckles, breathable mesh padding, and reflective strips for those evening walks. This durable polyester webbing is designed to keep the most active breeds safe while providing comfort with sponge padding that reduces skin friction.
It features five points of adjustment across three neck and two chest/belly straps for a snug fit that prevents slipping or escaping. The back D-ring keeps your pup from choking during no-pull walking sessions, and the padded handle assists them over obstacles or getting in/out of cars quickly.
Adjustable straps provide a customized fit and prevent slipping out
Breathable mesh lining and soft cushion padding provide comfort
Back D-ring helps with no-pull training and prevents choking
Padded handle assists dogs over obstacles and into cars
The chest strap may rub some dogs' skin, causing sores
The hook may not be sturdy enough for larger pullers
Sizing seems odd; measure carefully
BELPRO Multi-Use Dog Harness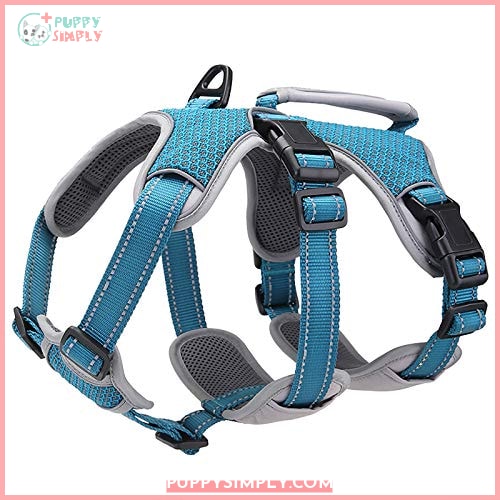 View On Amazon
BELPRO's Multi-Use Dog Harness features reflective material for visibility and safety, plus neoprene padding and adjustable straps for a custom fit.
Perfectly designed to keep your pup safe while out on walks, this heavy-duty harness is made from durable polyester with a breathable mesh interior lining.
The padded handle allows you to assist your pet over obstacles or into cars with ease.
Durable polyester construction
Reflective material offers night safety
5 points of adjustment ensure a secure fit
Padded handle makes assisting easy
Breathable mesh interior provides comfort
No chest clip on some models
Can slide around if improperly fit
Works better on deep & wide chests
Mihachi No Pull Dog Harness
The Mihachi No Pull Dog Harness keeps your pup safe and sound with a five-point adjustable system, breathable mesh lining, and reflective strips for visibility. It's perfect for active dogs or those who may need extra control while out on walks.
The strong buckles ensure a proper fit, while the reflective fabric allows you to spot your pup in low light conditions.
The two neck straps, plus one waist strap and two chest straps, provide the ultimate comfort and support needed during long walks or hikes, no matter what kind of terrain you're exploring.
ICEFANG Dog Harness MOLLE Vest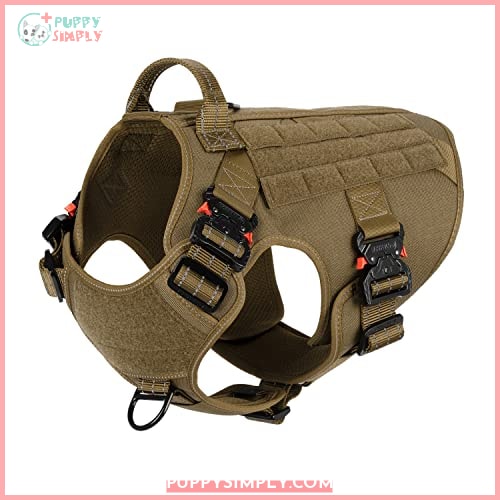 View On Amazon
You'll love the durability and control of ICEFANG's strong metal buckles and adjustable straps, as well as its MOLLE/PALS design for customizing with extra gear. The four 1000lb buckles provide security while the bartack & X reinforcements keep everything in place.
An additional five points of adjustability make this harness fit perfectly to your pup, no matter their size or shape.
Durable metal buckles & straps
5-point adjustability
Front no-pull clip back normal clip handle on top
Customizable ID patches w/ Velcro
Not suitable for destructive chewers
Plastic clips not ideal
Runs large; size down
ThinkPet NoPull Harness Medium Large
View On Amazon
With adjustable straps, reflective edges, and straps, a no-pull design, and quick-release buckles for easy on/off, the ThinkPet NoPull Harness is perfect for walking your pup safely at night.
This harness features four adjustable straps so you can customize the fit for maximum comfort. The front D-ring helps stop pulling while teaching leash manners. Plus, there's a handle in case you need extra control over an excitable dog.
With its waterproof polyester construction and soft mesh lining, this harness will stand up to any adventure without compromising on comfort or security.
Adjustable straps provide a custom fit and maximum comfort
No-pull design corrects pulling and teaches leash manners
Handle provides extra control over excitable dogs
Reflective stripes ensure visibility at night
Durable nylon stands up to 1000 lbs of pressure
Soft mesh lining ensures a snug but comfortable fit
Measurement needed prior to purchase
Plastic clips not suitable for chewers
How Do Dogs Escape From a Traditional Harness?

Be prepared for your pup's daring attempts to flee — many traditional harnesses don't stand a chance against their ingenuity! Dogs often escape from a traditional harness by slipping out of the shoulder straps, chewing on the material, or pulling hard enough to break weak buckles.
To prevent these escapes, make sure you purchase an escape-proof harness with quality hardware and adjustable straps for a proper fit. Consider leash alternatives such as martingale collars or add reflective features like clip-on LED lights and fabric made with 3M reflective materials.
Popular brands include Ruffwear Flagline Harness, which has 5 points of adjustment, ThinkPet NoPull Harness, which is durable yet comfortable, and ICEFANG Tactical Dog Harness that comes with MOLLE webbing for extra accessories.
By investing in appropriate dog safety gear, your furry companion can safely explore its surroundings without risking unnecessary escapes!
Buyer's Guide: Things to Consider Before Buying an Escape-Proof Dog Harness

When selecting an escape-proof harness, it's important to consider the size of your pup and their level of activity. With four adjustable straps for a secure fit, these types of harnesses can provide up to three times more control than traditional collars.
Quality hardware is essential; buckles should be sturdy, and double D-rings are best for leash control. Look for strong materials like nylon or leather that will hold up against wear and tear over time.
Comfort padding is also key, so look for neoprene lining around pressure points on the body, as well as reflective accents or piping for visibility in darker conditions.
Risk assessment should be done before purchasing. Nervous pups, destructive chewers, and prior escape artists may require additional security measures, such as a collar plus harness combo or the t-shirt wrap technique when using this type of product.
Frequently Asked Questions (FAQs)
Are escape-proof harnesses suitable for small breed dogs?
Yes, escape-proof harnesses are suitable for small breed dogs. Many come with adjustable straps and padding to provide a secure fit without compromising comfort. Look for designs with reflective accents and handles for extra control in low-light conditions.
How often should I check the fit of my dog's harness?
Check the fit of your dog's harness regularly to ensure it is secure and comfortable. If you notice any signs of wear or tear, replace it as soon as possible for maximum security and comfort.
Is a martingale collar an effective alternative to an escape-proof harness?
A martingale collar can be an effective alternative to an escape-proof harness, providing secure control without restricting your pup's movement. It tightens when they pull and loosens when they stop, while the adjustable rubber stops ensure a comfortable fit for any size dog.
How should I clean an escape-proof harness?
Clean an escape-proof harness by hand using mild detergent and warm water. Rinse thoroughly to remove all soap residue, then air dry or pat with a towel.
Are escape-proof harnesses comfortable for my dog to wear?
Yes, escape-proof harnesses can be comfortable for your dog to wear. Look for adjustable straps and padding in the chest and belly area that won't rub or cause chafing. Quality metal hardware is also key – plastic clips are not suitable if your pup is a chewer! Measure carefully so it fits snugly but isn't too tight, then enjoy the peace of mind knowing your pup can't break free.
Conclusion
It's no coincidence that the best escape-proof dog harnesses are the ones that are both comfortable and secure. With the right fit, your pup can feel confident and safe while enjoying his freedom. This year's top 10 reviewed harnesses provide sturdy buckles and reinforced stitching, as well as adjustable straps and reflective accents.
Whether you're looking for a no-pull harness, a multi-use vest, or a martingale collar, there is an escape-proof option for your pup. No matter which one you choose, you can rest assured that you're getting the best escape-proof dog harness for your furry friend.