This site is supported by our readers. We may earn a commission, at no cost to you, if you purchase through links.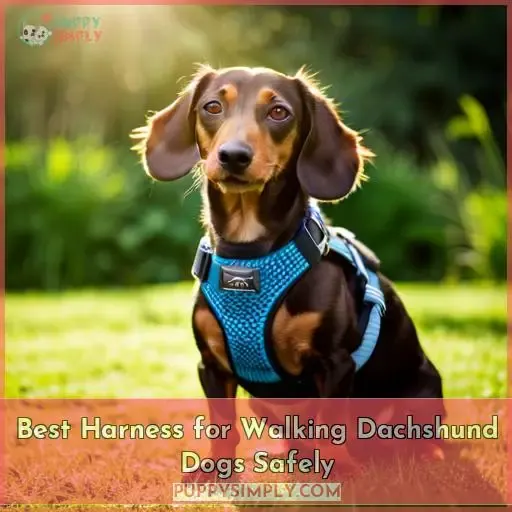 You're the proud parent of a Dachshund. You love your little hotdog, but you know their unique physique requires special attention when it comes to harnesses.
With their long backs and short legs, it's tricky finding something that fits right while supporting their spine. But you've done your homework, and we'll walk you through what to look for in the best harness for Dachshunds.
Contours to their barrel chest, adjusts for the perfect fit, and cushions their frame.
With the right harness, your pup will be comfortable on walks, hikes, adventures – living their best Dachshund life.
So let's find the perfect fit for your sausage dog.
Key Takeaways
Measure your dog's chest, neck, and back length for a proper fit to prevent rubbing or pinching.
Look for wide, padded chest panels and adjustable leg loops to distribute weight and support your dog's frame.
Opt for a harness with customizable spine padding to cushion your dog's back and distribute pressure away from their spine.
Choose a durable, smooth fabric like tightly woven nylon with reinforced stitching to prevent chafing.
Key Considerations for Dachshunds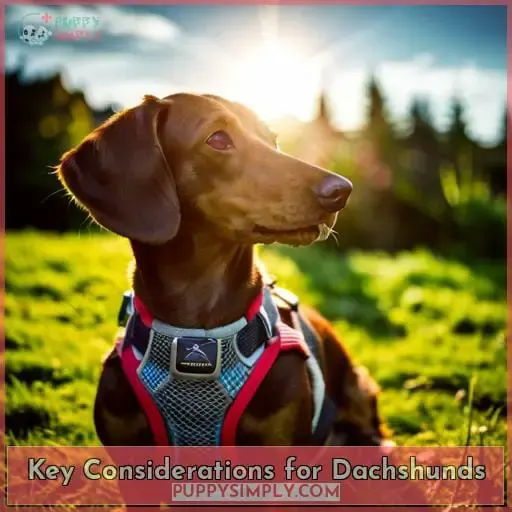 As a dachshund owner, you're familiar with their unique body shape and spinal issues that require a properly fitted harness. Their elongated backs and short legs mean providing custom support through the appropriate walking harness is vital to avoid injury and promote healthy activity.
Body Shape
Take measurements around the chest, neck, and length of your dog's body to find a harness that fits properly without pinching.
Check for any gaps, looseness, or pinching when trying on harnesses to ensure a comfortable fit.
Allow room in the harness for seasonal weight fluctuations that your Doxie may experience.
Focus on harnesses with wide, padded chest panels and adjustable leg loops to accommodate their long backs and stubby legs.
Properly supporting their unique build with the right fitting harness is crucial. This will encourage fun walks and pain-free adventures for your Dachshund for years to come. The proper fit avoids irritating their sensitive skin or putting uncomfortable pressure on their fragile spines.
Spinal Issues
Since their long backs make dachshunds prone to intervertebral disc disease (IVDD), a properly fitted harness helps prevent injury by distributing pressure across their chests and bellies instead of their delicate necks and spines when out walking.
Look for wide, padded chest panels combined with adjustable straps to get the right fit while supporting their frames properly. Routines to build core strength help too, along with massage, joint supplements, and avoiding obesity.
Proper Fit
Getting a snug fit prevents sliding and rubbing that can irritate your dachshund's sensitive skin. Adjust the straps to hug their body without pinching. You should be able to slip two fingers between the harness and your dog.
Take particular care around the chest and neck area. Test the fit during walks, hikes, and daily activities. Make adjustments as needed for a customized, secure fit to keep your sausage dog comfortable on adventures.
Types of Dachshund Harnesses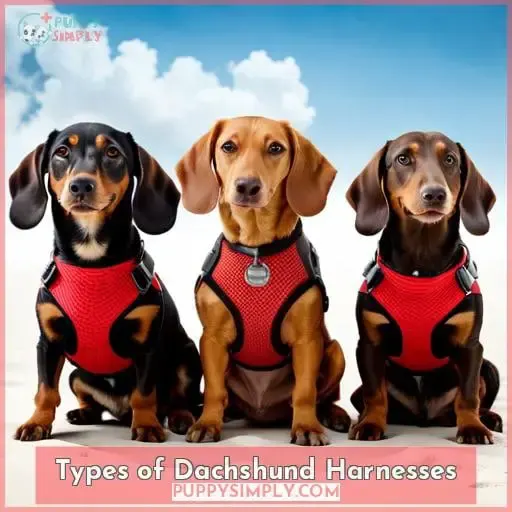 Let's support your dachshund's unique physiology with the right harness. Body harnesses evenly distribute pressure across your dog's chest and belly, while no-pull versions attach at the front to curb pulling using redirection.
For dogs with back issues, opt for options with customizable padding over the spine for cushioning during activity.
Body Harness
Grasp your precious hound close as you secure the buttery-soft straps, ensuring their barrel chest remains unbound for romps ahead. Slip the padded neoprene over your dachshund's head, adjusting the sternum and belly straps for a snug yet comfortable fit.
The harness hugs their frame without pinching or chafing, dispersing leash pressure for pain-free leash training and rainy hikes. Durable and easy to slip on, this custom-fit harness protects their delicate spine while keeping your adventure buddy comfortable.
No Pull Harness
Take hold of your dachshund's enthusiasm for adventure with a no-pull harness that keeps them comfortable while curbing those powerful tugging urges. A front-clip harness like the Blueberry Pet No Pull subtly redirects pulling into a turned-around position.
The mesh material avoids excessive heat while the padded chest plate prevents strain. Proper positioning on the chest and avoiding armpits prevents pinching. For senior dachshunds, ensure the harness doesn't restrict movement.
With time and positive reinforcement, the no-pull harness trains while avoiding damage to their delicate neck.
Back Support
Don't you wish your dachshund could romp without back pain? The right harness distributes pressure along their spine for happy, healthy adventures.
Look for wide straps over the chest and shoulders.
Ensure padding cushions the sternum and ribs.
Choose adjustable straps across the ribcage and hips.
Select durable, smooth fabrics to prevent chafing.
When shopping for a back support harness, prioritize proper weight distribution and adjustability for your mini dachshund's muscular build and long frame. This protects their delicate spine from injury during short sprints on adventures.
Ultimately, the goal is to avoid body staining, coat abrasions, leash tangling, and skin infections.
Top Features to Look For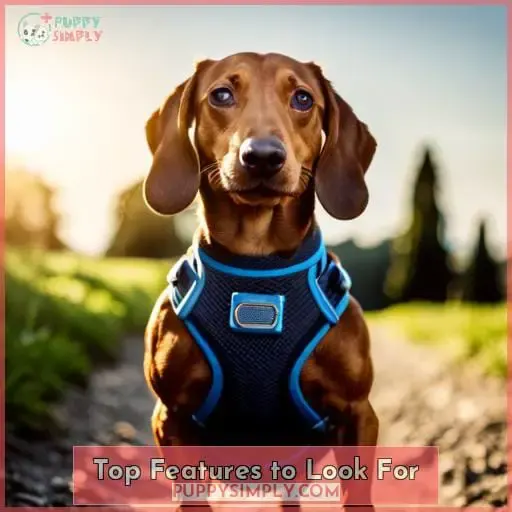 When choosing the best harness for your dachshund, prioritize adjustability, padding, and durability. Look for straps and fasteners that customize the fit without pinching or rubbing sensitive skin, padded areas that distribute pressure across the chest and belly, and rugged construction from high-quality materials built to withstand your dog's energy and the demands of regular use.
Adjustability
Focus on adjustable straps to find the perfect fit for your dog's shape. Snug straps prevent slipping, while loose fits rub and chafe delicate skin. Test buckles and adjusters for ease of use during excited pre-walk rituals. Move the handle around as your dachshund stretches during exercise.
The right adjustments empower healthy movement on daily walks and adventures with your best friend.
Padding
Strap the velvet embrace of comfort across their fragile spines, like armor for their battles against gravity. Cushion tender joints with cloud-soft padding as you guide them through puppyhood and beyond.
Let the right harness lift their spirits for playtime and adventures, while supporting each unique frame. Adjustable straps to fit just right; durable fabrics that stand the test of time.
Durability
Opt for metal hardware over plastic
Select a harness made with thick, tightly woven fabric
Look for reinforced stitching at stress points
Choose heavy duty buckles and adjusters
Ensure the handle is secured with double stitching
The right durability provides important safety features for proper walking, reduces injuries, and withstands everyday wear. Quality brands like Kurgo and Ruffwear design harnesses with proper handling in mind.
For example, the Kurgo DoubleBack belay harness has a reinforced lift-assist handle and removable leg loops.
7 Best Harnesses for Dachshunds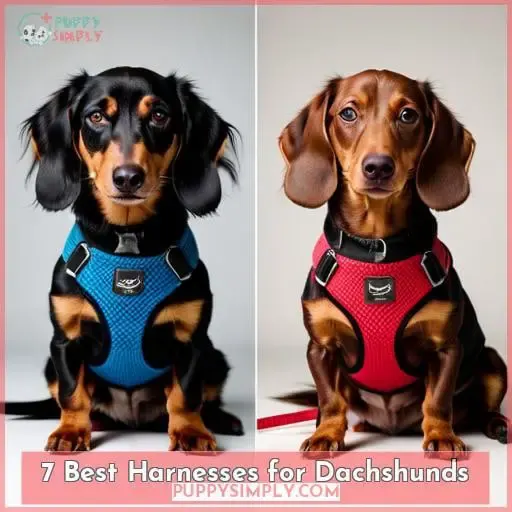 Hi, based on what I know about dachshund anatomy and health, as well as experience fitting various harnesses, here are my top picks for the 7 best harnesses for dachshunds. The Hurtta Padded Y, Ruffwear Flagline, and Hug-a-Dog Mesh Vest provide excellent back support and distribute pressure for this long-backed breed prone to IVDD.
The Chais Choice, Voyager Step-In, and Ruffwear Web Master are great adjustable, no-pull options to prevent neck injuries and give you control on walks.
Hurtta Padded Y
You want the Hurtta Raven Y for your Dachshund's snuggly comfort. Ensure proper fit by measuring the length and girth without pinching. The neoprene cushions delicate joints while reflective accents boost visibility for their long, low profile.
Mind the rear legs during adjusting. Snug yet flexible, it hugs their barrel chest and won't rub under the armpits. The front leash clip curbs pulling and the rear clip gives you steering control for their stubborn streak.
This custom fitted harness keeps your sausage dog safe, seen, and supported on adventures.
Ruffwear Flagline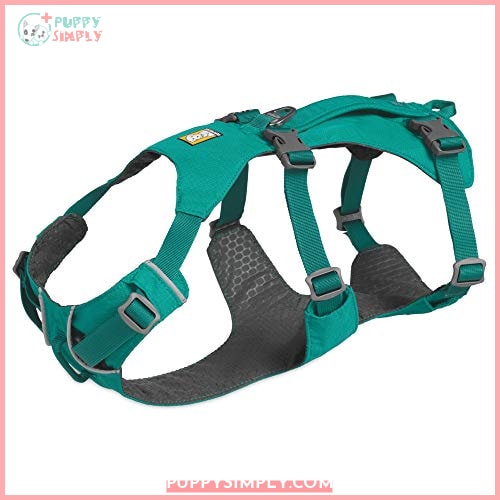 View On Amazon
Your Dachshund will feel secure, supported, and comfortable adventuring in the thoughtfully designed Ruffwear Flagline lift-assist harness.
The durable nylon construction evenly distributes pressure across your dog's chest and belly without chafing. Six adjustable straps allow you to customize the fit for full range of motion. The streamlined handle enables safe guiding up stairs and over obstacles.
This harness shines for dogs with mobility issues that need assistance.
Provides comfort and support for dogs with mobility issues
Allows customized and secure fit
Durable construction and quality materials
Reflective accents for visibility
More expensive than standard harnesses
Some concerns over stitched attachment points
Hug-a-Dog Mesh Vest
Despite its different fit, the Hug-a-Dog mesh vest harness merits consideration for providing breathable comfort during your dachshund's warm weather adventures. The flexible structure and strap adjustability ensure a customized fit for smaller dogs prone to slipping out of loose harnesses.
The fabric's breathability keeps your pup cool while the step-in design and quick-release buckle make it easy to put on and remove. Like the Gooby Comfort X, it's an excellent lightweight option for slip-prone dachshunds.
Chais Choice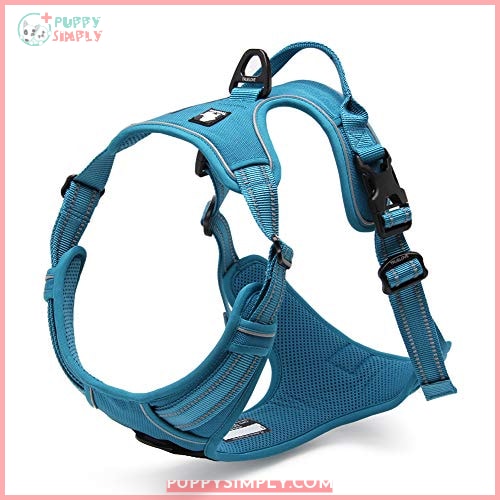 View On Amazon
With this comfortable yet sturdy harness, your adventure buddy can keep up on hikes without putting undue strain on their little frame. The Chai's Choice harness distributes pressure across the chest and belly to support your Dachshund's long back while padding prevents chafing.
The durable Oxford material withstands energetic play as the adjustable straps and quick-release buckle provide a secure, customized fit.
Two leash rings give you options to attach at the back or chest to easily control pulling. Your short-legged pal stays visible at night thanks to reflective accents, while the reinforced handle assists with lifting.
For active Dachshunds, this thoughtfully designed harness enables outdoor adventures without compromising comfort or mobility.
Durable construction and padding provide security and comfort
Fully adjustable for a custom fit
Reflective accents and handle for visibility and control
Runs large, confirm sizing with company
Zinc alloy rings may be less durable than brass
Layering with clothes reduces adjustability
Voyager Step-In
You'll breathe easier seeing your pup safely secured in this lightweight, breathable pink mesh vest on sunny walks.
Soft mesh gently hugs your dog's body.
Quick-connect buckles make getting ready a cinch.
Reflective bands add visibility for safety.
A matching leash included keeps your buddy close.
Ruffwear Web Master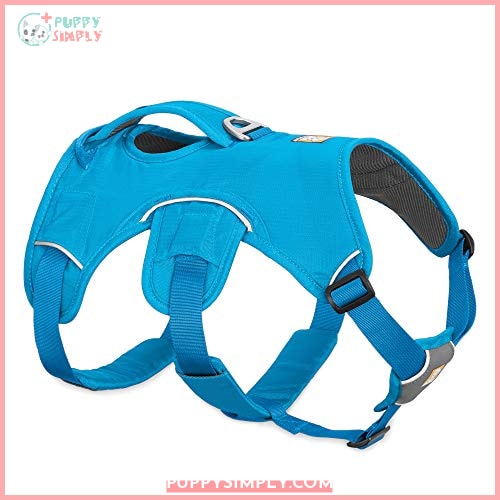 View On Amazon
Hang on tight as your anxious dachshund calms in the Web Master's hugging fit. This lightweight Ruffwear harness provides the right amount of gentle pressure and support for barrel-chested breeds prone to stress and anxiety.
Five points of adjustment allow you to customize the fit for your pup's unique body while preventing escape artists from slipping free.
Padded straps disperse pressure across the chest rather than the delicate neck and spine. The reinforced handle assists you in safely lifting your low-riding hound over obstacles, providing security when navigating steps or trails.
Your adventurous pup stays safe while exploring the great outdoors.
Lightweight and durable construction
Customizable fit prevents escape
Padded for comfort and gentle pressure
Reinforced handle for assisting dogs
Could benefit from front chest ring
Sizing runs small
Using a Harness Safely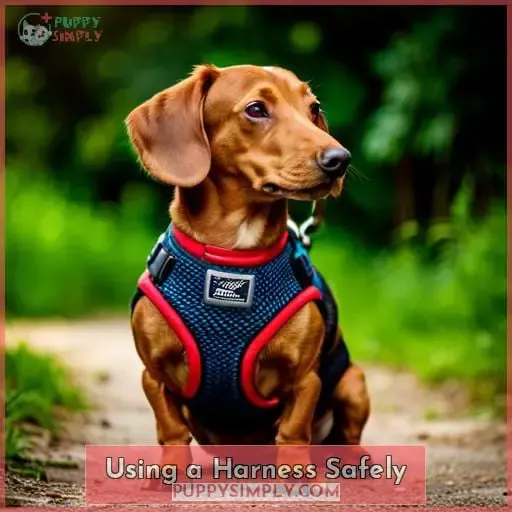 While wearing a dog harness for walking and outdoor activities can be very beneficial, it's important to remember to use it safely and properly. First, address any specific physical needs by adjusting and fitting the harness correctly, so it doesn't irritate your dachshund's sensitive back and chest.
Additionally, use the harness as a training aid and pay attention to signs of fatigue in young puppies to avoid overexerting them during exercise.
Training Aid
Step slowly, friend. The safer path awaits with patience's gentle lead.
When fitting your companion's harness, mind their unique shape. Short legs paired with a long back require special care. Seek wide, padded chest panels to avoid pinching. Adjust loose at first, then snug up.
Check that the neck and ribs stay free as your friend steps and twists. Their comfort guides your hands to find the right gentle snugness.
Exercise Duration
Gaze at your dachshund proudly as he trots along the trail, knowing his little body is getting just the right amount of exercise. Adjust duration and intensity based on age and health to strengthen muscles and joints.
Challenge your buddy within reason to maintain an active lifestyle without injury. Consult your vet for advice on orthopedic bedding, joint supplements, anti-anxiety medication, and whistle training if needed.
Reward your hiking pal with praise, quality gear like Chai's Choice durable buckles and D-rings, and the joy of the journey.
Lifting Short Dogs
You're paying attention to her comfort when lifting her up those stairs, using that well-fitted harness to avoid pinching her fragile back. Support her rear as you lift, keeping her spine aligned. Let her find her footing before proceeding.
Check for signs of pain or fatigue. Reward her progress and rest often. With the right harness and care, she can overcome mobility challenges, stay active, and adventure on.
Frequently Asked Questions (FAQs)
How tight should a dachshund harness be? What's the rule of thumb for an ideal fit?
You'll want the harness snug but not constricting. Leave room for two fingers between the straps and the dog's body. Adjust until it doesn't slide or rub but allows full range of motion. The right fit ensures proper support without limiting movement.
My dachshund keeps slipping out of his step-in harness. Any tips to keep it securely on during walks?
Check that the harness straps are snug but not too tight. Adjust the neck and chest straps for a customized fit. Use the sliding adjusters to eliminate any slack. You may need to size down if he is between sizes.
Try a different style like a step-in vest or no-pull option that won't slide off during walks.
Is a harness safe to keep on my dachshund all day or just for walks?
You should only keep the harness on your dachshund during walks. Dachshunds' sensitive spines need breaks from any pressure.
What's the best way to introduce my new rescue dachshund to wearing a harness for the first time?
Allow them to sniff and explore the harness at first. Slip it over their head when they are distracted with a toy, then provide treats and praise. Tighten the harness to fit, but keep the initial sessions brief. Stay positive throughout the process.
Slowly increase the amount of time spent wearing the harness, ensuring it fits properly. Proper fit will help the dog feel secure. Introduce the harness gradually with patience. The dog will adjust with time. Using treats and calm praise will aid the adjustment period.
Are front or back clip harnesses better for dachshunds that pull? What are the pros and cons of each?
For dachshunds that pull, back-clip harnesses give you more control but can increase pressure on the chest and neck. Front-clip harnesses redirect a dog's forward momentum for less pulling, but some dogs can still wiggle out.
Choose based on your dog's build, temperament, and training needs. Consider both options to determine what works best for your individual pup.
Conclusion
Whether you have an energetic puppy or an elderly dog, you've now seen important factors to consider when choosing a harness for your doxie. Their unique backs and necks require the thoughtful selection of a harness for dachshunds with proper padding, adjustable fit, and durable materials.
By using the techniques and products recommended, you'll be on the way to safe, controlled walks where your dachshund buddy can focus on the adventure of each outing rather than pulling on their leash.