This site is supported by our readers. We may earn a commission, at no cost to you, if you purchase through links.
Confining your dog in your yard with a wireless fence or a leash is the usual way for them within our sight. But what happens if they run off, or God forbid they get stolen?
Finding the best dog GPS tracker or collar can give you peace of mind in all of these situations, no matter where you (or your dog) are.
These GPS devices will reveal your dog's location to you, allowing you to locate them if they become dislodged quickly. Many also offer other unique features, such as insight into your dog's activity levels or sleep patterns.
Not all trackers are built the same, and there are many options on the market. Some rely on mobile services to locate your dog, while others use GPS, radio frequency (RF) technology, or even Bluetooth.
Having a GPS microchip for dogs won't solve the problem of losing your pup, but having a reliable and accurate pet tracker will help you find it.
IIn this guide, we'll help you decide which one is best for your specific situation. After all, this is a purchase you don't want to go wrong.
What is a Dog Tracker, and How Does It Work?
A dog GPS tracker is a device with technology that can identify the pet owner's contact information if the pet gets lost. There are three different types of pet tracking technology available. These GPS devices help reunite lost pets with their concerned owners if the animal is found.
Before choosing a pet tracker, consider the cost of the device and any maintenance, how large and cumbersome the GPS tracker would be, the area where the pet lives, and the ease with which you can get and use the device.
It is important to note that microchip implants do not contain real-time GPS tracking technology. However, some GPS pet tracking devices offer this GPS technology on a limited basis, with pros and cons to consider.
How to Choose the Best Dog Gps Tracker
The best trackers and collars for dogs can be hard to find if you don't know which one to look for. Here's your guide to picking out the best dog tracker to make sure what you're getting is top-notch.
Check the size of your dog.
Not all pet GPS trackers can be used on all dogs, and some GPS collars may be too small for your dog and others too big, so you should check the size specifications of the collar, so you don't get the wrong one.
Battery life
You should find that the dog GPS tracker you're looking at has enough battery life for your needs. Every pet owner is different. If you live in the city and only occasionally take your dog for short walks, you don't have to give much priority to battery life. On the other hand, if you often go into the country with your puppy, you need a GPS that continues all day long.
Real-Time Location Tracking
Tracking down a missing pet is never easy, especially if you have the right tools to guide you. GPS dog trackers with real-time location trackers allow you to track your dog live. Some can even show you their activity. That way, you are aware of everything your dog is doing. The #2 on the list, the Whistle Explore Waterproof dog tracker, has real-time tracking and monitors your dog's activity, distance and behavior.
Waterproof trackers
Do you live in a place where it rains a lot? What about taking your dog for walks along the beach? Does he tend to jump into the ocean? If your dog comes into contact with water, make sure any GPS tracker you look at is sufficiently waterproof for your requirements.
The Cost
This may be the most obvious thing to do, but you also need to think about your budget, your needs, and how many options give you the best balance for the dog tracker of your dreams.
You don't want to spend that much, but you need a good GPS dog collar. Therefore, your choice is adjusted to how much money you have and which one is a good balance better covers your needs.
10 Best Dog Gps Trackers & Collars of 2023
Each type of dog GPS tracker has pros and cons, and we've included examples of a few different styles in our list. Which one is best for you depends mainly on where you live, how good cell service is in your area, and how far you want to track your pet.
1. Whistle Go Explore Gps Tracker
View On Amazon
This classic model from Whistle GO Explore leads our quest for the best GPS trackers for dogs. Choose from 6 bright colorways and three different models. So what makes Explore so special?
You use the power of Google Maps and the vast AT&T network to keep an eye on your dog in real-time.
However, it's not just tracking you get with this handy tool. You can also track a range of health stats, from licking and scratching to how well your furball is sleeping. This is captured in monthly reports to keep your pup looking his best.
The activity tracking section of this GPS allows you to personalize fitness and health goals for your furry friend.
Also, if you act fast and sign up for a monthly subscription, you benefit from a bundled tele-veterinarian service, giving you even more bang for your buck.

Real-time location tracking means you never lose your pet
Health monitoring and health reports
Activity tracking comes in handy when your pet needs more exercise
You must commit to a 1-year contract
2. Tractive Lte Gps Dog Tracker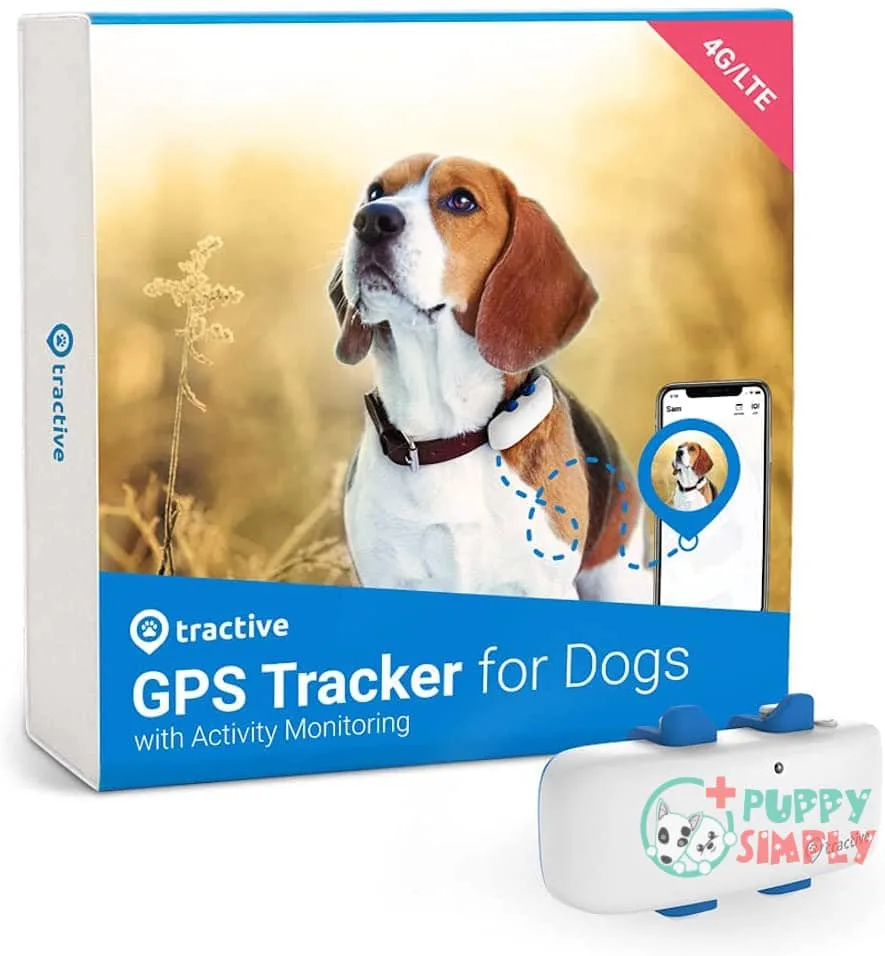 View On Amazon
Designed for pets nine pounds and over, this Tractive GPS collar device provides tracking in over 150 countries with iOS and Android apps (or any web browser). It's also lightweight and completely waterproof for dogs that like to swim or splash in the mud on their wanderings.
It uses AT&T, Verizon, and T-Mobile networks to track your pet — and not just where they've been but also since the dog tracker launched (something Rover testers appreciated). Relatively low latency times for effective real-time tracking, especially in urban environments.

100% waterproof
No range limitation works in more than 150 countries with a variety of mobile networks
With a battery life of two to five days
Monthly subscription fees are required in addition to the cost of the tracker
Areas with poor mobile service may be of limited use
3. Pet Resolve Dog Training Bundle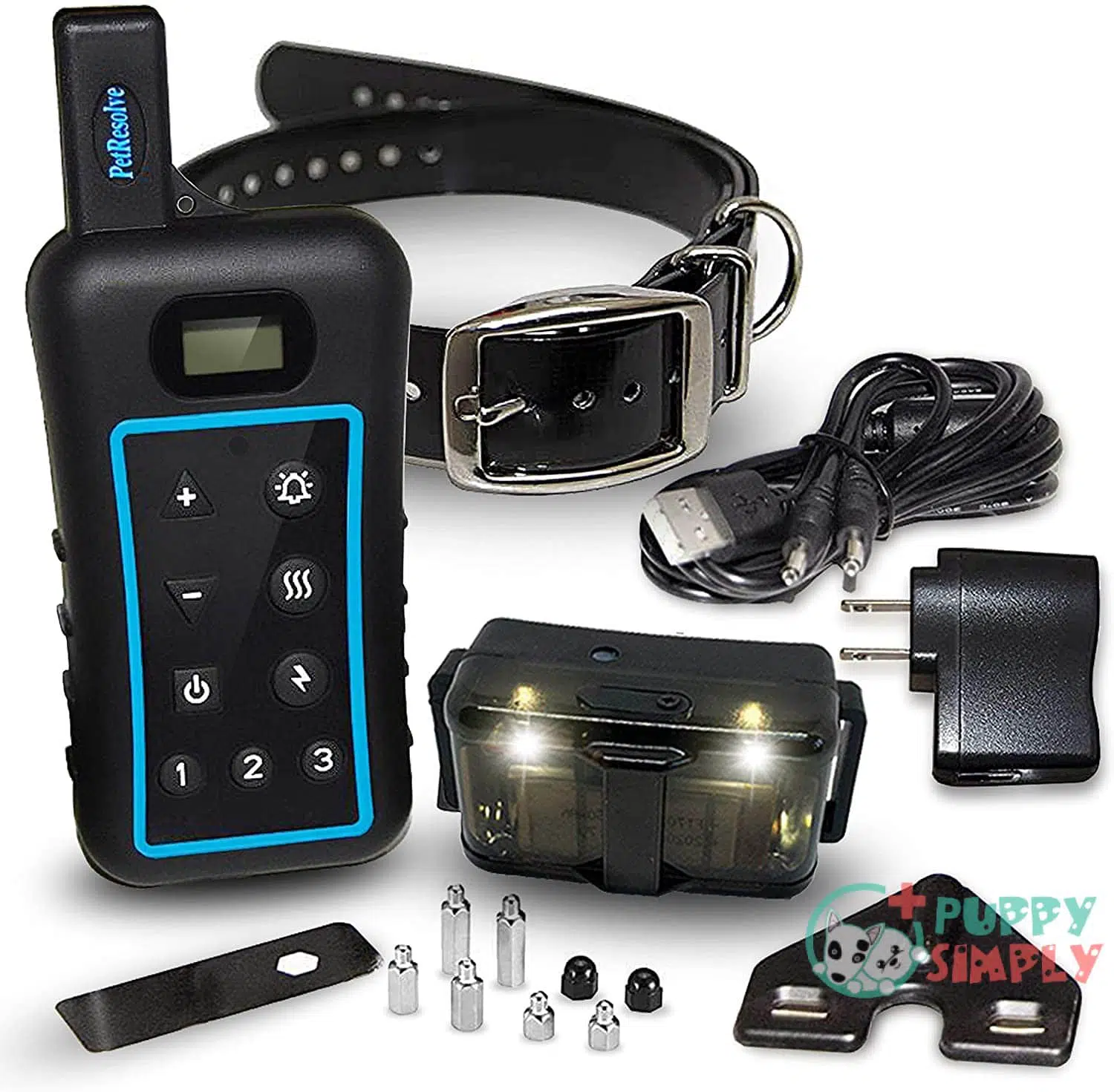 View On Amazon
This GPS dog collar is more of a training collar than a GPS tracker. However, the range of this device is impressive, up to miles! This covers a large area and is perfect for training your pup to say within the lines. It comes with three training collars with continuous or periodic shocks, vibrations, or sounds that teach your dog where the boundary ends.
You know immediately when your dog crosses the leash, and you can press the button to correct your dog. This GPS dog collar won't let you down in rainy or snowy weather due to the durable standards that Pet Resolve has set for each product.

Long-distance tracking with a range of up to 3/4 mile
With anti-bark and light night mode
Adjustable shock, noise, and vibration levels
100% waterproof and swim-ready dog collar
Can train multiple dogs
2-year warranty
Limited range
Short battery life
4. Tracki 2022 Pet Gps
View On AmazonWhether you want to keep an eye on a pet, a child, or an elderly loved one, why not consider the Tracki 2020? This is our best budget pick for dog GPS trackers and is well within most people's budgets. So what do you get for your money?
Using this thing is a cinch, even if you're not the most significant tech fan. The mobile app is fast, responsive, and easy to navigate.
The dog GPS tracker is small and lightweight, weighing just 1.4oz and measuring 1.8 x 1.6 x 0.7 inches. Clip the dog tracker to your dog's collar, and you'll never lose it again.
You have to commit to a contract, but the cost is much lower than many competitors.
A limited lifetime warranty would cover you if all this weren't enough. You really can't ask for much more, especially at this price.
If you're being pushed to find flaws in this GPS, we point to reports from a few disgruntled users who suggest long-range tracking is deficient. Think carefully about your intended use and whether or not it would be
Ultra-light and compact tracker
Sleek, intuitive app
Lifetime warranty for complete peace of mind
Not ideal for long-distance tracking
5. Petfon 2 Gps Pet Tracker
View On Amazon
For accurate real-time tracking, check out Petfon's latest model, the Petfon 2. With a 15% greater tracking distance and 10 seconds faster initial positioning time, the device is a serious upgrade from its previous version.
Petfon allows users to view their pet's activities and determine their location with an easy-to-use app. You can also record voice commands to communicate with your dog remotely. The tracking range is 0.65 miles in dense urban areas and 3.5 miles in open spaces.
No monthly service charges
Self-activated colorful lights make it easier to spot your dog at night
The unique Rada search function shows you the direction your lost dog is moving
Lightweight and durable
Custom geofence allows you to set and alert a safe zone for your dog if he decides to go rogue,
Not for swimming: Although the device is rainproof, it cannot withstand full submersion
6. Bartun Lte Gps Collar
View On Amazon
Don't be afraid of a passing stray or surprise dive with the Barton LTE GPS Collar. Many trackers are water-resistant or waterproof, but this one is specially designed with IPX7 waterproofing.
Provides real-time location information with unlimited reach
Global coverage in more than 150 countries
It can be used with the supplied collar or on your pet's collar
SIM card required for use (not included)
Built-in lights and jingle options to help spot your dog when he's running
Good battery life
Comfortable, non-bulky design
False warnings were frustrating for some pup parents
Customer support failed to get high marks across the board
7. Garmin Astro 900 Dog Tracking Bundle
View On Amazon
A little different from Garmin's other devices, the Garmin Aastro 900 dog tracker is approved for the US and Southern Canada. It preloads the TOPO map on the handheld device. It includes a free year of Birdseye satellite imagery for better tracking! The GPS is extra sensitive, and thanks to the GLONASS satellite reception, tracking is more accurate in more challenging environments.
Like the previous option, the device also analyzes your dog's speed, distance, and time for reference and assessment. This dog GPS tracker will update you every 2.5 seconds for faster location tracking, even when your dog travels faster.

Preloaded TOPO maps for USA and Southern Canada
1 year free Birdseye satellite images
Highly sensitive GPS and GLONASS satellite reception
Up to 5 miles (8 km) tracking range
With hunting stats that measure your dog's speed, distance and time traveled, JB
JB
. Fast 5 seconds update speed
Expensive
Battery life of only 40 hours
8. Dogtra Pathfinder Gps Tracking Collar
View On Amazon
Dogtra's Pathfinder is one of the more expensive GPS dog collars, but is it worth the hefty price tag? For example, if you have multiple dogs in your home, the expandable nature of this GPS dog collar allows you to keep an eye on up to 21 dogs. This feature alone provides significant savings, increasing value for multi-pet households.
The batteries can be charged quickly in approximately 3 hours. You then get rock-solid performance from the lithium polymer batteries.
The range is impressive at 9 miles and should cover the most likely needs.
Select from 100 different levels of stimulation on this GPS dog collar, depending on the temperament of your furball.
The GPS dog collar is completely waterproof, so ideal if you often take Fido for walks in the rain or when walking along the ocean.
Perfect for dogs weighing 35 pounds and over, this is one of the best GPS trackers for dogs out there for medium-sized breeds. It's not cheap, but you'll enjoy enviable flexibility, excellent coverage, and complete accuracy with tracking: what's not to love?

For dogs weighing 35 pounds
9-mile range
Zer visible unit
9. Link Akc Smart Dog Collar
View On Amazon
The LINK AKC smart dog collar includes a fully functional, internal GPS tracking device and comes in your choice of leather or nylon. While not completely waterproof, the manufacturer claims the device is water-resistant to a depth of 3 meters.
Provides alerts when your dog leaves the safe zone
Provides customized recommendations for activity levels tailored to your specific dog
The LINK AKC Smart Collar won the 2017 CES award for best innovation
It comes with free access to the Pet Poison Hotline
Includes a risk-free 30-day money-back guarantee – if you're not happy with it, return the device for your money back.
LINK requires a connectivity service plan – plans can be this low as $6.95 per month (prices vary).
The whole collar weighs only 4.8 ounces, including the GPS device.
Most owners report that the gate is well made and sturdy.
The metal construction is ideal for chewers.
The extension bars are a success, allowing you to increase and decrease the dimensions as needed.
Some owners found the building instructions challenging to follow.
The pressure-mounted setup doesn't stand up to determined dogs.
10. Spy Tec Sti Gl300 Mini Portable Dog Gps Tracker
View On Amazon
This Spy Tec STI GL300 dog GPS tracker helps track vehicles, children, pets, and the elderly. Its handy and compact size makes it easy to carry. Take it anywhere by attaching it to your vehicle, belt, or backpack. It takes no extra effort to keep this device on your body, and it is only five inches long.
However, it comes with a monthly fee, but without a contract that binds you. Follow your loved one across the web with Google Maps and get a text or email notification when they leave the geo-fenced area.

Lightweight and portable
99.99% uptime and a processing time of .256 milliseconds
Receive location alerts via SMS or email
Track anything or everyone in all situations
Long battery life that lasts up to 2 weeks
With Lifetime Warranty
Requires a monthly subscription fee of $19.95/month per year or $24.95/month, month-to-month
Online registration sometimes doesn't work
The 3 Types of Pet Tracking Technologies
Dog GPS trackers aren't the only show in town; there are several other technologies available to keep track of your pup, and it makes sense to look at all the options available.
There are three different types of tracking collars that are widely used:
Radio Collars
Radiofrequency (RF), a cellular data transmission technology, is a technology that has a more comprehensive signal range. At the same time, Bluetooth tracker, a radiofrequency (RF), is an open wireless technology for transmitting location data only over short distances.
These are older dog tracking systems that may not be as effective as the newer ones. These radio dog tracking systems can only provide information about your dog's distance and direction, not their real-time position. Another drawback is that the weather can weaken the locating function of the radio dog tracking collars.
The benefits are that they can locate your dogs up to 5 miles, are great for remote areas, and can even operate without access to GPS satellites or mobile sites.
Long & Short Range
These pet trackers, which rely on RFID or Bluetooth trackers, send signals from your dog's collar to a tracking device or smartphone app. Short/long-range trackers are perfect for dog owners in extensive indoor facilities or smaller dogs who cannot comfortably carry larger and heavier dogs or GPS trackers. One of the drawbacks is that these can only send distance and direction information from your dog. This means that, for example, these types of devices can only tell you that your dog is 80 yards east of your location.
Gps Dog Collars
GPS Tracking Collars are a newer solution in the dog tracking industry, and they rely on the network of global positioning satellites to locate and track your dog.
Many such units also use mobile cell phone networks to supplement their coverage capabilities.
GPS dog collars are effective anywhere they can contact three separate satellites.
The range is rarely an issue with GPS collars – you can track your lost pet anywhere.
Battery life is usually the biggest challenge for these types of collars.
Ideal for average pet owners who do not live in the Canadian tundra and do not intend to use the dog tracker often.
If you think a GPS tracking collar is the best solution for your needs, consider one of the five models above.
What is a Gps Microchip for Dogs?
Microchip implants are popular with pets of all shapes and sizes. These devices contain contact information for the pet's owners, should they become separated from their owner one day.
This pet tracking device is small, about the size of a grain of rice, and is inserted by a veterinarian just under the pet's skin, where there are looser folds of skin on the body. The pet owner must enter their contact information on a website or a pet GPS device listing.
If the pet owner has kept their contact details up to date through one or more data sites, they will be contacted to set up a reunion with their precious pet. There are several pet microchips. GPS microchips for cats are also available as these implants are tiny.
Conclusion
Buying a dog GPS collar or tracker for your dog is an essential decision as it can mean the difference between life and death if your pup gets lost.
Hopefully, the above reviews have made it easier to decide which one is best for your dog, as you don't want to find out you bought the wrong one at the worst possible time.
References
barkva.org
rover.com
k9ofmine.com
dognerdz.com
hepper.com