This site is supported by our readers. We may earn a commission, at no cost to you, if you purchase through links.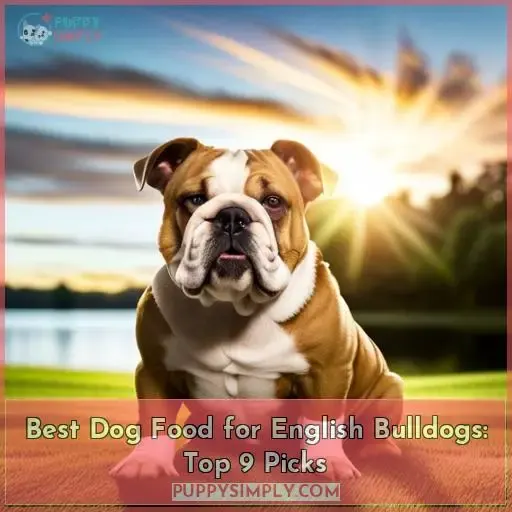 Are you looking for the best dog food to keep your English Bulldog healthy and strong? With so many options out there, it can be hard to choose the right one. Fortunately, we've done all the research for you! Here are our top nine picks of nutritious and delicious canine meals that will make sure your pup is getting all their vital nutrients.
Key Takeaways
Fromm Family Classics and Royal Canin Bulldog Adult are top options for English Bulldogs.
High protein and grain-free options are important for Bulldogs' muscle and digestive health.
Lean meats, omega-3 fatty acids, and balanced nutrition are essential for Bulldogs' overall well-being.
Transition to new food gradually to avoid digestive issues.
9 Best Dog Foods for English Bulldogs
When looking for the best food to feed your English Bulldog, you may want to consider Fromm Family Classics Dog Food, Royal Canin Bulldog Adult, Taste of the Wild High Prairie Dog Food, Merrick Senior Chicken Sweet Potato Dog Food, Blue Buffalo Wilderness Rocky Mountain Adult Dry Dog Food Red Meat, and Purina Pro Plan Dog Foods Probiotics Chicken Rice.
Additionally, Hills Science Diet Puppy Chicken Barley and Wellness Simple Lamb Oatmeal offer great options for puppies, while Earthborn Holistic Puppy Vantage is ideal for those with sensitive stomachs.
With these choices available, it's easy to find a nutritious meal that will provide all of the necessary nutrition your pup needs.
1. Fromm Family Classics Dog Food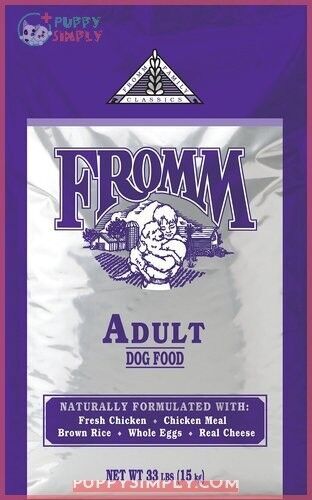 View On Chewy
You can trust the Fromm Family Classics Dog Food to provide your pup with high-quality, digestible nutrients for their active lifestyle.
Formulated for normally active adult dogs of all breeds in the USA-made facility owned by the Fromm family, this food is suitable even for picky eaters or those looking to increase energy levels.
Customers report generally positive experiences from feeding it, and many find that the transition from other foods varies in results.
Made in a US-based family-owned facility
High-quality ingredients like chicken, brown rice, & real cheese
Suitable for all breeds, including picky eaters
Can lead to increased energy levels
Transitioning may cause changes in bowel movements
Expensive compared to some brands
2. Royal Canin Bulldog Adult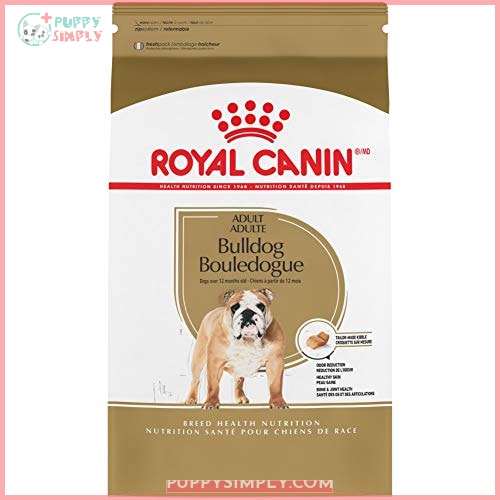 View On Amazon
Discover how Royal Canin's Bulldog Adult formula helps keep your pup feeling their best with its specialized kibble shape and essential nutrients. Specially designed for purebred Bulldogs aged 12 months and older, the high-quality ingredients provide support for skin and coat health, joint and bone health, as well as reduce gas and stool odor.
The unique shape of the kibble is easy to pick up while still providing complete nutrition in every bite. It also encourages chewing, which can help prevent dental problems down the line.
For those looking to give their furry friend a delicious meal full of healthy goodness without compromising on taste or quality, Royal Canin provides an excellent option that will please even the pickiest eaters! With added vitamins & minerals from fruits & superfoods plus omega fatty acids for healthy skin & coat growth – this food has it all covered! Plus, customers have generally positive reviews about this product regarding taste, size, and digestion.
Specialized kibble shape supports easier picking up
High-quality ingredients support bone/joint health
Reduces gas/stool odors
Contains necessary vitamins/minerals
Encourages chewing, which prevents dental issues
Expensive compared to other dog foods
Not suitable for dogs with allergies or grain-free diets
3. Taste Wild High Prairie Dog Food
View On Amazon
Taste of the Wild High Prairie Dog Food is a nutritious feast for English Bulldogs, like a gourmet meal in kibble form. Real meat from roasted bison and venison provides 32% protein to support strong bones, joints, and lean muscles.
Omega fatty acids keep skin nourished, while proprietary probiotics encourage digestive health and immune system support. Vitamins and minerals are delivered from carefully sourced fruits and superfoods to complete this grain-free formula suitable for adult dogs of all breeds.
The recipe has won over many customers with its high-quality ingredients that their pets enjoy eating every day! Reports vary on picky eaters, but overall feedback has been positive regarding taste, energy levels, coat quality improvements, as well as eye discoloration reduction – even reducing bad breath odor than some prior brands!
The only downside may be needing large bag sizes often due to high consumption or changes in smell preference over time; however, it is still an excellent choice for those dealing with grain allergies or sensitivities too!
Real meat #1 ingredient source (bison/venison)
32% protein content supports muscle growth & joint care
Omega fatty acids promote healthy skin & coats
Proprietary probiotics aid digestion & immunity
Added vitamins/minerals derived from natural sources – Grain-free formula suitable for adult dogs w/allergies
– Some reports of picky eaters
– Potential need larger bags due to higher consumption
– Possible switch up preferences over time
4. Merrick Senior Chicken Sweet Potato Dog Food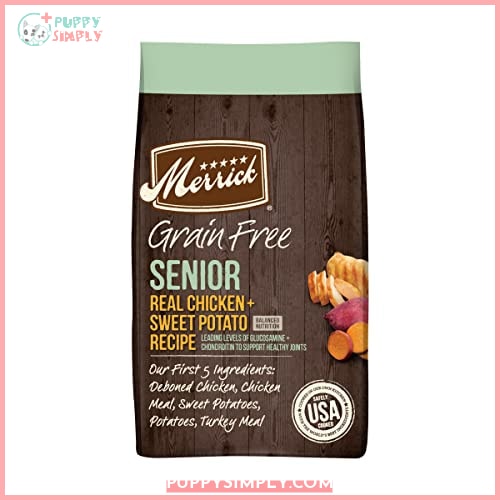 View On Amazon
Experience the special blend of real deboned chicken and sweet potato in Merrick Senior Chicken Sweet Potato Dog Food, sure to nourish your beloved Bulldog's health for years to come. This grain-free formula includes fewer calories and fat specifically formulated for aging dogs.
With 77% of protein from animal sources, L-carnitine helps support metabolism while omega fatty acids maintain healthy skin and coat. Glucosamine and chondroitin promote joint health with added vitamins minerals sourced from trusted farmers in the USA.
Highly rated as a high quality dog food suitable for senior Bulldogs, this variety can be mixed with wet food or used as a base when supplementing picky eaters' diets.
High quality ingredients
Grain-free formula with fewer calories & fat
Contains 77% protein from animal sources
Rich in Omega Fatty Acids & Vitamins/Minerals
Can be mixed w/ wet food or supplemented
Made by a reliable company
Some users say it is too dry
Doesn't have large meat chunks
Expensive compared to other formulas
5. Blue Buffalo Wilderness Rocky Mountain Adult Dry Dog Food Red Meat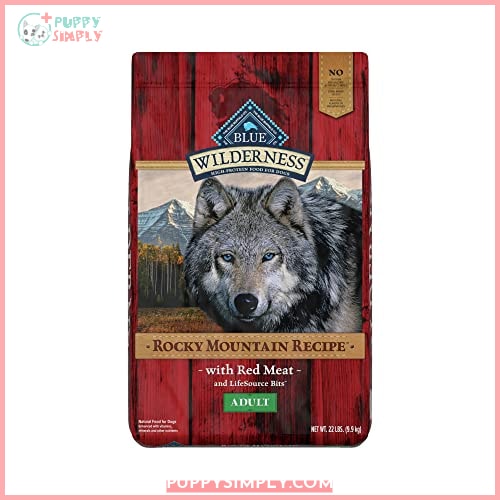 View On Amazon
Indulge your English Bulldog with Blue Buffalo Wilderness Rocky Mountain Adult Dry Dog Food Red Meat, a delicious and nutritious meal that will have them begging for more. This gluten-free formula is designed to help maintain lean muscle mass with a blend of red meat, healthy carbohydrates like sweet potatoes and peas, plus omega 3 & 6 fatty acids.
The crunchy kibble also contains LifeSource Bits packed full of antioxidants to support the immune system.
Made in the USA from natural ingredients without any chicken by-products or artificial flavors or preservatives – it's no wonder this 22 lb bag is customer approved!
Contains real meat as the number one ingredient
Omega 3 & 6 fatty acids for skin and coat health
Antioxidant-rich LifeSource Bits for immune system support
Crunchy kibble made with natural ingredients
Mixed reviews about dogs liking the food
Higher cost compared to other brands
Inconsistency issue noted by customers
6. Purina Pro Plan Dog Food Probiotics Chicken Rice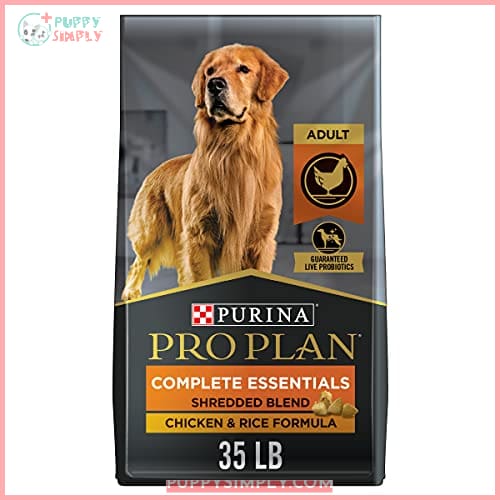 View On Amazon
Try Purina Pro Plan Dog Food Probiotics Chicken Rice, a delicious adult dog food made with real chicken as the main ingredient and guaranteed live probiotics to support digestive and immune health. The kibble is crunchy yet easy to chew, coming in various sizes for your English Bulldog's comfort.
Many customers have praised this product for its stomach-friendly nature, effectiveness, and taste – not surprising since it's also veterinarian-recommended for maintaining a healthy weight! And if you're an Amazon Prime member, don't forget that this food is eligible for their subscribe & save program too!
Made with real chicken as the main ingredient
Contains guaranteed live probiotics to help support digestive & immune health
Crunchy kibble comes in various sizes
Can be expensive compared to other brands
Some customer feedback suggests recent batches may be of lower quality than before
7. Hills Science Diet Puppy Chicken Barley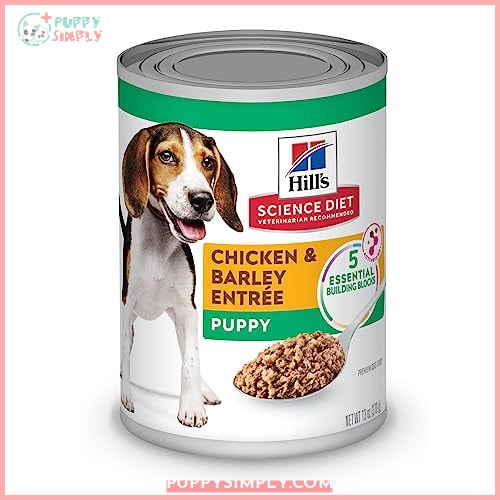 View On Amazon
Give your pup the best start to life with Hill's Science Diet Puppy Chicken Barley! This high-quality puppy food is specially formulated for developing dogs, containing easily digestible ingredients that help support lean muscle development and lifelong health.
It contains antioxidants to promote strong bones and teeth, plus natural ingredients sourced from around the globe.
Plus, it's made in the USA, so you can be sure of its quality. The only downside is that it comes in just one flavor for puppies; however, this hasn't stopped picky eaters like Maltese dogs from loving it regardless! Some customers have found their cans dented upon arrival, but note that this doesn't affect the food itself – just make sure you store it correctly before use if possible.
Although some may find its price tag a bit steep compared to other products on offer, those who've tried Hill's Science Diet swear by its results – guaranteed!
High-quality protein for lean muscle development
Easily digestible ingredients
Contains antioxidants for lifelong health
Only available in one flavor (for puppies)
May be pricey compared to other options
Cans sometimes arrive dented
8. Wellness Simple Lamb Oatmeal Dog Food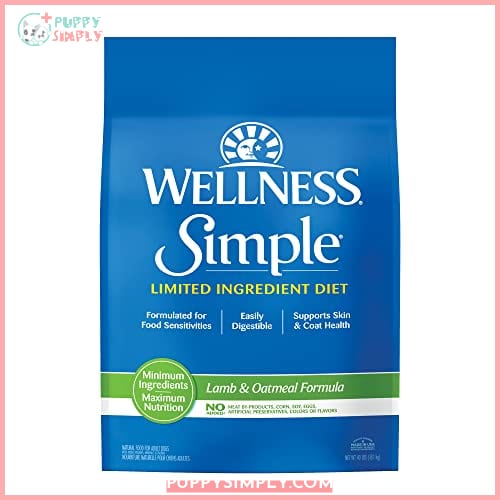 View On Amazon
Consider Wellness Simple Lamb Oatmeal Dog Food, a limited-ingredient adult formula featuring single-source protein from lamb and easily digestible carbohydrates from oatmeal. This dog food is suitable for dogs with food sensitivities or allergies as it has no added wheat, soy, corn, poultry by-products, or artificial colors/preservatives.
It provides natural prebiotics to help support digestive health and contains omega fatty acids for healthy skin & coat, plus taurine to promote heart health.
This product has been met with generally positive reviews from customers who appreciate its suitability for their pets' sensitive stomachs, as well as those looking for weight management solutions. Many have reported improved well-being in their furry friends after switching to this brand of dog food.
Suitable for dogs with food sensitivities or allergies
Supports digestive health
Contains omega fatty acids for skin & coat
Provides natural prebiotics to support digestive system
Manufactured in USA, so you can be assured of its quality ingredients
Only larger kibbles available, which may not suit all breeds
9. Earthborn Holistic Puppy Vantage Dog Food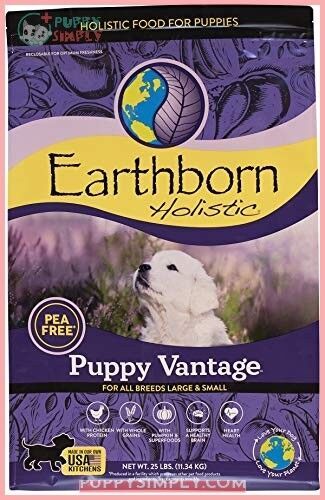 View On Amazon
Earthborn Holistic Puppy Vantage is a nutritious, all-natural formula packed with essential nutrients to help your pup grow and thrive. This food contains added Taurine and Methionine for heart health support, plus it's free from peas, lentils, legumes, or white potato.
With a convenient velcro closure for freshness and a 25-pound capacity bag of kibble, this could be the perfect choice for your English Bulldog puppy. Customer reviews have been generally positive. Many dogs love the taste, while others report benefiting from improved well-being after being switched to this food as part of an overall diet plan.
On the downside, some Yorkies refused to eat it primarily due to its unique shape, which may not appeal to everyone's pooch! Additionally, there are concerns about chicken meal being used as one of the main ingredients in this product, so bear that in mind when deciding what type of dog food to feed your pet!
High-quality nutrition specifically designed for puppies
Enriched with taurine & methionine to promote healthy hearts
Free from artificial preservatives & flavors
Convenient velcro closure ensures maximum freshness
Shape may not be appealing enough for some picky eaters
Contains Chicken Meal, which might cause allergies
Considerations in Your Dog Food Search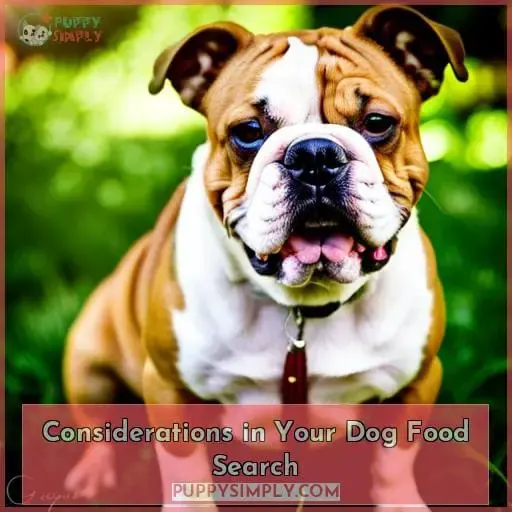 If you're searching for the best dog food for your English Bulldog, it's important to remember their high protein requirements. The right diet will help fuel them with vital nutrients while keeping their weight in check and ensuring overall health.
High protein requirements
When selecting the right food for your English Bulldog, it's important to ensure that it contains enough protein to meet their nutritional needs. Look for high-quality ingredients like lean meats and grains with added omega fatty acids for coat and skin health.
Consider supplementing meals with a premium dog food or adding in some protein sources such as fish oil or eggs.
Meal planning is key. Create a dietary balance of fresh foods, healthy oils, fruits/veggies, and dental care products tailored specifically towards bulldogs' unique needs.
Weight management considerations
If you're worried about your pup's waistline, check out Blue Buffalo Wilderness Rocky Mountain Adult Dry Dog Food Red Meat – it's the perfect mix of protein and fat for weight management!
For a bulldog diet to be balanced, portion control is essential. Set exercise routines that work for your pup and include daily walks or playtime in a fenced-in yard.
Obesity risks can lead to health problems; reducing their calorie intake by 10% is often enough to start seeing results without depriving them of essential nutrients.
Weight loss strategies should also include high-quality foods with lean proteins like chicken or fish, plus fruits and vegetables as treats instead of processed snacks! Nutritional balance will help keep energy up while maintaining muscle tone – important aspects for any breed, but especially Bulldogs!
Special dietary needs
Considering your English Bulldog's special dietary needs, it's important to select a food with quality ingredients that provide the right balance of nutrients. Look for high protein sources such as chicken and fish, healthy fats like omega-3 fatty acids for a glossy coat, grains like brown rice or oats for energy and fiber, and fresh fruits/veggies to promote digestion and provide the necessary vitamins and minerals.
Avoiding certain ingredients can help manage allergies, while dental care products may be required depending on individual cases. Proper nutrition helps keep weight in check, which is especially important due to their tendency towards obesity.
With so much variety available, make sure you choose wisely when selecting the best dog food for English Bulldogs!
Choosing the Best Dog Food for English Bulldogs: What to Look For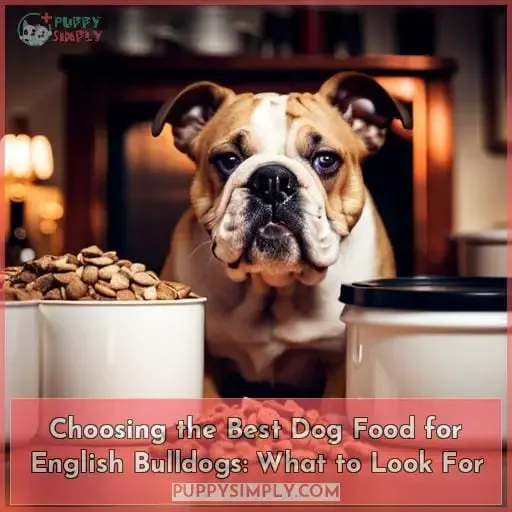 When searching for the best dog food for English Bulldogs, it is important to consider their high protein needs. Protein helps them maintain a healthy muscle mass and energy levels while supporting overall health.
Importance of high protein
High-protein diets are essential for English Bulldogs – after all, they were bred to be sturdy companions. Protein helps support strong muscles and weight management in these active dogs, while providing numerous skin benefits like a healthy coat and reducing common issues like allergies or rashes.
Bulldog specific needs can also be met with high-quality protein sources that include omega-3 fatty acids. The best dog food for English Bulldogs should contain ingredients such as real chicken, lamb, eggs, or fish proteins.
Puppies may require different nutrition than adult dogs when it comes to their diet of English Bulldog puppy food, so make sure you choose the right one!
Consideration for breed-specific diet
When choosing a diet for your English Bulldog, you should pay special attention to breed-specific formulas that can provide optimal nutrition tailored to their unique needs. Consider foods with high protein content and lower fat levels, as well as lean meats, grains, fruits/veggies, and healthy oils.
Look out for food sensitivities and allergies when picking the right one. For weight management, choose a formula designed specifically for Bulldogs. These formulas will have appropriate calorie amounts based on size and activity level.
Keep in mind dietary requirements specific to Bulldogs, such as dental care or supplements like omega fatty acids too!
Choosing grain-free options
Grain-free options are a great way to ensure your Bulldog gets the nutrition they need while avoiding potentially irritating ingredients. There are multiple benefits to grain-free dog food, including improved digestion, reduced risk of allergies and sensitivities, better nutrient absorption, and healthier skin and coat.
When choosing a grain-free option for your English Bulldog, it's important to consider ingredient analysis as well as health considerations like allergies or other sensitivities.
Grain-free options can help reduce Bulldog shedding significantly when chosen carefully with these factors in mind.
Conclusion
The English Bulldog is an affectionate and loyal companion, and the best dog food for them needs to match their unique requirements. Fromm Family Classics Dog Food, Royal Canin Bulldog Adult, Taste of the Wild High Prairie Dog Food, Merrick Senior Chicken Sweet Potato Dog Food, Blue Buffalo Wilderness Rocky Mountain Adult Dry Dog Food Red Meat, Purina Pro Plan Dog Food with Probiotics Chicken Rice, Hills Science Diet Puppy Chicken Barley, Wellness Simple Lamb Oatmeal Dog Food, and Earthborn Holistic Puppy Vantage Dog Food are all excellent options that provide the right balance of protein, fat, carbohydrates, vitamins, minerals, and other essential nutrients for a healthy, active life.
Finding the best food to keep your Bulldog happy and healthy is key, and the options above are sure to please your pup.