This site is supported by our readers. We may earn a commission, at no cost to you, if you purchase through links.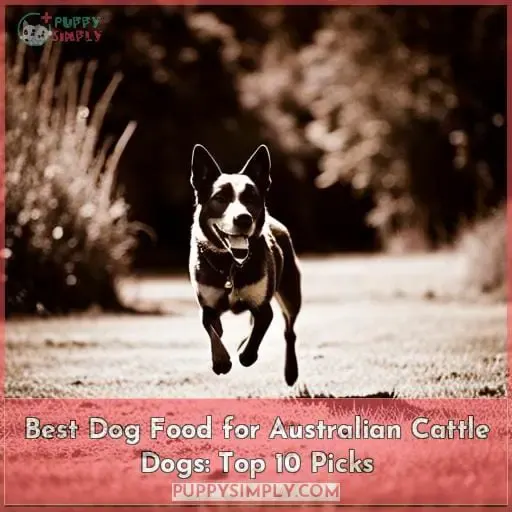 The Australian Cattle Dog is a strong, tough, and compact canine that's related to the dingo. These high-energy herding dogs are known for their intelligence as well as destructive behavior when they become bored.
To ensure your beloved blue heeler remains healthy, it's important to find the best dog food for them – so let's dive into our top 10 picks of dog foods suitable for an Australian Cattle Dog!
When selecting a diet for your pup, you'll need to look out for several key ingredients. Protein and fat should be balanced according to their needs while also taking allergies and sensitivities into consideration.
Key Takeaways
Australian Cattle Dogs require a high-energy diet due to their active nature.
Consider dietary sensitivities and allergies when choosing dog food for Australian Cattle Dogs.
Opt for dog food options that provide a balance of protein and fat.
Gradually transition to new dog food and monitor portion sizes for optimal digestion and health.
Top 10 Best Dog Foods for Australian Cattle Dogs
Are you looking for the best dog food to keep your Australian Cattle Dog healthy and happy? With so many options available, it can be difficult to decide which is right for your pup. Look no further! We've rounded up 10 of the top-rated dog foods specifically designed for this breed, such as Purina Pro Plan Dog Food Turkey Oats, Victor Classic HiPro Plus Formula Dry Dog Food, Gentle Giants Chicken Food, and more.
Each one provides essential vitamins and minerals while promoting a balanced diet tailored to their needs.
1. Purina Pro Plan Dog Food Turkey Oats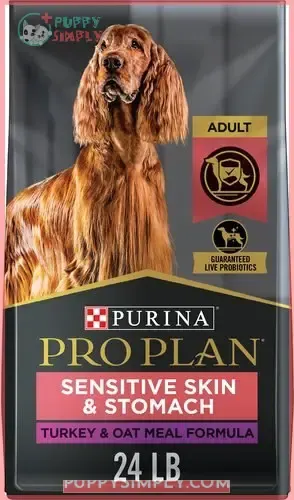 View On Chewy
For pups with sensitive stomachs, try Purina Pro Plan's Turkey Oats formula. It includes oatmeal for digestive health and omega-3 fatty acids for joint support. This special diet has also been enriched with sunflower oil to nourish skin and promote a shiny coat.
It contains live probiotics for digestion, prebiotic fiber to boost beneficial gut bacteria, as well as antioxidants that aid in immune system health.
The turkey is the primary ingredient, making this food suitable even if your pup has chicken allergies or sensitivities.
It's worth noting, though, that some customers have raised concerns over price increases by Purina recently too – which could be an issue depending on budget restrictions you may need to consider when selecting dog food products.
Additionally, one customer reported minor discoloration of skin after introducing this new food into her pup's meal plan.
Finally, another user mentioned his Aussie experienced flatulence after switching diets – but again, not enough feedback was given about whether any other negative side effects occurred long term from using the product either way.
Supports digestive health with firm stools
Nourishes skin and promotes a shiny coat
Liked by dogs even when other brands were disliked
No corn, wheat, soy, or artificial colors/flavors
Effective for sensitive stomachs, especially with chicken allergies
Convenient professional service offered to pet owners
Concerns over price increases by Purina
Minor case of skin discoloration reported
One dog experienced flatulence upon introduction
2. Victor Classic HiPro Dog Food
View On Chewy
Victor Classic HiPro Dog Food is 88% meat protein with premium-quality beef, chicken, and pork meals, making it a great choice for high-performance pups. It is fortified with vitamins, minerals, essential fatty acids, as well as protein and amino acids.
This food strengthens the immune system of your pet dog while providing sustained energy.
Gluten-free without corn, wheat, or soy, Victor Classic HiPro Dog Food is ideal for most breeds regardless of age or size.
High-quality ingredients sourced from the USA
Suitable for all life stages, including growing puppies and pregnant/lactating females
Complete and balanced nutrition fortified with vitamins and minerals
No grain, no corn, no wheat, no soy, gluten-free formula
Supports digestive health, skin health, joint function, etc.
Small bags were previously recalled
Packaging may be an issue when ordering large bags
3. Gentle Giants Dog Chicken Food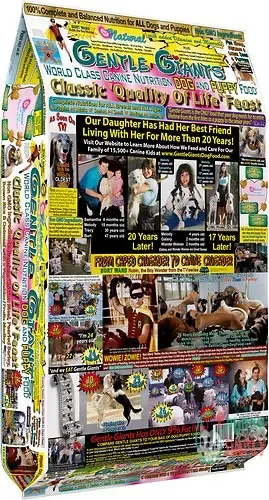 View On Chewy
Gentle Giants Dog Chicken Food is packed with non-GMO premium natural ingredients for nutritious, delicious meals your pup will love. It features farm-raised chicken, brown rice, and pearled barley as primary sources of protein and carbohydrates.
The recipe also includes New Zealand green mussels for joint support, along with chelated vitamins/minerals, omega fatty acids 3 & 6 to promote skin health, as well as prebiotics + probiotics that aid digestion and nutrient absorption.
Whether you're looking for a meal or simply something special to add into their regular diet, Gentle Giant's Dog Chicken Food has got you covered! Customers report improved energy levels in their dogs while noting how picky eaters even enjoy this food due to its delicious flavor profile, making it an ideal addition to any pet parent's pantry.
However, some customers have reported digestive issues such as vomiting and diarrhea after switching, so caution is advised when transitioning from one food source to another.
Non-GMO premium natural ingredients
12 whole fruits vegetables included
Contains NZ Green Mussel For Joint Support
Chelated Vitamins / Minerals Included
Omega Fatty Acids 3&6 Promote Skin Health
PrebioticProbotics Aid Digestion/Nutrient Absorption
Some Dogs Experienced Vomiting And Diarrhea
Kibble Size Too Small For Medium To Large Breeds
Not Suitable For All Dogs May Cause Digestive Issues
Mixed Opinions About Taste Preference Among Dogs
4. Merrick Classic Healthy Grains Dog Food
View On Chewy
Merrick's Classic Healthy Grains offers premium nutrition for active pooches, packed with protein-rich deboned beef and ancient grains like quinoa, oatmeal, and barley. It's fortified with essential vitamins and minerals for a balanced diet, as well as omega fatty acids to support healthy skin and coat while promoting joint function.
This grain-free recipe contains no corn, wheat, or soy. Plus, it's cooked in the USA! Customers have praised this product for its effectiveness in improving their pet's health – increasing energy levels and even reversing heart murmurs.
However, some customers have complained of mold found on airtight storage containers or their dog refusing to eat it due to digestive issues. If your pup has food sensitivities, you may need to doctor up the food by adding additional items such as canned pumpkin or yogurt before they'll be tempted enough to try it out.
Contains real deboned beef as the first ingredient
Vitamin & mineral enriched formula
High levels of omega fatty acids & glucosamine/chondroitin
No corn/wheat/soy ingredients
Cooked in the USA
Positive customer feedback on improved pet health
Complaints about customer service responses & reimbursement from vet costs
Changes noticed by some customers regarding product formula changes over time
Mold found on storage container reported by some customers
5. Natural Balance Duck Potato Dog Food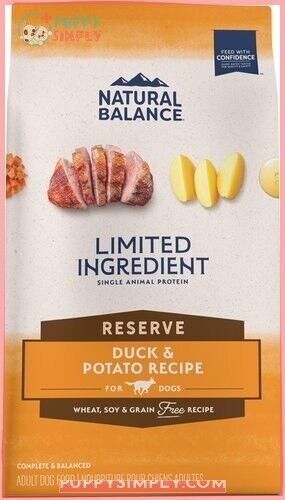 View On Chewy
Natural Balance Duck Potato Dog Food is a nutritious, grain-free option that'll have your pup feeling happy and healthy. It's made with duck meat for muscle health and potato for fiber to aid digestion.
This food also contains immune system boosting flaxseed with no grain, soy, gluten, or artificial colors or flavors.
Perfectly suitable for dogs of all breeds who suffer from allergies, as well as those dealing with sensitive stomachs and skin issues, it's sure to be an excellent choice! With natural ingredients like 12 whole fruits & vegetables plus prebiotics & probiotics added in the mix too, this kibble provides complete nutrition without needing any extra supplements.
Customers report positive effects on their pet's coat quality & weight management, in addition to improved allergy symptoms, making Natural Balance Duck Potato Dog Food one of the best dog foods out there!
Effective for dogs with allergies/sensitive stomachs
Dogs love the taste/eat eagerly
Improved allergy symptoms reported by customers
Recent formula change with added ingredients
Price increase noted by long-time users
Smaller bag size / increased cost
Complaints of moldy food / difficulty canceling autoship
6. Nutro Natural Choice Dog Food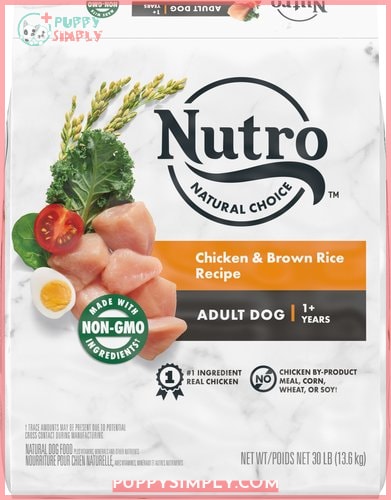 View On Chewy
Nutro Natural Choice Dog Food is packed with real chicken and essential fatty acids for a protein-packed meal that'll keep your pup's skin and coat healthy. Carefully sourced from trusted farmers, it also contains natural fiber to help aid digestion.
It has omega-3s and 6s for joint support, as well as calcium to build strong bones.
Customers have reported positive effects on their pet's energy levels, and dogs seem to love the taste of this food. Price hikes may be an issue for some customers, though Nutro remains competitively priced against other brands in its class.
Real Chicken as the primary ingredient
Contains natural fibers & Omega 3 & 6 fatty acids
Non-GMO ingredients
Dogs enjoy the taste
Price hikes may be an issue
7. Nulo Freestyle Beef Apples Dog Food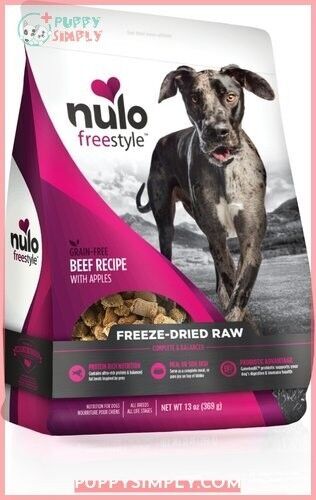 View On Chewy
Nulo Freestyle Beef Apples Dog Food is packed with real beef, organs, and bone, plus broccoli, parsley, and apple for a nutrient-dense meal. This all-natural dog food is made in a USDA-inspected facility without corn, wheat, soy, or artificial preservatives.
With prebiotics and probiotics to support digestive health, as well as essential vitamins and minerals from fruits and vegetables for overall balanced nutrition, this freeze-dried premium quality diet can be used as either a meal or treat topper.
Omega fatty acids are included to promote healthy skin & coat, while the grain-free formula ensures your pup's digestion remains strong even when highly active! Customers have praised Nulo Freestyle Beef Apples Dog Food for its taste that their dogs love, along with improvements in energy levels after switching over from other brands – it's no wonder why this one comes so highly recommended!
Freeze-dried raw formula
Contains real beef
Prebiotic/probiotic support
Grain-Free Formula
Omega fatty acids
Balanced nutrition
Highly palatable
No Corn, Wheat, Soy
Pricey compared to some alternatives
Mixed reviews on product changes
Some dogs don't like the smell
8. ACANA Red Meat Dog Food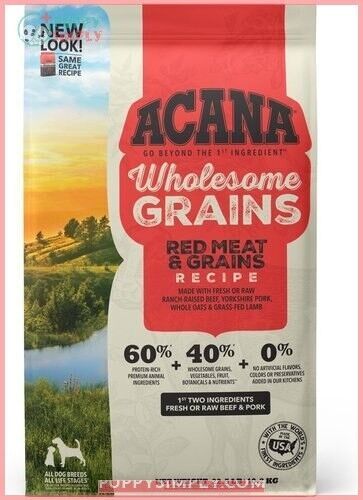 View On Chewy
ACANA Red Meat Dog Food offers a protein-packed meal with farm-raised beef, pork, and lamb, plus prebiotics and probiotics for digestion. It's freeze-dried to preserve its nutrient content. The grain blend of oats, sorghum, and millet provides fiber for digestive health.
Omega fatty acids help maintain skin health, while antioxidants boost your pooch's immune system.
This recipe is free from corn, soy, or wheat, making it suitable for all breeds of adult dogs (except large breed puppies). Customers report that their pets have improved energy levels after switching to this food.
Despite these benefits, there are still some issues that need addressing, as reported by customers. Soft stools may occur in certain cases, but this could be due to other dietary changes rather than the ACANA Red Meat Dog Food itself.
Also, allergies have been reported in rare instances, so speak with your vet if you're concerned about transitioning onto this diet.
High Protein
Prebiotic & Probiotic Support
Freeze Dried Coating For Improved Flavor
Grain Free Recipe
No Corn, Soy, Or Wheat
Suitable For All Breeds Of Adult Dogs (Except Large Breed Puppies)
Soft Stools In Certain Cases
Potential Allergens Reported In Rare Instances
9. Instinct Frozen Beef Dog Food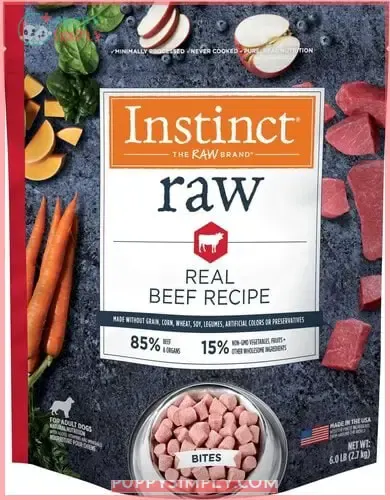 View On Chewy
Instinct Frozen Beef Dog Food is a raw, natural bite that provides protein-packed nutrition with real beef, organs, and bone – but how much of it is truly beneficial for Australian Cattle Dogs? This grain-free option contains 85% meat and organs along with 15% non-GMO fruits, vegetables, vitamins, and minerals.
It's cold-pressed to preserve its nutrients and made in the USA, suitable for all breed sizes.
This food can help promote lean muscles as well as healthy teeth & gums while aiding digestion & overall energy levels in your pup. The ingredients are sourced from various locations, giving you peace of mind when it comes to quality control.
Plus, there's no corn or wheat, which makes this food an ideal choice if your dog has allergies or sensitivities to these ingredients.
However, some customers have reported their pooches not being too keen on the taste despite loving other varieties from this brand, so preferences may vary among furry friends! Also, since it's frozen, you need ample freezer space available, which could be inconvenient depending on how many pups you feed at home! And lastly, there were reports about potential quality issues; however, Chewy customer service handled them professionally according to what reviewers had said online.
Loved by toy poodles; easy to serve; preferred frozen
Suitable for dogs with chicken allergies (if introduced slowly)
Exciting mealtime experience even for dogs that potentially suffer skin/food allergies
Ideal if your fur baby has dental issues who prefer softer food
Not appealing to some dogs – potential preferences vary
Large bags require freezer space
Inconvenient due to freezing lumped together
Quality issue reported (handled professionally by Chewy CS)
10. Royal Canin HP Dog Food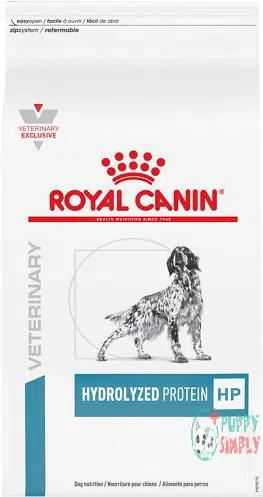 View On Chewy
Royal Canin HP Dog Food is designed to provide the nutrition your pup needs to stay healthy, with hydrolyzed soy protein for skin and digestion health. This veterinary diet dry dog food contains EPA and DHA fatty acids, minerals, vitamins, fiber sources from oats and sorghum, as well as prebiotics for balanced digestive flora support.
Available in different breed sizes (small breeds, medium breeds, large breeds), this formula is suitable for adult dogs with food sensitivities or allergies.
Customers have reported positive results after switching their pet's diets to Royal Canin HP Dog Food. One customer noticed improved coat quality in their German Shepherd without frequent bathing, while another successfully transitioned their pupper off apoquel medication.
However, there are some reviews that cite worsening of allergies due to this product, along with occasional vomiting observed post-consumption. This suggests that it might not be suitable for all dietary requirements or sensitive stomachs.
It has also been noted by certain customers that, although palatable, the product does contain high carb/low protein content. This may limit its long-term use if used solely on its own rather than supplementing other meals during rotation feeding schedules.
Supports gastrointestinal & dermatological health
Enriched with EPA & DHA fatty acids
Helped relieve itchy skin & improved coat quality
Highly palatable
Worsened allergies
Occasional vomiting
High carb/low protein content
Choosing the Best: What to Look for in Food for Australian Cattle Dogs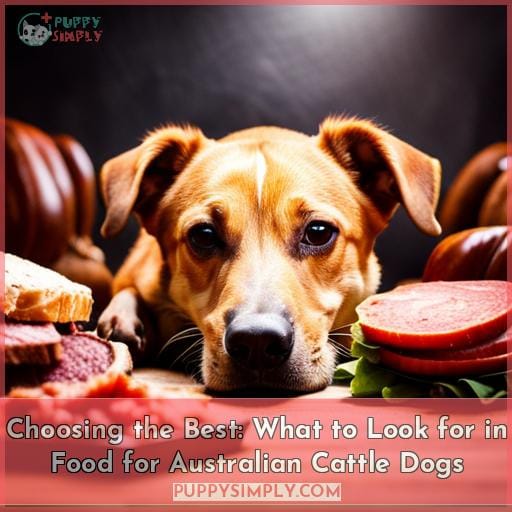 When choosing the best food for Australian Cattle Dogs, it's important to consider their protein and fat requirements, as well as any potential allergies or sensitivities. Look for a high-quality diet that meets your pup's individual needs and provides all the essential nutrients they need while avoiding ingredients that may cause reactions.
Protein and fat requirements
When selecting food for your Australian Cattle Dog, make sure it provides the right balance of protein and fat to meet their high-energy needs. Look for foods with a minimum of 18%-26% protein and at least 10% fat, as well as omega-3 fatty acids to support joint care.
Special dietary considerations should also be taken into account, such as allergies or sensitivities. Nutritional balance is key when planning meals. Adding fresh fruits and vegetables can help round out the diet while providing additional health benefits.
Don't forget that consulting with your vet is always recommended before making changes to an Aussie's diet!
Food allergies and sensitivities
Be aware that food allergies and sensitivities can occur in Australian Cattle Dogs, so it's important to watch out for any signs of digestive upset. Managing these sensitivities requires dietary solutions based on the dog's age, health history, and symptoms.
Ingredient allergies should be avoided, such as peas, lentils, or potatoes, while providing essential nutrients like omega-3 fatty acids and glucosamine/chondroitin for musculoskeletal health. A vet may suggest an elimination diet during the adjustment phase because ACDs are prone to skin problems or eye defects if nutrition is inadequate.
Investing in quality food tailored towards their age is key to ensuring optimal ACD health throughout their life stages!
Consider life stage
When selecting food for your Australian Cattle Dog, make sure to take their life stage into account. Puppies require more protein and calories as they're growing rapidly. Adult dogs need moderate calorie diets with around 18-26% protein content, while senior dogs may require lower fat and calorie levels with joint supplements added in the mix.
Nutritional requirements vary depending on age, health status, and activity level.
Growth & Development: Ensure sufficient nutrients for proper growth & development of puppies.
Age Appropriate Diets: Consider an adult diet once the puppy is over 1 year old.
Health Status: Adjust nutrition based on existing health conditions such as allergies or sensitivities.
Other Considerations for Feeding Australian Cattle Dogs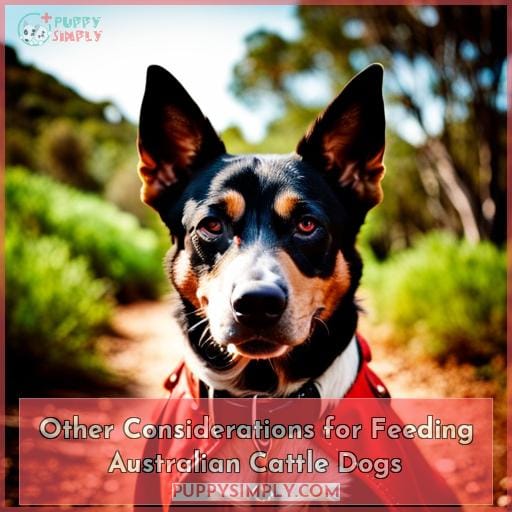 When it comes to feeding an Australian Cattle Dog, adjusting to a new diet can be challenging. Additionally, addressing any food allergies and maintaining digestive health should also be taken into consideration as part of the overall dietary plan.
Adjusting to new diet
Once you've adopted an Australian Cattle Dog, it's important to adjust their diet gradually to ensure a successful transition. Begin by introducing new foods in small amounts and mixing them with the old food until your pup is comfortable.
Feeding schedule should be consistent, allowing for snack times between meals and ensuring ample time for digestion before bedtime. Consider dietary preferences like taste or texture and use mealtime strategies such as adding warm water over kibble or using toppers on top of dry dog food brands that appeal most to your pet's palate.
Dietary adjustments may take patience but eventually can result in a happy, healthy pup!
Addressing food allergies
If your Australian Cattle Dog is showing signs of food allergies, it's important to consult a vet and switch their diet accordingly. Identifying allergenic ingredients can be tricky, as certain grains or artificial additives may trigger reactions even if not listed on the label.
Allergy testing options are available from veterinary specialists who can determine which foods to avoid and recommend AAFCO-approved alternatives. Managing allergic reactions will require antihistamines or other treatments prescribed by the vet.
Some dogs may become sensitive over time, so regular monitoring for changes in symptoms is necessary.
To prevent further issues with allergens, consider allergy-friendly treats like freeze-dried raw meat bites that don't contain any fillers or common triggers. Puppies have an increased risk of developing allergies, so a careful approach should be taken when introducing new foods.
Importance of digestive health
Maintaining your pup's digestive health is essential in providing the nutrients they need for a balanced diet. Feeding routines and meal frequency are important dietary considerations, as well as ingredient quality and healthy fats.
Omega fatty acids support neurological health, while probiotics promote beneficial gut bacteria to aid digestion.
Look for ACD food with natural ingredients like real meat, fruits, vegetables, vitamins, and minerals to ensure complete nutrition while avoiding fillers or artificial additives that can cause gastrointestinal issues.
A Quick Look at Our Favorites in 2023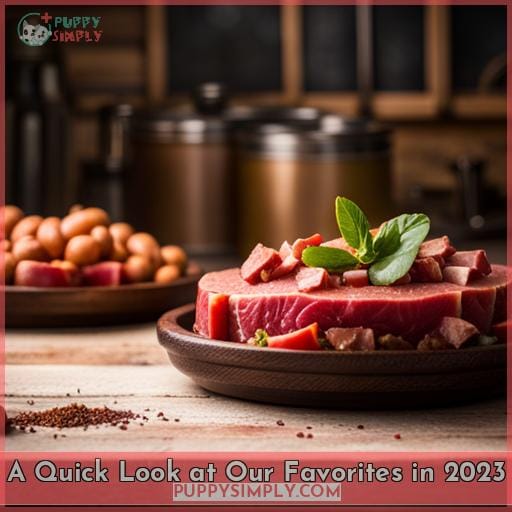 With so many great options available, it's time to take a look at our favorites for Australian Cattle Dogs in 2023.
Purina Pro Plan Dog Food Turkey Oats is ideal for sensitive stomachs.
Victor Classic HiPro Plus Formula Dry Dog Food offers high-protein and gluten-free nutrition.
Gentle Giants Chicken provides complete and balanced nutrition with 12 fruits and vegetables.
These are just some of the best dog foods out there.
Merrick Classic Healthy Grains contains deboned beef plus ancient grains like quinoa.
Natural Balance Duck Potato has no grain or soy.
Nutro Natural Choice includes omega fatty acids as well as glucosamine/chondroitin to support joint health.
Nulo Freestyle Beef Apples is nutrient dense raw food with prebiotics/probiotics.
ACANA Red Meat features farm-raised beef, pork, lamb plus 8 fruits & veg.
Instinct Frozen Beef has 85% meat & organs cold pressed to preserve nutrients.
Finally, Royal Canin HP boasts hydrolyzed soy protein which strengthens skin barriers while supplying EPA/DHA fatty acids for digestion health.
With such an array of nutritious offerings, you can find the perfect dog food fit!
What to Feed an Australian Cattle Dog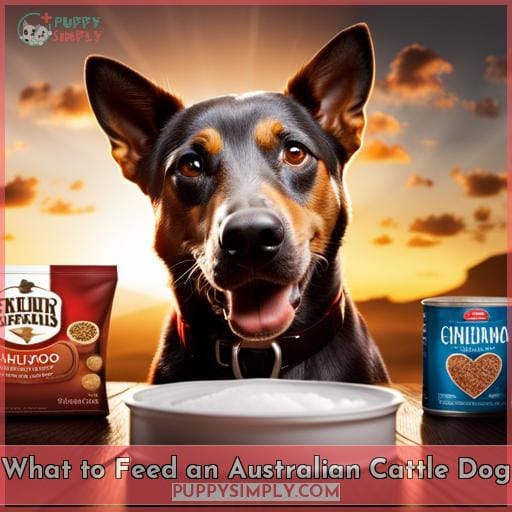 Fuel your Aussie Cattle Dog's active lifestyle with nutrient-packed, age-appropriate food for optimal health. Consider their individual activity level and dietary needs when choosing a dog food. Look for a balanced combination of proteins, carbohydrates, vitamins, and minerals to help maintain energy levels.
Also, look for joint support ingredients like glucosamine and chondroitin to reduce inflammation.
Avoid fillers or artificial additives that can cause digestive distress or allergies in some dogs.
Monitor digestion closely after switching foods. Consult your vet if there are any concerning changes in appetite or behavior regarding eating habits.
Conclusion
Picking the right food for your Australian Cattle Dog can be a daunting task. With so many formulas on the market, it can be hard to know which food is best.
Thankfully, there are many great options for Australian Cattle Dogs. Some of the top choices include Purina Pro Plan Dog Food Turkey Oats, Victor Classic HiPro Dog Food, and Gentle Giants Dog Chicken Food.
These brands offer high-quality ingredients and a good balance of protein and fat.
When selecting food for your Aussie, it's important to consider any food allergies or sensitivities they may have. Look for formulas that are free from common allergens such as wheat, corn, and soy.
By choosing the right food for your Australian Cattle Dog, you can ensure that they have the nutrients they need for a healthy and happy life.