This site is supported by our readers. We may earn a commission, at no cost to you, if you purchase through links.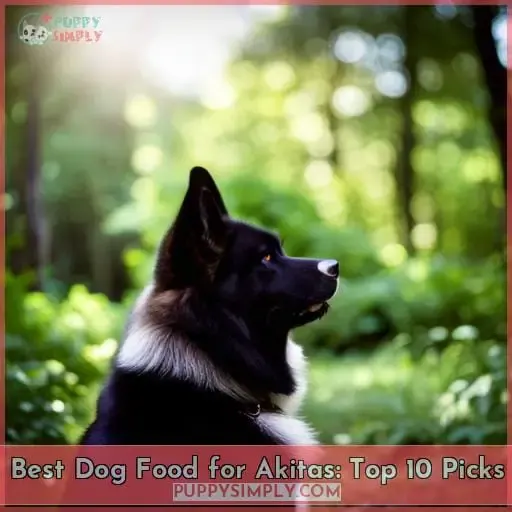 The Akita breed is beloved for its intense loyalty and protective nature, with the Japanese even declaring them a national treasure.
The right diet can make all the difference – that's why we've put together reviews of the best dog food for Akitas of all ages.
With over 50% protein content from real beef as its first ingredient, this grain-free formula packs plenty of nutrients into every bowlful to ensure optimum health and vitality in your four-legged friend.
Key Takeaways
The Akita breed is known for loyalty and protectiveness and requires specific nutritional needs.
Switch to adult food at 12 months.
Consider the grain-free controversy and choose dog food with real food ingredients and no artificial colors.
Consult a vet for feeding recommendations and consider the pros and cons of wet vs. dry food.
Top 10 Best Dog Foods for Akitas
It is important to know which dog food will best suit an Akita. This article provides a comprehensive overview of the top 10 best dog foods for Akitas, including their nutritional needs and dietary considerations.
From CANIDAE Duck Sweet Potato Dog Food and Blue Buffalo Large Breed Adult Chicken Rice Dog Food to Wellness Large Breed Puppy Dry Dog Food and Orijen Senior Grain Free Dog, these are all excellent options that can help your beloved canine stay healthy and strong.
1. CANIDAE Duck Sweet Potato Dog Food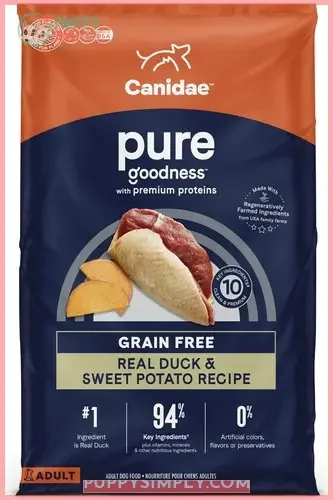 View On Chewy
CANIDAE Duck Sweet Potato Dog Food is a grain-free formula with 8 real food ingredients, making it an ideal choice for Akitas with sensitive stomachs and picky appetites. It's fortified with Canidae's HealthPLUS blend of probiotics, antioxidants, omega-3 and 6 fatty acids to promote optimal health.
This recipe contains no corn, wheat, soy, or artificial ingredients, so you can be sure your pup is getting only the best nutrition possible.
Contains 8 real food ingredients
Fortified with Canidae's HealthPLUS blend of probiotics & antioxidants
Grain-free & free from fillers including corn, wheat, soy, & artificial flavors
High digestibility score
Small kibble size
Discrepancy in calorie count (Chewy vs. bag label)
Concern about legumes in ingredient list
Potential formula changes
2. Blue Buffalo Large Breed Adult Chicken Rice Dog Food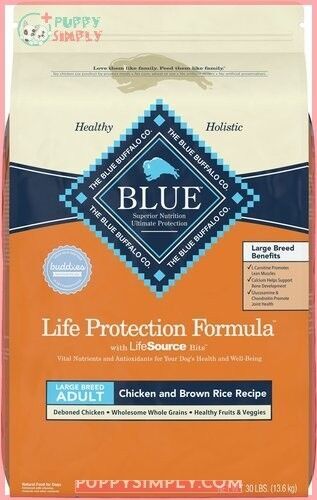 View On Chewy
Blue Buffalo's Large Breed Adult Chicken Rice Dog Food is formulated to support the health of large and giant breed adult dogs, with no corn, wheat, soy, or chicken (or poultry) by-product meals. This complete and balanced meal contains real meat as well as whole grains for energy requirements.
It also includes veggies and fruit fortified with antioxidants. The food has LifeSource Bits enriched with glucosamine and chondroitin for joint health and mobility, along with omega 3 and 6 fatty acids for a healthy skin and coat.
Additionally, it includes chelated minerals and vitamins E and C to boost the immune system, as well as calcium and phosphorus to help form strong bones and teeth.
Customers have praised this food highly because their dogs didn't develop any digestion issues or become picky eaters upon switching from another brand. Instead, they remained enthusiastic about mealtimes! However, there were some negative experiences reported.
For example, one dog passed away suddenly after changing diets, while another developed liver problems due to eating this food.
Glucosamine and chondroitin included for joint health and mobility
Omega 3 and 6 fatty acids present for healthy skin and coat development
No artificial colors, flavors, or preservatives used
High-quality protein sources included ensure lean muscle development
Some customers report that their pets experienced adverse effects when using this product
Contains carbs which may not be suitable if your pet needs a low-carb diet
Not ideal if you are specifically looking for grain-free kibble
3. Wellness Large Breed Puppy Dry Dog Food
View On Chewy
Wellness Large Breed Puppy Dry Dog Food is like a nutritional powerhouse, packed with premium proteins, wholesome grains, and vitamins to help your Akita pup grow strong and healthy. It is formulated without GMOs, meat by-products, or artificial preservatives. This puppy food contains DHA for brain and eye development, as well as glucosamine to support joint health.
With no corn or wheat fillers included in the recipe, it can be an ideal choice for puppies who are prone to allergies.
Customers have reported mixed results from using Wellness Large Breed Puppy Dry Dog Food. Some experienced digestive issues, while others found that their pups enjoyed eating it more than other brands of dog food on the market today.
Formulated without GMOs, meat by-products, or artificial preservatives
Contains DHA for brain and eye development, plus glucosamine and chondroitin
No corn/wheat fillers – suitable for puppies with allergies
Mixed reviews regarding acceptance by puppies
Some customers have reported gas and diarrhea after transitioning from Pro Plan
4. Orijen Senior Grain Free Dog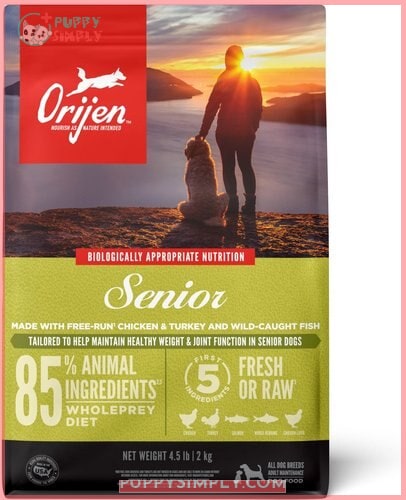 View On Chewy
For aging Akitas, Orijen Senior Grain Free Dog provides a high-protein formula with up to 85% animal ingredients and ORIJEN WholePrey elements for natural nutrition. This dry dog food is made in the USA with global quality ingredients and is suitable for small, medium, large, or all dog breeds.
It contains no soy, corn, tapioca, or wheat, making it a great choice for dogs prone to allergies.
In addition, this food helps support healthy weight and joint function, as well as being gluten-free. Orijen Senior Grain Free Dog has received generally positive reviews from customers, although some users have reported vomiting and diarrhea after recent recipe changes, which may have affected their pet's digestion negatively.
Therefore, it's important to monitor your Akita when introducing this type of diet change into their routine.
Price-wise, Orijen can be considered higher-end, but many argue that it's worth the extra cost due to ingredient variations between the bag information on the website, raising questions about the consistent quality of the product itself.
Made in the USA with global quality ingredients
No soy, corn, tapioca, or wheat – great allergy-friendly option
Supports healthy weight & joint function
Gluten-free
Transition period required
Recipe changes may affect pets negatively
Higher price range than other brands
5. Honest Kitchen Beef Clusters Dog Food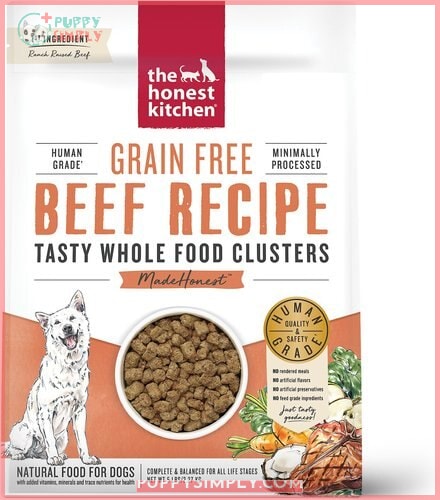 View On Chewy
Honest Kitchen Beef Clusters Dog Food provides your pup with human-grade proteins, low glycemic carbs, beneficial fats, and live probiotics – all without fillers or artificial preservatives. It is cold pressed into bite-sized pieces and gently roasted and dehydrated to maintain nutrients and taste.
This food is suitable for adult canine companions as well as puppies of all breeds.
The features of Honest Kitchen Beef Clusters Dog Food include muscle meat and liver from human-grade sources, as well as healthy fats that are easily digestible for a balanced diet. As an added bonus, it's free from feed grade ingredients, meat meals, fillers, GMO ingredients, artificial flavors, and preservatives, making it ideal even for those on special diets such as gluten-free, grain-free, high protein, etc.
All these qualities make Honest Kitchen Beef Clusters Dog Food a great choice to provide your dog with the essential nutrition they need daily in order to stay happy and healthy!
Human-grade ingredients
Low glycemic carbs
Beneficial fat content
Live probiotics
Free from nasty additives
Some users experienced issues like excessive crumbs
Dogs may have digestive issues after switching
Formula or manufacturing process may have changed without notice
6. Hill Science Diet Light Chicken Barley Adult Large Breed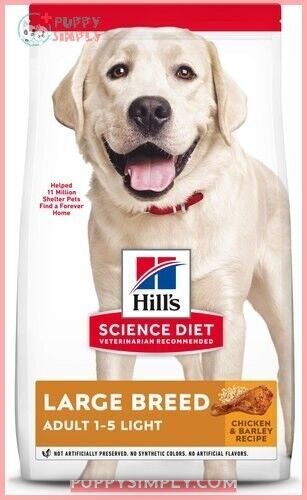 View On Chewy
Satisfy your large breed's nutritional needs with Hill Science Diet Light Chicken Barley Adult Formula, a complete and balanced diet that contains 18% fewer calories for weight control. It's made from natural, high-quality ingredients such as chicken meal and barley to support healthy joints and cartilage.
Antioxidant vitamins E & C are included to promote an active immune system while helping transform fat into energy.
This food is suitable for large breeds 1 to 5 years of age (55 -110 lbs) or giant breeds up to 3 years old (over 110 lbs).
Made in the USA
Contains 18% fewer calories than regular adult formula
Natural high-quality ingredients
Glucosamine & chondroitin support joint health
Antioxidants help boost immunity
Some users reported itching/scratching issues when switching formulas
Hair loss experienced in some dogs initially transitioning away from this food
7. Whole Earth Farms GrainFree Red Meat Dog Food
View On Chewy
Experience a nutritious variety of flavors with Whole Earth Farms Grain-Free Red Meat Dog Food, made in the USA and designed for all breeds. This grain-free formula is free from corn, wheat, or soy ingredients and is enriched with vitamins and minerals to provide essential nutrition for your Akita dog.
It's ideal for picky eaters with its pate texture and provides complete nutrition without artificial colors or preservatives.
Additionally, Whole Earth Farms Grain-Free Red Meat Dog Food can be used as a medication vehicle or topper to mix up mealtime flavor combinations that will have them begging at their bowl every day!
High-quality ingredients
Beneficial fats
Live probiotics
No fillers
No meat byproducts & GMO ingredients
Some issues reported recently about moldy cans
Smaller contents due to sauce yielding 3 meals instead of 4 (which makes sense).
8. Merrick Grain Free Puppy Beef Sweet Potato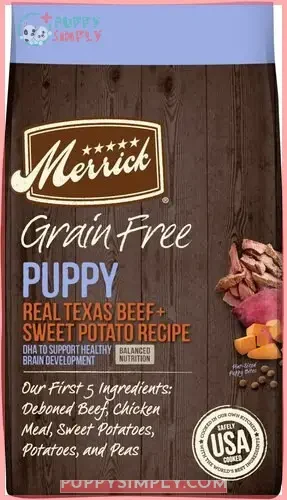 View On Chewy
You'll be pleased to know that Merrick's Grain Free Puppy Beef Sweet Potato contains 55% proteins and healthy fats, with 70% of protein from animal sources! This grain-free recipe is crafted in Hereford, TX and cooked in the USA.
It includes DHA, omega fatty acids, glucosamine, and chondroitin for a balanced diet suitable for small breed puppies. Deboned beef is the first ingredient while there are no artificial colors, flavors, or preservatives added.
The majority of customers have highly praised this product as their puppy's coat condition improved dramatically on it along with overall health benefits being seen too. In addition, some reported an easy weaning process without any digestive issues arising due to its all-natural ingredients compared to other food brands they had previously used prior to switching over to Merrick Grain Free Puppy Beef Sweet Potato formula.
However, some did mention quality issues such as burnt-smelling kibble recently found within bags purchased, plus dogs not seeming overly excited about eating this particular food unless additional gravy or meat was added onto it during meal times, making them more tempted into consuming it than normal each day instead.
So do keep that in mind when deciding if you want your pup trying out this specific brand name dog feed option available now on the market today.
All-natural ingredients
Suitable for small breed puppies
Contains DHA & Omega Fatty Acids
No artificial colors, flavors, or preservatives
Quality Issues (burnt kibble)
Dogs not enthused about eating without extra toppings
9. Stella Chewys Puppy Beef Salmon Patties Freeze Dried Dog Food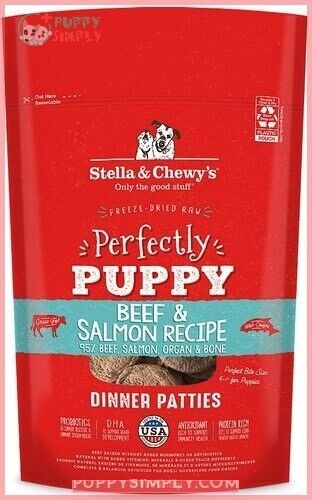 View On Chewy
Treat your pup to Stella Chewy's Puppy Beef Salmon Patties Freeze Dried Dog Food for a meal packed with protein, essential vitamins and minerals, probiotics, and antioxidants. This natural dog food is made in the USA from 95% cage-free poultry featuring added chia seed for skin and coat health, as well as green mussels for joint support.
It also contains probiotics that aid digestion, along with antioxidant vitamins E and C to help boost immunity levels. Additionally, this freeze-dried raw puppy food includes important fatty acids such as DHA, which are crucial during the growth period of puppies.
Plus, it's free from grains like wheat or corn, making it suitable even if your pup has an allergy or sensitivity issue.
The reviews on Stella Chewy's Puppy Beef Salmon Patties Freeze Dried Dog Food have been mostly positive, praising its high-quality ingredients that result in improved coat conditions while aiding the overall healthiness of their pups too! A few customers noted that their dogs didn't take kindly to the strong fish smell, but most had no trouble getting them hooked onto this nutritious treat! Although some experienced digestive issues when transitioning over, always consult a vet before changing diets drastically just to be safe.
Contains 95% cage-free poultry
Added chia seeds & New Zealand green mussels
Probiotic blend & Vitamins E&C
No artificial colors/flavors/preservatives
Some dogs may not like the strong fish smell
Digestive issues reported by some during transition
10. Iams Adult Large Breed Chicken Dry Dog Food
View On Chewy
Fuel your large breed Akita with Iams Adult Large Breed Chicken Dry Dog Food for muscle support and joint health. Specifically formulated to meet the nutritional needs of active adult dogs, this premium-sourced grain-inclusive food is packed with real farm-raised chicken as the first ingredient.
It also contains proteins for strong muscles and fibers and prebiotics to promote healthy digestion. With bone and joint support built in, it's ideal for large breeds that require a heart-healthy diet.
Customers have reported good midline price points along with positive reports from Great Pyrenees owners who even agree their picky eaters love it! Shipping issues have been encountered occasionally, though some reviews cite weight gain or coat issues.
There have also been reports of extreme diarrhea in more recent batches, resulting in vet bills. This is something all owners should keep an eye out for when changing foods suddenly.
Dogs enjoy the taste
Good midline price point
Heart-healthy diets suitable
Great Pyrenees & picky eaters approve
Affordable option available
Excessive gas & weight gain reported by some users
Coat issues seen by others
Is Grain-free Food Right for Your Akita?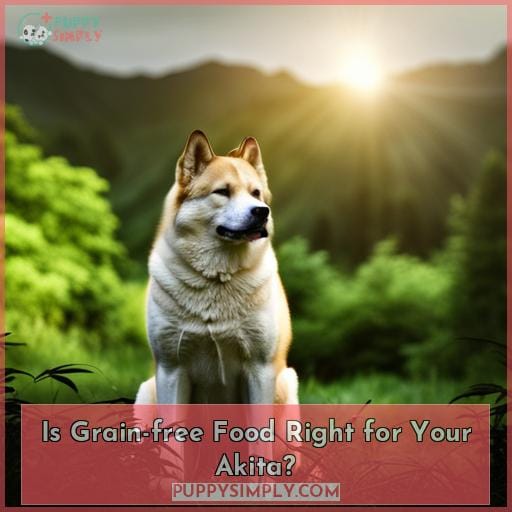 With your Akita's health in mind, consider whether grain-free food is the right choice for their diet. The grain-free controversy has been heavily debated, and there are a few things to keep in mind before making the switch.
Health considerations should always be taken into account when determining what type of food to feed your pet, as well as dietary alternatives that may provide more nutritional value than just avoiding grains.
It's also important to understand the specific nutritional needs of an Akita. They require high protein levels and certain vitamins and minerals for optimal growth and development throughout their lifetime.
Potential risks associated with grain-free foods include allergies or digestive issues due to ingredients like potato or tapioca starch, which can replace essential nutrients found in grains such as fiber, zinc, iron, B vitamins, etc.
Also, consider if these products use quality animal proteins over plant sources, which could potentially lead to deficiencies down the line too.
When it comes down to it, carefully researching brands while taking into account all factors will help you make sure you're providing your pup with the best possible nutrition available on the market today – one specifically tailored towards them!
Should You Feed Your Akita Large Breed Dog Food?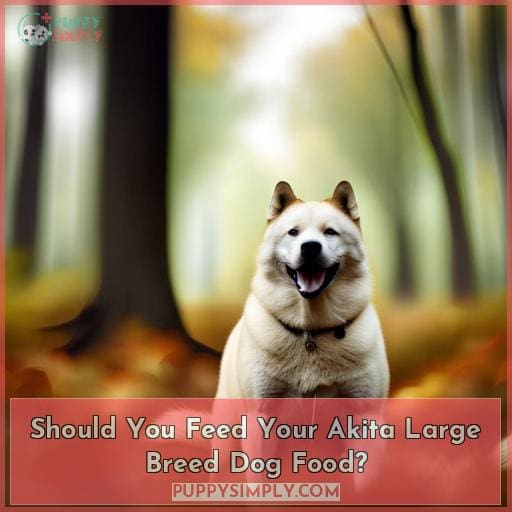 Whether you have a puppy or an adult Akita, providing them with the best nutrition is essential for their health and well-being. Large breed dogs often require specialized diets to support their unique nutritional needs, which makes it important to consider feeding your Akita large breed dog food.
The key to selecting the right food for your pup is finding one that contains high-quality ingredients and provides all of the essential nutrients needed by growing puppies or adults. In addition, look out for foods specifically formulated with larger breeds in mind.
These may contain beneficial joint supplements like glucosamine and chondroitin, which can help prevent common hip problems associated with this type of dog later in life.
When choosing a diet tailored towards large breeds like an Akita, always be sure it has been approved by AAFCO (Association of American Feed Control Officials).
With some careful consideration when selecting healthy meals, along with regular exercise and socialization activities, you can ensure that your furry friend stays happy and healthy throughout their lifetime!
When Should You Switch Your Akita to Adult Food?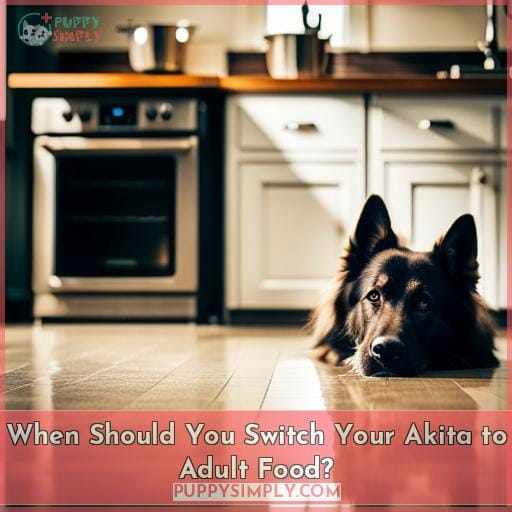 Once your Akita has reached a year old, it's time to switch them to adult food for optimal health and growth. Transitioning from puppy food between 9-12 months is key as this is when they reach their full size and maturity.
During this dietary change, you should opt for an adult formula that meets the nutritional needs of large breeds such as Akitas. Look for foods with lean proteins like chicken or lamb and healthy fats like salmon oil, which help support muscle mass.
When selecting dog food specifically designed for an Akita breed, make sure it contains all essential nutrients, including calcium and phosphorus levels adjusted according to age requirements. Additionally, ensure it contains DHA (docosahexaenoic acid), important fatty acids found in fish oils that help develop brain function in puppies.
Avoid grain-free formulas that contain high carbohydrate ingredients, as certain grains used in pet foods today can be harmful due to potential health concerns.
With proper nutrition tailored towards your pup's specific needs during each stage of life, you can rest assured knowing your beloved family member will continue living happy and healthy!
Buyer's Guide: How to Select the Best Dog Foods for Akitas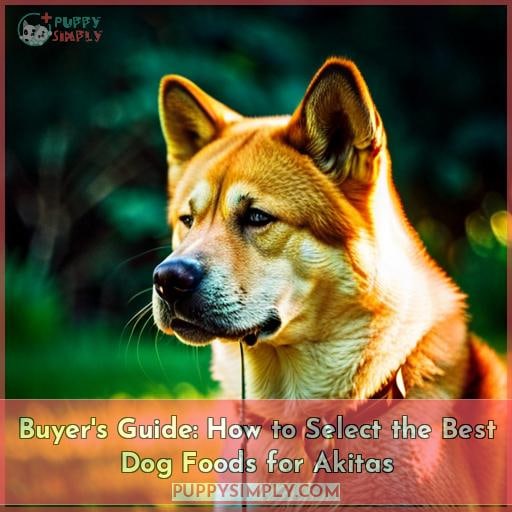 Choosing the best dog food for Akitas is essential to ensure their health and well-being. Akitas have different nutritional needs from other breeds, so selecting age-specific foods that meet their unique dietary requirements is crucial.
For adult dogs, dry kibble or wet canned food are both great options; however, puppies may need special puppy formulas with higher levels of protein and calcium than regular dog foods provide.
Key Nutritional Needs
Understanding the nutritional needs of your Akita is key to providing them with a balanced diet. To ensure good health, consider their activity level, age, and size when selecting food. Analyze ingredient lists for high-quality proteins and carbohydrates that will provide enough nutrients for growth or maintenance.
Feeding guidelines should be adjusted according to the individual's weight; look out for potential health implications such as obesity or malnutrition if you don't feed an appropriate amount based on their lifestyle.
Finally, choose nutritionally dense foods with no artificial additives or by-products to meet all of your Akita's dietary requirements.
Age-Specific Recommendations
Aging Akitas need special care, including age-appropriate nutrition tailored to their needs. Puppy food should include essential nutrients like protein and DHA for healthy growth. To avoid health issues, adult dogs shouldn't eat puppy food after 12 months old.
When transitioning from puppy to adult diet, do it gradually over a few weeks' time.
Senior Akitas require a high-protein formula for an active lifestyle and foods with glucosamine for joint support in the later years of life. Fuel them up! Wellness Complete Health Dry Puppy Food is nutritionally dense, while CANIDAE PURE Real Duck Dry Dog Food offers top-quality ingredients at an affordable price point.
Orjien Senior High Protein Diet provides 85% animal-based proteins that are great for senior dogs' digestion. Hill's Science Diet Light Adult Large Breed helps maintain healthy weight levels in older Akitas without compromising on nutritional value or flavor – making it the ideal choice when your loyal dog breed hits his senior years.
Wet vs. Dry Food
Comparing wet and dry food for Akitas, it's important to consider the palatability of each option as well as their nutritional benefits. Wet foods are highly digestible and provide more moisture than dry kibble, which can be beneficial for dogs with sensitive stomachs or those that need additional hydration.
On the other hand, high-quality dry dog food offers many health benefits. Its crunchy texture supports dental hygiene. Additionally, dry dog food is easier to store since it doesn't require refrigeration like wet foods do, making it a convenient choice.
Both types should meet AAFCO standards, so look out for this label when selecting puppy or adult large breed formulas specifically formulated for an Akita's dietary needs.
Conclusion
Choosing the best dog food for your Akita can be a daunting task, especially since they are large breed dogs with specific nutritional needs. Take, for instance, Jen, who was struggling to find the right food for her Akita puppy.
After much research, she discovered that CANIDAE Duck Sweet Potato Dog Food was the best overall choice for her pup. It provides complete nutrition with eight real food ingredients and a HealthPLUS blend of probiotics, antioxidants, omega-3 and 6 fatty acids.
From Blue Buffalo Large Breed Adult Chicken Rice Dog Food to Honest Kitchen Beef Clusters Dog Food, there are many high-quality food options out there to nourish your Akita and keep them healthy. Ultimately, it's important to look for puppy food specially formulated for Akitas with essential nutrients like protein, fat, calcium, and DHA, and to consult your vet for additional feeding recommendations.