This site is supported by our readers. We may earn a commission, at no cost to you, if you purchase through links.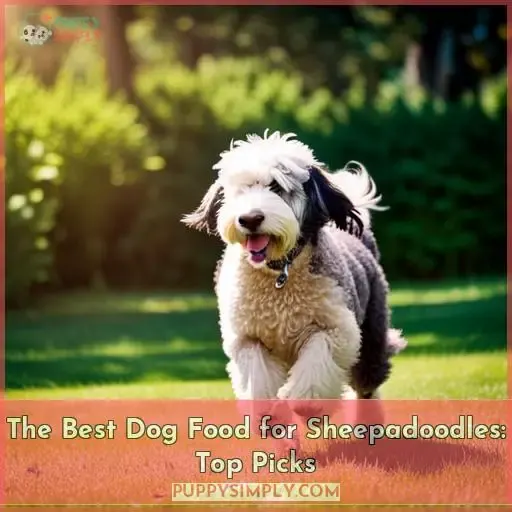 When it comes to finding the best dog food for your Sheepadoodle, there are many factors you need to take into account. From common health issues that affect this breed of Doodle, to looking out for certain qualities in their diet – choosing the right type of food can be a tricky task.
But don't worry: we've done all the hard work for you! In this article, we'll provide our top picks of dog foods specifically tailored towards Sheepadoodles and discuss what kind of nutritional benefits they offer.
Our selection includes some well-known brands like Blue Buffalo Dog Food and Royal Canin HP Dog Food as well as more specialized options such as Instinct Raw Beef Dog Food or Natures Recipe Puppy Lamb Rice Dog Food – all guaranteed to give your beloved Sheepadoodle pup only the very best nutrition possible!
We'll also look at how proper feeding can help with any potential health problems often associated with these cuddly creatures so that you know how best to care for them going forward.
Key Takeaways
Factors to consider when choosing Sheepadoodle dog food: common health issues in Sheepadoodles and qualities to look for in Sheepadoodle dog food.
Top picks for Sheepadoodle dog foods: Blue Buffalo Dog Food, Purina Pro Plan Dog Food, Victor Classic HiPro Plus, Hills Science Diet Adult Dog Food.
Tips for switching Sheepadoodle dog food.
Things to consider before buying Sheepadoodle dog food.
9 Best Dog Foods for Sheepadoodles
Getting your Sheepadoodle the right nutrition is essential for a healthy, active life.
Blue Buffalo Dog Food
Purina Pro Plan Dog Food Sensitive Skin Stomach Salmon Rice
Victor Classic HiPro Plus
Hills Science Diet Adult Dog Food Perfect Weight Chicken
Country Vet Senior Dog Food
All of these options provide high-quality ingredients to meet their unique nutritional needs.
Inukshuk Professional Dog Food 30 25 and Nature's Recipe Puppy Lamb Rice offer balanced recipes specifically designed with working dogs in mind. If you prefer a raw diet, Instinct Raw Beef provides an excellent option packed with 85% real meat.
For adult dogs with sensitivities, Royal Canin HP offers specialized food tailored to their needs.
1. Blue Buffalo Dog Food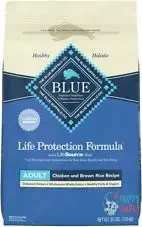 View On Chewy
You might consider Blue Buffalo Dog Food for your Sheepadoodle, with its blend of real meat, whole grains, and garden veggies to support holistic health and well-being. It's a veterinarian-recommended brand formulated to provide the essential nutrition and energy needed for adult dogs.
This formula includes LifeSource Bits – a special blend of antioxidants and nutrients – as well as omega fatty acids for joint health, skin & coat care, plus prebiotic fiber digestion support.
Customers have reported positive feedback on how it has impacted their dog's energy level while maintaining healthy weight gain. However, some issues have been reported with recent changes in the product or Chewy's customer service.
Used successfully by puppy owners
Good when mixed with other foods
Dogs enjoy it when mixed with canned food or other ingredients
Switched from Purina Pro Plan without issue
Positive impact on energy levels, coat condition & overall wellness
Unpleasant smell due to recent changes in formula
Can cause diarrhea/upset stomach if not transitioned slowly
Some dogs pick out pieces they don't like
Recent batches may contain fewer nutrients than expected
2. Purina Pro Plan Dog Food Sensitive Skin Stomach Salmon Rice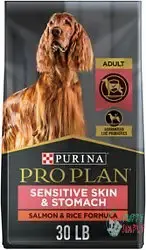 View On Chewy
Experience the power of Purina Pro Plan with real salmon as the number one ingredient, providing essential nutrition for your Sheepadoodle's health and well-being. This high protein food contains no artificial colors or flavors, along with omega-3 fatty acids for joint health and omega-6 fatty acids to keep skin and coat looking great.
Added antioxidants help support a healthy immune system while prebiotic fiber helps maintain digestive balance in sensitive stomachs.
Easily digestible oatmeal packs this formula full of essential vitamins and minerals that will have your pup feeling their best every day!
Rich in Omega 3 & 6 Fatty Acids
Contains Antioxidants for Immune System Health
Prebiotic Fiber Supports Sensitive Stomachs
New Formula Caused Allergies in Some Dogs
Reports of Vomiting/Diarrhea After Recent Formula Change
Soft/Runny Stools Reported By Some Users
3. Victor Classic HiPro Plus
View On Chewy
Victor Classic HiPro Plus is a high-protein, gluten-free option to keep your Sheepadoodle active with sustained energy. It's made with 88% real meat protein and premium quality beef, chicken, and pork meals for complete nutrition.
This nutrient-dense recipe also contains vitamins, minerals, and essential fatty acids to support all life stages – from growing puppies to pregnant/lactating females. The added VPRO blend helps promote superior digestibility and immune system function, as well as providing sustained energy for demanding dogs like working breeds or sporting pups.
Reviews have been largely positive about the food's effectiveness in maintaining weight, while some customers experienced issues after recent changes were made in the product composition. Additionally, there have been mixed feedback on Chewy's customer service, but generally, reports of fast delivery times are noted by most customers who bought this food online at their store.
Contains 88% real meat protein with premium quality ingredients
Nutrient-dense recipe supports all life stages, including puppies & pregnant/lactating females
Added VPRO Blend promotes superior digestibility & immune system function
Issues reported by some customers due to recent changes in formula composition
Mixed reviews about Chewy's customer service regarding orders
4. Hills Science Diet Adult Dog Food Perfect Weight Chicken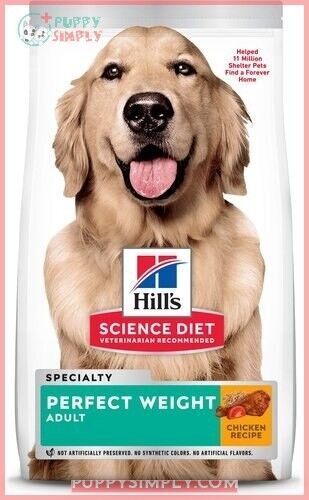 View On Chewy
Hills Science Diet's Perfect Weight Chicken Food is a veterinarian-recommended brand formulated to help maintain a healthy weight for adult Sheepadoodles. It is bursting with natural ingredients and vitamins that will have your pup feeling their best.
This food contains chicken protein for lean muscle maintenance, as well as omega fatty acids to keep your Sheepadoodle's skin soft and coat shiny. It also packs in prebiotics and probiotics beneficial for digestive health, along with added minerals and vitamins essential for overall wellbeing.
Customers who've made the switch report positive results such as improved digestion, weight loss, and better coats — all without having their furry friends feel deprived of taste or satisfaction!
Formulated specifically keeping in mind the needs of adult dogs
High-quality ingredients packed full of nutrition
Real chicken protein helps build lean muscle mass
Prebiotic/probiotic blend supports gut health
Added minerals & vitamins promote overall wellbeing
Some customers reported price increases over time
Bag size changes may be an inconvenience
Some dogs had difficulty transitioning from other foods
5. Country Vet Senior Dog Food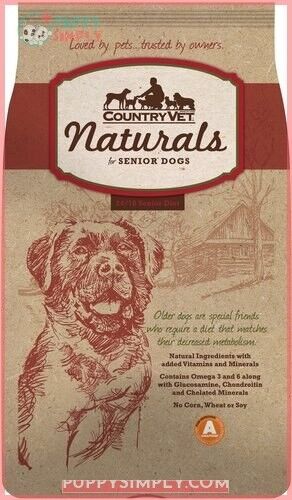 View On Chewy
Country Vet Senior Dog Food is a complete and balanced meal for senior dogs with lower-fat ingredients to help control weight, plus prebiotics and probiotics for digestive health. It also contains added vitamins and minerals to support overall health. The small kibbles are suitable for smaller breeds or those with grain sensitivities, corn allergies, wheat intolerances, or soy allergies.
Reviews have been largely positive from owners who report their dogs love the taste of Country Vet food while benefiting from improved digestion and healthy coat conditions.
To ensure your dog gets all the nutrition they need in later life without overfeeding them, Country Vet Senior Dog Food could be just what you're looking for.
Dogs love the taste
Improved digestion & healthy coats reported
Suitable transition to senior food
Small kibbles suitable even if sensitive/allergic
Some reports of diarrhea after switching
Not always successful at getting picky eaters onboard
May require mixing with other foods
6. Inukshuk Professional Dog Food 30 25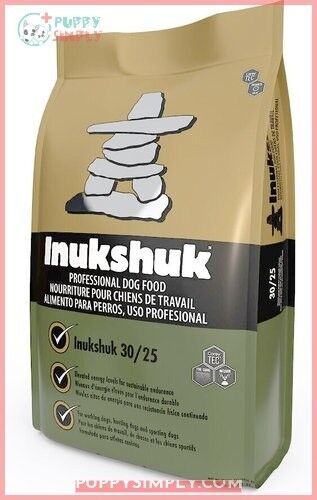 View On Chewy
Fuel your Sheepadoodle's endurance with Inukshuk Professional Dog Food 30/25, featuring high animal protein and fat content for sustained energy. This pea-free formula is specially formulated for working, hunting, and sporting dogs.
It contains a concentrated blend of real meat and organs, along with 15% non-GMO fruits, vegetables, vitamins, and minerals. Inukshuk Professional Dog Food 30/25 is rich in DHA and Omega 3 fatty acids, which support skin health and joint mobility.
Customers who have switched to Inukshuk food from other brands have reported various benefits. These include improved coat condition, waste reduction, taste preference, increased stamina, more muscle development, reduced ear infections, firmer stools, and overall better health.
High animal protein content supports muscle development
Rich in beneficial fats like DHA and Omega 3s
Contains prebiotics for healthy digestion
Suitable even for those on raw diets
May be too calorie dense if not monitored carefully
Some customers report an unpleasant smell
Small kibble size may be difficult to chew
7. Natures Recipe Puppy Lamb Rice Dog Food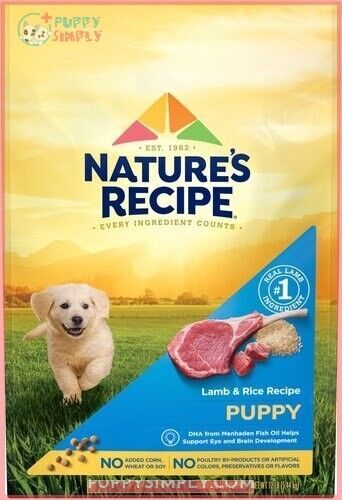 View On Chewy
Natures Recipe Puppy Lamb Rice Dog Food is like a delicious feast for your furry friend, packed with real lamb protein and essential nutrients that help support their skin, coat, digestion, and muscles.
It's made without corn, wheat, or soy, so it's safe for puppies suffering from allergies as well as those with sensitivities to grains.
DHA from menhaden fish oil helps promote eye and brain development, while omega-3 and -6 fatty acids nourish the skin and coat.
Dogs love the taste
Good for puppies' digestion
No allergy issues reported
Suitable for large breed puppies
Some puppies experienced loose stools
Contains unexpected ingredients like chicken broth
Mixed reactions from puppies
Not grain-free (potential concern)
8. Instinct Raw Beef Dog Food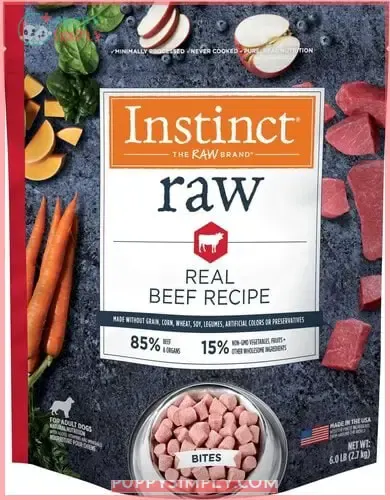 View On Chewy
Treat your Sheepadoodle to a delicious, protein-packed meal with Instinct Raw Beef Dog Food. This raw and natural dog food is minimally processed and never cooked, so you can be sure of optimal nutrient preservation.
It's packed with 85% real meat and organs, plus 15% non-GMO fruits, vegetables, vitamins & minerals – free from grains or fillers like corn, wheat, soy, artificial colors, or preservatives.
This frozen food helps support strong muscles, energy levels, dental health, and digestion, as well as containing essential vitamins & minerals for overall health & wellbeing in adult dogs on raw diets.
Instinct Raw Beef Dog Food comes in beef, lamb, and chicken varieties, satisfying the pickiest palates while providing all the nutrition their bodies need at every life stage without compromising any quality standards.
Made right here in the USA, this 6lb bag is suitable for all breeds, no matter their size!
Fussy toy poodles love it
Good for those who prefer frozen food
Easy to serve
Suitable for sensitive stomachs
Exciting mealtime experience
Not suitable for all dogs' digestion needs
Poor packaging when shipping during warm weather conditions
Large bags require freezer space
Quality control issues reported
9. Royal Canin HP Dog Food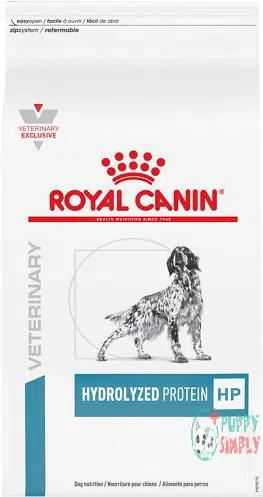 View On Chewy
For those looking to manage food sensitivities in their adult Sheepadoodle, Royal Canin HP Dog Food is a vet-recommended option enriched with EPA and DHA fatty acids for skin and digestion. This pea-free food contains low molecular weight hydrolyzed soy protein peptides to support gastrointestinal and dermatological health, helping regulate intestinal transit while supporting digestive flora.
Suitable for small, medium, and large breeds alike, this 25.3-pound bag of dry dog kibble provides sustained energy levels without sacrificing taste or nutrition – making it the perfect choice for owners seeking an effective solution that won't compromise on quality ingredients or flavor appeal.
Significant improvement in the dog's skin condition and coat quality reported by customers
Increased energy and reduced odor
Picky eaters love the taste
Effective at managing allergies (may vary)
Worsened allergies and vomiting reported by some dogs
Greasy feeling on kibble granules
Pricier than most other brands
Shipping issues with damaged boxes
Common Sheepadoodle Health Issues and How Food Can Help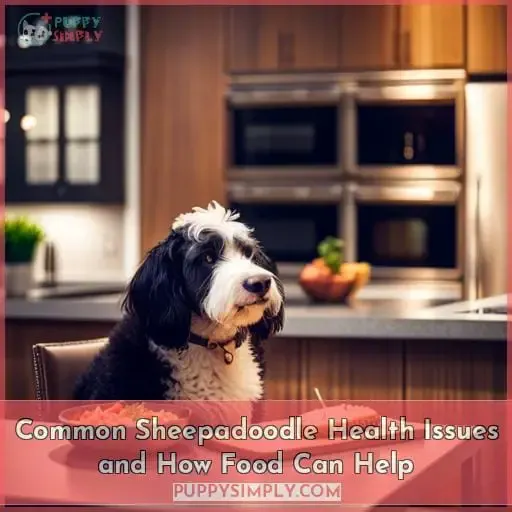 Although Sheepadoodles bring so much joy, they can suffer from a variety of health issues that require special attention in their diet. These include sensitive stomachs and allergies, joint problems such as hip dysplasia and arthritis, gastrointestinal (GI) issues including gas/bloat, and skin conditions like flaky skin or dandruff.
The right food can make all the difference for Sheepadoodle wellness. By selecting high-quality dog food with plenty of protein, fats, carbohydrates, and other essential nutrients tailored to meet your pup's needs, you can provide them with nutritional support while helping address common Sheepadoodle health issues through dietary solutions.
Probiotics are also beneficial for gut health by promoting good bacteria growth in the intestines, which helps improve digestion as well as boost immunity against certain diseases.
With proper nutrition comes improved energy levels along with increased joint mobility due to improved lubrication between joints, allowing an easier range of motion leading towards healthier weight management too – all thanks to something we already have access to: quality pet food!
What is the Best Food for Sheepadoodles?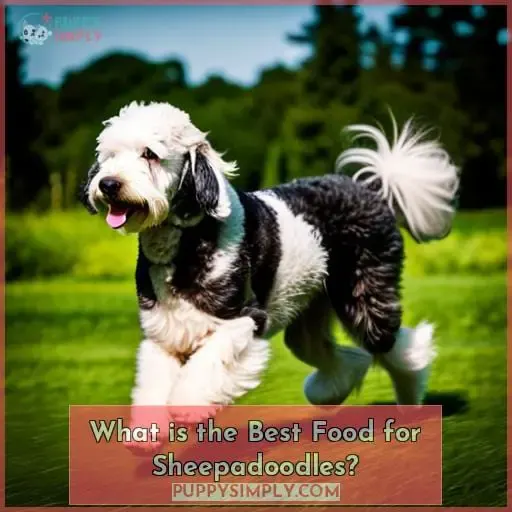 Choosing the right food for your Sheepadoodle is absolutely essential to giving them the long, healthy life they deserve – and it doesn't have to be a daunting task! When selecting dog food for this breed, you should consider their nutritional needs.
This includes quality proteins, fatty acids, and carbohydrates that will provide energy, as well as dietary fiber which can help with digestion. Depending on your pet's age or activity level, there may also be different feeding guidelines that need to be followed.
You should also look at ingredients to avoid any sensitivities or allergies. When looking at brand recommendations for Sheepadoodles, make sure you look into what benefits each type of food offers, such as weight control options or joint health support formulas.
Monitor how your pooch responds when transitioning between foods and always consult with a vet if needed.
Sheepadoodle-Specific Dog Food Qualities to Look For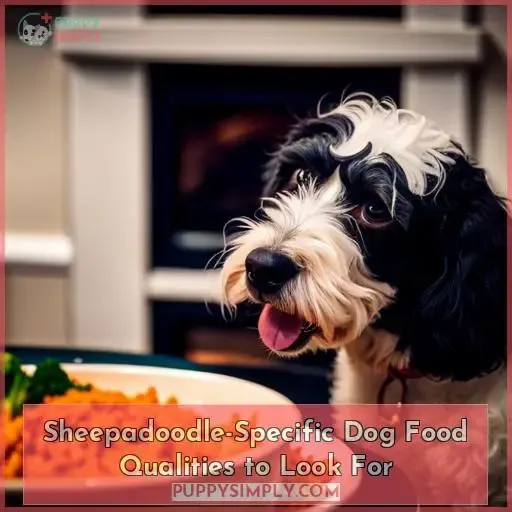 When selecting dog food for your Sheepadoodle, be sure to look for quality ingredients tailored to meet their unique nutritional needs. Protein should be the main ingredient and ideally come from a single source like beef or chicken.
Look out for health issues such as a sensitive stomach, allergies, joint problems, and gas/bloat that can all affect digestion.
Avoid fillers and opt for wholesome proteins to reduce symptoms and provide energy throughout the day. Fatty acids, especially omega-3s, are important for overall canine health, so make sure their food includes an adequate amount.
When transitioning to a new food, gradually increase the percentage over time and monitor any changes in behavior. Always consult with your vet and research best practices before making any drastic dietary alterations.
This ensures you're providing optimal nutrition for your Sheepadoodle every step of the way.
How to Switch Sheepadoodle Dog Food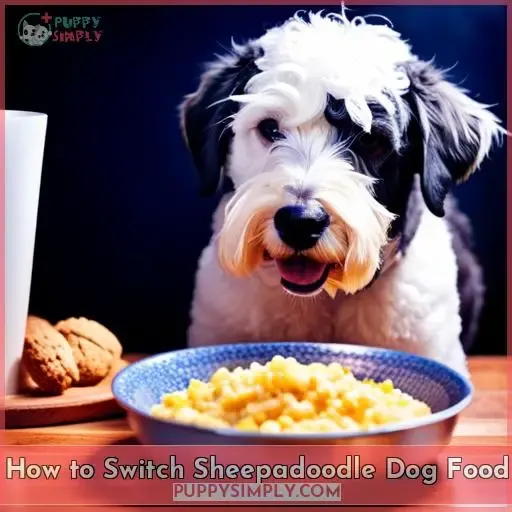 Switching your Sheepadoodle's food can be a tricky process, and it's important to do so safely and gradually.
Start by introducing small amounts of the new food alongside their current diet. This allows them to get used to the different taste without any major changes in their routine or digestion.
Consult with a vet or pet nutritionist before making any drastic dietary changes.
Keep an eye out for signs such as vomiting, diarrhea, or loss of appetite when switching diets. These could indicate that something isn't quite right. If this happens, seek professional advice from a vet right away.
Monitor how much water intake increases after switching foods. Increased thirst is normal, but excessive drinking may signal digestive issues related to undigested ingredients from the new formula.
Keep an open mind when transitioning dog food, as not all formulas work well with all dogs. Sometimes, trial-and-error is required until finding one that better suits your dog's specific requirements.
Before You Buy: Things to Be on the Lookout For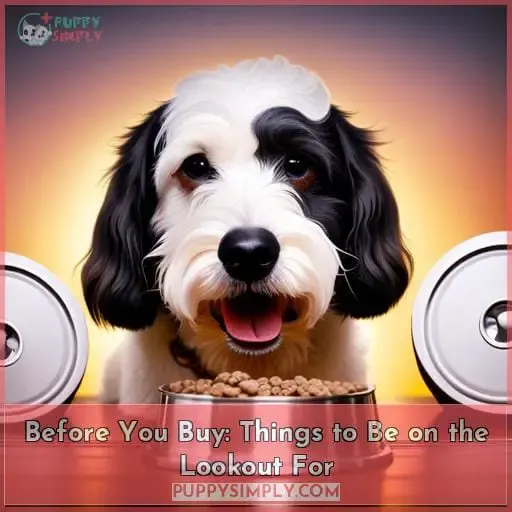 Before purchasing food for your Sheepadoodle, keep an eye out for ingredients that could cause health issues and research brands with positive reviews. Look into nutritional considerations such as protein content, carbohydrates, fats, vitamins, and minerals.
Even if the label claims to provide balanced nutrition or is labeled as 'complete', don't take it at face value. Make sure to conduct an ingredient analysis of each product you consider buying. Compare different dog food brands based on their ingredients list and customer reviews.
This way, you can make an informed decision about which one will best meet your pup's needs in terms of both taste preference and health benefits.
Consider age-appropriate solutions or foods tailored towards activity levels when making dietary transitions from puppyhood onwards. Some dogs may also develop limited tolerances for certain types of ingredients due to allergies or intolerances later in life.
Conclusion
You've made it to the end of your search for the best dog food for your Sheepadoodle. Whether you have an active, senior, or sensitive Sheepadoodle, there are a variety of high-quality options out there specifically designed for their unique nutritional needs.
Consider the common health issues that may arise, and look for foods that contain the right balance of proteins, fats, and carbohydrates, as well as vitamins and minerals.
When switching to a new food, it's important to transition gradually to ensure your dog's digestive system adjusts to the new diet.
With all these tips in mind, you can now confidently find the best dog food for your Sheepadoodle.