This site is supported by our readers. We may earn a commission, at no cost to you, if you purchase through links.
Your dog deserves ultimate comfort, but if you have a large dog, it can be challenging to find the best dog beds for large dogs.
As far as we know, our big dogs like to share our big beds every night, and they need their own nice and warm, comfortable bed.
Not everyone can sleep well when he is pushed out of his bed by his four-legged friend!
We've looked through dozens of dog beds to find the best, most comfortable, highest quality dog beds for larger dogs for every budget, based on factors such as size, quality of materials, Amazon reviews, orthopedic support, the convenience of cleaning, portability, and other considerations.
But first, let's get into the details of dog beds, talk about why most dogs need a bed, and help you understand the things you're looking for when making your choice.
Essential Features To Consider When Buy Dog Bed For Large Dogs
The whole may seem simple; you just need a big bed, right? However, many additional factors come into play when trying to make the right purchase.
These little things may seem insignificant, especially given the huge number of options available to the determined consumer.
Every little part used to make the purchase can make a massive difference in both the short and long term, but let's take a quick look at what you're looking for.
1. Correct dimensions
First, a dog bed should have enough sleeping space for your pet to rest comfortably without feet and legs hanging over the sides (unless you choose to).
This means that parents of large breed pets like a Great Dane or Mastiff may be more limited in their options as there are fewer pet beds that are large enough to house their dog.
It's a good idea to measure the space your dog sleeps in and limit your search to beds that meet this criterion. After all, if you're looking for a bed that can serve as a crate mat, you should know the dimensions of your dog's crate before you shop.
2. Material
Sturdy street dogs are often also heavy, and the material used can make all the difference.
The cheap filling can work for a dog weighing just twenty or thirty pounds, but larger breeds can weigh a lot more than that.
Memory foam is a standout material for larger dogs, as the bulk does not move the filling to the edges. It also retains its shape for a long time.
3. Water-resistant materials
For older dogs, a memory foam orthopedic bed is a good choice, but you should also consider water-resistant materials if your dog has problems with bladder leakage.
In any case, look for a dog bed with a removable, machine-washable cover so you can easily keep your pet's bed clean.
Whether your dog is young or old, a long-haired shedder or a short-haired breed suffers from bladder leakage or incontinence or is always accident-free, your dog's bed will get dirty and smelly over time: cleaning is so easy. You don't want to sleep in a bed with sheets, and that hasn't been washed in years, right?
4. Bolster Or Mattress Style?
Just like humans, dogs have many different ways to sleep. Most of us know our dog's preference for sleeping position, but if you don't, you'll want to keep an eye on how they decide to fall asleep.
Dogs who sleep curled up may prefer a bed with walls, while those who sleep spread out will probably prefer a bed type.
5. Durability
Is your dog a prey? Look for a dog made from durable materials, such as sturdy nylon or canvas that will better withstand your dog's best shredding efforts. Durability is something to consider for dogs who also scratch or dig before lying down.
6. Guarantee
If you're spending a few hundred dollars on a dog bed, you want to make sure it's a permanent dog. Some dog beds have a warranty: even up to 10 years! : That promises that the foam or other materials will keep their shape for some time, and if not, you can get a free replacement.

10 Best Dog Beds For Large Dogs Of 2023
Finding the best dog beds for large dogs and for labs is no easy task, as large dogs often have a more specific set of requirements than their smaller dog counterparts.
Not only do they like to curl up and relax in a comfortable place, but a bed should cushion and support their heavier joints and bones from hard floors enough to prevent sores and calluses caused by the dog's size.
So if you are looking for a quality dog bed for your big dog … or maybe just a very big bed for a very small dog with a very big ego … here are our tips:
1. Big Barker 7 Pillow Top Orthopedic Dog Bed For Large Dogs
View On AmazonIf you're looking for the ultimate comfort for your large breed dog, the Big Barker Orthopedic Dog Bed won't disappoint. The extraordinary comfort your dog will enjoy comes at a cost: this dog bed ranges in price from about $ 240 to $ 400 depending on size: reviewers say it's well worth the price. This dog bed is made from a 3-inch layer of H45 comfort foam sandwiched between two, two-inch layers of H10 comfort foam, making it a full seven inches thick. In addition, a 10 cm foam pillowcase on one side offers your dog a comfortable place to lay his head.
The American-made therapeutic foam layers are of the highest quality you'll find with an orthopedic dog bed (the same foam used in top quality furniture), so it doesn't flatten over time. In fact, Big Barker doesn't guarantee that, with a 10-year warranty on the product: if the foam doesn't keep 90% of its original shape and loft for ten years, the company will send you a free replacement.
The foam meets CertiPUR-US standards for content, emissions, and durability and has been analyzed by independent, independent testing laboratories.
The bed is packaged in a soft 100% microfibre cover that can be machine washed and unzipped for easy cleaning.
The high-quality foam construction and ultra-thick 7-inch base make the Big Barker Orthopedic Dog Bed an ideal choice for dogs suffering from arthritis, hip dysplasia, and general age-related aches and pains, providing superior support even for the largest dogs. They don't sink through the bed and end up on the hard floor. Instead, this bed supports every curve of your dog's body and provides additional relief for sore muscles and joints.
The Big Barker Orthopedic Dog Bed is available in three sizes for dogs of any breed of any size. The large size is 48 by 30 inches, the extra-large measures 52 by 36 inches, and the (gigantic) size measures a generous 60 by 48 inches. And you can choose from four colors to match your dog's bed to your interior: burgundy, anthracite gray, chocolate, and khaki.

American made orthopedic foam
Does not become flat over time or pancake
Machine washable and easy to clean
100 microfiber cover
2. Armarkat Pet Bed With Waterproof Lining Removable Cover And Non-Skid Base
View On AmazonThe Armarkat pet bed is very reasonably priced and provides all your basic necessities (durability, size, and convenience) while being aesthetically pleasing and comfortable for your large dog.
Since it does not provide orthopedic support, this bed is better suited for a young and healthy dog. It also has a non-slip foot, which is a great idea for playful pups who would otherwise fly their bed across the floor.
Since Armarkat is part of Aeromark Pet Product Company (known for its industry-recognized products), you can be sure of the manufacturing quality of this pet bed.
In terms of durability, although the cover has a beautifully soft plush fabric for your dog's comfort, it is made from a sturdy and waterproof canvas that can easily withstand a rambunctious dog.

Has a zipper
Is machine washable
Very easy to clean
Easy to remove and wash if the bed gets too dirty
Plus cover is super soft
The filling is extra thick
Keeps its shape well
3. PetFusion Ultimate Pet Bed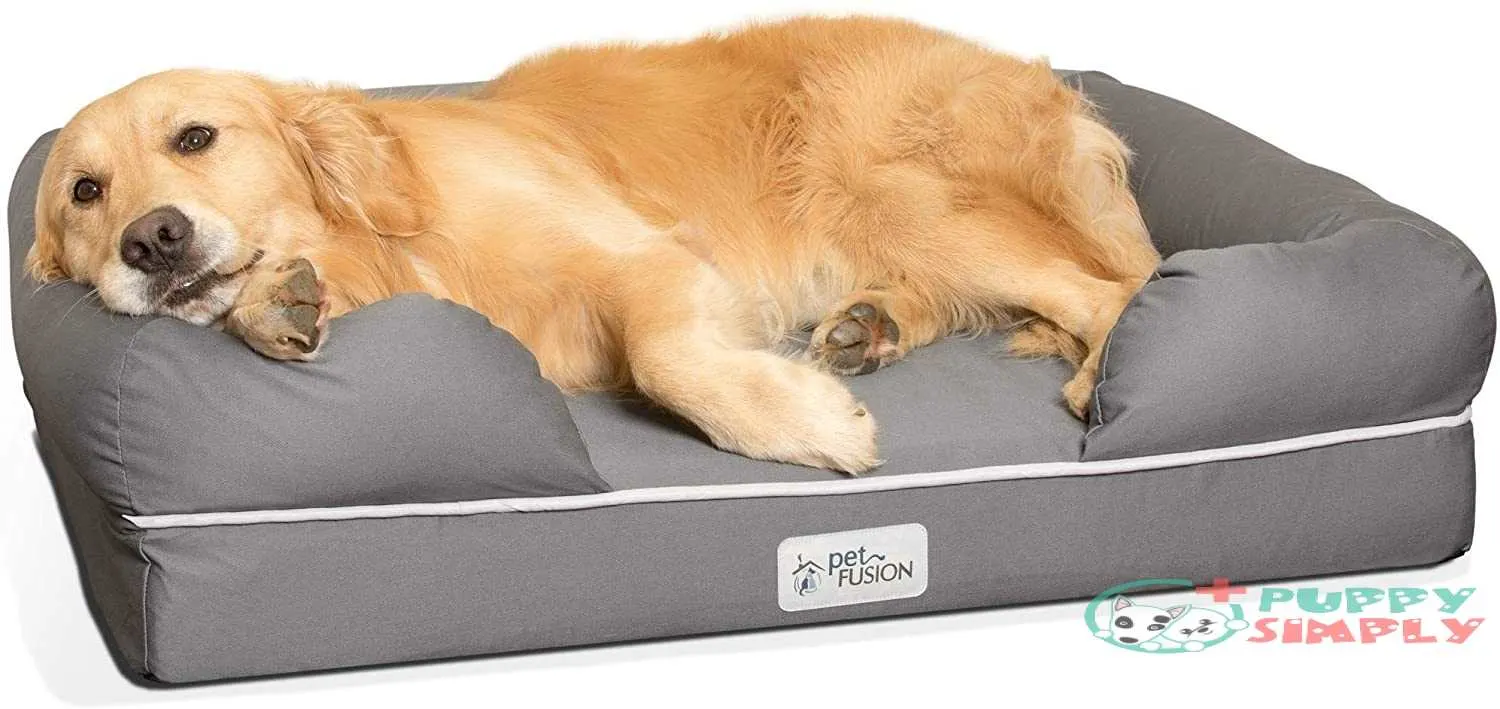 View On AmazonThis comfortable dog bed has cushions on both sides, which is not only comfortable for the headrest but also gives your dog a feeling of protection on all sides. The ultimate dog bed itself is also water-resistant, which is a huge bonus because dogs can be a little crazy at times, especially after swimming or playing in the sprinklers!
While this PetFusion ultimate dog bed is not as thick as the previous selection, this 4-inch thick foam is perfect for joint and muscle pain. Large dogs are particularly susceptible to these diseases because all of their weight is constantly pressing on their aching joints, causing them to break down over time. Dog cushions, like this one, are perfect for absorbing the hard floor shocks and relieving their tense muscles.
Many dog beds are, of course, made for dogs. But since you're the one who washes, cleans and replaces these beds, PetFusion designed them for you. Thanks to the non-slip bottom, your crazy companion can blow through the house to their heavy-duty bed without sliding like a snowboarder. It is also water-resistant, which is also nice!
This large washable dog bed is perfect for active dogs who are soaked in water and run everywhere. Rather than worrying about wear and tear, rest assured that it's a durable, well-built pet product. Dogs deserve a nice place to sleep, just like all of us! We love PetFusion's Ultimate pet bed, and we think you will too.

Four thick foam
Perfect for joint and muscle pain
Water-resistant
Anti-slip bottom material
4. Barksbar Gray Orthopedic Dog Bed
View On AmazonA more price-conscious but still high-quality choice is the BarksBar Snuggly Sleeper Orthopedic Dog Bed, which costs about $ 70. Also, an orthopedic dog bed, it is ideal for older dogs and those with hip or joint problems, such as arthritis, thanks to its robust support. Suitable for medium to large dogs, the BarksBar Snuggly Sleeper comes in sizes from 40 " by 30 " (indoor sleeping space is approximately 36 " by 24 ") and is a whopping 10 " long, including the cotton-lined edge cushioning around the sides, designed to adapt to your puppy's neck. The base, made of sturdy and grooved orthopedic foam for deep cushioning and pressure relief for sore joints, is 10 cm thick.
This dog bed can accommodate dogs up to 100 pounds and 36 inches long with ease. An ultra-soft polyester cover has a quilted design for a classic look that won't collide with your interior, and there's a non-slip rubber backing on the bottom to keep the bed from sliding over wood or tile floors when your pup is sleeping enthusiastically.
Like the Big Barker Orthopedic Dog Bed, the Barks Bar Snuggly Sleeper is easy to clean, with a removable, machine washable (soft/delicate cycle) cover that is also easy to clean between washes. However, instead of putting it in the dryer, let it air dry.

The inner sleeping area is 36 x 24
Ultra-soft polyester cover with quilted design
Four made of sturdy and grooved orthopedic foam
Nonslip rubber back
5. Friends Forever Orthopedic Dog Bed Lounge Sofa
View On AmazonIf you're looking for a way to ease your dog's joint pain, this large dog bed is a perfect option. The soft, plush material protects them from the ground below and makes them feel like they are floating on a cloud. You no longer need to sleep on cheap bed pillows that don't support your dog's weight at all!
This dog bed is made of memory foam and hardened foam combined to make the ultimate mattress. It's soft enough to enjoy and lounge in, but close enough to support their heavyweight. This combination of materials is also perfect for soothing joint pain in older dogs.
No more awkward brushing of your dog's bed, this orthopedic foam footbed is hair resistant! That's right, no more brushing your dog's bed a million times, hoping the hairs won't get caught in the porous material anymore. If you've ever tried removing a bunch of memory foam dog hair, you know exactly what we're talking about!
Who doesn't love an easy-to-clean memory foam orthopedic bed that gives your dog the perfect relaxation he needs? They bring you so much love and unshakable happiness, so why not treat them with a perfect night's sleep! Take a chance on this orthopedic dog bed today!

Two types of foam for ultimate luxury relaxation
Hair resistant
Water-resistant
6. Dogbed4less Premium Memory Foam Dog Bed
View On AmazonThe Big Barker may be the very best dog bed on the market, but the Dogbed4less Orthopedic Memory Foam Bed is certainly a close second: and it's also available at a fraction of the cost.
The Dogbed4less Orthopedic Dog Bed has a 10cm thick gel-soaked memory foam core. Unlike some other beds that use low-quality memory foam, the foam used in this bed is therapeutic quality and is specially designed to increase your dog's circulation and reduce pressure on his joints and back.
This bed comes with two removable outer covers (one in denim and one in microsuede), as well as a waterproof inner cover to protect the foam from accidents or spills. Both outer covers can be machine washed and machine dried.

WATERPROOF LINING 2 EXTERNAL COVERS The bed comes with one waterproof internal zipper to
DURABLE WASHABLE COVER 100 cotton Denim removable cover with strong zipper
GEL MEMORY FOAM ORTHOPEDIC SUPPORT High-quality XL 40X35 X4 hypoallergenic high density 100
THERAPEUTIC COOLING LUXURY COMFORT Better than an average human mattress with conform
7. Furhaven Pet Dog Bed
View On AmazonThe Furhaven Pet Dog bed is pretty much exactly what it says, and it comes with a polyfill surrounding pillow with a three-inch pad underneath filled with high-quality foam. The bed also measures an impressive 54) long, so it will fit almost any large dog breed. One thing to keep in mind, however, is that the pillows take up some space, so the actual footprint of the pillow your dog will rest on is about 36) and not the full 54).
These extra-large dog beds will not shift under your dog's weight over time. Because it keeps its shape so well, you may have just found a permanent option for your large dog at a great price.
The biggest appeal of this oversized dog bed is the fact that it has the bold sofa-style cushions around it on three sides. Dogs that sleep curled up and those who like to rest their heads on pillows will be at home here and dream their days and nights away in absolute comfort.
Furhaven Dog Bed for Pets The cover can be removed for easy washing extends the life of the bed, and provides superior convenience for you.
Memory foam is not only resilient, but the pillow shown here is also almost essential for the older dog starting to have joint pain or any of the problems that sometimes plague larger breeds. Your dog will sleep and feel better in no time.
This Beasley product is just fantastic for the big dog that fits. It comes with all the necessary features, and the addition of the cushions is great for dogs who like to sleep with cushions. The price is also modest, and if you take the plunge here, both you and your pet are sure to enjoy the results.

Water-resistant poly-canvas base
The soft, durable faux plush sleeping surface
Soft, supportive reinforced edges on three sides
Orthopedic foam base for pressure point relief
8. Better World Pets 5 Inch Thick Orthopedic Dog Bed
View On AmazonFor older or gouty dogs, an orthopedic dog bed is a must. The first quality orthopedic dog bed is sold by Better World Pets and contains 100% premium memory foam filling, shredded for softness, and tightly packed in separate chambers to prevent clumping and to sag, providing the firmness needed to relieve your dog's aching joints without sacrificing comfort. It is five inches thick and offers just the right amount of pressure point support to keep older dogs or those with hip dysplasia or arthritis cozy and comfortable. It comes in a variety of sizes, including a large size 40 inches long, 28 inches wide, and 5 inches high, suitable for dogs between 50 and 80 pounds. Prices range from $ 40 to $ 80, depending on the size.
With a durable cover and waterproof lining, this bed is also ideal for older dogs who are starting to experience incontinence. Double-sided with a zipper closed, the cover is easily removable and machine washable (gentle cycle and air dry recommended) in case of an accident. And it is also equipped with a non-slip bottom.
Overall, this bed is flexible and comfortable and will keep its shape over time. In addition, it is backed by a one-year money-back guarantee, and the company donates 10% of its profits to the Humane Society of the United States.

Durable cover
Waterproof lining
Anti-slip bottom
100 memory foam filling
Does not collapse or flatten
9. Poly Cotton Sherpa Pillow Pet Dog Bed By Majestic Pet
View On AmazonIf your dog prefers to sleep long, you will want to choose a simpler option in most cases. The Majestic Pet Rectangle Bed will meet that need quite easily, giving your dog the space to roll around and stretch his legs without worrying about strange pillows or cushions. The bed itself measures 42) x60), so almost any large breed will find this bed a cozy and spacious home.
In addition, this option is best for a large dog owner on a budget. If it comes in just under $ 70, it should easily fit into the smallest budget yet still provide most of what you need to keep your dog happy.
Unlike most options on this list, the entire bed is filled with a polyfill mix rather than memory foam, so it is not suitable for older dogs who may need extra support. That said, it is absolutely filled to the brim with fantastic material, and your younger but big dog will still love it. The top is also covered with a soft imitation sheepskin material that your pet will love.
Majestic Pet Rectangle Pet Bed It has a machine washable cover that zips open easily so you can keep everything clean in the event of an accident. Since it can easily be zipped into such a simple shape, keeping one of these cheap large dog beds clean is simple and quick.
While not the best option for a dog with aches and pains, this sleeping mat is an excellent place for your dog to rest. If you have a dog that fits and doesn't need the extra support yet, this is a great option. This large dog bed is also suitable for keeping something outside while your dog is lounging in the garden, but whatever you do with it, this comfortable bed is a healthy addition to your dog's life. Ultimately, this isn't the highest quality bed on the list, but it's certainly not a bad option, especially at a bargain price.

Bagel shaped for all-round cushion
Edge cushion is perfect support for neck and back
Machine washable
Many colors to choose from
10. Eluxurysupply Dog Bed Orthopedic Memory Foam Pet Bed For Dogs
View On AmazonWith a total thickness of five centimeters, including two centimeters of orthopedic, gel-reinforced memory foam as a top layer and a three-centimeter high support base underneath, the eLuxury Supply Orthopedic Dog Bed provides sufficient support for dogs of all ages. The large size (which costs about $ 100) measures over 36 inches by 45 inches, and the bed is wrapped in a 100% waterproof shell to protect the internal gel memory foam in case of accidents.
The 100% cotton cover is removable and machine washable (hand or machine wash in cold water, tumble dry), and it is also pre-shrunk, so you don't have to worry about changing the base it back in the cover. Replacement covers are also available for around $ 70 (in the large size) in a variety of decorative patterns to match your interior.
The US-made, CertiPUR-American Certified Memory Foam maintains its shape over time and provides optimal support for your dog. eLuxury Supply stands behind its product and offers a 90-day money-back guarantee.

100% waterproof cover
Removable and machine washable top cover
100 cotton cover with decorative piping and covered zipper
Replacement covers available
Large size is 36 x 45 x 5
Why Dogs Need The Right Bed?
Just like people, dogs love to be comfortable when they sleep. While some dog sleep modes may seem awkward from the outside, they are just perfect for your dog.
Common sleep modes for dogs are:
On their side
On their stomach
On their back with their legs up in the air
Cuddling with their favorite human or animal friend
Curled up in a ball
All the above sleeping positions have their advantages. For example, sleeping stretched out on their side or stomach allows dogs to cool down in the warmer months. Generally, dogs fall asleep in positions that provide physical comfort and psychological safety. When they are attached to their bed, they find extra safety (and adjust their sleeping position).
Much of the sleeping comfort of dogs is heat. By curling tightly into a ball and tucking their nose under their tail, dogs retain body heat. Think about how you sleep when it's cold: bundled up under warm blankets, possibly with your knees pulled up to your chest, or even cuddled around your sleeping dog.
Squatting for heat is an instinctive behavior in mammals. You and your dog have a lot in common!
Your dog's tendency to go to sleep also goes back to its origins. Before domestication, dogs slept in burrows and kept nests warm at night.
Even though your dog has a warm, dry shelter, he still has wired behavior from the days leading up to his ancestor's stay. This can also explain why dogs (make the bed) by digging in blankets or the sofa. They prepare their nest for the night.
FAQs About Dog Beds For Large Dogs
Do all dogs need a bed?
No: Dogs don't need a bed like they need food, water, or oxygen. But you could say the same about flea medications, treats, chew toys, and belly scratches. Of course, your dog can survive without these things, but he would hardly enjoy it.
We bet if you read a dog bed review, you will love your pup and want him to have the best quality of life possible. So in this context, we say yes: most dogs need a bed.
How do you introduce a dog to a new bed?
Of course, your investment in a top-quality dog bed is nothing at all if your pup has nothing to do with it. You can encourage your dog to sleep in his new bed by putting a favorite toy on it and rewarding him with treats when he is on it. Some pet parents also train their dogs to respond to commands like (Go to bed), which can also come in handy when you need your dog to stay calm when you have visitors.
If you are trying to move your dog from sleeping in your bed to sleeping in his own bed, it may be helpful to place the new bed next to yours. Being close to you can make your pet feel more relaxed, especially if the bed is so close that you can reach out to give some comforting belly rubs.
What is a good fabric for a dog bed?
There are many fabrics suitable for dog baskets; the right one depends on your personal preferences and your dog's needs. For example, sturdy nylon canvas fabrics are often a great choice for dogs with destructive tendencies (the dog who likes to shred their toys, blankets, and beds), while there are other durable materials to choose from that are also chew resistant.
Fleece, denim, microfibre, and artificial suede are also good choices for dog bed fabrics. If your dog has allergies, keep this in mind when choosing a dog bed; also choose a cooler fabric if your dog has a long, thick coat. If you use an outdoor dog bed, choose one that is water-resistant and ideally also resistant to mold and mildew. Finally, it is a good idea to choose a dog bed with washable fabrics.
Conclusion
Making sure your dog has joint relief, and muscle support is incredibly important and often overlooked. Too often, we see dog owners who don't give their dogs a bed and just let them sleep on the hardwood floor or carpet. Think what it feels like to lie on the floor for too long?
When your dog falls asleep, whether, for warmth or protection, they try to be particularly comfortable, even if they sleep in a crate, as long as they have room to get up, stretch, turn around and lie down, they can sleep well.
Despite their extra gifts, they rewarded them for the joy they gave us in the least we could do. Hopefully, we've done our job to help you find the best dog beds for large dogs and your best friend!