This site is supported by our readers. We may earn a commission, at no cost to you, if you purchase through links.
If you're thinking about camping with your dog, consider investing in a dog sleeping bag to keep him warm at night.
Although your dog camping companion may have a warmer fur coat than you, he may appreciate you offering a dog sleeping bag bed to help him get a good night's sleep.
A good night's sleep is essential for your pet for our furry friends' optimal physical and cognitive development. Sometimes illness and aggressiveness are the consequences of a lack of good sleep.
Today we will discuss the benefits of dog sleeping bags, explain what to look for when choosing a sleeping bag for dogs, and some of the best dog sleeping bags that are waterproof, lightweight, compact, easily foldable, and keep your dog warm and comfortable.
How to Choose the Best Sleeping Bag for Dogs
There are a lot of excellent backpacking dog beds on the market, which can make the shopping for one of the camping dog beds a little overwhelming. Don't worry – we're here to help!
Keep these features in mind when buying the best dog bed for camping.
Size of The Dog
Of course, you want something more significant than your dog. This somehow depends on your dog's sleeping habits. If Fido likes to curl up while sleeping, you can always go for a smaller sleeping bag. But if Bongo likes to stretch, choosing a much larger or larger dog sleeping bag is a must. Always allow at least 15 cm of extra room to move inside for your pet. For example, if Fido is about 26 inches tall, you should choose a pet sleeping bag at least 32 inches long.
Adequate Insulation
There are a few things to consider: your dog's sleeping habits, the time of year you plan to camp, and where you want to go.
If your dog isn't much of a cuddler and if you plan on sleeping near sea level in the summer, a lightweight sleeping bag is fine. But if Fido likes to sit next to you, and you're going up into the mountains in early spring, he needs something warmer!
Weather Resistance
Another exciting (or unsettling) aspect of camping is that you never know what nature may bring you at any given time, so make sure you're prepared before heading out. Rain and wind can come on suddenly and don't always leave you enough time to prepare correctly, so it's essential to look for sleeping bags that will keep both you and your dog dry in preparation for a trip. Make sure you check whether the materials the sleeping bags are made of are waterproof or at least water repellent, and you should be fine.
Durability
Durability is essential for most products (you don't want your new gear to fall apart after one or two uses), but it's crucial for owners who spend a lot of time outdoors and often plan to use the sleeping bag.
When it comes to sleeping bags, pay particular attention to the durability of the outer shell and zipper. These are the places where your bag is most likely to be damaged first.
Also, keep in mind that an included storage bag will help keep the bag in good condition, no matter how durable it is.
Closure system
Note the construction of the locking system. Most pet sleeping bags have a zipper. Unfortunately, some are constructed so haphazardly that a single zip of the closure is enough to damage the entire system. Always look for products with reliable hardware.
Lightweight
As stated above, if you are backpacking or camping and will take your things with you, you will want your dog's sleeping bag to be as light as possible (like yours!) You will probably want to avoid thicker designs, like Sheri's Best Friends Deep Dish Cuddler Bed, in favor of a slimmer (but still well insulated) style, like the Hurtta Outback Dreamer.
The Best Dog Sleeping Bag of  2023
Just like you need a suitable sleeping bag for yourself, a dog sleeping bag backpacking is crucial for keeping your furry friends warm and comfortable and preventing them from getting sick.
Not all expensive dog supplies are the best options for you. Your pups, as their sleeping needs vary by breed, build, age and personality, so pay attention to the dog sleeping bag reviews we've collected for you to choose the best item for your four-legged companion.
1. Ruffwear Highlands Dog Sleeping Bag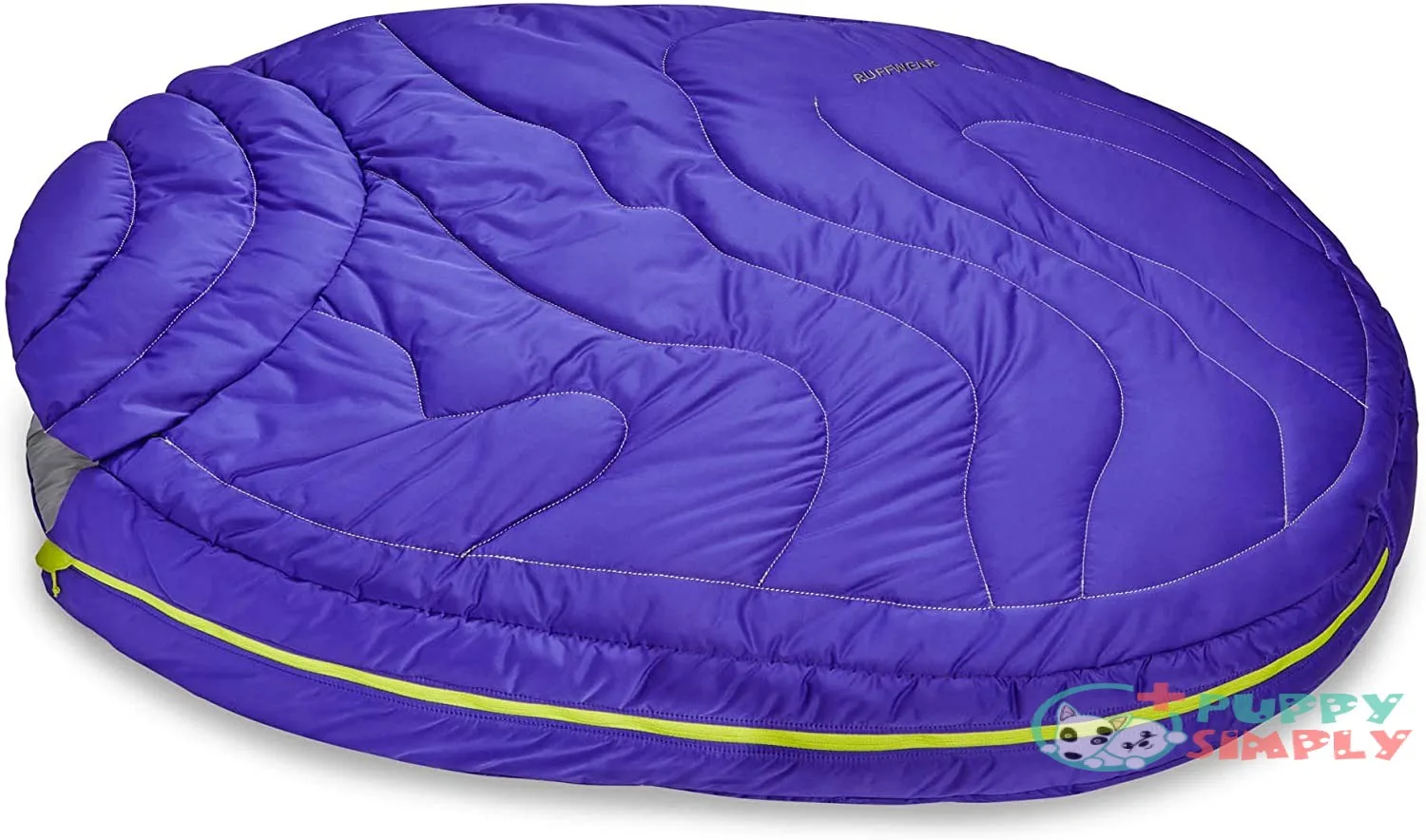 View On Amazon
Designed for severe campers and their canine companions, the Ruffwear Highlands Dog Sleeping Bag comes with many features that high-end human sleeping bags have.
Honestly, this bag is probably a bit more than what casual campers need. But it's an excellent option for those preparing to hike the AT or conquer the Rocky Mountains with their dog.

Sleeping pad cover provides the possibility of added insulation and comfort
Essentially a human gauge sleeping bag designed for dogs
Available in sizes suitable for fairly large puppies
Expensive (three to four times more expensive than many other models)
Very few customer reviews (but that's to be expected for such a high-end niche product)
2. Vegapop Blue Dog Sleeping Bag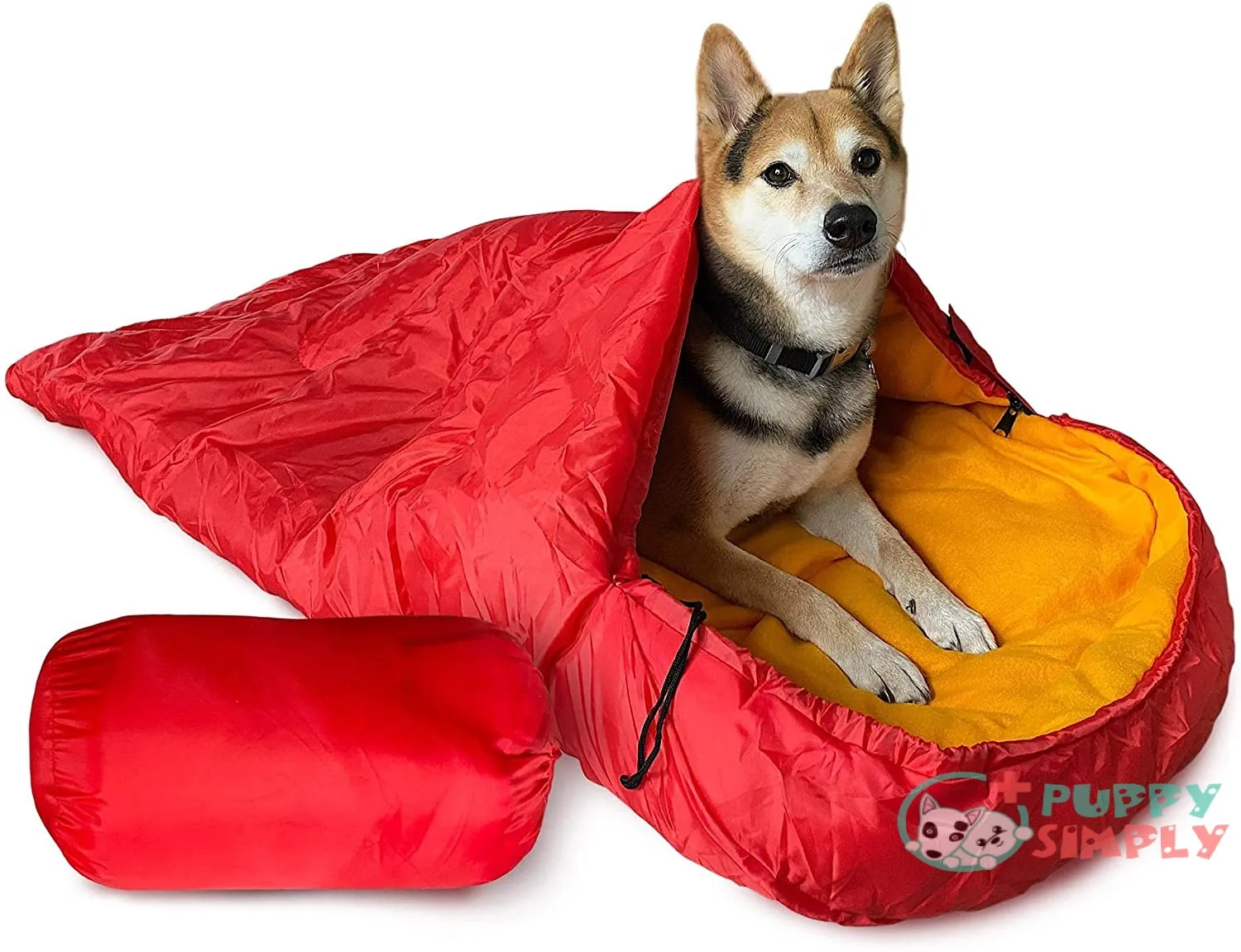 View On Amazon
The Vegapop Blue Dog sleeping bag is perfect for medium and large dogs. It measures 28 inches wide and 45 inches long. Also, this product is lightweight, making it suitable for camping trips. You can pack it up to 14 by 7 inches to save storage space.
The Vegapop Blue Dog sleeping bag comes with a design that improves the comfort of your dog. It features a double-sided zipper to allow your dog to enter quickly and sleep comfortably.
The outer layer is made of 100% waterproof polyester fiber, and the inner layer is fleece for softness and comfort.

It is machine washable
It has a versatile design
Perfect for different sizes of dogs
It is light and easy to pack and store
The zipper is difficult to use compared to other sleeping bags
3. Chuckit! Travel Dog Sleeping Bag
View On Amazon
Not a dog or puppy sleeping bag that can cover your canine friend's body, but this Chuckit! The creation happens to be one of the best sleeping bags for dogs on the market. Everybody knows that Chuckit! is best known for his Chuckit! Toy balls and launchers are loved by pet owners and their dogs. The same attention to detail that the brand puts into the design of its dog toys is also very evident in the Travel dog bed.
With a faux suede surface that gives your pet the kind of comfortable softness it needs when it's time for a quick nap or more restful sleep outdoors, this dog bed with a sleeping bag is perfect for any outdoor adventure you may have in store for your four-legged friend. It comes with an inner liner that is not only waterproof but also features tear-resistant capabilities. The double offset quilts also add a nice touch to the overall design of the Chuckit! Sleeping bag for dogs. You can always feel more confident with the fact that Chuckit! Use premium quality nylon fabric in the construction of this pet sleeping bag.
There is only one size for the Chuckit! Though – 39 by 30 inches. However, it would help if you kept your dog warm and cozy whenever the ground or floor is cold.

Includes a storage bag for portability.
Attached loop for easy hanging outdoors.
Affordable: This price is hard to beat.
Fits most dogs.
This bag is not very thick. If you are going high-altitude camping, you probably want a warmer bag.
4. Kudos Dog Sleeping Bag
View On Amazon
The KUDES dog sleeping bag is one of the few sleeping bags on the market that is affordable and large enough for large dogs.
It doesn't have the high-end features that other canine sleeping bags have, but it's still an excellent option for many owners and pets. For example, it would be perfect for those just trying #outdoorlife or camping in a car during hot weather.

Larger than most other options on the market (should accommodate most dogs in the 75-100 pound range)
Zipper quality is reportedly better than many other bags about sleeping
Not enough for really cold temperatures
The durability of interior fabric disappointed some owners
5. Lifeunion Dog Sleeping Bag
View On Amazon
The Lifeunion Dog Sleeping Bag is a thick and well-insulated product, making it suitable for frosty environments. Its drawstring design ensures a good opening for your dog to enter quickly.
In addition, it is resistant and consists of a polyester exterior and a fleece interior, which makes it waterproof and comfortable for your furry friend. You can use this product for camping, backpacking, traveling, or at home.

It is a multifunctional sleeping bag
It is durable and waterproof
It offers the maximum amount of warmth for your pet
It is lightweight
It is not very compressible
6. Outrav Dog Sleeping Bag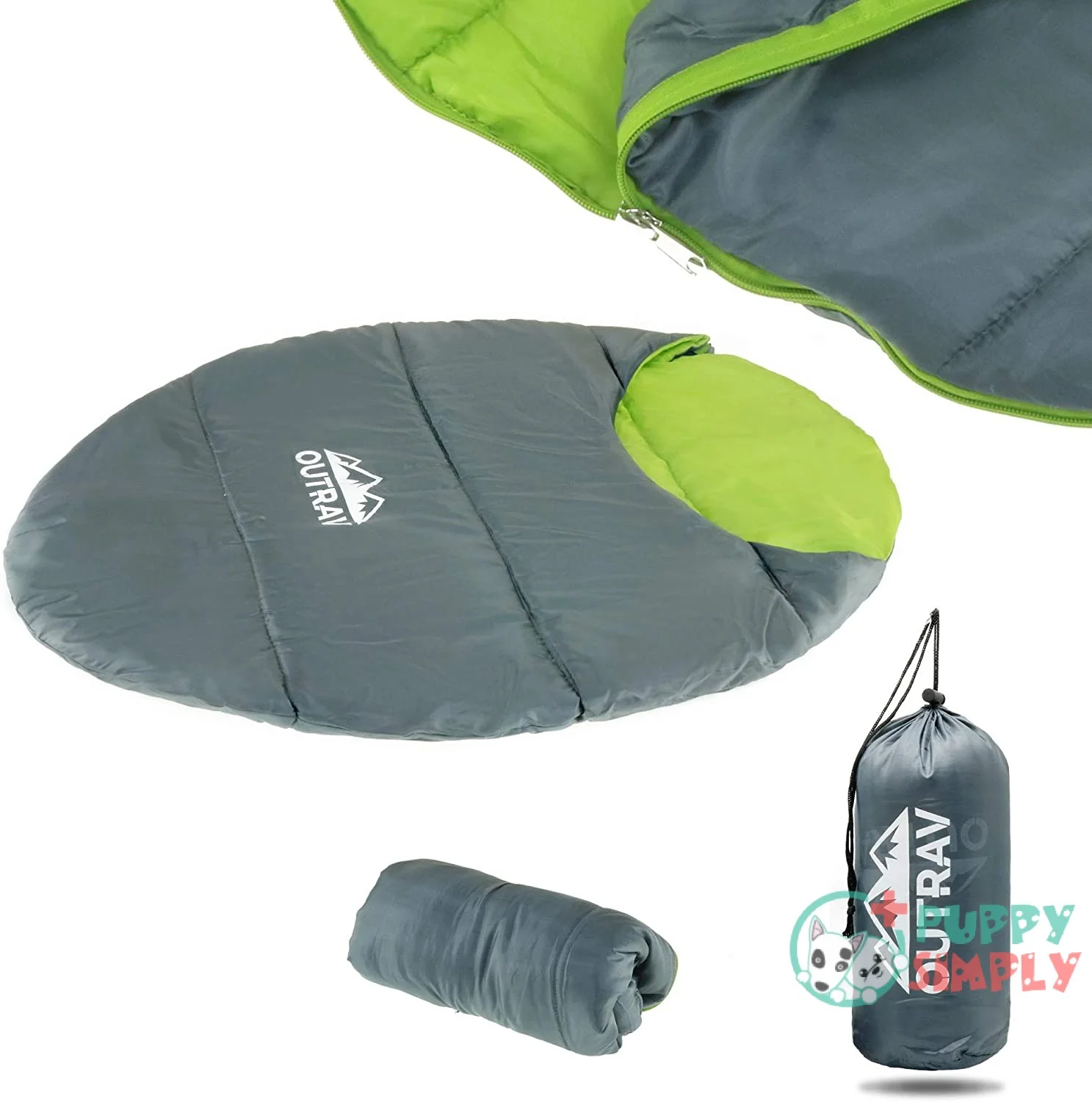 View On Amazon
This dog sleeping bag is an excellent option for those looking for a lightweight yet durable sleeping bag, and this dog sleeping bag measures 36 inches long and 26 inches wide. However, when not in use, it can be packed into a tiny 5-by-15-inch size, making it one of the most accessible travel options on the market.
Completely waterproof and quick-drying, readers will be delighted to know that this option is straightforward to clean and maintain. Double zippers allow for quick access, while the polyester outer fabric can be shaken off and ready to go in just no time.

This bag is praised for its warmth, which is especially important for small dogs
Perfect for small and medium dogs up to approximately 40 pounds
Available in three colors to match your other gear
Some owners raised concerns about durability
It Maybe heavier than indicated weight
7. Doghelios Trail Barker Dog Sleeping Bag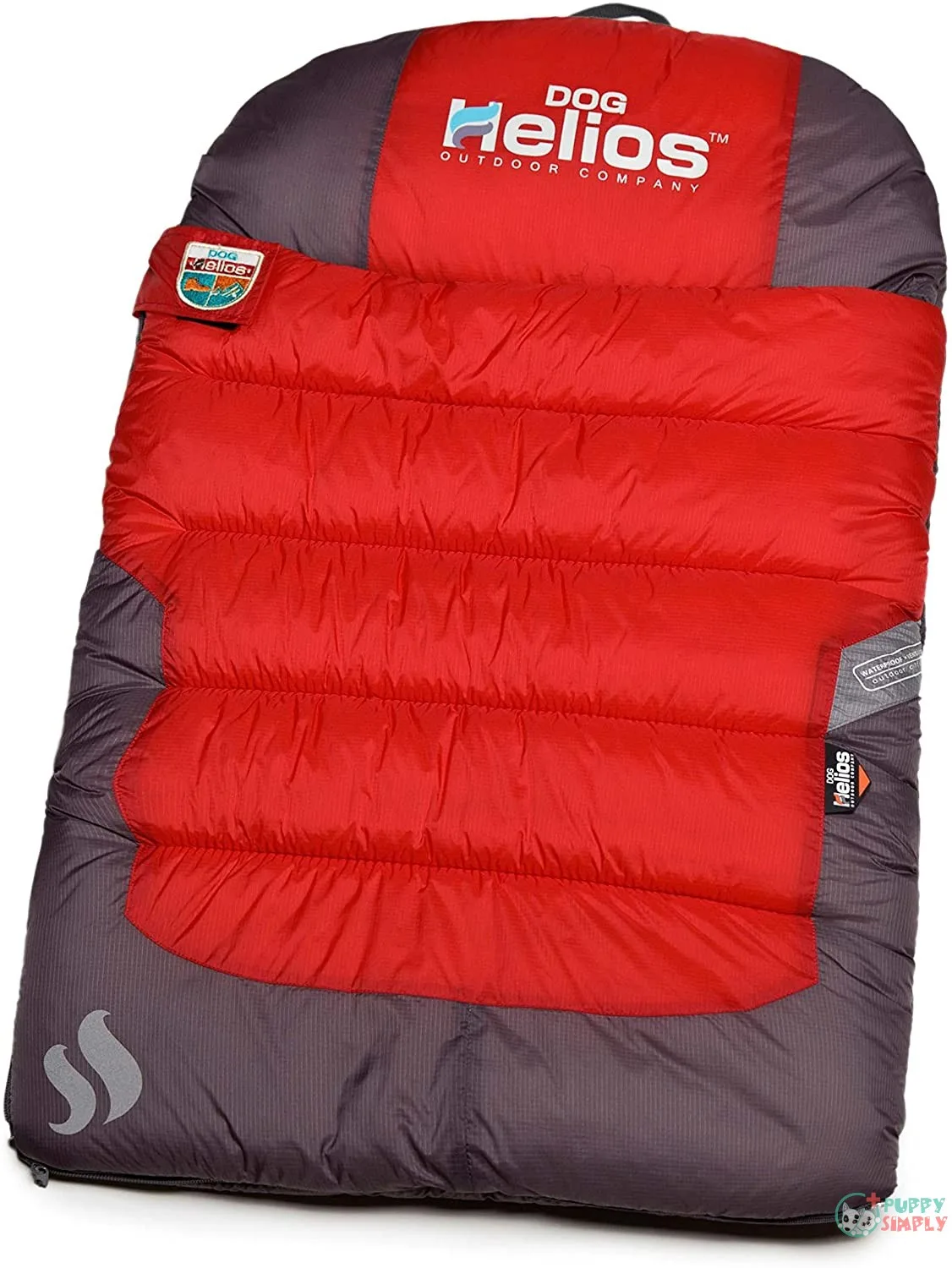 View On Amazon
DogHelios' Trail Barker is consistently at the top of many lists when it comes to the best sleeping bags for dogs. Composed of a PU-coated polyester and nylon fabric that provides waterproof, the inner lining has a padded film designed with unique technology that makes it wind and water-resistant while remaining breathable.
Perimeter zippers can be used to fold the surface of the sleeping bag by connecting it to other pet beds. Easy to roll up and carry, this item features a nylon strap, is available in multiple colors, and is simply perfect for outdoor use if you want your travel companion to be excellent and comfortable.

Best choice for backpackers with small dogs
Extremely versatile and can be used in multiple configurations
One of the lightest sleeping bags available
Owners praise quality and durability
Better padding than many others Sleeping bag
Not big enough for large puppies (probably only suitable for dogs up to 35 pounds)
It does not come with a stuff sack
The manufacturer does not provide care instructions
A little more expensive than most of the other options
8. Boulderlite 2-in-1 Dog Bed and Sleeping Bag
View On Amazon
The Boulderlite 2-in-1 Dog Bed and Sleeping Bag are specifically designed for camping. It has a quick-drying, water-resistant nylon shell and polyethylene-filled high-rise insulation to protect your pup from the cold. There is a zipper around the bottom which, when opened, allows the sides of the bed to unfold into a sleeping bag cover, perfect for those cooler nights outdoors.
All of this folds into the included stuff sack, which can be attached to most dog backpacks and makes this option a tremendous space-saving dog bed. The mattress also contains three signaling loops to connect to the ground or hang-dry for the ultimate camping practicality.

It dries quickly after washing
It is made of breathable and waterproof materials
It has a highly compressible design
It is heavy compared to other sleeping bags.
9. Alcott Adventure Sleeping Bag
View On Amazon
The adorable Alcott Adventure Sleeping Bag is a sturdy and flexible option for casual campers, keeping your dog comfortable in a tent, the bed of your truck, or on the ground looking up at the stars.
You can give it to your dog in the standard configuration "pocket style" or open it (most of the time, it does not flatten completely) to give your pup an extra pad to sleep on. This makes it useful in a variety of temperatures and camping situations.

Warm and well insulated
It can be opened to provide a flat sleeping space in warmer months
A great option for car camping
Pretty cute design
Bags appear to run on the small side – large size may not accommodate large dogs
Listed weights seem inaccurate, and some owners complain about bag weight
Probably too bulky for serious backpackers
10. Cheerhunting Dog Sleeping Bag
View On Amazon
The CHEERHUNTING Dog Sleeping Bag is a good choice for medium to large-sized dogs. You can open it all the way or lay it flat on the ground for your more giant bag. It can support pets up to 90 pounds.
This puppy sleeping bag is made of insulating and waterproof materials. The polyester shell and fleece inner lining make it comfortable and breathable for your dog to sleep when camping. Apart from this, it has a velcro tab that prevents the zipper from being accidentally opened.
Cleaning this product is easy. It is machine washable, and you can shake it to remove dirt.

It stands well after repeated washing
Easy to clean
Dries quickly
It's heavy for backpackers
Benefits of Dog Sleeping Bags
Sleeping bags for dogs may sound strange or even frivolous, but they provide great value for the canines to camp. Some of the most notable benefits they provide include:
Keep your dog warm and dry: the best and most apparent benefit from investing in a sleeping bag to sleep is that you will keep your dog dry and toasty, just like your sleeping bag does for you.
Canine sleeping bags protect your dog from the ground: Give your dog your sleeping bag, which will help you isolate it from the cold floor, and it will also give you a more padded surface (dogs do not like to sleep on rocks and roots of trees.
Suitable For dogs with joint problems: In addition to keeping your dog comfortable, a sleeping bag can have health benefits for dogs with joint problems since it is much better for them than sleeping in cold and cold terrain.
Pulper sleeping bags provide additional security for your Doggo: If you are not a usual camper, it can be pretty disturbing so that your dog gets away from home. A bed to call your account will provide that security and comfort. Very needed.
9 Steps To Teach Your Dog How to Be in a Sleeping Bag
This is how you can teach your dog to lie down on your sleeping bag:
Packing with your dog. Let it smell and examine the bag while she is folding.
Open the sleeping bag completely and fold it. Place the bag between you and your dog. Say " good " and reward your dog several times when he stands on the bag.
Throw a gift away from the sleeping bag, move away from a little and repeat this stage several times. After a while, your dog will understand that he is going through the sleeping bag that he is being rewarded.
When the dog is stepping on the sleeping bag, you can allure it to lay down. You can also use a command. If your dog no longer knows, this can already say " lay down" when the dog is doing it. Reward it several times for the setting. Throw a seat away from the sleeping bag and repeat the process.
Lay and stays: Increase the number of steps you are taking while the dog is lying. you should be able to easily take a round around the dog, stand up or sit at peace while the dog is resting there, or go a little further.
Place the command away: This needs if your dog is standing in the sleeping bag while you are on a trip.
Make your dog get used to having the sleeping bag over him and the sound of the zipper. Reward it every time you put the bag on it at the beginning, or when he is making sounds with the zipper.
Teach your dog to go through the sleeping bag. Open the bag at both ends and attract the dog through the bag with a gift. Reward the dog while he stands on the bag and then attracts him from the sleeping bag. When the dog passes it on its own without hesitation, you can continue to the next level.
Take the sleeping bag with you to many different environments and practice stage 8 there.
Now you are ready! Each dog is different, and some may have problems with one or more of the stages on the road.
Frequently Asked Questions (FAQs)
Are dog sleeping bags necessary?
Most dogs get used to a safe and warm environment when growing up in a home, so you need to be careful when you take them outside for camping. If your pet is exposed to the cold for an extended period, this can have severe consequences for his health that can even become permanent. Therefore, the best dog sleeping bag is necessary to prevent your furry friend from being harmed and make the outdoor experience enjoyable for all family members.
What size sleeping bag should I get for my dog?
You should always measure the size of your dog to get an idea of the size of the sleeping bag you are going to get for your pet. Watch how they sleep and try to measure them in their natural sleeping position. You will measure the area that their bodies occupy when they sleep. You will then need to add a margin of approximately 3 inches on all sides of the measured dimension to allow movement within the sleeping bag. For example, suppose Fido is a curling iron and will generally occupy 18 inches long by 15 inches wide to sleep. In that case, the minimum dimensions of the sleeping bag should be 25 inches by 21 inches.
How do I get my dog to use the sleeping bag?
While some dogs are burrowing hunters by nature, not all will immediately latch onto a sleeping bag, especially one with a cover, if they are not used to it. Try getting your dog to sleep on the bag initially, tempting him there with treats or his favorite toy. Please do this at home first, before you take it camping, so they know what to do when you're out in nature. You will probably find that as the temperature drops, they hide under the blanket to keep warm!
How do Campers Keep Dogs Warm?
When you are camping with your four-legged friend, various tips and tricks can help keep him warm and ensure his well-being. In addition to carrying the best sleeping bag for dogs with you, make sure they stay dry at all times and give them a little more food than you usually would increase their body temperature. If you want to go even further, bring an extra blanket and bottles of warm water to a place near your dog, perhaps wrapped in something to prevent them from coming into contact with his skin. Finally, be sure to insulate your tent correctly and wear a coat for your dog. Cuddling and cuddling are also great ways to share body heat that's guaranteed to help your mood.
Can a dog carry her sleeping bag while hiking?
It depends on your dog's race, age, and health conditions, but most dogs healthy enough to camp can help bring something from their gear.
For example, it is probably not prudent to add weight to a more elderly dog's back with a set or spinal problems. However, if FIDO is healthy and is an adequate race for hiking, many canine saddlebag options will help you easily carry a bag.
Conclusion
A good sleeping bag to sleep in will isolate your dog from the cold floor. Also, you will relax knowing that your partner is sleeping safely in his sleeping bag. Sometimes, you may want to let the dog in your store.
But allowing him to sleep in his sleeping bag can cause health problems, like allergies. That's why it's good to invest in a high-quality sleeping bag for your pet.
If you want your dog to enjoy the camp trip, buy a product based on your pet's needs instead of the price.
References
globosurfer.com
mypetneedsthat.com
allpetslife.com
k9ofmine.com
petside.com
nonstopdogwear.com