This site is supported by our readers. We may earn a commission, at no cost to you, if you purchase through links.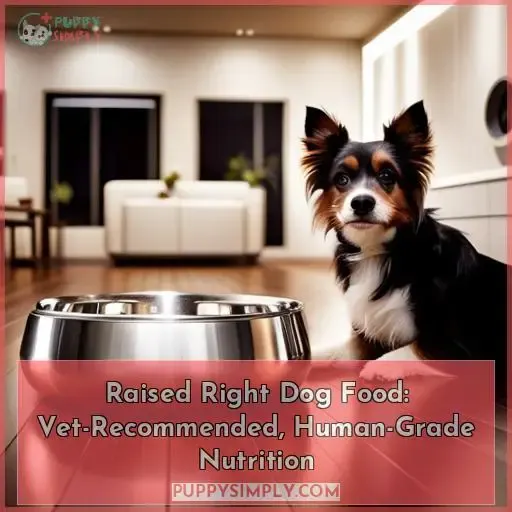 As smooth and effortless as a well-oiled machine, Raised Right dog food is the vet-recommended choice for those looking to provide their pups with human-grade nutrition.
With its emphasis on fresh ingredients that are sourced from within the US, you can have peace of mind when feeding your pup Raised Right's healthy fare. If you're considering switching your pet over to this brand of premium dog food but need more information before making a decision, our review will provide an overview of key features, pricing options, and what makes it stand out from other brands on the market today so you can make an informed purchase decision for your furry family member.
Key Takeaways
Vet-recommended and offers human-grade nutrition
High protein content with low carbs
Fresh ingredients sourced within the US
Positive customer feedback includes improved energy, digestion, skin, and coat
Key Features of Raised Right Dog Food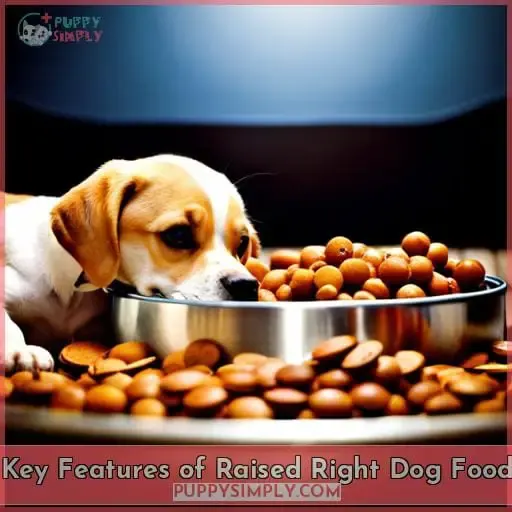 Raised Right Dog Food is a vet-recommended, human-grade dog food that emphasizes quality and safety. Their recipes are formulated by veterinarian Dr. Karen Becker and pet food expert Steve Brown, using high-protein sources with limited ingredients to ensure your pup gets the optimal nutrition they need for their stage of life.
Vet-recommended nutrition options
Vet-recommended Raised Right Dog Food offers tailored, limited ingredient recipes with high protein and low carbs to keep your pet healthy. Its ingredients are human-grade, sourced from US farms, cooked in a human-grade facility using low temperature for safety and nutritional integrity.
It is recognized for its impact on pet health and sustainability efforts, such as partnering with Carbonfund.
Human-grade ingredients and production
Raised Right Dog Food ensures that every ingredient meets human-grade standards, so you can trust that your pet is getting the highest quality nutrition. The company sources ingredients from farms across the US and lightly cooks them in a human-grade facility at low temperatures to meet USDA pathogen kill-step requirements.
Lab safety tests are conducted on each batch for added assurance of food safety. Moisture retention and nutritional integrity are also safeguarded through their focus on careful preparation methods. All meat content used is single source animal protein, with no high carb fillers such as barley or wheat included in any recipes.
Additionally, preservatives are never part of Raised Right's formulas, making it suitable for pets with sensitive stomachs or allergies too!
Emphasis on safety and quality
You can trust that your pet is in safe hands with Raised Right Dog Food. They prioritize quality and safety above all else. From low-temperature cooking to lab safety testing for pathogens, they ensure the highest standards.
They use human-grade ingredients and have experts monitoring the production process. They also focus on moisture retention to maintain the nutritional integrity of each product. Raised Right sources ingredients from farms across America and conducts pathogen kill steps and nutrient content analysis to guarantee optimal health benefits for every pet's stage-of-life.
What Makes Raised Right Pet Food Stand Out?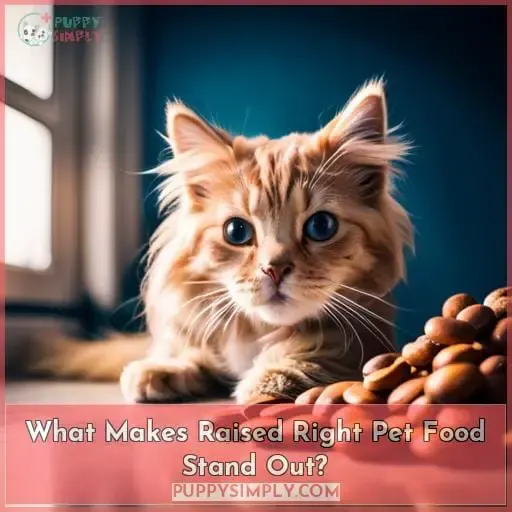 Discover why Raised Right pet food stands out, from its human-grade ingredients and low temp cooking process to the traceability of each batch.
Its high protein recipes with limited ingredients are formulated by veterinarian Dr. Karen Becker and pet food expert Steve Brown for optimal nutritional integrity and tailored to pets' life stages.
With no preservatives or carb fillers like barley, corn, or wheat included in the mix, customer reviews praise its ability to give their animals more energy while improving digestion issues too.
Moreover, Raised Right is committed to sustainable practices such as partnering with Carbonfund.
Acknowledging this dedication has earned them an Innovation Award for Nutrition in 2019; you can trust your pup will be getting only natural animal proteins without sacrificing taste when feeding them Raised Right's vet-formulated recipes!
Pricing and Packaging Options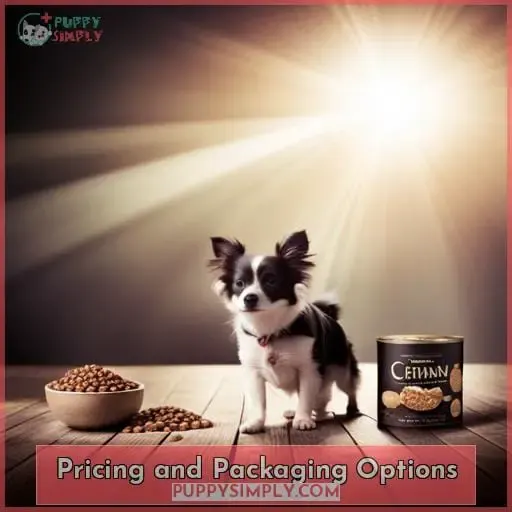 Explore the range of pricing and packaging options offered by Raised Right Pet Food – from single-ingredient treats to customizable diet plans – so you can find a fit that fits your pup's needs like a glove.
The products are shipped in 16-bag boxes with free shipping for orders over $100. They offer 11 different dog food options, including puppy formulas, as well as Meat Bites and Shake A Flakes treats.
Cost analysis shows prices per bag at around $10.99 or lower depending on order size, making them comparable to other fresh pet food brands in terms of cost effectiveness. However, it's important to consider their high-quality ingredients sourced from farms across the United States and their human-grade kitchen preparation process.
Raised Right Pet Food provides value for the money spent on pet nutrition needs. They offer limited ingredient recipes tailored to each stage of life, as well as sustainability efforts focused on carbon emissions offsetting.
They are also partnering with Carbonfund.org and are plastic neutral certified, among others.
Furthermore, their ingredients are traceable and suitable even for sensitive stomachs and allergies.
Is Raised Right Dog Food Worth the Price?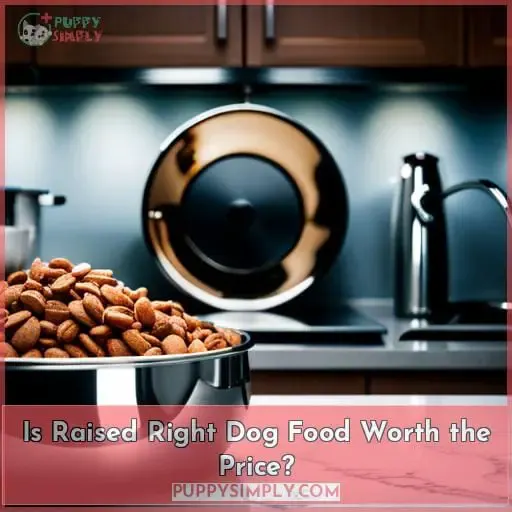 Investigating whether Raised Right is worth the price? This review dives into what makes this premium dog food stand out from other brands.
Customers are paying for quality when they purchase Raised Right, with ingredients sourced from farms across the United States and meals prepared in human-grade kitchens at low temperatures.
Vet-formulated recipes feature limited ingredients, high protein, and low carbs, ensuring nutritional integrity without filler grains like barley or wheat.
Customer satisfaction reports have noted improved bowel movements and more energy after switching to this brand – making it a worthwhile investment despite its higher cost point.
All batches of food undergo lab testing for safety before being released onto shelves, while there are no preservatives used in any recipe, which further boosts customer confidence regarding pet health benefits associated with using this product range over others on the market today.
Sustainability impacts are also taken seriously by the company through partnerships with Carbonfunds plus plastic neutrality certification initiatives too – all reasons why customers should feel confident that choosing Raised Right will give them peace of mind as well as value for money when it comes to their pet's nutrition requirements!
Comparison: Raised Right Vs. Other Fresh Dog Food Brands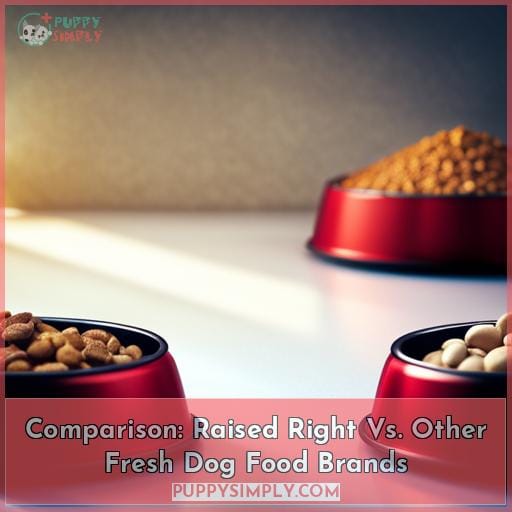 Compare Raised Right's human-grade dog and cat food to other fresh pet food brands offering high-quality ingredients and nutrition tailored for your pet.
Consider the following criteria:
Beef as the first ingredient
Moisture in the diet
Customer reviews
Price comparison
Raised Right uses premium cuts of beef as its first ingredient, with no low carb fillers like potato or rice included in any recipe. The slow cooking process helps retain more nutrients while producing a moist meal that dogs love.
Customers have praised the results of feeding their pets Raised Right meals over other foods on the market today.
Pricing is comparable when looking at similar nutrient profiles, though some may consider it pricier due to the higher quality standards used by this brand compared to others.
Nutritional benefits include limited ingredients tailored for each stage of life, along with single-source animal proteins that provide essential amino acids needed for daily health maintenance.
Review of Raised Right Fresh Human-Grade Dog Food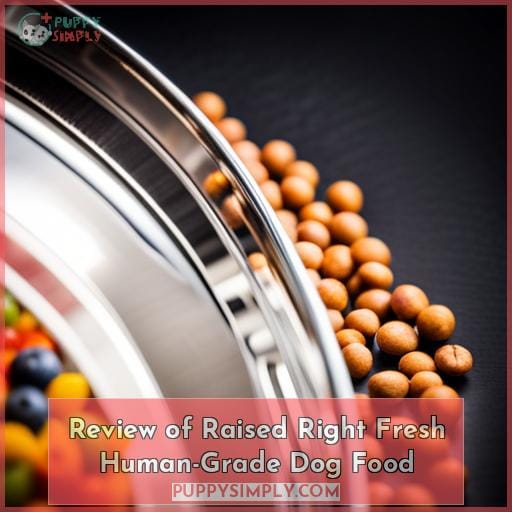 Discover how Raised Right's human-grade dog food has been recognized for its impact on pet health, with high protein and low carb recipes tailored to each pup's stage of life. All ingredients meet human-grade standards and are lightly cooked in a facility that meets USDA pathogen kill steps.
Plus, every batch is lab safety tested for pathogens before shipping – giving you peace of mind knowing your pup will get the best nutrition available. Customers have reported better bowel movements and increased energy after switching their pets to Raised Right due to the focus on moisture retention and nutritional integrity in all products.
The unique limited ingredient recipes also make it suitable for sensitive stomachs or allergies while still being affordable compared to similar fresh dog food brands – 20% off your first order! And don't forget about their sustainability efforts; they partner with Carbonfund.
Recipe and Ingredient Analysis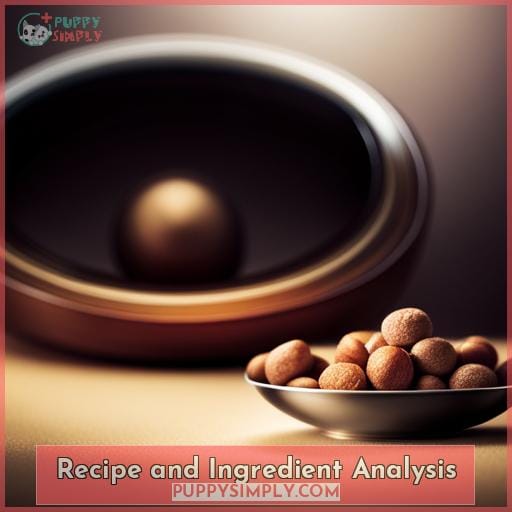 A thorough analysis of Raised Right's human-grade dog food recipes is essential to understanding the quality and safety of their products. Beef, chicken, and fish formulas are all available for a variety of life stages; each recipe has its own set of beneficial nutrients that provide optimal nutrition for your pet.
Beef Recipe Analysis
Examine the Beef Recipe to uncover its rich levels of essential amino acids, beneficial ingredients, and vitamins for your pup. It offers a limited-ingredient diet that is protein-rich with a 61% protein content.
With no grain fillers like potato or wheat, it's also low in carbs at 8%. Carrots provide beta-carotene and dietary fiber, as well as cranberries' nutrients; spearmint for minerals; flaxseed oil for omega 3s; and cod liver oil for vitamins A & D.
Chicken Recipe Analysis
Delve into Raised Right's chicken recipe to explore its unique blend of protein, fat, and carbohydrates. The adult chicken formula is perfect for pets with food allergies or sensitivities due to the limited ingredients used and single source of animal protein.
It also boasts high amounts of essential amino acids from sources like chickens and eggs that provide beneficial nutrition options.
Customers have reported their pet having more energy after switching over to this top-rated brand. They also enjoy the lightly cooked meals prepared at low temperatures in a human-grade facility. The meals are made using lab safety tested methods for optimal pathogen kill step results.
Its nutritional benefits make it one of the best dog foods available on the market without sacrificing ingredient quality or taste!
Fish Recipe Analysis
Uncover the fish recipes from Raised Right that offer high protein, low carbs, and a host of health benefits. These recipes are formulated with ingredients like cod liver oil and flaxseed oil for their omega-3 fatty acids, as well as eggshell powder to provide dietary calcium.
Customers have reported better bowel movements and more energy after switching to these formulations. Each recipe meets AAFCO's nutrient profile standards while also adhering to sustainability efforts such as plastic neutrality certification.
Nutrient Analysis of Raised Right Dog Food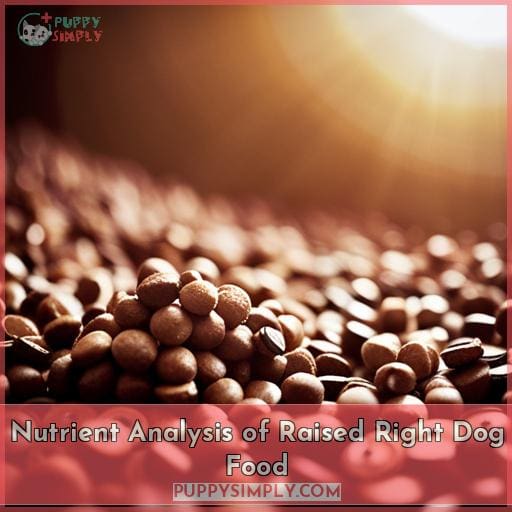 You'll appreciate the Raised Right Dog Food's nutritional analysis, with its high-quality proteins and fats carefully balanced for optimum health. The adult beef recipe contains 61% protein, 24% fat, and 8% carbohydrates – an optimal balance for canine nutrition.
Beef and beef heart are great sources of essential amino acids, while carrots provide beneficial beta-carotene as well as dietary fiber. Additionally, the flaxseed oil used in this formula is a non-fish source of omega 3 fatty acids that offer numerous benefits to canines, such as joint support and improved skin health.
Other ingredients like cranberries or spearmint contribute additional vitamins and minerals to complete a nutritionally balanced diet for your pup! The other recipes offered by Raised Right also boast above-average protein content (60%), moderate fat levels (22%), and low carbohydrate percentages (10%).
With these nutrient profiles combined with their human-grade ingredient quality assurance process, you can rest assured knowing you're providing your furry friend with only the best food possible!
Rating and Customer Feedback of Raised Right Dog Food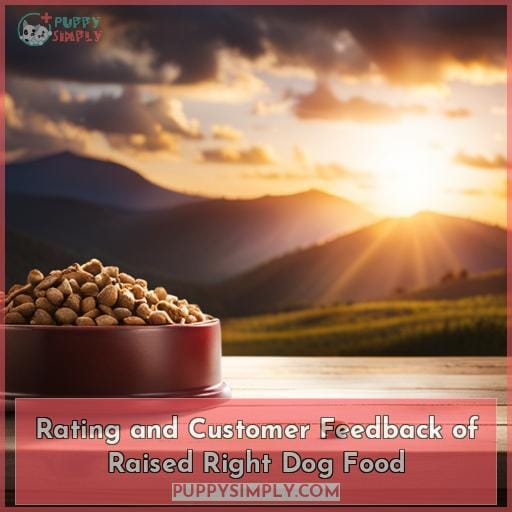 See what pet owners have to say about Raised Right's award-winning nutrition and human-grade ingredients. Customers are satisfied with the quality of their food, noting its nutritional benefits for a variety of health issues and age groups.
People report that their pets have more energy, better bowel movements, fewer allergies, shinier coats, and healthier skin after incorporating Raised Right dog food into their diet.
The cost effectiveness through subscription options also adds to customer satisfaction. Additionally, the family-owned company's commitment to sustainability initiatives, such as Carbonfund certification, is appreciated by many customers.
They feel that investing in this type of premium product is worth it after seeing the positive impact on their pet's overall wellbeing.
Safety and Recall History of Raised Right Dog Food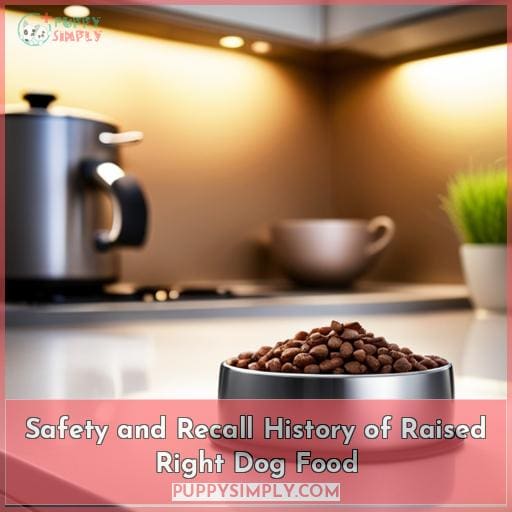 Discover the safety and recall history of Raised Right Dog Food, a brand offering human-grade meals with lab-tested ingredients for pets.
No recalls have been reported since 2016 when the family-owned pet food company started operations.
Every batch undergoes laboratory safety tests for pathogens to ensure quality control in production processes.
Remarkable customer experiences are attributed to ingredient transparency, nutritional analysis, and a focus on health benefits over time rather than just palatability or taste preferences alone.
Vet-formulated recipes are tailored to each pet's stage of life, with single-source animal proteins and no preservatives used in any recipe formulation.
The company claims that all ingredients are human-grade, ensuring safe food before shipping through their hold release program. This program ensures that dog owners have access only to high protein, low carb recipes (less than 2% carbs).
Raised Right is a reliable option as they take extra measures towards guaranteeing your dog's health while also being mindful of environmental sustainability initiatives like carbon emissions offsetting programs.
Conclusion
Raised Right Dog Food is an excellent option for pet owners who want the best nutrition for their four-legged friends. It's no wonder why this pet food has won awards, with its high-quality, human-grade ingredients and low-temperature cooking methods.
The limited-ingredient recipes are tailored to each pet's stage-of-life, ensuring that your dog is getting the right nutrition. Raised Right Dog Food offers subscription options and competitive pricing, making it an affordable way to keep your pet healthy.
If you're looking for a vet-recommended, human-grade pet food that's been designed with your pet's health in mind, then Raised Right Dog Food is the perfect choice.