This site is supported by our readers. We may earn a commission, at no cost to you, if you purchase through links.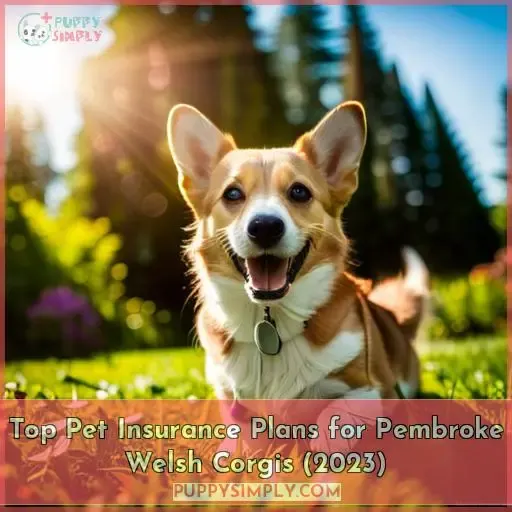 Snuggling your furry friend brings you such joy, doesn't it? As a fellow corgi lover, I know you would move mountains for your short-legged pal. Let's make sure your pocketbook can handle whatever your pup needs. The right pet insurance removes the financial worry from caring for your cute corgi.
We will find a plan that covers your corgi's unique needs and fits your budget. Then you can give your pup all the treats, snugs, and care they deserve.
Key Takeaways
Enroll your corgi in pet insurance when young to get the most coverage for the lowest cost.
Shop among multiple pet insurance companies and compare quotes. Look for comprehensive accident and illness coverage without breed exclusions or coverage limitations.
Consider pet insurance plans that cover breed-specific conditions like hip dysplasia and IVDD. This provides protection against the expensive health issues Pembroke Welsh Corgis often face.
Opt for a high reimbursement percentage (80-90%) and lower deductible ($200-$500) for the most coverage. This reduces your out-of-pocket costs when you utilize your corgi's pet insurance.
Why Get Pet Insurance for Your Corgi?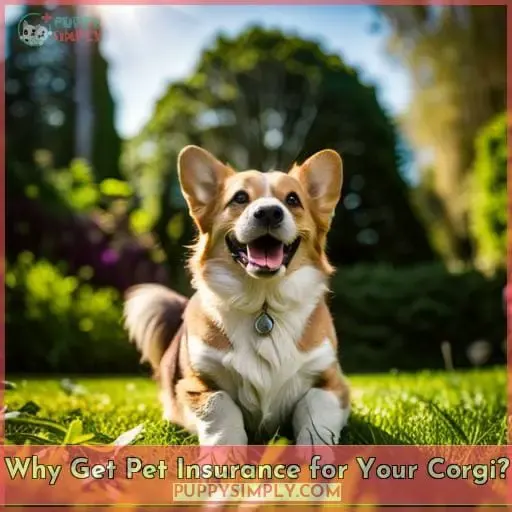 You'll wanna get insurance for your pup to help cover any medical costs that may come up. Getting pet insurance for your corgi provides peace of mind by covering unexpected veterinary expenses.
It's best to enroll your pup early before problems arise. Insurance will cover costs related to accidents, illnesses, exams, surgery and more. Consider breed-specific risks like hip dysplasia. Early enrollment ensures coverage for emerging genetic issues.
Compare options to find the right policy for your budget. Optimize coverage in case of corgi health issues down the road.
Insurance ensures your corgi will get the best care without financial hardship on your end.
What Does Corgi Pet Insurance Cover?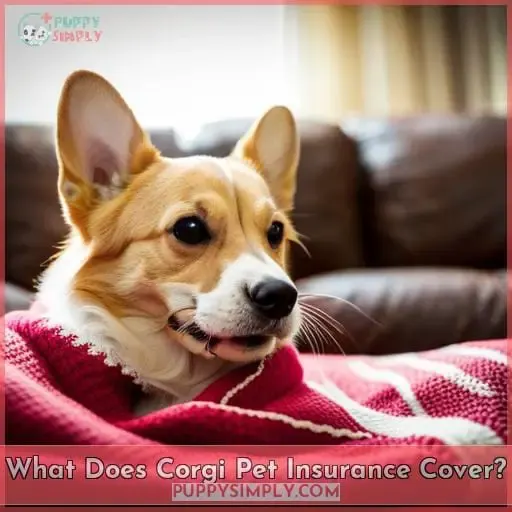 Pet insurance's got your back when accidents, illnesses, or exams happen. With customizable insurance policies, you can tailor coverage to fit your corgi's needs and budget. Policies typically cover accidents, illnesses, exams, diagnostics, surgery and more.
You'll have flexibility to visit any licensed vet in the country. Some insurers also offer routine care coverage for preventative care.
Since corgis are prone to certain conditions like hip dysplasia, IVDD, and degenerative myelopathy, pet insurance can provide financial assistance if treatment's needed for breed-specific illnesses. Premiums vary based on your coverage selections. Work with your insurance provider to personalize an affordable plan that'll be there when your furry friend needs it most.
How Much Does Corgi Pet Insurance Cost?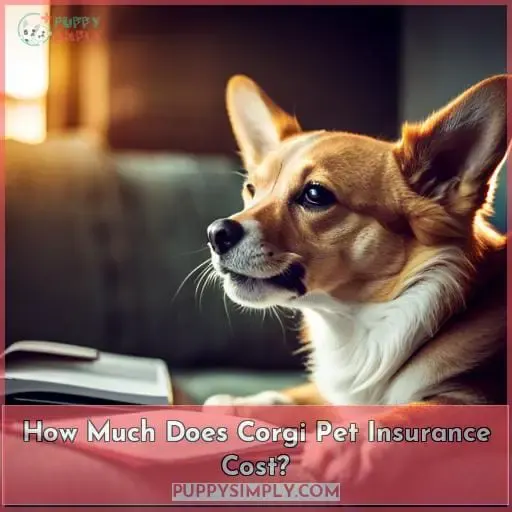 The monthly premium can vary greatly depending on the coverage you choose.
Average monthly premiums range from $30 to $70 for basic accident-only coverage.
For a comprehensive plan covering accidents, illnesses, exams, surgeries and more, you'll pay $80-$120 per month.
Premiums are typically lower for younger, healthier dogs and higher for seniors or dogs with preexisting conditions.
The cost depends on factors like your deductible, reimbursement percentage, coverage limits and exclusions. Compare personalized quotes across insurers to find the optimal balance of price and protection for your Corgi's needs.
With the right pet insurance plan in place now, you can have peace of mind knowing you'll be able to provide the best care through all of your pup's life stages.
Top Pet Insurance for Welsh Corgis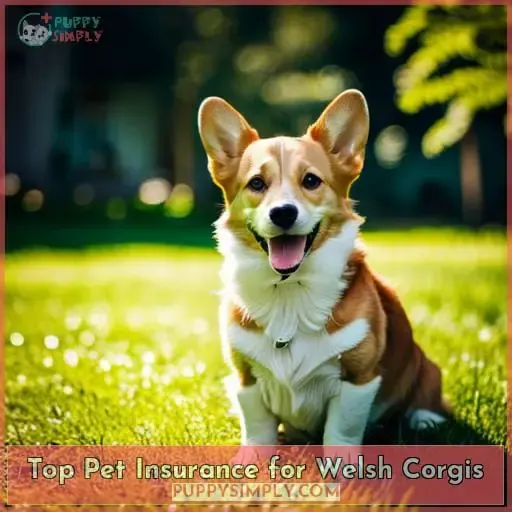 Some of the best pet insurance carriers for your Pembroke Welsh Corgi include Trupanion's medical bundle, Healthy Paws' preventive care, and Embrace's custom fit plans to prepare you when accidents or illnesses happen.
Breed specific plans from Figo, Petplan, ASPCA, and Nationwide Insurance provide robust coverage options tailored to Pembroke Welsh Corgis.
Compare policies across top providers like Pumpkin, Pets Best and PetFirst to find the right premium factors based on your pup's needs. Use tools to contrast coverage across reputable insurance companies before enrollment.
Choosing the right provider ensures your pup's covered for common medical conditions.
With proper pet insurance for your Pembroke Welsh Corgi, you can rest easy knowing you're prepared to care for your furry friend.
Enroll Your Corgi While Young

You'll kick yourself down the road if you don't protect your pup now. Enrolling your Pembroke Welsh Corgi in pet insurance while young provides key advantages:
Lower monthly premiums by starting early. Premiums increase as your dog ages.
No waiting period for accidents or illnesses. Claims will be covered right away.
Peace of mind knowing your puppy is protected. You can relax as your corgi explores life.
Full coverage for breed-specific conditions. Issues like IVDD won't be excluded as pre-existing.
Preventive care benefits to keep your dog happy and healthy. Wellness exams, vaccines, flea/heartworm meds covered.
Don't wait – get personalized pet insurance quotes today. Evaluating coverage while your corgi is a puppy means you can find the optimal plan to fit your budget. Invest now for your dog's long-term health and provide care as needed, regardless of costs.
The financial safety net of insurance lets you focus on loving your Pembroke Welsh Corgi.
Conclusion
You owe it to your Pembroke Welsh Corgi to secure the best pet insurance available. An estimated 1 in 3 pets will need unexpected veterinary care each year, so having comprehensive coverage is essential.
The top providers offer customizable plans to fit your budget. Before signing on the dotted line, make sure your preferred company doesn't exclude pre-existing conditions or limit payout amounts.
Partnering with the right insurer from the outset will give you the peace of mind that comes with knowing your furry friend will receive the very best care when they need it most.
Embrace offers some of the most comprehensive Pembroke Welsh Corgi pet insurance on the market.