This site is supported by our readers. We may earn a commission, at no cost to you, if you purchase through links.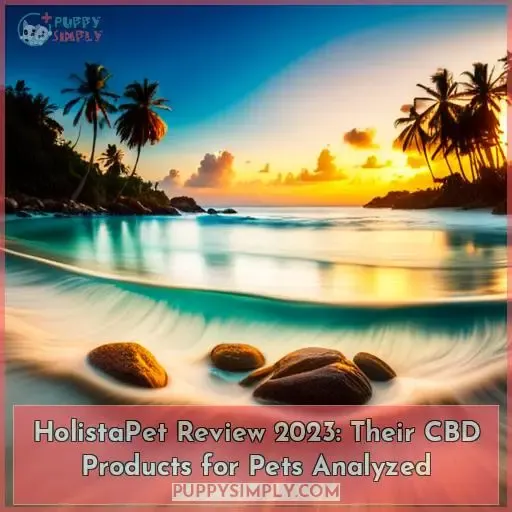 Perhaps you've heard the buzz about the potential health benefits of cannabidiol (CBD) for pets. But before you give your furry friend that seemingly too-good-to-be-true miracle cure, take a deep breath.
Not all CBD products live up to their promises. That's why we dove snout-first into HolistaPet's line of oils, treats, and more to assess the truth. Do their products really relieve anxiety and arthritis? Or are they just snake oil packaged in a pet-friendly facade? Read on to discover if this brand is a scam or the real deal for your canine companion.
Key Takeaways
HolistaPet uses organic, U.S.-grown hemp in their CBD pet products.
They offer a wide range of CBD formats for dogs, cats, and horses including oils, treats, capsules, balms, and shampoos.
Lab testing ensures the quality and effectiveness of their products.
Reviews show that HolistaPet's CBD treats and oils help with anxiety, arthritis, and other issues in pets.
HolistaPet Product Overview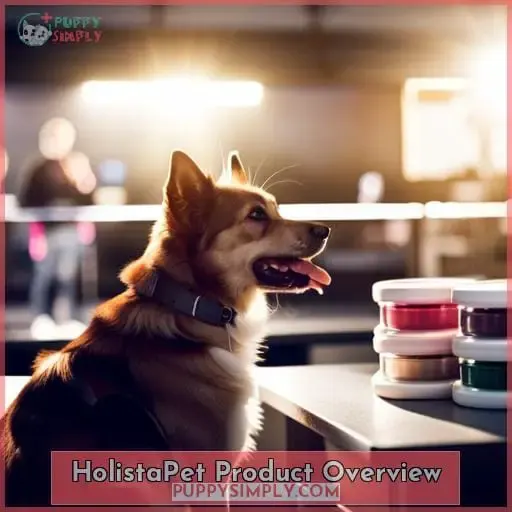 As a concerned pet owner, you want to provide your furry friend with the highest quality products using natural ingredients. HolistaPet offers a range of CBD products for dogs, cats, and horses, such as oils, treats, capsules, and topicals crafted with organic hemp cultivated in the USA.
Ingredients and Quality
You'll be happy to know their products use 100% organic and U.S.-grown hemp along with superfoods like flaxseeds, hemp seeds, and blueberries to support your pet's health. The Colorado-sourced hemp and lab testing from CannaSafe ensure the quality and effectiveness of HolistaPet's full-spectrum CBD products.
With a commitment to organic ingredients and quality assurance, you can trust HolistaPet to provide exceptional CBD hemp products for your furry friend.
Types of Products
As a caring pet parent, you look for HolistaPet's variety of natural wellness products to pamper your furry friend. Their full line of organic CBD oils, treats, and supplements nourish your pet with nature's gifts and help them thrive.
HolistaPet offers CBD products for dogs, cats, and horses with options like oils, treats, capsules, balms, and shampoos. Their assortment of hemp-derived CBD comes in a range of strengths and formulations to suit your pet's needs.
HolistaPet for Pets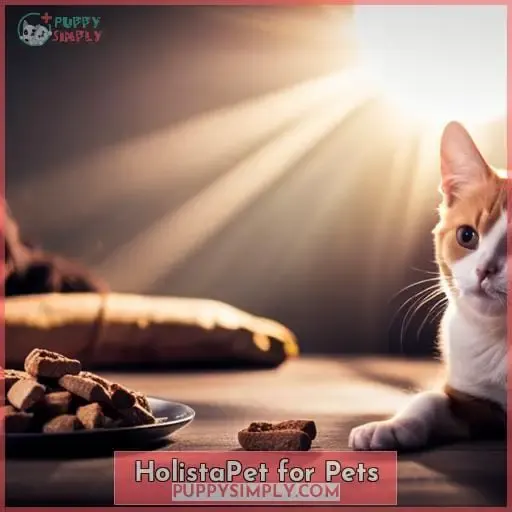 HolistaPet offers a wide range of CBD products designed specifically for dogs, cats, and horses. They carry oils, treats, capsules, balms, and shampoos to support your pet's health needs. When first introducing CBD, HolistaPet provides helpful dosage guidelines based on your pet's weight and condition treated.
Customers report excellent results using HolistaPet CBD to ease anxiety, arthritis, seizures, and more.
While anecdotal evidence is promising, HolistaPet recommends consulting with your vet before starting any new supplement, especially for pets on other meds. They could improve transparency by clearly displaying third-party lab reports. However, the overwhelmingly positive testimonials and reviews show most pet owners are highly satisfied with HolistaPet's quality ingredients, fair pricing, and compassionate customer service.
Ultimately, HolistaPet offers a trustworthy source for pet CBD worth exploring.
HolistaPet Dog Treats Review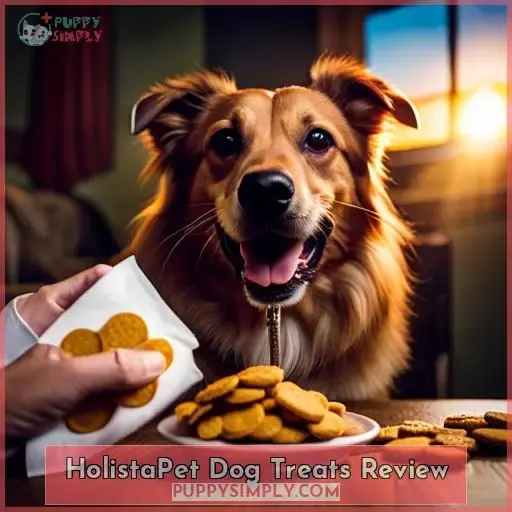 Looking for natural relief for your furry friend? HolistaPet's tasty CBD dog treats are made with premium hemp-derived ingredients to help support your pup's well-being. With peanut butter, cheese, and bacon flavor options using wholesome superfoods like turmeric and flaxseed, these chews can help your dog feel their best without the medicine taste.
The treats are free of corn, soy, grains, and fillers. Reviewers say the calming treats help anxious pups relax and the mobility treats soothe aging joints. They come in convenient resealable bags to preserve freshness. HolistaPet crafts American-made CBD treats with organic ingredients right in their Southern California facility.
They third-party test every product batch for safety and potency. Their CBD comes from organic Colorado hemp rich in beneficial compounds to help keep your dog happy and healthy.
Flavors and Ingredients
You can pick from peanut butter, pumpkin spice, blueberry, and chicken flavors for your pup. Each flavor is made with natural ingredients like organic turmeric and fresh fruits. HolistaPet dog treats come in a variety of flavors to suit your pet's unique tastes and preferences.
Flavors like peanut butter appeal to most dogs, while options like pumpkin spice mix things up. All HolistaPet reviews indicate these treats use all-natural hemp and ingredients free of fillers. Focusing on quality ingredients ensures your dog enjoys HolistaPet treats' flavor and benefits.
Effectiveness for Dogs
You'll see changes within days as your best friend enjoys relief from pain, anxiety, and other issues with HolistaPet's all-natural treats. Customers rave about the calming effects on anxious pups and improvements in mobility for arthritic dogs.
Your furry companion will feel at ease with the natural calming effects of CBD and nutrients like turmeric and omega oils in these tasty treats. Say goodbye to restless nights and discomfort as your pup enjoys the benefits of these tested hemp solutions made with care just for them.
Buying From HolistaPet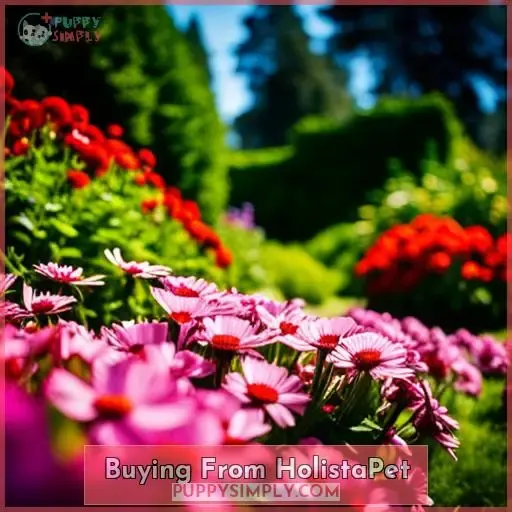 When considering buying from HolistaPet, you'll want to look at pricing and any available discounts as HolistaPet offers competitive pricing for their quality CBD pet products, with discounts available through auto-ship subscriptions and bundled purchases.
They provide free standard shipping within the US and have a 30-day return policy if you need to send something back.
Pricing and Discounts
Saving some cash by snagging HolistaPet's healthful supplements on special. HolistaPet offers wallet-friendly pricing for their top-tier pet CBD. Snag savings via monthly auto-delivery discounts, bundled deals, or first-time buyer promotions.
Diligent owners determine the ideal daily dose then deduce the most economical size and strength configurations. Procure pots of pet-pleasing products at the best cost-per-milligram available! HolistaPet makes splurging on Fido's full wellbeing flexible and favorable for your finances.
Shipping and Returns
Hey folks, shipping's fast 'n free on orders over $49 with HolistaPet. HolistaPet ships from its Los Angeles facility to the U.S. within 3-5 business days. The team strives for quick turnaround on all orders to minimize wait times.
Returns are no hassle within 30 days if the products are unopened and unused. Simply email HolistaPet's customer experience team to initiate a return and they'll guide you through their refund procedure.
You can exchange unopened items too. Overall, shipping's a breeze and returns are no problem with HolistaPet's caring crew.
HolistaPet Customer Reviews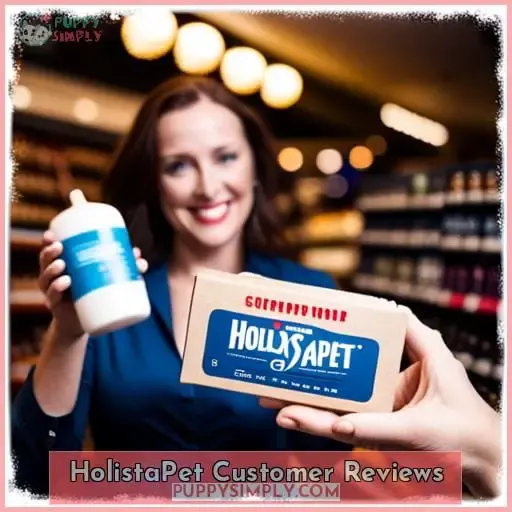 Their customer reviews rave about noticeable improvements in pets' anxiety, arthritis, and more after using HolistaPet's natural CBD treats and oils. The overall customer satisfaction with HolistaPet's products is excellent based on product feedback across thousands of online testimonials.
User experiences repeatedly highlight the emotional comfort and cbd benefits for pet health.
Customer opinions consistently cite fast, noticeable results that exceeded expectations. Positive reviews frequently mention the quality ingredients sourced from organic Colorado hemp. Customers report their dogs loving the tasty flavors and their cats eagerly awaiting daily HolistaPet treats.
Numerous reviews describe comparing brands before choosing HolistaPet for their transparent testing, knowledgeable support, and proven pet calming results over weeks of consistent use. Pet owners enthusiastically recommend HolistaPet after observing many benefits firsthand.
Is HolistaPet Worth Trying?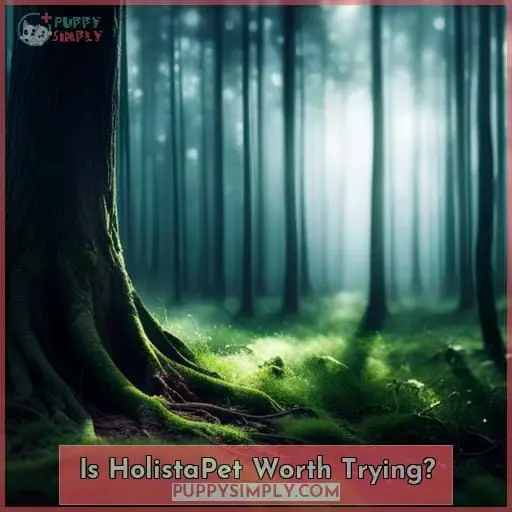 After reading the glowing HolistaPet customer reviews, you may wonder if their products are really worth trying for your furry friend. While testimonials certainly paint a positive picture, it's wise to dig deeper before making a purchase.
Here are four key things to consider as you evaluate whether HolistaPet is right for you:
Look at third-party effectiveness assessments from vets and pet experts. Their unbiased opinions on safety and results can help validate or raise concerns.
Compare HolistaPet's quality and pricing to alternative CBD brands through research.
Check for any safety concerns, certifications, testing procedures, and community engagement.
Consider your pet's specific needs and talk to your vet. In the end, it's about finding the best solution for your dog or cat's health and happiness.
Conclusion
After exploring HolistaPet's wide range of high-quality CBD products for pets, it's clear they aim to improve furry friends' well-being with natural ingredients. Though effectiveness varies for each pet, the treats could support your dog's minor issues, and their hemp-derived CBD may lead to calmer days.
If seeking an ethical brand that prioritizes pets over profits, HolistaPet deserves consideration on your list. With competitive pricing, their gentleness on the wallet matches their gentleness on pets.
Ultimately, HolistaPet offers devoted pet parents a chance to comfort their companions naturally.