This site is supported by our readers. We may earn a commission, at no cost to you, if you purchase through links.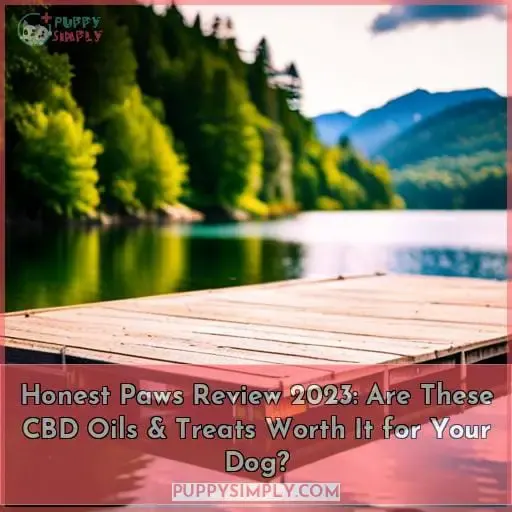 Dog scooting on the carpet, anxious paws scratching at the door, upset stomach after eating – when your furry friend isn't feeling their best, you'd do anything to help them feel better.
Honest Paws offers a variety of CBD products for dogs and cats that pet parents swear by, but you want the honest truth before giving Fido those hemp-infused bites. We dig into the quality of Honest Paws' ingredients, manufacturing, and pricing to let you know if their CBD oils, chews and more are worth a tail wag – or just a bunch of fluff.
With your pup's health and happiness on the line, you need the real facts, not just marketing. Let our paws-on review be your guide to whether Honest Paws lives up to its name.
Key Takeaways
Organic hemp-sourced CBD oils, chews, and treats for pets with specific formulas for dogs and cats are offered by Honest Paws.
Honest Paws products are made in the USA and third-party lab tested for quality assurance.
Gradual dosage increases are encouraged for long-term results on pet behavior and mood when using Honest Paws products.
Honest Paws offers a 30-day money-back guarantee for opened products.
Honest Paws CBD Overview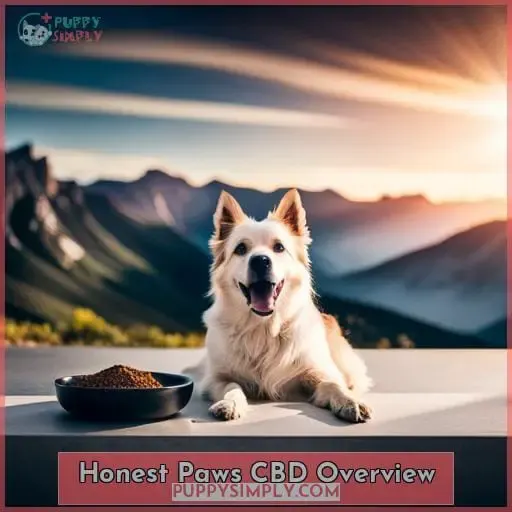 You're looking for quality CBD products for your pets from Honest Paws, who offer a range of oils, chews, bites, and balms for dogs, cats, and horses. They source organic hemp from Colorado with prices based on product type and pet size, manufacturing everything in the U.
Products Offered
You'll find an array of CBD products from Honest Paws to help your furry friend, including oils, chews, bites, balms, and more. With tasty pet-friendly flavors like peanut butter and coconut, Honest Paws' CBD treats provide relief in bite-sized chews.
Carefully formulated CBD dosages cater to pets of different sizes. Take advantage of subscription savings on their lab-tested CBD oils and treats. Focus on your pet's health and happiness with Honest Paws' quality CBD offerings.
Sourcing and Manufacturing
You'd be relieved to know all Honest Paws products are made right here in the United States, using organic Colorado-grown hemp without any GMOs—like a breath of fresh mountain air compared to so many alternatives.
Locally sourced organic hemp
Manufactured in the USA
Third-party lab tested
Full transparency in production
As a pet parent concerned about quality and safety, it's reassuring that Honest Paws controls their supply chain from start to finish. Their commitment to organic ingredients and domestic manufacturing means you can feel good about the CBD products you give your furry friend.
Pricing
CBD oil prices at Honest Paws vary based on the concentration you select, with options tailored to different pet sizes so you can find the right dosage.
| Product | Price |
| --- | --- |
| CBD Oil (125mg) | $25.95 |
| CBD Oil (250mg) | $44.95 |
| CBD Oil (500mg) | $69.95 |
The subscription saves 15%, and free shipping over $48 makes budgeting easier. With their 30-day guarantee, you can ensure value before committing long-term. Overall, Honest Paws hits the mark for offering quality CBD at reasonable prices.
Honest Paws for Dogs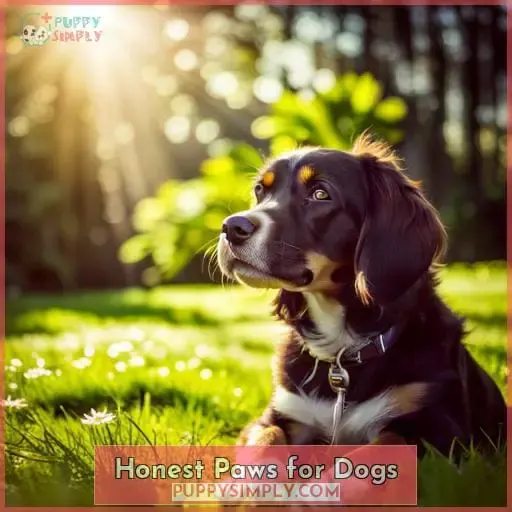 As a veterinarian reviewing Honest Paws CBD products, I'll discuss their CBD oils and treats to start. When searching for CBD products for your dog, consider Honest Paws' oils and treats, formulated specifically for canine health and wellbeing.
Honest Paws' CBD oils come in three concentrations – 125mg, 250mg and 500mg – with the option of either coconut or peanut butter flavoring. Their CBD oils use organic full spectrum hemp, meaning your dog benefits from all the compounds in the hemp plant.
Honest Paws also offers CBD soft chews and treats in calming, mobility, wellness and seasonal allergy options. The soft chews have tasty flavors like coconut and peanut butter your dog will love.
No matter which Honest Paws CBD product you choose, you can feel confident knowing they use organic, plant-based ingredients and are soy-free, non-GMO and lab tested for purity and potency. As a veterinarian, I recommend Honest Paws for pet owners seeking natural wellness options.
Their CBD oils and treats can promote relaxation, mobility, and overall health in dogs.
CBD Oils
Their super-potent CBD oils have your pooch feeling so zen, it's like they just got back from a month-long meditation retreat in the Himalayas.
Calm Oil – Chamomile, valerian root, passionflower extracts promote relaxation and calmness.
Wellness Oil – Hemp seed oil nourishes skin and coat health.
Mobility Oil – Turmeric, boswellia, and hemp extracts ease joint discomfort.
Relief Oil – Aids recovery from exercise, activity, and anxiety triggers.
Allergy + Seasonal Oil – Quercetin and nettle relieve environmental allergies.
Quality organic ingredients in therapeutic doses ensure your furry friend enjoys CBD's benefits for pet wellness. Consistent use helps maintain daily balance, while proper dosing maximizes results. Honest Paws' CBD oils deliver noticeable improvements in mood, mobility, skin health, and allergy relief.
CBD Treats
Got treats for fur babies? Honest Paws' chews and bites give dogs tasty relief. Their CBD pet treats pack wellness benefits into canine delights. Soft chews and crunchy bites both provide dog calmness with pet-approved flavor.
Choose peanut butter or coconut tastes for tail wags. Vet recommendations plus third party lab tests ensure quality ingredients.
Honest Paws' CBD treats supply tasty options for pet calmness. Natural active ingredients promote canine chill without drowsiness. With customer reviews and a money-back guarantee, it's easy to try these pet wellness goodies risk-free.
Honest Paws for Cats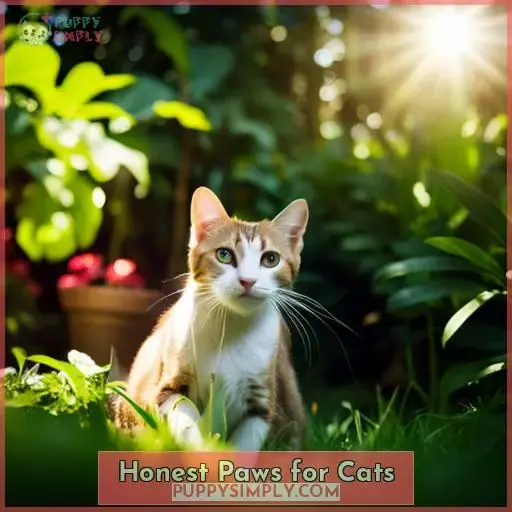 You'll love pampering your furry friend with Honest Paws' specially formulated CBD treats that'll have kitty purring for joy.
Organic, Colorado-Grown Hemp
Third-Party Lab Tested
Money-Back Guarantee
FREE Shipping Over $48
Subscription Savings
Honest Paws offers quality CBD products designed specifically for cats. Their cat-friendly options come in tasty bites and oils formulated for the feline endocannabinoid system. Carefully calculated feline dosages deliver just the right amount of CBD based on your cat's weight.
As a pet owner, you can be confident in Honest Paws thanks to positive customer feedback about their cat products. Whether your cat needs stress relief or help with joint discomfort, Honest Paws aims to enhance your feline's health and happiness through the power of hemp.
Providing your cat CBD treats from a trusted brand like Honest Paws lets you show your kitty some extra love.
Using Honest Paws CBD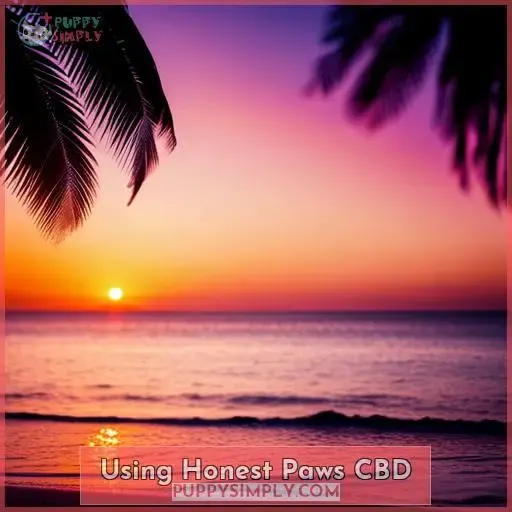 Let's get started optimizing your pet's health with Honest Paws CBD. Begin with half the recommended dosage, gradually increasing every few days until you achieve your pet's desired results. Monitor for improvements in mobility, anxiety, or other issues without the sedating effects of medications.
Dosage
With skittishness, tread the dosage gently as a fawn on newborn legs, gradually strengthening its steps over time through your veterinarian's sage guidance. When determining the ideal dosage for your feline friend, start low and go slow, carefully observing their response.
Increase incrementally if needed, but consult a trusted vet for tailored guidance to find the optimal dose that brings calm and comfort.
Proceed with patience, allowing the CBD to build up in their system before making adjustments. With attentive care and paw-sitive energy, you'll discover the perfect dose to help them thrive.
| Size | Starting Dose | Maximum |
| --- | --- | --- |
| Small | 2.5 mg | 10 mg |
| Medium | 5 mg | 15 mg |
| Large | 10 mg | 20 mg |
Results
Focus on how your pet responds over weeks instead of expecting immediate results from CBD.
Observe changes in behavior, mobility, mood, appetite.
Note interactions with family members or other pets.
Keep a journal to track progress.
Take videos to compare over time.
Results will accumulate gradually as CBD interacts with your pet's endocannabinoid system. Have patience and stay consistent. If any concerns come up during use, consult your veterinarian.
Vet Guidance
As the pet parent, be sure to check with your vet for guidance on the proper CBD dosage when giving Honest Paws to your pet. They can look at factors like your pet's size, age, and health to recommend a good starting dose and any needed tweaks.
While CBD has potential benefits, pro vet input makes sure your pet's well-being stays the top priority. With their knowledge of your pet's history and needs, your vet can help decide if CBD could help and how to give it safely.
Trust their expertise to guide you in tapping CBD's potential, since you both want what's best for your beloved buddy.
Honest Paws Reputation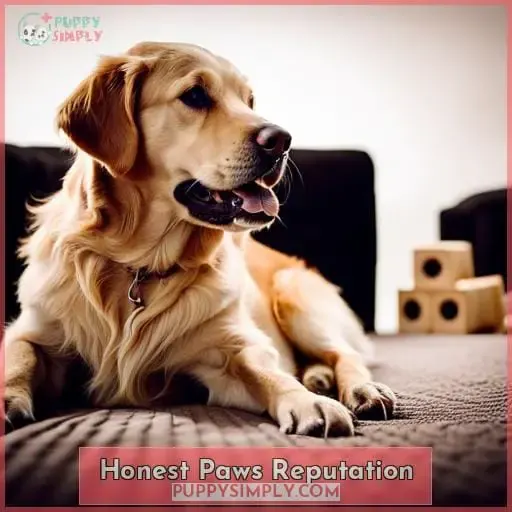 Let's discuss Honest Paws' reviews and money-back guarantee. As a pet product reviewer, I've found that while Honest Paws has mostly positive reviews for their CBD pet products, some customers report issues with effectiveness.
However, their 30-day money-back guarantee allows dissatisfied pet owners to return opened products if they don't see the desired results.
Reviews
You'd be wise to approach reviews of Honest Paws' products with a grain of salt, seeing as there's money to be made in cultivating a sterling reputation.
Yet customer testimonials offer valuable insights. Analyzing the pros and cons of product performance based on real user experiences provides a balanced perspective. Consider factors like company size and transaction volume when evaluating complaints.
Though no business is perfect, Honest Paws' founders, Chelsea Hunt-Rivera and Erik Rivera, seem dedicated to quality CBD pet products made in the USA. While reviews invite skepticism, collectively they contribute to a fuller understanding of this young company on its journey.
Guarantee
You'll feel cared for once you see Honest Paws' straightforward money-back guarantee. Honest Paws offers a 30-day money-back guarantee, even for opened products, which provides assurance when trying their CBD pet products.
This generous return policy allows dissatisfied customers to get a full refund with no questions asked. The simple return process and satisfaction guarantee demonstrate Honest Paws' commitment to a positive customer experience.
Their guarantee reflects confidence in their CBD oils, chews, and other natural pet supplies.
While some complaints surface about products or service, Honest Paws typically responds promptly to address concerns.
Conclusion
Have you considered trying Honest Paws CBD products for your furry friend? With a wide selection of high-quality oils, chews, and other natural remedies, you can find the perfect organic option to promote your pet's health and comfort.
But are these products truly worth the investment? Based on thorough research into sourcing, reviews, and results, the answer seems to be yes for most pet parents.
When you choose Honest Paws, you can feel confident knowing you're making the compassionate choice to support your dog or cat's wellbeing in a gentle, all-natural way.