This site is supported by our readers. We may earn a commission, at no cost to you, if you purchase through links.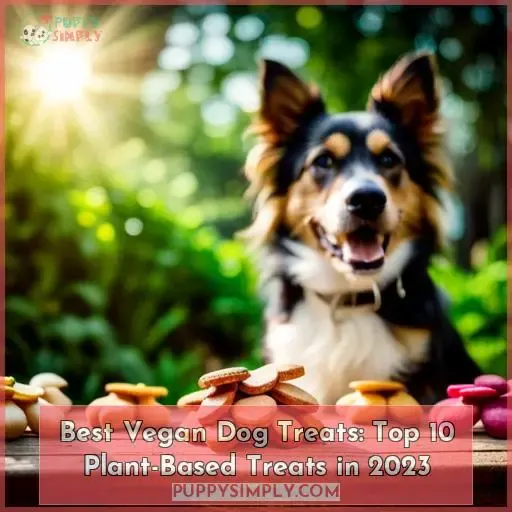 Are you looking to give your pup the best vegan dog treats available in 2023? Then look no further! We've done the hard work for you and compiled a list of our top 10 favorites.
From Sams Yams Sweet Potato Dog Treats to Zukes Large ZBone Dog Treats and Fruitables Pumpkin Dog Treats, these plant-based goodies are sure to please even the pickiest pooch.
Not only will they make great rewards after a job well done, but they can also help cut down on your pet's carbon pawprint too!
Plus, we'll touch on some key questions like Can Dogs Be Vegan? and Where's The Protein In Vegan Food?, as well as provide an easy recipe for making homemade vegan pumpkin dog treats.
Key Takeaways
Dogs can be vegan with proper nutrition.
Vegan dog treats can improve breath, clean teeth, and benefit skin and coat health.
Vegan dog treats often contain ingredients such as oats, peanut butter, flaxmeal, and sweet potatoes.
Homemade vegan dog treats can be made using recipes with ingredients like oat flour, peanut butter, flaxmeal, and sweet potatoes.
10 Best Vegan Dog Treats in 2023
Are you searching for the best vegan dog treats in 2023? Look no further! From Sam's Yams Sweet Potato Dog Treats to Newman's Own Plant-Based Dog Jerky Treats Original, there are a variety of options available that offer great taste and nutrition.
These treats provide an alternative choice for pet owners who want their furry friends to enjoy healthy snacks without worrying about animal products or additives.
1. Sams Yams Sweet Potato Dog Treats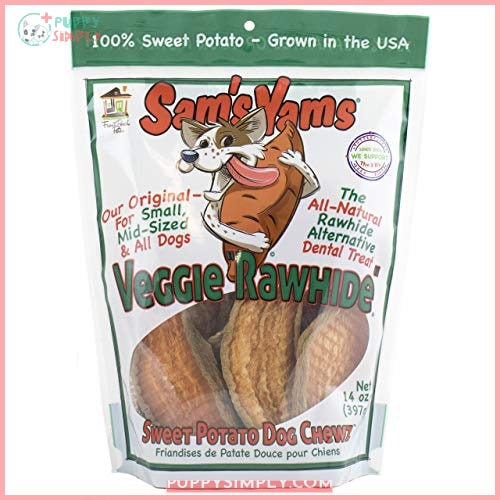 View On Amazon
You can treat your pup with Sam's Yams Sweet Potato Dog Treats, which provide nutrient-dense snacking while promoting oral health and digestive wellness. These treats are made from 100% natural sweet potatoes that are slow-roasted in the USA for maximum nutrition.
They're grain-free, gluten-free, and vegan-friendly, and they contain no added artificial preservatives.
With a patented textured chew rich in beta carotene (Vitamin A precursor) and fiber, these treats support improved digestion and help remove plaque and tartar buildup.
Plus, they come in individually resealable packages, so you always have convenient access to freshness when needed!
Made from 100% natural sweet potatoes, slow-roasted in the USA
Grain-free & gluten-free
Perfect for small dogs or those with allergies/sensitivities
Rich source of Beta Carotene (Vitamin A precursors) & Fiber
Patented textured chews help remove plaque & tartar buildup
Individually resealable bags ensure freshness every time
Some users wish these treats lasted longer
Pricey compared to other dried yam treat options
2. Old Mother Hubbard Dog Treats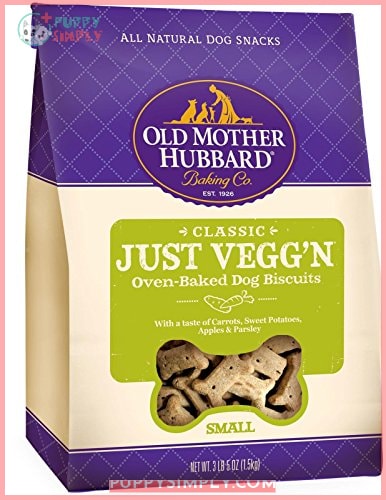 View On Amazon
These crunchy oven-baked biscuits from Old Mother Hubbard are made with natural ingredients and come in three delicious flavors. Carrots, sweet potatoes, and apples make up the tasty trio of treats that will have your pup's tail wagging! Not only do they help clean teeth during chewing, but they also contain no added artificial preservatives.
This classic taste has been around since 1926, so you can trust its quality – it's slow baked to preserve all the natural flavors too! With individually resealable bags for freshness and convenience, as well as no staining or foul odors, these treats won't disappoint.
The dimensions measure 5.6 x 8.5 x 10.75 inches, making them perfect for small dogs, while larger breeds may find them a bit too big but still enjoy their flavor just as much!
Suitable for dogs on a low-fat diet with no digestive issues
Preferred by some dogs over peanut butter flavor
Contains parsley, which may help improve dog breath
Good size for pugs
Dogs enjoy texture & flavor
Large size not ideal if using strictly as a training treat
Mixed preferences among different types of breeds
Some dogs stopped eating even though others loved it
Healthy treat that actually gets eaten – Big & Crunchy
3. Zukes Large ZBone Dog Treats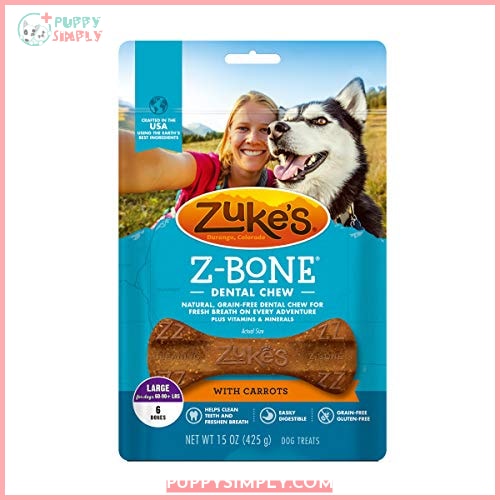 View On Amazon
Zuke's Large ZBone Dog Treats are a grain-free dental chew made with carrots and parsley, alfalfa, and fennel to help freshen breath — just like brushing your teeth! Dogs of all sizes love the taste of these treats, and they're easy on sensitive tummies.
They can also be used with a Kong toy for an extended chewing session that helps remove plaque and tartar from aging teeth.
Customers have praised this treat for its effectiveness in cleaning gums while providing delicious flavor to their pup's day. The price tag may be hefty, but it is well worth it since dogs truly enjoy them as part of their daily routine.
Grain-free, no corn, wheat, soy, or gluten
Contains parsley, alfalfa, & fennel for fresh breath
Unique texture cleans aging teeth
May not work for extremely picky dogs
Can be bitten into chunks, so monitor consumption
Pricey
4. Rubies Yarmulke Tallis Dog Costume ML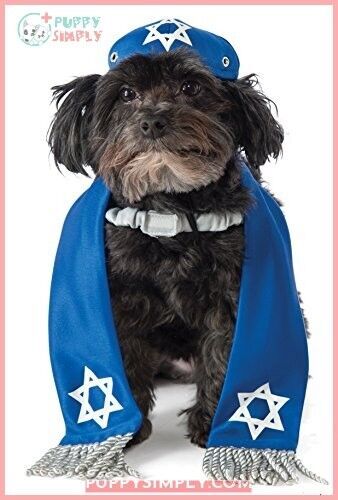 View On Amazon
Make your pup look extra special with the Rubies Yarmulke Tallis Dog Costume ML, designed to fit larger breeds such as bull terriers and pugs. This costume is great for photos, parades, Hanukkah celebrations, or Halloween fun! The blue yarmulke and matching fringe tallis come together to form a classic Star of David design that will be sure to turn heads.
Easy to put on and take off, this costume is perfect for small toy breeds or those special occasions where you want your pup dressed up in style.
Classic taste since 1926; great for helping clean teeth and freshen breath during chewing
Perfect for small dogs; available in three flavors (carrots, sweet potatoes, and apples)
No added artificial preservatives; individually resealable bags keep treats fresh
May not suit large breed dogs due to durability concerns
Pricey compared with other options
5. Vdog Vegan Kibble Dog Food
Vdog's Vegan Kibble Dog Food provides all essential amino acids with 24% clean protein, making it an ideal choice for nutrition-conscious dog owners. It contains no animal products, wheat, corn, soy, or dairy and is made from allergy-friendly wholesome ingredients, including taurine.
This 100% plant-based kibble is pooch tested and planet approved to reduce its environmental pawprint size. Many users have reported improved health for dogs with allergies and stomach issues after switching to Vdog food.
The taste of the food gets mixed reactions, but pet owners have praised its long-term use, even for older dogs. Plus, many appreciate that it doesn't contain fake ingredients or fillers found in other commercial brands.
Vdog also receives positive feedback from vegan households who want their pets' diet to align with their own ethical choices. Concerns about industry cleanliness standards have led some people away from meat-based products into this vegan option instead.
Formulated to meet AAFCO adult dog nutrition guidelines
Contains all essential amino acids 24% clean protein
Made using allergy-friendly & wholesome ingredients
Packed full of vitamins & minerals
Pooch tested & planet approved, reducing environmental pawprint size
Price increase since first launch date
Mixed reactions regarding taste
Not suitable sizes/shapes
6. Natural Balance Vegan Dog Food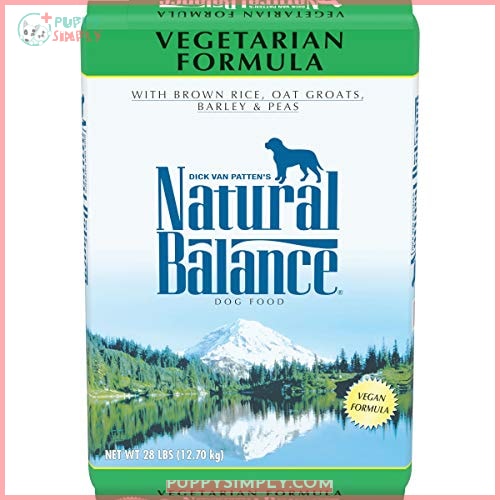 View On Amazon
Natural Balance Vegan Dog Food is a complete and balanced formula that is designed to meet all AAFCO guidelines for adult dog nutrition, providing essential amino acids with 24% clean protein. It contains brown rice, oatmeal, potatoes, and green peas as key ingredients to promote healthy skin and a shiny coat.
This vegan formula has been praised by many pet owners for its effectiveness in improving their pets' health.
The brand offers convenience too – it comes in an easy-to-store 28 LB bag which can last several weeks depending on the size of your pup.
Completely vegan formula suitable for adult dogs
Key ingredients like brown rice & oatmeal help promote healthy skin & a shiny coat
Improved liver enzyme levels reported by users who switched from other brands
Easy storage options – one 28 LB bag lasts several weeks depending on the size of your pup
Not effective addressing skin allergies (at least according to another user's experience)
Difficult finding this product in stock across different retailers
7. Halo Holistic Dog Food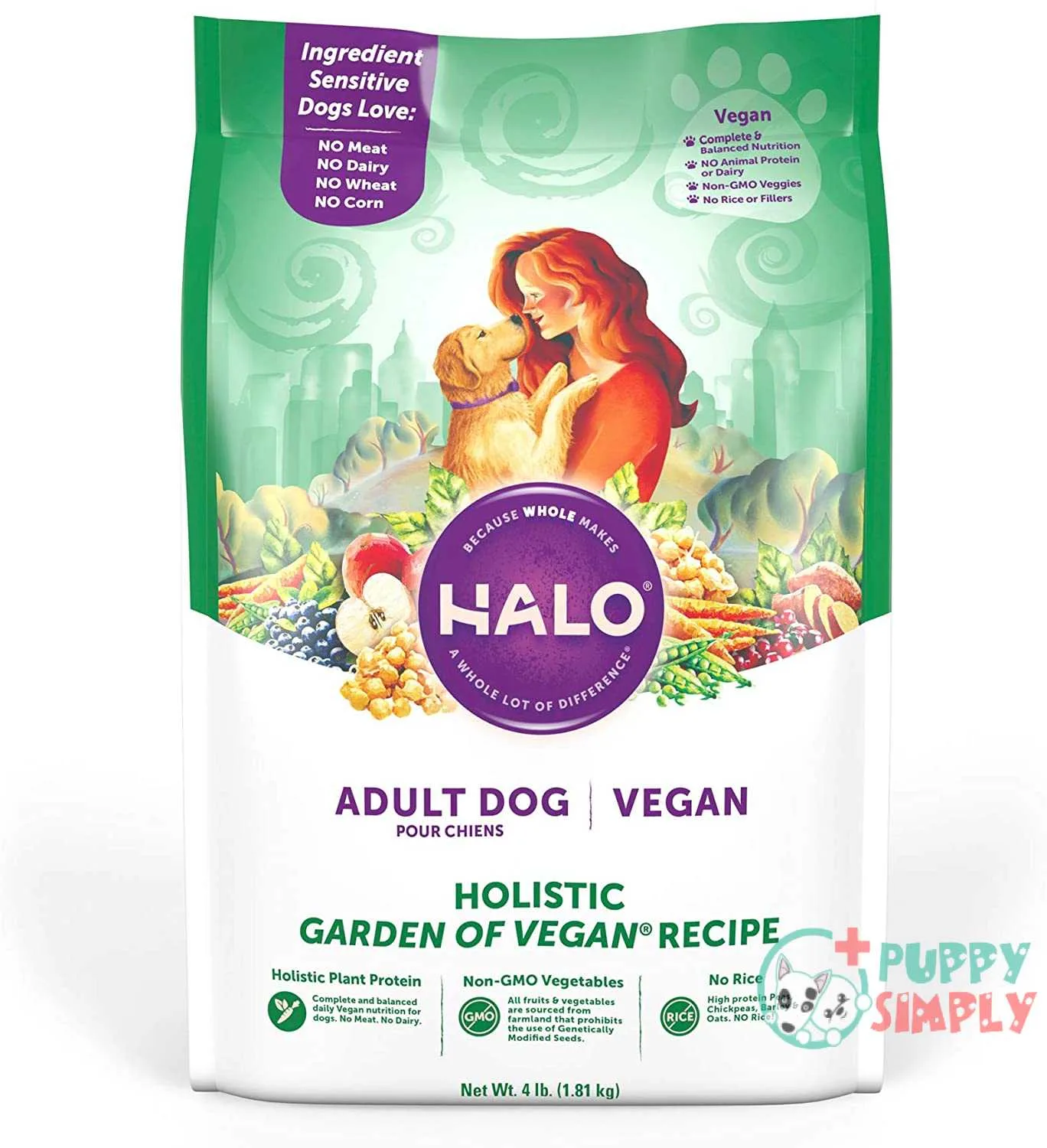 View On Amazon
Halo Holistic Dog Food makes a great choice to give your pup the nutrition they need with its plant-based recipe featuring superfoods! This vegan dog food contains no animal ingredients and is 100% complete and balanced for adult dogs.
It's packed with added vitamins and minerals, plus non-GMO ingredients like brown rice, oatmeal, potatoes, green peas – all of which are free from artificial flavors or preservatives.
The prebiotics, probiotics, and postbiotics work together to support digestive care as well as immune health while an optimal balance of omega fatty acids promotes healthy skin and coat in your furry friend.
Dog owners have praised this product for its effectiveness in improving their pet's overall health – even senior dogs responded positively! Dogs who suffer from skin allergies may find relief too; however, some may require gradual transition before full adoption due to dietary differences.
In addition to being used alone as a crunchy treat or meal replacement option, it can also be used on top of homemade meals that are plant-based so you know exactly what goes into them!
Positive feedback from dog owners
Suitable for dogs with skin allergies
Used as a crunchy topping on homemade foods
Beneficial for chronic food allergies providing relief
Available in wet, dry, & dehydrated forms
Suitable for puppies too
Some dogs might take time adjusting to the diet change
Potential improvement in fur texture not observed by everyone
May cost more than other brands
8. Fruitables Pumpkin Dog Treats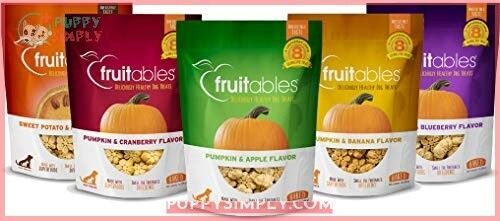 View On Amazon
Fruitables Pumpkin Dog Treats are an antioxidant-rich treat with a touch of cinnamon, perfect for treating or training your pup every day. These crunchy oven-baked biscuits come in five delicious flavors: pumpkin apple, pumpkin banana, pumpkin blueberry, pumpkin cranberry, and sweet potato & pecan.
They contain natural ingredients such as fresh pumpkins that are packed full of antioxidants and vitamins A, C, and E to support the immune system, along with dietary fiber to aid digestion.
Crafted with a patent-pending calorie smart recipe, each biscuit contains less than 9 calories per treat, so you can reward your best friend without worrying about spoiling their diet!
Rich in Antioxidants & Vitamins
High Fiber Content
Low Calorie Recipe (Less Than 9 Calories Per Biscuit)
Limited Availability In Stores
9. Benefit Dog Treats Pumpkin Large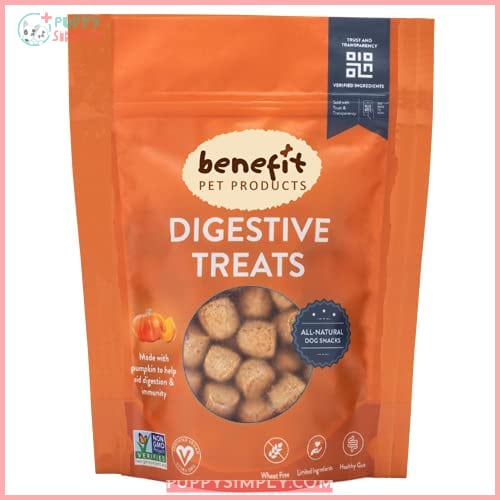 View On Amazon
Benefit Dog Treats Pumpkin Large are a great way to add some flavor and health benefits for your pup, with their all-natural ingredients and minty taste. These grain-free treats are made with real pumpkin, making them the perfect snack for dogs of all sizes that may have allergies or sensitivities.
The texture resembles graham cracker sticks while the smell is reminiscent of thin mints. Customers have reported positive feedback about these dog treats, which help improve breath after consuming other products, as well as combat bad breath caused by bully sticks.
All-natural ingredients
No antibiotics or dried yeast
Helps remove plaque & tartar
Can be used to improve bad breath & tummy troubles
Suitable for small, medium & large breeds
Some dogs don't like the taste
Not suitable for toy breeds
Pricey compared to other brands
10. Newmans Own Plant Based Dog Jerky Treats Original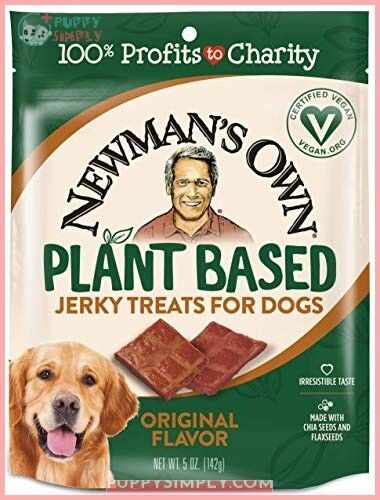 View On Amazon
Newman's Own Plant Based Dog Jerky Treats Original are the perfect way to make your pup happy and healthy with a delicious, all-natural snack! These treats offer 100% vegan nutrition without any animal proteins or fillers.
The main ingredients of pea protein, sweet potato, chia seed, flaxseed, and apple cider vinegar give these treats an amazing flavor profile that will have even picky eaters begging for more. They're oven-baked, so they retain their crunchiness but still provide a tender texture to satisfy dogs' cravings.
Plus, Newman's Own products are made in the USA using only high-quality ingredients from trusted sources – what more could you want? With convenient packaging designed for freshness on the go too – these jerky sticks really hit it out of the park!
100% vegan nutrition without animal proteins or fillers
Delicious flavor profile with main ingredients like pea protein & sweet potatoes
Oven-baked for crunchy yet tender texture
Made in the USA using high quality & trustworthy sources
Convenient resealable pouch packaging
Not suitable for older pups who may struggle with harder textures
Pricier than other options
Can Dogs Be Vegan?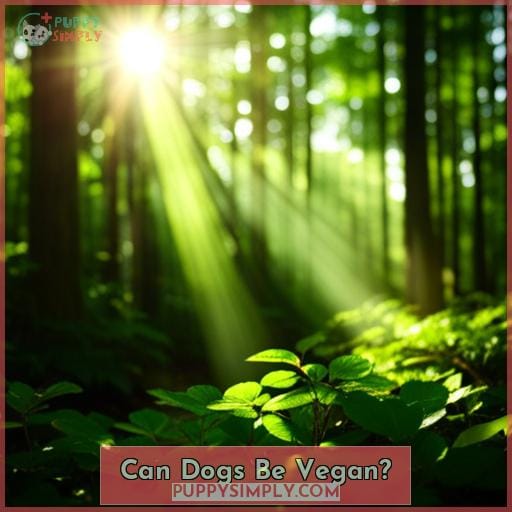 Many people question whether dogs can be vegan, and the answer is yes. A vegan dog diet is not only possible but also beneficial for their health in many ways.
Nutritional considerations should still be taken into account when transitioning your pup to a plant-based lifestyle, as certain nutrients found in meat sources will need to be supplemented with other plant-based alternatives.
Ethical choices are made by choosing this lifestyle over conventional pet food options that often use animal products or engage in unethical practices such as animal testing or using euthanasia drugs as ingredients.
The transition process takes time and consideration of how much dietary change your pup can handle at one time without upsetting their stomachs; however, there are several benefits associated with going vegan including improved digestion from consuming more fiber-rich foods, fewer allergies due to the lack of artificial ingredients and chemicals used in regular pet food brands, lower risk of chronic diseases like diabetes due to reduced fat intake from processed meats while on a plant-based diet.
Vegan diets have been known to increase energy levels too!
For any compassionate person looking for an ethical choice that avoids contributing whatsoever towards the cruelty inflicted upon animals through factory farming methods – then switching your furry family member over would provide peace of mind knowing you're doing something positive not just for yourselves but also for our planet & all its inhabitants living together here peacefully today & future generations ahead.
Where's the Protein in Vegan Dog Food?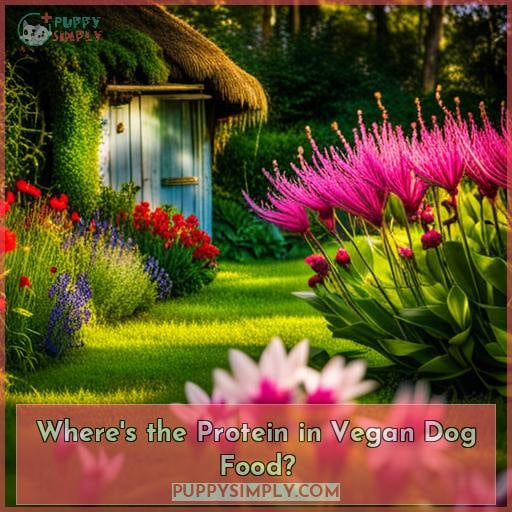 You may be wondering where the protein comes from in vegan dog food since it doesn't contain meat or dairy products – fear not, as there are plenty of plant-based sources to provide your pup with the necessary nutrition.
Protein alternatives such as quinoa, oats, beans, and lentils can supply sufficient amounts of essential amino acids for a balanced diet. Even some vegetables like kale and spinach have good amounts of protein that can supplement a vegan dog's needs.
To ensure proper nutrition is being obtained by your pet, look for foods fortified with vitamins A and B12, which are only found in animal products but important for canine health nonetheless! Additional supplements containing omega fatty acids help promote healthy skin and coat, while probiotics aid digestion.
With carefully selected ingredients such as these, plus fruits like apples or bananas along with nuts and seeds, you can create an enjoyable yet nutritious meal plan tailored specifically to suit all the dietary needs of your four-legged friend!
What Ingredients Go Into These Vegan Dog Treats?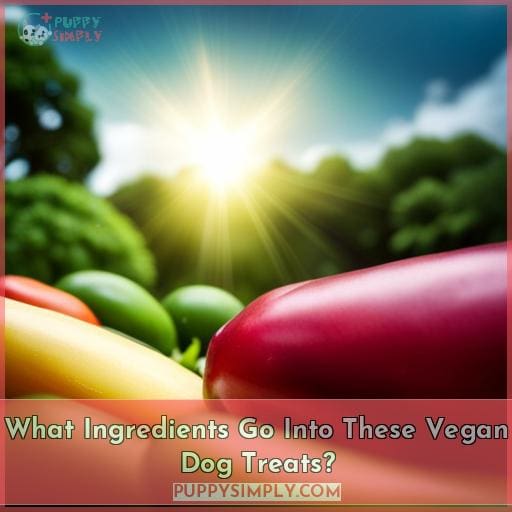 Make your pup's tail wag with wholesome, plant-based treats that are sure to bring a smile! Vegan dog treats come in many varieties, and their ingredients offer nutritional benefits.
Most store-bought vegan options include oats, peanut butter, flax meal, or oat flour for added fiber. For homemade recipes, try adding mashed sweet potatoes or pumpkin puree for a delicious treat full of vitamins A and C.
If you're looking for something different, why not try substituting fruits such as strawberries or pineapple? They both boost the immune system while also providing essential minerals like potassium and magnesium!
Chia seeds add an extra dose of omega 3 fatty acids, which can help reduce inflammation in dogs with allergies or sensitivities.
With these ingredient alternatives, you can create high-fiber vegan snacks tailored just right for your furry friend.
How to Make Vegan Pumpkin Dog Treats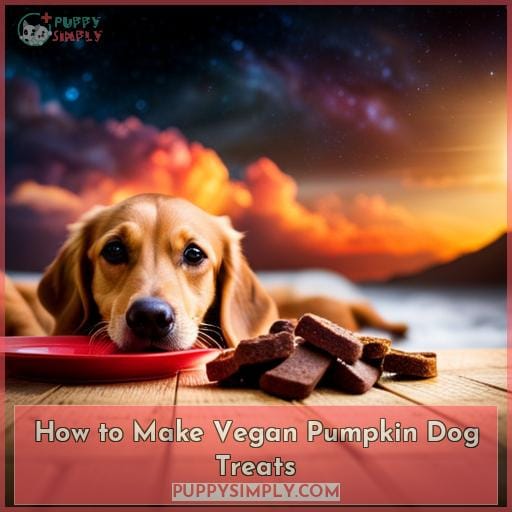 Create a delicious, healthy snack for your pup by making vegan pumpkin dog treats – four ingredients and minimal prep-time required! All that's needed is some oat flour (or gluten-free rolled oats if unavailable), all-natural peanut butter, flax meal or chia seeds, and mashed sweet potatoes or pureed pumpkin.
These treats are high in fiber and free from common doggy allergens like grains and soy. They're also cost-effective as you can make multiple batches with the same amount of ingredients. For a tasty alternative to the classic recipe, try swapping out sweet potato for carrot mash or pureed applesauce instead.
Each ingredient brings its own nutritional benefits to the table alongside being enjoyed by pups everywhere.
To get started, preheat your oven to 350°F. Then, roll out the dough on a floured surface and cut it into shapes using cookie cutters. The baking time varies depending on how crunchy you want them, so adjust accordingly between 30–35 minutes.
Once done, allow them to cool down completely to maximize their shelf life. When stored properly in airtight containers, these treats can last up to two months in the refrigerator or freezer, away from moisture exposure.
Now, let's put it all together: place everything into a food processor until a sticky dough forms, adjusting the texture with water or oat milk. Then, roll the dough onto a parchment paper-lined tray and bake for 12–15 minutes until golden brown.
After cooling completely, you can store them in the refrigerator for up to one week or in the freezer for up to three months.
Conclusion
Are you looking for the best vegan dog treats to give your pup in 2023? Vegan dog treats are an excellent choice to provide your pup with a nutritious snack that's free from common allergens.
From Sam's Yams Sweet Potato Dog Treats to Newman's Own Plant-Based Dog Jerky Treats Original, there are plenty of delicious and healthy options to choose from. Many of these treats are even suitable for dogs with allergies or sensitivities.
They can also help freshen breath, clean teeth, and improve skin and coat health.
With so many delicious and nutritious vegan dog treats to choose from, you can be sure that your pup will be happy and healthy in 2023!