This site is supported by our readers. We may earn a commission, at no cost to you, if you purchase through links.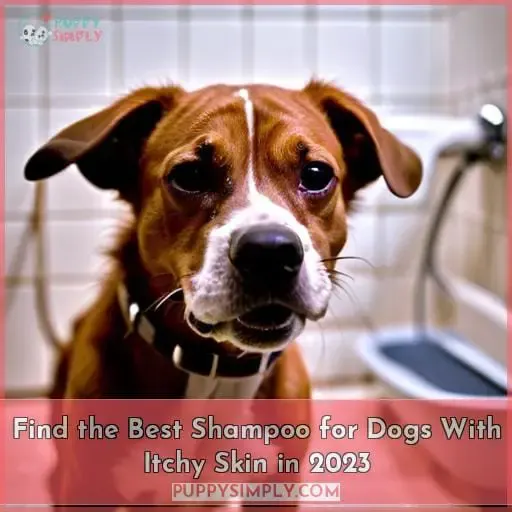 Are you looking for the best shampoo to help relieve your pup's itchy skin? With so many products on the market, deciding which one is right for your four-legged friend can be a daunting task.
We've done our research and found 10 of the top shampoos specifically designed to soothe dogs with itchy skin in 2023. From Douxo S3 Chlorhexidine Shampoo all the way through Nature Miracle Oatmeal Shampoo Dogs, we'll review each product and provide you with factors to consider when selecting a dog shampoo as well as how these shampoos can help alleviate itching in pooches.
Finally, we'll also discuss preventative measures you can take at home that will keep your pup itch free!
Let's get started!
Key Takeaways
Use oatmeal, aloe vera, honey, coconut oil, and colloidal oat flour to moisturize and soothe.
Ensure the shampoo is pH balanced for healthy skin.
Use natural ingredients like tea tree oil to relieve itchiness.
Patch test anti-itch shampoos before full use.
Top 10 Best Shampoos for Dogs With Itchy Skin
Searching for the best shampoo to soothe your pup's itchy skin? Look no further! From Douxo S3 Chlorhexidine Shampoo and Vet's Best Allergy Dog Shampoo to Burt's Bees Dog Shampoo and Veterinary Formula Clinical Care Dog Shampoo, there are plenty of options available.
Even Nature's Miracle Oatmeal Shampoo for Dogs is an excellent choice for those with sensitive skin. With these top 10 shampoos designed specifically for dogs with itchy skin, you can find the perfect one that meets your pet's needs.
Douxo S3 Chlorhexidine Shampoo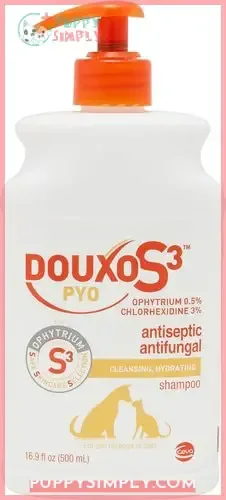 View On Chewy
If you're looking for relief from itchy skin, Douxo S3 Chlorhexidine Shampoo is a great option. For example, one dog with severe flea irritation showed improvement after their first use and continued to improve when used weekly.
It's also vet-recommended for long-term skin infections and paw licking, as well as sensitive, easily irritated skin issues.
Not only does this shampoo leave fur feeling softer than other medicated shampoos, but its liquid form makes using it really easy too!
Vet recommended
Contains ophytrium to soothe & cleanse irritated skin
Restores balance of protective microbes on the pet's coat
Bottle was received damaged in some deliveries leading to leakage during shipping
Accidentally poured out by child before fully used in some cases
Can be expensive compared to other brands
Vets Best Allergy Dog Shampoo


View On Chewy
Vets Best Allergy Dog Shampoo is formulated with natural ingredients like oatmeal, d-limonene, and tea tree oil to soothe your pup's skin and help relieve their itchy allergies.
The gentle formula of this veterinarian-recommended shampoo won't strip away the natural oils in your pet's coat, leaving them feeling soft and smelling fresh. It also works great alongside other supplements for allergies, helping to clear dry or dull fur while calming scratching or licking habits.
Not only that, but it will not affect any existing topical flea and tick treatments either! While results may vary from dog to dog, most owners report a noticeable difference after just one wash, as well as an overall improvement in their pup's condition over time with regular use.
Natural ingredients target causes of itchiness & irritation
Soothes & moisturizes skin without harsh chemicals
Leaves coat clean & smelling fresh
Compatible w/ flea/tick treatments
Results vary per individual dog
May take several washes before seeing full effects
Compare cost vs other allergy relief shampoos
Burt's Bees Dog Shampoo


View On Chewy
Burt's Bees Dog Shampoo is a gentle yet effective way to keep your pup's coat clean, fresh, and free from irritation. With its 97% natural formula, it contains colloidal oat flour and honey to moisturize dry skin and give fur a shiny appearance.
Green tea extract strengthens hair follicles for healthy growth while neutralizing odors – without stripping away the natural oils that protect their delicate skin.
Plus, it won't wash off topical flea treatments, so you can be sure they're getting the protection they need in one easy step.
Gentle cleanser with colloidal oat flour & honey to moisturize & soften fur
Neutralizes odors without being harsh on sensitive skin
Won't wash off topical flea treatments when used as directed
Comes in an 80% post-consumer recycled bottle, making it eco-friendly
Some complaints about lack of protective seal on shipping bottles
Does not lather well or clean thoroughly enough for some users
Pleasant but light scent may not last very long
Veterinary Formula Clinical Care Dog Shampoo


View On Chewy
Try Veterinary Formula Clinical Care Dog Shampoo to help promote healthy skin and coat, while reducing flaky, dry, or oily skin caused by environmental stressors. This paraben-, dye-, and soap-free shampoo is gentle enough for sensitive breeds, but tough enough to tackle the worst cases of itchy skin.
The pH-balanced formula contains oatmeal and allantoin that work in 5-10 minutes to condition the fur while hydrating the underlying layers of your pet's delicate epidermis.
With regular use, you can expect softer fur with less shedding, reduced redness from irritations or allergies, improved elasticity in their coat, as well as a pleasant light scent that won't overwhelm them (or you!).
Paraben-, dye-, & soap-free
Gentle cleansers, no damaging detergents
Contains oatmeal & allantoin for hydration/nourishment
PH balanced specifically for dogs
Reduces flaky, dry, or oily skin due to environmental stressors
Some users reported bumps & redness on some dogs
Could cause a bad rash in some dogs
Strong odor during bath which dissipates after drying
Earthbath Oatmeal Aloe Shampoo

View On Chewy
Earthbath Oatmeal Aloe Shampoo is a gentle, 100% biodegradable formula designed to help relieve itchy skin in cats and dogs. It contains natural ingredients like oatmeal and organic aloe vera. This shampoo effectively moisturizes dry skin while neutralizing odors for up to two weeks.
Its mild vanilla and almond scent will leave your pet's coat soft, shiny, and smelling great without any harsh chemicals or fragrances.
The pH-balanced cleanser also helps prevent flakes, making it ideal for regular use on sensitive areas of the body such as paws or ears.
Gentle enough even for sensitive skin
Moisturizes dry patches of fur
Neutralizes odors
Scent may be stronger than other brands
Price is higher compared to some competitors
Results may vary by pet's sensitivity
Veterinary Formula Medicated Dog Shampoo
View On Amazon
Vet-recommended and paraben/dye/soap-free, Veterinary Formula Medicated Dog Shampoo helps hydrate skin fast and soothes itching with key ingredients like oatmeal, salicylic acid, coal tar, and micronized sulfur.
This shampoo is specifically designed to aid dogs suffering from flaky or scaling dry skin due to environmental stressors.
It's pH-balanced for canine fur, unlike human shampoos—a safe choice for regular use on adult dogs of all breeds. Its anti-inflammatory properties can help relieve the symptoms associated with seborrhea, mange, or fungal infections, as well as rashes caused by allergies or yeasty skin conditions.
Vet Formula Medicated Dog Shampoo provides fast relief from scaling while leaving your pup's coat soft, shiny, and healthy upon drying. Though it has a strong medicated scent when used, that dissipates soon after rinsing off the product.
Vet recommended & soap/paraben-free formula
Contains moisturizing oatmeal & nourishing allantoin
PH balanced for dog's sensitive fur
Relieves inflammation & itching quickly
Strong medicated scent during application
Not suitable for cats due to the presence of coal tar
Vetoquinol Aloe Oatmeal Shampoo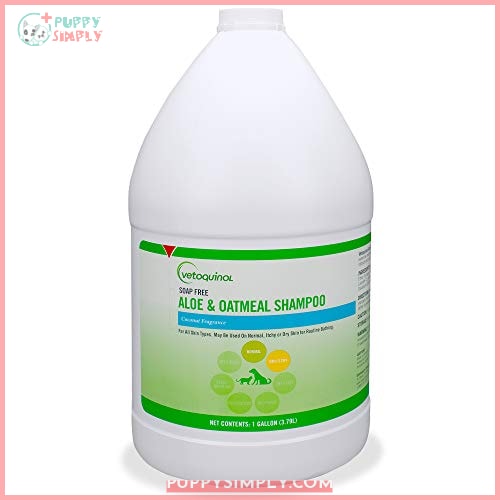 View On Amazon
You'll love the Vetoquinol Aloe Oatmeal Shampoo – its luxurious lather and coconut scent will have your pup feeling like they stepped out of an island paradise! This gentle, soap-free moisturizer is specifically formulated for sensitive skin.
It provides a deep, rich lather while still preserving natural oils to leave fur soft and shiny. Its pleasant coconut scent is mild yet long-lasting, helping soothe itchy or dry skin without any parabens or silicone in the formula.
What's more? The shampoo pairs perfectly with a conditioner to keep fur irresistibly smooth and tangle-free!
Gentle
Soap-Free
Preserves Natural Oils
Pleasant Coconut Scent
Paraben & Silicone Free
Pairs Well With Conditioner
Scent Doesn't Last Very Long
Some Issues With Leaking Packaging
TropiClean Coconut Dog Shampoo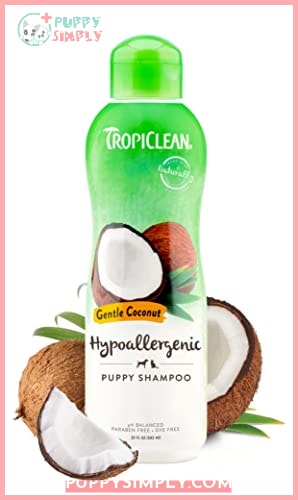 View On Amazon
Make your pup's coat clean, fresh, and shiny with TropiClean Coconut Dog Shampoo – perfect for relieving itchy skin! This hypoallergenic shampoo is gentle enough for puppies and kittens. It is derived from natural ingredients like mild aloe vera and vitamin E. It provides gentle relief to sensitive skin against seasonal allergies or irritations without parabens, dyes, or soaps.
After just one wash of this lathery shampoo that penetrates the fur down to the skin layer, you will notice a silky softness in your pet's coat while neutralizing odors without leaving any wet dog smell behind.
In addition, this special formula easily removes green grass stains and mud stains in one go while minimizing shedding in both cats and dogs. Even professional groomers have been known to recommend it due to its effectiveness at restoring healthy coats quickly when used regularly.
Hypoallergenic & Gentle Enough For Puppies/Kittens
Natural Ingredients Like Mild Aloe Vera & Vitamin E
Neutralizes Odors Without Leaving Wet Dog Smell Behind
Can Be Used On Cats 12 Weeks Or Older All Breeds Of Adult Dogs
Easily Removes Green Grass Stains & Mud Stains In One Go
Minimizes Shedding In Both Cats And Dogs
Not Suitable For Long Hair Single Coat Breed Or Curly Coat Dogs
Critical To Get Pet As Dry As Possible With Towel/Dryer After Rinsing
Sulfodene Medicated Dog Shampoo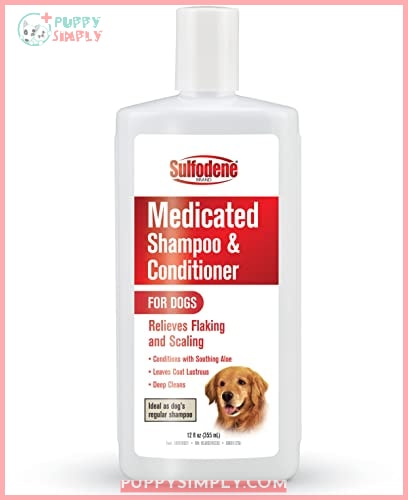 View On Amazon
Soothe your pup's itchy skin with Sulfodene Medicated Dog Shampoo, a trusted brand by Farnam that relieves dry skin and hotspots after just one use. This odor-free 12 oz liquid shampoo is designed to provide temporary relief of flaky, scaling skin.
With aloe vera to soothe and condition the coat as well as deep cleanse and deodorize, this medicated shampoo is ideal for regular use in helping maintain healthy fur. It can also help reduce shedding in cats or dogs while leaving their coats soft, shiny, and smelling fresh.
Used and recommended over the years due to its effectiveness against itching issues, it has become preferred among owners of itchy dogs looking for an affordable solution compared to prescription shampoos.
Conditions and deodorizes
Soothing
Reduces shedding
Strong medicated smell some owners dislike
May leave coat slightly dry
Harder to find in stores
Nature Miracle Oatmeal Shampoo Dogs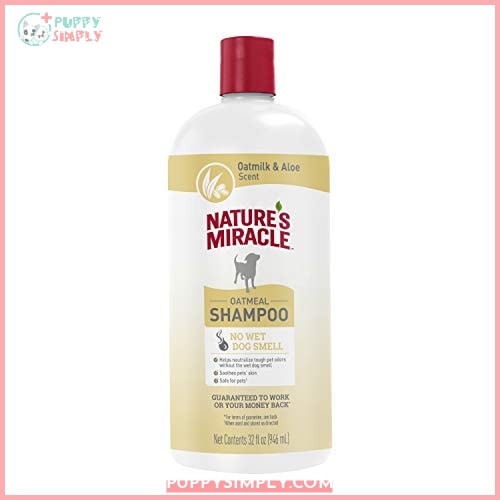 View On Amazon
Nature's Miracle Oatmeal & Aloe Scented Shampoo will envelop your pup in a luxurious lather of aloe and vitamin B5, leaving them feeling refreshed and soothed. Enriched with natural ingredients like oatmeal, aloe vera, honey, and green tea extract, it moisturizes the skin while strengthening hair follicles for healthy growth.
This hypoallergenic shampoo is pH balanced to help prevent dryness and flakes – plus, it won't wash away topical flea treatments! The mild vanilla almond scent leaves fur smelling fresh without harsh chemicals or fragrances that could irritate sensitive skin types.
Natural ingredients (oatmeal/aloe/honey)
Hypoallergenic & pH balanced for dog skin
Won't strip oils from coat
Cruelty-free & no harsh chemicals/fragrances
No medicated properties
Not suitable for cats younger than 12 weeks old
Factors to Consider When Buying Dog Shampoo for Itchy Skin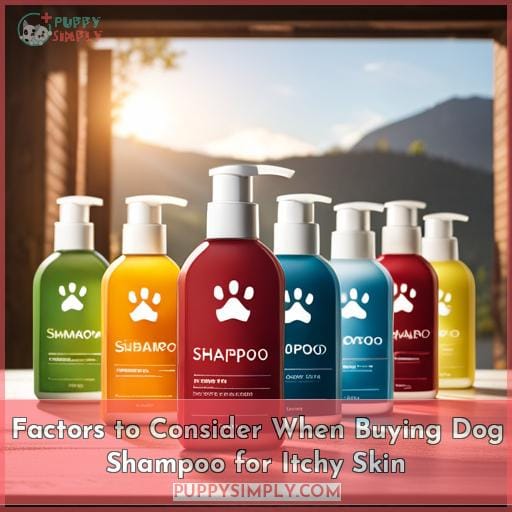 When selecting a shampoo for your pup's itchy skin, consider factors such as its ingredients, pH balance, and the severity of their condition. Look for natural ingredients like colloidal oatmeal and soothing oils like lavender or jojoba to help moisturize dry skin.
Make sure you check if the product is hypoallergenic before use to avoid worsening any allergy symptoms from environmental triggers or food sensitivities. To ensure the best results possible, have an allergy test done with your vet first so that you can determine what type of topical flea treatment may be necessary and which shampoos are recommended by vets' best practices.
Also, look for products labeled pH balanced – this will help maintain healthy bacteria on your pet's coat while still cleaning away dirt and debris effectively without stripping too much oil from their fur.
How Dog Shampoos Help Your Itchy Pooch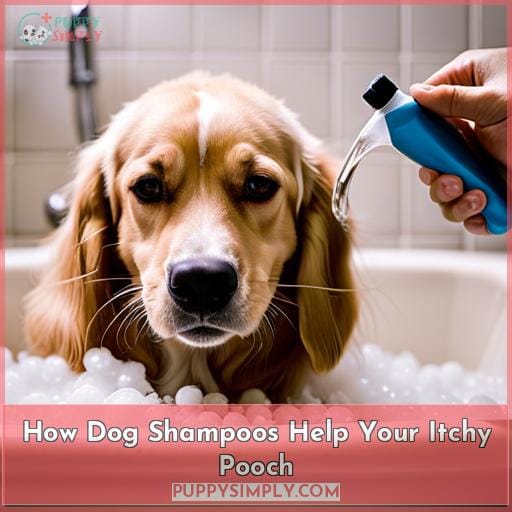 Bring your pup some relief with an anti-itch shampoo and help their skin heal faster! Regular bathing using a gentle, vet-recommended shampoo can soothe itchy skin and restore the balance of protective microbes on the coat.
With these bathing tips, you'll be able to keep your pet's coat healthy and itch-free:
Invest in shampoos that contain natural ingredients like oatmeal or aloe vera, which are known for being soothing agents.
Read labels carefully when purchasing a medicated shampoo, as certain ingredients may provide relief from specific allergies or infections but could also damage sensitive skin if used too often.
Follow directions closely when applying any type of dog product, especially those containing strong chemicals such as coal tar or salicylic acid. Avoid contact with eyes and ears while rinsing off completely afterwards. Consult your veterinarian for appropriate use depending on individual pet allergies and other health concerns.
Bathing helps remove allergens from fur that can cause itching, provides moisture where needed, and reduces bacterial growth to improve overall skin health.
When done properly, following vet advice about frequency based upon breed size/activity level, this ritual not only keeps them looking their best but feeling great too!
Can I Bathe My Dog Using My Own Shampoo?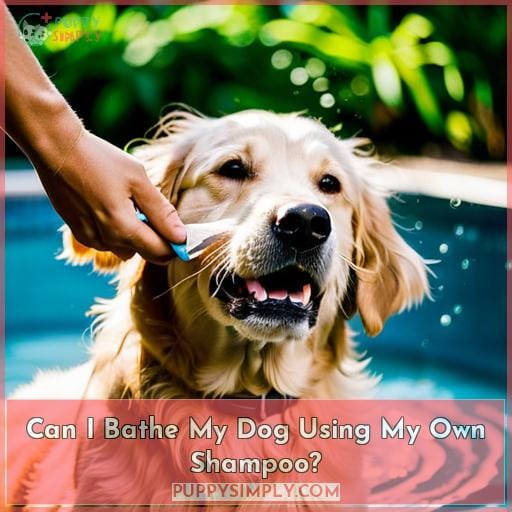 Bathing your dog is an important part of keeping them healthy and clean. However, using the wrong type of shampoo or bathing too often can cause skin issues for your pup. Before you grab a bottle from under the sink, make sure it's safe to use on pets and won't aggravate their allergies or other skin problems.
The best way to keep your furry friend's coat healthy is by finding a pet-safe formula that'll soothe any irritation while still cleaning away dirt and debris. Look for shampoos with natural ingredients like oatmeal, aloe vera, tea tree oil, or coconut oil.
These are all excellent options when trying to alleviate pet allergies, as well as other symptoms associated with dry skin conditions such as flaking and itching.
It's also wise to avoid fragrances to prevent further discomfort due to sensitivities since most dogs have heightened senses compared to humans.
Ultimately, taking care when choosing what kind of product you use during bathtime helps ensure that both you and Fido can enjoy some quality pampering sessions without fear of reactions!
How to Prevent Dry, Irritated Skin in Dogs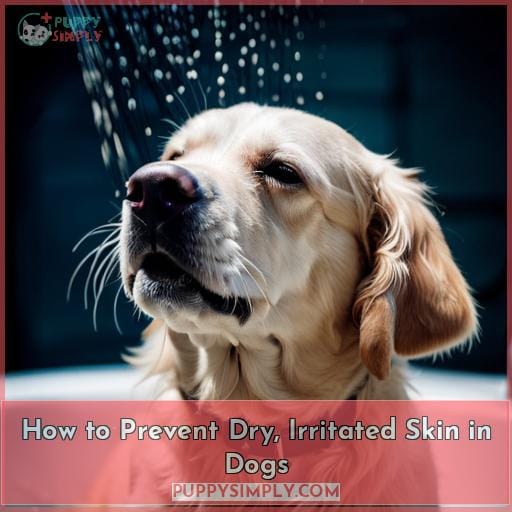 By taking preventative steps such as keeping your pup well-groomed and nourished, you can help ensure their skin stays healthy and itch-free.
Bathing frequency should be adjusted depending on the condition of the dog's coat. Regularly brushing your pet helps to remove dirt, dander, and debris that can irritate sensitive skin. It also stimulates blood circulation in the area, which increases oxygenation for healthier skin.
If possible, use a shampoo specifically formulated for dogs with allergies or food sensitivities like flea allergies or oatmeal shampoos. These will not strip natural oils from their coat while helping soothe itchy areas.
In addition to this, consider adding moisturizers such as aloe vera gel, shea butter, or coconut oil into your pet's diet as they are all great sources of essential fatty acids needed by dogs' coats.
Brush regularly
Use hypoallergenic shampoo
Increase moisture intake
Look into treatments like topical creams/ointments
Avoid over bathing
Making sure that proper hygiene is maintained along with regular grooming sessions will go a long way in making sure dryness doesn't creep up on them again!
Skin treatments may include medicated shampoos (coal tar & salicylic acid), soothing baths (oatmeal based), sprays (anti-itch), supplements, plus antibiotics if an infection has already set in – but always check what works best for each individual pup before using any product on them!
With proactive measures taken beforehand, however, you can keep potential issues at bay, thus promoting happier days ahead both inside and out!
Frequently Asked Questions (FAQs)
How often should I bathe my dog with an anti-itch shampoo?
Bathe your pup with an anti-itch shampoo as needed, focusing on areas of irritation. Follow the directions and use warm water for a gentle cleanse. Brush the fur before bathing to ensure the product is evenly distributed.
Can I use anti-itch shampoo on cats?
Yes, you can use anti-itch shampoo on cats! But make sure to choose one with natural ingredients like oatmeal and aloe vera to avoid irritating their sensitive skin.
Are there any side effects from using anti-itch shampoos?
Generally, anti-itch shampoos are safe when used correctly. However, some pets may experience irritation and dryness if the shampoo is too harsh or not rinsed off completely. Always patch test first and consult your vet for a product recommendation to minimize any potential side effects.
Are there any home remedies that can help soothe itchy skin?
Are you looking for home remedies to soothe itchy skin? Consider using natural ingredients like oatmeal, aloe vera, and coconut oil as a moisturizing bath or shampoo. You can also add supplements such as fish oil to your pet's diet. Grooming regularly and avoiding over-bathing are additional ways to prevent skin irritation.
Is there a way to reduce the frequency of using anti-itch shampoos?
To reduce the frequency of using anti-itch shampoos, focus on preventive measures such as a balanced diet, grooming, and supplements. Regularly moisturize the skin with balms and avoid over-bathing to help keep your pup's coat healthy.
Conclusion
As the saying goes, prevention is always better than cure. The same holds true for your pup's itchy skin. By taking the necessary steps to prevent itchy skin, you can help your pup stay healthy and happy.
From a balanced diet and regular grooming to moisturizing skin balms and avoiding over-bathing, you can help your pup stay itch-free. When it comes to choosing the best shampoo for dogs with itchy skin, any of the top 10 shampoos above can help soothe and restore your pup's skin.
Just make sure to read the directions carefully and test the shampoo on a small area before using it on your pup.
With the right shampoo and a little extra effort, you can make sure your pup's itchy skin never stands a chance.