This site is supported by our readers. We may earn a commission, at no cost to you, if you purchase through links.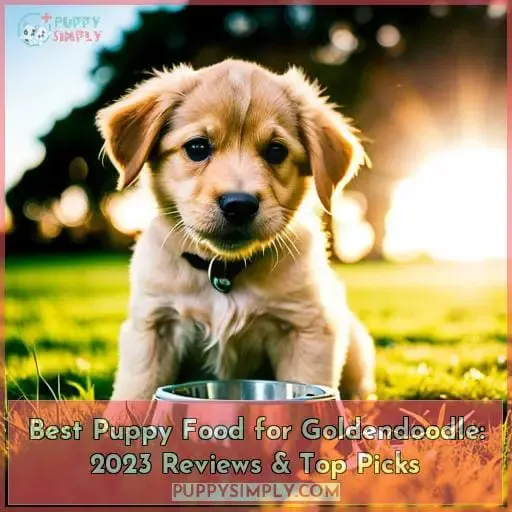 Congratulations on your new Goldendoodle puppy! You've welcomed an intelligent bundle of energy into the family and you want to make sure they have the best nutrition for their growth. With so many options available, it can be hard to decide which food is right for them.
That's why we're here to help with our list of top 10 best puppy foods for Goldendoodles in 2023 that are packed with high-quality protein and other essential vitamins & minerals needed by Goldendoodle puppies at any life stage.
From Merrick Classic Beef Rice Ancient Grains Dog Food all the way through Iams Adult Large Breed Chicken – this article will cover everything from nutritional requirements, feeding schedules, special ingredients, and more – ensuring that your pup has a healthy diet fit for their breed!
Key Takeaways
High-quality proteins, vitamins, and minerals for balanced nutrition
Grain-free, animal protein diets are often best for dogs with allergies
Follow package instructions for feeding amounts based on the puppy's weight and age
Omega-3 DHA fatty acids are important for brain, eye, and coat development
Top 10 Best Puppy Foods for Goldendoodles
Finding the best puppy food for your Goldendoodle can be a challenge, but there are some great options out there. Merrick Classic Beef Rice Ancient Grains Dog Food, Victor Select Beef Dog Food, Whole Earth Farms Dog Food, ACANA Grasslands Dog Food, Purina Pro Plan Chicken Rice Probiotics Dog Food.
Merrick Classic Beef Rice Ancient Grains Dog Food
View On Chewy
If your pup has allergies or sensitivities, Merrick Classic Beef Rice Ancient Grains Dog Food could be a good option for them with its hypoallergenic formula free of fillers and artificial ingredients.
This dry dog food features deboned beef as the first ingredient and includes brown rice, ancient grains like quinoa to aid digestion, and omega fatty acids for healthy skin and coat health. It is also fortified with glucosamine and chondroitin for joint health, plus vitamins & minerals from fruits/veggies.
While some customers have reported that their dogs don't care much for the flavor or that there have been changes in texture/quality recently, this formula still remains a popular choice amongst many pet owners due to its allergy-friendly formulation without corn, wheat, soy, peas, lentils, potatoes, byproducts, etc.
Hypoallergenic formula free from fillers & artificial ingredients
Deboned beef as the 1st ingredient brown rice ancient grains like quinoa to aid digestion
Omega fatty acids promote healthy skin & coat health
Glucosamine & Chondroitin support joint health
Vitamins / Minerals from fruits / veggies
Made in the USA (Hereford, Texas) – high-quality product
Some customers report issues with recent changes such as texture/flavor not being liked by their dogs
Soft stools or diarrhea experienced by some pets on this food
Expensive relative to other brands
Victor Select Beef Dog Food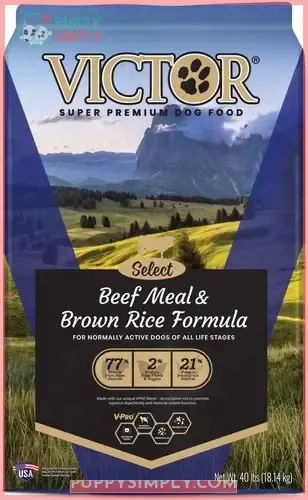 View On Chewy
Victor Select Beef Dog Food is a premium, gluten-free option with 77% meat protein and VPRO blend for digestion. It uses emphatic language to emphasize its suitability for dogs with allergies. This specially formulated diet contains real chicken as the main ingredient.
It also includes fortified vitamins & minerals from fruits & vegetables, omega-6 fatty acids for skin & coat health, and probiotics/prebiotics to promote digestion.
Customers report that their dogs love the taste and that it helps improve allergies or sensitive stomachs.
Gluten-free
No corn, wheat, or soy
Unique VPRO blend
Real chicken as the first ingredient
Omega 6 fatty acids for skin & coat health
Expensive – goes through a bag every 3 weeks
Need to add chicken/rice to keep interest
Varying experiences of intolerance/allergies
Whole Earth Farms Dog Food
View On Chewy
Try Whole Earth Farms Dog Food for your Goldendoodle's digestive health and balanced nutrition. This grain-free dog food is developed by vets and nutrition experts, cooked in the USA, and contains real, high-quality proteins like chicken and turkey, plus omega fatty acids to promote healthy skin & coat.
It also has antioxidants to support immune system health. The food includes field-grown veggies for fiber & digestion, as well as vitamins & minerals for a balanced diet.
Perfectly suited even for dogs with IBD or allergies, customers report excellent digestibility as well as improved coats from using this product. The green bag flavor has been discontinued, but smaller kibble sizes are available, which may be better suited for large breeds that can choke on larger kibbles.
However, you'll need more of it than before since the size is smaller! Picky eaters may not appreciate the taste, so make sure they give it a try first before committing fully.
Developed by vets nutrition experts
Contains real high-quality protein
Omega fatty acids antioxidants
Glucosamine chondroitin
No artificial ingredients
Suitable even with IBD/allergies
Smaller Kibble Size (more feeding)
Taste might not suit picky eaters
ACANA Grasslands Dog Food
View On Chewy
You'll find that ACANA Grasslands Dog Food is a great choice for adult goldendoodles, with its high-protein formula and freeze-dried lamb and duck coating creating an irresistible flavor like no other – as the saying goes, A dog's gotta eat!
This grain-free food contains fresh or raw veggies and fruit to provide essential nutrients. It has antioxidants for immune health, field-grown veggies for fiber and digestion, plus vitamins & minerals.
Glucosamine & chondroitin are also included to support joint health while avoiding corn, wheat, soy, artificial flavors, or colors.
It's made in the USA from the world's finest ingredients, so you can trust it's quality nutrition your pup will love!
High protein formula with freeze-dried lamb/duck coating
Fresh/raw fruits & vegetables
Antioxidants vitamins/minerals glucosamine/chondroitin
May cause allergies in some dogs
Some customers experienced negative reactions such as ear infections
Formula change caused issues (vomiting, diarrhea, etc)
Purina Pro Plan Chicken Rice Probiotics Dog Food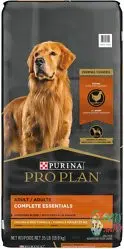 View On Chewy
Give your adult Goldendoodle the nutrition they need and try Purina Pro Plan Chicken Rice Probiotics Dog Food, a high-protein and fiber formula with real chicken as the first ingredient. It is fortified with guaranteed live probiotics for digestive and immune health, Vitamin A to support vision development, and omega-6 fatty acids for healthy skin and coat.
This product is designed specifically for large breed dogs of all sizes. However, it has recently undergone a formula change that has caused some issues. Many customers have reported more crumbs in the bag than shredded pieces since this change.
Additionally, others are seeing worsening health conditions in their pets, such as allergies or vomiting/diarrhea after eating this food.
As always, be sure to thoroughly research any dog food before purchase so you can make an informed decision on what's best for your pet!
High protein & fiber formula
Real chicken is the first ingredient
Fortified with guaranteed live probiotics & Omega 6 fatty acids
Recent formula change led to negative reactions from many customers
More crumbs in the bag instead of shredded pieces
Increased allergies & other health problems reported
Blue Buffalo Wilderness Red Meat Dog Food
View On Chewy
Experience the Rocky Mountains in your living room with Blue Buffalo Wilderness Red Meat Dog Food, a grain-free blend of real meat and omega fatty acids that will keep your Goldendoodle's coat shining like a star.
This adult dog food is inspired by the Rockies and has red meat as its main ingredient to help build lean muscle mass. It also contains omega-3 & 6 for skin & coat health, plus antioxidants, vitamins, and minerals for immune system support.
No corn or wheat fillers here! Plus, it's free from chicken/poultry by-product meals, soy, or artificial flavors/preservatives – ideal if you want to avoid these ingredients in your pup's diet.
Reviews suggest some dogs love this recipe while others have had trouble digesting it after recent formula changes caused stomach issues such as vomiting and diarrhea – so just be aware before you buy!
High-quality ingredients with no fillers
Real meats blended together provide essential proteins for strong muscles
Omega fatty acids promote healthy skin and coat
Recent formula change reported causing digestive problems such as vomiting/diarrhea
Price increased significantly at the same time of recipe change
Some dogs refuse to eat the new formula
Diamond Naturals Senior Dog Food
View On Chewy
Diamond Naturals Senior Dog Food provides a lower fat and protein content suitable for aging dogs, plus joint support ingredients to keep them active. Made in the USA by Diamond Pet Foods, this all-natural recipe is formulated with real chicken as the first ingredient for essential proteins that help build strong muscles.
Glucosamine and chondroitin are also included to support healthy joints, while omega fatty acids promote skin & coat health. Added vitamins, minerals, and antioxidants from fruits & veggies like blueberries & oranges provide complete nutrition along with probiotics, prebiotics, and antioxidants aiding digestion and immune system function so your dog can thrive even into their senior years.
Low fat/protein levels suitable for older dogs
Joint support ingredients
Real chicken as 1st ingredient
Some dogs may be picky eaters
Orange residue indicates high vitamin content
Comparable nutrient levels but more expensive than some competitors
CANIDAE Salmon Sweet Potato Adult
View On Chewy
CANIDAE Salmon Sweet Potato Adult is a grain-free, high-protein formula with 8 real food ingredients for complete nutrition that you can trust. It is made in Texas and is free from artificial flavors, colors, or preservatives.
The formula contains probiotics to support digestive health, as well as omega 3/6 fatty acids for skin and coat care. This recipe is specially formulated with deboned salmon as the main ingredient, along with wholesome veggies, to provide everything your dog needs to thrive.
Real farm-raised chicken is the first ingredient.
Glucosamine & Chondroitin are added for joint health.
Balanced proteins & fats Omega fatty acids.
Recent formula change caused some negative reactions in dogs.
Some allergies reported after the switch.
Not suitable for picky eaters.
Iams Adult Large Breed Chicken
View On Chewy
Iams Adult Large Breed Chicken dry dog food is a powerhouse of nutrition for large and giant breed adult dogs, packed with real farm-raised chicken to help build strong muscles like an Olympic athlete.
Loaded with fibers & prebiotics, it promotes digestion & immune system health while supporting bone and joint health.
This grain-inclusive recipe contains essential proteins and provides balanced fats to support healthy weight maintenance in larger breeds. Many pets love the taste so much that they can't get enough – even picky eaters or those prone to weight loss! Plus, you may find it more affordable than some competing brands on the market.
However, there have been reports from customers of their pets not eating this food due to its taste as well as diarrhea after consumption – although these experiences are rare exceptions compared to satisfied owners who swear by Iams Adult Large Breed Chicken dry dog food for their furry family members.
Real farm-raised chicken as the first ingredient
Supports muscle growth & bone/joint health
Promotes digestion & immune system health
Affordable price point
Some cats won't eat it
Occasional diarrhea reported
Bags (30 lbs) may be too heavy
Nutritional Requirements for Goldendoodle Puppies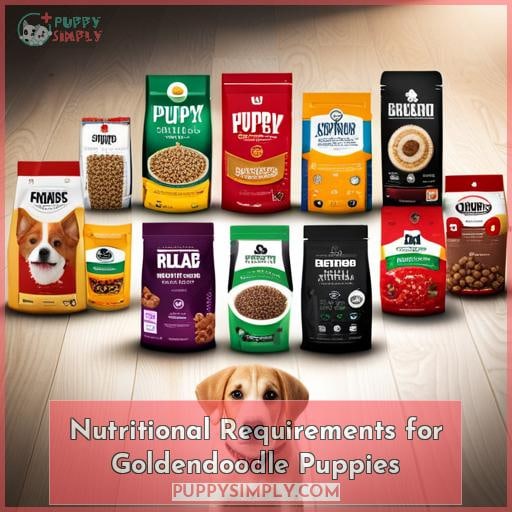 Choosing the right flavor of puppy food for your Goldendoodle is an important part of their health and well-being. From feeding schedules to transitioning from puppy food to adult dog food, understanding how best to meet nutritional requirements for a Miniature Goldendoodle can be a daunting task.
Choosing the Right Flavor of Puppy Food
When selecting a puppy food for your Goldendoodle, consider flavors that offer high-quality proteins and added vitamins and minerals.
Read ingredient labels closely to compare brands, ensuring you pick one with natural, non-GMO ingredients made in the USA. For dietary balance, look for recipes containing chicken, salmon, lamb combined with rice or other grains.
Plus, look for chelated minerals and omega fatty acids for brain and eye development.
Sticking to the same brand helps build loyalty, while transitioning between flavors slowly can help avoid any digestive issues due to sudden changes in diet.
Best Dog Food for Goldendoodle Puppies With Allergies
For Goldendoodle puppies with allergies, consider canine cuisine crafted from fresh ingredients and free of fillers for full-body health. Look for puppy foods that are grain-free, high in animal protein, and low in plant proteins to prevent food sensitivities.
Ensure added vitamins, minerals, antioxidants, and probiotics aid immune health, while DHA omega fatty acids help the brain, eyesight, and coat. When making diet changes, be sure to consult a veterinarian before introducing joint supplements or adding any new ingredients into your pup's meal plan.
To boost nutrition, opt for human-grade recipes without artificial preservatives or colors, then monitor carefully for allergy symptoms such as itching paws or digestive issues.
Transitioning From Puppy Food to Adult Dog Food
To ensure your Goldendoodle's optimal health, transition them to an adult dog food formulated for their estimated adult weight around 1 year old. Proper nutrition can help manage allergies and maintain a healthy weight. Raw or fresh food diets are also available if desired.
Commercial puppy foods should be avoided as they contain fillers and additives that may contribute to allergies or digestive issues in large breeds like the Goldendoodle. Transitioning from puppy to adult dog food is important. Read labels closely for recalls, quality ingredients, protein sources, and other nutritional values.
Make sure you're providing only the best so your furry friend stays happy and healthy!
Feeding Schedule for Goldendoodle Puppies
Creating a well-considered feeding schedule for your Goldendoodle puppy is essential to ensure they get the nutrition needed to thrive.
Feed specific amounts of food based on their weight and age according to the package instructions, ensuring appropriate portion sizes.
Be mindful of potential food allergies when selecting puppy foods and read labels closely before making diet changes or transitioning them from one brand or flavor to another.
Monitor signs such as itching, licking paws, and digestive issues that may indicate an allergy has developed so you can adjust accordingly with vet advice if necessary.
Best Puppy Food for Mini Goldendoodles
Choosing the right food for your mini Goldendoodle can be challenging, but with careful research and consideration, you'll find a nutritious option that will help keep them healthy – even if it means overcoming the expense.
Consider diet tips like prioritizing high-quality proteins and avoiding fillers/additives to ensure balanced nutrition. Omega fatty acids from fish oil are key for brain health; look for DHA in puppy foods.
Keep an eye on weight: too much or not enough can increase the risk of hip dysplasia & other diseases.
Nutritional Needs for Goldendoodles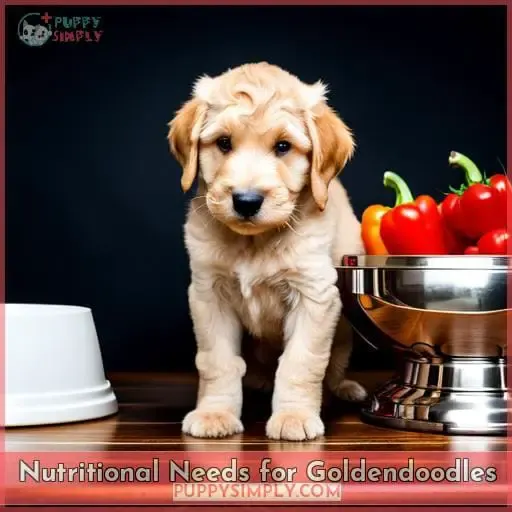 Maintaining a healthy weight and preventing heart diseases is important for Goldendoodle puppies. They can be prone to food allergies and sensitivities, as well as gastric torsion (bloat) if they eat too quickly, so selecting the right puppy food is essential to ensure their optimal health.
Knowing what ingredients provide key nutrients like vitamins, antioxidants, and omega fatty acids is also critical in choosing the best diet for your pup.
Maintaining a Healthy Weight
Maintaining a healthy weight for your Goldendoodle is important to help reduce the risk of health issues like hip dysplasia, cancer, heart disease, and arthritis. To do so: 1) Monitor their diet choices and food allergies; 2) Exercise regularly; 3) Ensure they get adequate protein, fat, and other quality ingredients for a balanced diet; 4) Look for recipes that promote lean muscle growth.
Heart Disease Risks
As a Goldendoodle owner, you should be aware of the heart disease risks associated with this breed. Genetic predisposition can lead to SAS diagnosis in some dogs. Food allergies and improper weight management can also cause issues for your pooch.
Dietary changes, such as omega fatty acids and key nutrients like vitamins and calcium, may help maintain overall health and reduce the risk of heart complications. To ensure proper nutrition is being provided, discuss dietary plans with your vet before making any major changes or supplementing meals to prevent potential health concerns from arising down the road.
Allergies and Sensitivities
Goldendoodles can be especially prone to food allergies and sensitivities, so it's important to monitor your pup for signs like itching, licking paws, or digestive issues. Common allergy triggers include dairy, wheat, grains, and beef. If you spot any of these symptoms in your dog after eating a certain type of food or ingredient, then consider making diet changes with the assistance of a vet.
Joint health supplements may also be beneficial in preventing hip dysplasia, as this breed is genetically predisposed to certain heart diseases such as SAS (Subvalvular Aortic Stenosis). Buyer beware: research brands for recalls and avoid fillers & artificial preservatives when selecting puppy foods.
Foods with natural ingredients made in the USA are the optimal choice if possible.
For those pups that have sensitive stomachs, try grain-free options rich in omega fatty acids.
Gastric Torsion (Bloat) Prevention
To keep your Goldendoodle healthy and safe, make sure to monitor their eating habits closely to prevent gastric torsion or bloat. Risk factors can include eating too quickly, overeating, as well as poor quality food with fillers.
Take preventative care by transitioning between brands carefully and making dietary changes slowly over time.
Dietary supplements like glucosamine are also helpful in supporting joint health for active dogs like Goldendoodles.
Early diagnosis of any digestive issues is key, so take note of any signs such as excessive panting after meals.
Beyond Basic Ingredients: What to Look for in Goldendoodle Food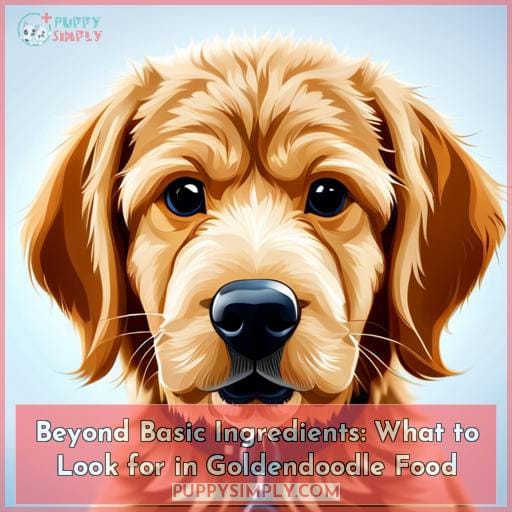 Choosing the best food for your Goldendoodle can be a daunting task. From personalized meal plans to grain-free kibble, there are many factors to consider when selecting the right product for your pup.
The Farmer's Dog offers tailored nutrition, and Victor Select is good for puppies, while Whole Earth Farms is great if they suffer from allergies or digestive issues. If budgeting is an issue, then Nature's Recipe Grain-Free Salmon & Sweet Potato Recipe may be the way forward; otherwise, Purina Pro Plan Sensitive Skin & Stomach might suit them better with its easily digestible ingredients.
Best Overall Food for Goldendoodles (the Farmer's Dog)
For a personalized nutrition plan tailored to your pup's needs, consider The Farmer's Dog for your Goldendoodle. They tailor recipes based on breed-specific nutritional facts, with taste tests and feeding tips.
Their meal plans are designed with fresh ingredients that contain no artificial colors or preservatives. Plus, they use human-grade ingredients like deboned beef, which provide the protein needed for brain development and coat health.
These recipes are free from any additives you want to avoid in goldendoodle puppy food. Omega fatty acids and vitamins are also included to help support immune system health from puppyhood through adult years.
Best Puppy Food for Goldendoodles
If you're looking for puppy food to nourish your Goldendoodle, check out the top-rated dog food options!
Merrick Classic Beef Rice Ancient Grains is a great choice with deboned beef and added omega fatty acids.
Victor Select has VPRO blend to help support digestive & immune system.
Whole Earth Farms grain-free offers real proteins and antioxidants for immune health.
ACANA Grasslands Dog Food contains raw lamb, duck & eggs plus freeze dried flavorings.
Purina Pro Plan Chicken Rice Probiotics is high protein/fiber with probiotics for digestion & immunity.
Blue Buffalo Wilderness Red Meat provides lean muscle building power of omegas 3&6 plus vitamins/minerals from fruits/veggies!
Diamond Naturals Senior low fat calories are ideal along with CANIDAE Salmon Sweet Potato Adult's 8 real ingredients.
Iams Adult Large Breed Chicken's glucosamine chondroitin joint care or American Journey Chicken Brown Rice Recipe complete adult nutrition – picky eaters beware!
Best Affordable Food Options
Discover budget-friendly options for your Goldendoodle's nutrition that contain all the essential nutrients for a healthy lifestyle. Price analysis, protein sources, and raw nutrition are key when selecting food. Human-grade ingredients like real chicken, fruits, and veggies should be a top priority.
Consider food recalls and consult with a veterinarian to ensure the immune system and digestion get the best support from affordable foods.
Best Food for Goldendoodles With Sensitive Stomachs
If your Goldendoodle has a sensitive stomach, you may want to consider foods with fewer ingredients and easy-to-digest proteins like fish or chicken. Grain-free diets are often the best option as grains can be difficult for some dogs to digest.
Fresh food is also great – it usually contains higher quality ingredients, and proper allergen testing is done on each batch. Certain hypoallergenic diets contain added digestive enzymes, which can help break down ingredients more easily, helping reduce sensitivities in pets who suffer from allergies or intolerances.
Should I Consider a Hip & Joint Supplement for My Goldendoodle?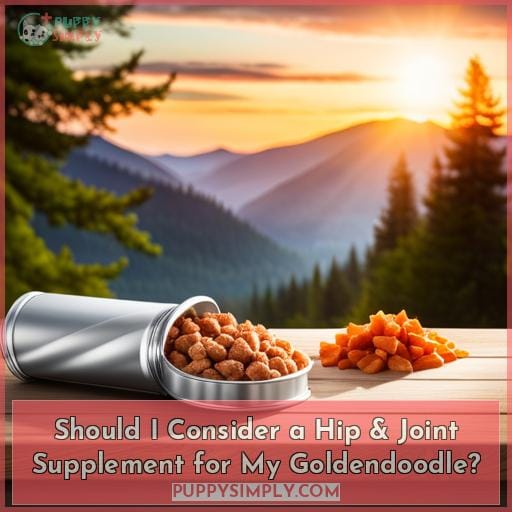 Taking hip and joint supplements for your Goldendoodle can help support their long-term health, with up to 40% of large breed dogs showing signs of arthritis by age 6.
An effective preventative measure is a tailored diet that addresses the needs of each dog's life stage. Adjustments to an adult Goldendoodle's nutrition should include quality proteins and fats, antioxidants, vitamins, minerals, and omega fatty acids for optimal holistic nutrition.
Additionally, food allergies are common in this breed, so it may be beneficial to select limited ingredient puppy foods or switch between flavors slowly if sensitivities arise. Joint health can also be improved through specific diet adjustments, such as adding glucosamine & chondroitin sulfate supplements into meals.
These supplements can help alleviate current symptoms while preventing future damage from occurring.
Ensuring adequate daily exercise will also assist in maintaining strong bones and joints. However, dietary changes are essential when looking at overall well-being throughout all life stages, including senior years where low fat/calorie diets become necessary due to the risk posed by obesity on certain conditions like SAS (subvalvular aortic stenosis).
Make sure you research brands thoroughly before settling on one particular type – always keep an eye out for recalls!
Frequently Asked Questions (FAQs)
How much food should I feed my Goldendoodle puppy each day?
Feed your Goldendoodle puppy 1-2 meals a day, depending on their age. Make sure to provide high-quality food with no artificial preservatives or fillers. Prioritize animal proteins and healthy fats for optimal growth and development. Don't forget about DHA omega-3s from fish oil for brain, eye, and coat health – it's important! Plus, adding joint supplements can help prevent hip dysplasia later in life.
What is the best way to transition my Goldendoodle puppy to adult food?
Transition your Goldendoodle puppy to adult food gradually, over a period of several weeks. Start by mixing small amounts of adult food into their existing puppy food and slowly increasing the amount each week until they are only eating the new diet.
Choose high-quality foods with added vitamins and minerals for immune health, DHA omega-3s for brain, eye, and coat health, lean muscle growth ingredients, and chelated minerals – avoiding fillers or artificial preservatives.
What type of treats are best for Goldendoodles?
Treats for Goldendoodles should include natural ingredients like fruits and vegetables, as well as proteins. Look for treats with chelated minerals to support joint health, plus omega fatty acids for skin and coat health.
Opt for small kibble size that won't choke your pup, plus limited ingredient recipes if they have food sensitivities or allergies.
How often should I feed my Goldendoodle?
Feed your Goldendoodle twice a day with high-quality, nutrient-rich food. Look for proteins like chicken and lamb, added vitamins, minerals, and antioxidants, plus DHA omega fatty acids. Monitor their weight to adjust servings accordingly; transition from puppy to adult food around 1 year old.
What are the signs of an allergic reaction to food for Goldendoodles?
Signs of an allergic reaction in Goldendoodles may include itching, licking paws, digestive issues, weakness, seizures, and aggression. Monitor your pup's behavior for any changes that could be linked to a food allergy.
Conclusion
Choosing the right food for your Goldendoodle puppy can be a daunting task. It's like navigating a minefield of nutritional needs, allergies, sensitivities, and special needs. But with the correct knowledge and understanding of your pup's nutritional needs, you can provide a diet that is balanced, nutritious, and tailored to their individual needs.
From the best all-around food to the most affordable option, these top 10 puppy foods for Goldendoodles provide a great starting point for your pup's journey to optimal health. With the correct puppy food, you can set your Goldendoodle up for a long, happy, and healthy life.